So, you have tried HelloBar and now looking for Hello Bar alternatives? If you are looking for more control, customization, additional lead magnet features, and better support, then this HelloBar alternatives blog post is for you. 
This blog is specifically written to give you an unfiltered and honest review of Hello Bar alternatives & Hello Bar itself.
HelloBar has done a great job in educating the market regarding lead conversion, optimization, and email. I'm a follower of Neil Patel's content – A great marketer. 
In this blog, I'll be sharing the following:
What should you look while choosing a lead magnet or popup conversion form?

What's great about HelloBar and what's not.

2 better HelloBar alternatives (because I want to save you time)
In the end, I'll share the comparison table that will help you further and save you time.
What should you look while choosing a lead magnet/lead capture/popup conversion form?
Mostly, lead capture or lead magnet tools are there to help you convert your website visitors to a lead to develop & nurture relationships with them. 
While doing so, you should understand for whom, when, and which pages you'd like to convert these visitors.
It's no more 2013, where you send a browser notification and the users will love getting it without engaging with your website.
In order to use such kind of tools smartly, I'd always recommend you to look at it this must-have checklist.
✔️Is it easy to use and set up?
✔️Is it easy to change colors, fonts, and sizes?
✔️Does this look good on a mobile app?
✔️Does this lead capture tool have the following technologies such as exit intent, scroll-based & time-based technology, and page triggers?
✔️Can you target certain pop-ups by source, time & date, new vs returning users, and how often can you show these pop-ups? 
✔️Do they have ready map templates?
✔️How many different types of popups do they have? For example, topbar, popup modal, slider, & fullscreen popup?
✔️Can you do A/B testing with this tool? Without A/B testing such kinds of tools are not that useful.
✔️Does it help you validate the emails?
✔️Does it have autoresponder?
✔️Does it have analytics to evaluate conversions? Specifically, you need to know page based conversions. 
✔️Does it have Inline forms to offer subtle content within your blogs? 
✔️Does it have integrations with most of the email marketing tools?
This was a basic checklist if any tool does not have these then you'll have a hard time converting and managing your leads. 
What's great about Hello Bar and what's not.
HelloBar is very easy to use tool for lead magnets. It's a very basic lead capture that has a couple of types of pop-ups. 
So, what's great about HelloBar?
HelloBar gives you good enough targeting options like:
Device

Geolocation

Ad campaign (e.g. UTM tags)

Date

Every X session

Days since last visit (e.g., "Welcome Back – we haven't seen you in a while!)

Number of visits

Previous page URL

Referrer

URL path/query
I love the easy to use UX and onboarding. You can preview the popup live. Also, something that other lead capture tools don't offer is "Get Phone Calls" option. So, based on your goals, you can drive traffic.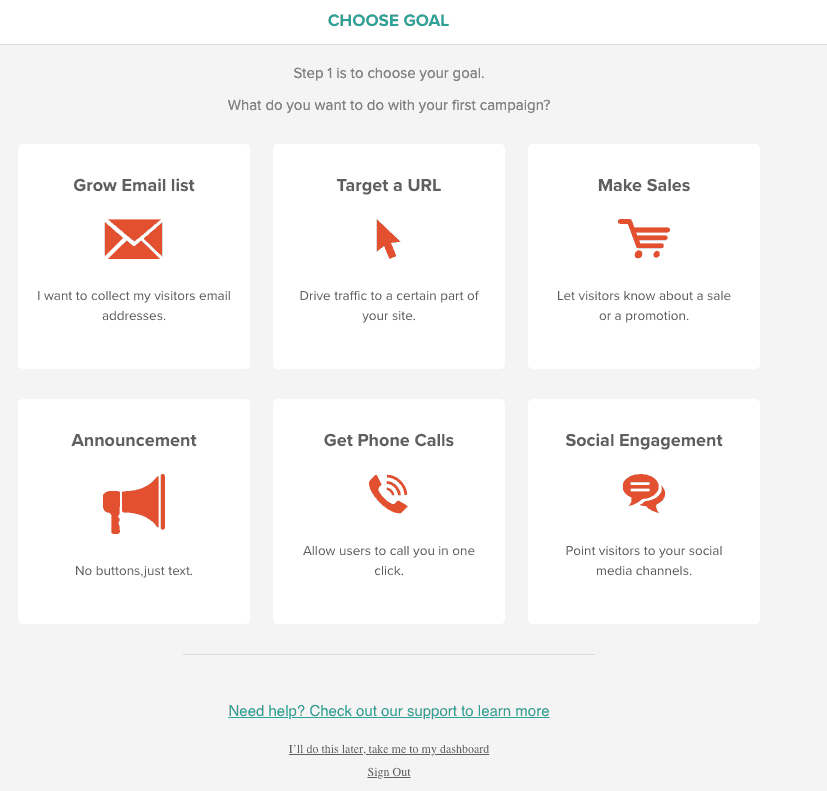 It has a desktop, mobile and, iPad view as well. 
What Hello Bar is missing?
This might be a surprise to you. Even though it is a free tool, I find their pricing extremely confusing.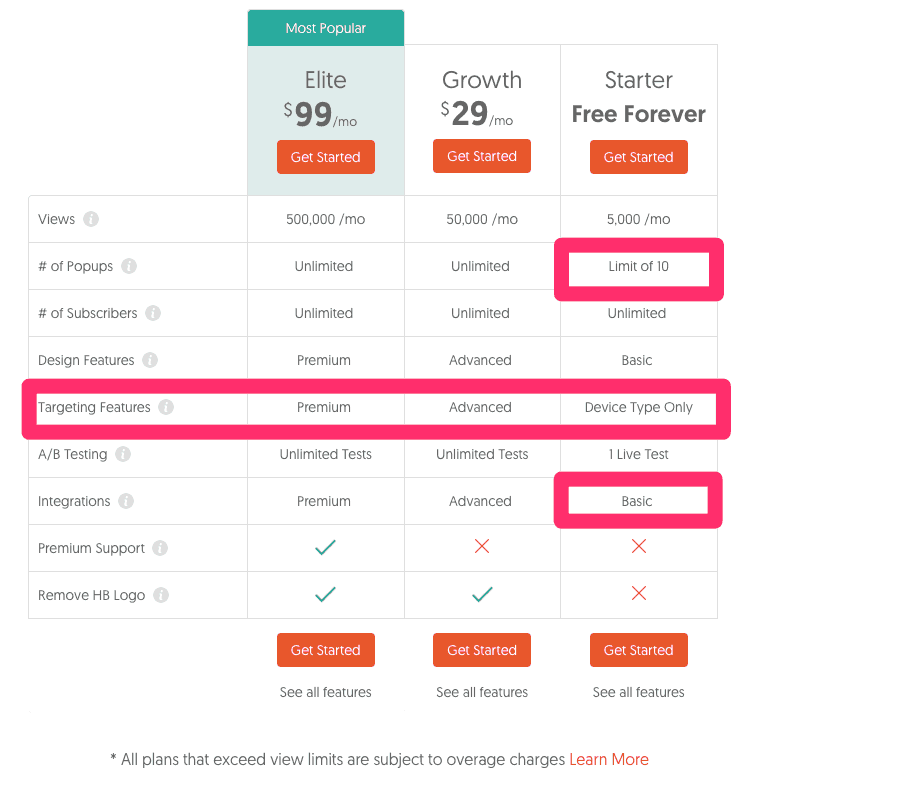 The above-highlighted features such as targeting features. Why would you limit me with the device or number of popups when you are already limiting me with the number of views?
Moreover, their integration is elementary. I tried to look at their integrations, I found that they don't have enough integrations especially with email marketing tools.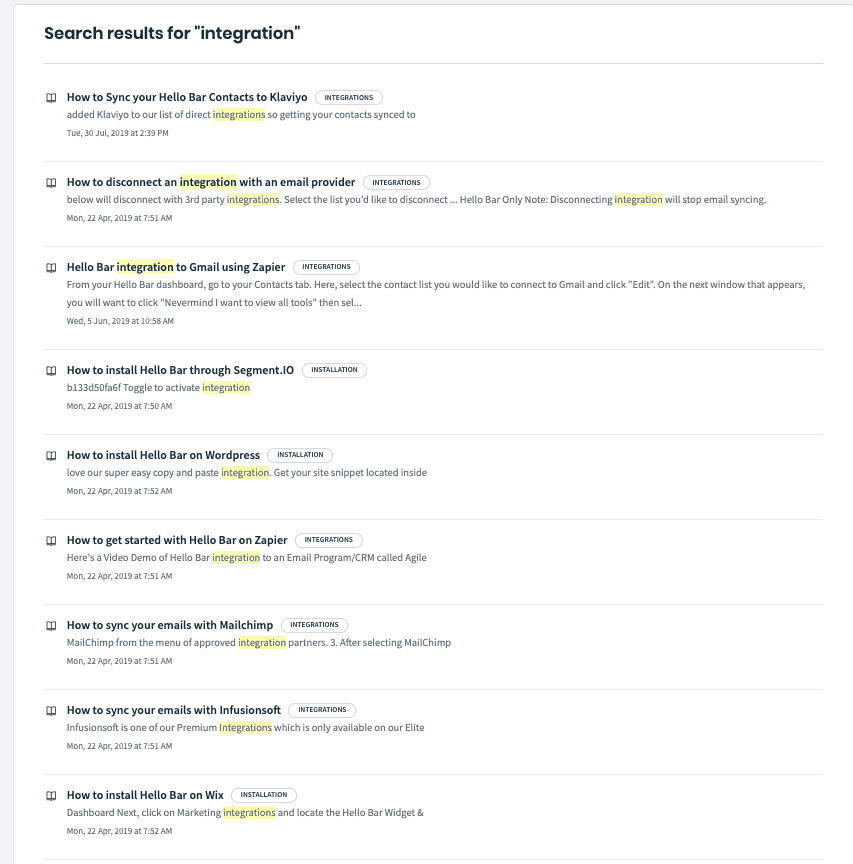 Hardly, 10 integrations this means that if I change my tech stack I might have to change Hello Bar too. Hence, it is not flexible enough.
More, limiting features – It seems like they gave a free tool and then trying to ask me to upgrade it. In a freemium tool, one should only limit you with one value metric, not with features. I couldn't use the following features such as lead questions and visitors type.
First, it is limiting that I could not target new vs old visitors, and also if I want to use it on my home page, I have to pay more. Why?
As an app, it works. However, I tried to check the reviews of HelloBar – I could hardly find many reviews. Moreover, I found horrible experiences with Hello Bar. They bill you without consent. You can see some examples below: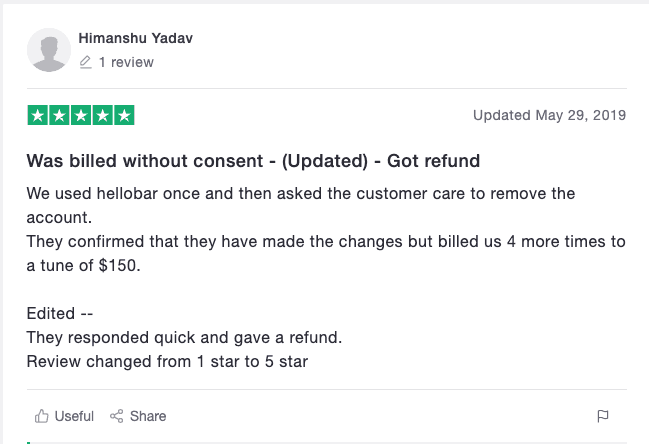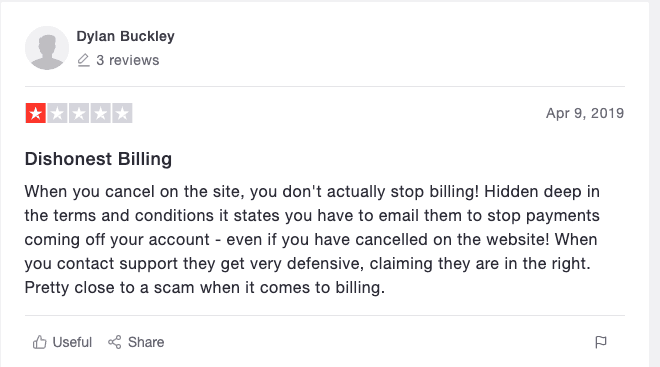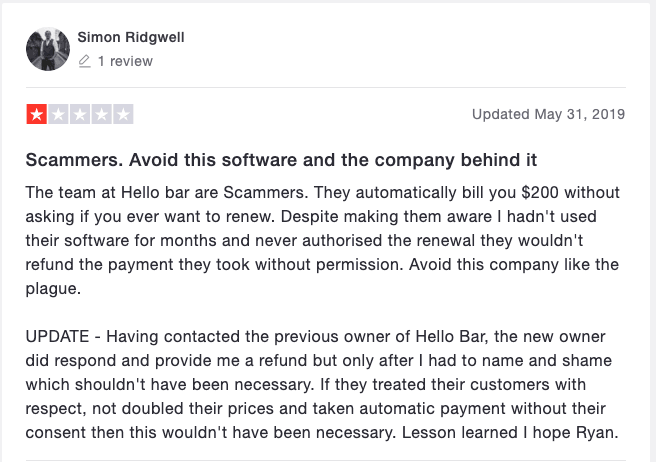 Lastly, Hellobar's customer support was not responsive enough. Although, I am happy to see a chat toggle in their UI.

3 best Hello Bar alternatives
There are tons of lead capture tools but these are my favorite and I'll share why they are good HelloBar alternatives.
Poptin – The Smart Popup Tool (Free)
When it comes to free products, Poptin stands side-by-side with HelloBar because getting started with Poptin is free. 
You can always 👉 try for free 
I've been using Poptin, and I'm pretty contented with it. Here are some reasons why:
Interface: It's the easiest to use for non-programmers. It doesn't require any type of coding and has a very user-friendly interface.
Customer Support: They have a live chat, and my problems are resolved immediately. Real persons are behind the chat and not robots, so it's very reliable and easy to understand.
Pricing:  Free for some, then starts at $19/month (the best part). It's 10$ cheaper per month than HelloBar. 
They have all the features I need without compromising the basic features such as A/B testing, Inline forms, location-based & device triggering.
Talking about the features, you can see all the features available in the free plan here.
Poptin has all the Integrations such as:
MailChimp Integration

Constant Contact Integration

iContact Integration

Hubspot Integration

Nutshell Integration

Zapier Integration

Poptin has more than 40+ integrations. More information on it is here 👉

Poptin Integrations
Why Poptin is a better HelloBar?
Moreover, Poptin has excellent reviews – You can check here
It does not limit with basic features in targeting and visitor targeting. 
Poptin has more popup features such as forms, popups, and autoresponders.

The drag-and-drop in the editor makes me want to create my own popup without any designing skills. 
It does not limit the number of popups at all.
Moreover, it has more triggering technology and targeting options than HelloBar
These features will allow you to accurately target the right customers at the right time, giving way for more effective conversion.
Triggering options – exit intent trigger, display after time spent on the website, scrolling trigger, display after X pages visited, display after X clicks, inactivity trigger
Targeting rules – URL targeting (page-level on-site targeting), device targeting, geo-location (by country, including US states), OS & Browsers, IP block lists, days and hours, new vs returning visitors (based on cookies), traffic source (Facebook, Google, Google Ads [Adwords] Youtube, Reddit, Ads, Twitter, Pinterest and any site you want), on-click popup display
Hope this helps you to make your decision better. I'll add a comparison table at the end to further help.
In the meanwhile, if this convinces you then try Poptin for free. 
Sumo – The Email List Building Tool (Free)
Sumo is also a free lead capture tool and a better Hellobar alternative.
Why sumo? Because I'm assuming you'd like to try it for free.
If you're looking for user-friendliness and design flexibility then Sumo is your answer. They divide popups based on goals and have manual mode offers granular control over form visibility.
Click-trigger popup is probably my favorite feature in Sumo.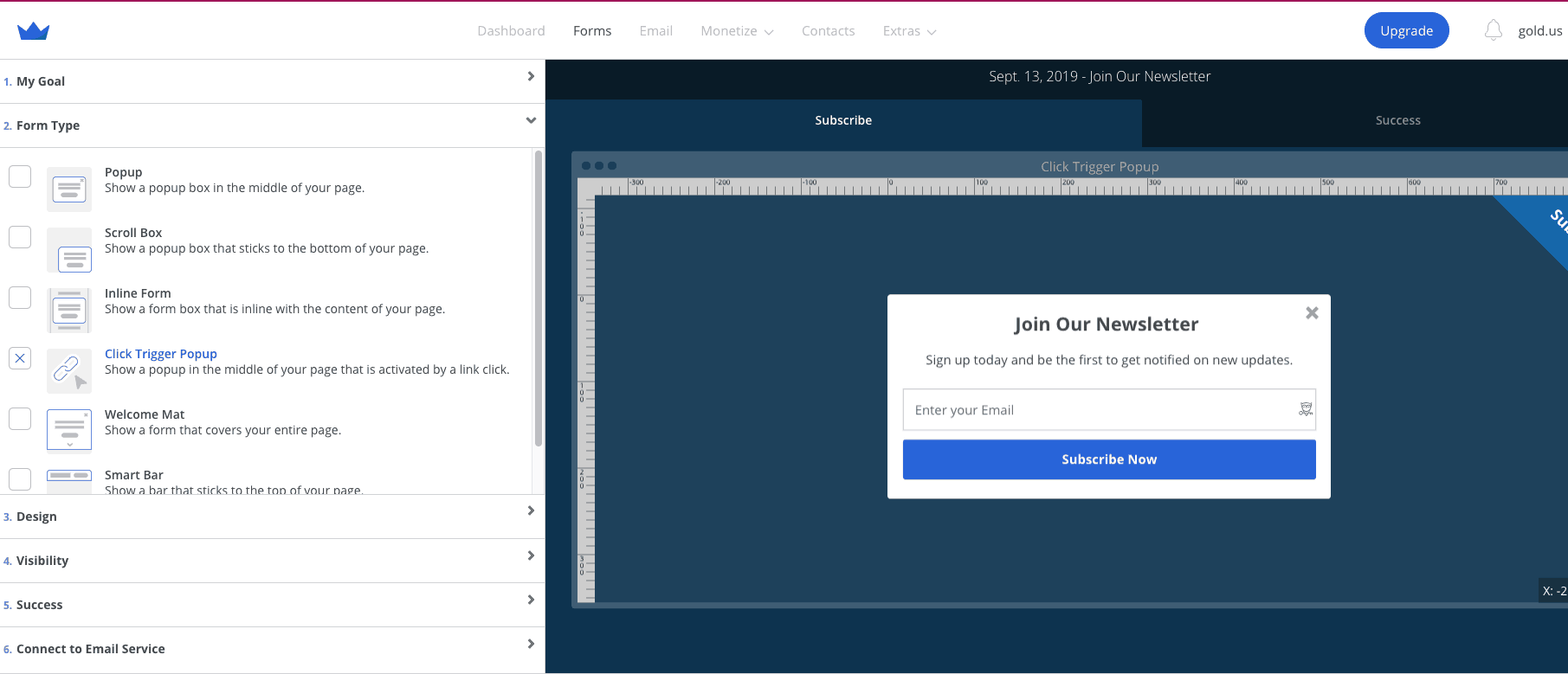 They do focus on user behaviour and activity type. Click pixels is something I have not seen in other tools.
What's Sumo is missing?
Many features are unclear on their pricing which you only understand once you subscribe. It takes a while to get used to the design editor in sumo, and only a few integrations are available in the free plan. You will quickly outgrow the free plan.
Unfortunately, smart triggering based on exit intent is not available in free plan. You need to upgrade. Neither A/B testing nor advanced targeting features are available. That's a bummer.
Sumo limits you with the following below:
200 subscribers limit

Limited templates

Basic email integrations

Basic email support (no live support)

Basic visitor targeting

Less control over the design
What's great about Sumo?
It's free. It's easy to use.
They have some cool features they have such as Heatmap, image sharer & highlighter, and discovery app. You should definitely try that.
Regardless, it's great for content marketing and list building.
Perhaps, this helps you to choose a better alternative.
As promised, here's the table below to give you an overview.
To Sum Up
All the tools have different features, market, persona, and benefits. If you're considering a Hellobar alternative, then here are the reasons to choose these tools:
Poptin: A free tool, feature-rich, 40+ integrations, the best customer support, and beautiful templates.
Sumo: A free tool, limited features and subscribers, easy to use and basic integrations.
I gave you only 2 tools because these are the closest and most relevant Hello Bar alternatives.
If someway or the other, this article has convinced you to try Poptin – Give Poptin a try. It's free and your first 1,000 visitors (per month) are on us.