Being an artist is one of the most beautiful callings. Creating wonders from the eyes of an artist, and developing things beyond imagination is truly incredible, especially if you can turn your hobby into a business.
However, for the hobby to really become a business, you need to master the art of sales and marketing, too. This particularly applies to the beginners who don't have the financial resources to delegate those parts.
Implementing the whole marketing strategy can seem tedious, especially if you don't have an affinity or prior knowledge about it. But what choice do we have since it is certainly necessary because that's the key to reach the right audience.
Many beginners, even those who have been in the business for a long time, can find it difficult to get the attention of their customers.
You are probably familiar with the situation where people come to your website, look at what you have to offer, and leave, which leaves you wondering "Have I done something wrong?".
What many overlooks is the importance of capturing the visitor's attention.
And, one of the best ways to do this is with pop-ups.
They offer you various options such as:
Higher conversion rates

Lower cart abandonment rates

Growing mailing list
With the help of pop-ups, you will be able to offer irresistible offers to your customers. Whether you want to offer discounts, different promotions, newsletter subscriptions, and similar, these windows have the power to present offers in a unique and user-friendly way.
In this regard, we present to you the 3 best pop-up apps that you can use for your BigCartel store!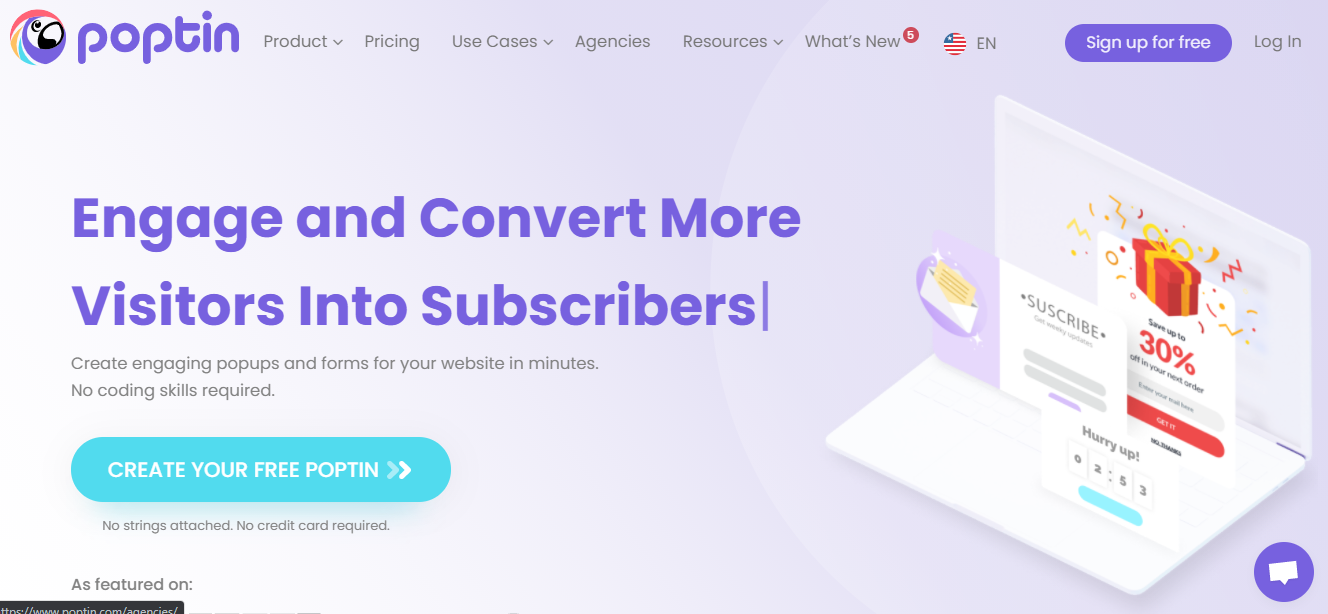 Poptin is a great pop-up app, whether you have any experience in creating this kind of windows, or not.
It's installed on a few hundred thousand websites around the world and the userbase continues to grow by the minute.
In the simple editor which you can see in the picture below, everything works on the principle of drag and drop interface, so you can create a pop-up window in just a few minutes.
Poptin offers different types of pop-ups such as:
Lightboxes

Countdown pop-ups

Full-screen overlays

Slide-in pop-ups

Top and bottom bars
Once you have selected the variant you prefer, you can add or remove different elements and fields, change fonts, colors, size of each element, or add images and text.
And the best part is that you don't need designing or coding skills.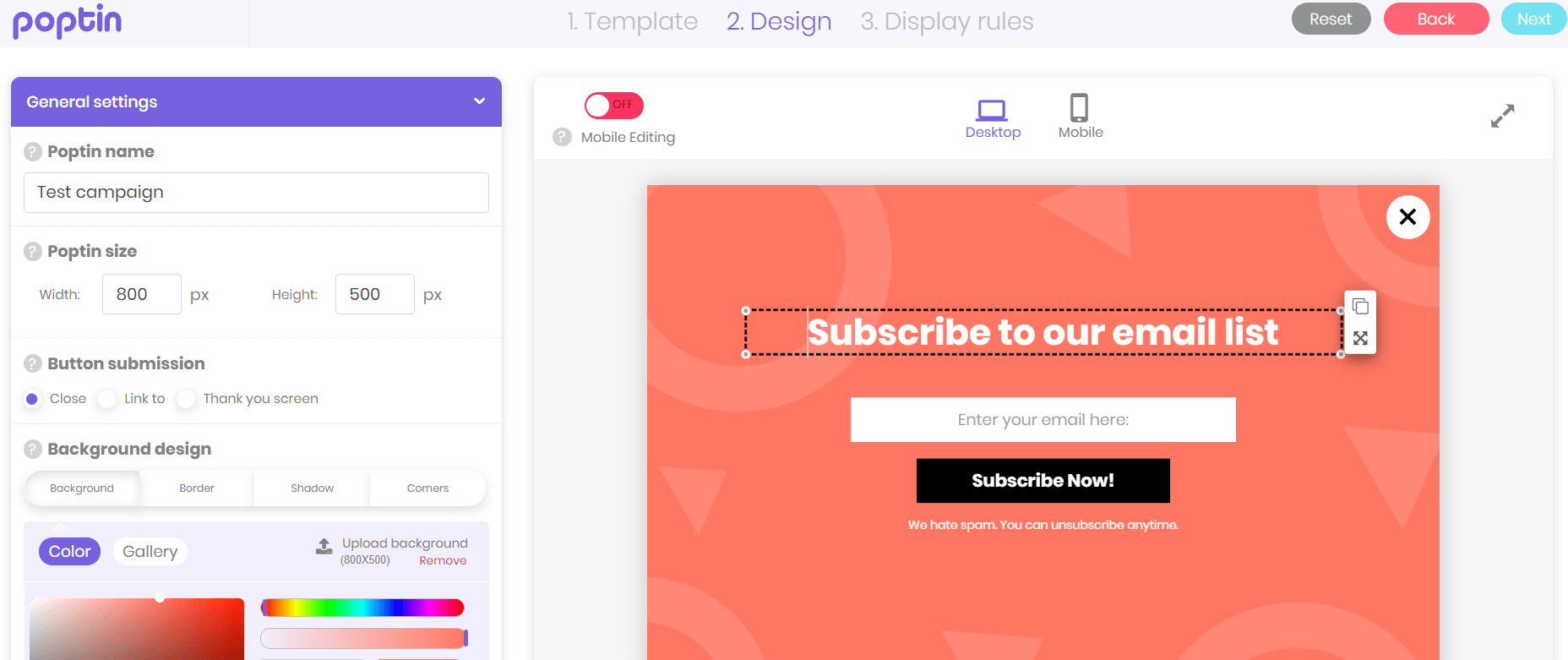 Using the A/B testing option, you can easily test pop-ups that you created and find out which ones turned out best. Then, you can use them to fulfill your business goals successfully.
In addition to this feature, there are many other very useful features.
Poptin's features:
Drag and drop interface

High level of customization

Advanced triggering options

Advanced targeting options

A/B testing

Analytics

Integrations

Customer support
An indispensable part of any great pop-up tool is the triggering and targeting options. With them, you can determine to whom and when the window will appear so that it delivers an irresistible offer at the right time precisely.
You can set the window to appear due to exit-intent attempts, after a certain percentage of the scrolled page, after clicking on a specific segment, and more.
If you use other tools and platforms such as Zapier, HubSpot, ConvertKit, and similar, you don't have to worry because Poptin offers over 40 different integrations and more than 1000 integrations via Zapier. Your business can continue to run smoothly.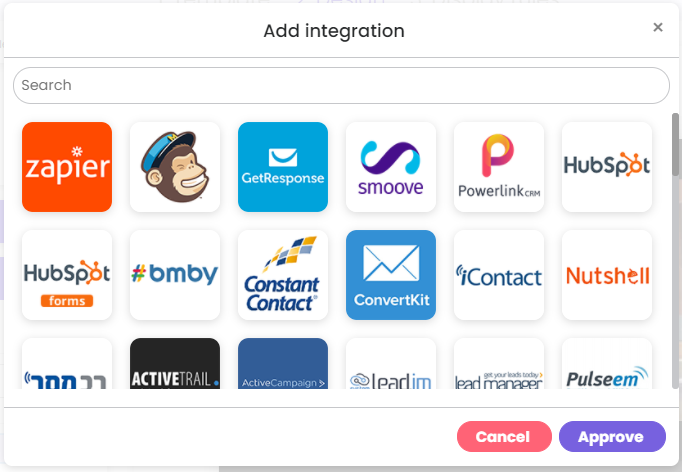 If you want to see the full list of Poptin's integrations and platforms, click here.
In case you need help, the customer support team is available at any time via chat, email, or phone.
You'll be surprised at how fast and reliable Poptin's customer service is.
And you won't need to worry since a real person is on the other side of the line. Not AI chatbots or any automated chats.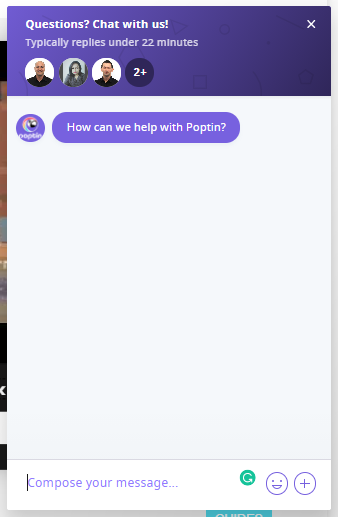 You also have access to a knowledge base and a Facebook group where you can find more important information.
Everyone is very helpful and very accommodating with one another.
Surely, new members won't get intimidated and they can feel comfortable in the presence of like-minded individuals from different industries.
Pricing: Poptin offers four different plans including a free one, too. Each one of them includes an unlimited number of pop-ups that you can create for your own store.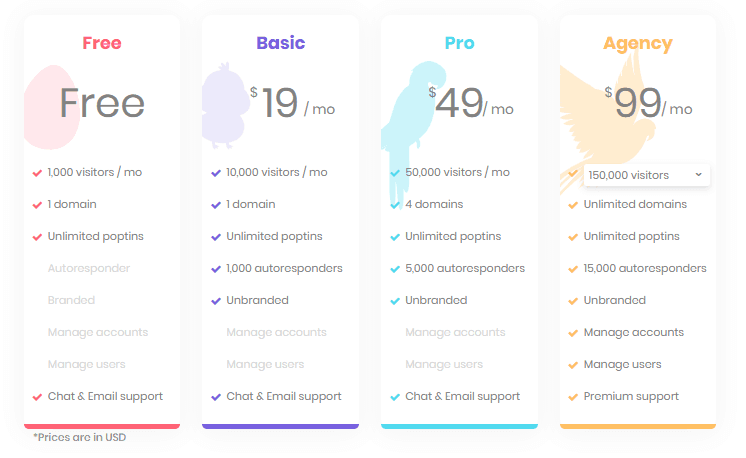 Sumo
Another pop-up app that you can use for your BigCartel store is Sumo.
It is a very basic and simple tool that you can set up in a couple of minutes. It focuses on expanding the email list and, in order to claim this benefit, you just need to install Sumo email capture and activate the form.
Gathering contacts for your newsletter is a great strategy for keeping in touch with potential customers and building brand awareness.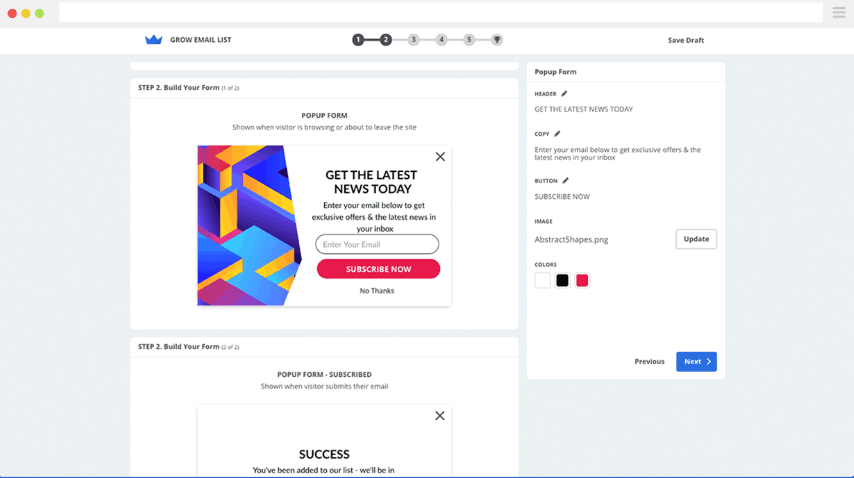 Like Poptin, Sumo does not require you to have prior knowledge of programming or design, which will certainly save you time and money.
Sumo's features:
Customization

Social media sharing

Advanced visitor targeting

A/B testing

Analytics

Email integrations
This app has built-in Google analytics, so you can track your data and learn more about the behavior of your leads.
In the free version, you can track statistics for the first 30 days only, but the paid plan has an unlimited opportunity to view these insights.
Sumo also has its own blog where you can find out more about different marketing ideas and tactics.
Pricing: Sumo has a very simple concept that you can see on their website presentation and in the billing method as well. There are only two plans, free and paid ones.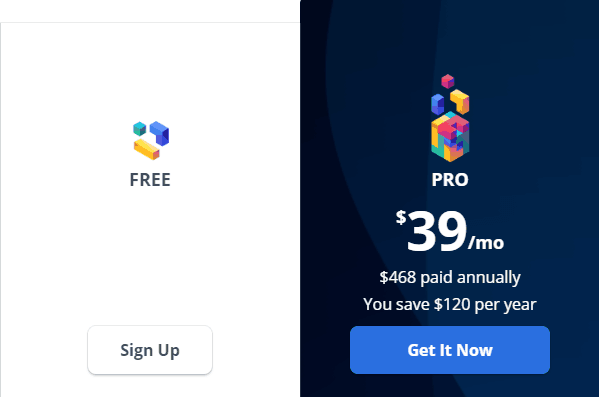 Sleeknote
The third app we're mentioning that can be used very successfully for your online store is Sleeknote.
It can be used to connect with your customers, increase conversion rates, and collect email addresses.
Like the previous two, it offers you a fully customized pop-up windows option that will make your website more engaging when it comes to your visitors.
You can create windows that will fit entirely with the visual identity of your online store, or you can make them completely different so that they are in contrast with your existing colour scheme.
Sleeknote's features:
Customization

Rule engine

Smart triggers

Analytics

A/B testing

Integrations
With the rule engine feature, it is much easier to write messages with a personalized touch that will be compliant with your visitors' behaviour.
There is also analytics that tracks the performance of your campaign in real-time. Thanks to this, you can see which campaigns bring you the best possible results.
Sleeknote integrates with important platforms such as MailChimp and Klaviyo, but you can also add a custom integration.
Pricing: This pop-up app offers a 7-day free trial so you can see if it suits your needs and then you can upgrade to some of the five available plans.
The Bottom Line
If you are both into arts and sales, you're off to a great start. By utilizing these platforms and integrating your creativity, you can make great pop-up windows that will help your business grow tremendously.
Though these pop-up apps for BigCartel are simple to use, they are very effective and highly recommended.
With pop-ups, you can increase sales, get more email subscribers, and reduce cart abandonment rates. In addition, the analytics that you can track will allow you to gain in-depth insights about customers' behavior and understand them much better.
Also, be sure to use the A/B testing option. Measuring the success of certain pop-ups will help you build best practices in much less time.
If you want an all-in-one pop-up solution that is easy to use but with amazing features and a wide range of customization options, then Poptin is the perfect choice for you.
Create some interesting pop-ups, and turn your business into a worldwide brand!