When crafting business plans and strategies, we often allot great effort to look for platforms that would enable us to automate and simplify things for website development, content management and email marketing. Of course, these are the more major ones.
One of these platforms is Silverstripe. It's an intuitive content management system (CMS) that enables you to create your own websites and achieve outstanding results, whether you're an expert in web design or just a newbie.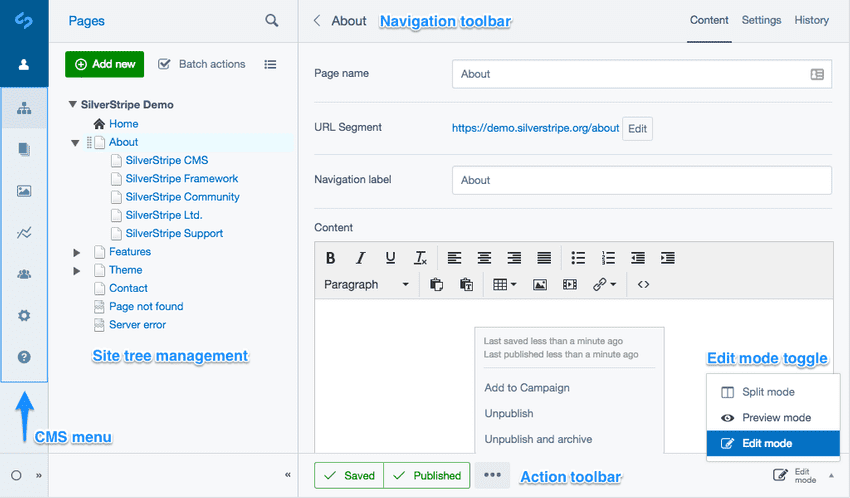 As you get to the near-end of your web page development, in relation to acquiring better business output, you might be wondering what to do next to further grow your brand and reach more customers.
One of the most tried-and-tested ways to boost sales and improve conversion rates is through popups and inline forms! A case study shows that by just adding an exit popup to your eCommerce store, you can possibly generate up to 187% increase in conversions.
How popups & forms help
Popups and forms offer you a variety of options that you can do to maximize the potential of your marketing efforts. Some of which are:
To get higher conversion rates

To minimize cart abandonment rates and boost sales

To generate leads and grow mailing list
With popups, you can go above and beyond! You can do pretty much anything that your hearts desire; from offering exclusive deals, promoting content, gaining newsletter subscribers, to rescuing abandoned carts, and everything in between. These popup windows have the ability to engage with your visitors no other channels can. Forms, on the other hand, would help you segment your visitors so you'd know how to reach and engage with them better.
Now, it's time to make the most out of your Silverstripe page with the help of these 3 best popup and form apps!
Poptin
Poptin is one of the most user-friendly pop-up and form apps that you can ever encounter, whether you have experience in coding or entirely none.
It's really simple and makes use of a drag and drop interface which would enable you to create beautiful popups and inline forms in just a matter of less than two minutes!
Poptin offers different types of pop-ups such as:
Lightboxes

Countdown pop-ups

Full-screen overlays

Slide-in pop-ups

Top and bottom bars
Each type has a different purpose depending on your message. Once you have chosen the one that you prefer, you can start adding or removing elements and fields, colors, fonts, sizes, images and texts. So much ease!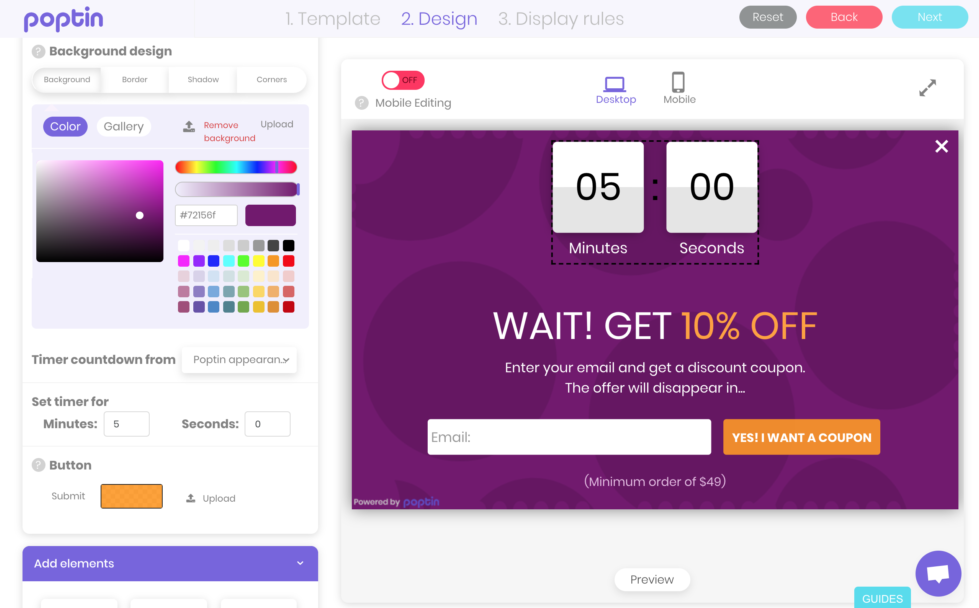 Making sure that what you've designed is the most effective one has never been this simple as well, as Poptin has its A/B testing option. This allows you to test popups and detect what needs to be improved, retained and removed.
Here are other several useful Poptin features:
Poptin's features:
Drag and drop interface
High level of customization
Advanced triggering options
Advanced targeting options
A/B testing
Analytics
Integrations
Customer support
Another excellent and must-have tool for popup apps is the triggering and targeting options. These tools can detect visitor behaviors and can determine audience persona, enabling you to show your popup to the right person at the right time, without being a disturbance in their browsing experience. Some examples of smart triggers are exit-intent attempts, percentage of the scrolled page, after clicking on a specific segment, and more.
If you're using other tools and platforms such as WordPress, Blogger, Wix, and other similar sites, you won't be you don't have to worry because Poptin offers a wide array of different integrations that would help your business run seamlessly and efficiently.
In case you encounter an issue and you need help, you'll always have a friend in Poptin's customer support team whom you can reach out to via chat, email or phone. With Poptin, you'll also have access to a knowledge base and a Facebook group where you can find helpful tips and relevant information from industry experts and marketing professionals.
Pricing: Poptin offers four different plans including a free one, too. Each one of them includes an unlimited number of pop-ups that you can create for your own store.
UserForms
Silverstripe's Userforms allows CMS users to create and customize dynamic forms through the help of its drag and drop interface. This add-on would spare you from getting involved in any codes of sorts as it is easy to navigate.
UserForms' Features
You can create a form using all major form fields (text, email, dropdown, checkbox etc.)

It has the ability to extend userforms from other modules to provide extra fields.

It comes with the ability to email the form submission to multiple people 

You can view the submitted submissions and export them to CSV

You can define custom error messages and validation settings

You have the option to display and hide fields using javascript based on users inputs

It displays a confirmation message when navigating away from a partially completed form.
This module is on a more tech-y side but its user-friendly interface is definitely a big help when you want to get leads and segment your visitors based on their personal information.
Silvercart's CustomHTMLForm
SilverCart's CustomHTMLForm is a module for Silverstripe that enables you to create flexible and customizable forms with custom HTML code based on sapphire form field definitions. Unlike Poptin and UserForms, this add-on makes use of codes to be able to create registration forms, contact forms, and other types of forms for your website.
If you're not into codes, this might not be the perfect fit for you. But, the advantage of creating forms through CustomHTMLForm is that you can decide what to get from your visitors and input it directly as you have full control. You can set the requirements on the field yourself like special signs, email address, date, currency, numbers, minimum length, and many others.
Wrap Up
Silverstripe is one of the most dynamic CMS platforms there is. And with the help of the abovementioned popup and form apps/modules, you'll be off to a great start while you look forward to achieving your business goals.
Although these apps are somehow far different from each other, each has its own way of ushering you to success. Generating more leads would never be an issue moving forward and boosting sales would also be one of the biggest impacts, especially that you can now rescue abandoned carts with exit popups! All are highly recommended and very helpful for all kinds of businesses. 
If you're looking for an all-in-one, easy to use popup and form solution for your Silverstripe website, then Poptin is the right one for you. Not only that it gives you a friendly interface, Poptin also offers pre-made templates that are highly customizable for your brand. You can also A/B test to make the most out of your popup and form strategies.
We're excited for you to experience the bliss of having a popup app on your Silverstripe page!