Anyone who runs any type of business will agree that there are many different challenges on the road to success.
We believe that it sounds very familiar to you, whether you run your own business or work for clients.
Of course, one of the main challenges is how to achieve higher conversion rates.
Many use difficult and complicated techniques, ignoring the simple ones that can deliver results very quickly after implementation.
A fairly simple but really effective technique is to use pop-up windows.
Cleverly used and carefully designed pop-ups can increase conversion rates up to 2 or 3 times!
That is why they should not be neglected.
And the best part is that you don't even have to create them yourself!
All you have to do is choose the pop-up tool that suits your needs best.
One of these tools is certainly Picreel. But, if it doesn't live up to your expectations, keep reading, because a list of the 3 best Picreel alternatives that you can find on the market will soon follow!
Picreel: Overview
Picreel is a platform with two main fields of activity:
On-site retargeting

Conversion rate optimization
By using Picreel, you are able to present your offer through a pop-up window. It is a great opportunity to keep your website visitors from abandoning your website page.
How Picreel is using this technique, we can see down below: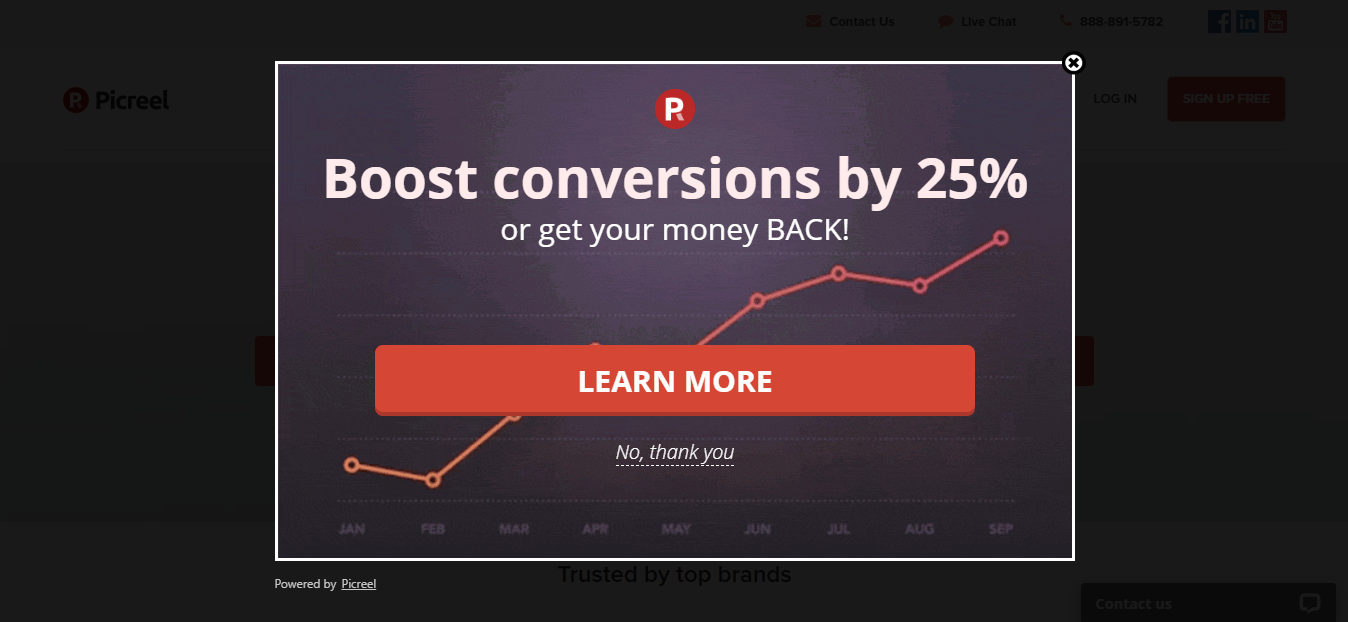 This example also shows the power of a great copy that should most certainly be a crucial part of your amazing offer!
And here are some of the Picreel most important features:
Unlimited domains

Onsite retargeting

Customization

Statistics

Customer support

Integrations
Picreel: Pros & cons
Let's see what are the advantages and disadvantages of this tool.
What are the pros?
If you decide to use Picreel, you don't need to have any coding skills. It has a very simple implementation that requires 10 seconds only.
Picreel supports every shopping platform, and it has important integrations that will allow you to run your business swimmingly.
What are the cons?
Customization is a very important part of making engaging pop-ups. But, Picreel offers customizable design in paid plans only, which is not so inviting.
Also, you may encounter bugs while using the interface.
After this short overview, it is time to move on to Picreel alternatives.
Picreel Alternatives
With over a hundred thousand active installs in 150+ countries, Poptin continues to grow in number.
It has a huge user community that is all in agreement about how Poptin is so user-friendly.
Poptin is an important marketing tool that combines three different products:
Engaging website pop-ups

Website embedded forms

Autoresponder for automatic emails
All of these are essential in creating an effective lead capture journey for your visitors.
But in this article, our focus will be on making amazing pop-up windows.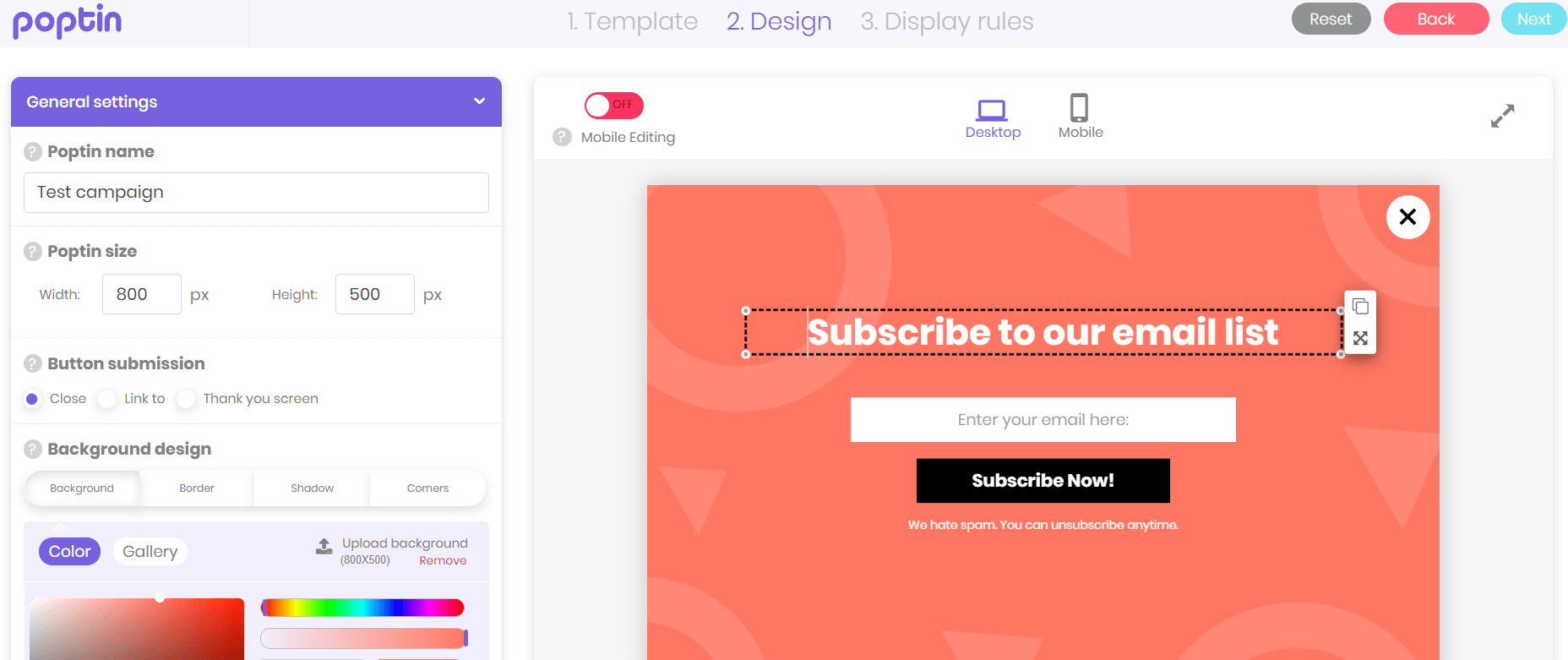 Poptin has a very clear editor where different options are shown.
Thanks to them, you can provide a high level of customization for your pop-ups.
You are able to choose between various colours, background designs, sizes, and many more.
By combining different types of pop-ups, you can make your website more interesting to your visitors. Some of the Poptin's pop-up forms are:
Lightboxes

Floating bars

Fullscreen

Slide-in pop-ups

Big sidebars

Countdown pop-ups

Social widgets

Top and bottom bars
Poptin also gives a long list of autoresponder and form templates. These are the types of forms that you can create with this app:

For example, here is how one of the Poptin fullscreen pop-ups looks like: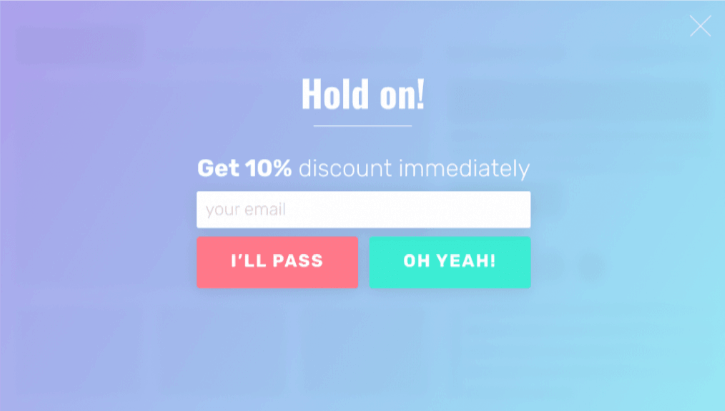 By using a simple drag and drop editor, you can design your windows in a couple of minutes. Just add or remove fields with one click.
In order to get higher conversion rates, you can determine targeting and triggering options, knowing that your offer will appear to the right audience at the right time!
Poptin's smart triggers include the following: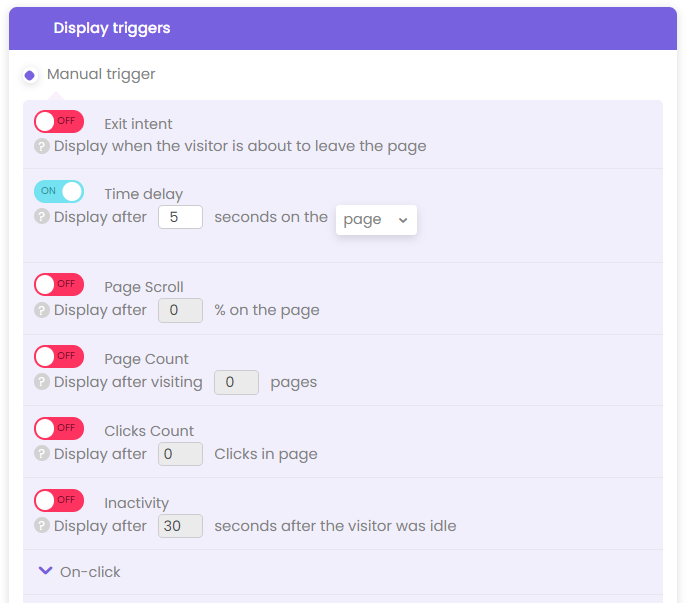 Targeting rules range from filtering customers based on country, OS and browsers, date and time, page, and many others.
One popular targeting rule is when you show a popup to first-time visitors and eliminate those who have already converted.
Offered features:
Drag & drop editor

High level of customization

Smart triggering options

Smart targeting options

Statistics

Different types of pop-ups

Customer support

Integrations
Advantages of Poptin
Poptin offers all important features for achieving the maximum potential of your pop-up windows.
Having the previous designing or developing skills is not necessary as creating and implementing pop-ups on the website has never been simpler.
Even with zero knowledge, you can accomplish great results with the Poptin builder.
Disadvantages of Poptin
The editor can freeze sometimes because of the new updates, so the tool should be refreshed.
If you're also new to analytics, you might find it hard to analyze it. However, you can get fast and reliable assistance with Poptin's customer support.
A real person will answer you right away and not AI chatbots.
Poptin's pricing
If you decided to use Poptin, you can choose between free plans or upgrade to some of the paid plans.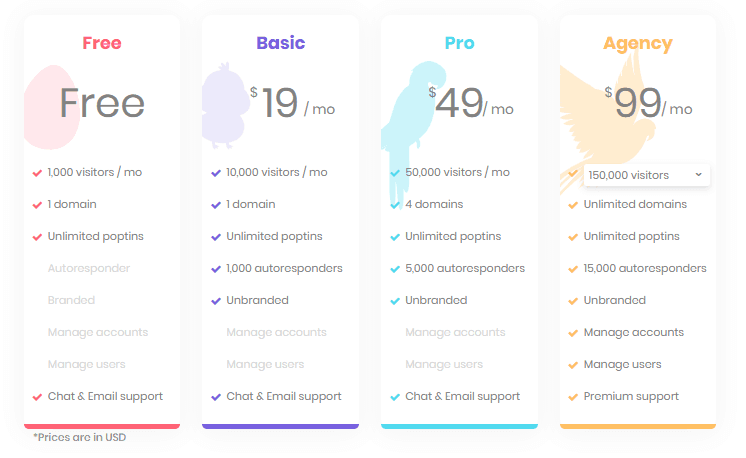 Why is the Poptin the perfect Picreel alternative?
Poptin has all you need to create pop-ups that are interesting to your visitors and that will grab their attention as soon as they show up.
Analytics can provide you with important data about visitors' behaviour, so you can use them as guidelines for your next pop-up windows as an effort to achieve better results.

If you are not sure which pop-up will perform the best, there is an option for A/B testing that will show you which pop-up is your perfect choice.
And if you have any additional doubts, there is customer support available for you via chat, phone, or email!
Poptin's ratings as the Picreel alternative
Let's look at Poptin's ratings following the next criteria:
Ease of use: 4
Customization level: 5
Visual appeal: 5
Features: 5
Integrations: 5
Customer support: 5
Pricing: 5
Total: 4.9/5
Sumo
Sumo is another Picreel alternative intended for small and medium-sized eCommerce businesses, especially.
It helps you collect more email addresses and increase conversion rates regarding your business.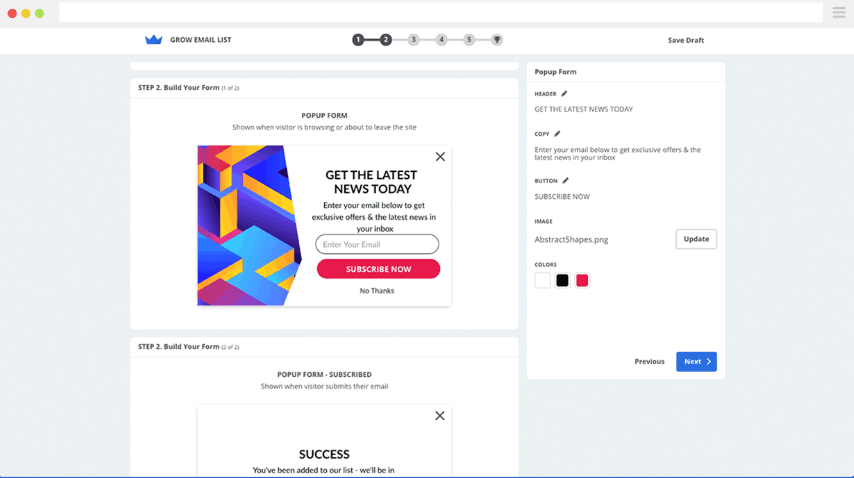 Sumo has a simple editor with options to customize your pop-up window. You can edit header, copy, choose a button and colours, and add an image.
Offered features:
Editor

Customization

Targeting options

Analytics

Integrations
Advantages of Sumo
Sumo is a very simple tool and it requires under a minute to set up. This Picreel alternative offers integrations with very popular platforms including Shopify, Klaviyo, MailChimp, and others.
If you run an eCommerce business, Sumo offers designs and templates that are made for this type of business.
Shortcomings of Sumo
Sumo offers analytics as one of its features, but it should be more detailed so that users can benefit more from it. Certain errors may occur while working with Sumo, which may interfere with the overall use of the tool.

Sumo's pricing
Sumo is all about simplicity, and that is the case when it comes to their packages, also. You can choose between a free or paid packages.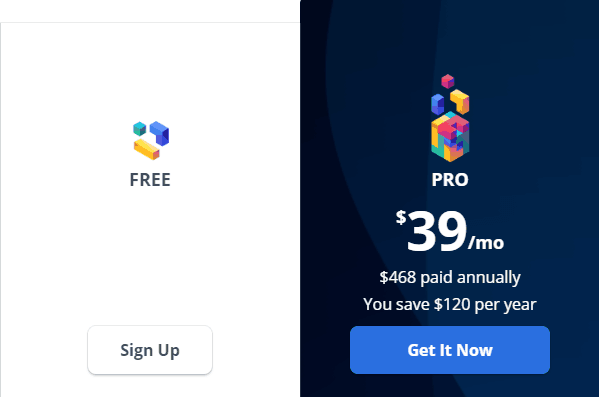 Why is Sumo a great Picreel alternative?
It is easy to use, and you don't need to hire a developer or designer in order to use this Picreel alternative.
If you want to use Sumo on different websites, you don't have to make an account for each website separately.
Sumo offers basic templates if you don't want to create pop-ups from scratch.
It helps you to create a really effective email form and gather more subscribers on your mailing list.

Sumo's ratings as the Picreel alternative
Here are the Sumo ratings by the following criteria:
Ease of use: 5
Customization level: 5
Visual appeal: 5
Features: 5
Integrations: 4
Customer support: 4
Pricing: 4
Total: 4.6/5
Unbounce
With Unbounce, you can create landing pages, pop-ups, and sticky bars.
As the previously mentioned Picreel alternative, it also has an easy-to-use editor with many options for customizing your highly effective pop-up windows.
After finishing the process of making a pop-up, you just need to add a snippet of code on your website and a pop-up is implemented.
Offered features:
Drag & drop editor

Customization

Triggering options

Targeting options

Integrations
Advantages of using Unbounce
This tool is easy to use, and by selecting triggering and targeting options that suit your target group, you can achieve better performance of your pop-ups and get higher conversion rates.
Another advantage is that you can choose how often your pop-ups will appear in front of your visitors.
You can also use A/B testing to find out which pop-ups are perfect for encouraging your website visitors to make an action.
It is important to mention that you will be able to make personalized offers for each of your visitors.
Shortcomings of using Unbounce
If it happens that you need help from Unbounce customer support, there is a chance that you will have to wait a certain amount of time until you get your response.
In order to use the maximum of Unbounce potential, you will have to hire a developer.
Unbounce's pricing
If you decide to try Unbounce, you can choose between a free and paid packages.
Why is Unbounce another great Picreel alternative?
Unbounce is intended for different businesses, no matter which niche you are in.
It has interesting features and if you use them well, they can bring more traffic to your website.
This Picreel alternative includes scheduling options, so you can set up time and date and let your campaigns run automatically without your assist.
There are many popular integrations with platforms such as Gmail, Google Analytics, AWeber, and many more.
Unbounce's ratings as the Picreel alternative

This tool's ratings look like this:
Ease of use: 3
Customization level: 5
Visual appeal: 5
Features: 5
Integrations: 5
Customer support: 4
Pricing: 4
Total: 4.4/5
To Sum up
Now after you have gone through this list of the best Picreel alternatives, you can choose the one that suits you best and start creating your first pop-up window!
If you still don't know which one to choose but you are looking for useful features and great designing and triggering options, try out Poptin right away.
Your business deserves higher conversion rates and now you can achieve them and without help from the whole team of designers and developers.
The time for great results has finally come!