Everyone in the business world knows that email is the king of all communication forms. While some people still want to be called, most people prefer on-the-go information. Texts might not be enough when you've got a lot to say. Therefore, email still works as the best way to reach potential customers.
However, creating email campaigns can be tough without the right tools. GetResponse is a popular email marketing platform, but what is it, and what other options are there? We find out!
What Is GetResponse?
GetResponse is a popular email marketing platform that allows you to create lists for partners, prospects, and clients. You can develop better relationships with people and have a profitable and responsive customer base.
This platform allows you to add contacts from an existing list or create them. You can also manage sales and plan your marketing campaigns. Automation is key here, but there are so many other features you are sure to like.
Why You Might Want an Alternative
Even though GetResponse is highly popular, some people still find it lacking. There's no free account option, so you have to pay to use it. While a free trial is available, some budgets don't allow for even the basic price.
Though you get a lot of features, the Basic version (lowest price) doesn't give you much. In fact, you're quite limited as to what you can do. This is annoying when you're trying to expand your client base or want to grow your brand.
Others might just want a different style or system. Though it's fairly easy to use the platform, it does have a few minor issues. For example, the forms aren't responsive, and there are issues with saving. Therefore, you can lose work and have wasted time.
Sometimes, the email templates seemed outdated, and it is often hard to get a response from customer service. Regardless of your reason for wanting an alternative to GetResponse, we have found four other services similar to it.
ConvertKit
ConvertKit is a full-service email service provider. It's very easy to use and has many important features, such as automation. Therefore, it's become a fast-growing email marketing company. You can also create customizable sign-up sheets and landing pages to get more subscribers.
It is different from GetResponse because it was designed with the newest technology. Therefore, it is suitable for modern-day needs. Plus, the tools aren't hard to use.
ConvertKit is very easy to use and quite powerful. It also offers fair prices and a free plan for landing pages.
Features
There appears to be endless features for ConvertKit members. You can see who has subscribed to the mailing list. Plus, there are many customizable and responsive templates for forms and landing pages. It includes all the price tiers to help you get even more email sign-ups.

Segmentation is available through broadcasts. This is a one-off email on the list, which works well for traditional newsletters. Sequences are also included, so you can create multi-part emails. If that weren't enough, automation is available for most things. Send an email to different people based on particular actions.
The best news is that integrations are available. You can use this platform with other tools, such as Shopify or Teachable. With a list that keeps going, you are sure to make it easier to send emails to your clients.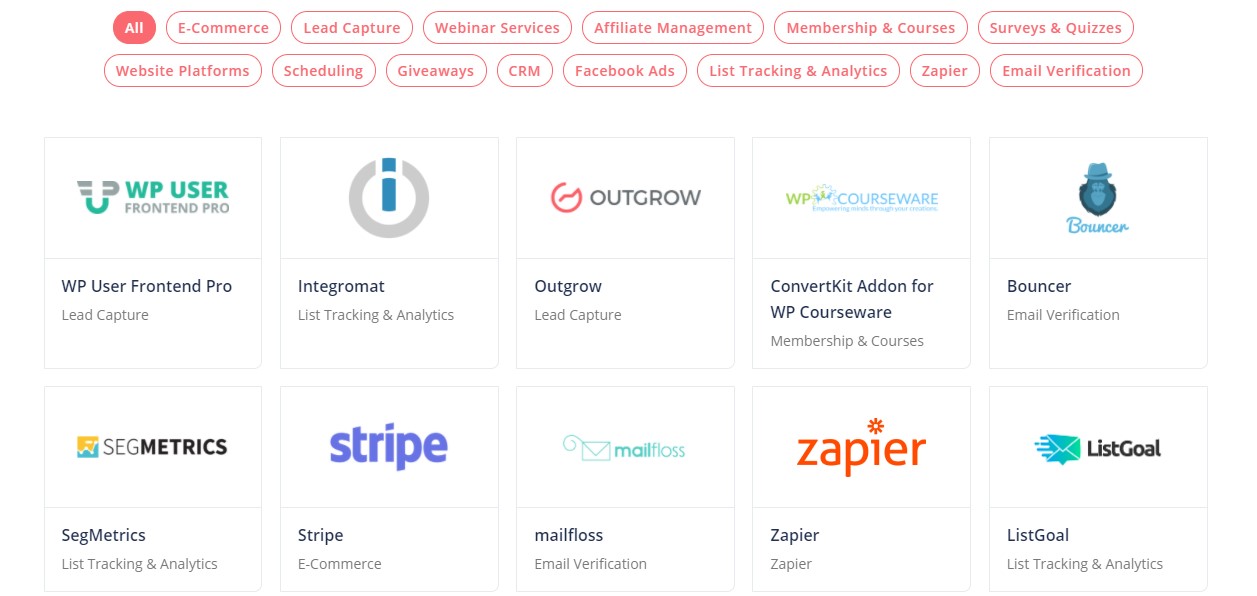 Pros:
Create landing pages and emails
Integrate with other apps
Collect subscribers from the website
Cons:
Confusing to set up an account
Challenging to switch to ConvertKit from another email marketing platform
Customer support issues possible
Pricing
When you choose to work with ConvertKit, you are sure to enjoy it. Plus, there are two pricing tiers available. The forever-free account gives you access to many things. You can have 1,000 subscribers, unlimited pages/forms, unlimited traffic, and a customized domain.
With the next tier level, you get the same features as with the free version, but also get premium support, automated email sequences and funnels, and integrations.
Considering that you get so much for so little, it's a great bargain. Plus, the pricing levels aren't so difficult to understand. Just slide the bar over to see how many subscribers you have and go from there.
Who Is It For?
Primarily, ConvertKit is designed for a particular type of audience. This includes online creators, such as YouTubers and bloggers. Therefore, it works well if you aren't focused on e-commerce and selling products.
There is a caveat here; those who do run online stores might find that it doesn't offer the features they need. You may want to consider another alternative to this one.
AWeber
AWeber is another alternative to GetResponse, and we think it is an excellent choice. It runs and develops opt-in email marketing services for small businesses, entrepreneurs, and bloggers across the globe. It's a web-based program and offers tools to help companies grow. You can easily keep in touch with your prospects and customers.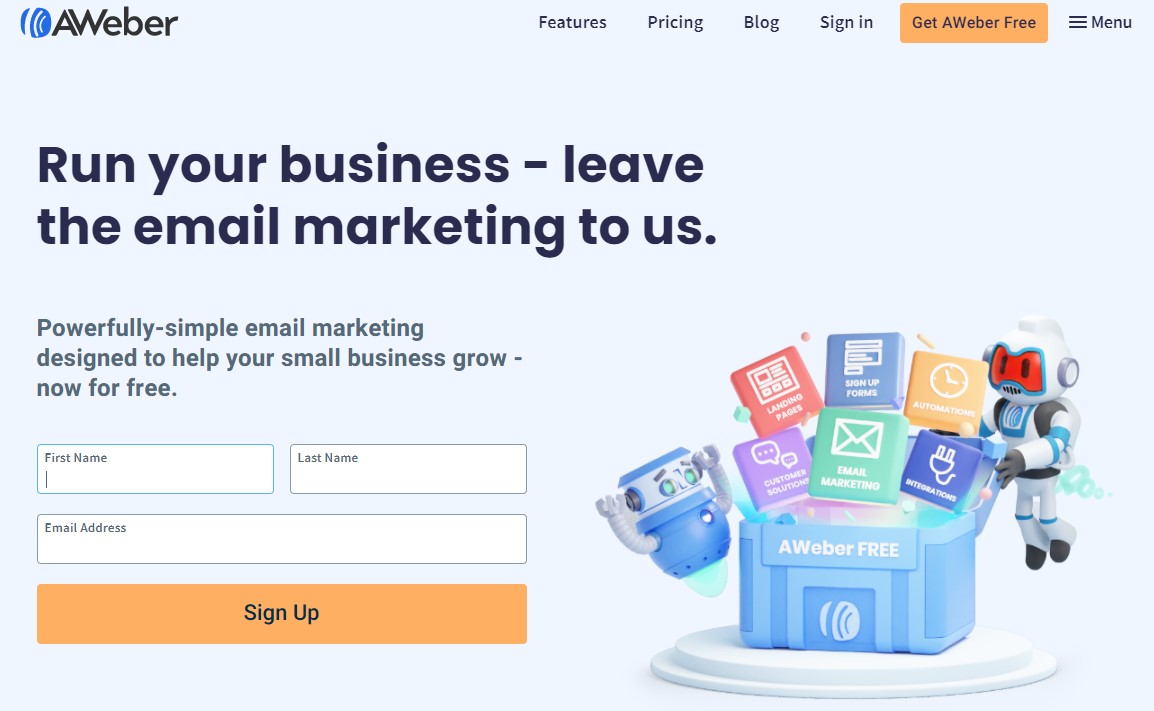 Features
There are many features to like about AWeber. For one, everything is customizable. There are also options for broadcast messages, subscriber management, and reports.
Broadcast messages allow you to send an email with an important message, such as for an event. You can choose to send a particular email to everyone, certain people, or a different email list. Schedule it in advance for a particular day.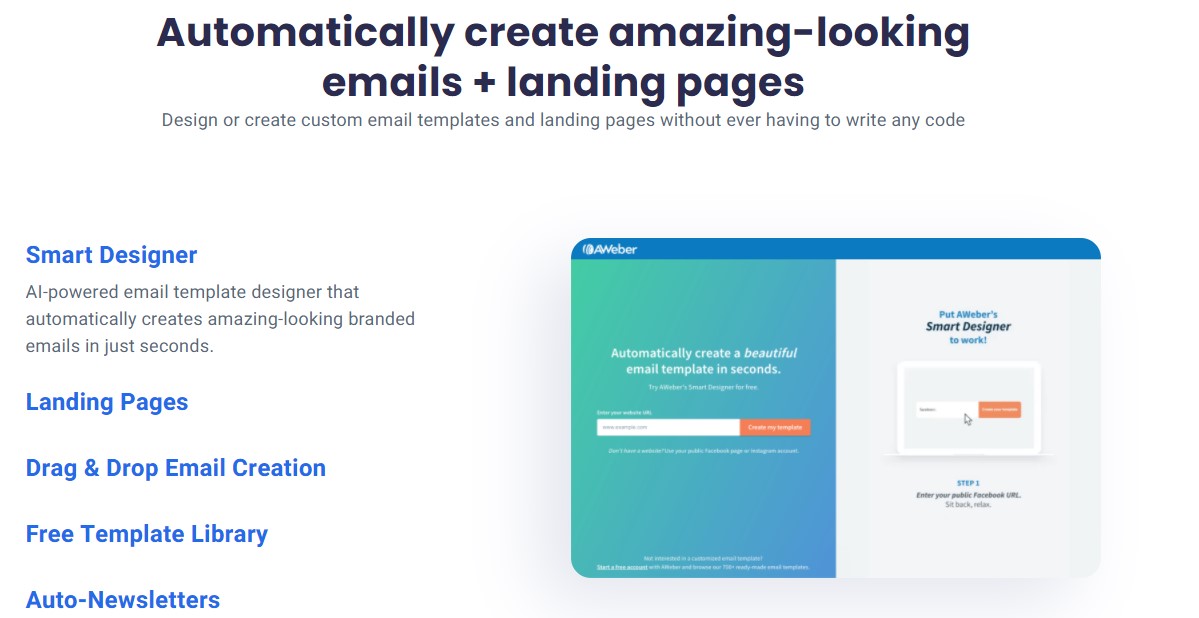 The reports are also excellent. There are list and account options. With the account report, you can see the revenue generated, clicks, and opens for any list you have.
With the list report, you can view your subscribers by week/day/month, follow-up with the broadcast emails, track ads, and so much more.
It's also possible to send follow-up emails automatically after a particular amount of time. Since you're so busy, you're going to like that feature a lot!
Pros:
Easy-to-use web-based platform
Pre-built reports for easy use
Many integrations available
Cons:
Few features available with the free version
Branded emails with free version
Hard to reach customer service
Pricing
The pricing plans are actually quite simple, which is nice when you're trying to figure out what you need. Generally, you can choose the free version, which is forever-free, or the Pro option.
Though it's nice to have a free version, you can't do much with it. You're limited to 500 subscribers and 3,000 emails a month with only one profile.
You aren't going to get email split testing, and there is AWeber branding on each email and landing page. There's little segmentation and hardly any reporting features, either.
However, it is a great way to test the platform and see if it's right for you. Then, you can easily switch to the Pro version, which is relatively inexpensive. With that, you get all the reporting, automation, and e-commerce tools you want without any company branding.
Who Is It For?
Any entrepreneur can use AWeber. Even bloggers have turned to it to help spread the word about their page. There is an e-commerce feature on the paid plan, so you can use it to grow your clientele and track revenue directly related to emails.
EngageBay
If you are looking for affordable and comprehensive software, EngageBay is the right fit for you. EngageBay is an all-in-one marketing, sales, and service platform — with free CRM. 
It's a cloud-based platform, meaning you can access it from anywhere as long as you have a good internet connection. EngageBay's iOS and Android apps are excellent for mobile work. 
EngageBay's features are neatly categorized into four sections — the Marketing Bay, the CRM & Sales Bay, the Service Bay, and Live Chat.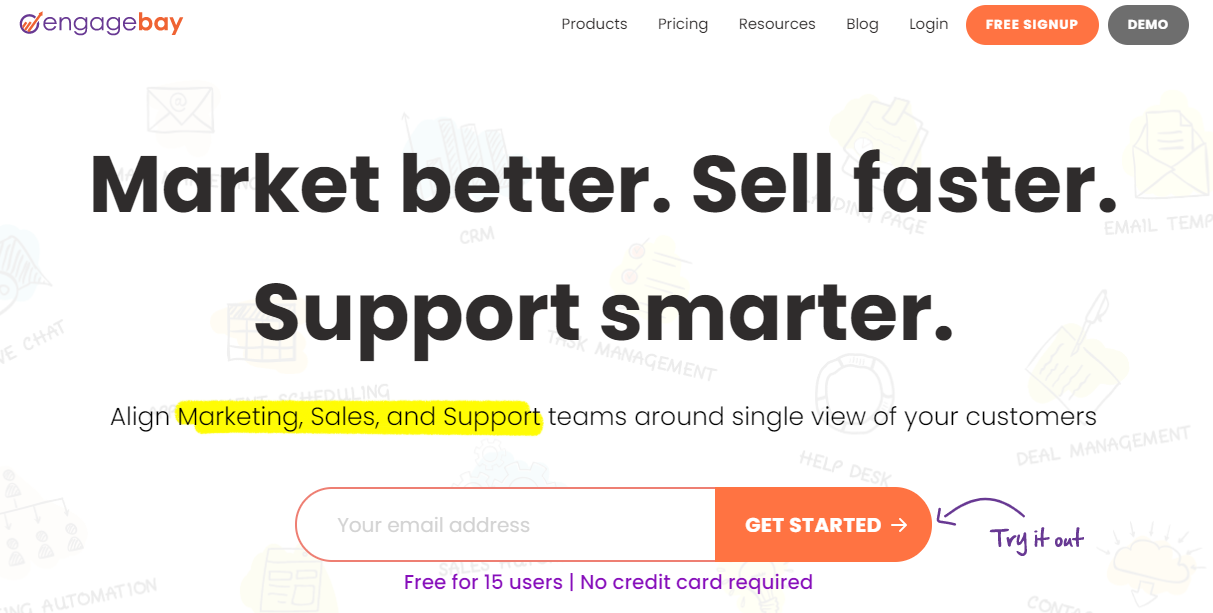 Features
EngageBay lets you quickly create stunning landing pages and email forms with its intuitive drag-and-drop builder. What's more, you can make your pages responsive across devices thanks to mobile-compatible designs. 
Once your landing page is completed, you can A/B test each element on your page, including your CTAs. 
Moreover, you can automate complex workflows, build and launch powerful multichannel campaigns, and get insightful reports on each marketing aspect. 
With 2-way calendar sync, you can view all your appointments from one place. EngageBay's social suite lets you manage all your social accounts — LinkedIn, Facebook, Instagram, and Twitter – from a single dashboard.
Is the sales process boring your team? With EngageBay's leaderboards and gamification, you can make sales fun, improve employee satisfaction, and boost productivity. 
EngageBay also offers a host of third-party integrations, including Zapier, Outlook 365, Mandrill, Sendgrid, Xero, and many more. 
Pros
Highly affordable

Integrated social suite

Advanced landing page and email A/B testing

Neat and intuitive dashboard, excellent user experience
Cons
Can add more templates

Needs more detailed documentation for some new and advanced features

Can add more integrations
Pricing
EngageBay is one of the most affordable all-in-one CRM software. 
The Free all-in-one plan is free forever for up to 15 users, and offers landing pages, CRM automation features, contact management, email tracking and campaigns, and calendar integrations. You also get 1,000 branded emails a month. 
The All-in-One Basic Suite starts at $14.99 per month and includes 1 GB of cloud storage, canned responses, conversational inbox, predictive lead scoring, and 360-degree customer view. With this plan, you get 3,000 branded emails every month. 
The All-in-One Growth Suite costs $49.99 a month and adds marketing automation, push notifications, landing page A/B testing, and other advanced features. The plan also allows 50,000 contacts, with 25,000 branded emails a month.
The All-in-One Pro Suite starts at $79.99 a month and adds advanced tools like custom reporting, web analytics, a dedicated account manager, phone support, web analytics, and more.
All the paid plans get a 20% discount on annual subscriptions and a 40% discount on biennial subscriptions.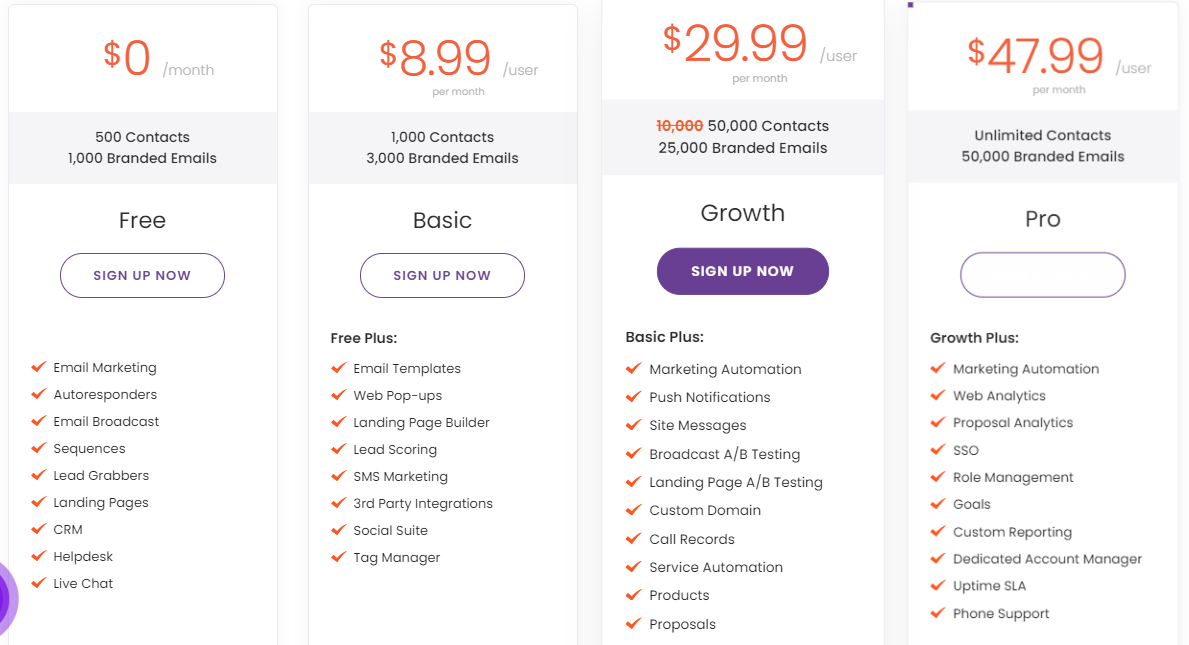 Who's it for?
EngageBay is perfect for small and medium companies looking for affordable pricing without having to compromise on features. EngageBay's audience includes insurance agents, digital marketing agencies, coaching companies, and thousands of small businesses and startups.
When you want an ECRM (e-commerce customer relationship management) platform, Drip might be the one for you. It can help you organize and gather data on customers. Plus, you can then use it to make personalized emails and send them to prospects and clients.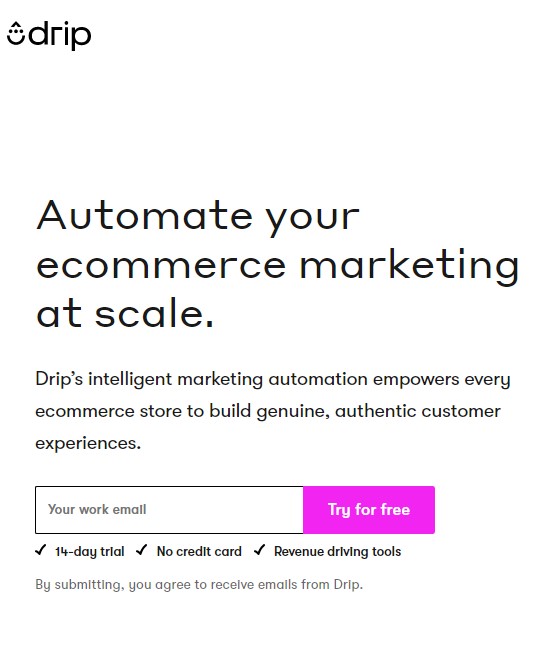 You get the same automation and personalization capabilities as the big marketplaces. As an independent brand, this gives you a fighting chance against the competition.
It's a newer company and might be considered a start-up itself. Though it might be new, it is taking the world by storm and changing how e-commerce companies plan.
Features
There are countless features to like about Drip. For one, you can store customer data through marketing and storefronts and keep it all together. Tags, custom fields, and behaviors are all stored. Plus, there are countless integrations available.
You also get personalization at every level. Deep segmentation helps you choose which people to send emails to. Automation can be behavior-based, which means you engage with them at the right time in the buying process.

Engagement is key, and you get this with personalized emails, social media help, and so much more. There are also many integrations, so you can use the apps you already prefer and know.

Pros:
Many integrations available
Learning tools (webinars, courses, and guides)
Easy-to-use platform
Cons:
No forever-free account
Confusing demo
Short trial period; not enough time to test the features
Pricing
The pricing structure of Drip is a little more confusing than the others we've mentioned. You start out paying $19 a month for 500 contacts, but you can send unlimited emails.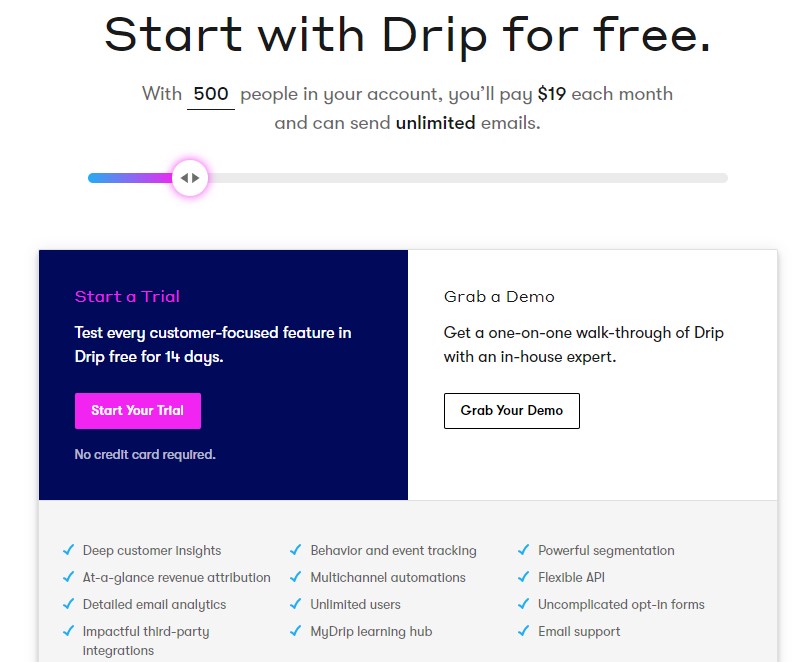 There is no free account available, so you get all the features shown. Though there is a 14-day trial, we don't think that's enough time to see how it all works. Still, you don't have to put in a credit card number, so you can test it thoroughly.
Prices go up from there, so if you have 501-2000 contacts, you pay $29. The price rises $10 for every 1,000 or so contacts.
Who Is It For?
With low prices, any entrepreneur may find Drip a value. However, it is geared more toward small and medium-sized businesses with a strong focus on e-commerce. It is a great tool that has many features for a low price. Those with fewer email contacts may find it to be helpful.
Still, prices can skyrocket if you've got more than 3,000 contacts. Therefore, Drip may not be the best choice for big companies.
MailerLite
If you're interested in affordable email marketing options, MailerLite might be what you need. It was founded back in 2005 and helps over 800,000 companies every month.
We feel that it is a simple and effective choice that gets the job done. Plus, it's easy to use and has a great variety.
Features
For something that is so easy to use, it can do so much. MailerLite has a variety of features you are sure to enjoy.
You can create email newsletters and send out promotions. RSS is also available to send digests from your blog automatically.
There is also A/B split testing available, which lets you change email content, subject lines, and more. Create targeted popups and forms with the MailerLite platform to get more subscribers.
It's also possible to segment subscribers to ensure that they are getting the right message at the right time. Group them by activities and characteristics to make easy-to-use lists.
Of course, with this platform, you can build your landing page and website. You can even get hosting directly from MailerLite.
Whether you want something simple for email flow or a complex system, automation is there to help you.
Pros:
Automatically remove inactive subscribers
Plenty of integrations
Strong email editor
Cons:
Automation isn't very elaborate
Confusing to set up
No website-visit automation triggers
Pricing
The pricing structure can be a little confusing for MailerLite. Of course, there is a forever-free version, but it only allows you to send 12,000 emails per month. You're also limited in other ways, such as being restricted from top features.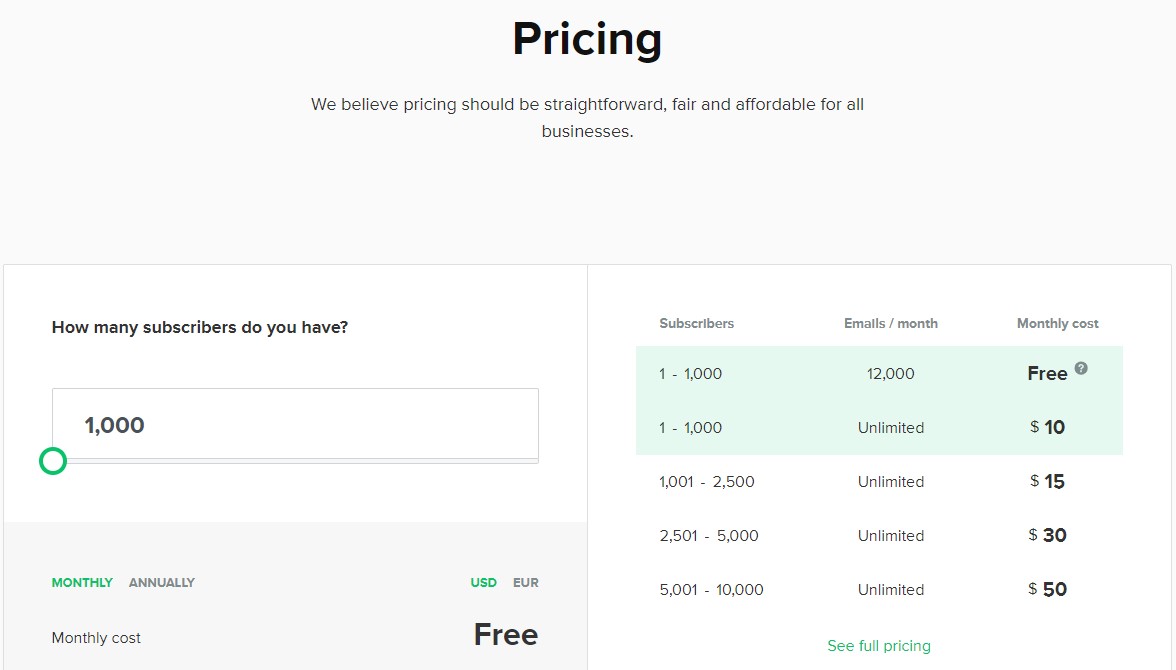 The premium plans (paid versions) allow you to get live support, custom HTML editors, and newsletter templates.
Also, with the free plan, each email sent features the MailerLite logo. This can look unprofessional and be annoying. However, those are removed from the paid plans.
Other features not included in the free plan consist of auto resend, delivery based on time zone, and the ability to create templates.
Who Is It For?
Whether you're on a budget or not, you are going to like MailerLite. However, it does appear to be geared toward bloggers and content creators instead of e-commerce businesses. Still, if you need automation and website building above all else, this is a great alternative to GetResponse.
Conclusion
Those who have tried GetResponse and weren't impressed can find many other alternatives. Similarly, you may be on the fence and can try another option for free before making a final decision.
We've discussed the top four alternatives to GetResponse and find that each one has its benefits and drawbacks. Now that you are armed with information, you can choose the one that fits your needs and budget best.