Constant Contact is a well-known brand for email software and currently has over 600,000 customers. However, some people aren't fans of it and want to try an alternative service. Luckily, there are plenty of options from which to pick.
What Does Constant Contact Provide?
Constant Contact is called an email marketing platform, and it is used by nonprofits, small businesses, and other entrepreneurs. This company has been in the industry for more than 25 years. In that time, it has added many popular features. In fact, people still purchase it to help with their email marketing campaigns.
With Constant Contact, you get:
Email marketing with reporting, autoresponders, and templates
E-commerce tools with coupons, transactional emails, online payments, and store
Website builder to create landing pages and a website
Polls and surveys for questionnaires
Logo maker with other fun tools
Clearly, you can see the Constant Contact has a lot of appeals, but this platform also has many flaws.
Why People Want to Switch from Constant Contact
Even with it being so popular, people have multiple reasons for choosing an alternative platform. According to many of the reviews, the competitors for Constant Contact are actually better in a lot of ways, such as:
Pricing – Constant Contact isn't cheap. You can find many other email marketing platforms that are more affordable or even free forever.
Basic automation – Constant Contact does use autoresponders. However, the emails can only be triggered by a clicked link or sent to a non-opener. Therefore, you're pretty limited as to what you can do. There's no if/then logic or any automation workflow features as the competitors offer.
No previews – If you want to check how the email looks on mobile, you can't with Constant Contact. Many users have formatting issues, even on the desktop.
Outdated templates – Some of the email templates available are highly basic and feature a dated design. Though the email editor is quick, there aren't many design features available.
Now that you understand Constant Contact better, here are four alternatives to check out. Please read them and find out which platform might be right for you.
The free plan for SendinBlue has quite a few features, such as phone support, 300 emails a day, and marketing automation. Of course, advanced automation is available for a price, which includes lead scoring and web tracking. However, this company charges you based on how many emails you send instead of the contacts you have.
Features
SendinBlue is quite easy to use with easy-to-navigate menus. You can easily follow the campaign production flow, as well.

Of course, you're probably going to create a lot of newsletters. The editor features drag-and-drop, which is smooth and fast. You can also choose preset elements. Personalization of the emails is also available with the if/then/else logic included. However, you must program that to get it to work correctly.
Email options include autoresponders, newsletters, SMS, A/B testing, and transactional emails.
List management features are also available. Create a filter to serve as your segment and base it on behaviors or contact criteria. Set up an automated workflow to help you create lists based on lead scores, behaviors, or demographics.
Pros:
Low-cost plans
Landing page editor
Solid email automation
SMS marketing available
Cons:
Few integrations
Only free plan feature is unlimited contacts
Pricing
With the free plan, you get unlimited contacts but little else. However, you can play around with the platform and learn how to use it before advancing to the Lite, Premium, or Enterprise tiers. As with many other email marketing service providers, you get more features as you advance and spend more money.
Who Is This For
SendinBlue is recommended for people who often send one-on-one campaigns. It offers excellent transactional and trigger-based emails. The automation workflow designer enables you to build your campaign based on opens, clicks, and webpage visits.
Those who are on a low budget and want a sophisticated email-sending tool are going to like this product. It's cheaper than other tools listed here and Constant Contact. Therefore, if you desire segmentation, automation, and more value for the money, this noteworthy option might be right.
Of course, e-commerce companies are going to like customizable triggers, which can be set to purchase data or KPIs.
Companies who want user access levels and multiple logins aren't going to like SendinBlue and may want to consider something different.
MailerLite
MailerLite is a relatively new email marketing platform, but this also indicates that it has plenty of high-end features and modern design. This international tool is available in eight different languages, with support offered in just as many. Plus, you can create emails in the app, though only if you have an iOS phone.
Features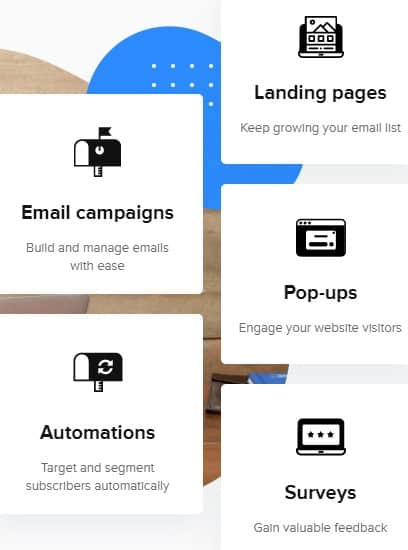 With the forever free plan, MailerLite does things that most other platforms don't. However, when you do decide to try the paid subscription, it's still cheaper than many others on the market, including Constant Contact.
Though it is simple, there are still many choices to make, such as with your forms and newsletters. The simple and fast editor makes it all a piece of cake, so it feels like you can tackle any email campaign with ease.
You can choose a variety of email options, such as surveys, autoresponders, or classic email styles. Though personalization is available, if/then/else logic isn't available. Still, you can add blocks to only send emails to specific segments or groups.
Though it can't track how many people have visited a page, you can get automation to help you create workflows for opens, clicks, and other triggers.
Pros:
Free plan with plenty of features
Easy to use interface
Landing page editor available
Cons
The free plan is limited
Missing features that other paid plans have (full reporting, spam/design tests, automation)
Pricing
MailerLite's pricing structure is a bit challenging to understand at first. Of course, you get up to 12,000 emails a month with 1,000 subscribers for free. Still, you don't get all the features. You can then choose unlimited emails and 1,000 subscribers for $10. The price rises from there, as does the subscriber count. Of course, the features you unlock are also better as you pay more.
Who Is This For
This email marketing tool works well for small business owners, freelancers, and entrepreneurs going solo. If your budget is modest and you need a tool to do more than send newsletters, this is it.
Those who are creative or bloggers also like MailerLite because it allows for WordPress integration, video marketing, and RSS campaigns.
However, if you require a lot of reporting tools or want social media tracking, this might not be the right option for you.
SendGrid
SendGrid allows you to communicate with customers in a simple and stress-free way. The technology provided helps you save time while scaling your business. You're going to succeed in the ever-changing landscape of email. It currently serves more than 80,000 customers internationally. Through it, more than 45 billion emails are sent each month.
Features
The features of SendGrid seem endless. You get full integration tools with a standardized API. There are open-source libraries in various languages. Plus, the setup flow produces your first email communication in roughly five minutes.
You also get a powerful performance from the platform, so you can accomplish your goals faster. The platform is designed to be up and running 99.95 percent of the time, so it's available when you need it most.
With the email editor, you can choose from existing templates and customize them to meet your needs. Drag-and-drop functionality makes it easy to build newsletters, but you can also code them from scratch.
While automation is lacking somewhat, you still get a prebuilt autoresponder and can customize it to meet your needs. Triggers, such as making a purchase or signing up for the newsletter are included. Plus, you can create automation using a contact list.
The email marketing metrics available allow you to track unsubscribes, unique clicks and opens, and emails delivered.
Pros:
Detailed analytics
Personalize individual emails
Advanced functionality for deliverability
Cons:
Few segmentation options
The free plan doesn't include live chat or phone support
Basic autoresponders
Pricing
There is a forever-free plan, which allows you to send 40,000 emails in the first 30 days. Then, you can send 100 emails each day. You get basic features, such as ticket support, APIs, webhooks, and optimization tools. Still, it's not the best option.
You can also find the Essentials, Pro, and Premier packages. The price is based on how many emails you send, and you get various features, and more of them, the higher you go.
Who Is This For
SendGrid clearly goes above and beyond for email deliverability. Therefore, it is excellent for marketers who need this aspect. If you find that your communications always go to the spam folders, now is the time to try SendGrid.
It also focuses a lot on integrations with a separate API service. This gives you a seamless data flow between the various solutions. However, as an overall email marketing option, it might not be suitable. SendGrid does lack in areas of automation and segmentation. Therefore, if you're a marketer who wants to create complex campaigns that are highly tailored, you may have issues.
MailJet
MailJet was created in 2010 in France and is used by thousands of companies to help them send transactional emails and create email campaigns. It has recently added multi-user functionality, so everyone can work together on the email. Still, you wonder how much it is and what it can do for you.
Features
MailJet features a variety of email types, such as autoresponders, transactional emails, A/B testing, and more. However, you may need to go to the Premium plan to get access to them all.
With a user-friendly drag-and-drop feature, you're going to be sending emails in no time. You can also collaborate on an email with team members. Anything that gets updated can be done at one time. There is also page design locking, so you can restrict certain users as needed.
It is possible to create filters to use as segments for behaviors and contact information. However, it's limited to opens and clicks. You're not sure what they clicked on or opened. Still, if your needs are basic, this is a great choice and is much cheaper than Constant Contact.
Pros:
Multi-user collaboration
Ease of use
Deliverability
Cons:
Limited segmentation conditions
List management could be easier to use
Limited automation
Pricing
With the forever-free version, you can send 200 emails a day (6,000 a month). You do get statistics, an email editor, and unlimited contacts. With the Basic, Premium, and Enterprise options, you get many more features. Prices vary based on how many emails you want to send, but there is no daily limit. You get all of the features of the plan before it, as well.
Who Is This For
If you're someone who wants more integrations, then MailJet might be right for you. It offers 80 different options, such as Facebook. Those who prefer to collaborate on their emails with team members are going to like this option. It allows you to bring everyone together on the project regardless of where they are.
However, those who need to focus on automation and segmentation conditions may not like MailJet. Also, there could be improvements to the deliverability of emails. Still, this is a solid choice for those on a budget who don't require a lot of segmentation.
Conclusion
Every single platform listed here is run by a brilliant mind. They are all suitable as Constant Contact alternatives, and they all cost less. Therefore, the one you choose depends on your needs right now and what you might require in the future.
Try to choose an email marketing platform that's simple but powerful in what it offers. You've now got four alternatives to consider. Some of them offer advanced features when you pay, while others are forever free. They're all user-friendly and ready for you to give them a trial period.
Just remember that there's not a one-size-fits-all for email service providers. Consider all aspects of the platform before making a choice.