Email marketing is one of the trends that every business and entrepreneur uses to generate leads and boost engagement. Marketers believe that emails offer higher ROIs among all the channels. Therefore, email marketing platforms like ActiveCampaign have a lot of users who are loyal.
What Does ActiveCampaign Provide?
ActiveCampaign is an excellent platform for email marketing. Many people enjoy the drag-and-drop builder for campaigns, the intuitive dashboard, CRM integration, and all the rest.
It's important to know why people like it. You get:
Email segregation with dynamic content
Visually appealing and personalized emails
Email funnels
Campaign automation flowcharts
Why People Want to Switch from ActiveCampaign
Such features allow you to get those email campaigns up and running fast. However, to gain access to these advanced options, you have to choose the Enterprise tier level, and this comes at a significant cost. Small companies are often on a tight budget for marketing and may not be able to spend that much.
Luckily, there are alternatives available for free. Of course, you have to buy the service to use the advanced features, but they often cost less than ActiveCampaign. Therefore, this list was compiled to help you see what options you've got.
Omnisend
Omnisend is one of those powerful marketing automation platforms that work well for high-growth businesses. You get customer segmentation, automation workflows, and a variety of channels to help you reach potential clients. These can include Facebook Messenger, SMS, email, push notifications, and so much more. This complete solution is available and helping over 50,000 merchants deal with their e-commerce marketing needs.
Features

Omnisend can help you increase your conversions by combining multiple channels to get the best experience. Add a variety of things to reach out to your customers at the right place/time. Improve the engagement with your clients and personalize their experience more by using segmentation throughout the channels to send a relevant message each time.
You can also drive sales by sending contextualized and anticipated messages when the need arises. There are countless prebuilt templates to help with automation. Plus, you only have to set it all up one time.
It's much easier to create newsletters quickly with the drag-and-drop content editor. With its intuitiveness, you have the tools you require to get the results you need. Improve performance with an email template, discount coupon creator, and much more.
Pros:
Cons:
Hard-to-understand previews of emails
No trial period for upgraded versions
A few limitations with editing features but not much
Pricing
The pricing structure for Omnisend is based on the number of contacts you currently have. There is a forever-free account available, but you get few features. Still, you can send 15,000 emails per month.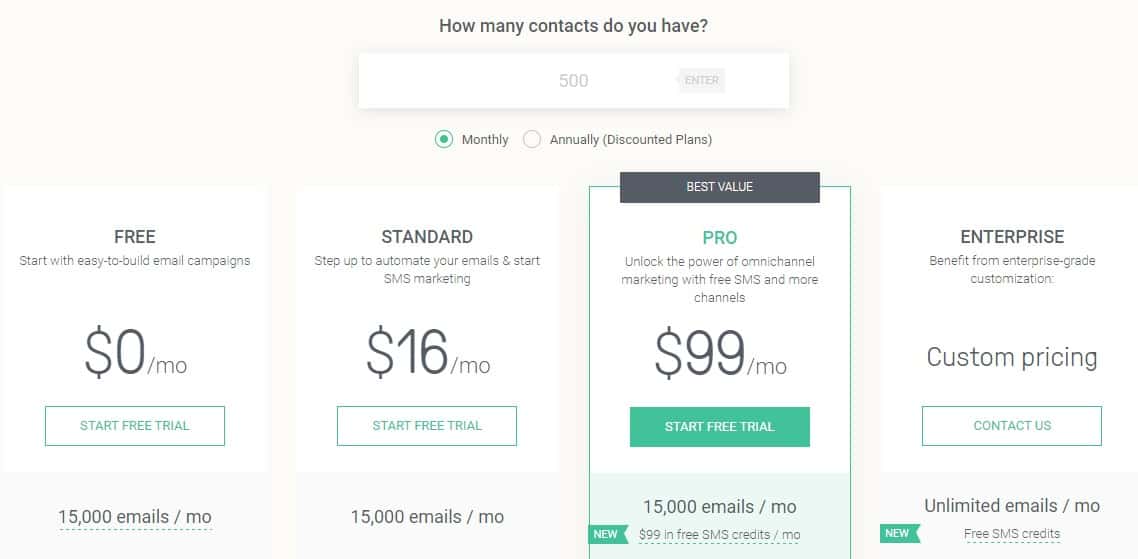 With the Standard version, you get a few added features, and this continues up to Pro and through Enterprise. We aren't sure how much Enterprise costs, as you must contact the company to determine what you require and get price quotes.
Who Is This Best For?
If you are an e-commerce marketer, you are going to like Omnisend. Many times, you find yourself outgrowing the generic tools out there. This one seems to continue to grow with you as you need it. Plus, the many integrations with Shopify and Magento can help you cut the time it takes to communicate with your customers.
Campaign Monitor
If you want a cloud-based email marketing platform, Campaign Monitor might be what you need. Companies can use it to manage subscriptions, send newsletters, and generate various reports. Campaign Monitor is straightforward and offers personalized and beautiful results. Therefore, you can have something reliable to grow your engagement and promote loyalty.
Features
You're going to find many features to like. For example, customer journeys show you what the customer has done and whether or not they've bought something. Of course, there are also targeted segments, which help you execute your latest email campaign. The drag-and-drop email editor seems to be a given for every ActiveCampaign alternative, and you get that here, too. That way, you can determine which templates to use and customize everything to meet your needs.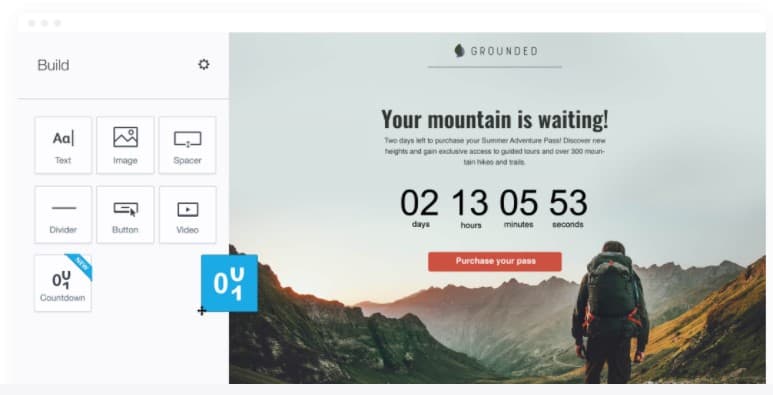 The goal is to provide target messages that are relevant to the customer at that particular time. Real-time information is given to help with campaign activities and email performance. You can also use many third-party app integrations to keep everything in one spot.
Pros:
Easy-to-use API
Suggestive features
Nice delivery with appropriate send-out times
Cons:
Hard to understand certain configurations and features
Templates feel restrictive (formatting and styling)
No CRM; must import lists or integrate
Pricing
There is no free-forever version with Campaign Monitor, but you can get a free trial period. Select the number of contacts you have, which starts at 500. Prices go up from there based on how many people you email per month.

The Basic plan is the cheapest and offers the core marketing features you need with a few analytics to boot. However, the Unlimited package gives you all that with spam testing and advanced market automation.
With the Premier choice, you get a long list of features, such as prebuilt segments, advanced link tracking, and more.
Who Is This Best For?
If you don't have a lot of technical expertise and want to create beautiful and engaging emails, Campaign Monitor might be right for you. It works well for businesses that are on a tight budget within a variety of industries. While some ActiveCampaign alternatives are geared toward creatives, this one is suitable for any company or freelancer.
EngageBay
EngageBay is an award-winning all-in-one marketing, sales, and service software, with integrated CRM. For businesses looking for an affordable and feature-packed platform, EngageBay is an excellent alternative. 
The cloud-based platform has four neatly categorized sections or 'Bays':
Marketing Bay

CRM & Sales Bay

Service Bay
EngageBay is perfect for small and growing businesses that need these tools on the go; the software comes with full-fledged Android and iOS applications.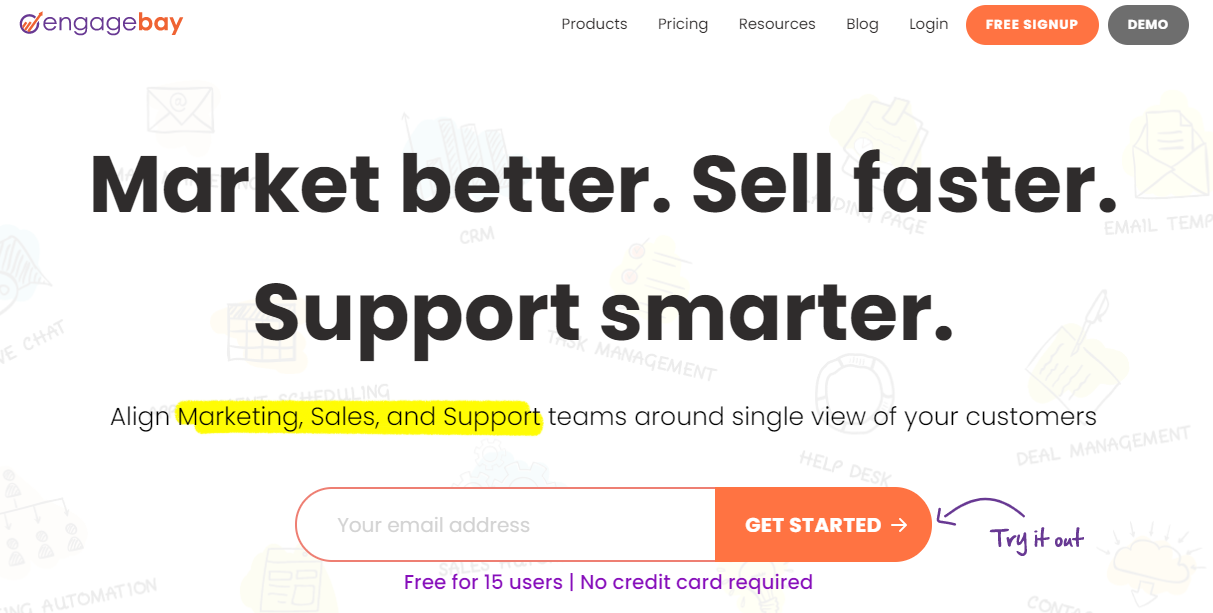 Features
Need to create a landing page for your business? With EngageBay, you can drag-and-drop elements, blocks, and content to create visually stunning landing pages. You can even create email forms easily using the drag-and-drop builder and a wide range of templates. 
What's more, these pages can be made highly responsive for both desktop and mobile users. 
You can test your landing pages and email forms with EngageBay's A/B testing feature. You can also save time and resources by automating your marketing, sales, and customer service workflows. 
With EngageBay, you can easily launch multichannel campaigns and connect with your audience through phone, SMS, email, and chat. 
EngageBay's social suite lets you keep a tab on all your social media accounts such as Twitter, Facebook, Instagram, and LinkedIn from one dashboard.
The 2-way calendar sync gets all your appointments and events in one place. 
With EngageBay, you can also seamlessly integrate with third-party applications. Use Zapier to build automated workflows across various apps. Connect Stripe with EngageBay for a complete billing solution. Need more? Integrate EngageBay with Mailgun, JustCall, DocuSign, Shopify, and at least a dozen other apps.
Pros
Highly affordable

Drag-and-drop landing page and popup form builder

Robust landing page and email campaign A/B testing

Smart lead capture and predictive scoring
Cons
Templates can be wider in variety

Needs a few more integrations

Can use more interactive tutorials for advanced features
Pricing
Hands down, EngageBay is one of the most affordable all-in-one CRM software. 
The Free all-in-one plan is free forever for up to 15 users and offers Live Chat, Help Desk, CRM, landing pages, autoresponders, and email marketing with 1,000 branded emails a month.
The All-in-One Basic Suite costs $14.99 per month and includes custom deal milestones, 1 GB of cloud storage, desktop notifications, 360-degree customer view for 1,000 contacts, and conversational inbox. You can also send out 3,000 branded emails every month. This plan also adds lead scoring, SMS support, and web popups.
The All-in-One Growth Suite starts at $49.99 a month and offers marketing automation, push notifications, free onboarding sessions, your own custom domain, and a dedicated account manager. You can store up to 50,000 contacts and send 25,000 branded emails a month.
The All-in-One Pro Suite starts at $79.99 a month and offers advanced tools like call scripts and recordings, custom reporting, APIs, web analytics, phone support, proposal analytics, web analytics, and much more.
All the paid plans also get a 20% discount on annual subscriptions and a 40% discount on biennial subscriptions.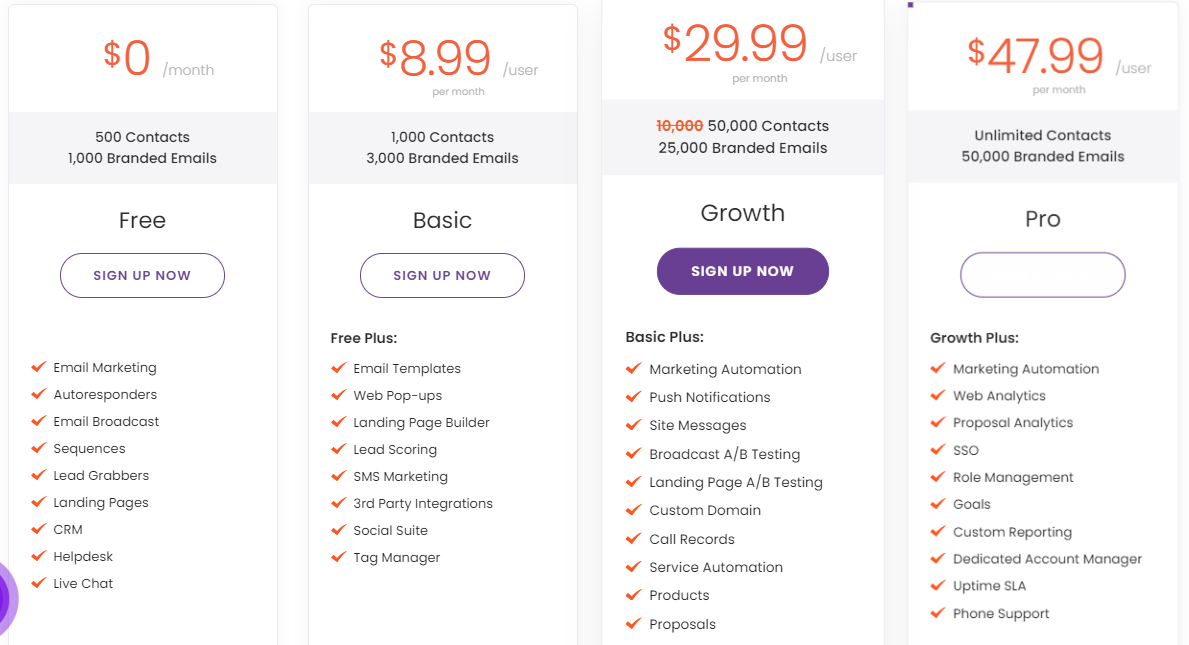 Who is this for?
EngageBay is a great pick for small and medium businesses looking for comprehensive CRM software that won't eat up their annual marketing budget. EngageBay's buyers include digital marketing and advertising agencies, tech startups, and small but growing investment firms among others. There are about 30,000 companies using EngageBay today. 
AutoPilot
AutoPilot is a visual-based marketing automation software. It can help you capture new leads and convert them while connecting with your customers and getting a loyal fanbase.
Many people like it as an alternative to ActiveCampaign because of its many features and low-cost options.
Features
With AutoPilot, you can choose multi-channel marketing features, such as email, online, SMS, traditional, and in-app options. This allows you to capture leads from various websites, apps, and blogs. You can then organize it all into different folders and lists while using contact management features to sync existing information with new systems.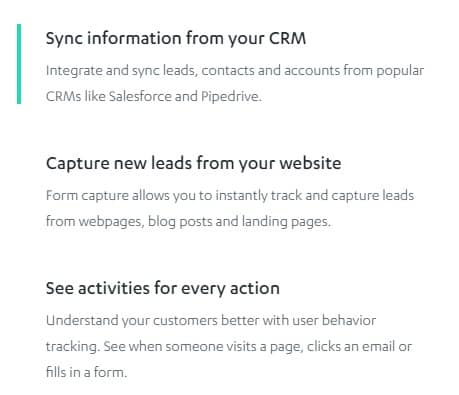 You also get an excellent drag-and-drop interface that allows you to automate the workflows to send out personalized messages or SMS texts. With that, you can also view user activity, monitor ROI on campaigns, and so much more. Integrations are plentiful and can include GoodData, Salesforce, Zapier, and many others.
Pros:
Flexibility and reliability
Segmentation options available
Immediate support provided when necessary
Cons:
Direct integration with third-party apps might be a good idea
Not the best for customization and design features
Slightly more expensive than other alternatives mentioned
Pricing
The pricing structure here is pretty straightforward. There are Silver, Gold, and Platinum plans. Depending on the one you select, you can get anywhere from 2,000 to 10,000 contacts and send unlimited emails. Then, there are plenty of add-ons available, such as VIP support, various integrations, and a customized IP.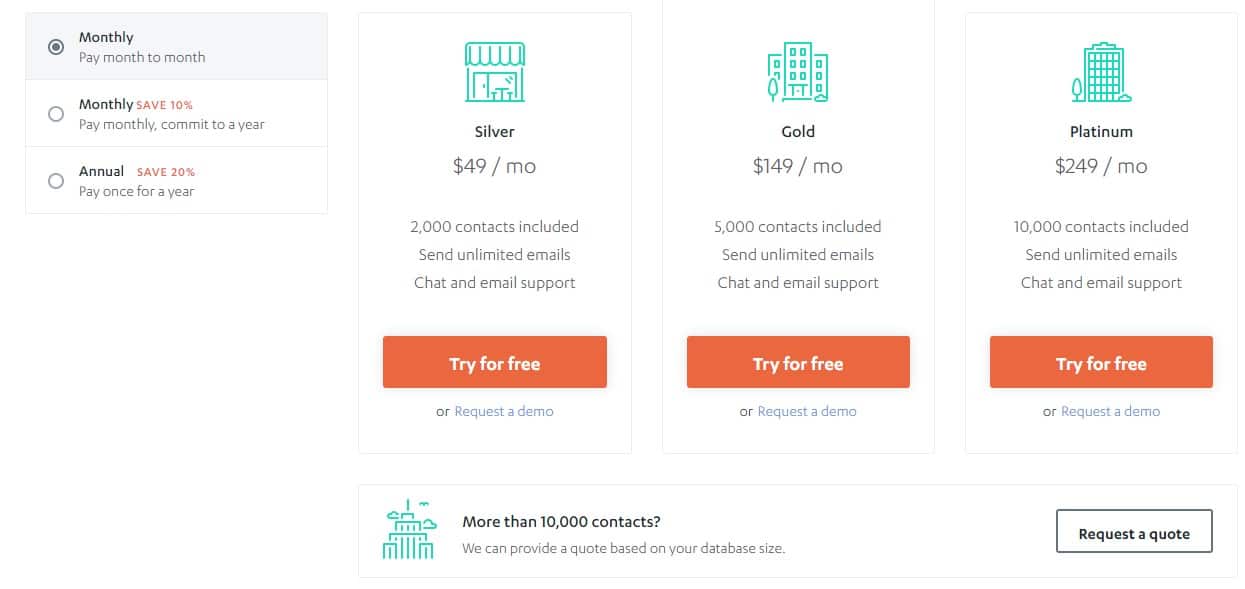 These must be paid for separately, which can be a little confusing and raise your price very quickly. Still, it allows you to customize the plan to meet your specific needs in a way that no other ActiveCampaign alternative can provide.
Who Is This Best For?
Whether you're a blogger or own an e-commerce store, you can benefit from AutoPilot. It's designed to do more than send out emails, so it could become an inclusive tool that helps you reach more people, target the messages, and get more leads and sales.
That said, freelancers might not use all of the features. Since you pay for them all, it makes sense to choose something geared more toward you and your specific industry needs. Still and all, this is a great choice if you want something that is going to allow you to grow.
MailChimp
When most people think of a newsletter tool, MailChimp often comes to mind first because of its great marketing and the monkey character. It claims to send almost 11,000 emails a second from its platform, and that's no joking matter.
Features
When you choose MailChimp, you get clear navigation with an easy-to-use interface. While it can be a little challenging to set everything up initially, you only have to do it once.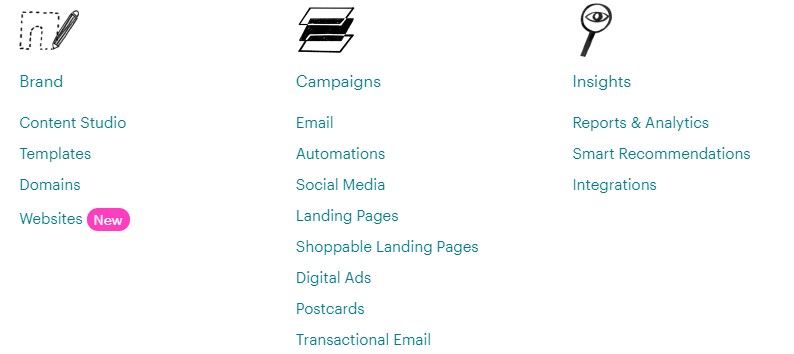 You also get a fast and simple editor with drag-and-drop features. If/then/else logic is available, but it can be tricky to understand. There are plenty of resources on the website to help you learn how to personalize your emails effectively.
You're going to have a lot of template choices, and some of them are very modern. While the drag-and-drop templates do offer responsiveness, the classic versions don't. Still, this is a great option to have and can help you create something amazing and fresh for your potential customers.
Pros:
Thorough reports
Great template editor
Generous free plan
Cons:
Higher cost subscription plans
Limited automation
Pricing
MailChimp offers a forever-free version with the basics that any company can use to start out. It's quite limited, but it does give you an idea of what you can do with the software.
Then, you have the Essentials plan, which features every template, multi-step journeys, and custom branding. From there, it moves to Standard and Premium, both of which provide you with even more benefits and features.

Who Is This Best For?
If you prefer integrations that let you work seamlessly, MailChimp might be the right service for you. It works for bloggers, e-commerce needs, nonprofits, and regular small company owners. You can also benefit from it if you require a CRM and an all-in-one option for your inbound campaigns. It's so much easier to create landing pages and other forms now.
However, if you want a lot of automation and easy management, it might not be ideal. There isn't much intuitiveness with the automation and no workflow editor.
Klaviyo
As a growth-marketing platform, Klaviyo can help you give a personalized experience through various channels. Many brands currently use it and have made millions in revenue, just in the last year.
Features
This cloud-based email marketing solution offers a variety of important features. They include performance reporting, integration through multiple platforms, and audience segmentation.

Of course, using Klaviyo allows you to send out some targeted emails based on various metrics, including viewing and purchasing history, or how clients have interacted with your past emails. This solution provides integration with payment processors, e-commerce platforms, and more so that you can centralize your needs through various sources.
The reporting dashboard is exciting because you can measure email performance based on various metrics. These include refund requests, recent orders, visitor activity, and more. Then, segment the customers based on different factors and send a customized email to each person on your list.
Pros:
Plenty of integrations
Easy-to-use form builder
Reporting options are plentiful
Cons:
Takes some getting used to
Online tutorials could be easier to understand
Hard to build complex segments
Pricing
The pricing structure here is a little different than the others. You tell the company how many emails or SMS messages you want to send each month, and it calculates your cost.

There is no free plan, but you can request a demo or trial period. This gives you plenty of time to learn the system and decide if it is right for you.
Most people prefer to use email and SMS, though you can estimate each one separately.
Who Is This Best For?
Those who run an e-commerce store are going to like what Klaviyo can do for them. It doesn't work as effectively for bloggers and creatives, but you can still send texts and emails to your potential clients. The pay structure is quite simple and inexpensive for any budget. Therefore, individuals and small businesses are sure to be able to afford it.
Conclusion
Regardless of your budget, objectives, and marketing needs, you should find an alternative to ActiveCampaign. The choices listed here are all going to help you be more productive and send out emails quickly and successfully.
Of course, you should consider the features and pros/cons before making a choice. Though free versions or demos are available, you don't want to spend all that time on a platform that isn't going to work with you or allow you to grow.