Every marketer requires help at some point. You want to focus on creating and sending perfect emails, but you might not have the time to do it.
Typically, it's best to turn to email marketing solutions. With so many choices, it's hard to pick the right one.
Today, we're going to learn about MailerLite and find out some of the best alternatives that can provide you with surprising features and options.
What Does MailerLite Provide?
MailerLite is primarily an email marketing provider that can help people expand their businesses by reaching a bigger audience. It's cloud-based and quite easy to navigate. Often, people remark that it has an attractive user interface.
You're going to find that it has many exciting features, such as its drag-and-drop editor, HTML editors, templates, and a website/landing page builder. It's a full-service marketing tool that includes email, websites, and social media. 
Why People Switch from MailerLite
With all the perks of using MailerLite, you may wonder why people switch to another email marketing service provider. There's automation, personalization, promotional pop-ups, and so much more. 
We feel that the services it provides are quite expensive when compared to other options. This is the primary reason to switch to a different marketing tool. While it does have a free version, it's quite limited. Also, some of the tools you might require are 'add-ons,' making it cost even more to use the service.
Check out these MailerLite alternatives:
Mailjet
Mailjet was founded in 2010 and is used by countless companies. It's quite affordable and offers collaboration on the higher-priced tiers, which other products can't provide. Let's find out more about it.
Features
It's possible to create a dedicated space for the team to work. You can also change permissions and roles within the email service provider to control what they can do. Plus, the whole group can work in real-time on the design to reduce the stress and time it takes to complete the task.
There are plenty of email templates in the gallery, but you also have access to a drag-and-drop editor. This helps you design emails that display correctly regardless of the device or inbox used. Transactional emails can also be created and sent.
Pros:
Easy to use

Multi-user collaboration

High deliverability rates

Low prices
Cons:
Limited segmentation

Highly limited automation conditions

Isn't user-friendly for list management
Pricing
The pricing structure for Mailjet is a little complicated at first glance. The Free version never expires and allows you to send 200 emails a day for 6,000 emails a month. You're always charged per email instead of by contact. With the Free plan, you get unlimited contacts, advanced statistics, the email editor, and various APIs.
With the Basic Plan, you can send 30,000 emails a month without a daily sending limit for $9.65. You get all the Free features with online support and no logo from Mailjet on the emails. It's possible to send 60,000, 150,000, 450,000, and 900,000 emails on this plan, and the price goes up based on those needs.
Then, you have Premium, which is $20.95 a month for 30,000 emails. You get the Basic features, but you also have multi-user collaboration, A/B testing, segmentation, and marketing automation. It's still possible to send more emails and pay a higher price.
Those who require more than 900,000 emails each month can choose Enterprise for a custom price. You get all the features possible, which can include a dedicated account manager, migration services, and more.
Who Is It For?
Mailjet works well for companies that need to work together to create emails. It also offers various integrations, making it suitable for medium-sized businesses and e-commerce companies. Still, it might not be feasible for those who require advanced automation and segmentation.
SendGrid
SendGrid focuses its efforts primarily on deliverability, so the emails you create and send are more likely to get opened. Twilio, a communications platform acquired SendGrid in 2018. With that, it wanted to focus on marketing automation and utilize customer engagement to create a cohesive effort.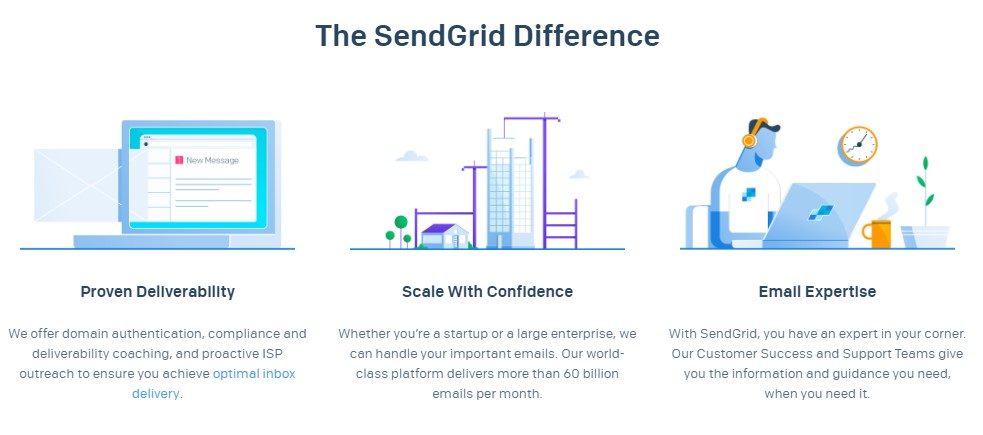 Features
It's a mixed bag of features with SendGrid. We like its analytics and reporting options, as well as the email editor. Since it focuses on deliverability, this is a great thing to have.
You can customize the templates available, but it's also possible to create a new email from scratch with coding or the drag-and-drop editor.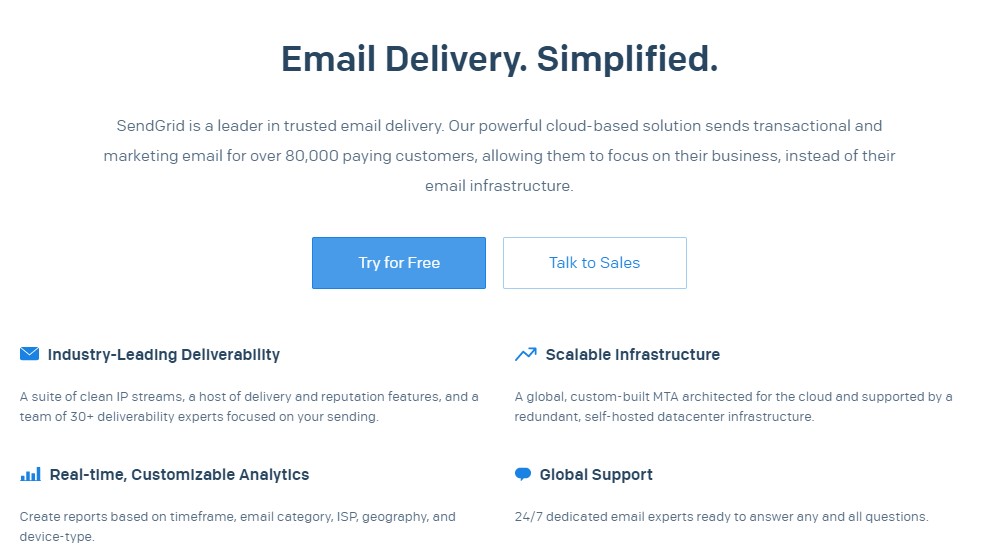 Automations are available, but they are slightly limited. You can only track metrics for unique opens and clicks, delivered emails, and unsubscribes. While it's possible to build automation for yourself, there are few triggers available.
Pros:
Detailed analytics

Personalization of individual emails

Advanced email deliverability
Cons:
Few options for segmentation

Just basic autoresponders

Little support on low-tier plans
Pricing
The Free plan permits you to send out 40,000 emails the first month with 100 emails a day after that. You do get a template editor, APIs, Webhooks, and various delivery optimization tools. From there, we move to Essentials, which allows for up to 40,000 emails a month for $14.95. You get the same options as the free version, along with chat support.
With the Pro plan, you can send 50,000 emails a month for $89.95. You receive all the perks of the Free and Essentials plans, as well as phone support, email validation services, sub-user management, and a dedicated IP. For those who send over 1.5 million emails a month, consider the Premier plan with custom pricing.
Who Is It For?
SendGrid works well for developers and marketers who want to focus on audience engagement and manage campaigns with ease. Primarily, it focuses on better deliverability rates, which boosts your overall rating and keeps you out of the recipient's junk folder.
Omnisend
Omnisend focuses its efforts on marketers and e-commerce companies. This automation and email marketing platform offer email templates, segmentation, and various social media tools. Those without any experience are sure to find it easy to use.

Features
There are various features to enjoy from Omniesnd. With automation options, you can build workflows to send messages on-time whenever you desire them. That way, you're not scheduling them for each subscriber.
You can also create SMS and email campaigns to boost conversion rates. With such an omnichannel strategy, you're going to get the message out at the right time. Plus, segmentation is available to target customers at the right moment.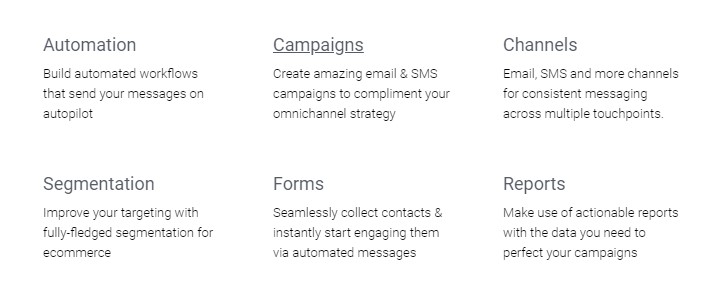 Pros:
Easy to use

Offers segmentation and automation functionality
Cons:
Few features available on Free plan

Can have glitches at times
Pricing
The forever-free plan gives you 15,000 emails a month for 500 contacts. You get basic reporting, signup forms, and email campaigns.
If you require a little more, consider the Standard plan at $16 per month with 15,000 emails per month. With it, you get everything in the Free version, plus email automation, SMS campaigns, audience segmentation, and email/chat support.
Next, we have the Pro plan that costs $99 for 15,000 emails per month and 500 contacts. You also get free SMS credits to use each month. In this plan, you get everything from Standard, but you also have access to advanced reporting, priority support, Google Customer matching, and push notifications.
Enterprise is the last plan available for custom pricing and unlimited emails per month. You get everything from Pro, as well as a custom IP address, dedicated account manager, and free migration. 
Who Is It For?
Primarily, Omnisend works well for people who want to send general marketing emails, such as weekly newsletters. Those with online or e-commerce stores can benefit because of the many integrations available. 
AWeber
AWeber has been on the market for 20 years and is based out of Pennsylvania. It claims to have invested the autoresponder, and we believe this statement since the company has been around for so long. We like that it offers all of its features from the start on its lowest-paid plan, as well.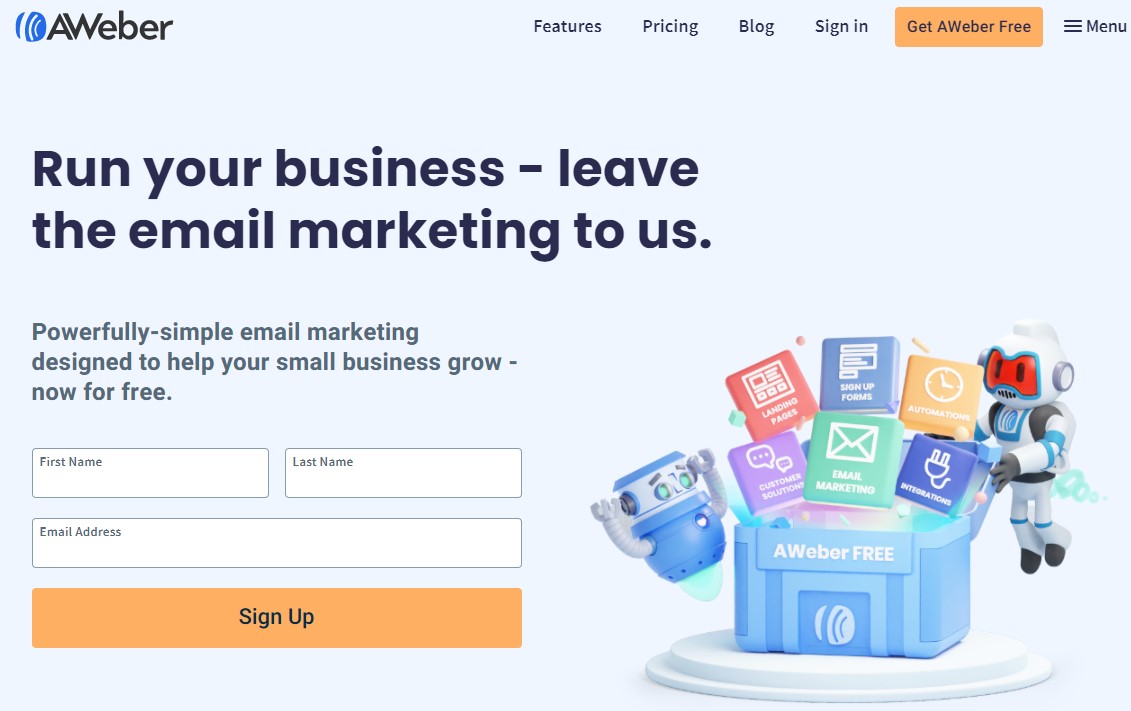 Features
With AWeber, you can create landing pages and emails that look amazing. The Smart Designer features artificial intelligence to help you create perfect communications. Use the template library to come up with a design and then customize it to meet your needs.
Automations are essential, and you can assign flows and triggers to emails to deliver things at the most appropriate time for the recipient. It's also possible to automate tagging to target the audience appropriately and save time.
Pros:
Various list management tools available

Fast support

Sales tracking
Cons:
Unfair subscriber counts

Could have more advanced features

Non-intuitive user experience
Pricing
We like simple things, and AWeber's pricing structure is just that. The forever-free version gives you 3,000 emails a month for 500 subscribers. With that, you receive RSS-to-email service and can send and create newsletters. Dynamic content and HTML emails are included, as well as the drag-and-drop editor and various templates.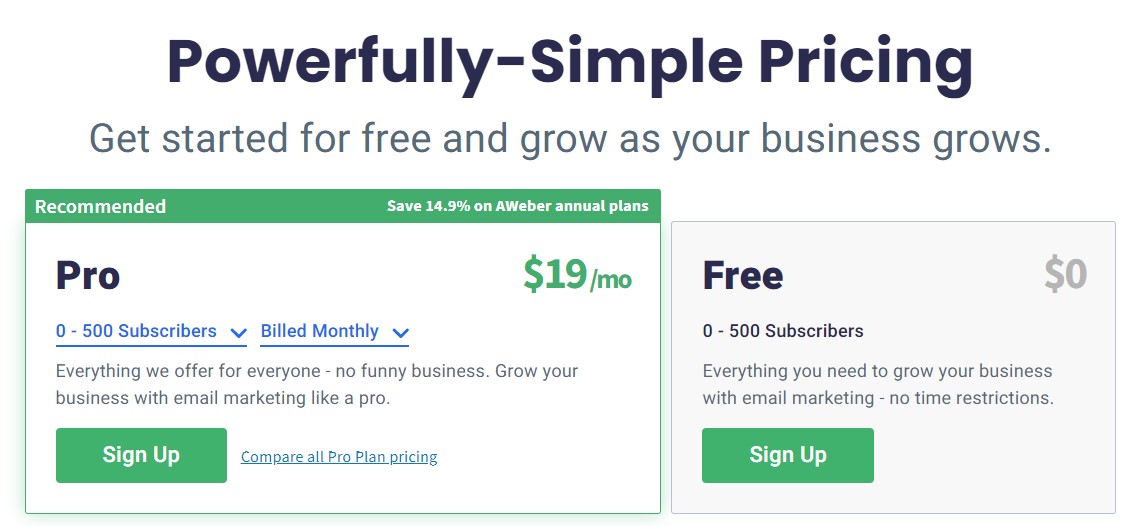 The Pro plan gives you unlimited list profiles, 500 subscribers, and unlimited email sends for just $19 a month. Then, the price bumps up to $29 for up to 2,500 subscribers, and so on. You get everything from the Free plan, as well as behavioral automation and no AWeber branding on the emails, among other things.
Who Is It For?
If you're always needed help with your email marketing campaigns, it is best to choose AWeber. It offers phone support and live chat on the higher-tier plans. However, we feel that it is quite expensive, so it's usually most suitable for companies with a large budget.
Emma
Emma is an email marketing service that hit the big leagues in 2005. It employs 150 people and has offices around the United States. Of course, we like that its focus is slightly atypical because it offers excellent customer support and is easy to use.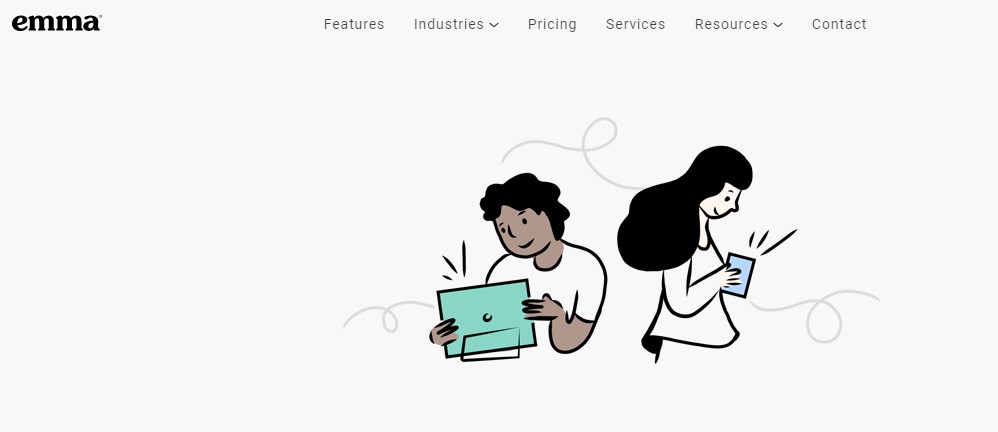 Features
Emma offers many features for businesses to create and send emails and have various campaigns running. Automation is key here, and this feature is solid. You get branching logic to deliver appropriate messages when people open emails. List segmentation and trigger messages are also available.
It's possible to make multiple versions of a single email, releasing them to a targeted audience. This saves you time and helps you collect data on the users.
A/B testing is also available so that you can track the performance of two different versions of the same email. You get a better idea of what your customers want and can remember that for future campaigns.
Pros:
Innovative and organized design

Easy to use

Great customer service
Cons:
Requires a one-year contract, regardless of the price plan

Few integrations

Can have bugs and glitches
Pricing
Emma starts with the Pro plan at $89 per month for 10,000 contacts and a one-year contract. You can have one user and workflow and have access to integrations, A/B testing, lightbox signup forms, list importing, real-time analytics, and various templates with a drag-and-drop editor feature.
Next is the Plus plan at $159 per month with 10,000 contacts and a one-year contract. You get everything from Pro, as well as unlimited workflows and 10 users. Litmus inbox previews and custom API automation are also included.
The Emma HQ plan costs $279 a month for 10,000 contacts and a one-year contract. Everything from Plus is available, as well as user permissions, template managers, template locking, and unlimited users.
Who Is It For?
The company claims it is designed for small businesses, but the high prices don't make that possible for most. However, it doesn't offer the complexity you require as a large business. Therefore, we feel that it works well for medium-sized companies that don't require too much.
Conclusion
When choosing an email marketing platform, you want it to do what you require without costing too much. Marketers everywhere are sure to like these five MailerLite alternatives.
We tried to focus on keeping costs low while providing the same features as the MailerLite version. Of course, some of these providers have even better things to offer and cost about the same. 
Regardless of the one you pick, take advantage of the free trial. This allows you to test it all out, send a campaign, and get feedback on it. You're going to be glad you switched no matter which option you choose.