5.No matter what kind of business you have, you definitely need good tools to make everything work smoothly and efficiently.
We know that you have probably read a bunch of different information on how marketing and SEO are of great importance and how they should be your top priorities.
And that is true, for sure.
But, you will get the real perspective only if you start working on improving them constantly.
Yes, we understand that consistency may seem challenging and may consume a lot of energy, but with the right tools, nothing will be such a huge obligation.
They will become real-time savers and help you achieve important goals that you set for your business.
Now, let us present you with some concrete marketing and SEO tools that you can start using right away!
SEMrush is a marketing and SEO solution that includes more than 20 different tools. They can help you with:
SEO

Content marketing

Competitive research

Advertising

Social media
It is intended for marketers and businesses that want to get their website traffic and selling on the next level.
The SEO SEMrush toolkit includes a technical SEO audit that will help you to analyze your web presence and see what you should improve. It also includes position tracking, backlinks audit, and analytics. SEO toolkit can help you to see which tactics will provide you with better organic traffic.
With a social media toolkit, you can reveal strategies of your biggest competitors. Using post booster, you can make your content on Facebook more viewable. SEMrush will save you time and allow you to schedule your posts on up to five different social media channels.
If you are a content creator, use content marketing toolkit to find out which topics are the most interesting for your target audience and use that in your advance right away. Find out and analyze how your content has performed judging by the behavior of your visitors and see what needs to be improved.
It is important to mention that SEMrush currently has the largest keyword base on the market, and if you want to get higher SEO rankings, this is something that deserves your attention, for sure.
Most important SEMrush features:
Organic research

Advertising research

Keyword research

Traffic analytics

Product listing ads

Market explorer

Backlinks

SEO writing assistant

Charts

Social media tracker

Social media poster

Content analyzer

PPC keyword tool
Pricing: SEMrush offers three plans and an Enterprise plan as well for custom solutions. Both PRO and GURU plan you can try for free and see if it works for your business.
In the picture below, you can see which plan is intended especially for whom.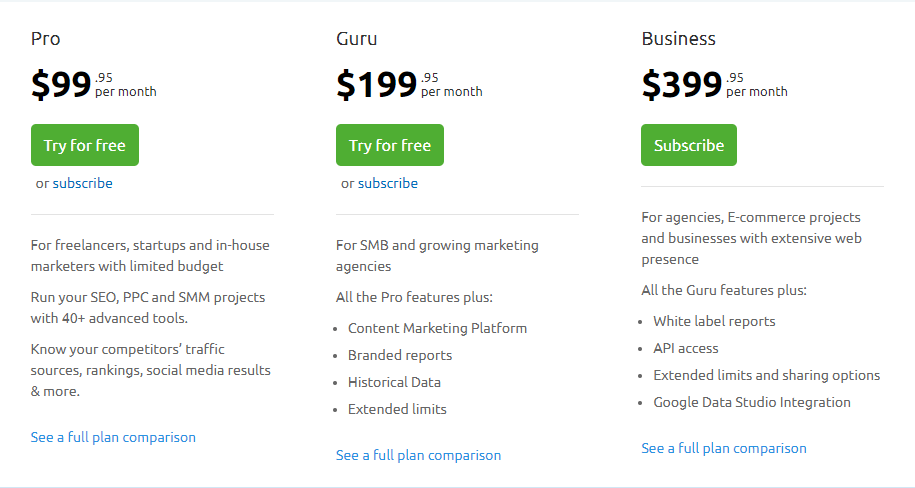 Ahrefs is a great tool for backlink prospecting, which is one of the most important factors for SEO.
And the best thing is that you can use this tool whether you are already an expert or just a beginner.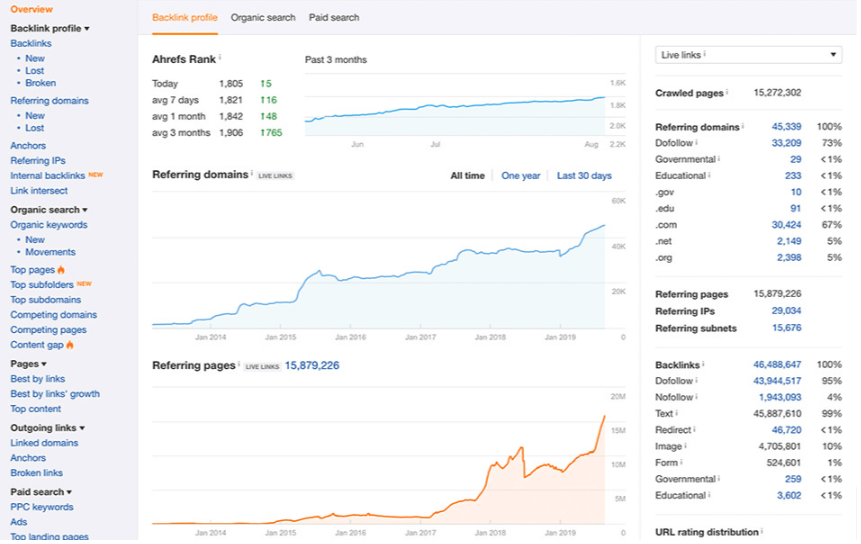 If you want to see the backlink profile of, for example, your competitors, you just need to type the URL and you will be able to see the links and the quality of the backlink profile itself. Ahrefs has a really fast backlink crawler.
When you use the backlink research, you will get the lists and insights of:
Backlinks

Referring domains

Broken backlinks

Anchors

Referring IPs

Internal backlinks
As you can see, by using Ahrefs, you can create a powerful backlink strategy with much less time. Everything is organized and shown in the form of a clear report.
With this tool, you will also discover which keywords your competition is using.
If you choose to use Ahrefs for your business, you can get access to Ahrefs Insider on Facebook, which is a closed group with more than 10,000 marketers.
Their support team is available to answer your questions and to solve any possible issues.
Most important Ahrefs features:
Organic traffic research

Backlink tracker

Paid traffic research

Keyword explorer

Advanced SEO metrics

Website analysis

SERP options

Rank tracker

Content explorer
Pricing: Ahrefs offers four different paid plans to choose from. For the first two, you can try out a 7-day trial period for the price of $7.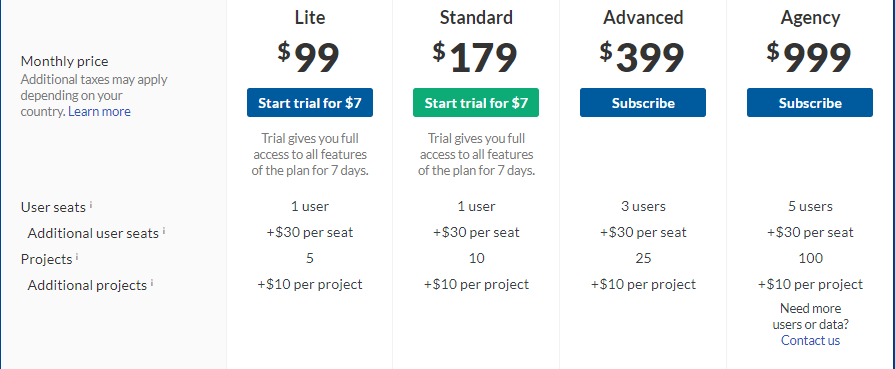 Moz is another marketing and SEO tool, and it is great when it comes to on-site SEO. You probably already know how important it is to optimize every element on your website for everything to work flawlessly.
On-site or on-page SEO is crucial for a user-friendly experience, also.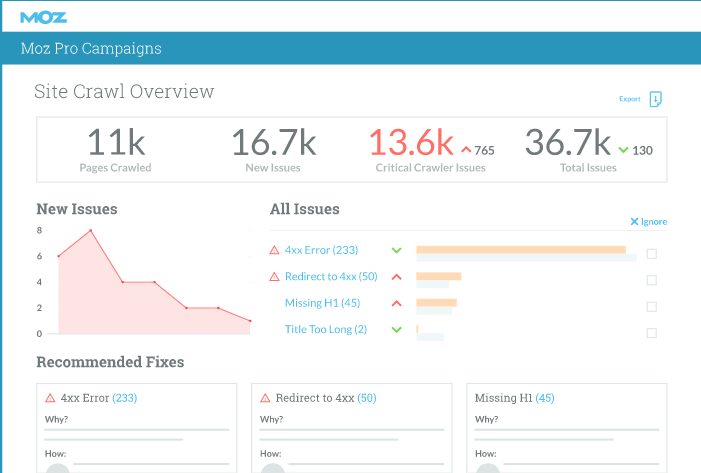 Moz has a clear and organized dashboard. It detects different issues, such as broken redirects and missing title tags. You will also be able to see how these issues affect your SEO.
After detecting specific issues, this tool sorts them by importance, so you know which one you should fix first.
No matter how big your website is, Moz can crawl it fast, thus saving you a lot of time.
It crawls your website on a weekly basis and reports everything to you so you can solve it as quickly as possible.
You can use Moz for your website or if you manage the websites of your clients.
Most important Moz features:
Website crawler

Keyword research

Backlinks queries

On-page grader reports

Scheduled reports
Pricing: Moz offers four different paid plans to choose which one suits your needs best.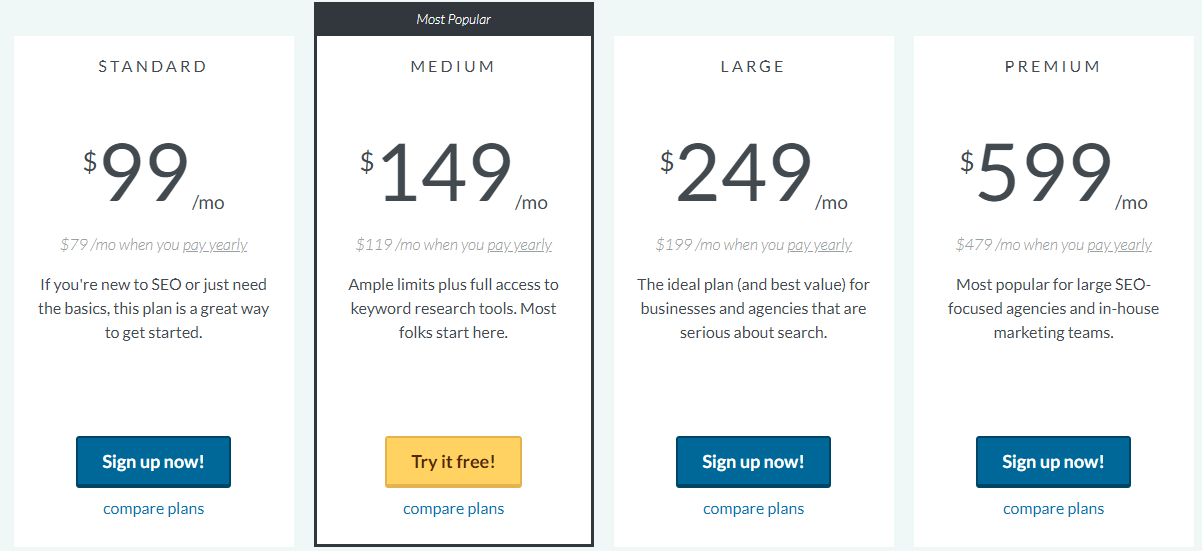 Poptin is a CRO tool, which stands for Conversion Rates Optimization.
This tool includes:
Embedded website forms

Automatic emails
With engaging and effective pop-ups and forms, you can generate more leads that can later be converted into real buyers.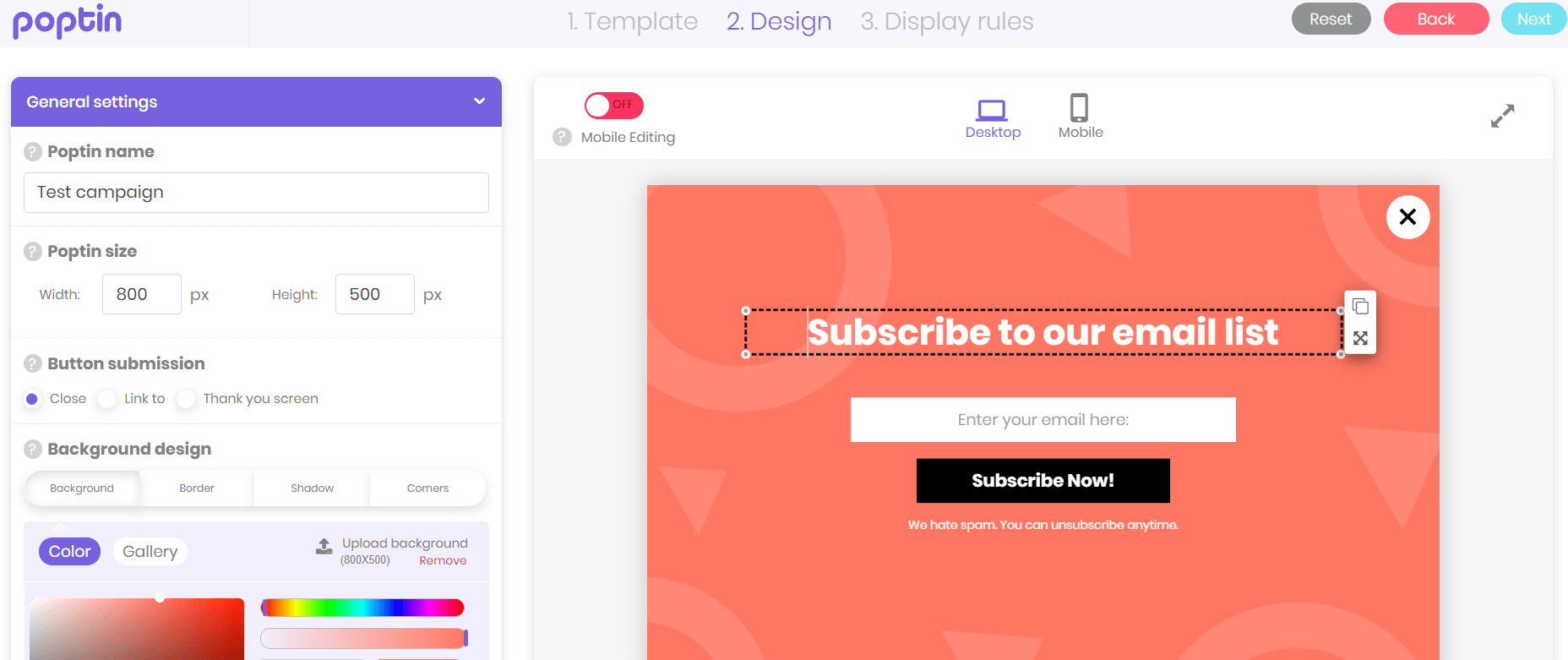 No matter which one you choose (or if you choose both), you will get access to a simple editor with tons of options for customization.

You can change background and text colors, add or remove different fields, change the size, add images, and more.
You have to pay attention to the fact that people access the Internet through mobile and desktop devices both, so it is essential to mention that every form and pop-up window you make through Poptin will be optimized for mobile and desktop.
The primary purpose of these forms is that you can add a CTA (click-to-action) button and encourage visitors to take action.
By using pop-up windows, you can show them some excellent and irresistible offers so that they would leave their contact without hesitation.
You can offer them webinars, courses, e-books, or access to your weekly newsletter to stay in contact with your future buyers.
When you start communicating with them through email campaigns, you are building brand awareness and gaining their trust. Valuable content keeps them interested and builds your credibility regarding your target audience.
Of course, you can use these windows to offer them a discount or free shipping or remind them to pay attention to some current sales, also.
You don't need designer or developer experience to use and make pop-ups and other forms for your website.
You can create your first pop-up in just a couple of minutes. This marketing tool has an easy-to-use drag-and-drop editor.
And, if you want to make different types of pop-ups, you can choose between slide-in pop-ups, countdown boxes, screen overlays, and more formats.
You can rapidly increase your conversion rates using effective windows that engage with your visitors.
Most important Poptin features:
Drag and drop editor

High level of customization

Advanced targeting options

Advanced triggering options

Smart exit-intent technology

A/B testing

Analytics

Integrations
Pricing: Poptin offers a free plan and three paid plans as well. Based on the different characteristics they include, you can choose the best solution for you and your business.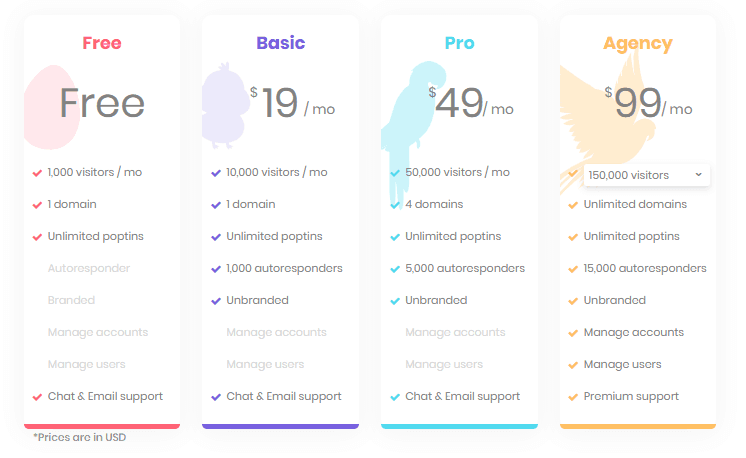 JetOctopus is a visual SEO toolkit about making technical SEO for large websites easy and data-driven. Whether you're new to SEO or a seasoned specialist, JetOctopus is intuitive enough to help you track and improve your enterprise website's SEO health (crawling, indexation, logs analysis, etc.).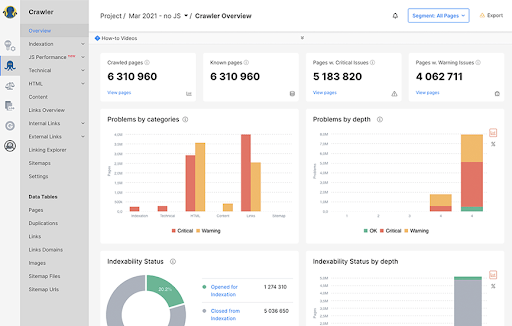 It gives you a big picture of your website's SEO issues — duplicate content, 404 errors, keyword cannibalization, wasted crawl budget, etc. — with actionable visuals so you can prioritize and tackle the best optimization opportunities first.
You can create segments, compare crawls, monitor live logs, identify fake bots, optimize your crawl budget, improve your site's indexation, and so much more with the JetOctopus toolkit.
Most important JetOctopus features:
Crawler (with speeds at up to 250 pages per second)

Log Analyzer

GSC Keywords

Content analysis

Google Search Console integration
Pricing: The Crawler tool starts at $30 per month to crawl 100K pages monthly, while the Log Analyzer tool starts at $60 monthly to log up to 100K pages monthly. The GSC Keywords tool starts at $60 per month, too.
You can buy each SEO module individually or opt for the All-Inclusive bundle (at $120 per month) which includes all these tools plus training calls, onboarding, and support.
So JetOctopus is one of the fastest and most affordable site crawlers and logs analyzer toolkits that you can try with their 7-day free trial.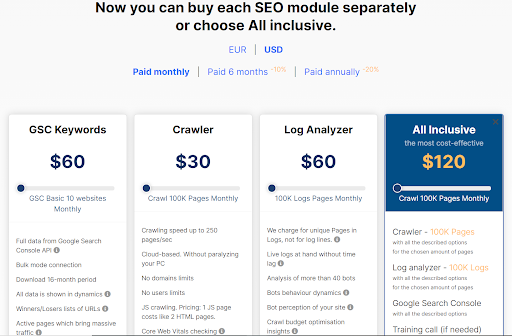 The bottom line
Marketing and SEO are very challenging parts of running any type of business. But when you become aware of how useful they can be, you know there is no substitution for them.
No matter if you decide to run them on your own or hire teams that would be responsible for marketing and SEO, it is always important to find the easiest but equally effective ways to use their full potential.
Fortunately, as you can see, unique tools like SEO in Glasgow are more available than ever anywhere you are, and they have proven to be very powerful when it comes to dealing with everyday problems, but also time-efficient.
Moreover, as an alternative, check out Style Factory's in-depth review of Growthbar, which has a bit of a different approach to SEO.
With the right SEO tools, you can build great backlinking strategies, reveal your competitors' techniques, find out every error on your own website or your clients' websites, and improve conversion rates rapidly.
Can you even imagine what you can do with engaging pop-up windows and website forms?
People need incentives to make a decision, and if you use Poptin, you can show them the privileges that you offer and encourage them to take action right away.
Don't allow yourself to miss out on something so important. Try using these tools, and watch how your conversion rates rise!
P.S. If you're looking for link tracking for digital marketing, you can always try Rebrandly URL Shortener to see its effectiveness.