Who doesn't want their business to be super productive? Unfortunately, everyone runs into slow spells, whether in upper management or in a cubicle.
The good news is that there are ways around these slumps – productivity apps and software! But which of them are worth your time and money? As a business owner, you want the best bang for your buck.
Fortunately for you, there is a plethora of apps and software you can use designed specifically for improving productivity in the workplace. However, if you're not sure which is right for you, then you'll find this top 5 list helpful.
Let's take a look at the leading productivity apps you should adopt into your business today.
If you're looking for an all-in-one collaboration tool to manage your team efficiently, then Favro won't disappoint.
With Favro, team projects are easy to track, monitor, and delegate regardless if you're doing this for yourself, for your team, or for the whole company.
Favro's real-time interface makes it very flexible for specific teams within your organization. Marketing teams can collaborate comprehensively and see their daily tasks in one place. On the other hand, if you have a team of developers, they can easily focus on their backlogs and sprints because of how user-friendly the planning boards are.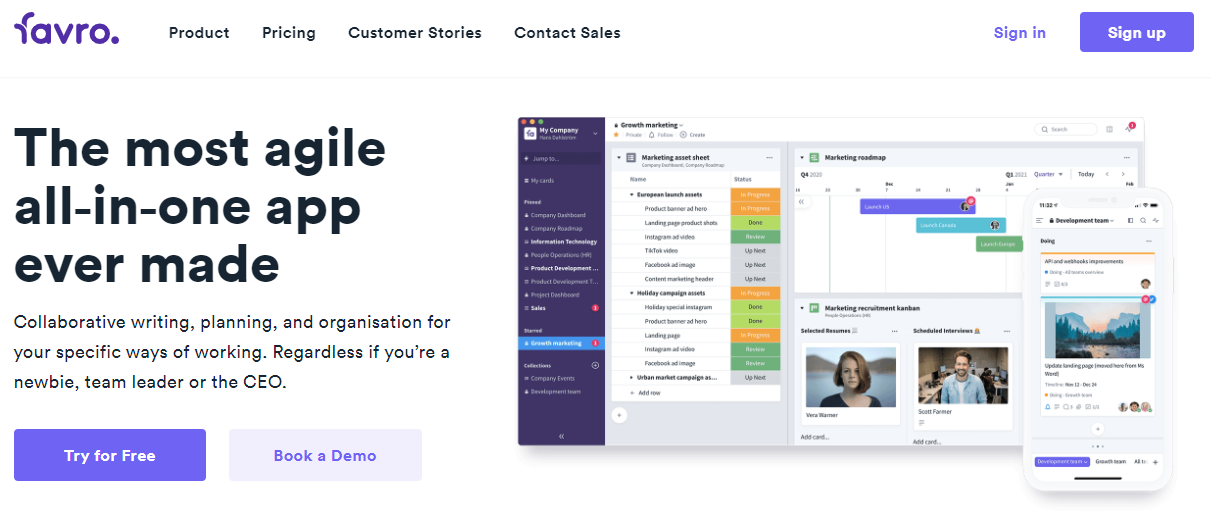 If you're into Microsoft Excel and Google Sheets before, you'd be amazed at how Favro offers a detailed sheets section where you can add columns, calculations, and list tasks according to hierarchy and urgency.
For people who manage multiple groups, you can create dedicated boards for each of them so you won't be puzzled by complex configurations and duplicate tasks. Aside from that, you can even share different boards with different teams.
In one view, you'll get a glimpse of everyone's roadmaps in a drag and drop interface. Plus, you can upload files, write campaigns, and brainstorm as a team on one platform.
Favro also offers many third-party integrations such as Slack, Dropbox, Zapier, and many more to achieve better results and productivity.
Favro also offers automations:
Favro has 3 paid plans – Lite, Standard, and Enterprise starting from $10.2 per month.
Take your productivity to the next level as you experience the advanced capability of Hive's productivity platform. It's being used by thousands of companies worldwide and still continues to multiply in number over time.
Hive provides a tool that gives every team the freedom to manage their projects at their own pace and style. The interface is very flexible; you might want to use Kanban, sheets, tables, or any other viewing setup you desire.
With Hive, productivity and efficiency are always achieved, especially with the presence of Hive's 1000+ third-party integrations. This makes it easy for companies to consolidate every relevant information in one platform.
Its list of clients includes major brands in their respective fields, such as Google, Toyota, Starbucks, IBM, and more.
You can enjoy Hive to the fullest for only $12 per month. It's a one-base price with a long list of optional add-ons (proofing and approvals, timesheets, analytics, etc.) to supercharge your project management efforts.
Surely, you've seen ads on YouTube about Monday.com (formerly Dapulse). It's making waves in the productivity app arena as a way to manage teams throughout your organization.
So what makes this app a must-try? Well for one, it has a nice sleek interface that's intuitive, making it easy to use. This team collaboration tool allows you to create multi-person spreadsheets in order to keep track of everyone's tasks.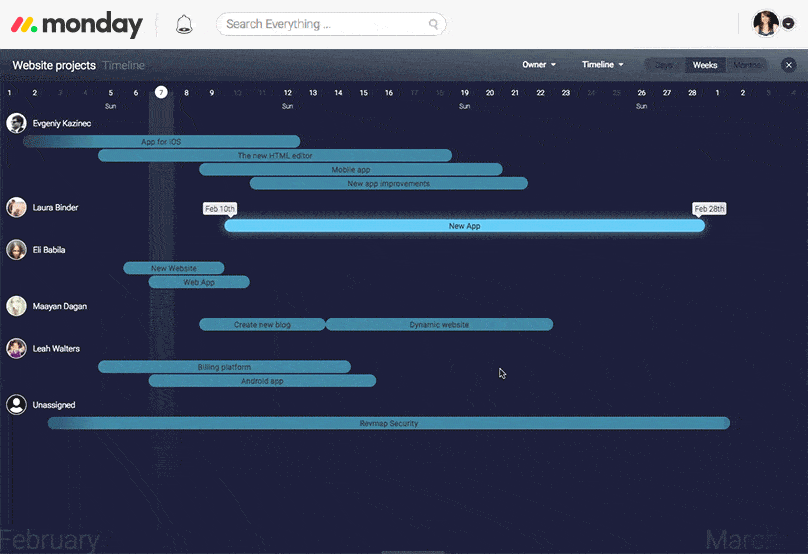 Then for even more organization, you can place everything into folders, list items by priority, and mark items as done, on hold, or in progress. Task commenting also makes it easy for you and your team to stay on the same page. And they're not just limited to text, you can attach thumbnails and open up files right in the platform.
And while all of this is great, there are some downsides to make note of. For example, you're not able to set up recurring tasks. Also, you're not able to markup images and PDFs. The price is also on the higher side.
But at the end of the day, the slick and fast design and its ability to be customized makes it a popular platform. You can customize just about every aspect of the software. You can get started with it today with a free 14-day trial.
There are four plans to choose from ranging from $29 to $144 per month if you decide to upgrade.
TimeCamp
When you want to manage tasks at your company effectively, you should know how much time you and your team spend on each task. That's why integrating your task manager with time tracking software is now a must-have. TimeCamp is a rich-packed time tracker that provides businesses and freelancers with automatic hours logging and timesheets.
Its unique project tree structure allows you to create as many tasks and subtasks for each project, making sure time entries are assigned to the proper ones. It's essential when it comes to billing the customers accurately for the services. What is more, if you add the Tags feature to the structure, you'll get the multidimensional time and task management.
TimeCamp also provides companies with features for proper expense management: billable and nob-billable hours (fully customizable), budget and margin tracking, and estimations. You can also generate branded invoices based on hours tracked or time entries in timesheets. A wide range of reports helps you to find out how your team is actually performing.
What is more, TimeCamp's attendance management system allows you to track employees' vacations, remote work days, sick leaves, and many more. In combination with billing rates, it creates an accurate payroll list.
Business pricing offers two paid plans. Billed yearly, Basic costs 5.25$ user/mo and Pro is for 7.50$ user/mo. There is also a custom Enterprise one. Freelancers can use the tool entirely for free. The free 14-day trial is also available for giving all the features a try.
Well, Nifty might be a relatively new app, but it sure has some nifty features. Nifty is something of an all-around tool, that will gather all your work into one browser tab. So, more time to do the stuff that actually matters and less time spent switching between several PM apps.
Nifty is a perfect tool for offshore development teams dealing with several clients at the same time. It offers you the possibility to include them in your projects, so you can both easily track progress and communicate over possible project changes.
So, what are other nifty features we were talking about? Nifty has automated project reporting based on task completion – you'll get instantly notified when your colleague is done with his task, so you can get on with your work right away.
All tasks in Nifty are customizable. You can automatically assign tasks to your teammates by assigning them to entire task lists. You can set deadlines, track time spent on the task, discuss the tasks in comments, and share important files. All tasks can be tied to certain project milestones for easy project progress tracking. For a better overview, you can filter the tasks by assignees, deadlines, and different labels assigned to them.
What's more, all team communication can be done in the app itself via team chat, project discussions, and integrated Zoom video calls. But, if you don't find all of that enough, you can always integrate Nifty with other apps through Zapier.
Nifty offers a freemium version for teams up to ten people, but you can get it in its full functionality for just $79 a month for teams up to 25 members.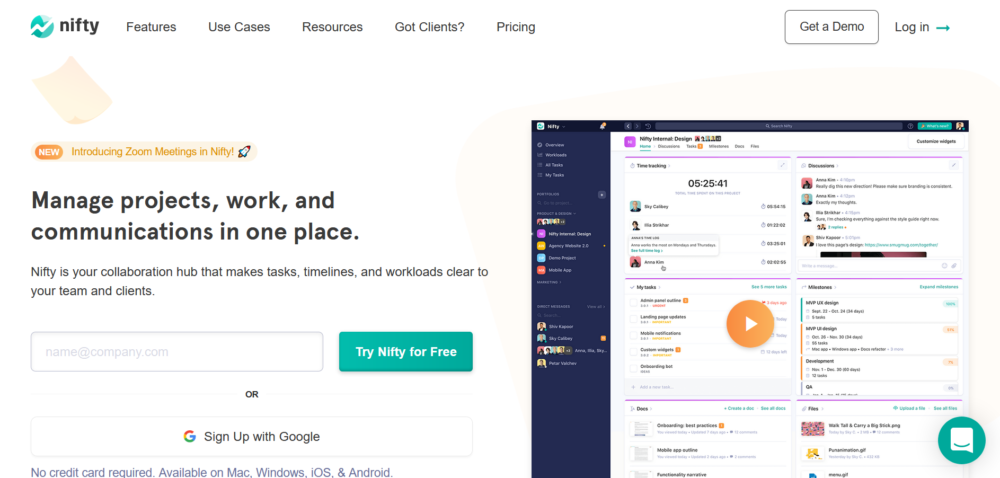 Teamwork
Trusted by over 20,000+ companies around the world, Teamwork continues to provide user-friendly and powerful features in managing teams.
As a project management software, it has advanced tools necessary to manage complex tasks and configurations without compromising quality, timeline, and productivity. It provides real-time status updates and team milestones all in one platform.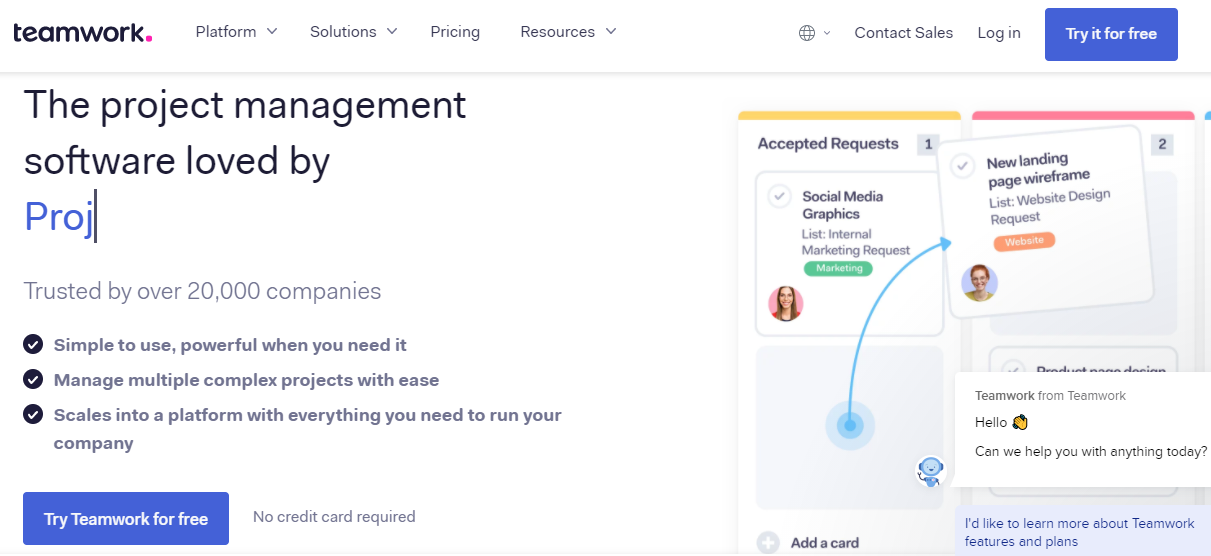 For the company admins, Teamwork spares them from the tedious work of compiling, scheduling, managing resources, budget monitoring, time tracking, and reporting. It also cuts the huge bulk of energy necessary in monitoring accounts, clients, and even paychecks.
With Teamwork, it becomes tremendously easy for multiple teams to collaborate cross-functionally and monitor delegations with ease. This hones the company's culture of accountability, respect, and teamwork, all while saving time and energy.
All in all, Teamwork's automation features and third-party integrations provide a seamless and simplified work setup for small and big teams alike.
Teamwork is free to use. Its paid plans start from $10 per month depending on your goals, team size, and more.
Now, here's a productivity app that's under the radar but worth a look. It's created by a millennial who was tired of using and paying for multiple apps. So he decided to go ahead and create his own to make project management a breeze.
It even comes with a client portal so you can collaborate with your customers or simply allow them to view your progress. And if you're the manager of multiple businesses (like many savvy webpreneurs), then you'll like the fact that you can easily manage and switch between multiple business logins.
Then if you're worried about access, you can assign roles and permissions to ensure the right amount of access for all of your clients and co-workers.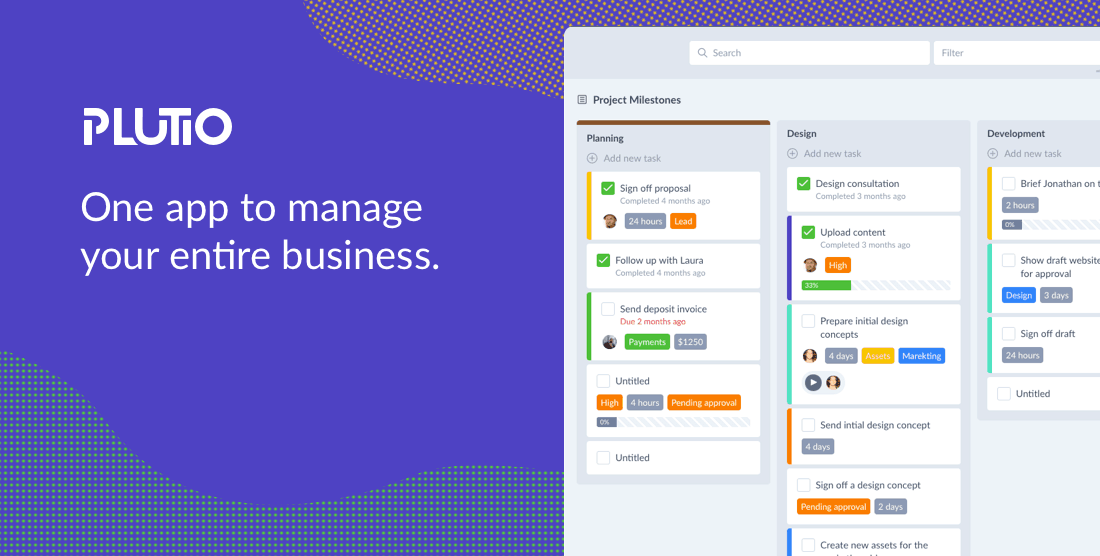 Some of the other compelling features include time tracking, task creation and management, invoicing, and proposals & contracts. It's literally everything you need in one place. Of course, you can also create projects, files, tags, and comments to stay organized.
The pricing also isn't bad, ranging from $13 to $26 per month. The only downside is that it's still fairly new and may have a few bugs or irks that require tweaking. But the developer is fairly responsive so we'll likely see this platform soar in the near future.
Small business owners are always looking for a great deal. And who can blame you? Your budget is a lot smaller than the big guys. That's what makes ClickUp an attractive option for SMBs.
It comes packed with all the necessities needed to run your projects without breaking your bank. You can start out with a free plan, but you'll only get 100 MB of storage. Yet, you can still have as many projects as you wish.
Then from there, the price goes to $5/month for the yearly plan. This grants you unlimited projects, storage, and apps. It really doesn't get any better than this.
The platform is very easy to use and allows you to create a team and add members. Then you can begin building and managing your projects. There are several ways you can organize your projects. Labels like open, to-do, and closed are available or you can create categories that are a bit more complex.
Now, while they don't come with templates, the platform does come with pre-organized projects to make things easier. You can break down your projects into sections and categories to keep things bite-sized and manageable.
For instance, you'll create a category for your project and then each section will represent a different task. Unlike Monday.com, it comes with recurring tasks. Other great features include task checklists, assign comments, and resolve comments.
As for the cons, ClickUp is said to lack task dependencies, detailed reporting, and limited integrations. Other than that, praise is given to its overall design and function.
A lot of businesses use Asana because it's one of the first platforms to be introduced to the productivity software market. And not surprisingly, it was created by one of Facebook's former executives – Dustin Moskovitz.
What makes this software attractive is its simplicity. It's a web-based (SaaS) tool, which means it doesn't take up any space on your computer – it's all web-based.
As for the pricing, it's $9.99 monthly (when paid annually) and you can have as many team members and dashboards as you want. It also comes with admin controls, data export, and priority support.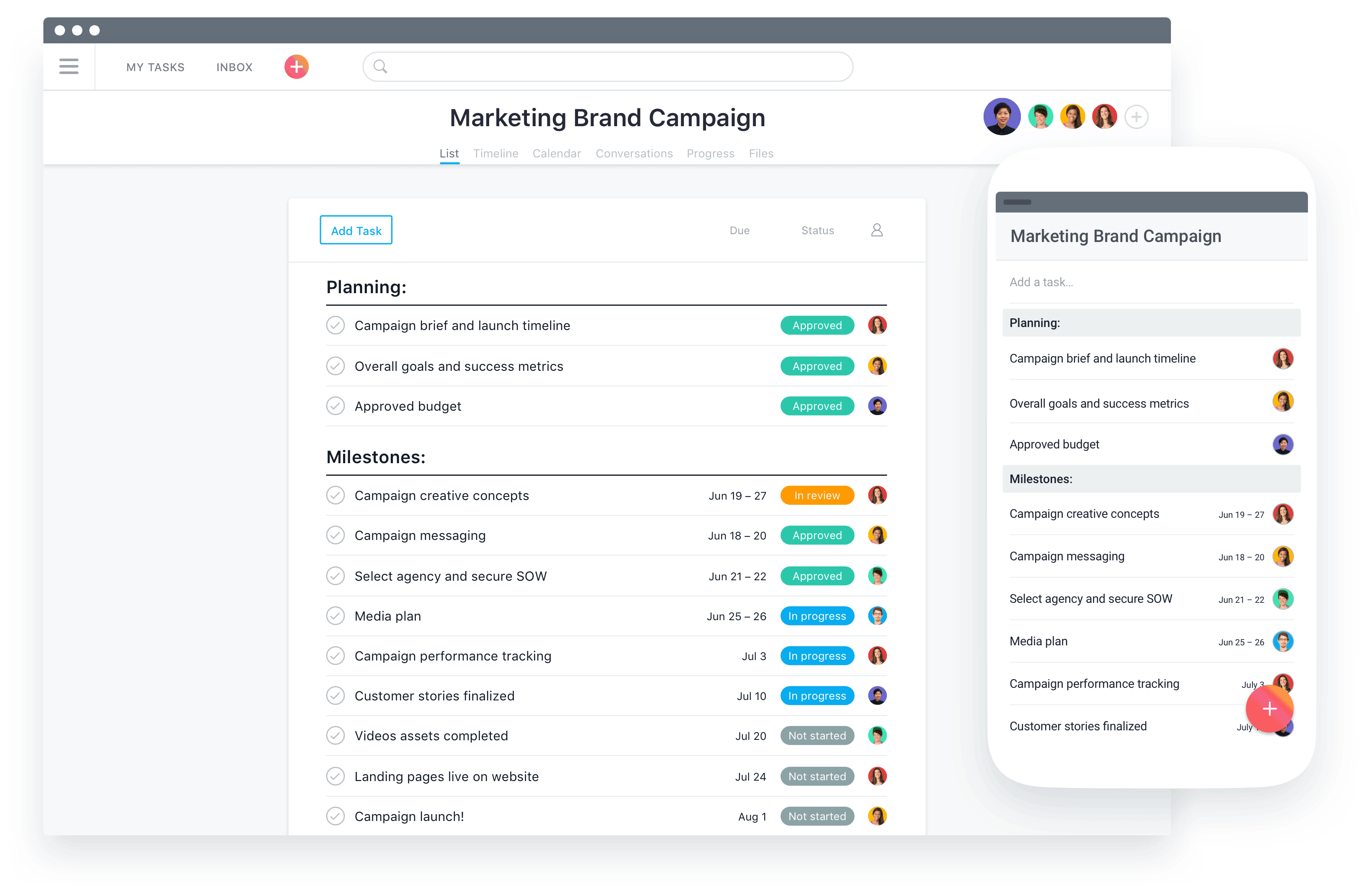 There's a free option as well, but this comes with up to 15 members, but it still comes with unlimited tasks, projects, and conversations.
Asana is a great platform for business owners and professionals who are always on the go. It comes with mobile access on both Android and iPhone devices. There's an app you can download to manage tasks, attach files, and accept push notifications.
Then if you're one who likes to streamline your work, you'll be happy to use the keyboard shortcuts, color-coded projects, and hypertext links that work similar to Twitter hashtags.
On the downside, Asana is said to have an overly simple interface, rigid structure, and poor suitability for enterprise organizations.
But at the end of the day, it's free, uncomplicated, and awesome for both personal and business use.
If you're loving the freebie options, then here's another one for you. Trello starts with a free plan and makes it to this list because it comes with a lot of compelling features.
For instance, the user interface is natural and human. You can easily see the overall status thanks to the structure of the lists. You're able to invite outside members to view boards and create closed boards with select group members within your business.
Then if you want to make a board public so anyone can view, you can do so. The platform allows you to create multiple lists within each board, then color label them. You're also able to include checklists on your tasks and assign multiple members to each task.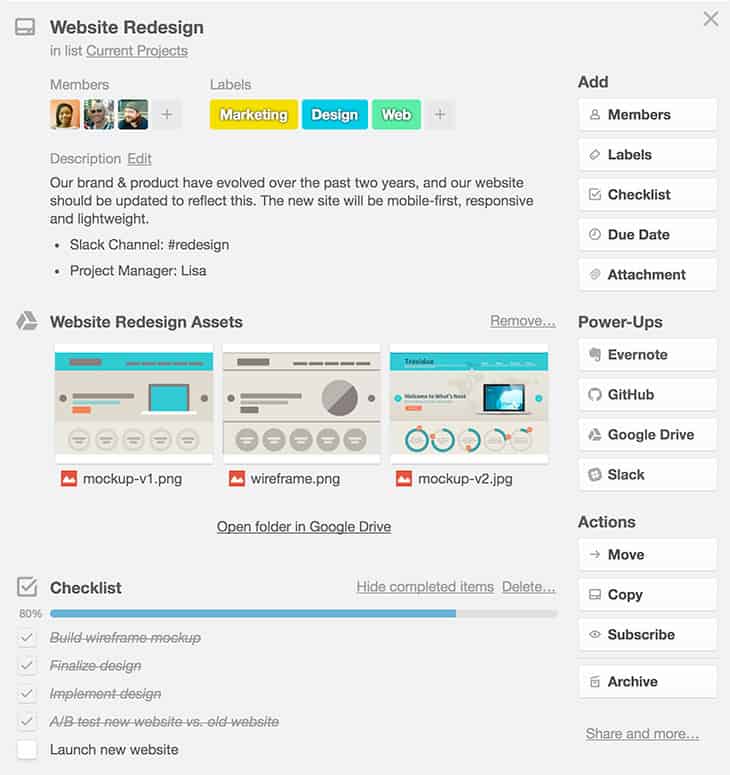 Then if you're on mobile devices most of the day, you can download the app to your iPhone or Android.
As for the pitfalls, there's limited email integration, no free-form tagging, and a limited amount of labels. Some find it hard to work with multiple tasks or cards in the interface (i.e. copying and pasting, moving, etc.).
There also aren't any keyboard shortcuts to speed up workflow. But all-in-all, the fact that it's free and comes with much-needed features makes this one a winner for boosting project productivity.
Improving the Productivity in Your Business
We asked Idan Ben Or, SEO expert with deep obsession with productivity to give us his number 1 app:
Actually, it is not that easy. Productivity is "a way of life" more than an app.
I think that I subscribed to almost every productivity tool that I could find but none of them was perfect.
So instead of searching for the app that will change your life, I suggest that we will implement a simple 2 steps method that will keep us on the right path:
1. Write everything – If you really want your mind to be free, train your subconscious to trust you by writing everything down.
By doing so, your mind will know that it doesn't have to be so stressed to remember all of your tasks because you have it all written down.
2. Plan every task on your schedule – writing is not enough, if we will have a very long list of tasks it will only make us more stressed.
In order to free our mind, we need to let it know that everything is set with due dates and proper time for work.
Using these 2 (VERY SIMPLE) steps will help us become more relaxed and focused.
Now, it's time to start trying out these productivity apps to see what works best for your organization. Pay attention to what slows down production in your day-to-day activities to see which app offers what you need. For instance, maybe you need better project management using the tagging system in Asana.
Or maybe you want something that's free and offers a clean and intuitive interface like Trello. But you won't know until you try.
Give these top 5 software a go and let us know which one you found to be the most productive!