Many businesses use email as a primary means of communicating with customers. You can send receipts, bills, promotional offers, and newsworthy information. Of course, it's challenging to keep track of everything on your own.
Typically, companies turn to email service providers or email marketing platforms to help them streamline the process and have the reporting functionality for metrics.
AWeber is one such email marketing platform, and it offers simple and powerful features to help companies of any size.
What Does AWeber Provide?
With AWeber, customers can choose from many tier structures and get a free trial. There are plenty of features included, so you can create relevant emails and keep your list updated.
You have access to:
Mobile apps

Email tracking

Subscriber segmentation and management

Autoresponders

Email automation

Email split testing

HTML templates

Drag-and-drop editor
Why People Search for AWeber Alternatives
Since AWeber gives you so much, you may wonder why people choose an alternative like the ones below. While this ESP has a lot going for it, there are a few drawbacks.
While prices aren't that high, you are charged per contact. If one person happens to be in two lists, you have to pay for them twice. You're also paying for any unsubscribes, which can occur at any time.
Though automation exists, it's basic. Also, there are outdated templates and limited ways to customize your email. If you've been using AWeber or want to start, now might be the time to try one of the below alternatives.
Most people don't realize that Drip is a CRM designed for e-commerce. This indicates that you can do more than just send emails with it. In fact, the company claims it helps you guide your prospects through the buying process and personalize the whole experience to get repeat buyers and more sales.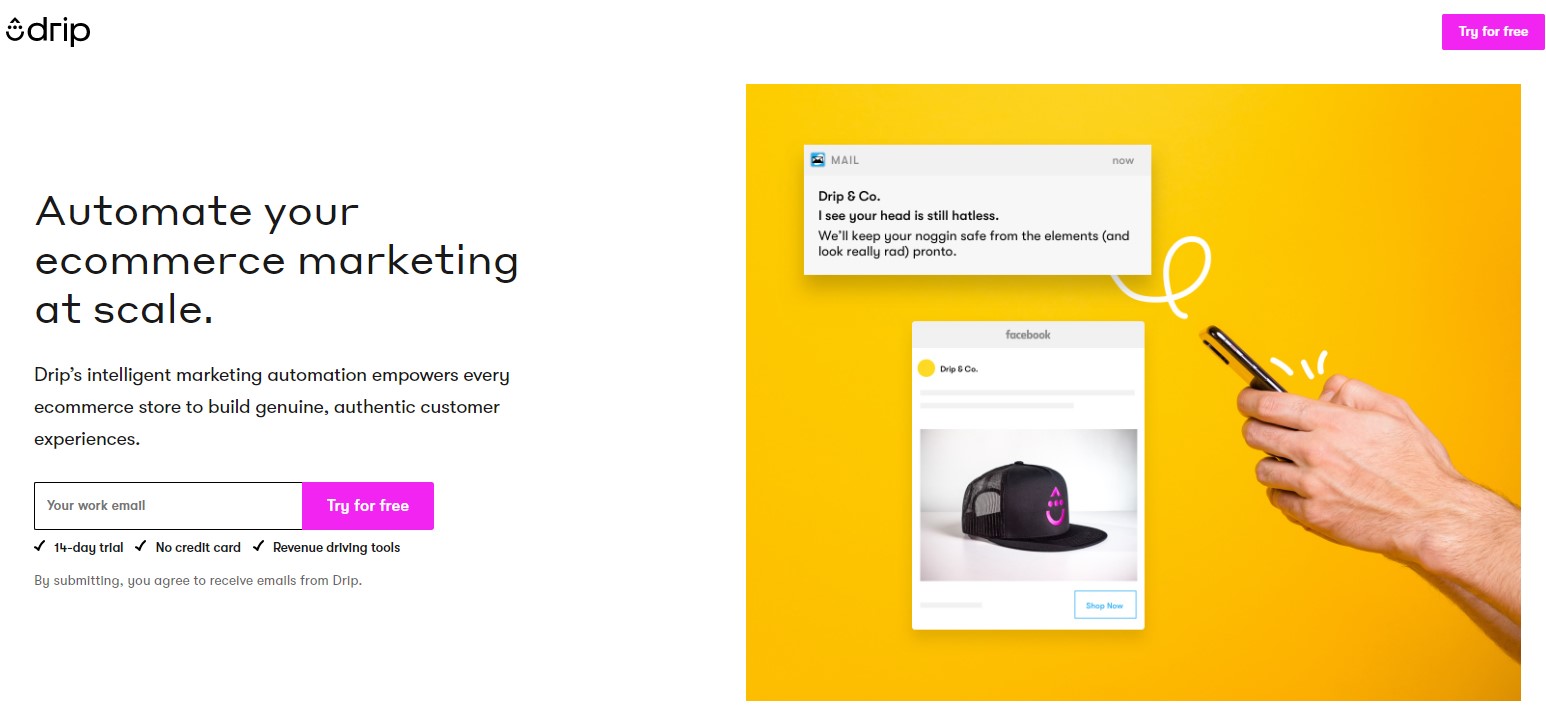 Features
You're going to find that Drip offers many features, pretty much like other AWeber alternatives. These include automated workflows, targeted campaigns, and personalization.

The biggest reason to use Drip is its multi-channel marketing. You can utilize social media as a way for users to purchase from you directly. 
Of course, reporting and analytics are available, which helps you see the impact of your chosen strategies. While they aren't extensive, they work well for e-commerce needs.
Pros:
Specialist CRM for e-commerce

Solid integrations

Strong automation features

Easy to use
Cons:
Better templates needed

Limited form builder

Bugs reported throughout the platform
Pricing
While there is a free trial, the paid plans are quite expensive. It starts off at $49, and that's for only 2,500 contacts. With that, you can send unlimited emails. If you have more contacts, you're required to pay the Pro price.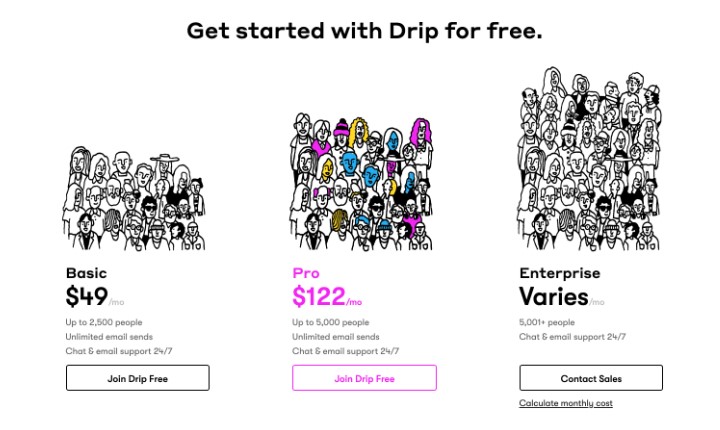 With either plan, you get all the features the ESP offers. Pricing is mainly based on the number of contacts you have in your lists. Though you can segment, one customer could be in multiple lists, and you pay for them each time.
Who Is This For?
Drip is primarily for businesses with high traffic levels, such as marketers and e-commerce sites. If you regularly have different segments for your traffic, it's a great tool to have. There are also more advanced marketing methods on the site. The basic plan (for 500 contacts) is relatively inexpensive, but it does increase by $10 for every 500 subscribers, so it might not be the best choice for growth and expansion later. 
Constant Contact
Constant Contact has been an integral part of the ESP game from 1995 onwards. It's a sought-after tool and has more than 650,000 customers. Primarily, it continues adding features that the other AWeber alternatives don't have.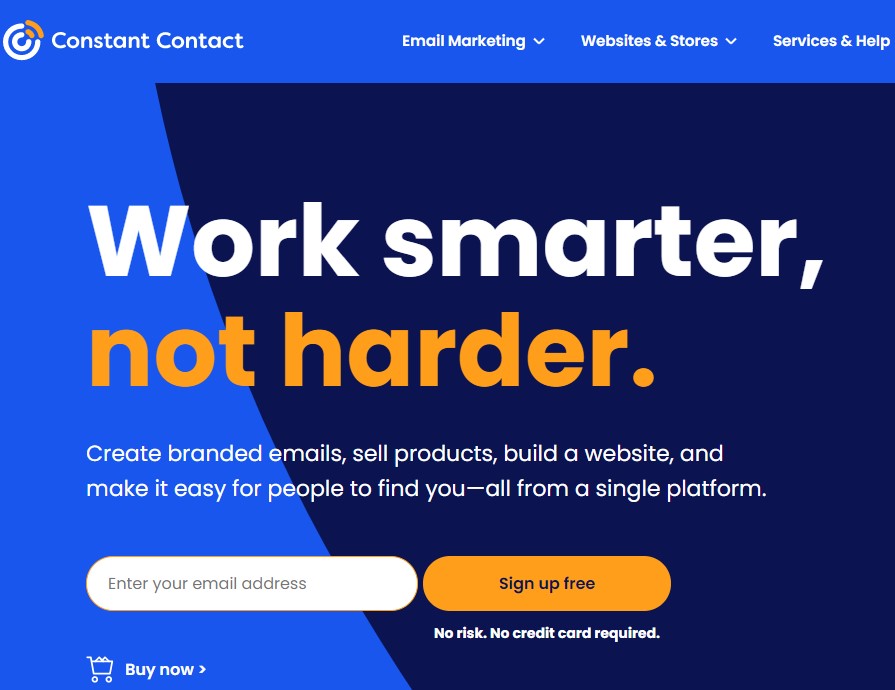 Features
Most email service providers focus on the email aspect, but Constant Contact also offers social campaigns and surveys. Of course, there are also recurring newsletter options and plenty of automation. 
In the past, it offered an event management tool, but now you have to integrate. With more than 400 integrations and apps, you're sure to find everything you need in a centralized hub. 
The reporting features have also been expanded. While you always get spam, standard open, bounce, and click reports, new options include open from the device and the most successful subject lines. Campaign comparisons are also available, though e-commerce tracking is not.
Pros:
Variety of features

High deliverability

Easy to use
Cons:
High prices

Only basic automations

Little customization for forms
Pricing
Constant Contact offers two Email plans. The Basic one starts at $20 and rises based on how many contacts you have.
With this one, you get unlimited sends, templates, tracking/reporting, and A/B testing. 
In the Email Plus plan, you get all that plus RSVPs, surveys, email behavioral automation, and so much more.
Also, with Constant Contact, you can choose the Website Builder plan, which costs $10 a month. This helps you create and manage your company site. It allows for mobile responsiveness, a blog, free hosting, and e-commerce tools.
Who Is This For?
If you run many events throughout the year, aside from using the best events management software, this email marketing tool is unique and helps you manage tickets, registrations, and invitations (on the Email Plus plan).
However, it doesn't provide advanced automation. Those who require more than an abandoned cart, autoresponders, and trigger campaigns may find it less than satisfactory.
Active Campaign
Active Campaign is an email automation tool based in Chicago, Illinois. It has 90,000 customers and helps them send fewer but more powerful emails. You're sure to find that it can help you do more and speed up the process.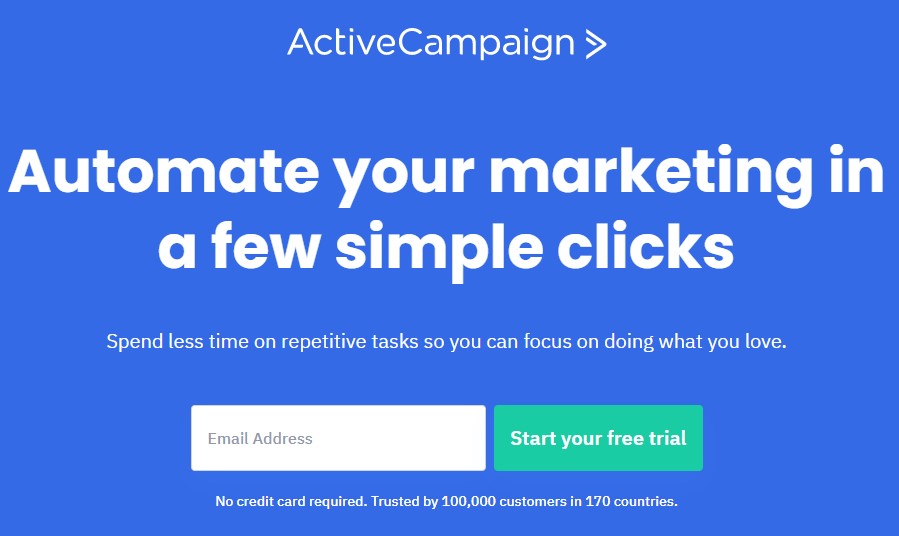 Features
The primary feature here is automation. It provides autoresponders with various conditions, but you can also automate the CRM system and contacts along with list management. 
It's also a newsletter tool. However, one of the best things is the customer messages option. You're allowed to send targeted messages right to the visitors on your website to optimize their experience. 
Pros:
Very powerful automation

Great deliverability

Thorough reporting

Free migrations
Cons:
Confusing dashboard

Overwhelming with all the features
Pricing
There are four pricing plans with Active Campaign. The Lite version is $9 for 500 contacts, and you get unlimited sending, subscription forms, and email marketing for up to three users.
From there, the price leaps to $49 for 500 contacts on the Plus plan and includes all of that from Lite plus integrations, landing pages, CRM, SMS marketing, Facebook, and many others.

The Professional option is $129 per month for 500 contacts and includes everything from the other two plans. You also get predictive content and sending, conversion reporting, and various consultations.
Of course, Enterprise is the last and starts at $229 a month for 500 contacts. With it, you get everything from the other three, as well as custom reporting, domains, and free design services. There are also unlimited users.
Who Is This For?
Those who are serious about their automation are sure to like this ESP. Active Campaign offers a built-in CRM, which helps you integrate your marketing and sales platform. It also allows for multi-channel marketing. However, it's not cheap, and the free trial only lasts two weeks. 
iContact
In 2003, iContact was born from two college students. They wanted to create a service that helped companies stay visible in various inboxes. It's a top-notch ESP and has many features to offer.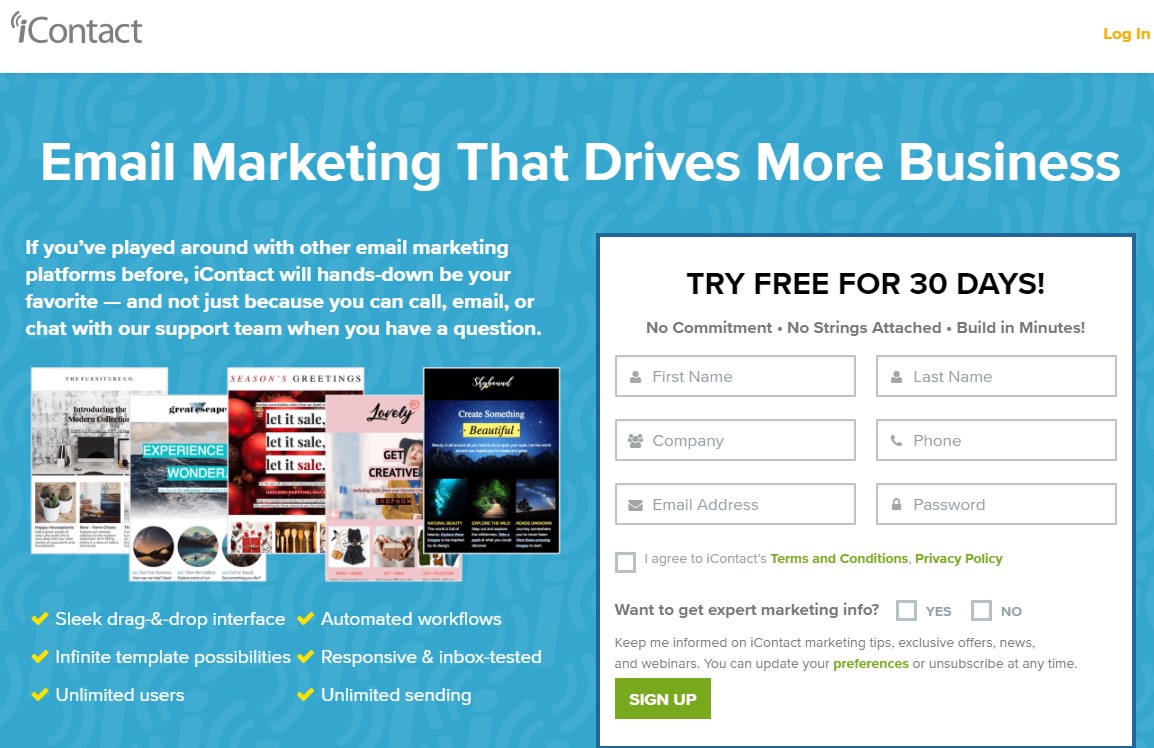 Features
Depending on the plan you choose, you have access to many exciting features. The most notable include automation, a drag-and-drop editor, responsive layouts, and A/B split testing. 

Of course, reporting and analytics are also available and can be quite detailed. You also have multi-user access, subscription management, segmentation, and various integrations.
There are many other small features worth mentioning. In-line photo editing helps you work quickly. You've also got smart-sending, where the email gets sent at the most opportune time when a potential customer is going to open it.
Pros:
Easy to use

Intuitive platform

Comprehensive features
Cons:
No free version

Deliverability issues with Gmail

No automation on the Base plan
Pricing
With iContact, you are going to pay a monthly fee of $59 for 2,500 subscribers. With it, you get the drag-and-drop editor, welcome automation, and a stock image library. 
The Pro version is $118 a month for 2,500 subscribers, and you get everything from Base. You also get non-opener segmentation, landing pages, and many other automation.
Who Is This For?
Primarily, iContact is designed for medium-sized businesses that sell products. It's geared more toward e-commerce needs, but it isn't cheap. Therefore, if you're just starting, you might not like spending so much initially. Small businesses that only need the basic email marketing features may find a use for it, and it can grow with you.
ConvertKit
ConvertKit is still relatively new in the world of ESPs, and it primarily focuses on professional bloggers. There aren't many marketing tools available for creatives, as many of them focus on e-commerce.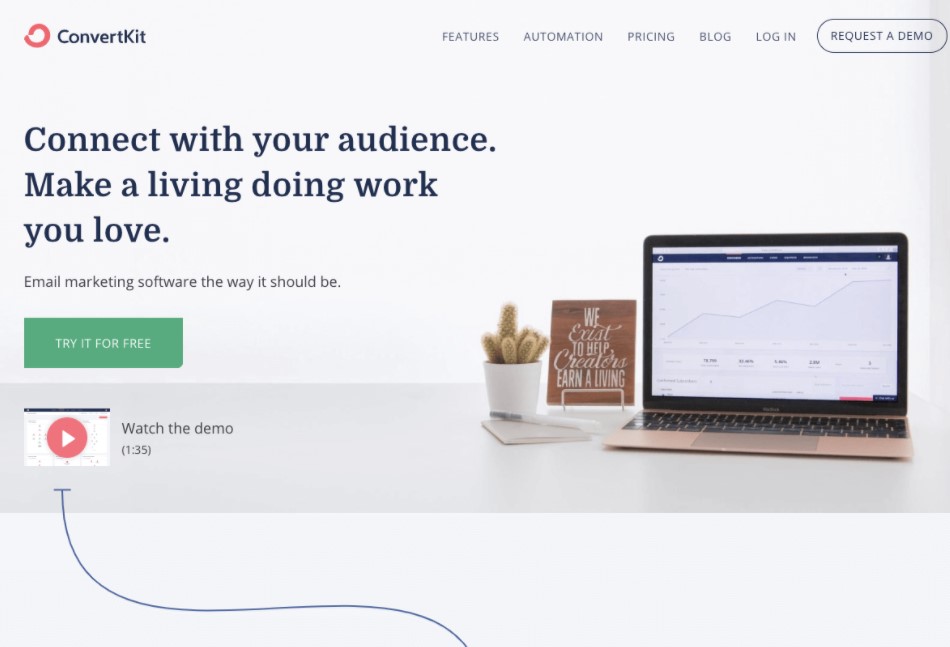 Features
With ConvertKit, you get a variety of features. The form building capabilities, autoresponder, and subscriber management are excellent. Though it does have an email editor, it lacks a lot of functionality you may want. Still, it's a basic tool that can help beginners create excellent emails.

Segmentation is also excellent here. You can create countless conditions to include/exclude customers. A few of them include purchase behavior, location, and subscription dates.
Pros:
Responsive support

Flexible subscription management

Landing page editor
Cons:
No in-depth reporting

Limited templates and designs

Pricey for what you get
Pricing
There are three pricing tiers for ConvertKit.
The forever-free version allows for 1,000 subscribers, tagging, unlimited traffic, and much more. However, it doesn't come with integrations or automated email/funnel sequences.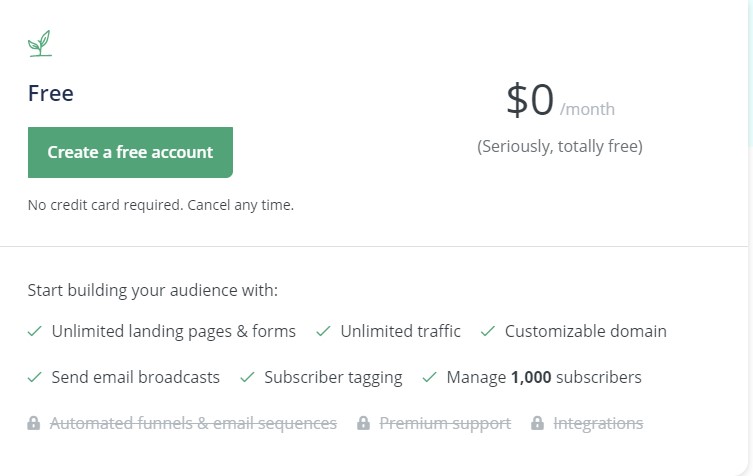 From there, you have the Creator plan, which is $29 for up to 1,000 subscribers. Here, you get everything in the free version but with integrations, premium support, and automation for funnels and various email sequences. Free migration is also available.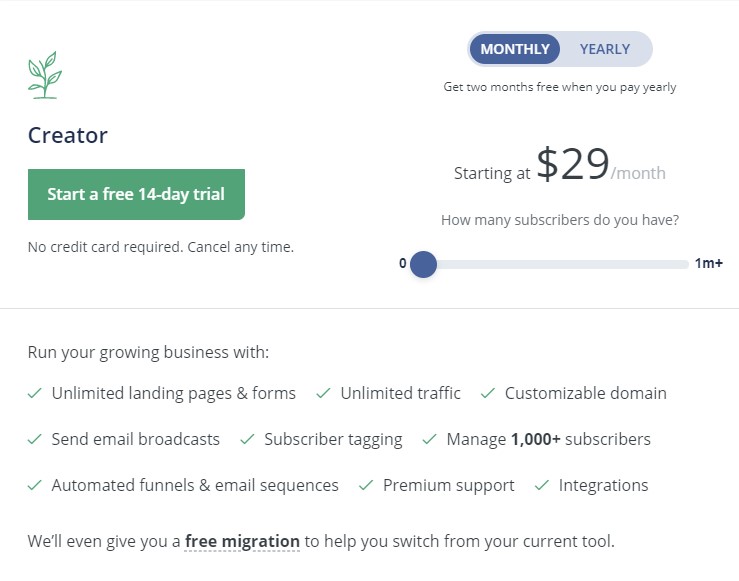 Then, there is Creator Pro, which is $59 for 1,000 subscribers. It gives you everything from the Creator plan, but you also get deliverability reports, Facebook customization, priority support, and a few other perks.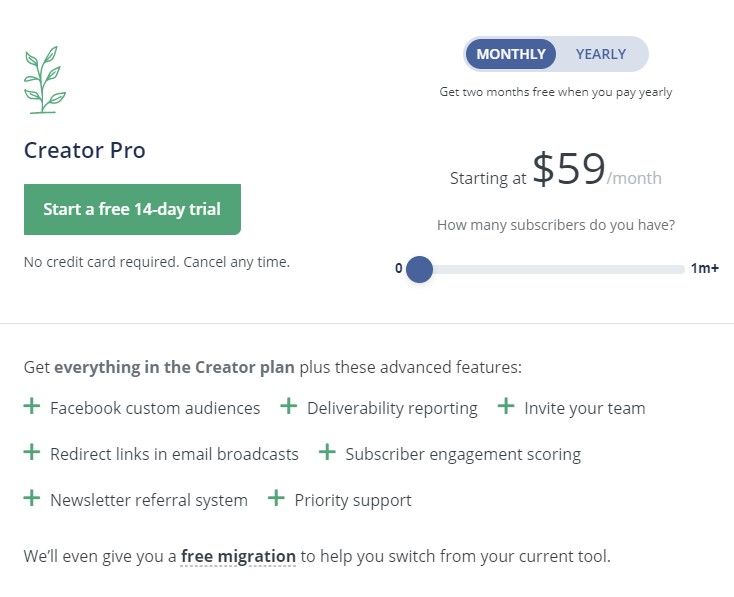 Who Is This For?
ConvertKit focuses on bloggers and other creatives. If your goal is to run targeted campaigns, the segmentation and tagging are going to be beneficial. However, it doesn't do well with visual emails and can be a little expensive.
Sendlane
Sendlane is a data-driven email marketing platform that helps you personalize your interactions. With it, you can automate email sending based on various behaviors. It features powerful machine learning predictions so that you always choose the best approach to sending needs.

Features
The features on Sendlane are plentiful. You can retarget smart emails, which detects a user's interaction and initiates the right workflow. This includes product recommendations, cart abandonment, and many others.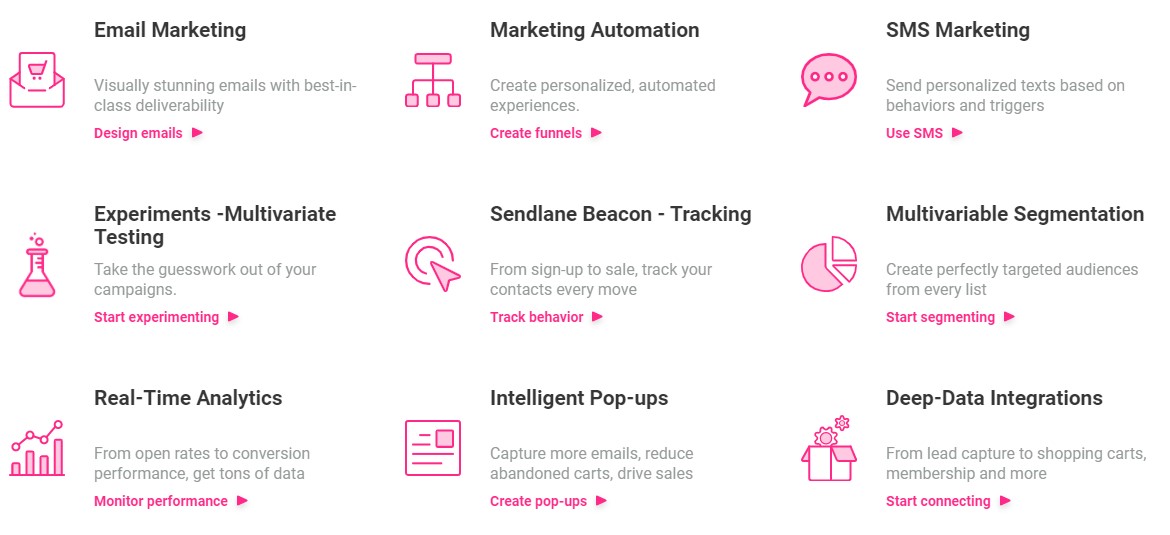 There is also a visual email editor, revenue tracking, advanced multi-variable segmentation, and multiple integrations from third parties and the site itself.
Pros:
Advanced automation

Smooth landing page/email editors

Intuitive and modern design

Great support documentation
Cons:
Fewer integrations than others

No instant migration services

High cost
Pricing

There are three plans for Sendlane. Growth starts at $79 for 5,000 subscribers. With it, you get a real-time HTML editor, email templates, tags/custom fields, and pre-built automated funnels, among others.
The Pro plan is next at $125 for 5,000 subscribers. You get everything from Growth, as well as multi-user access and some SMS automation marketing. Migration services are also available at this level.
Then, there is the Starter plan, which is unique. For a one-time payment of $497, you can grow to 5,000 contacts. You get plenty of education, all the features from the Growth plan, and live chat support 24/7.
Who Is This For?
Primarily, Sendlane is designed for e-commerce owners and digital marketers. If you use Shopify, you're going to love the integrations offered.
However, it is likely to work best for those who have been in the business for a while and can afford the prices.
Conclusion
With various reputable ESP options out there, it's tough to choose one. However, if you've been focused on AWeber and have decided to try other AWeber alternatives, these six choices could be beneficial. Just make sure the email marketing platform has:
Flexible prices

Customizable templates

Mobile ready

Is easy to use

Reasonable send limits

Various plugins and integrations

Reporting and analytical tools
With these things available, you're sure to create exciting campaigns that help your company flourish.