Time tracking refers to the process of logging and measuring the time you spend on doing your job. You can use multiple methods to log time, such as taking an educated guess, Excel spreadsheets that show in/out times, writing it on paper, or using software for employee monitoring.
Generally, it is easier to use time-tracking tools to accurately and quickly track time. They measure time spent at work or on specific applications. Some options also provide features that help with budgeting or generating invoices.
All of the systems listed here are going to accurately log and manage your time which can also be used to generate reports for proof if needed. In that way, freelancers and remote teams can easily track billable time and ensure that they get paid for the work they do.
When selecting the right app for your time-tracking needs, consider the features included. They can consist of accuracy, alert functionality, supported integration, pause/un-pause controls, reporting capabilities, pricing, and invoicing options.
Here are seven of the best time-tracking tools:
#1 Toggl
Those who desire something simple and easy to use are going to like Toggl.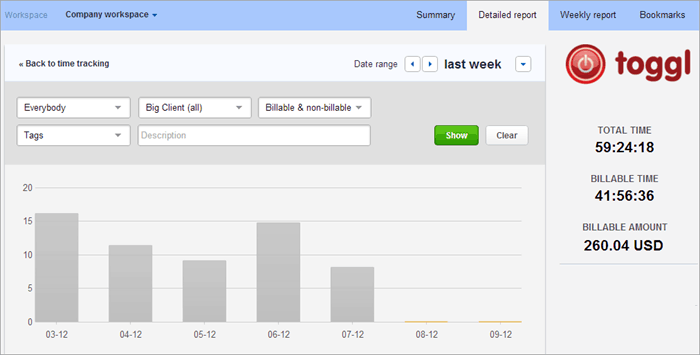 Teams, agencies, and freelancers can all use this software, giving you a bigger picture of how you've spent your time. You also get basic features, such as reporting and time tracking. Advanced features are also included for a fee. These consist of emailing reports and automating your timesheet management.
Using this program, you can break down the data and get various reports. Plus, you can work on any device. Get the app on your computer or download it to your smartphone or tablet. Either way, it's easy to set it up and start timing yourself when you work. Remote work and sleep often have a terrible relationship, but when using good tools like this, you can help make life easier for yourself and your remote team.
The Toggl interface is simple, but it's quite easy to use. Of course, there is a free plan called Basic. There are more limited reporting capabilities. The other plans include Starter ($9 per month per user), Enterprise (customized pricing), and Premium ($18 per month per user). Toggl also offers a free trial of any plan for a full 30 days.
#2 Clockify
If you're looking for some type of free time tracking software, and you want it free, then Clockify might be right for you.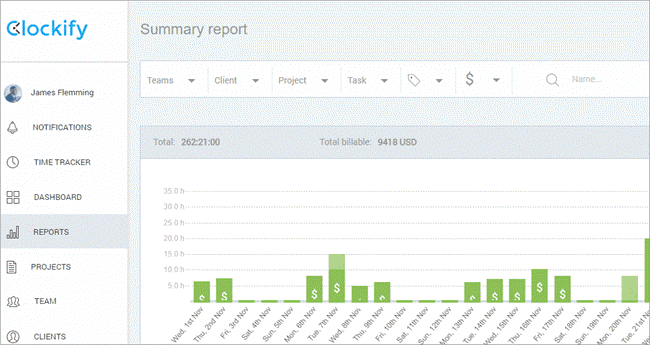 While it is designed for freelancers, it can be used by remote teams, too. You can see from the picture above that you view your name first and can get a summary report. It is possible to set up a team and see how long members spend on projects, their logged activities, and the total time invested in a particular project.
The reason it made the list is that it's free and integrates with a variety of PM (Project Management) apps. Plus, it is accurate.
You're going to like that it runs from any browser and can support Android and iOS devices, as well as Mac, Windows, and Linux operating systems. The tool offers you a visual breakdown for any time tracked under the reports tab as well. Plus, you get automated weekly summary reports.
It's quite easy to use, and you can evaluate how much your project costs you.
Though it is free and offers unlimited projects, users, and time, you can find paid plans available. The Plus plan is $10 a month; Premium is $30 per month; Server packages start at $450 a month. Plus, you get a free trial to check out all of the advanced features first.
#3 Hubstaff
If you need more than basic features and have a team, Hubstaff might be the place to go for time-tracking software.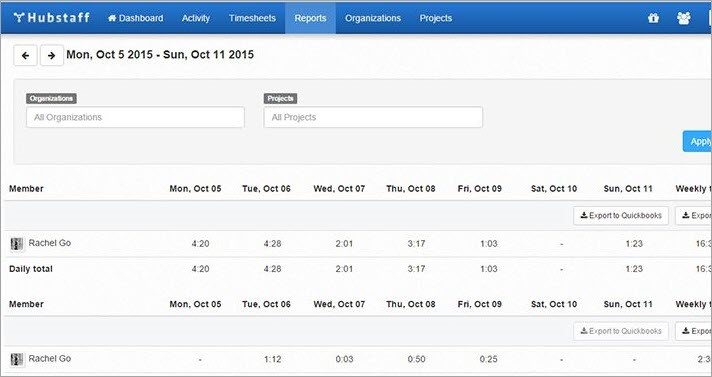 It's easy to choose the day or week you want to see more information about, but you can also check by the member and the total.
This is a full tracking solution, and it offers timesheets, screenshots, and so much more. If you want to incorporate invoices, task management, and budgeting, this tool is quite helpful. Plus, you can even get an offline tracker, which can be useful if you're not online all the time or on the go.
The employee scheduling feature is great because you can plan shifts, manage the team, and make sure people are working when they are supposed to be. If you need to visit job sites or account for traveling, there is a GPS tracker, as well. Payroll and online invoicing are quite popular features.
Two plans are available, including the Basic plan at $5 per user per month and the Premium plan at $10 per user per month. Those who are interested can utilize the free trial, which is 14 days long.
#4 RescueTime
Individual freelancers and teams might like the RescueTime time-tracking tool because of many good reasons.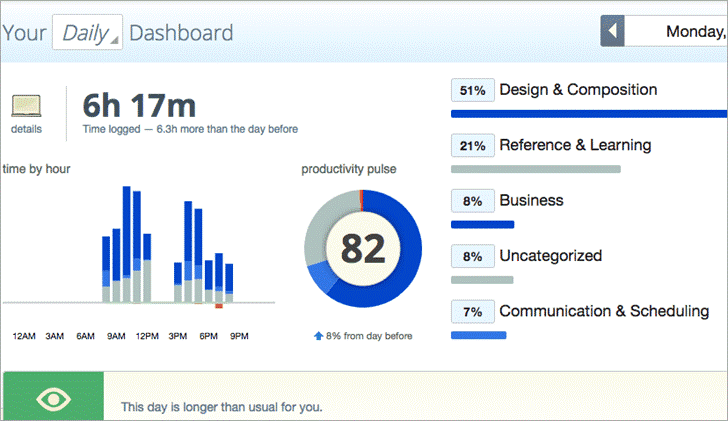 It's primarily a web-based system and works on Mac, Windows, Android, and Linux operating systems. Though it is geared toward individuals, there is also RescueTime for Organizations, which can help you use talent more wisely and focus on company goals.
With this program, you can see how you're using your time and which activities you do each day. The primary manager can also get insights about the entire team. This service allows you to set alarms for a variety of tasks, too, thus, you can spend more time on what matters most.
Other features are available and can include real-time notifications, distraction management options, and privacy features. You can also get a weekly report sent to your email. However, any data generated on the website cannot be exported to a file. A workaround is to screenshot the page, add it to a Word document, and save it that way.
There are two plans for this time-tracking service. RescueTime Premium starts at $9 a month, and RescueTime Lite is a free version. With Premium, you do get a 14-day trial period to test it out first, so you aren't jumping in blindly.
#5 TMetric
If you have a team of people and need to ensure that they're working and getting paid, then TMetric might be ideal for you.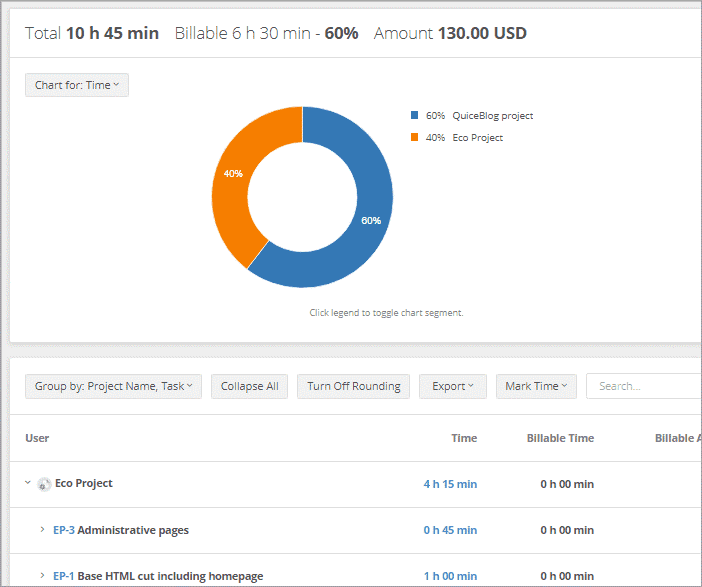 Looking at the screenshot above, you can see that it shows you how many hours total the team has worked on a project. It also breaks it down as to how many of those hours are billable and the pay you're going to get. A helpful circle chart is also provided for more visual learners.
Though you can look at the big picture, you can also break it down to particular users. This allows you to see who did what and for how long. If you plan to offer bonuses at the end of the project, this can be a helpful feature to have.
However, TMetric is also quite simple and is highly accurate. You can use it in your desktop browser or on Android and iOS devices. It works with Edge, Firefox, Opera, and Chrome browsers.
Those who need reporting, project management, and team management are sure to like this option. You can add users to a group, give and take away permissions, edit profiles, and much more.
Plus, you can set preferred start-of-the-week days and holidays, as well. Time estimates and budgeting options are also available.
Keep in mind that this time-tracking tool is not suitable for individuals. It works much better for multiple users. Though you can have as many users as necessary, the free version only allows for five. If you have more and want all of the advanced features, you're going to have to spend some money.
The Professional plan costs $4 per month while the Business plan is $6 per month. You also get a 30-day free trial regardless of the plan you choose. During that time, all functionality is included.
#6 Harvest
When it comes to choosing time-tracking tools, you need something with reporting and time/expense tracking. Harvest might be the right option for you.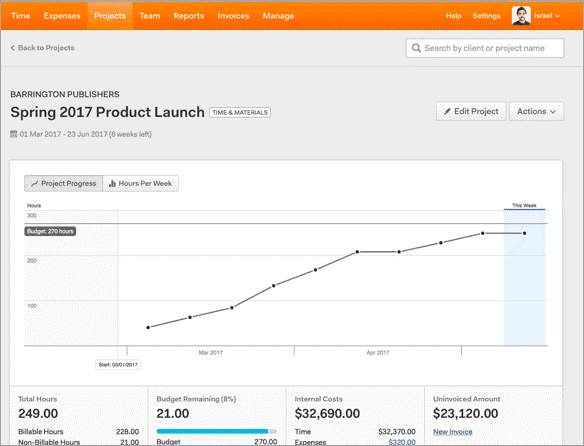 It works well for teams and individuals. You can see there are ways to search for specific information you may need. You can also add a name, projected date of completion, and see the progress of a particular project.
In the end, you can see the total hours you spent on the project, as well as which ones were billable and which ones weren't. It's also easy to see how much you have and haven't invoiced and can create invoices right from the tracker.
All of this is done online and offers security features like what you might find at a bank. Therefore, you don't have to agonize over the risk that someone is going to see the information they shouldn't. You can send invoices directly to a client, which takes out a step and allows you to work faster and smarter.
With expense tracking, it's possible to see how much you're spending, how much you're getting paid, and more. Plus, the reporting tool is quite powerful, and one of the best we have ever seen before.
Of course, you can get scheduling with this app, too. To do that, you're going to need the sister app called Forecast. That way, you can schedule things for the team, improve estimates, and see how long it is going to take to finish a project.
You're going to like that it integrates with many apps. These include Basecamp, Asana, Trello, QuickBooks, PayPal, and many others. If there is something that it doesn't work with that you need, build it yourself with the Button & Widget or use the API system.
There is a free plan, but it is only suitable for two projects. A paid plan is available and includes a fully-functional trial for 30 days. Called Pro, it allows for unlimited projects and people. It only costs $12 per month per person.
#7 Everhour
Do you just want something simple, whether you work as a team or by yourself? If so, Everhour could be ideal for you.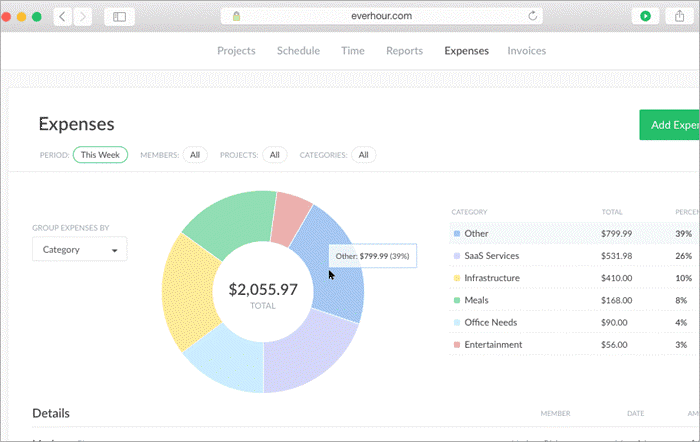 From this view, you can easily see that the website is secure. Then, you have multiple tabs that can give you helpful information. This one happens to show the expenses tab. It's easy to add expenses, see a chart that explains how much money you spent and where, and determine which period for which you want to find the information.
Other options include schedules, projects, reports, invoices, and time. Clearly, you can generate invoices for the work you have completed and send them directly to the clients. Your employees can also create and send you invoices to be paid on time.
Just from the screenshot above, you can see that the dashboard is visual in nature, but it is also clean and easy to navigate. You don't have a lot of bold colors and words to confuse you. It's possible to get the information you need quickly and move onto other work.
Integration is also popular with many other project management tools. These can include Basecamp, GitHub, Jira, Trello, and Asana. While it doesn't integrate with as many options as some of the others, it is still quite helpful.
The resource planning feature warrants its paragraph. With it, you can monitor your team and how they are being used in various projects. This helps you see where things can be cut back or where you need to expand. Of course, you can also estimate how long each task should take and get an idea of whether or not you are going to finish on time.
However, the one caveat is the timer can only be initiated if you're working on a project already on the list. Therefore, if you're in charge of creating projects, you can't time yourself to get paid for that. You may have to use another time-tracking tool or give it to an employee who gets paid hourly.
There isn't a free plan, but you do get a 14-day trial. The Solo plan costs $8 and is for individuals. Its Team plan is $5 per user per month.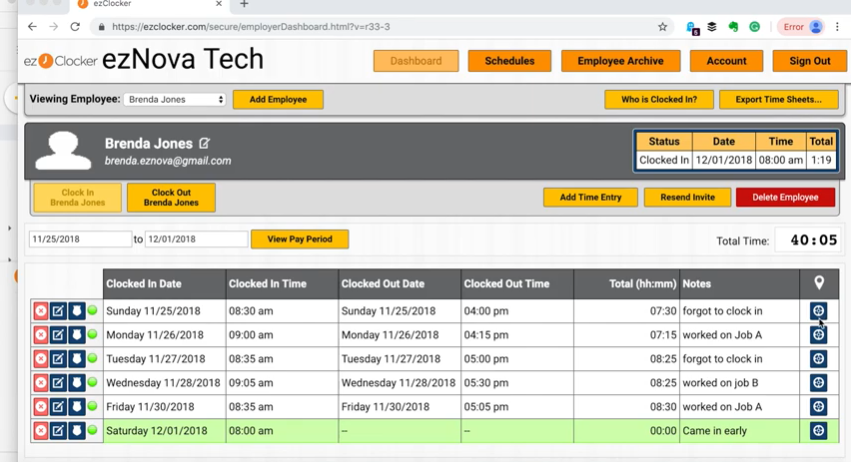 This highly rated freelance hour tracker app is simple and easy to use. The app is ideal if you are a freelancer working at home or a self-employed individual working in the field. ezClocker also has a business version that works for businesses with remote employees.
The app gives you the necessary tools to easily and efficiently track billable hours, calculate your total pay (based on hourly-rate/hours worked) and much more! You can clock in and out with one tap; then, see your hours worked for the day, week, month, or set your own custom timeframe.
Once the project or job is finished, you can email your timesheet and a message to your client/boss in just one tap! If you set your hourly rate, then your email will turn into an invoice so your client can easily see how much they owe you.
The business version for remote teams has additional features like scheduling, labor job costing, preventing employees from clocking in early, and overtime tracking.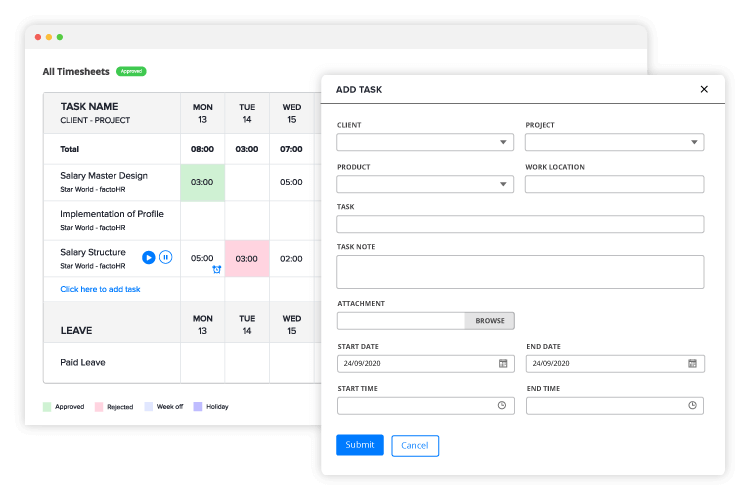 Thinking of a time tracking solution that allows your workforce to input their work details and your manager to have a watch on it even under remote conditions? factoHR might be the right solution that will fulfill your needs.
factoHR allows employees to enter their tasks according to their defined schedules. While adding these tasks, employees can easily add details of the corresponding client's name, the project they are working under, specific product, work location, and particular notes about it. Meanwhile, they can mention their starting and ending date and time. 
As all these details are accessible by the managers, it becomes simple for them to analyze the total time given to the project. Just think about it. You can even monitor how productive your workforce is. Employees and managers can access our tracking tool even while working from any remote location. 
After the project completion, you can bifurcate the total billable and non-billable hours, which helps you in accurately computing the final project costing.
The timesheet entries made by the staff can be submitted for approval to their managers. factoHR allows you to set a personalized approval workflow wherein you can also appoint approval managers in a hierarchical format. 
Apart from managing tasks and projects, factoHR knows the importance of reporting and thus offers ready-made reports detailed about working hours, projects, the client handles, and many more.
All of this is done through our online cloud-based platform and a mobile application that runs on both iOS and Android. Due to the cloud storage nature, the data you store is entirely within your hands, so that you don't need to fret over the risk of your data being breached by a third party. 
Along with the timesheet tool, factoHR offers a comprehensive suite of managing mundane and monotonous HR activities that cut down the burden on your staff and empowers them to focus on the essential tasks.
#10 Indy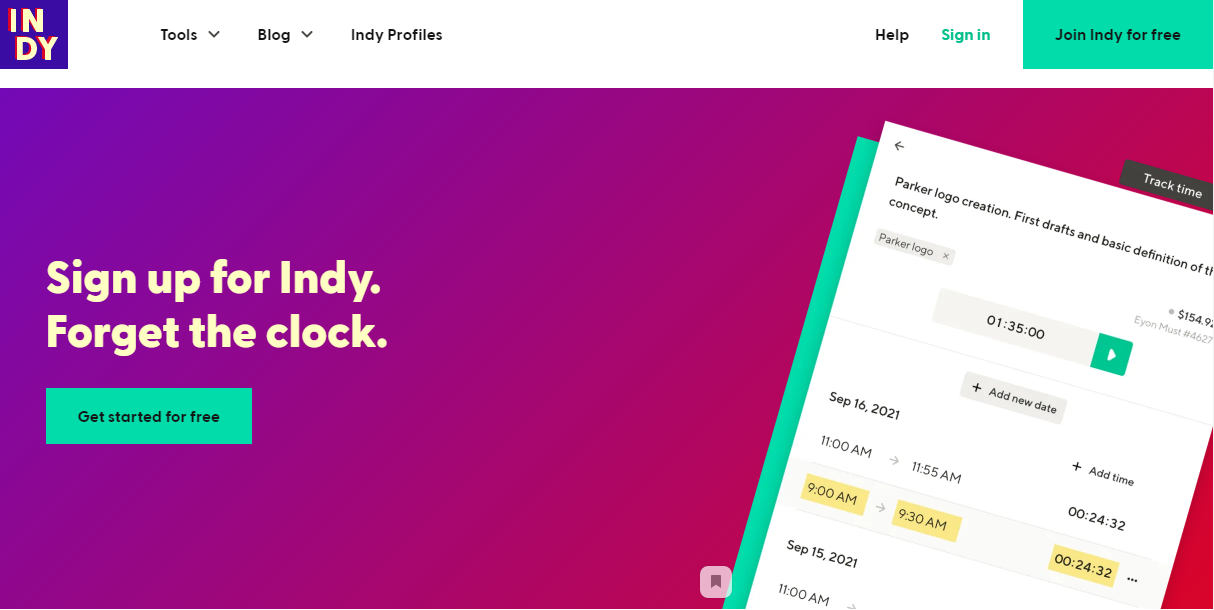 If you are looking for a time tracking software for freelancers and self-employed people, the Indy Time Tracker tool helps you stay focused on the tasks and not the clock. The interface of the tool is very simple as you can see from the screenshot. Indy's Time Tracker tool was designed to help freelancers stay focused on their projects, not the clock. The tool is simple to use, letting you manage your time as you go from one task to the next.
The tool lets you clock in with the simple click of a button and hit pause anytime you take a break. The time tracker allows you to filter your timesheets in different ways so you can get an overview of your work hours and tasks. At the end of the week or month, you can link your hours to an invoice, so all you have to do is add your hourly rate and send it off to your client for payment.
Unlike other competitors, Indy doesn't have any hidden costs or fees at all: everything is included in a low monthly fee. For the first try, you get free access to track 15 times.
Unlimited access to the Indy pro bundle is only $5.99 per month.
Conclusion
We have compared some of the top time-tracking tools that you can use for remote teams and freelancers, respectively.
If you are searching for something that works well for teams and individuals, Everhour, RescueTime, and Toggl are some of the best, while TMetric works well for teams alone.
Now, since you've read through all the price points, including those with completely free options, we hope that you're now able to find the best time-tracking tool that fits your budget and business needs.