Good news! Your website receives a lot of traffic. But it is disappointing that most of the leads leave your site and do not make any purchase.
Increasing online presence today is easy. You can market your brand on social media, invest in on-page search engine optimization, and publish content to LinkedIn.
Converting leads into potential clients, on the other hand, is more challenging than you think.
Build your brand awareness, increase your market reach, and boost your customer base with popup and email form apps on Square!
What is Square?
Established to help small, midsize, and well-established companies succeed, Square has been a trusted expert in the industry for many years.
Square is dedicated to providing multipurpose platforms for businesses to market their services, achieve and maintain long-term relationships, manage a growing team, and handle their unique banking requirements.
The competition is more intense than ever before, and it is not easy to stand out from the rest. Square is the platform that will unleash your full potential and open business opportunities you deserve along the way.
Square is committed to helping businesses turn their objectives into a reality.
Why Should You Use Popups and Forms? 
Studies have shown that 73% of internet users disapprove of popup ads.
Yes, they can be distracting and annoying. But when done right, popups can be very effective in increasing web traffic and customer conversion.
It is no wonder as popups have a 100% view rate. Whether your website does not have a popup or your existing platform is not up to par, the Square app marketplace has everything you need.
Creating engaging forms and popups does not need to be time-consuming and complicated. Poptin makes the process seamless. Businesses can craft popups and forms within a few minutes without any coding skills required. Its interface is ideal for beginners and pros.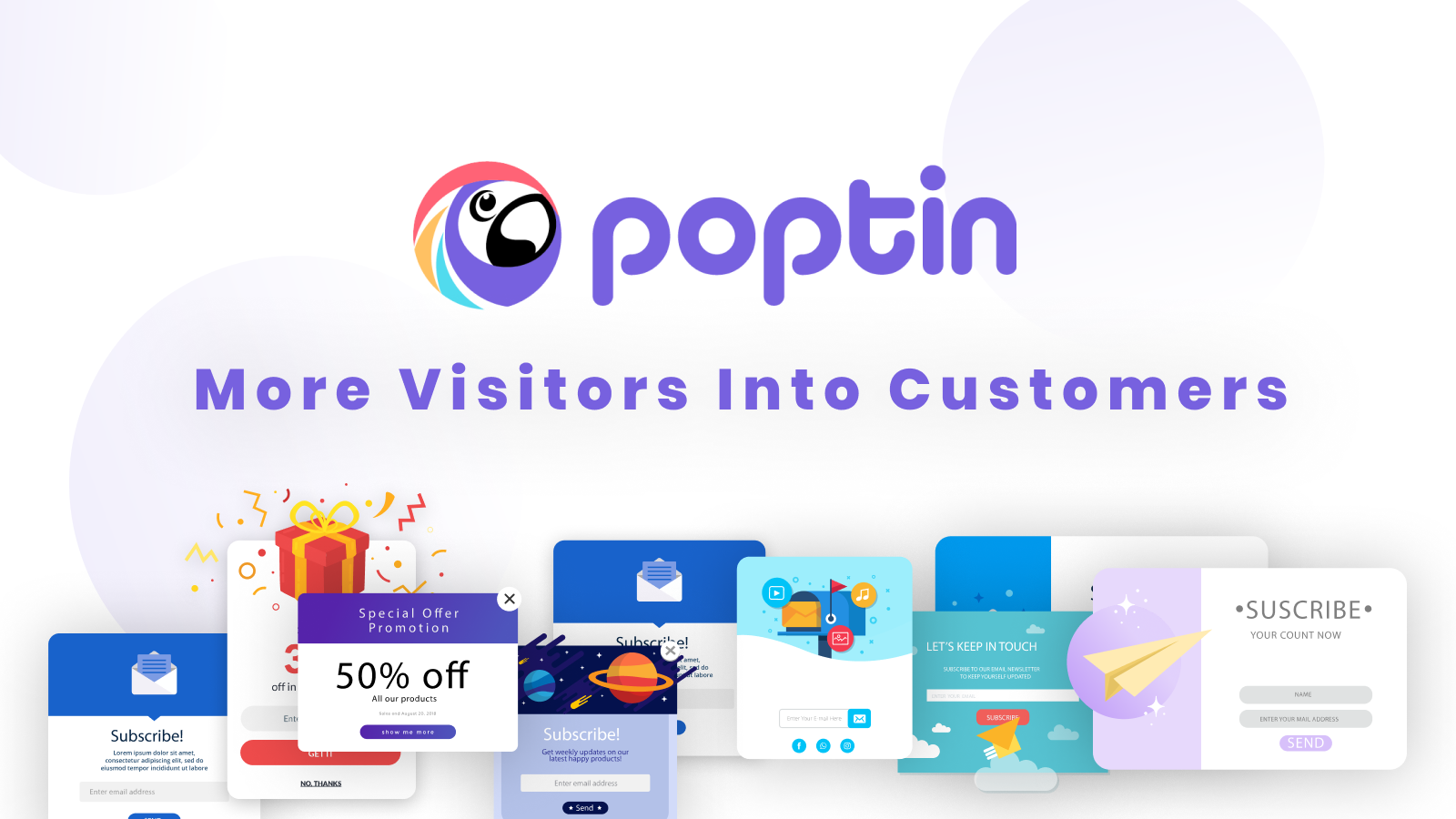 Poptin goes beyond a popup builder. It enables businesses of all sizes to acquire more email subscribers, capture more sales, minimize shopping cart abandonment, and improve visitor engagement at a price that won't break their bank.
Features
Responsive and Professional Customer Support. Quality popup services won't suffice your requirements. A popup builder with timely and accommodating customer support can guarantee your satisfaction. Poptin strives to accommodate its client's concern with its live chat support, available on its dashboard and main website.
Lots of Integrations. Poptin offers a variety of integrations, including Active Campaign, Active Trail, Campaign Monitor, Agile CRM, LeadSquared, Nutshell, and ProveSource.
A Trusted Form Builder. Poptin is also recognized as a superb form builder. There are templates to choose from, and the design is easy to personalize. Every template is also compatible with whatever device you are using.
Installation does not Require Any Coding Experience. You can install Poptin in Weebly, WordPress, Webflow, Shopify, and other popular platforms. If you have not installed any popup and email builder before, you can leave the job to a professional.
It is Fun to Set Up Specific Rules for Your Popup Display. You can include click count, exit intent, page count, page scroll, and time display.
Setting Up Targeting is Made Easy. While some prefer to target desktop users, do not forget those who use tablets, smartphones, and other devices. You can also use other targeting options, like based on countries, OS and Browsers, traffic source, page targeting, and more.
It Supports Different Types of Popups. Whether you need a lightbox, bar, mobile-only, slide-in, fullscreen, or social popups, Poptin provides all of these kinds of popups.
The Popup is Customizable. Every business has different needs, which is why Poptin makes all its templates customizable. You can modify the popup template you choose according to your company goals.
Create a Popup with Necessary Elements. Popups and email forms can ruin customer engagement and experience. But with Poptin, you can make something unique with elements like text, buttons, icons, timer, and image.
Pricing
Poptin is available with a free plan. Although it comes with 1,000 visitors, one domain, and chat & email support, it is limited.
You can upgrade your existing plan to a premium package. Poptin has three paid plans – Basic, Pro, and Agency. The Basic package is the most affordable. It costs around $19 per month.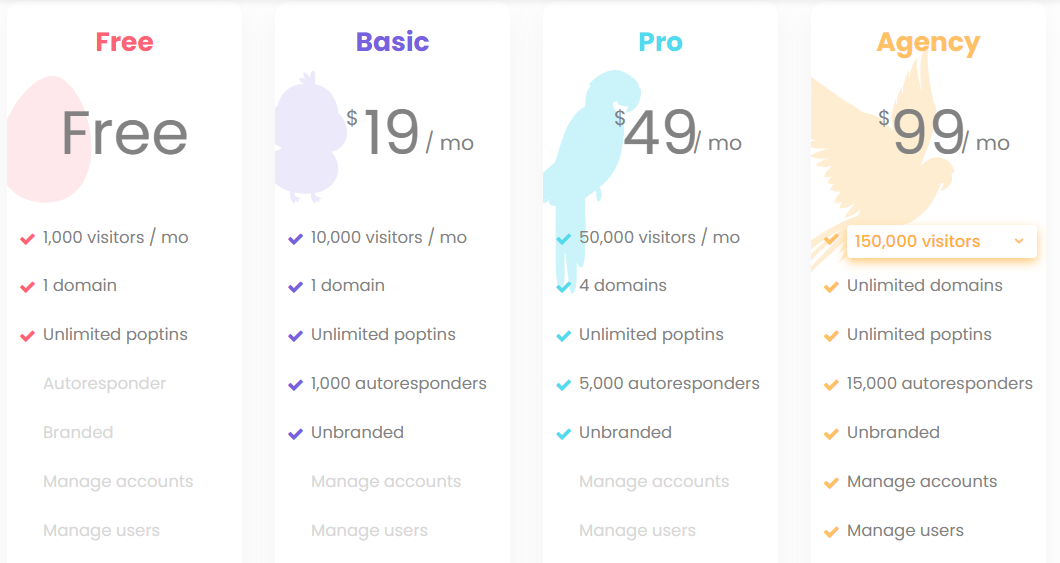 2. Wufoo
There are multiple form builders to pick from, but the majority of platforms are complicated to use. Wufoo, however, is known for its simple and easy-to-navigate interface. It is also considered a powerful and effective form builder.
Features
It Supports More than 40 Languages. You can set the platform in Chinese, Croatian, Turkish, Swedish, Dutch, English, Portuguese, German, and more.
It Has More than 3 Million Users. Some of the biggest brands are Microsoft, Amazon, Twitter, and Disney.
A Wide Collection of Templates. Like SurveyMonkey, Wufoo has a vast range of templates to choose from, meeting everyone's unique needs.
It Comes with a Drag-and-Drop Editor. That means you can add, remove, or rearrange all fields in your form within minutes.
Available with a Theme Designer Function. This enables you to customize the buttons, background, shadows, font, and borders on each of your forms.
Templates are Well-Organized. You can also search the template you prefer easily. Some categories are surveys, lead generation, online orders, invitations, and registrations.
Excellent Integrations. Wufoo partners with Zapier to connect forms with Asana, GSuite, HubSpot, and other apps.
Pricing
Wufoo has four premium plans. These are Starter, Professional, Advanced, and Ultimate. The Starter is $14.08 per month. The Professional package is $29.08. Advanced is $74.08, while the Ultimate is $183.25. The Professional plan is the number one choice for many.
3. Jotform 
Another simple and powerful form builder to take advantage of is Jotform. It allows different people to edit any form without any hassle. The designing process is also flexible. You can customize your preferred templates like a pro. What's more, it will not cause a dent in your savings account.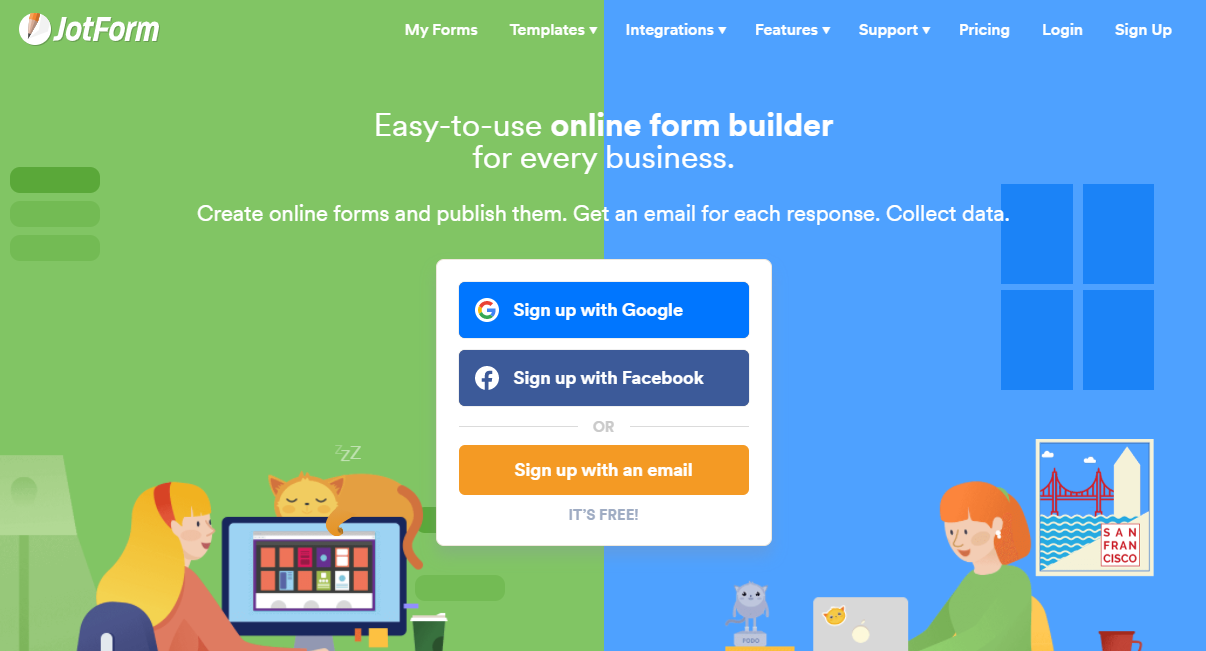 Features
Themes and Templates. The number of templates and themes in Jotform is superb. Currently, it is home to approximately 10,000 templates you can customize for free.
It has a Vast Range of Integrations. You can send form entries to Google and Slack. You can also store files in Google Drive, Dropbox, and Box.
Available with Widgets. There are widgets to take photos, embed files, and let respondents sign forms electronically.
It is Simple to Add Collaborators to a Form. It also supports simultaneous editing, saving everyone's time and effort.
The Interface is Intuitive. Although its website is not that organized like its competitors, its dashboard is straightforward. Any prior experience is not required.
Incredible Customer Support. Jotform strives to provide 24/7 email support. It also offers a user forum, tutorial videos, a blog, and frequently asked questions to answer all your concerns and queries on time.
Pricing
Jotform offers three paid plans. The Bronze package costs $19 per month. The Silver plan is available at $39, while the Gold package is $99 per month.
4. Form Builder by POWR 
POWR Form Builder has been popular since its inception for a reason. It can help close sales faster, allow your employees to focus on other important business aspects, and increase conversions by 300%.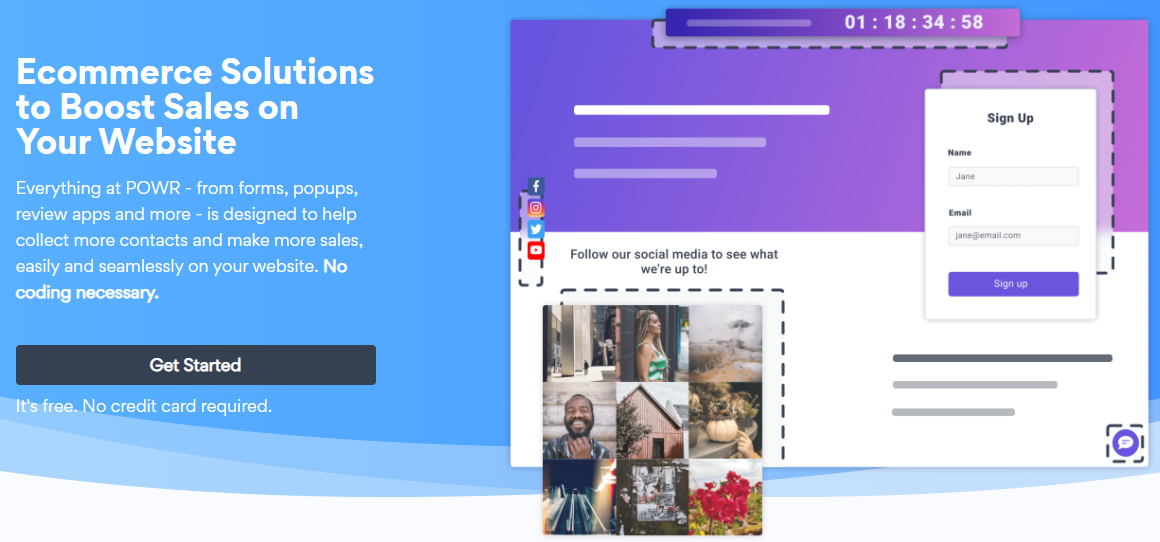 Features 
Various Integrations. Some of the leading apps include Google Sheets, Mailchimp, and Zapier.
It is Designed to Collect Leads. It does not stop there. It can also turn every website visitor into a high-paying customer.
There's No Coding Experience Required. Whether you are a beginner or a pro, POWR form builder can meet and exceed your requirements.
It is Easy and Engaging to Create Different Forms. Who says creating forms is hard? POWR form builder can make the process less stressful. Types of forms you can make are custom contact, quote, and wholesale.
Real-Time Notifications. Every time a visitor submits a form, you will be notified quickly.
Limit Submissions. It is overwhelming to receive a number of submissions every day. But with the form builder by POWR, you can limit the forms by dates or per user.
Pricing 
The plans at POWR are divided into three packages, including the Starter, Pro, and Business. If you are on a tight budget, the Starter plan is for you. It only costs $4.49 per month.
5. Gravity Forms 
Another feature-packed contact form builder in today's market is Gravity Form. It provides responsive forms, email notifications, conditional logic, spam filters, and file uploads. All of these are available at a rate every business can afford.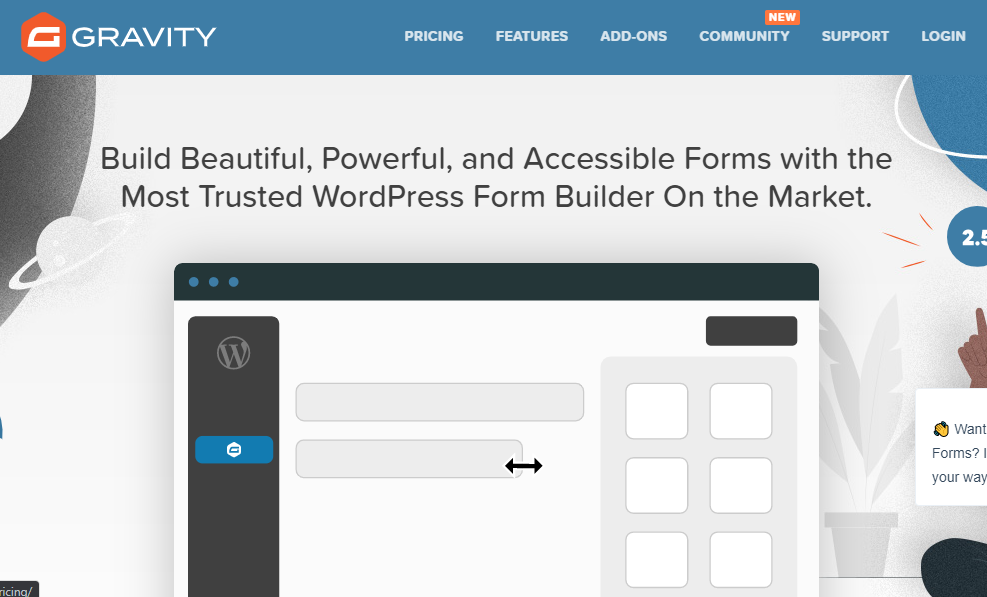 Features
Integration is a Breeze. You can connect your forms with other applications like Zapier, WordPress, SendGrid, Postmark, iContact, Mailgun, Mad Mimi, Mailchimp, HubSpot, and more.
Packed with an Intuitive Drag and Drop Form Builder. All you have to do is select a field you like to add. Then, drag or drop it in your form. That's it. There's nothing complicated to follow.
Made with Powerful Controls. Every form in this platform has its custom settings. That means you can set up a title and description in every form.
It Won't Break Your Bank. Yes, Gravity Forms is cost-effective and ideal for those who are on a budget.
Reliable Customer Support. Whether you have something to ask or verify, Gravity Forms prides itself on its quality, responsive, and accommodating customer support you can count on and trust.
Pricing
A single site license and basic add-ons at Gravity Forms starts at $59 per month. Admit it or not, the features are limited. You can try its Pro plan that costs $159.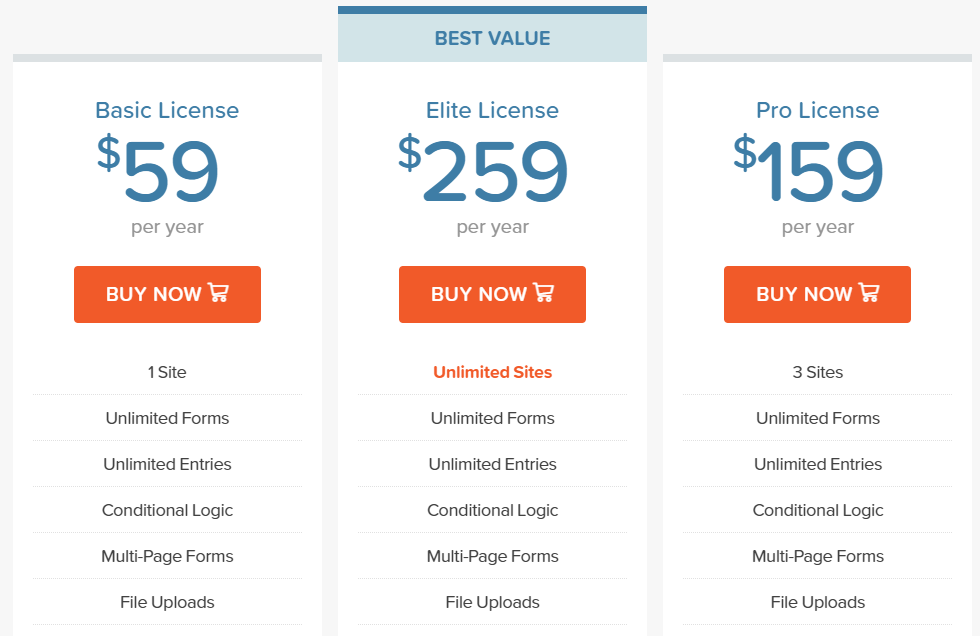 6. Cognito Forms 
Have you been searching for a form builder with competitively priced subscription plans without a good result? You will be in the right place with Cognito Forms. It is the top favorite for beginners and advanced users as well.
Features
Users can Create Unlimited Forms on the Free Plan. The free plan on some platforms offers limited forms. Cognito Forms is different.
It Provides More than 100 Templates. Thus, the selection process is not as tedious as you imagine.
It Supports 20 Languages. Perhaps, you find a quality form builder, and the language used is not the one you write and speak. That's frustrating. With Contact Forms, it is easy to set the application in Portuguese, Chinese, Polish, Dutch, Japanese, French, Spanish, and English.
Multiple Template Categories. These include hospitality, travel, surveys, marketing, sales, reporting, customer service, human resources, information technology, education, etc.
It Integrates Thru Zapier. Zapier supports SugarCRM, Salesforce, DropBox, Google Drive, Trello, and OneDrive.
The Enterprise Plan is HIPAA Compliant. If you run a business in the healthcare industry, Contact Forms is HIPAA compliant. So, there is nothing to worry about.
Pricing 
Among the three plans at Contact Forms, the Pro package is highly recommended. For only $10 per month, businesses can expect electronic signatures, 2,000 form submissions, two users, and tracking functions.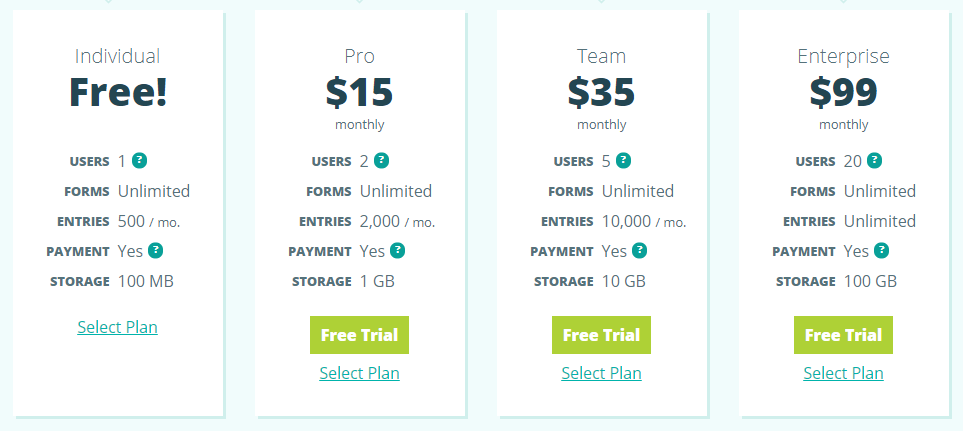 7. 123FormBuilder
For our seventh spot, we recommend 123FormBuilder. It is a flexible and intuitive web form builder that can make client conversion and constant traffic happen in no time.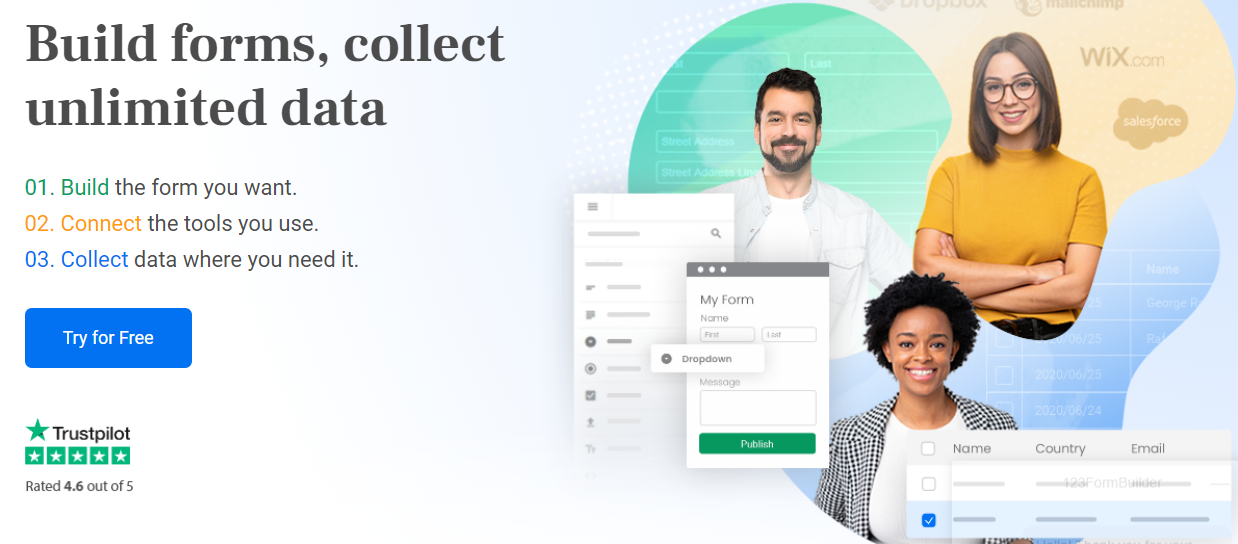 Features
Can be Enjoyed in Over 185 Countries. 123FormBuilder is not only available in the US but also in other countries across the globe.
A Multipurpose and Versatile Tool. It can build forms and create polls, quizzes, and surveys without compromising customer satisfaction.
It Has a Growing Customer Base. Now, it has over 1.9 million users from different corners of the world.
Users Can Select Payment Gateways and Third-Party Apps. You can integrate 123FormBuilder with Salesforce, PayPal, Stripe, MailChimp, Square, and more.
Drag and Drop Interface is Convenient to Utilize. You can use this drag and drop interface to add necessary fields, configure your forms, set up email notifications, and distribute to countless channels.
It Has Highly Committed Customer Support. Every team composes of experienced and competent professionals that can answer your concerns effectively.
Pricing
If you are on a budget, its Individual plan is for you. It is only $19.99 per month. If your business is growing, the Team package will be your best bet. It is $49.99.

Conclusion
So, what's your thought? If you are still confused, you can never go wrong with Poptin. The popup is customizable. It has a collection of templates to pick from. The customer support is extraordinary. It also comes with affordable pricing packages. Visit the site for further details!
Want to start creating your pop ups and forms? Sign up now with Poptin for free!