Online shopping is convenient. It makes it easy for customers to shop from the comfort of their homes. And they receive their items right at their doorstep.
If you're a store owner or online retailer, online shopping lets you reach a wider customer base than before without incurring additional storage fees.
But there's also one major challenge every online store owner faces: shopping cart abandonment.
This guide will cover what cart abandonment is and share the best ways to re-engage shoppers with an effective email marketing campaign.
Read on to learn more.
What Is Cart Abandonment?
Cart abandonment happens when a shopper adds one or more items to their cart but doesn't buy them.
After averaging cart abandonment rates across 46 different e-commerce studies, Baymard Institute found that 69% of shoppers abandon their carts.
Common Reasons for Cart Abandonment
Why do people abandon carts? There are several reasons:
High Costs
Many shoppers abandon their carts due to high shipping costs or product costs. A 2019 United Parcel Service report shows that 41% of shoppers abandoned their cart due to higher than expected delivery costs, and 29% left the cart after comparing the prices.
This makes sense. Nobody wants to pay a higher price than they need to.
Lack of Trust
Buyer hesitancy is another common cause for abandoned carts. Shoppers might be hesitant to purchase due to a lack of trust.
The above Baymard Institute study shares that 17% of shoppers abandon carts because they didn't trust the website with their credit card information.
Common reasons for this buyer hesitancy include:
Outdated website design
Lack of social proof — reviews
No social presence
Missing Information
Product information helps customers understand what they are buying. If they find information lacking or false, they won't trust your brand.
You need decent copy and quality product images to help your customers decide.
Abandoned Cart Emails
Abandoned cart emails are emails sent to re-engage shoppers who left items in the checkout. These emails remind customers of the product value and focus on their pain points. Besides that, these emails often incentivize a purchase by offering free shipping, discounts, or other deals.
Here are the purposes of the best abandoned cart emails:
Value proposition — Abandoned cart emails can remind your customers of the value proposition and what they'll miss if they don't buy a product.

Personalization — You can personalize the customer experience with an abandoned cart email. You can create personalized emails by including the customer's first name and asking a question.

Deals and discounts — You can use abandoned cart emails as the perfect opportunity for providing shoppers with additional deals.

You can send them a discount or a special promo that pushes them to complete the checkout process and become paying customers.
Best Abandoned Cart Email Tips and Tricks
Now that you know why you should send the abandoned cart emails, let's talk about some practical tips and abandoned cart email examples to help you craft an abandoned cart email for your business.
Catch Customers' Attention
According to Constant Contact's January 2022 statistics, the average email open rate for the retail industry is 24.90%. That means customers open only one email for every four emails they receive from retail businesses.
To make sure that customers open your email, you need to stand out and catch their attention. The best way to do so is by making sure your email has a solid email subject line.
For example, Adidas uses a snappy subject line: Sorry to hear about your Wi-Fi…
While this has nothing to do with your shoes, it certainly grabs your attention.
Use Personalization
The best-abandoned cart emails rely on providing a personalized experience. You can use your customer's name to establish a personal connection. You can even suggest other products that might be relevant depending on the items they left in the cart.
"This can help you win that customer back and increase the cart value. You can essentially help them find more reasons to buy from you and upsell related products," notes Farnam Elyasof, Founder of Flex Suits.
For example, here's how MCM, a luxury brand, handles an abandoned cart email.
Make Use of Aesthetically Pleasing Designs.
Develop well-designed emails that showcase your brand's value. Your email should highlight that by design sense if you sell luxury goods.
You can experiment with different cart email designs and layouts to see which email style gets you the best results. You can also build your emails using a drag and drop email builder.

Stay on Brand
Another important tip is to stay on brand. This means your brand message needs to be consistent. You should remind the reader of your unique value proposition and what makes your product the best choice for them.
When your message and style are consistent across all touchpoints, you can increase brand awareness and build brand trust. It makes the email look familiar, so your potential customers can immediately recognize who the sender is.
Offer Incentives
Include incentives in the abandoned cart emails to encourage online shoppers to come back.
You can include discounts on the items they left in the cart or offer free shipping for those items. You can also show them other ongoing promos or deals they might be interested in.
Always Include a CTA
The best abandoned cart email should always include a clear and compelling call to action (CTA) with a CTA button. The CTA should do one of the following:
Point them back to your website
Open the cart and resume the shopping process
Provide them with a discount code.
In other words, make it as easy as possible for them to take the desired action.
Test Different Copy and Text
Don't be afraid to experiment with different email copies.
Test and see which subject lines have the best open rates and which email copy has the best click-through rate.
Track your customer engagement across every email campaign you send to better understand what's working.
Set Up a Cart Abandonment Workflow
A better way to recover abandoned carts is to set up a series of abandoned cart email templates and a typical cart abandonment workflow.
Let's see what a cart abandonment workflow looks like in practice, so you can recover some of those lost sales.
Start With a Cart Reminder
This is your first email – the cart recovery email – to send after a shopper abandons their cart. You should send this a few hours after cart abandonment to remind them of the abandoned items they left in the cart.
This creates a sense of urgency for customers to come back and complete their purchase lest they experience fear of missing out (FOMO). This example from Blu Dot shows how simple and effective a cart reminder email can be.
Follow Up
If your customers don't convert on the first cart reminder email, you can send them a second email.
You should usually send this follow-up email after a couple of days. It serves as a reminder and a last-ditch effort before offering any discounts.
Public Rec keeps this email simple and to the point, asking the buyer to take another look at the items left in their cart.
Promo/Discount
This is the third email and usually the final email to send in a cart abandonment workflow sequence.
You can send it a couple of days after the first follow-up email. Since cost is the most common reason for cart abandonment, you can send a promo offer with a discount or a limited-time coupon code to bring customers back.
Keep in mind that you might lose some potential money by providing a discount, but the risk is worth it in the long run. Customers can come back and buy more in the future. They may love your products and become returning customers.
This also increases customer loyalty and trust. As they bought at least one item from you, it's easier for them to come back and purchase another item. In this sense, the initial purchase is similar to giving out a test sample.
Here's an example of a discount email from Columbia Sportswear. Columbia Sportswear's email encourages the customer to check the new price on the items they left in the cart.
Use Pop-Ups, Website Forms, and Testimonials
Another way to reduce cart abandonment is by using pop-ups and website forms. Here are a few ways to do that.
Exit Intent Pop-Ups
You can implement exit-intent pop-ups on your website. Exit-intent pop-ups show up just before a visitor is about to click away from your website. You can use these pop-ups to give your visitors a last chance to convert before leaving your website.
A tool like Poptin can help you create embedded and exit-intent forms. What's even better, it can sync with a CRM tool like HubSpot, so you can have a list of people who abandoned their cart.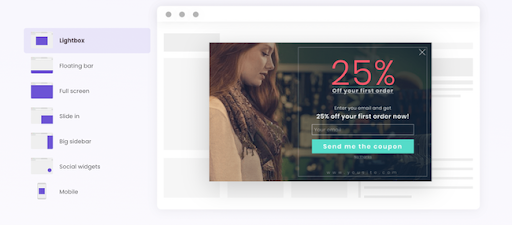 Discount Pop-Ups
You can also create discount pop-ups.
Show these pop-ups on your website to provide your visitors with a last-minute deal or even free shipping. You can use these pop-ups to reduce the price to make shoppers come back and complete a purchase.
Email Collection
Ask for customers' information and consent to add them to your mailing list. This will let you send them newsletters, future promos, and discounts.
This helps you convert shoppers who may not be ready to purchase immediately into paying customers later down the line.
You can use a tool like Premio to add subscribe forms to your website and collect their information. Premio offers a wide variety of subscription forms you can add to your website. Their forms are also responsive, which is important for mobile shoppers.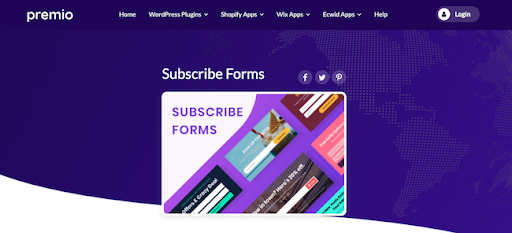 Once you have their information, stay top of mind by sending them a regular newsletter.
If you have a CRM tool, you can even follow up with different email workflows when customers abandon their cart.
You can also use Poptin's autoresponder tool to follow up with customers and send them a discount code in a welcome message to get them to purchase right away.
Add Testimonials
Lack of trust is another common reason for cart abandonment. The best way to increase customer trust is by adding testimonials to your website.
According to the PowerReviews survey of 6500+ customers in April 2021, 98% of shoppers find reviews essential to their purchasing decision.
You can use Stars Testimonials from Premio to add testimonials to your homepage. This helps increase brand trust, reduces hesitancy, and increases paid conversions.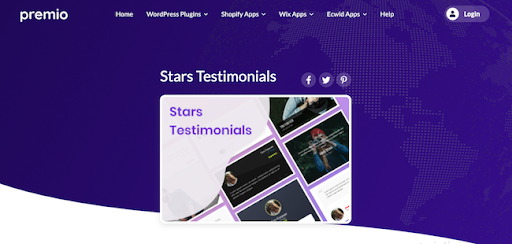 However, before you can add testimonials to your website, you need a way to collect them.
That's why it's a good idea to add forms that will help you collect customer reviews. You can include these forms directly on your product page to encourage past customers to leave a review.
You can also send a post-purchase email a few days after a customer receives the shipment. The email should invite them to leave a review and direct them to the page with the feedback form.
Final Thoughts: Best Abandoned Cart Email Examples To Boost Conversion Rate
Cart abandonment is a serious problem for any online store owner and e-commerce business. Unexpected costs and lack of trust are common reasons why shoppers abandon their carts.
But the good news is that you can recover abandoned carts.
By implementing the best abandoned cart email sequence, using pop-up forms, and sending aesthetically pleasing emails with deals and discounts, you can encourage visitors to return and complete their purchases.