When Target created BayEngage in 2016, the company's only goal was to address the issues that current email marketers face while also providing a user-friendly and responsive email automation solution at a reasonable price.
Since then, BayEngage has helped over 4000 online merchants grow their businesses by using the power of email marketing and taking it to new heights.
While we adore all BayEngage has to offer (not to mention the 300+ email marketing templates, smart segmentation, and next-level automation features), this article is for you if you're searching for an email marketing alternative to BayEngage.
We'll walk you through the top six alternative email marketing solutions and explain how they suit different business niches.
What is BayEngage?
Thousands of online stores use BayEngage, a Customer Engagement, and All-In-One Marketing Automation tool, to create emails. BayEngage's free plan includes 2500 emails each month for 250 subscribers, and its pricing starts at $10.
Best BayEngage Alternatives
1. MailerLite
MailerLite is a relatively new player in email marketing, and its youthfulness is reflected in the tool's design, features, and customer support. Essentially, not in the 'young, crazy, fun!' sense but rather in the 'modern, clean, and uncomplicated' sense.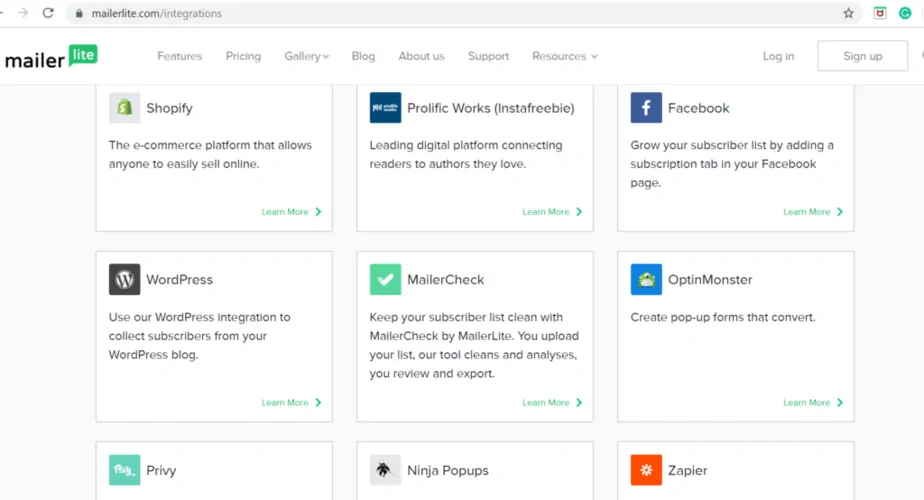 MailerLite is a progressive, multinational email marketing software, as demonstrated by its team and corporate values.
The interface is available in five languages, and its customer service representatives are worldwide. There's also a smartphone app! It is currently only accessible on iOS.
Price
Although MailerLite has a free forever plan, it is still less expensive than most email marketing solutions. The growing business plan, which includes limitless emails, landing pages, and over 60 modern newsletter themes, start at $10 for 1,000 subscribers. Its user-friendly layout makes it an excellent email marketing tool for newbies.
Features
MailerLite is headed into an all-in-one marketing platform area with the inclusion of features like the ability to sell digital products and monthly subscriptions on top of the website and landing page builder.
The platform excels in terms of usability and simplicity, and it includes enough features to meet the demands of most small businesses. Of course, being less expensive than many other programs has its drawbacks.
MailerLite is one of the best email marketing platforms for newsletter creation because of its amazing drag-and-drop editor and gorgeous themes. If that's what you're looking for, there's no need to look further.
2. GetResponse
GetResponse is an all-in-one marketing platform that includes complex automation, landing pages, CRM, and email marketing. We like the software a lot because it has many advanced features. 
Its entry plan is affordable, and NGOs receive a generous 50 percent discount. A free forever subscription is also available, which includes autoresponders, a landing page/website builder, and unlimited emails.
Features
GetResponse, on the other hand, has adjusted its focus in recent years, aiming to be more of an 'all-in-one' online and e-commerce marketing solution than a 'conventional' email marketing tool.
As a result, GetResponse now offers a website builder, eCommerce features, landing pages, chat features, webinar hosting, automated sales funnels, and email marketing features.
Pricing
Below are the various plans available on GetResponse:
Free – $0; you can use a pared-down version of GetResponse indefinitely if your list is under 500 subscribers.
Basic –$19 a month; you can send an unlimited number of emails to a maximum of 1,000 subscribers.
Plus – with up to 1,000 subscribers, prices start at $59 per month.
Professional – $119 per month for a maximum of 1,000 subscribers.
3. Mailjet
Mailjet has a vital service, especially considering it's one of the market's more economical newsletter software suppliers; it even features a unique collaboration function not seen in other email providers.
This company, founded in France in 2010, is used by thousands of businesses to deliver email campaigns and transactional emails. Mailjet just implemented a multi-user collaboration tool that allows an email marketer and developers to collaborate on the same email in real-time. Isn't that great?
Features
Mailjet's features include multi-user collaboration, customizable templates, free SMTP servers, A/B testing, and other handy features.
Pricing
Unlike many other email companies, Mailjet charges based on how many emails you want to send per month, not how many subscribers you have (these are unlimited, even on the free plan).
Furthermore, for this reason, Mailjet could be a decent choice if you have many subscribers but will send less than 15,000 emails each month, as the Premium plan is only $25 per month. In terms of price, it will be challenging to beat Mailjet!
4. ConvertKit
ConvertKit is a sophisticated email marketing tool aimed at marketers, bloggers, authors, and other content providers. ConvertKit's slogan, "power of Infusionsoft with the ease of Mailchimp," immediately set it apart when the company first began.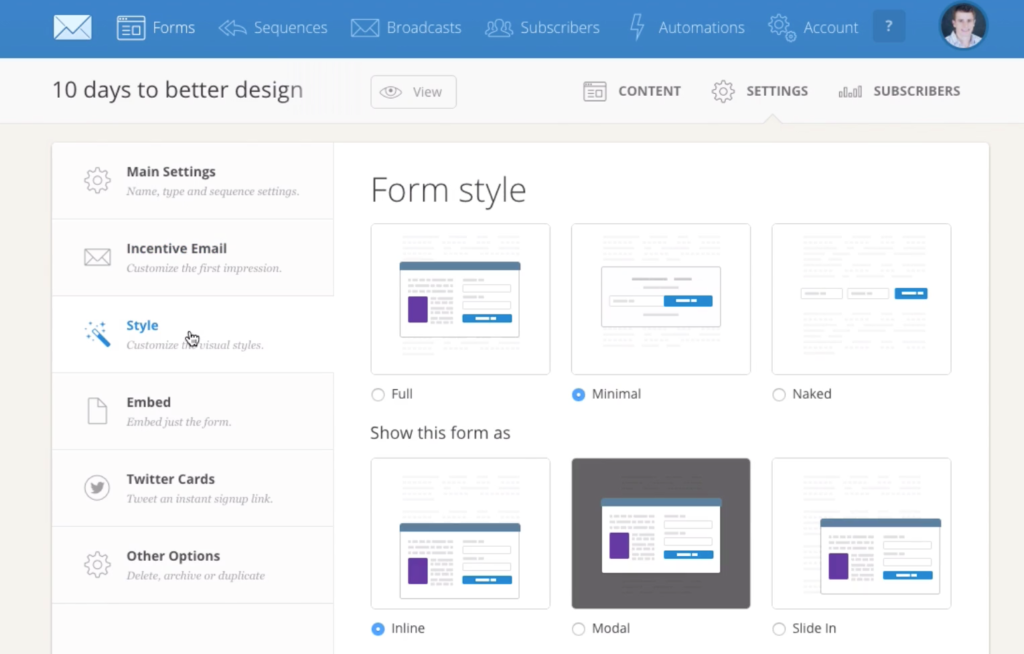 Features
You can use ConvertKit's drag-and-drop email sequence builder to design powerful automation workflows that send automated emails based on user activity. Convertkit's advanced segmentation functionality lets you separate your contacts with tags and triggers based on how they interact with your emails.
The platform also has a drag-and-drop landing page builder with stunning designs and customized opt-in forms to help you expand your email list.
Pricing
Depending on the number of contacts in your list, paid plans cost from $29 to $79 per month.
Only the number of subscribers determines the price. All the plans include all its features.
If you want 1,000 subscribers, the lowest price is $25 per month ($29 per month if you choose monthly billing).
Below is a list of the pricing plans available:
0-1k subscribers – $25 per month
1-3k subscribers – $41 per month
3-5k subscribers – $66 per month
5. iContact
iContact's professional marketing by email services helps organizations of all sizes and stages achieve their goals. The software plans to satisfy any demand from a small business just getting started to an experienced marketer searching for techniques to maximize campaigns to the high-volume sender with 15,000 to five million+ subscribers.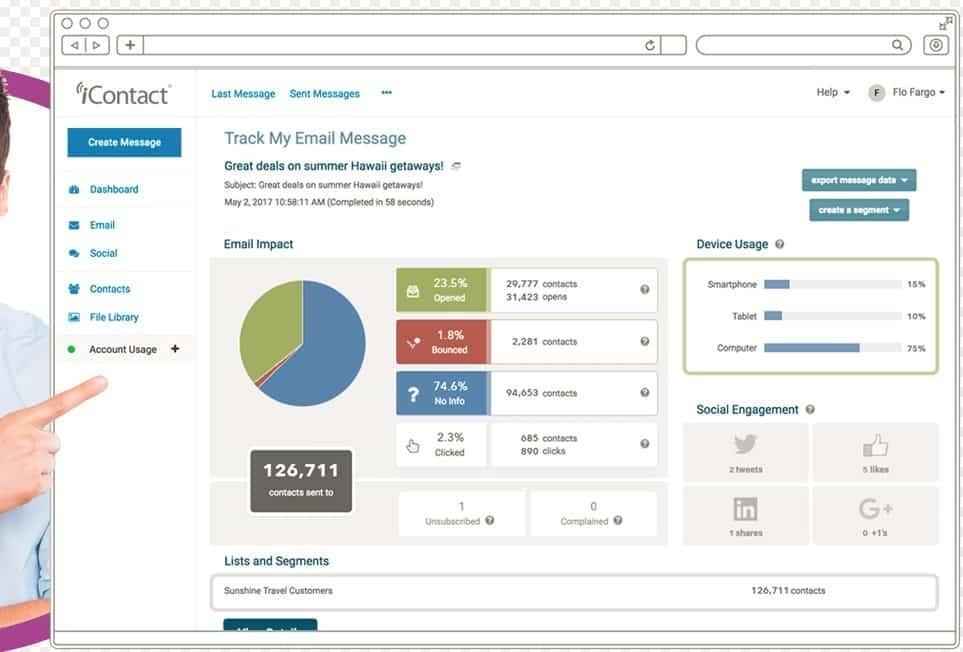 Features
This platform provides a rich set of features that make it a great choice. It has a trustworthy email for business editors, basic segmentation abilities, the ability to generate basic autoresponder messages, a landing page builder, and effective contact management.
Although it has a superb form builder, its autoresponder functionality is less advanced and more difficult to use than similar solutions.
Pricing
The platform has three price points that allow you to build a list of anywhere from 500 to 25,000 subscribers:
Free Trial
Pro Plan
Premier Plan
Free Trial
iContact comes with a one-month free trial. However, when using the free trial, the contact list and email limit are set at 100 subscribers and 400 messages, respectively.
Pro Plan
A free trial is also available for iContact's Pro plan, which includes more advanced features, including funnel reports, email automation, social media monitoring, and landing pages.
Premier Plan
iContact offers Premier subscriptions to high-volume senders (over 25,000 subscribers) upon request. Support for multiple profiles, lead scoring, A/B split testing, salesforce syncing, and API support are all exclusive features for Premier iContact accounts.
6. Drip
Drip is another well-known email marketing automation service that eCommerce retailers use to create email marketing campaigns. Online shops can reach out to their clients via emails and SMS using Drip's multi-channel touchpoints.
Furthermore, Drip's ability to keep and manage users based on their engagement with your website sets it apart. The company uses an API script to capture user data and store it in tags, events, and custom fields.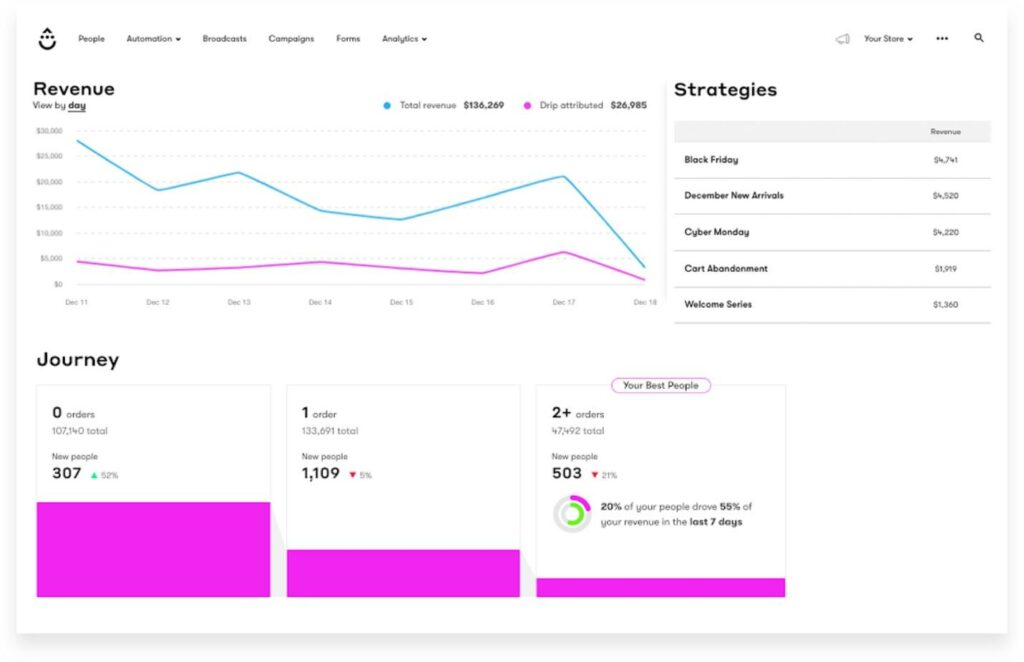 Features
Thanks to an automation workflow builder, retailers may automate reaching out to customers at the most impactful time depending on their previous behavior documented during the purchase cycle.
You can also use a shopper's data to build unique discount codes, send price-drop alerts, product recommendations, and more.
Pricing
Drip Email has a very straightforward price plan. Its entire platform is based on how many subscribers you have. Plans for up to 500 contacts start at $19 per month. Once you choose a premium plan, you'll get limitless emails until your list reaches 30,000 people.
As you add more contacts, the monthly charge gradually increases. The highest published rate is $1,599 for 135,001-140,000 people. If your list is longer, you'll need to contact Drip for a price.
Conclusion
Although BayEngage is a fantastic service, there is a lot more out there that can help you improve your email marketing results.
It's important to have the tools you need to sell your company and deliver relevant content to your target audience. From list management and segmentation to automation, the email marketing software you choose should be able to provide you with all that you need.
BayEngage is not the only game in town. There is a slew of email marketing software platforms that outperform BayEngage.