Pop-ups have proven to be very useful when it comes to converting visitors into leads, so online marketers try their best to use their full potential whenever they can.
If you get enough qualified leads, your business will automatically get on a higher level as your sales start increasing day by day.
These leads are people who have shown a significant interest in your product or service and are ready to get on the whole buyer's journey.
If you plan on using pop-up windows as a part of a business strategy, be sure to use the effective ones if you want to gather as many email addresses as possible.
In this article, we will explain what are the key elements of an effective lead capture popup strategy so pay attention and well… keep reading!
1. Work on your pop-up's design
First and foremost, you need to work on your pop-up's design and make an effort to create it exactly according to your needs and taste.
You also need to make it look professional as you certainly want to leave a good impression on your visitors.
Your pop-up needs to match your website style so you need to use the same colour palette, fonts, and similar, but it also needs to be distinctive enough to attract your visitor's attention.
If you want to create beautiful and highly-converting pop-ups that will also look professional, use the tool called Poptin.
With this pop-up builder, you can create and customize pop-ups completely to your taste with its amazing drag and drop editor.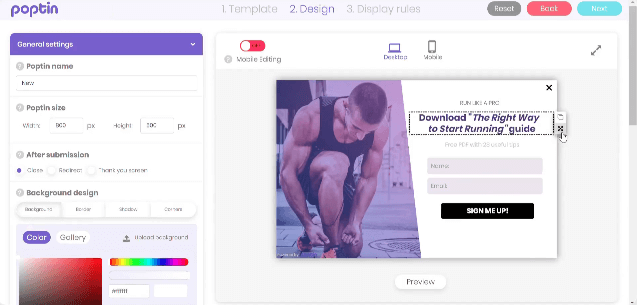 You can change colours, fonts, sizes, add or remove text, images, logos, and more with just a few simple clicks.
Design is very important because it implies that you care about your business appearance and that your aim is to satisfy your future customers with a pleasant visual presentation.
That way they build trust, and it gets much easier to convert them into leads.
Catch their attention with your design, and keep them longer on your website later with your amazing offers, too.
2. Use exit-intent pop-up with a clear exit option
You don't want to annoy your visitors by making them feel trapped.
Therefore, it is important that your pop-up window is created so that it clearly offers the option of closing a pop-up to avoid irritating leads or turning them away forever.
They need to feel good about entering your e-commerce website in the first place, so you don't want to leave a bad impression by not including a clear exit method.
These exit methods can be various but the two of them are used mostly:
Placing an 'X' at the top right corner

Having a creative and fun Yes/No CTA button
The first method is a simple, intuitive method that will help your visitors get rid of a pop-up easily if they want to, and the second one offers your visitors the possibility of choosing whether they are interested in an offer or not.
A design brand Ugmonk does it like this: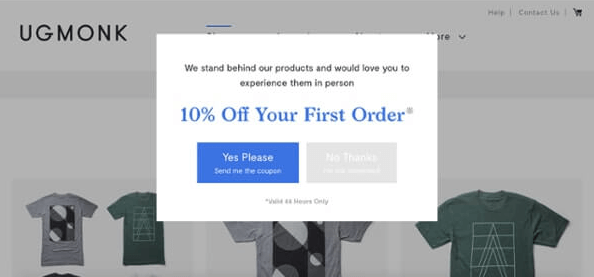 Try to improve the usability of your website as much as possible to make an enjoyable experience for your visitors.
The exit-intent trigger is there to stop them from leaving your website, webinar registration page, or shopping cart, which is always a good tactic for maintaining the attention and using the last chance to convert visitors into leads.
Use all the advantages of exit-intent pop-ups to get more sales, and don't forget to pay attention to all the details including an obvious exit option.
3. Use a slide-in after a certain percentage scrolled and be polite
After someone scrolls down a certain percentage of a page, it is a good strategy to insert an effective slide-in.
This is a spontaneous, non-intrusive way to present an offer to your visitors as the pop-up appears after a while and it does not affect the overall impression negatively.
You can politely ask your visitors to subscribe and grow your email list, or you can remind them that they haven't finished a certain purchase.
This Danish online retailer known for selling electric bicycles is one of the good examples of how to do it: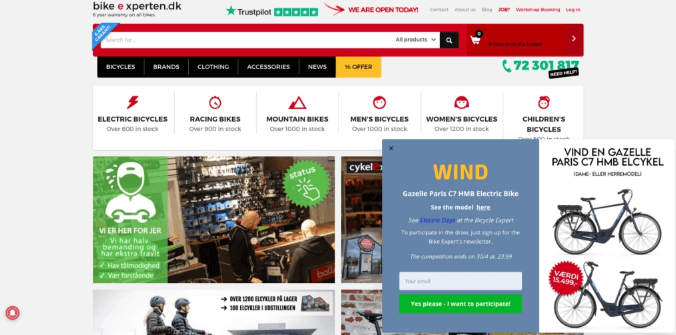 Source: Cykelexperten
You need to attract your visitors' attention, so using effective, well-written pop-ups that are also unobtrusive is always a good combination to capture leads.
Make a good offer, and wait for your slide-in pop-up to do all the work for you.
For example, you can set a certain percentage, like 70%, as a trigger point, and do it very easily by using triggering settings.
Compose a direct, creative message and ask visitors for feedback, email address, or any type of valuable data.
This type of pop-up is great for numerous reasons and you should incorporate it if your intention is to collect the leads in a more gentle way.
4. Use a sticky bar and make your offer constantly visible
Another effective way to capture leads using pop-ups is to create a sticky top or bottom bar and integrate it into your website.
What is so special about sticky bars is that they remain constantly visible while scrolling and searching through the website, so they make taking action even easier. 
A sticky bar does not take up much space, and it is usually in a more prominent colour but at the same time not too complex when it comes to its content.
A visitor is able to see it at all times, so there is a greater chance of catching his attention.
It has a clear CTA, and you can use it to collect email addresses, announce upcoming sales, special offers, promotions, and similar.
The Advisor Coach does it in an effective way by using the contrast of black and yellow along with the white letters: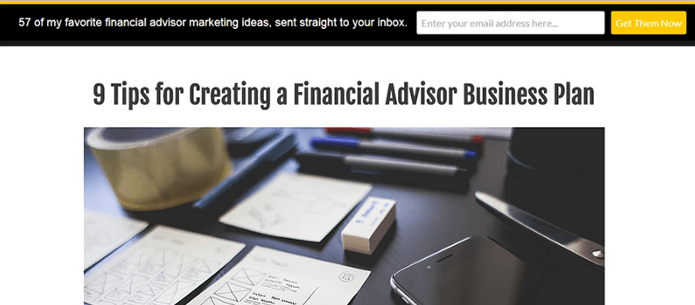 It will at least double your conversion rates simply by floating at the top or bottom of your page.
A sticky bar's purpose is to stay in your visitors' sight and increase the chances of capturing more leads by offering something of value.
5. Include personalization into your pop-ups
It is essential to make your visitors feel special and important, so be sure to include personalization when creating a lead capture pop-up.
Getting personal with your visitors will surely affect your business positively because people love connecting on a higher level and building relationships, especially when they have a need to gain trust.
You can personalize your offers in several ways:
By addressing your visitors with their names

By including their location into the pop-up

By cross-selling your products/offering complementary products
By using their first names, you get to get closer to your visitors and make them feel special and good about making a purchase.
If you decide to include their location, you will be able to entice them as people prefer to deal with businesses that are close or in the same area.
By offering complementary products, you can show your visitors that you monitor their behaviour and know exactly what they might need in addition to the products they are looking at.
It will make them feel like they can only benefit from this deal and create a sense of necessity. 
Pay attention to all these useful tips and get personal with your visitors in order to gain their trust and convert them successfully.
6. Pay special attention to creating compelling CTAs
Your CTA needs to be pretty compelling if you want to attract visitors and, eventually, close the deal.
When you create it, be simple, concise, direct, and use active verbs.
A CTA should make your visitors take a certain action, so make sure it is simple and that it seems completely clear to them what their next step should be.
Call-To-Action buttons don't have to be complex or especially creative, it is enough to be direct and that the message is understood.
Less Accounting offers a very simple but also very compelling example of a CTA button that is placed right beside data collection fields:


The CTA "Let's do it!" says more than enough.
It is in a prominent blue colour, positioned right next to the fields where the email address and password are entered, and is very direct, with an active verb and an exclamation mark, which makes it imperative for your visitors to do exactly that action.
It also feels like you and your visitors are doing something together, which is a great strategy for catching leads.
Place them correctly so that potential buyers do not have to look for them in order to take a certain action or finalize the purchase.
Use the right CTA for different purposes and use them wisely.
7. Create а pop-up that is relevant and related to the website's content 
Your pop-up needs to make sense, which means that it needs to be directly related to the website's content in order not to confuse your visitors.
Besides having the same design, pop-ups and the website need to match when it comes to the content's point and the message they send.
For example, if you are into selling shoes, there is no sense in including a pop-up that is based on offers about engine oils.
So, make sure that you stay relevant and that you actually offer something of value to your leads.
The content of a pop-up must be completely in line with what the visitor has already had the opportunity to get acquainted with when he searched through your e-commerce website.
Be careful and try not to turn them away with something useless, but provide them with amazing offers which will consequently increase your chances of converting.
The Bottom Line
Creating well-designed, effective, and engaging pop-ups is a complex task, but it is not an impossible one.
With the right tips and tools, you can create great pop-up windows and present your amazing offers in numerous ways. 
With Poptin, you can not only create beautiful pop-ups easily, but you can also customize them fully and make them look professional and tasteful.
By using different types of pop-ups, including personalization, compelling CTAs, and more, you can create effective lead capture pop-ups effortlessly.
So, pay attention to these key elements and see your business grow each day!