Whichever industry you're in, you must provide your sales team with qualified leads at the top of the funnel. Making an optimized onsite experience using B2B pop ups that gather leads, encourages customers to make a purchase, and ultimately expand your brand is one of the best methods to achieve this.
Here are 10 B2B popup examples to help your B2B website optimize conversions and gain more subscribers, leads, and customers.
What is B2B?
Electronic commerce (e-commerce) is a "business-to-business" (B2B) service; it involves the exchange of goods, services, or information between businesses rather than between businesses and customers (B2C).
A business-to-business transaction occurs between companies, such as online merchants and wholesalers. Each organization often benefits in some way and has similar negotiation power in most B2B business structures.
Why Do B2B Websites Have Pop Ups?
They Quickly Grab Attention
B2B pop ups are known to be disruptive, but if you've done your research well, you can quickly capture the user's attention and gently guide them toward your conversion goal.
Popups are an easy way to increase sales using tried-and-true marketing strategies like upselling, cross-selling, and lowering cart abandonment rates.
B2B pop ups for eCommerce websites can be timed to coincide with "exit intent" to promote a last-minute deal and re-engage your visitors.
If you have your client's email addresses, you can contact them to purchase your goods if they didn't do it when they visited.
Regardless of how excellent your product is, how effective your pop up marketing plan is, or how many coupons you provide, some customers may not be ready to buy. All you have to do is accept it.
Do you know what the 3/47/50 rule is? It says that:
3% of visitors will buy.
47% aren't ready to buy immediately but intend to purchase sometime in the future.
50% of visitors will never buy.
Accepting that half of them won't ever buy is necessary.
Improve Customer Experience 
Popups can be very helpful in gathering feedback and improving user experience, even though it was not their primary purpose when they were designed.
When examining real-time data, you can instantly provide feedback for your eCommerce or its services and base future optimization tests on your findings.
With a pop up, you are free to do anything you want. It can appear when a page loads,
when a page is closed, when the mouse pointer touches an element, or appear after a short period. Depending on the situation, you can choose to make it as overt or subtle as you like.
It can Be Used to Collect Emails
Maintaining communication with your clients is essential in the era of e-commerce. It is advantageous to have a pop up appear and be able to persuade a user to provide their email address for a mailing list. 
Use social gated B2B pop ups to force people to sign in using their social media accounts. This will allow you to gather additional data on top of what you've already picked.
B2B pop ups are a fantastic tool for promoting sales. You can provide consumers with specifically designed offers only available for a limited time, possibly encouraging them to purchase the item they were considering or browsing for.
Ability to Offer Complementary Products
Once a customer has made a successful purchase or even just added something to their basket, you will have the opportunity to suggest additional products that they may already be shopping for (i.e., "Are you shopping for a new phone? Here are some phones covers that can work with the new phones you're looking at.")
Occasionally, people will put items in a cart and then leave them. B2B pop ups are a fantastic way to prompt people to complete their orders by reminding them that something is left in their shopping cart or repeating the unique value proposition. 
You can redirect clients about to leave to the checkout page with only one button. Exit-intent B2B pop ups could be used to ask users whether they want to be informed when an item is back in stock or when the item's price has dropped to get their email address.
10 B2B Pop up Design Ideas
To demonstrate that effective popups can take many shapes, we gathered examples from the internet, including high-converting customer popups.
1. Lead Capture + Content Download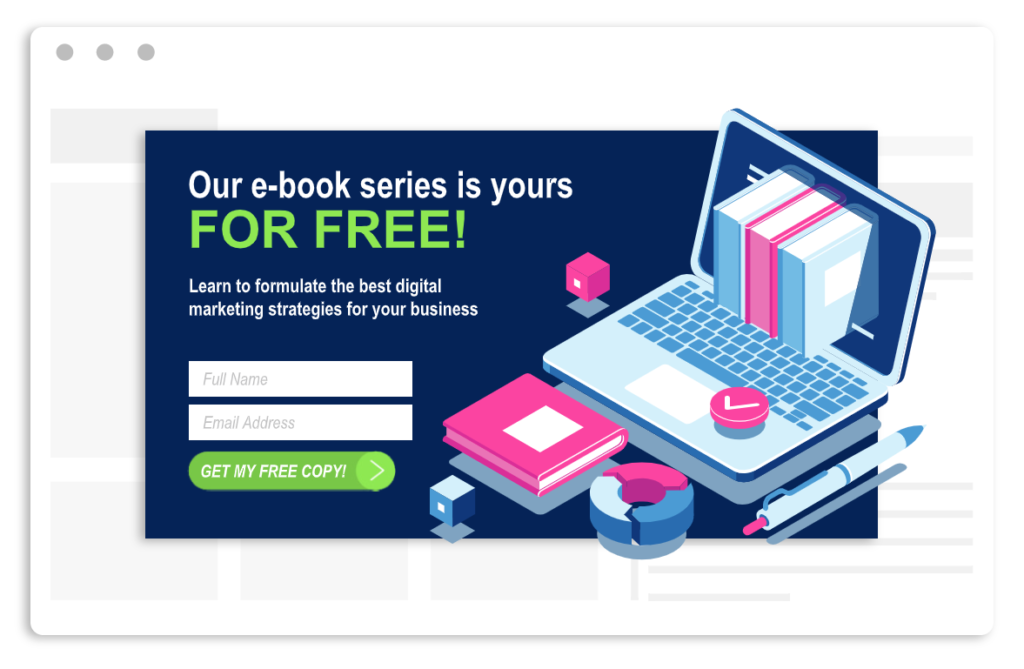 The exchange of industry news or educational materials for emails is a tried-and-true B2B marketing tactic. Ask a well-liked question to your clients, such as "How do you compare to the competitors?" to get their attention. Then, in return for their email sign-ups, offer a quick incentive for them to download the whitepaper, e-book, etc., to receive the solution. 
This kind of marketing qualified lead (MQL) is the ideal way to start a relationship since you have established yourself as a thought leader in the field and have given them clear value, which makes it evident for them to think of you first when they need the solution you offer.
2. Event Registration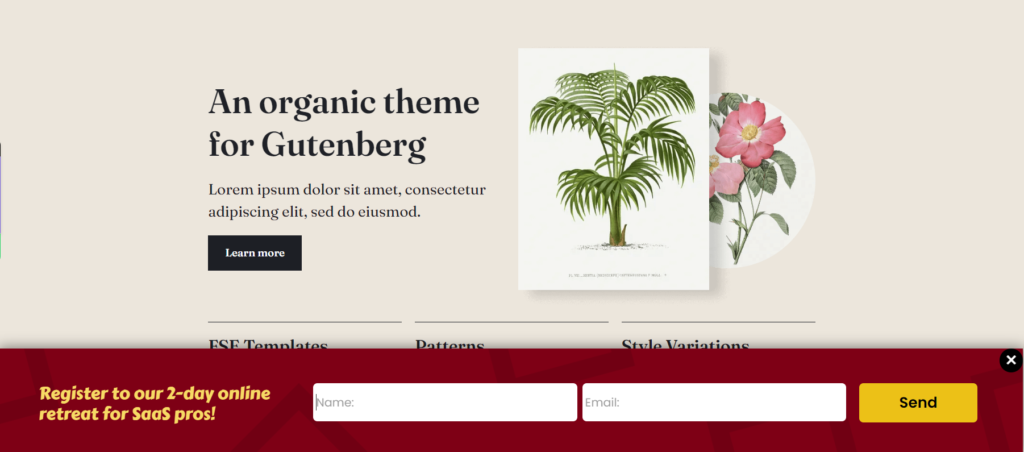 You can use banner popup ads on your website to promote your webinars if you regularly host them (like most firms do these days). Get extra points if you use a text ticker function to show various moving events. Banners work well for site-wide messaging because they don't detract from the visitor's goal and are an excellent option for invites.
3. Podcast Promotion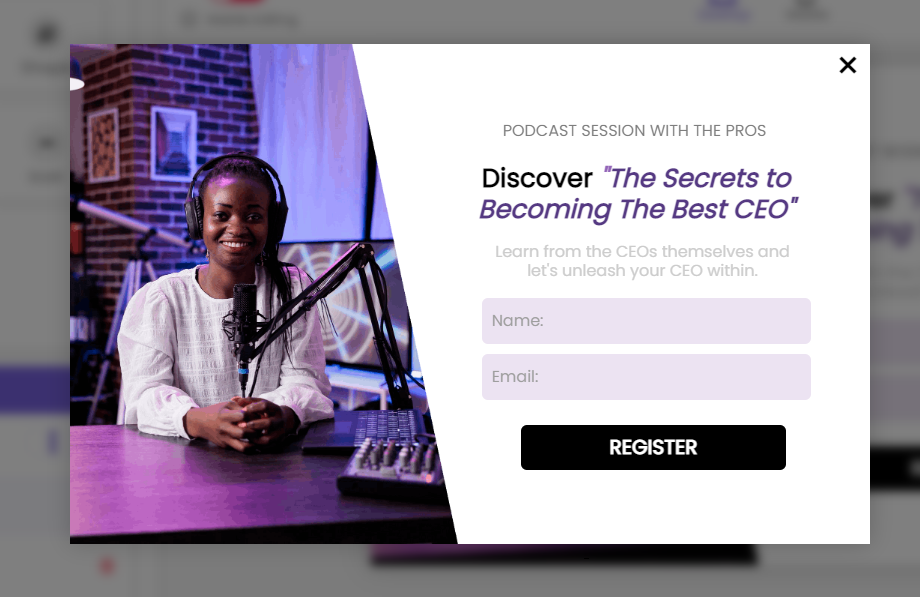 Make sure you have a promotion that targets visitors from one of your acquisition channels if it appears on podcasts or sponsors' episodes. You can set up a popup (or any other promotion) to fire welcoming that traffic (use the podcast's name!), inform them of any offers you have, etc., whether it's a dedicated URL or a UTM campaign.
4. Start Trial + Request Demo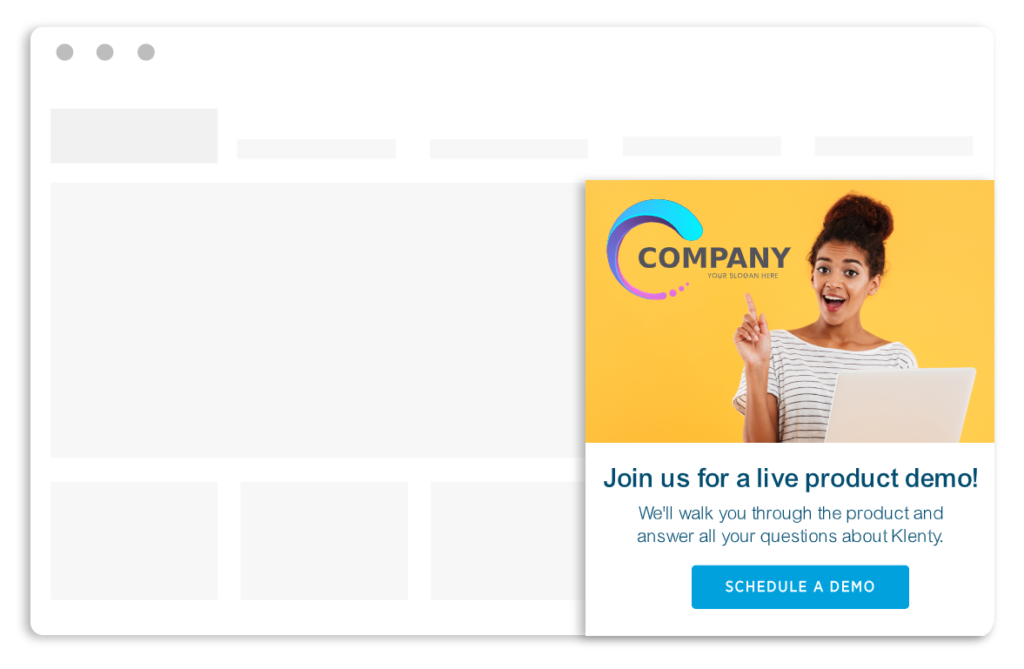 We advise creating a B2B pop up for the bottom of any sites with a resources area, such as a blog, support, e-books, webinars, etc. These pages on your website will receive the majority of organic search traffic. Thus, they must provide engaging content that isn't overbearing.
The slide-in comes into play here; it remains at the bottom of the visitor's screen while they scroll through your material, not blocking anything, and is ready for them to engage and sign up for something like a demo or a quote request. As your content marketing sparked their initial curiosity, ensure your onsite promotions are ready to reap the benefits.
5. Geo-Targeting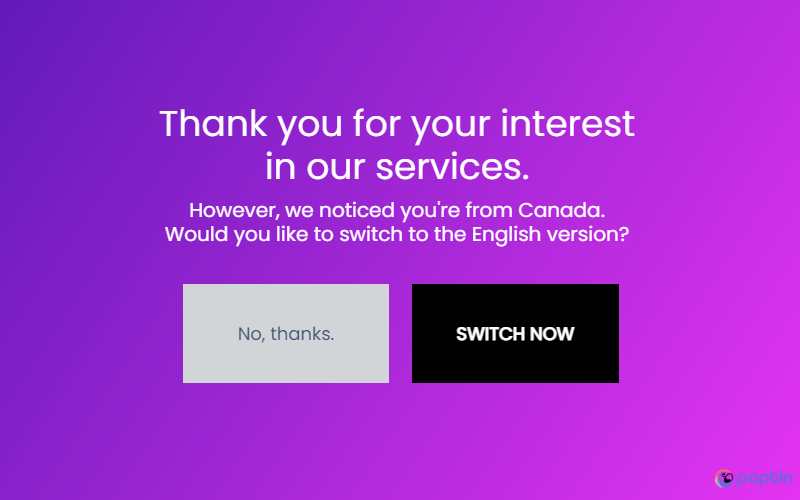 Let people in the area(s) know how to connect with you by geo-targeted B2B pop ups. This helps you convert more relevant audiences and converse with you in the language that they understand.
6. Use Targeted Pop Ups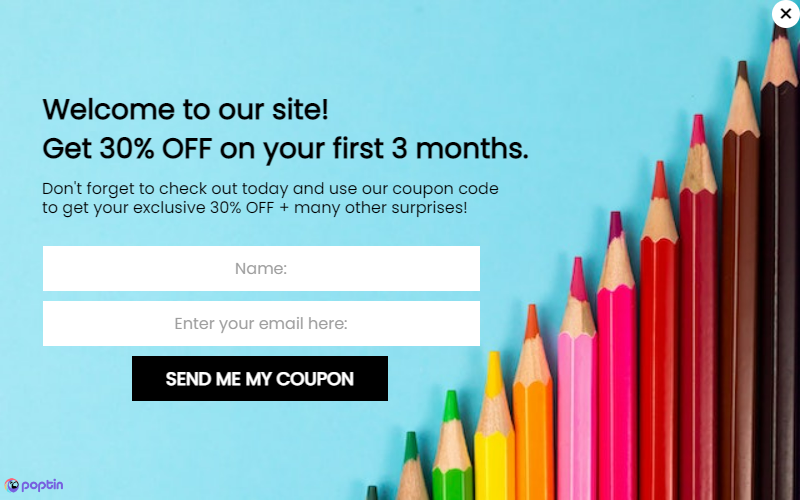 A popup builder Poptin uses targeting to spread relevant offers to the right audience.
Targeted B2B pop ups sends more personalized offers, based on location, first-time customers, order history, and more, but they don't go overboard. Consumers are nearly three times more likely to stop using brands that "over-personalize," according to a recent survey. The pop ups are the ideal balance.
7. Pop Up Flash Sales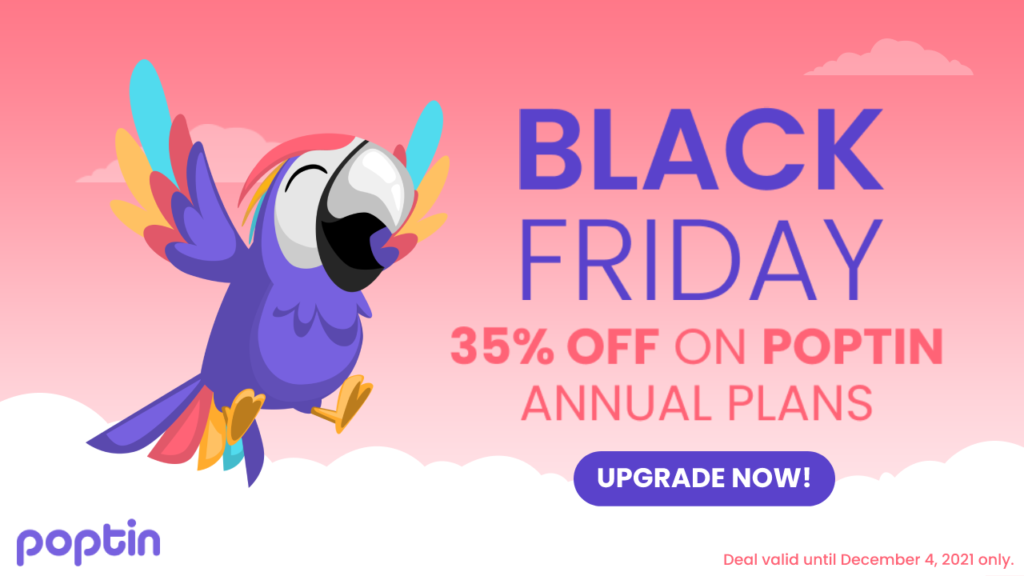 Some B2B sellers find that using flash discounts is a good way to close deals that have been hanging around for a while. Adding a timer to your promos may help move prospects through the funnel. 
8. Keep Users on the Site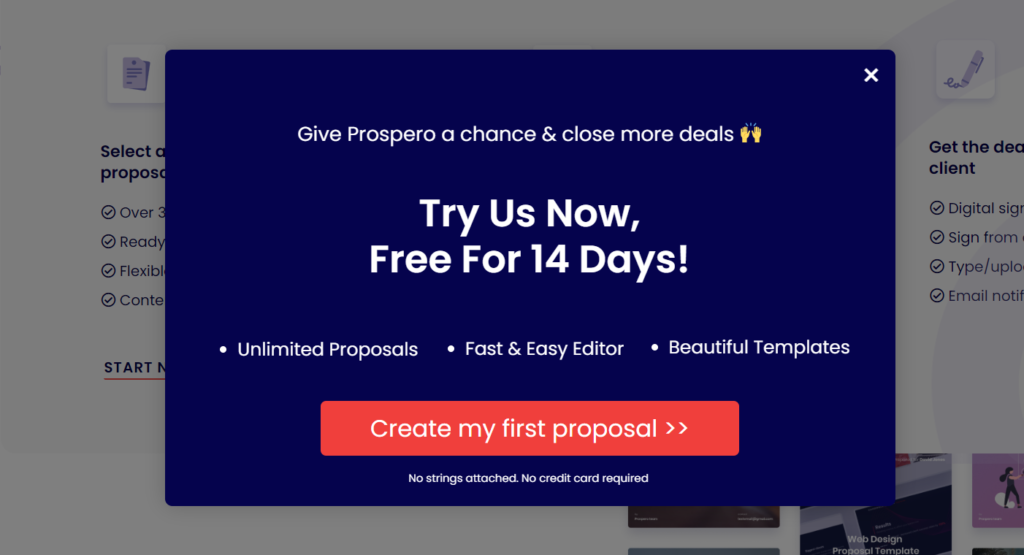 Most site visitors—nearly 98 percent—will leave your page without taking action, be it completing a purchase or subscribing to your email.
Keeping users on your website longer can help you increase conversion rates since it gives you more time to persuade them that your business is worthwhile.
This pop up is small and simple to close, unlike other B2B pop ups that often block websites. It also has a unique goal—they aren't trying to persuade you to fork over your email address or make a purchase (at least not right away.)
Essentially, this pop up is successful because it is discrete, emphasizes value, and uses a bold CTA button to grab attention. Additionally, it focuses on the advantages of using Prospero rather than pressing the user for information
9. Support Hours + Banner
If you provide regular support or sales hours but need to alter those, make sure everyone knows! Use a banner to explain your availability, establish expectations, and build trust and transparency with clients and potential clients.
It's easy to update your website and schedule it to shut down when your hours restart, whether for the holidays, unforeseen circumstances, or a company-wide Friday off.
10. Get More Sales Using a Coupon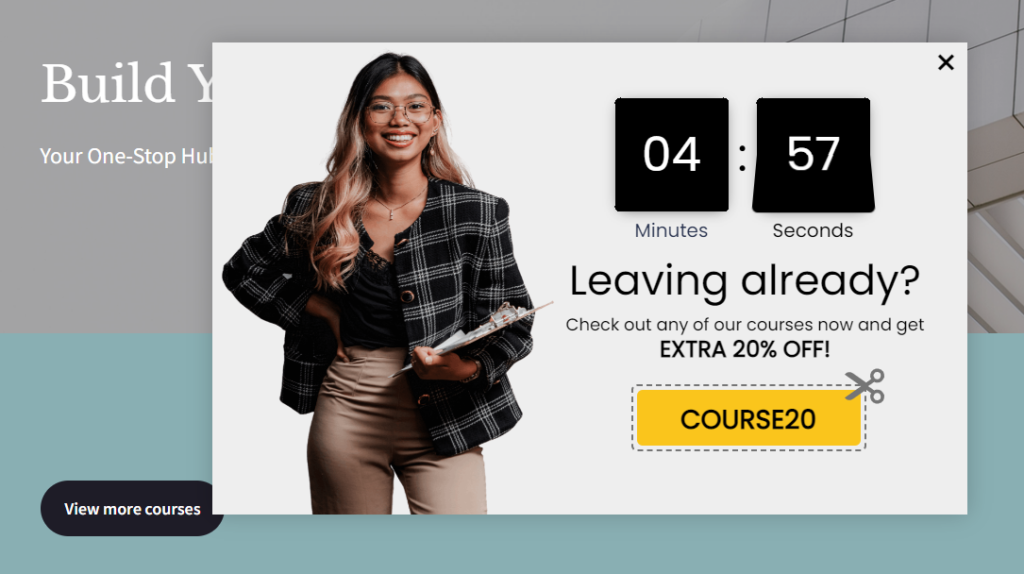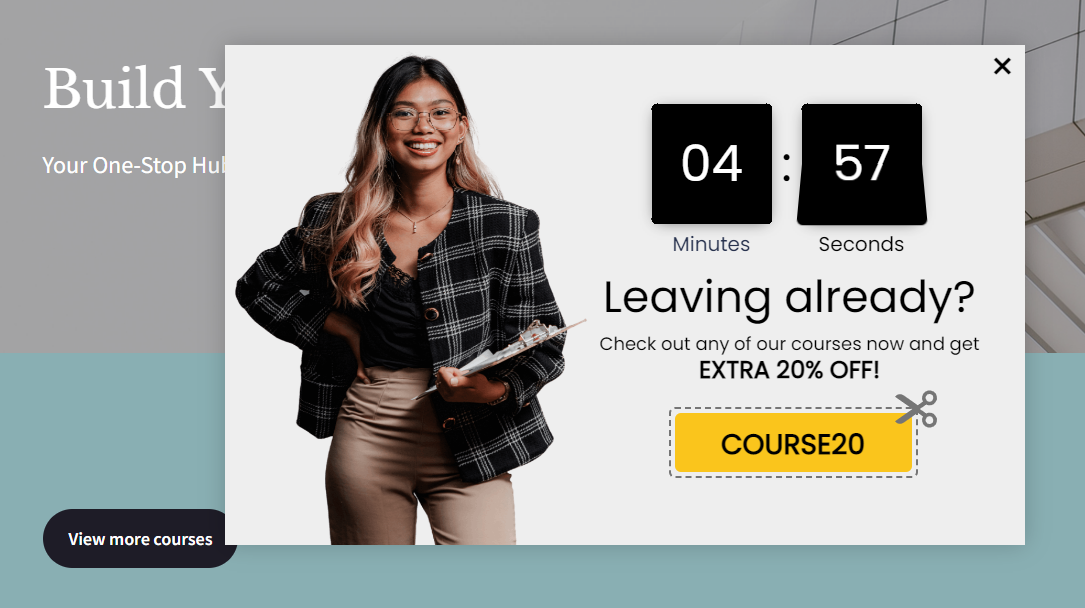 Customers who receive coupons are 60% more likely to try a new product. That's perfect for a business that wants to shake up an established market.
The pop up keeps it simple by only putting a coupon code upfront so they can use it when they check out.
Tips to Remember in B2B Pop Ups
Mobile browsing is more common. Thus, it's essential that your pop up appears quickly and disappears just as quickly, apart from making them mobile responsive. Enter, make your point, then disappear upon a click. Avoid descriptive language or trying to cover too many points. Focus on something specific and offer it then and there!
Something that is overly abrupt will make people feel suspicious. There's a good chance a person won't return to your website if you show an identical pop up to them twice in a single visit.
Conclusion
Your company can quickly move toward more conversions, more leads, and more income with the help of a well-designed B2B popup. They are one of the most effective ways to interact with your clients directly and request that they take action.
These are just a few examples of employing onsite messaging and promotions to improve new leads, enhance the customer experience on-site, and boost sales.
Using attractive popups and forms, powerful popup builder Poptin allows website owners to convert more visitors into leads, subscribers, and sales. Using its templates and drag-and-drop editor, you can design website B2B pop ups and embedded forms.