In the blink of an eye, we've reached the last few months of 2022. The holiday season is a favorite time of year for many individuals, and shopping fever is usually high around Black Friday, Cyber Monday, Thanksgiving, and Christmas. Therefore, this is the ideal time to increase your sales by benefiting from the influx of potential customers.
The holidays sound like a lot of fun, but your online store needs to be ready. A marketing strategy is crucial because it enables you to design and follow a plan that will yield the best outcomes.
This applies to both online and physical stores. The development of eCommerce has led to a sharp rise in sales on all these holidays.
Consumers spent a staggering $7.4 billion during this Black Friday season in 2019, an 18% growth since 2018!
If you still don't believe it's profitable enough, wait until you learn that overall sales for Cyber Monday 2019 increased by 6.2% to $9.2 billion.
Though there was a slight decline in sales last 2021, probably due to the pandemic, the Black Friday season still garnered a whopping $8.9 billion in total sales in the USA alone.
To help you take advantage of this massive shopping season, we've compiled a list of 20+ Black Friday popups you can use to convert leads into more sales and achieve these incredible results!
Black Friday Pop Up Examples
1. Black Friday Newsletter Pop Up
Is it time to send out your newsletter for the Black Friday sale? One tried-and-true method to increase sales via newsletters is providing receivers with unbeatable deals.
With this innovative pop-up design, you can capture your visitors' attention as soon as they receive your newsletter and generate significant revenue. They will undoubtedly be motivated to visit your store after seeing your fantastic offers.
2. Black Friday Coupon Code Pop Up
The Black Friday sale is bursting at the seams with numerous online specials. Not to mention how fierce the competition can get as a result. Do you realize that it's possible to avoid the panic while still ensuring a rise in sales? Pop up coupons can be used for that.
Doing this can provide customers with advance coupons they can redeem during the official Black Friday sale. This guarantees you will have a lot of visitors and a good chance of making sales on the day.
3. Black Friday Countdown Popup
With the help of this Black Friday popup example, you can help your visitors make an immediate decision regarding providing their email addresses. It includes a countdown timer that serves one purpose only: to instill a sense of urgency in the minds of your visitors.
Using our simple drag-and-drop editor, which necessitates no coding knowledge on your part, you can adjust, change, and personalize this template as you see fit.
4. Black Friday Lightbox Popup with Link to Sales Page
A lightbox popup is a popup box that only covers part of the screen, typically the center, rendering the rest out of focus. It's a strategy for getting people to focus on a particular call to action, such as a promotion, cross-sell, upsell, or product launch.
Therefore, a Black Friday lightbox popup that converts leads into sales can make you feel like you've won the lottery.
5. Black Friday Popup with Downloadable eBooks
Are you trying to encourage people to download your eBooks? This can be quite challenging; however, the Black Friday sale is a sure way to help boost sales.
With the help of a high-converting Black Friday sales popup example, show your audience how valuable your eBooks are. Add some allure by offering a discount and watch your sales soar.
6. Black Friday Animated Welcome Popup with Confetti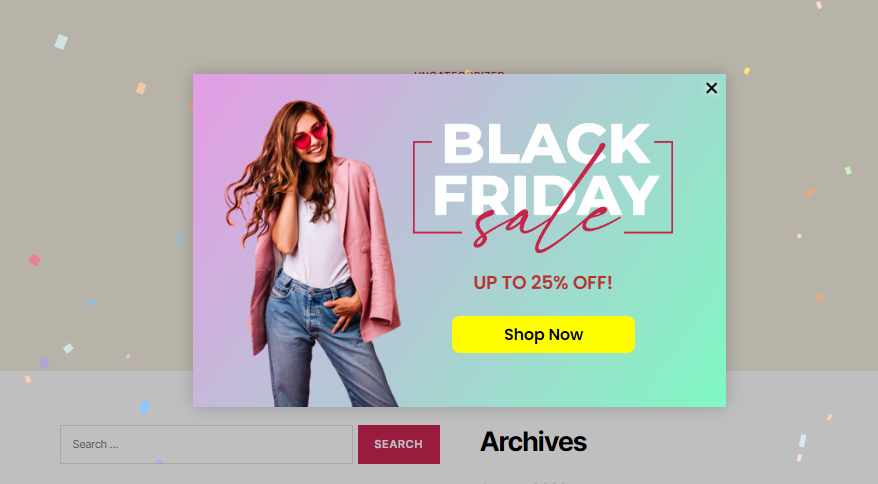 Sometimes basic images are insufficient to capture your visitors' interest; however, an animated GIF with confetti will. This example is the perfect combination of non-distracting but still eye-catching.
Use this popup template to generate record-breaking Black Friday sales. With our design editor, you can change the background, text, and button colors to your liking. What's better? You can do all this in a few minutes.
7. Festive Black Friday-Themed Popup
What could be better than preparing for the festive season? A little holiday cheer is a fantastic way to get people to spend this Black Friday. This can encourage people to start shopping for Christmas gifts early!
8. Black Friday Popup with All Shades of Red
Use this popup to pique clients' interest and encourage them to act quickly on your Black Friday promotions.
The best feature is that you can make whatever changes you want to this popup template without paying a designer or developer.
9. Promote Beauty Products with Black Friday Slide-In Popup
Once again, Black Friday is when people go shopping, and with this popup template, everyone will be rushing to buy your beauty products. It has been thoughtfully created to support you in generating significant sales and increasing your income.
10. Entice Visitors with Black Friday Spin the Wheel Popup
Many visitors are drawn to the name since it is naturally intriguing. Using a prize wheel or spin-the-wheel is one of the best strategies you can use to boost your Black Friday sales. These gamified popups give your visitors coupons, bonuses, vouchers, and other goodies. All you have to do is think of appealing options for your customers.
You must remember to create a compelling headline while creating a Black Friday pop-up. Otherwise, your visitors may miss the offer or choose to ignore it. In other words, you need to give your visitors something that will motivate them to spin the wheel for it to be effective. 
11. Give Surprise Gifts with Pick a Gift Popup
Everyone loves gifts! Make your visitors intrigued, so they'll inevitably stay on your site longer, improving sales. A surprise gift popup's primary goal is to boost client engagement. It's easy to encourage website interaction; you have to use your imagination to think of gifts your users won't want to miss.
12. Dark-Themed Black Friday Popup Overlay
Color psychology is a crucial component of developing your marketing strategy. Although it's sometimes disregarded, you should try to understand the topic as much as possible because it can help increase your Black Friday sales. You can immediately discover that most popups have dark colors if you search online. Dark colors such as black in your pop-up convey a sense of elegance and sophistication.
When you select a dark color, you stimulate their excitement and a sense of urgency. Therefore, choosing the right color is crucial, particularly if your popups evoke a particular emotion in your audience.
13. SaaS Discount Popup to Drive Upgrades
Do you want people to see the value in your SaaS product? Poptin has the perfect templates to offer exclusive discounts, encouraging existing clients to upgrade their plans.
14. Black Friday Video Popup
What's more engaging than creating a video for your visitors? An innovative video popup is a fantastic way to get your business to stand out from the competition. A friendly popup video introducing your Black Friday deals to visitors is a powerful marketing strategy.
15. Black Friday Popup Template to Unlock Featured Content
Adding entertaining pop-ups to your website is a crucial component of your online marketing strategy if you want to increase Black Friday sales. You can take this to the next level by offering featured content.
Complete your Black Friday marketing campaign by providing exclusive content to those who click on this particular popup.
16. Promote Short Courses with Free Trial Popups
Are you trying to get people to see the benefit of the short courses you offer? Black Friday is a great way to get people to try your service. Offering free trials are a great way to get people to see the value in your courses.
17. Dog-Themed Popup for Canine Essentials
Do you sell canine essentials but struggle to get your products off the shelves? Use a dynamic and effective popup to promote your canine items and turn the tides in your favor.
To increase sales during the Black Friday shopping season, you must show pet parents that your products will make their dogs happier. What better way to do this than to offer a few happy faces and wagging tails on your pop-up?
18. Car-Themed Popup to Encourage Test Drives
Many people look for cars around Black Friday as this helps them save a great deal of money. Nobody buys a car without test-driving it; therefore, what could be better than designing a Black Friday pop up to promote test drives? 
Your site welcomes potential buyers with a 'free test drive' pop-up is an excellent marketing strategy. We guarantee that you'll be booked all week long with test drives. Once the pop up does its job, it's your time to shine and secure the sale.
19. Black Friday Fashion Popup Featuring Winter Collection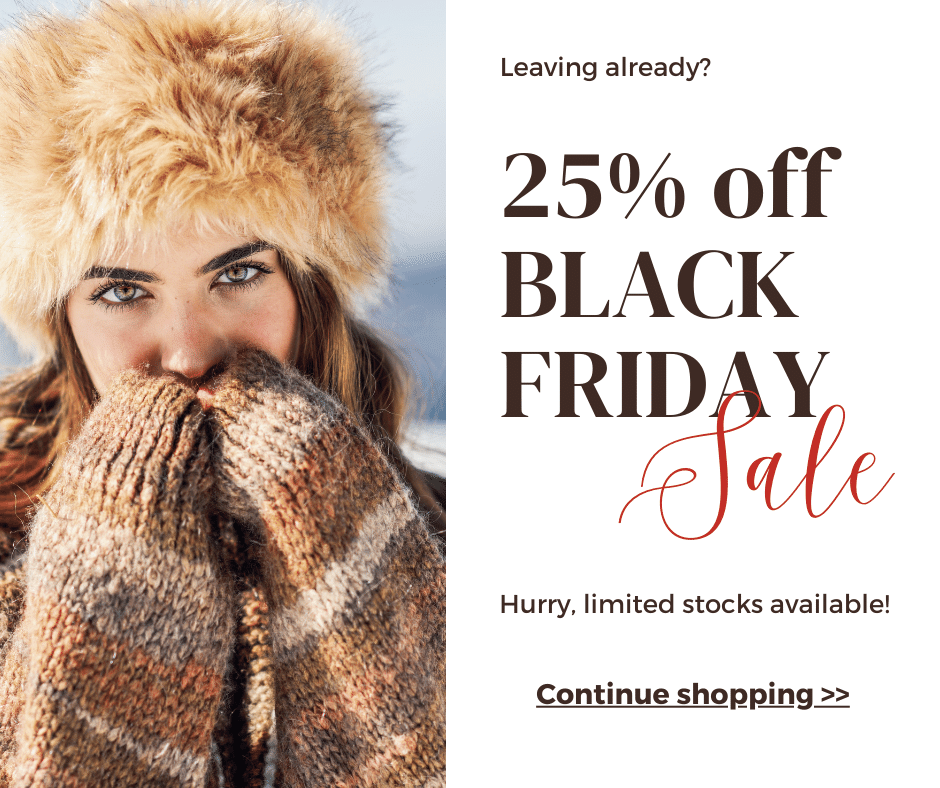 Are you looking for a trendy popup design that captures the essence of your new winter collection? A fashion pop up will do just the trick.
Choose the colors, font style, and background image to make it uniquely yours using Poptin's user-friendly drag-and-drop builder. Essentially, you want the popup to emphasize the style of your winter collection.
20. Exit Intent Popup for Black Friday Vouchers
Exit-intent popups can be helpful in a variety of situations. However, for this tactic, we're focusing on Black Friday vouchers. Simply letting people leave your site wastes money because they have already indicated a desire to purchase your brand. 
You might lower cart abandonment rates by offering Black Friday vouchers on your exit-intent popups. The secret to preventing users from leaving before checking out is to set up the proper triggers, such as a voucher. This will help you seal the deal, especially on Black Friday.
21. Elegant Black Friday Popup for Jewelry Collection
Do you want to grow your mailing list as quickly as possible to show off your jewelry collection for the incoming Black Friday holiday sales? You should use an elegant popup template that emphasizes the class and sophistication behind your collection.
22. Discount Sale Popups for Hotel and Airline Bookings
Who doesn't love a good discount? Especially with the prices of hotel and airline bookings. Use this clever popup template to promote your bookings and make the most of the upcoming holiday season.
Change the font, messaging, and color scheme to whatever you think looks best.
24. Real Estate Black Friday Promotions
The real estate market does not boom all year long. Sales boom in summer and spring. Therefore, creating popups with Black Friday promotions is a great way to boost the market during winter. 
Wrap Up!
Pop-ups can help you increase Black Friday sales, but only if you know how to add them to your site and make everything function properly.
Black Friday pop-ups are enjoyable, but you should consider all your possibilities before deciding.
Now that you have 26 options, choose the one that suits your business and start customizing it for your website. You might quickly notice many changes in your interaction and revenue!
Would you like to begin designing your Black Friday pop-ups? There is no time like the present!
We have many examples available if you want to learn more about how to boost your eCommerce store during Black Friday.
Get started with your Black Friday pop ups
Are you ready to use pop-ups to make your Black Friday sale successful?
Poptin's popup builder monitors the online behavior of website users and displays the appropriate message in the proper time. 
Utilizing exit intent technology and a variety of additional triggers, the platform assists in increasing conversion rates, converting more website visits into leads, purchases, and email subscribers, and increasing engagement.
No matter what type of pop-up you're creating, Poptin has all the tools to make sure you convert all those leads into sales. It's time to prepare for the festivities by signing up to Poptin today!