I'm sure you've heard of "Bounce Rate" and you know that a high bounce rate is bad for your web site etc…
Lets take a moment to clear things up:
Who Are You Mr. Bounce Rate?
Google's definition of "Bounce Rate" is the percentage of visitors who entered a website only to leave it directly, that is without moving on to any other of the site's pages (i.e. they moved onto another website or clicked on "back" and returned to the website they were just at).
Bounce rate is different than "Exit rate" which has to do with how many visitors left a website from a specific page on it, most times these are visitors who surfed through at least another one of the website's pages, if not more of them.
The simple definition of a website's Bounce Rate is: The number of visitors who viewed only one page in the site divided by the total number of visitors to the site.
A more elaborate definition (one that takes into account one page websites and loading time) is:
Verbally explained, this formula means – the number of visitors who viewed only one of the website's pages, divided by the total number of visitors who entered the website and that for them the website's loading time was greater or equal to the average loading time for a website page.
It's important to distinguish between the bounce rate of an entire website and one that is attributed to a certain page on it.
The bounce rate of a specific page is the number of visitors to this page who left the site from it (without moving onto another one of the site's pages) divided by the number of visitors to the site who entered it from this specific page.
My Website's Bounce Rate is 78%!! What Should I Do?
First of all – calm yourself down 🙂
There's a common notion that a high bounce rate is proof of a low quality website or one with poor content, but this is not always the case. For instance: someone searches the web for the meaning of a certain term or the price of a certain product or service, if they visit your website and instantly find what they're looking for, they will leave your site quickly but contentedly. They may have even taken the time to watch a video clip embedded in the page they landed on, went on to leave their details on a "contact us form" and got a thank you message saying that you'll get back to them shortly. Does this indicate some type of problem with your website? on the contrary!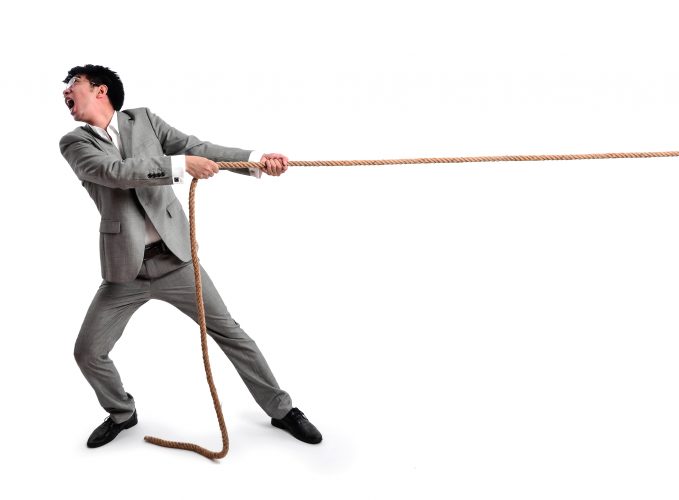 So, What's the Problem?
The problem is that in Google Analytics even if visitors fill out a contact us form but are not directed onto a thank you page (but rather get a confirmation notice on the same page that they are already on) they will be considered visitors who abandon your site and as such will have a negative effect on your site's bounce rate.
The same is true for one page websites as well as landing pages. Such pages are built with the intent to capture visitors' attention and not encourage them to view more of a site's pages.
Bounce Rate and Google Analytics
Google Analytics measures bounce rate according to visitors who entered a particular page and had not clicked on a link to another page on the same website, it does not matter if they spent 5 seconds on the page they bounced away from or if they remained on it for an hour, in both cases the effect on bounce rate will be identical. As described above, it is quite possible that the visitor found exactly what they were looking for and left your site because they just had no need to look any further, the bounce rate may still indicate some type of problem with the page.
A similar problem occurs with "time on site" and "time on page" variables. So long as a visitor did not go onto another of your site's pages, Google analytics will calculate the time they spent on your website as zero.
Here's What You Should Do
Create "sessions" on Google Analytics as per possible positive interactions on a specific web page (such as scrolling down the page, clicks on links in it, form filling etc.) Every time such an event occurs it will trigger a notification sent to Google Analytics, this way bounce rate variables will become much more reliable.
For further reading on "sessions", when a visitor is regarded as a new one or a one that has already visited your site ("unique visitor"), and how a session is defined in Google Analytics.
If you have a WordPress powered site here's a Reduce Bounce Rate plug-in which will help you calculate bounce rate variables more usefully.
How To Reduce Bounce Rates?
Relevant search terms
The most basic question you should ask yourself is whether a visitor to a page on your website will find what they're looking for. For instance, if your site is all about trips to New York and your visitor is searching for information regarding hotels, flights and holiday packages to New York then the answer is most definitely yes.
If your site comes up for long tale search terms such as "attractions in New York", "Restaurants in New York", "What to do in New York" etc. this may cause your site's bounce rate to rise but not drastically.
If your site comes up in search results for terms that are even less relevant, such as "holidays in the U.S.A", "statue of liberty" or "Manhattan", your site's bounce rate will rise even further. Chances are visitors who search Google for such terms are not interested in content presented to them on your website (information about hotels in New York for instance), they will spend only very little time on your website before leaving it. This is true to visitors from organic search results as well as from PPC campaigns.
It is therefore essential to consider what visitors to your site are looking for and to offer them relevant content for each category of keywords.
Traffic Sources and Devices
The source of traffic to your site and the device visitors are using also have a substantial effect on bounce rate. Visitors which enter your site from Google on their personal computer's desktop will spend longer on your site than ones who enter it via a link on facebook while using their smartphones (or even if they searched Google using their phones). It is therefore essential to make your site friendly, both in terms of content and device, for platforms visitors are using.
Visitors who come from facebook are more interested in passing time, they are inclined towards viewing some type of viral content. If the page they land on contains an interesting video clip, pictures and light, fun content they are likely to spend more time on it.
User Friendly, Responsive Design
As shown on the info graphic bellow, a site designed in a user friendly way, with an easy to use interface, responsive for all devices (computers, laptops, smart phones), a site which works well with any browser (chrome, firefox, explorer, safari) will tend to generate a relatively low bounce rate.
Measure Bounce Rate With More Than Just Google Analytics
Measuring bounce rate with Google analytics alone is like trying to put together an IKEA cabinet using only a hammer. We advise you use tools such as heat maps and mouse recording in order to get a true image of visitor behavior on your website. As mentioned above, it is a good idea to define Google analytics sessions so as to get a more relevant bounce rate figure.
Webpage Load Time
Research shows that an average visitor expects a page to load onto their mobile phone in 3 sec' tops. Does it take longer than 3 sec' for your site to load? If so, it is essential that you do something about it. Load time is also important for visitors using computers but they tend to have a little more patience. You can check load times using the Pingdom website speed test tool, if your site performs poorly consider switching to a better hosting service.
Find Out Which Pages Visitors Enter From And From Which Ones They Leave
Using Google analytics you can learn what page most visitors to your site first land on and which are the pages they tend to leave from. Begin by improving the pages which most visitors land on when first entering your website, then move on to working on the pages they exit the site from.
Simple Navigation
It is essential that visitors to your site find their way around easily. What does this mean? A clear, self explanatory main menu, useful breadcrumbs, a footer with relevant links, widgets at the side of web pages with tags and/or links to recently created pages, links from content body to other site pages etc.
Use exit intent pop-up
You can reduce bounce rate and even cart abandonemnet with exit intent technology. Exit intent pop-up with the right offer or messege will do the trick for you.
Accessibility to Visitors With Disabilities
When you make your site accessible to visitors with disabilities you are allowing another 15 – 20% of the population to use it easily. If you have a wordpress powered site you can start by adding a free Accessibility plug-in.
In conclusion, a high bounce rate is no clear proof of a bad website. We've seen that bounce rate must be taken in perspective and in context, it should be measured intelligently in order to avoid coming to wrong conclusions (based on inaccurate data).
Have more to add about Bounce Rate? Please post your comments bellow .