Cakemail is yet another email marketing platform that helps you connect with your customers. You can create and send emails, track campaigns, and so much more.
Since email marketing is so essential to your business, it's important to focus on the many solutions. Some people claim that Cakemail isn't the best choice because it's got many bugs and other issues, and it's not the cheapest option.
Check out these other Cakemail alternatives to find out if they might be right for you. Then, you can compare each of the email marketing solutions quickly and know which one to pick for your business.
1. TotalSend
TotalSend a full-featured email marketing solution. You get end-to-end solutions, which are all designed to work with Windows. The online system offers many features.
However, it's not suitable for anyone in North America and only serves overseas countries.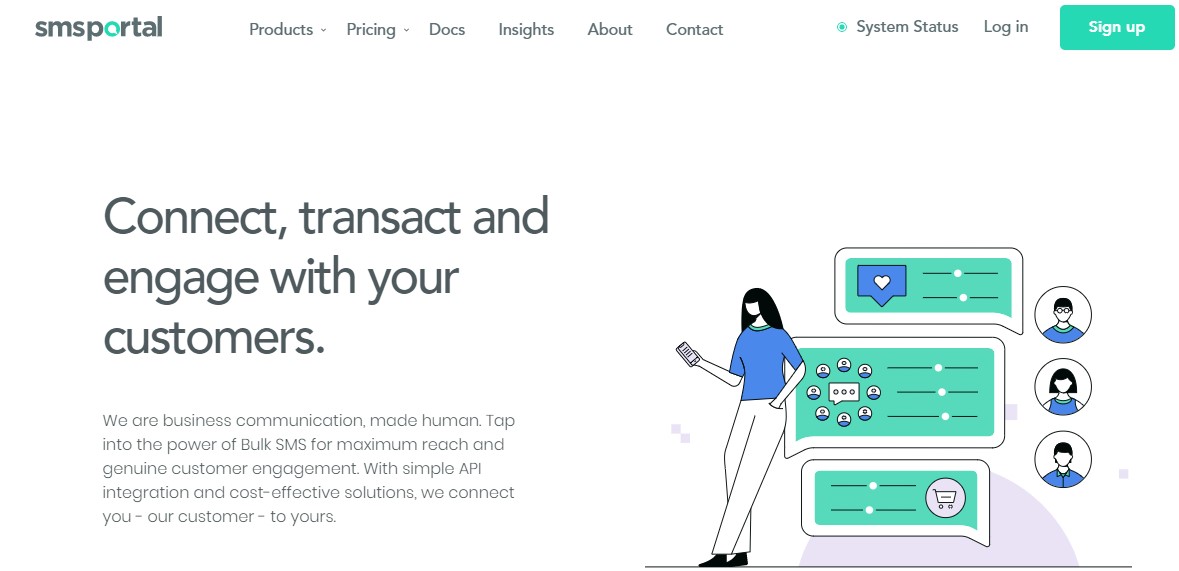 Features
Cakemail alternatives should have everything you want and more than Cakemail. TotalSend offers mass texting features and shortcodes. You also have full access to the image library and can create dynamic content.
You also get auto-responders, reporting tools, and A/B testing. If that weren't enough, you can manage your mailing lists and subscribers, and there's an interesting text-to-win feature.
Pros:
Blog support and knowledge base

Personal account managers available

Payment flexibility
Cons:
No mobile support

Not available in the US

Upload issues possible
Pricing
The pricing module is a little different for TotalSend. You can choose bulk SMS, which are text messages of up to 160 characters per message. You can select your currency (Euros or Zar), as well as the country (South Africa, Australia, Ireland, Botswana, Namibia, Lesotho, and Swaziland.)
You can pay 0.0147 euros for up to 1,000 SMS messages. The price lowers when you buy more at a time, so for 5,000 texts, you only pay 00136 euros.
Shortcodes are also available. It costs 3500 Rupees for the setup fee, then standard SMS rates for outgoing replies, and a monthly price of 999 Rupees for a line rental.
Who Is This For?
Cakemail alternatives like TotalSend are designed specifically for startups and various agencies. Enterprises can also benefit from this email marketing solution.
2. Mailpoet
When you're searching for Cakemail alternatives, Mailpoet may be an excellent choice. It's a plugin for WordPress, so it's suitable for many businesses. This full-service email marketing solution can help you manage subscribers and design various types of emails.
Features
You're going to find many features of Mailpoet. For example, you can create fully customized sign-up forms, slide-in forms, and pop-up forms for your website. You also get advanced analytics and an easy-to-manage database for your subscribers.
Segmentation is available, and you can manage multiple lists from the same place. If that weren't enough, you get to import your templates and export databases in an Excel or CSV file.
Pros:
Segmentation capabilities

Signup-forms with many functions

Great analytics
Cons:
Few email templates

Limited functionality for scheduling

Only available with WordPress sites
Pricing
The payment structure for Mailpoet is quite simple. For 1,000 or fewer subscribers, it's free to use, and you get all the features. Then, it raises to $15 a month for up to 1,250 subscribers, and so on.
With Premium (which is included), you have advanced analytics and can get expert help quickly from support. Create automatic email notifications from blogs and send beautifully-crafted newsletters, as well.
Who Is This For?
Mailpoet is suitable for companies that need to run high-quality campaigns and use WordPress for their websites. The plugin is easy to use, but you must utilize WordPress to activate Mailpoet.
3. ActiveTrail
When searching for Cakemail alternatives, ActiveTrail is likely to be in your search. This email marketing solution is natural because it empowers you to send various messages using different means. Plus, there are multiple languages available, including German and French.
Features
ActiveTrail offers a variety of features to empower you to deal with customers more effectively. While email marketing is the first and foremost, you also have access to SMS advertising. 
With ActiveTrail, there are autoresponder programming options, easy-to-use reports, and various ways to investigate things. For example, A/B testing helps you find out which words work better. 
Pros:
Easy to navigate

Affordable

Various optimization and testing features

Many integrations
Cons:
No 24/7 support

Can't connect outside APIs

No eCommerce workflows
Pricing
Prices for ActiveTrail start at $9 for Basic and includes 500 contacts. With it, you can have one user, unlimited sending, and various landing pages. Automation, analytics, segmentation, surveys, and A/B testing are all included. There's also Zapier integrations and so much more.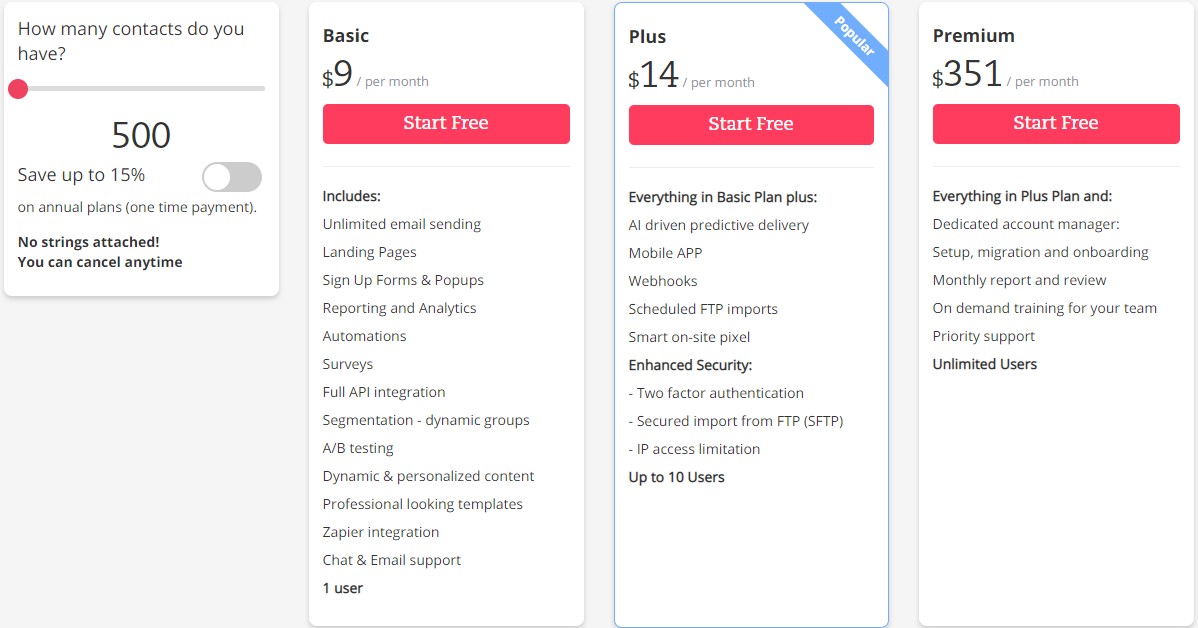 Next, you have Plus, which is $14 a month for 500 users. You get everything from basic, but you also get a mobile app, scheduled FTP imports, webhooks, and predictive delivery. There's access for 10 users and enhanced security features.
Premium is the last choice, and it is $351 a month for 500 contacts. Because the price jumps, expect to get everything from the other two plans. You also have access for unlimited users, priority support, monthly reports, migration services, and so much more.
Who Is This For?
ActiveTrail is an excellent email marketing and automation platform. It's suitable for all types of marketers to create the right email campaign. There are many advanced settings and testing options, so it can grow with you as the company expands.
4. SendX
If you prefer an intuitive email marketing solution that's affordable and rich with features, SendX is right for you. It's designed for the busy marketer and business owner to boost efficiency while sending out professional emails. 
Features
There are tons of cool features when you use SendX. Every plan includes unlimited email sending to your subscribers, so there aren't any hidden fees or limits later. Plus, your emails are optimized for 30 different parameters to ensure high deliverability rates.
There are over 500,000 stock photos that you can use for free. Plus, you have responsive email templates to use and change to meet every need you have.
Pros:
Knowledge base

Smooth migration
Cons:
Limited free trial

Improvements for report extraction needed
Pricing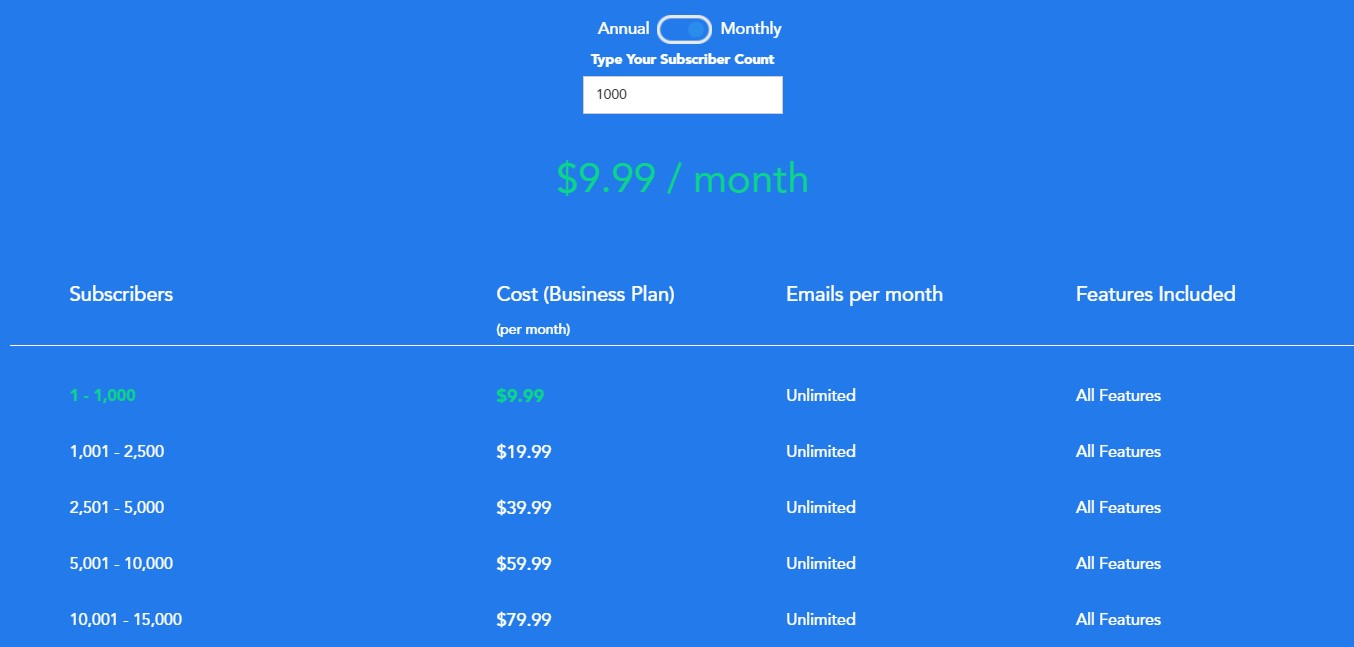 SendX is a relatively inexpensive solution. If you have 1,000 subscribers, you pay $9.99 and get all the features and unlimited sending capabilities. 
From there, the price goes up to $19.99 for 2,500 subscribers, and then to $39.99 for 5,000 subscribers, and so on. Ultimately, you always get to send as many emails as you want and have access to all of the features. You pay solely based on the contacts you've got.
Who Is This For?
Cakemail alternatives like SendX are suitable for businesses that sell products. If you want to sell more items, you want an email marketing program that's easy to use and impactful for conversions, and you get both with SendX.
5. Sendblaster
Sendblaster is one of the newer email marketing software options out there. You can use it to set up campaigns and manage mailing lists with just a few steps. In fact, it combines email software sending tools with an email service. Create newsletters and manage lists while tracking everything.
Features
You can expect to get plenty of features when you choose Sendblaster. It's easy to create new messages with the layout editor. Choose the structure you want, add footers, headers, and side columns, select colors, and much more.
You also have access to many templates and can adjust the images in their current place. There are also new email templates added periodically, which you have access to. If that weren't enough, you can add more templates and only pay a little extra.
Pros:
Easy to use

Basic and simple
Cons:
Must know a little coding

Slows down the computer
Pricing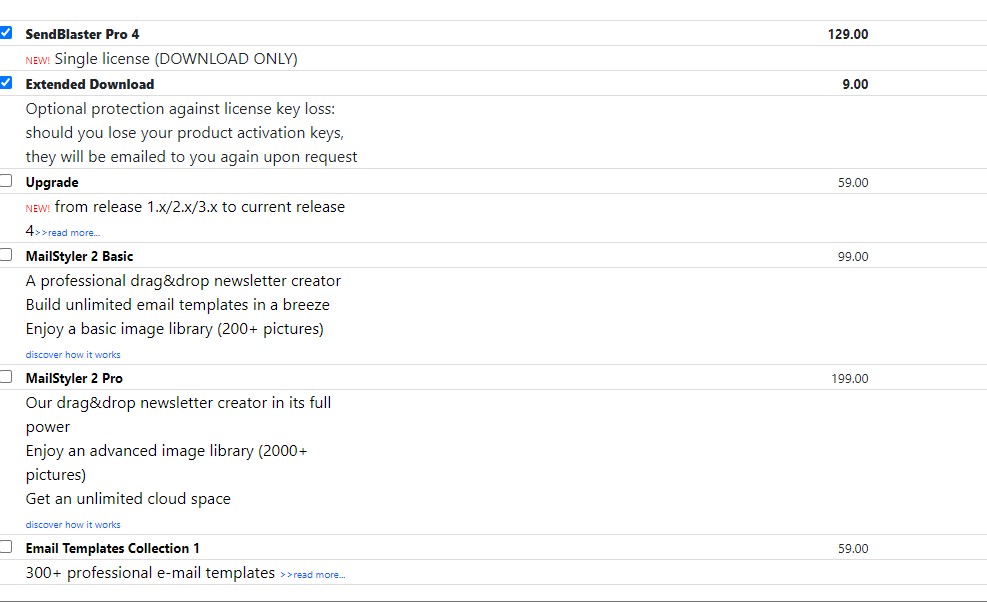 The pricing for Sendblaster is quite straightforward. You are paying for a license to download and use the software on your computer. One license is $129, and you can get an extended download, which protects you if you lose the license key, which is $9.
Prices go down when you buy multiple licenses. For two licenses, you pay $209, which is 20 percent of the original cost for one. With three licenses, you only pay $271 total.
Who Is This For?
Sendblaster works well for all types of marketers, even those with little knowledge. It's most suitable for people who want a downloadable copy that works on a computer or network. 
6. Mailerlite
Everyone seems to want an email marketing solution that makes life easier, and Mailerlite has what you need. It might not look 'pretty' or be fanciful, but you can create your personalized emails fast.
However, you must first get approved before you can use the software, which can be confusing at times.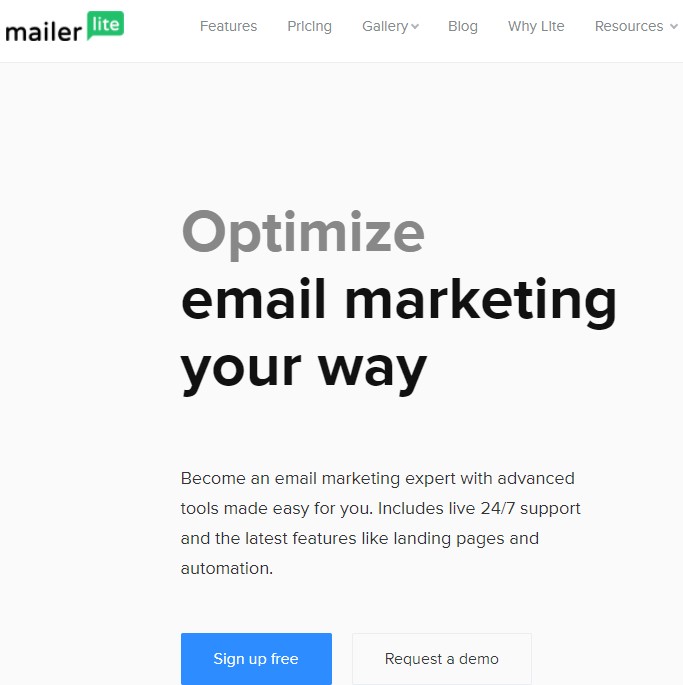 Features
You're going to be creating amazing campaigns with the drag-and-drop editor. You don't need HTML skills and can customize all aspects of the email. Plus, it works well for newsletters and e-commerce campaigns.
Grow your audience effortlessly with pop-ups, landing pages, and a website builder. This all-in-one solution isn't just for sending emails!
Pros:
One-sentence explanations

Easy-to-use navigation

Segmentation included
Cons:
Dated interface

Confusing approvals process
Pricing

Cakemail alternatives like Mailerlite are usually cheaper. For example, if you only have to send out 12,000 emails and have 1,000 subscribers, it's free, and you can use most of the features. To send unlimited emails with 1,000 subscribers, it costs $10.
For those with 2,500 subscribers, it costs $15 to send unlimited emails, while 5,000 subscribers are $30 a month and 10,000 contacts cost $50.
In the free plan, you don't have live chat support, there's a Mailerlite logo on the emails, and there aren't any newsletter templates. However, paid/premium plans remove those things.
Who Is This For?
Mailerlite features a step-by-step approach to email marketing, so it is ideal for novices who need advanced flexibility and may not know where to start. As you grow, you can turn off the tips and explanations and move a little faster.
7. Sendfox
Sendfox is one of the newer players on the email marketing homefront. It's a product created by Sumo, so if you already use those tools, you're going to be impressed. 

Features
Ultimately, Sendfox isn't here to compete with some of the well-known email marketing tools out there. As far as Cakemail alternatives go, this one is a better choice because it focuses on growing your list and your content.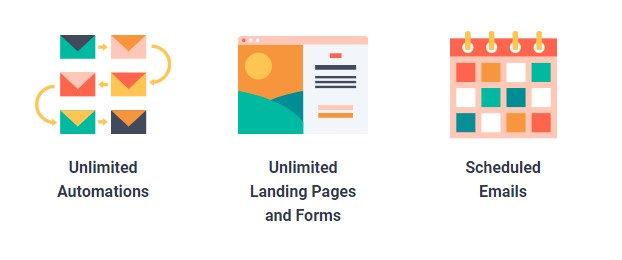 It offers a straight text editor, but you can paste the formatting from Google Docs and Word. Also, you can add images. While it takes some getting used to, it's a great tool to have.
Pros:
Easy to use

Features the Zapier integration

Simple newsletters
Cons:
No templates

Basic email collection forms

No future updates included (must buy again)
Pricing
Everyone likes free, and Sendfox offers a forever-free plan. However, you are limited to the number of sends you can make and can only have 1,000 contacts. You're also required to have the double opt-in and don't get an HTML editor.
The Lifetime plan is $49 as a single payment, and you can send 50,000 emails a month with 5,000 contacts. You get a better sending service and are required to have the double opt-in. Also, the branding is reduced but still there.
You can add the Empire Add-on to the Lifetime plan to get 20,000 more emails and have no Sendfox branding. This costs $18 a month.
Who Is This For?
Sendfox is primarily there for content creators and those who want a more affordable email marketing solution. It doesn't include many advanced features, but it is ideal for newbies and those who aren't selling things.
Conclusion
Everyone wants to improve their email marketing strategy, but you need the right tools for the job. Though Cakemail is an option, many people find it lacking in different areas.
Ultimately, it's a good idea to check out these Cakemail alternatives before you make a decision. That way, you've got many choices and can focus on what your company needs now and in the future.
It's impossible to say for sure which email marketing solution is best for you. Just read through the details of each one. That way, you have a better idea of what it offers and can make the right choice.