Following the constantly growing popularity of Instagram among users of smartphones around the world, many businesses wish to advertise their offered products and services, to get exposure and gain sympathy from the relevant target audience.
So as of October 2016, the Instagram application presented the following data: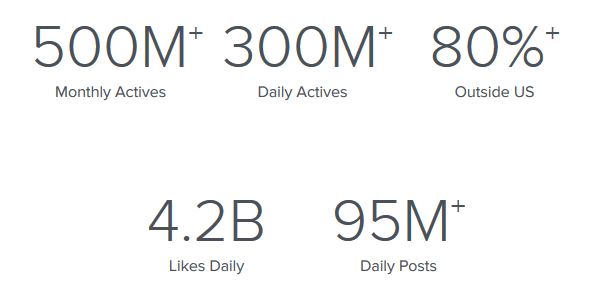 It seems there is something to work with 🙂
A Must Have Checklist before starting your Instagram Marketing
Switch to a Business Account
Have you already opened a regular Instagram account for your business? Switch to a Business Account! Instagram offers a business profile for businesses, in which you get more data and expanded options compared with a personal account. Among the new options that will be available for you, you would be able to:
Add a Contact Button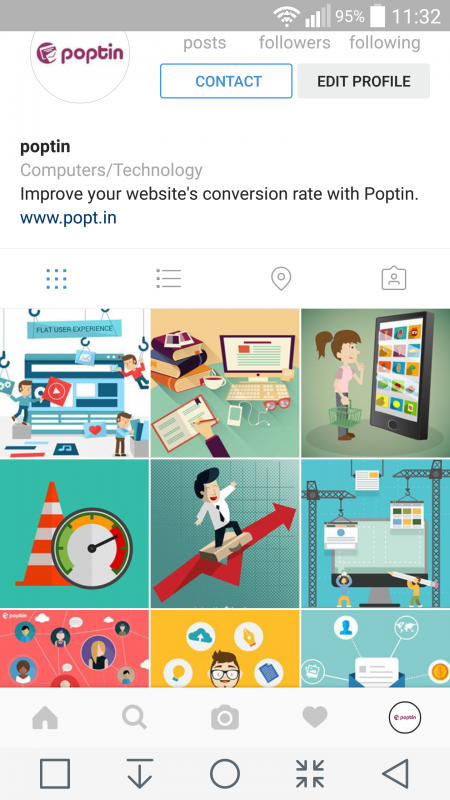 and View Data about:
Impressions – total number of times your picture was viewed
Reach – number of unique accounts that viewed your picture
Engagement – number of likes and responses on your picture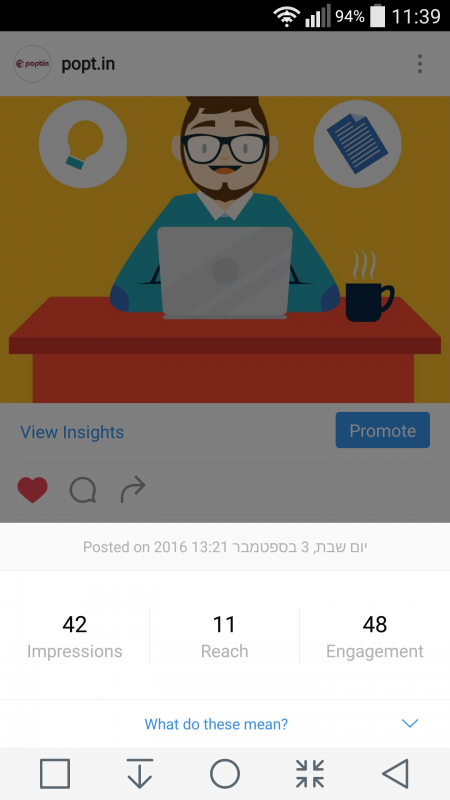 Demographics – after you reach 100 followers, you will be able to get demographic data about them and the average number of times they visit Instagram per day.
Promote a post directly from the interface – use the "promote" button.
I will elaborate about sponsored advertising in a separate post.
Select a Category – a business account also allows you to select the Category in which the company is active. If you look at the picture at the top of the page you will see that Poptin has the category of Computers /Technology.
Add an Address – that will appear directly below the profile's business description.
If you don't know how to open a business account, watch the video below:
Creating a Business Account on Instagram from Instagram for Business on Vimeo.
Logo
Select your logo for your profile picture. As with Facebook business pages, also for a business profile on Instagram it is advisable to have your logo as your profile picture and naturally in good quality.
Name
The name of your Instagram account should be identical to your company's name. If it is already taken by another user, find something that is as similar as possible; you can add an underscore symbol or a dot between words.
Description
Write a description about your business in a pointed and attractive style. Don't leave the description section blank. If you are working on an application or a tool which you do not want to reveal too much information about, write something short with a little hint and a taste for more. If your company is already active and working, you could write four lines that include your main areas of activity, branches, and something more that would make users press the link to your website.
A Link on your Profile
On your profile, below the description, there is a section for entering your website link. You can enter a link to your home page, to a page of a specific product or service that you are currently promoting and creating a buzz about, or to a landing page.
Pictures
So everything on Instagram begins and ends with the picture you upload. If in the beginning Instagram was an application only used for taking pictures and designing them by applying cool filters, today it is a leading social network that every business owner using it must know how to work with pictures. So here are a few tips:
Use quality pictures – you can buy pictures now and then, but if you manage to create cool authentic pictures by yourself in good resolution, it would greatly promote your brand. If you want to invest a little more, you can plan ahead the pictures you upload and arrange them so that a few pictures together will create one big picture. Remember, there are 3 pictures in a row and the newest picture you upload will appear on the top left.
Want to save time? Use Buffer or other tools to publish your posts automatically and without having to sign in the application every time.
Upload photos of staff and satisfied customers – authentic pictures, backstage, social events, outings, offices, pictures while working and the like, help to bolster relationship with your followers and the brand.
Use filters when needed – people like filters (as long as it's not too exaggerated). An excellent filters application that gained momentum in a short time is Prisma. The application offers remarkably unique and artistic filters and is very easy to use.
Diversify with memes and quotes – images of this kind gain high engagement and can help you increase your network of followers.
Use water marks – imprint your logo as a watermark on the picture. If anyone shares your picture or tags someone and the like, your logo will be there.
Give the picture a description – write an interesting description of the picture that will make people like it or leave a comment. Sometimes you should also direct your site visitors to the link that appears on the main screen of your profile.
Hashtag
While this is also related to pictures, it does deserve its own segment. Writing relevant hashtags may be the most important thing you need to do to get exposure and engagement for your post. A quick Google search can bring up a few sites that can recommend hashtags which are popular and relevant for you. You can add about 30 hashtags per picture, but it is better not to overdo it and use a few primary ones. You can add hashtags at the end of the description or incorporate some of them inside it.
In summary, if you have not yet opened a business account for your business, it's time to do so. Add pictures with reasonable frequency, use the tips in the article, and upgrade the presence of your brand 🙂