Running a business is definitely a complex task.
Do you often find it difficult to understand that you do not have enough time to do everything that you want?
And even when you bring your organization to perfection, some unforeseen items reappear, and again, there's little time.
That's why it's important to automate every process that doesn't require everything to be done manually.
One of the most important tasks is email campaigns.
Oberlo mentions that in 2019, a global number of email users amounted to 3.9 billion.
With the increasing number of email users, email marketing is opening up a huge number of opportunities.
But how do we get valid subscribers that we can later convert to customers?
By using marketing automation platforms like Mailchimp and the potential of having pop-ups, you can expand your mailing list in less time than you expected!
But, let's start from the beginning.
Why is important to collect email addresses?
Email marketing campaigns are a necessary part of any business strategy.
With them, you reach people who are interested in what you have to offer and you also manage to keep in touch with them.
The most effective way to get your website visitors' contacts is to offer some added value.
In the "exchange" for an email address, you can offer for example:
Important news and information

Discount or coupon code

E-book or guides

Online webinar or course
Of course, it goes without saying that you have to fulfil your promise because after they leave you their information, your prospects will expect the promised content to arrive in their inbox.
Now that you have their contacts, you are able to maintain a connection and build strong relationships with your target group.
What you are actually achieving is raising brand awareness and most importantly – converting website visitors into real buyers.
You are probably asking yourself – "is this whole process really necessary"?
Of course, it is! 
Only an extremely small number of people who come to your website are ready to buy your product or service right away.
With the help of email campaigns, you increase their initial interest and connect people to your brand. And don't forget that many satisfied customers will be more than willing to go back to your website and make a purchase again.
We believe that these reasons for conducting email marketing are extremely important. Don't you agree?
But instead of waiting for website visitors to come across the contact form and then emailing each one individually, this process can be much simpler.
The pop-ups that you'll associate with Mailchimp will help you with that immensely.
And here's how.
How to create a pop-up window?
To create visually appealing pop-ups, you do not need any prior knowledge of design or programming.
A pop-up window creation tool such as Poptin will allow you to create these windows in less than 5 minutes.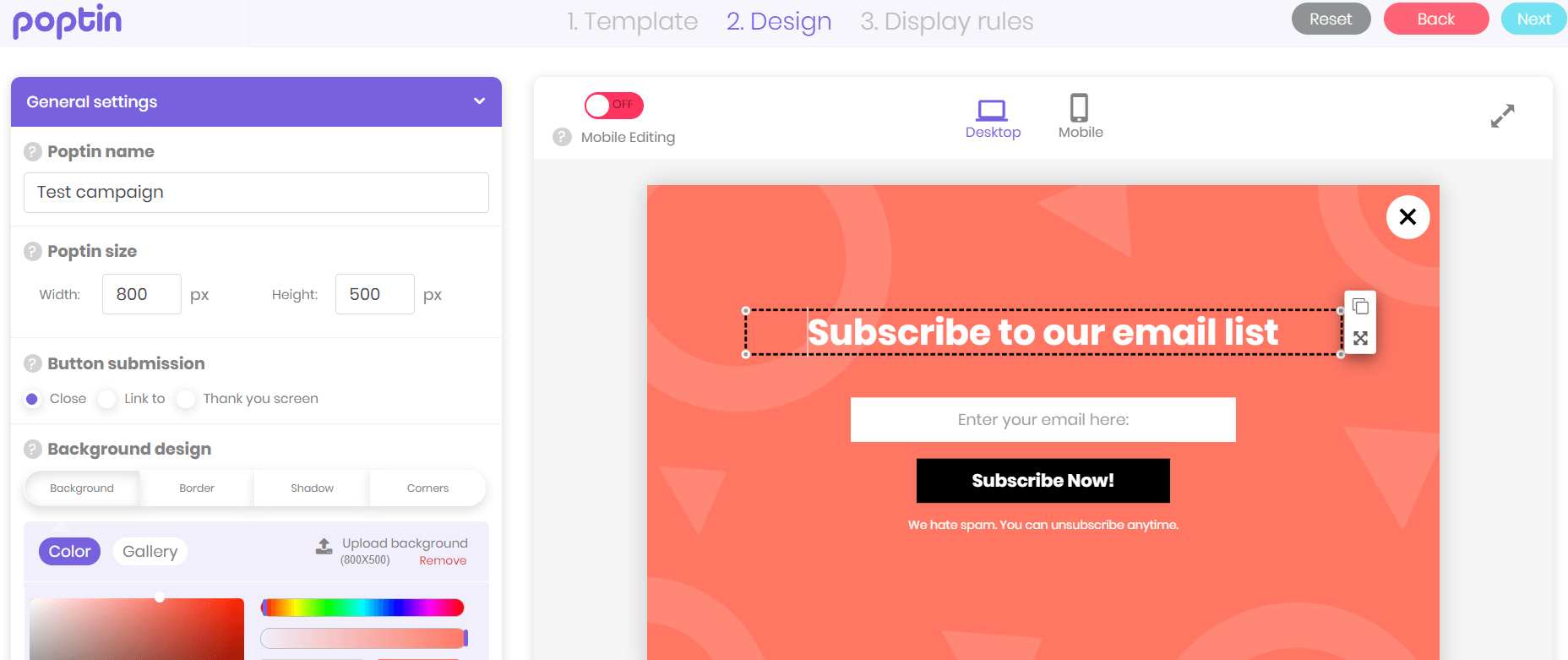 Poptin operates on the principle of a simple drag and drop system.
You can easily add or remove different fields, elements, add photos, change fonts, and colours.
There are different types of pop-up windows on offer:
Lightboxes

Countdown pop-ups

Full-screen overlays

Slide-in pop-ups

Top and bottom bars
This tool also helps you make every pop-up mobile responsive. You should know that statistics show that 80% of users used a mobile device to search the internet in 2019.
After creating pop-ups, the next step is to set up targeting and triggering options. 
Targeting options let you decide to whom pop-up window will appear. You can choose parameters such as countries that visitors come from, date and time, traffic source, certain URLs and website pages, and similar.

Triggering options allow you to decide when exactly the pop-up window will appear. Some of the triggers may be exit-intent, percentage of scrolling page, time delay, on-click, and more.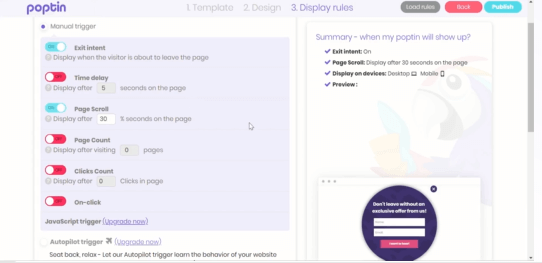 The options are listed on a simple dashboard, and it's up to you to decide which triggers to choose.
If you're not sure what type of pop-ups to use for your email campaign, you can use the A/B testing option.
You can do the test in a minute, and the results will show you which pop-up performs the best so you can use it to expand your email list.
After creating your pop-up, you need to connect it to Mailchimp.
How to integrate pop-ups with Mailchimp?

With Mailchimp, you can create stunning emails with a drag and drop editor. It's the same way of functioning as with Poptin.
Mailchimp offers a template library, so you don't have to create emails from scratch unless you want to.
Besides saving you time when it comes to creating emails, it will also save you time when it comes to sending emails, as this process is fully automated.
Mailchimp sends emails instead of you, so when someone subscribes to your mailing list via Poptin's pop-up, they will automatically receive the email you create just for that particular occasion.
You can then continue your email marketing campaign using this platform.
The easiest way to connect your pop-up to a Mailchimp account is with the help of Poptin.
Follow these steps, and in a few minutes, the whole process will be over!
When you open Poptin, on the Design page you will see the menu on the left side. Click the "Email and integration" section.

Click on "Add integration" and choose Mailchimp.

To find your API key, in your Mailchimp account click "Account", then "Extras", and at the end "API keys".
This is how it all looks like:
To find the Audience ID, follow the following order: "Audience" -> "Manage Audience" -> "Settings" -> "Audience name and defaults" (your Audience ID will be located here).
It is important that you copy the Audience ID, which has about 10 characters, not the name of your audience.
In the integration pop-up, paste your API key and your Audience ID. 

Click "Approve".
If something seems to be not working properly, pay attention to the following.
Make sure you copied-and-pasted the API key and the List ID exactly as it should.

Check if your Audience fields and * I MERGE I * tags look the same as in the following image.
Except for email fields, do not mark anything else as required.

Make sure you did not exceed the limit number of your subscribers in your Mailchimp account.

Test it all again, but with a new email that's not already in your Audience.
This whole process will seem even easier when you put it into practice.
In a few minutes – you created Mailchimp pop-ups and automated a huge part of your email marketing campaign process!
Your pop-up window is now connected to the Mailchimp platform, and emails will be sent automatically.
The only thing that is left for you to do is to create quality content that will be of great importance to your future customers.

The bottom line
When you use the right tools, you will see how many parts of running a business can last shorter and still be more efficient.
You will minimize potential mistakes and omissions, and you won't have to waste your precious time as these tools will both work for you and allow you consistency in business.
Email list of contacts is one of the most important tools in sales and it should not be overlooked.
Many brands buy these lists of contacts who have probably never even heard of them or their company. And thanks to engaging pop-ups, you collect contacts from your visitors who have already shown an initial interest in what you have to offer.
To quickly and easily create amazing pop-up windows, try out Poptin and see how quickly it converts visitors into subscribers.
After integrating Poptin with Mailchimp, you are more ready than ever to send some awesome emails to all of your future customers!