Every marketer needs a swipe file for the popup design inspiration and the examples. In this article, I'm going to show you my own swap file that I'm using when I need to create some new and engaging popup
Other than Poptin's own examples in this gallery, I'd highly recommend getting your creative juices flowing with other examples as well.
In this article, we'll look at some creative and inspiring popup designs and examples to make our 2022 lead magnet conversion rates better.
Let's dive in.
Honesty and authenticity copy design popup 
I'd always recommend honest and authentic copy design popup that would always have its charm to lure the reader to give their email address.
Wikipedia has done a great job of being honest and asking for donations to keep growing. We all need the information to be free and unbiased, and Wikipedia does a great job at it. Hence, this copy with a simplistic design has its own merit.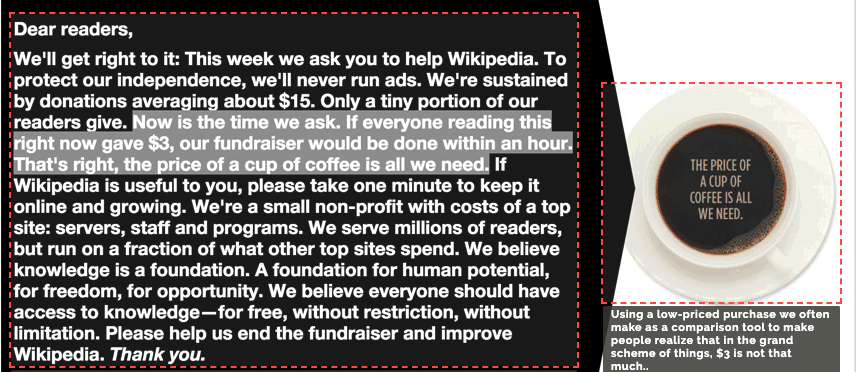 The other honest popup I found was made by ProfitWell. While I was at ProfitWell's website, they promoted their pricing page teardown. Although it has good content, since they were disrupting my user experience on the blog, they started with "we hate popups…" – I could totally relate to it.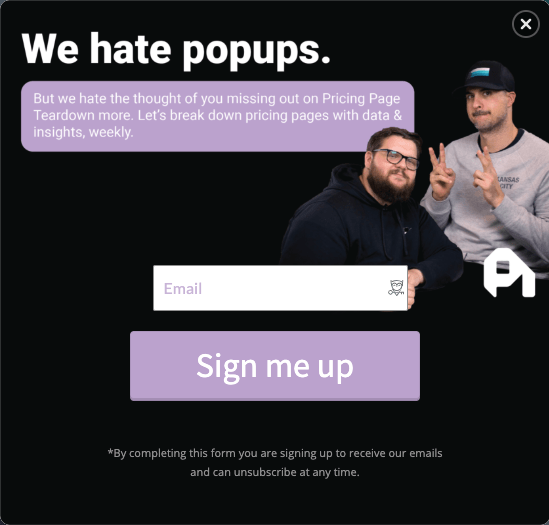 Why? It's honest, upfront and giving something in exchange for an email address. Plus, the images are real and these two guys in the popup above do a great job at it. 
I immediately signed up.
If you can make a popup design relevant, empathetic, and have a good copy – it will probably have a decent conversion rate
Simplistic design popup
Sometimes simple is all you need, and it does the job well. Why does simple popup design work? It usually works when your offer is great, has social proof, and the copy is amazing.
With this, I'd like to share a great example that was offered to marketers (we marketers are usually critical to others btw).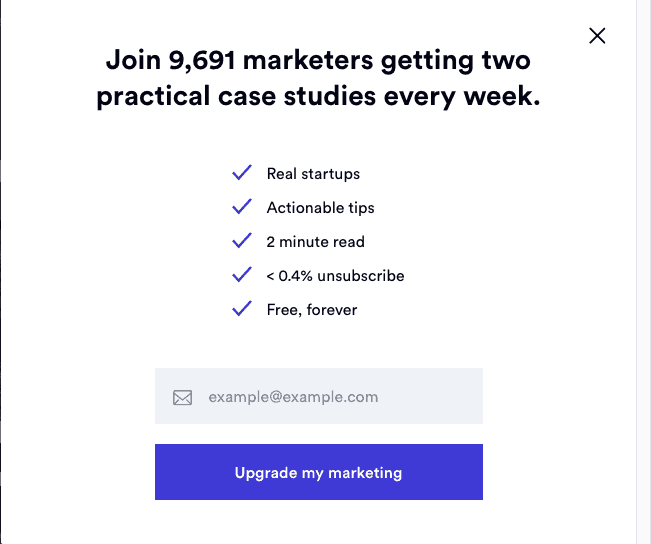 Harry dry runs this small project and shows the above popup at exit intent. It has social proof (9691 marketers), actionable tips, 2 minutes read (low barrier) and it's also honest because it says less than 0.4% people unsubscribe and it's free. 
Such kind of copy with a great offer will always work. If you're looking for a simplistic design example for inspiration, then this is one would be a winner.
Lastly, it does not say "sign me up" instead it says "upgrade my marketing" which actually is giving a value-based call to action.
Great job Harry!
Editor's note: Check out this copywriting tips from marketing examples 
Another very simplistic popup design example I get is inspired by Ahrefs.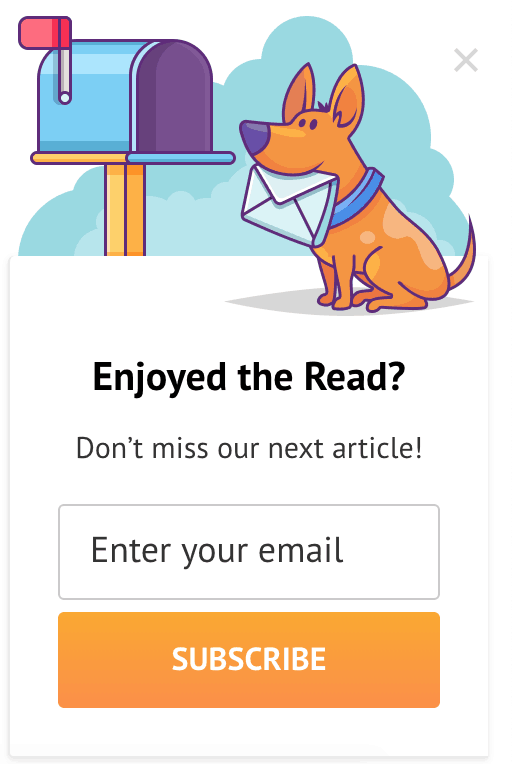 Ahrefs assumes that the blog visitor can't be put in a funnel, and hence it is better to continuously feed the visitor with new content. That content is like a sales page, so the reader/visitor will eventually convert.
Hence, the above simplistic popup with a mascot does a great job in convert. According to Ahrefs, it has more than 0.5% of the conversion out of their 250K per month visitor. Well, then it works.
The last simplistic popup design inspiration is from the growth hackers I follow. These are a bunch of guys teaching growth marketing and their popup is simple yet effective for learners like me. It's just an amazing copy plus a lot of social proof.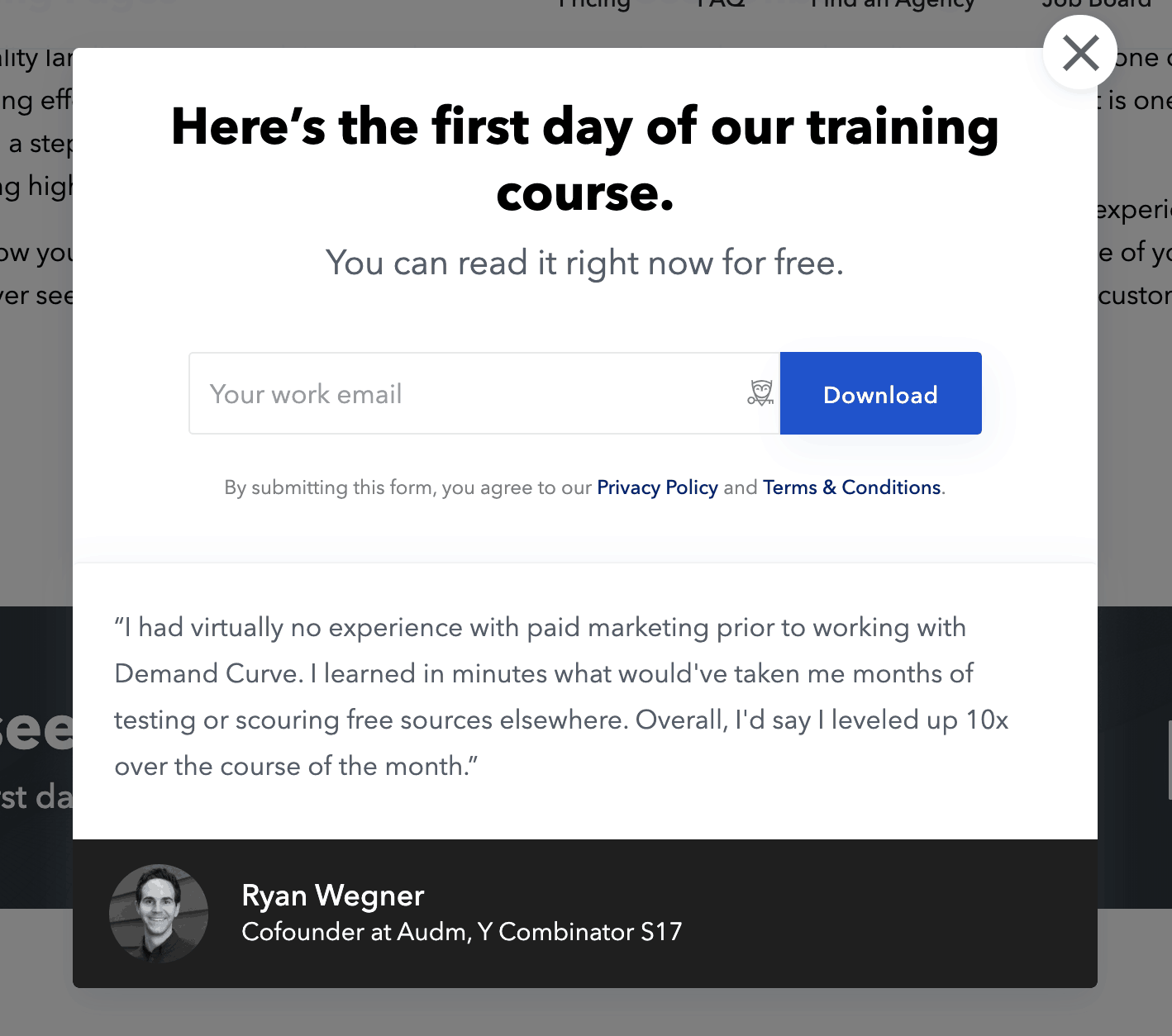 Mascot popups design examples 
To be honest, I love Mascot popups. It has a personality and gives the creative side of the blog or website. Not to mention that it's great for brand awareness.
I am not an employee of Poptin but I do love their parrot mascot popup.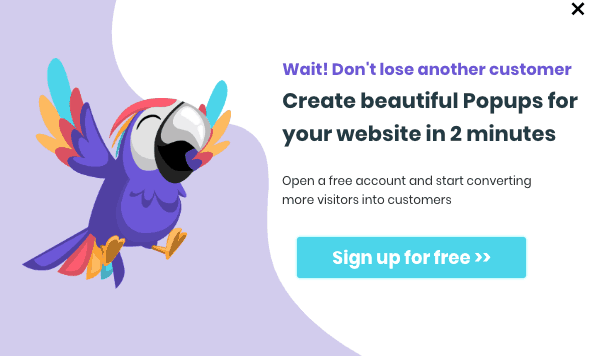 In the example above, Poptin shows it on exit intent, and use the fear approach to make me sign up. The barrier to signing up is so low because it takes hardly two minutes. The parrot mascot flies all the time, so it does get the attention.
If you want to use your mascot for popup design, make sure that it gets the right attention.
Lastly, the copy is offering to start a free account and get more customers via those visitors. Lovely!
I'd sign up just because it is so elegantly done.
Another good creative inspiration that uses context well is Hipmunk.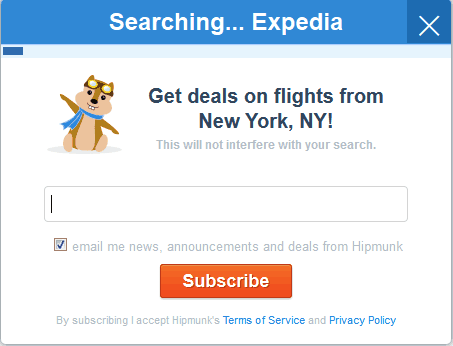 This popup takes advantage of the mascot and the waiting & loading time. Hipmunk has done a good job with the mascot for attention, but the placement and triggering were done even better. 
It's simple and effective. I'd recommend this type of popup if there's a lot of waiting time on your application.
Content marketing popup design inspiration
If you have good content that you can easily promote and capture some leads on the side – why wouldn't you want to offer it? You can simply promote ebooks, webinars, infographics, community offers, and much more.
Appcues did a good job by sharing their onboarding academy a few years back. Their academy has educated a lot of SaaS entrepreneurs and product managers. Here's an example of their previous popup design: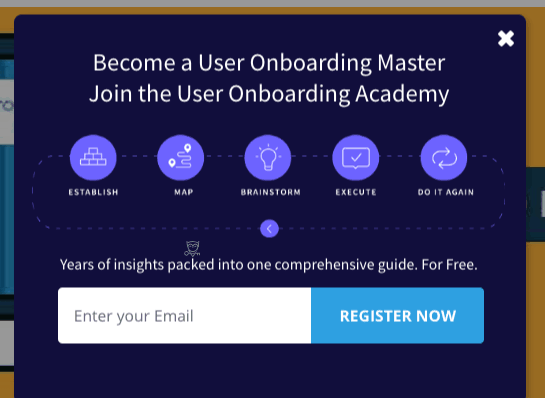 The above popup has been done by a good designer and with a great copy. They have a similar popup for their blog updates too.
I personally like their onboarding academy popup way better than the blog one. However, you should use both to convert more visitors.
Personally, if we look at the blog offer I'd always recommend adding a little bit of touch in the copy like Airfocus (product roadmaps tool) does it: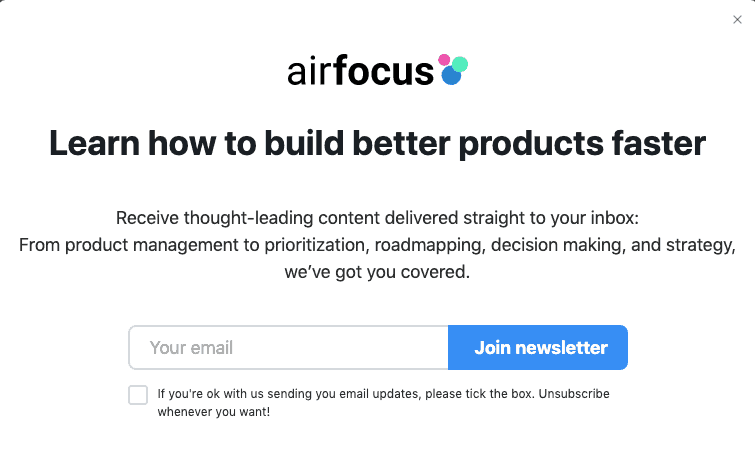 Read more: Product Roadmap
I've been also promoting a lot of content related to my product and I've been using Poptin's forms which gave me a pretty well conversion rates.
I've been promoting Userpilot's email course and product adoption school. Surprisingly, we had a better conversion from in-blog embed forms than popups. These are definitely good examples.

This one is Poptin's template I've been using and which working pretty well. 

Both design inspirations are promoting content with copy effectively. 
Another good content popup design inspiration I got and took inspiration from was Demio. Demio is a webinar management tool and I was promoted to their ebook. Since, I was trying to learn more about "how to manage webinars", it was rightly placed.
But the most effective was the design and copy that made click "download".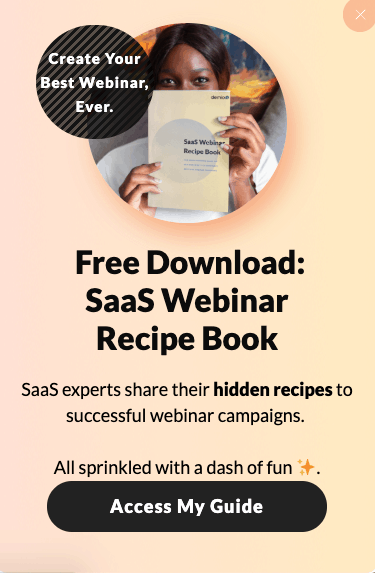 What can I say? The above popup design was at the right time and right place (their blog) to make me download it. I love the effective use of background too.
I hope these popup designs give you some inspiration. 
Conclusion
The above popup design inspiration and examples are for you to get inspired. However, one pro tip I could give you is to make your own swipe file. These designs and inspirations can get outdated pretty soon.
Hence, it is important to stay abreast and keep getting inspired.