People's experiences and opinions will always be highly valued, so as an online marketer and a rising entrepreneur, you should take them fully into account.
Gathering customer feedback on your website can be really easy and at the same time enormously beneficial if done in the right way.
The easiest way to gather customer feedback for your website is by using survey pop ups, incredibly popular windows that appear to your visitors unexpectedly asking different questions, and collecting valuable data.
Of course, in order to be most efficient, you need to ask the right questions and to help you do that, we have chosen these amazing pop-up samples and questions for you to improve your business.
So, let's start!
"How did you hear about us?" pop up customer survey to find out where they came from
This is a basic question that allows you to find out whether a visitor found out about you through a friend, a colleague, or maybe on social media.
This is also a very useful question if you want to track and measure your marketing effectiveness or see which tactics you should use more to promote your business better.
You can either ask How did you hear about us? or How did you find us today? to find out where your customers are coming from. The goal is the same.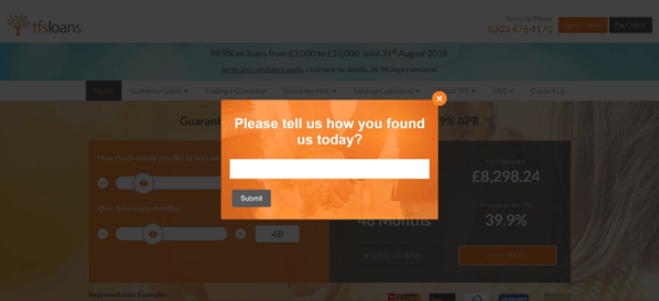 Source: Tfsloans
When it comes to this type of question, it is best not to provide your visitors with a bunch of options because it will most probably not bring you any new knowledge.
The whole point of this survey is to gather some new information, so make a simple single field and give your visitors the opportunity to write their answer themselves.
As we can see from the example above, the design of the pop up itself matches the design of the website, which is a must if you want to look professional and be recognizable.
To make it easier for yourself to create beautiful pop-ups that will engage your visitors and attract their attention, try the Poptin tool.
This tool is easy to use, and it has numerous customization options to help you create amazing pop-ups and design them accordingly.
With its drag and drop editor, you can easily add or remove certain elements, fields, change colors, sizes, fonts, and more.
Your pop-ups will be ready to use in a few minutes.
Of course, you only need to add a simple "Submit" button so your visitors know what they need to do next, and collecting valuable answers will never be easier, you'll see.
It doesn't have to be complicated to bring amazing results, but still, you can always test your pop-ups and make some improvements if needed.
Advantages:
It is simple but effective

Its design matches the design of the website
Disadvantages:
As with any pop-up, it is best to show up after a couple of seconds to give a visitor the opportunity to first make a quick observation
Exit-intent popup survey to uncover why didn't they take any action on your website
This is a great way to uncover why your website failed to make your visitors want to make a purchase or even take any type of action on it.
To find the problem, it is best to ask directly as it will help you find out what your website is missing, or maybe whether the problem is the lack of necessary information or something else.
Maybe some part of the purchasing process on your website is confusing to your users, maybe they think your pricing is gone overboard, but the easiest way to find out what is stopping them is by asking them at the right moment.
Exit-intent pop-ups are an amazing solution because they appear to your visitors at the exact moment when they show their intention to leave your website.
Just before clicking the exit button, you can ask for clarification and with the right question, you will be able to improve the visitor experience.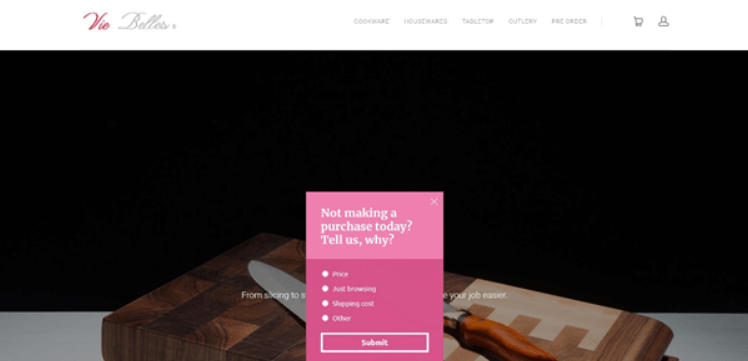 Source: Viebelles
With this type of question, it is most effective to offer your visitors a couple of answers in order to limit the reasons.
After some research and based on a certain experience that you've had with your store so far, you will choose a couple of answers that seem to be the most common problems and you can also include the answer "Other" if the problem is something completely else.
The exit-intent trigger will stop them from leaving and give you the chance to gather feedback at the most recent moment.
Poptin also offers the possibility of setting an exit-intent trigger as well as many other types of triggers depending on your needs and goals.
This pop up example can help you reduce your abandonment rates and eventually get more sales on your store.
Advantages:
It asks one of the most important questions for any online store owner and reduces abandonments
Disadvantages:
The overall style of the pop-up could be better in order to fit the website design perfectly
A short pop up survey in return for which a strong incentive is provided to make it worth their while
Sometimes you need to give your visitors a little nudge if you want them to do something for your benefit.
If you want them to give you their answers, rate their experience with your business, or similar, you also need to give them something valuable in exchange.
They need to feel like they are also getting something from it, and that they are not just wasting time and energy.
They will be glad to share their opinions if you offer something enticing in return, and these offers can be various.
Some of these incentives can be:
A free guide

A free eBook

A discount

A coupon code
It is important to show them that you value their opinion by rewarding their efforts.
This type of survey doesn't have to be too long, and you can ask, for example, a couple of demographic questions concerning your visitors' age, gender, or even income.
This can help you improve your marketing and get to know your target audience better to convert visitors easier in the future.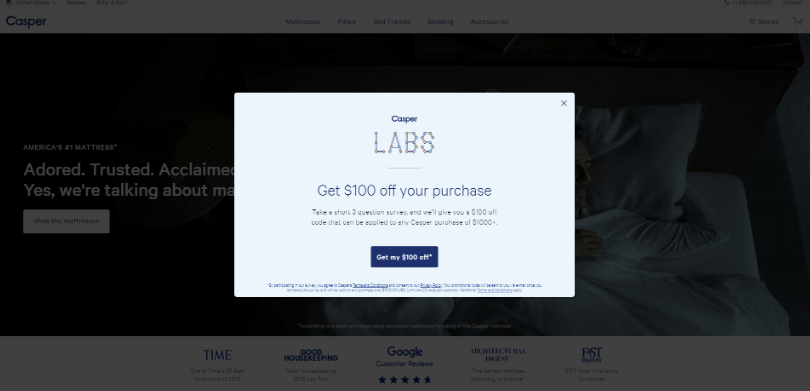 Source: Casper
You can also ask about their preferences, habits, or routines to find out why they choose certain steps or options and to see how you can be of better use to them.
Another, even quicker, way to use incentives is to ask your visitors to rate how satisfied they were with the purchase, for example.
This is best to do after the purchase itself, and you can do it by including a satisfaction scale.
When it comes to the Casper example, they offer $100 off a purchase which is a great deal that every visitor would want to take.
Advantages:
It offers an incredible incentive that will encourage visitors to leave their answers immediately

The $ off type of discount is more popular than the percent-based offer
Disadvantages:
The design is quite simple, but still performs its ultimate function
A simple Yes/No pop up survey to quickly segment your audience while requiring minimal effort
This is the simplest form of a pop up survey because it requires minimal time and effort and the answers are almost automatic.
A simple Yes/No pop up survey will help you reveal a problem, and as these types of answers don't provide you with details, you can always add a follow-up question to gather even more information from your visitors.
As binary scale questions limit your visitors by providing them with only two possible answers, you will get the opportunity to segment your audience more effectively.
They will be able to respond quickly, and you will get your valuable customer feedback in no time.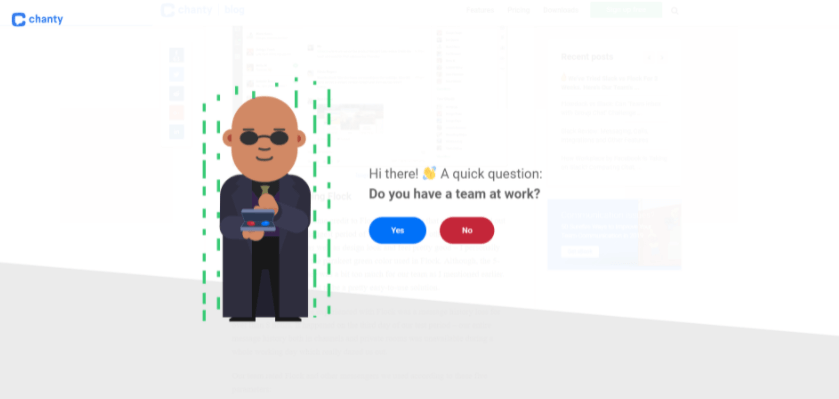 Source: Chanty
For example, you can put it as an exit-intent pop-up, you can set it aside on your website to present your visitors with a choice in an intrusive way, or you can put it on a pricing page to find out how they are managing.
As we can see in the example above, you can use your wit and make a design more creative and in that way, attract your visitors' attention.
You want to give your visitors a great user experience, and creating simple surveys that can be filled out on the go makes it possible.
Advantages:
It offers only two possible answers, which speeds up the whole process of leaving information

It has a creative design that attracts visitors because it stands out from the competition
Disadvantages:
On the other hand, it limits your visitors' choices which can be problematic to

analyze
The Bottom Line
Customer feedback is crucial if you want to get your online business on a higher level quickly, and the easiest way to gather it is by using pop up surveys.
As a business owner, it is important that you show that you value your visitors' opinions and that making your website even better for them is your primary goal.
Try different types of surveys to find the right solution for your business, and offer your visitors incentives to encourage them to participate.
To create useful and beautiful pop ups for your surveys, use Poptin's pop-ups.
Try these strategies to gather customer feedback and make necessary improvements to get more sales than ever!