When it comes to running a business, besides paying attention to the production and presentation of the product itself it is equally important to pay attention to your customers, especially those who keep coming back.
Loyal customers have always been a permanent gold mine, but also a group to which one should be immensely dedicated and which should be rewarded constantly.
They need to know that you care for them and that you see them not only as a source of income but also as people with emotions and needs.
Today, there are ways to retain loyal customers and to satisfy them, and the programs used serve as a "thank you" to all those who have chosen your business over your competitors.
So, let's see which are these 4 benefits that a strong customer loyalty program can bring to your business.
1. It shows your customers that you care for them and helps you build stronger relationships
It is very important that you treat your customers as people with certain emotions, needs, and desires that you are glad to be able to fulfill.
So, you need to work constantly on building strong relationships and remind them that you are there for them every day of the week.
Creating an emotional connection with your customers is a special task and it comes down to treating your customers in a special way, thanking them, and valuing them.
One way to show your customers that each one means something to you is to address them using their names when sending them emails.
One of the tools that can help you create beautiful and responsive emails is Poptin's autoresponder. 
By using various templates, adding emojis, brand images, as well as your subscribers' information, you will click with them faster and on a deeper level.
You can also send them a discount code and, which is another plus, do it all automatically.
Remember that you need to seem genuine, devoted, and you need to know them, so gathering personal information is also an important aspect.
There are a few small but important details that you can include in your customer loyalty program:
Sending "Welcome" or "Thank you" emails

Giving them special rewards on their birthdays, for example

Encouraging their feedback 

Being genuine

Providing what is promised
As you gain their trust, so will the relationship be built, and as they return to your business website over and over again, so will your revenue increase as a result.
You will be able to rely on them as they will on you, so it is essential to pay attention to this segment as it is also an integral part of running a business.
2. It helps you increase your sales and gets your business on a higher level
As you increase your customer retention, you will simultaneously work on your sales, and what is better for any business than increasing revenue, right?
When a customer is satisfied with your product and service, they will most likely come back and make many other purchases.
So, especially when you make a good offer, they get an instant urge to accept it as soon as possible in order to save some money and they look at it as a good investment.
Make your offer as attractive as possible, and even add some value with discounts, free courses, or similar.
Giving your customers points for certain purchases is also a good strategy, and that's exactly what Sephora did with their customer loyalty program: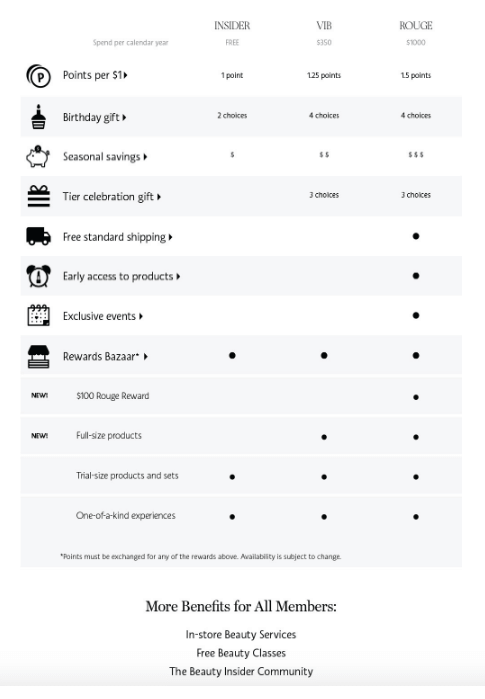 In this way, you get your business on a higher level by incorporating various benefits that will be very difficult for your customers to ignore.
It will increase your sales in an efficient way and create a continuous cycle of returning consumers to the "crime scene".
3. It also brings you new customers with the power of word-of-mouth
Which is more believable than the words of customers who have already tried a certain product and are satisfied too?
People often share their experiences, and the goal of your business, in addition to having regular customers, is to transfer their knowledge to some new ones.
Expanding your business is the ultimate goal, and your customer loyalty program offers exactly that by using the power of word-of-mouth.
According to statistics, word-of-mouth is the main factor for almost half of the decisions people make when it comes to making a purchase, so do not ignore this important business segment on any account.
When your loyal customers recommend some of your products to their friends, family, and similar, a circle of interested consumers who can become part of your permanent income automatically develops.
Customer referrals and a customer referral program are one of the biggest advantages when it comes to customer loyalty programs, so include them on your website, too.
A referral program is intended to encourage consumers to share their positive experiences with their friends and family, and Airbnb used it in the best possible way: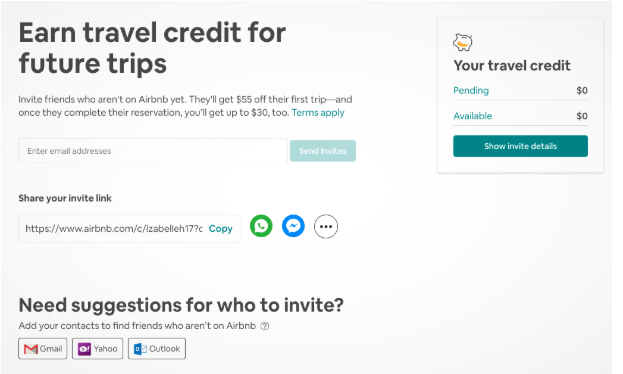 Everyone gets something, and everyone is satisfied.
There are several ways how you can generate word-of-mouth:
Encourage user-generated content using special hashtags, for example, to expand brand awareness

Share customer testimonials on your website

Harness the potential of social networks and work with influencers

Give your customers the opportunity to rate your products
A good recommendation is heard far and wide so be sure to pay attention to this benefit when incorporating this type of program.
4. It is cost-effective as new customers need to be invested in
As many claims, engaging already existing customers is both cheaper and easier for a business than seeking new ones.
So, having a strong customer loyalty program is extremely beneficial if your strategy is to dedicate yourself as much as possible to the customers you already have and then let them buy your products over and over again to generate revenue.
New customers need to be found first and then you need to gain their trust while old customers have already gone through that process and are now ready to invest their money without thinking twice.
By cutting costs for marketing, you can save while actively working to improve your business, too.
Statistics say that more than 80% of companies claim based on the practice that retaining customers is cheaper than acquiring new ones, and the numbers don't lie.
Retaining customers boost profits quickly, so this has become a logical choice for many business owners.
This of course doesn't mean that keeping your old customers' attention is an easy task. It certainly takes effort, but it pays off enough and it is a safe option.
To Sum Up 
For any type of business, there is one crucial thing in common and that is the fact that customers are the ones around whom everything revolves.
As a business owner, your job is to create a loyal customer base that will give you trust day in and day out.
It takes a lot of effort, time, but also money to constantly hold attention, and that is why having a strong customer loyalty program can only bring benefits.
You have to show your customers that you value them, and one way to do that is through personalized, automatic emails. 
With Poptin's autoresponder, you can address your customers by name or send them a coupon code and thus encourage them to make a purchase. 
Start building a strong customer loyalty program and take advantage of all the benefits it brings right now!