Suchen Sie nach OptinMonster-Alternativen? Dann sind Sie auf der richtigen Seite gelandet. Ich habe alle OptinMonster-Alternativen ausprobiert, und ich bin hier, um Ihnen die Zeit zu ersparen, die Sie für die Recherche benötigen.
Dieser Blog wurde speziell geschrieben, um Ihnen einen ungefilterten und ehrlichen Überblick über Optinmonster und seine Alternativen zu geben.
In diesem Blog werde ich Folgendes mitteilen:
Kriterien zur Auswahl eines Bleimagneten/einer Bleipopupe

Was Sie von OptinMonster bekommen können und was nicht

3 beste OptinMonster-Alternative
Zum Schluss werde ich die Vergleichstabelle weitergeben, die Ihnen weiterhilft und Ihnen Zeit spart.
Kriterien zur Auswahl eines Bleimagneten/einer Bleipopupe
You're choosing a lead magnet with the sole purpose of converting website visitors or engaging with them.
These are the criteria you should look at before choosing a lead magnet.
Es sollte

einfach zu bedienen.
Changing colors, sizing, and fonts

to match your brand should be quickly done with those popups.

When you're deciding on popup apps, do look at

mobile responsiveness.

Many popups apps are good with websites but not good with mobile responsiveness. 

Integrations with crucial

email marketing tools such as MailChimp, ConvertKit, Autopilot, etc.
Must-have features when you're choosing a lead magnet:

Exit-intent technology for the right triggers
Scroll & time-based technology to trigger at the right time
Advanced targeting tools such as:

Target by traffic source (search engines, social networks, etc.)
Anzeigen für neue oder wiederkehrende Besucher
Kontrolle der Häufigkeit der Anzeige für jeden Besucher
See full list of targeting features here.

Ready-made templates: Many people like ready-made nice, looking popup and form templates that could help them immediately put the popup live without designing. 
Different kinds of popups: Not all of those popups work similarly on each page. Hence, you need different kinds of popups, such as:

Leuchtkästen
Obere und untere Balken
Speziell für mobile Geräte entwickelte Poptins
Gamified popups (spin the wheel, scratch cards, and pick a gift pop ups)
Countdown-Popups
Vollbild-Overlays
Einschub

A/B Testing: Marketing isn't done well if you have not done A/B testing. It is a must-have feature for marketers to know which popup, copy, images, and messaging work

better.

Analytics:

You should be able to analyze and understand how different popups are performing based on different pages, triggers, and more. Without analytics, a popup app is incomplete.

Inline-Formulare:

Inline-Formulare sind eine subtile Möglichkeit, E-Mails anzufordern, ohne die Benutzerfreundlichkeit zu stören.
See the full list of Poptin features here.
Was Sie von OptinMonster bekommen und was Sie nicht bekommen können
OptinMonster ist ein großer Bleimagnet. Sie haben vor kurzem ihr UI mit Analysen aktualisiert. 
Mit OptinMonster können Sie diese erweiterten Funktionen genießen...
OptinMonster has exit-intent technology, geo-location targeting, a coupon wheel option, and an inactivity sensor. The best part is that you have sub-accounts and can host multiple websites under one. Also, it has Shopify, WordPress, and Google Tag Manager platform integrations.
...aber einige davon könnten Ihnen entgehen:
OptinMonster does not offer a free trial or free version, which most customers really want. Its custom branding/watermark can only be removed from its most expensive plan subscription. The basic plan doesn't include relevant features such as A/B testing, inline forms, location-based triggering, and device targeting.
In terms of pre-made templates, their page features mostly conventional designs that may not be suitable for those businesses looking for more versatile and creative templates. But what's nice about their editing platform is that you can freely utilize its diverse customization features. You just need to make a little effort to learn its interface on your own.
Moreover, OptinMonster's customer support often takes a while to respond and address a particular issue. This might be because they cater to several customers at a time, however, if you're an entrepreneur who doesn't have the luxury of time, this might not be the perfect fit.
If you can't afford to miss these key features, this article will give you OptinMonster Alternatives that you can try!
Poptin – The Smart Popup Tool (Free)
I've been using Poptin, and I'm pretty satisfied with it. Here are some reasons why:
Poptin-Feature-Übersicht
Schnittstelle: Für Nicht-Programmierer am einfachsten zu benutzen
Customer Support: They have a live chat, and my problems are resolved immediately.
Preisgestaltung: Für einige kostenlos, beginnt dann bei $19/Monat (der beste Teil)
Sie verfügen über alle Funktionen, die ich brauche, ohne die grundlegenden Merkmale wie A/B-Test, Inline-Formulare, ortsbezogene und Geräte-Triggerung zu beeinträchtigen.
Talking about the features, you can see all the features available in the free plan here.

Poptin has all the Integrations, such as:

MailChimp-Integration
Integration durch ständigen Kontakt
iContact-Integration
Hubspot-Integration
Nussschalen-Integration
Zapier-Integration
Poptin has more than 60+ integrations. More information on it is here 👉 Poptin Integrations
Warum ist Poptin eine bessere OptinMonster-Alternative?
Poptin is a user-friendly lead generation software that allows users to create visually appealing popups and forms. These opt-ins enable businesses to engage with more visitors, boost customer retention, rescue abandoned carts, improve email lists, and skyrocket sales.
Mit Hilfe der fortschrittlichen Funktionen von Poptin können Sie das Potenzial Ihrer Opt-ins maximieren und Ihre Konvertierungen schneller steigern.
Here are some of the top-of-the-mind points for you: 
Es ist einfacher und schneller zu benutzen

Es verfügt über mehr als 40 vollständig ansprechende Vorlagen

Poptin räumt der Kundenbetreuung Priorität ein

Poptin hat einen KOSTENLOSEN Plan

Poptin has all the essential features compared to OptinMonster

Ihre Benutzeroberfläche ist modern und intuitiv

Es hat verschiedene Vorlagen für jeden Zweck

Poptin unterstützt Vermarkter und digitale Agenturen

Sie können beliebig viele Domains hinzufügen
You can use a popup with Poptin without opt-in, too (OptinMonster does not let you do that). 
Accessibility – Poptin popups have auto-focus, accessibility aria tags, ready for screen readers,

etc.

Sie können die mobile Version anders behandeln als die Website-Version.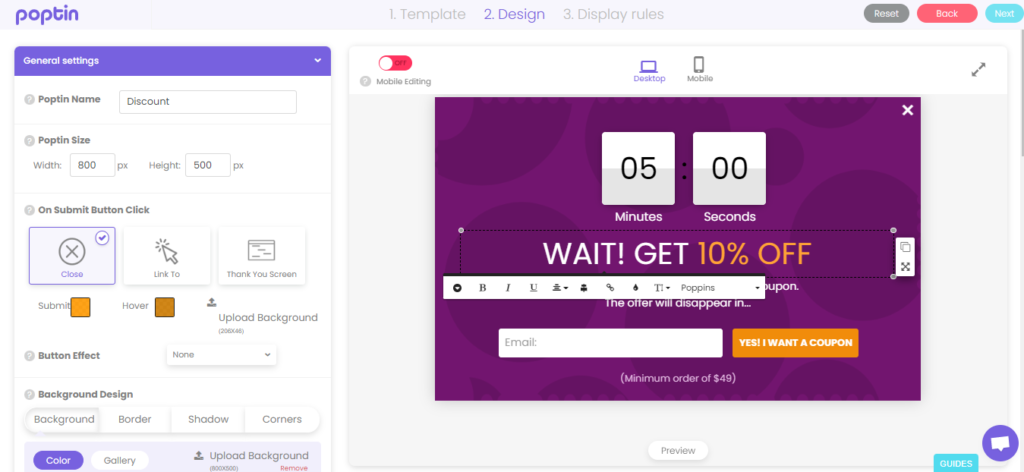 With these Poptin features, you can decide if this is the right time to try this alternative. I'll add a comparison table at the end to further help.
Meantime, if this convinces you, then try Poptin for free!
Sumo - Das Tool zum Aufbau von E-Mail-Listen (kostenlos)
Sumo ist wahrscheinlich so alt wie OptinMonster. 
Sumo is also very user-friendly and has good design flexibility. They divide popups based on goals and have manual mode offering granular control over form visibility.
Das Tolle an Sumo ist auch, dass man es kostenlos nutzen kann.
Click-trigger popup is fantastic because it waits for user behavior. I love that Sumo feature.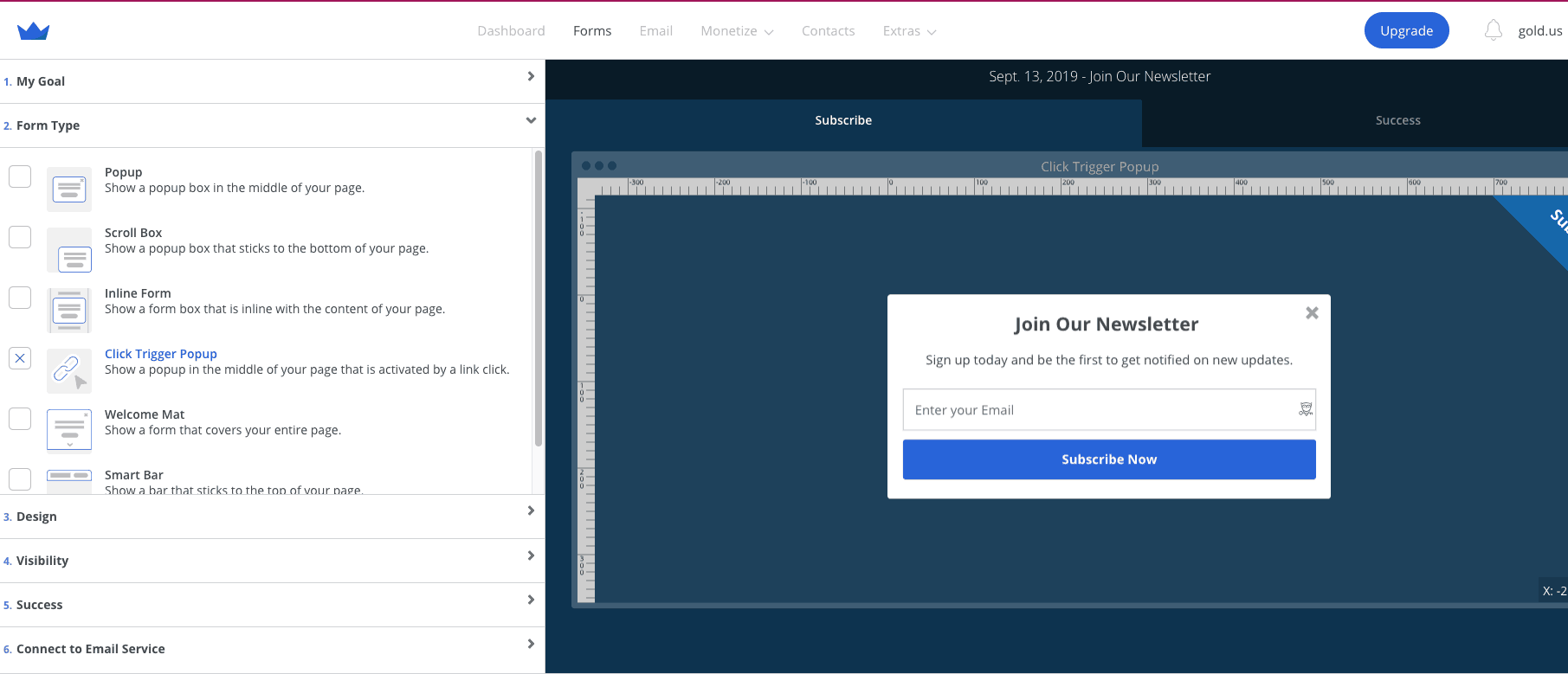 The focus on user behavior and activity type of features is excellent.
Die Grenzen des Sumo
How many integrations do they have in the free plan? Many features are unclear on their pricing, which you only understand once you subscribe.
The design editor takes a little time to understand, and only a few integrations are available in the free plan. You will quickly outgrow the free plan.
They call the "smart-mode" feature only exit intent, so advanced triggering is not available in the free plan. Also, the A/B testing kind of essential feature is not available in the free plan.
Sie haben einen besseren Kundensupport als OptinMonster.
Sie sollten Sumo if wählen:
Sie sind mit grundlegenden Integrationen einverstanden

Sie suchen die kostenlose oder billigere Alternative von OptinMonster

Sie brauchen keinen A/B-Test oder fortgeschrittenen Trigger (Poptin ist hier viel besser)

Barrierefreiheit und mobile Versionen haben keine Priorität 

Wenn Sie ein einfaches Tool mit verschiedenen Arten von Popups benötigen

Begrenzte Designs

If you want a simple tool that helps you with fundamental user triggers and support
Since Sumo uses the freemium model, you'll have access to all their tools, but there will be several restrictions, such as:
Höchstzahl von 200 Abonnenten

Eingeschränkte Vorlagen

Grundlegende E-Mail-Integrationen

Essential email support (no live support)

Grundlegende Besucherzielgruppen

Weniger Kontrolle über das Design
Some of the other cool features they have, such as Heatmap, image sharer & highlighter, and discovery app for me, are nice to have. 
Sumo is an excellent Optinmonster alternative. It's great for content marketing and list building.
Vielleicht hilft Ihnen das, eine bessere Alternative zu wählen.
If you're in eCommerce & Shopify, perhaps Vitals will help- Lightweight All-in-One with a Popups feature.
Sleeknote - Die Enterprise-Ready-Popup-Software
Sleeknote probably has the best website design of all. It's even more feature-rich and must have more integrations than OptinMonster.
Sleeknote gives you several use cases to use such kinds of popups like the image below:

Sleek is focused more on E-commerce Marketers. So, if you have a considerable number of visitors, look no further. Sleeknote is your answer.
Auch ihre Preisseite bestätigt dieselbe Annahme.
Why is Sleeknote a better alternative than OptinMonster?
 Hier sind einige der Gründe:
Sleeknote Leistungsvergleich & Zielverfolgung sind fortschrittliche Funktionen, die niemand hat

It has the most significant

amount of templates out there
Mehr anpassbare Vorlagen und Popup-Positionierung
Sie können Teaser und soziale Beweise zeigen
Es hat interaktive Elemente wie Auswahlknöpfe und Dropdowns
Es hat die meisten anpassbaren Elemente, die hinzugefügt werden können
It has the most significant

amount of triggering and segmenting features

Es hat die meisten Integrationen
You probably won't need that many features if you're a small business or an agency.
There's no freemium model, but you have 7 days trial for all features.
Es ist jedoch einer der besten Anwärter in Bezug auf die Eigenschaften als OptinMonster-Alternative.
Wie versprochen, soll Ihnen die folgende Tabelle einen Überblick geben.
Zusammenfassend
All the tools have different features, markets, personalities, and benefits. If you're considering an OptinMonster alternative, then here are the reasons why you should choose these tools:
Poptin: Ein kostenloses Tool, mit vielen Funktionen, über 40 Integrationen, dem besten Kundensupport und wunderschönen Vorlagen.

Sumo: A free tool with limited features and subscribers, easy to use, and basic integrations.

Sleeknote: Unternehmenssoftware für E-Commerce-Vermarkter mit allen möglichen Funktionen und Unternehmen mit hohem Website-Traffic.
If some way or the other, this article has convinced you to try Poptin – Give Poptin a Try. It's free, and your first 1000 views are on us.