5.No matter what kind of business you have, you definitely need good tools to make everything work smoothly and efficiently.
Wir wissen, dass Sie wahrscheinlich eine Menge verschiedener Informationen darüber gelesen haben, wie Marketing und SEO von großer Bedeutung sind und wie sie Ihre höchsten Prioritäten sein sollten.
Und das ist sicher wahr.
Aber die wirkliche Perspektive erhalten Sie nur, wenn Sie anfangen, ständig an ihrer Verbesserung zu arbeiten.
Yes, we understand that consistency may seem challenging and may consume a lot of energy, but with the right tools, nothing will be such a huge obligation.
Sie werden zu Echtzeit-Sparern und helfen Ihnen, wichtige Ziele zu erreichen, die Sie sich für Ihr Unternehmen gesetzt haben.
Lassen Sie uns Ihnen nun einige konkrete Marketing- und SEO-Tools vorstellen, die Sie sofort einsetzen können!
SEMrush ist eine Marketing- und SEO-Lösung, die mehr als 20 verschiedene Tools umfasst. Sie können Ihnen dabei helfen:
SEO

Vermarktung von Inhalten

Wettbewerbsorientierte Forschung

Werbung

Soziale Medien
Es richtet sich an Vermarkter und Unternehmen, die ihre Website auf die nächste Ebene bringen und ihre Verkäufe steigern möchten.
The SEO SEMrush toolkit includes a technical SEO audit that will help you to analyze your web presence and see what you should improve. It also includes position tracking, backlinks audit, and analytics. SEO toolkit can help you to see which tactics will provide you with better organic traffic.
Mit einem Social Media Toolkit können Sie die Strategien Ihrer größten Konkurrenten aufdecken. Mit dem Post-Booster können Sie Ihre Inhalte auf Facebook besser sichtbar machen. SEMrush spart Ihnen Zeit und ermöglicht es Ihnen, Ihre Posts auf bis zu fünf verschiedenen Social-Media-Kanälen zu planen.
Wenn Sie Inhalte erstellen, nutzen Sie das Content-Marketing-Toolkit, um herauszufinden, welche Themen für Ihr Zielpublikum am interessantesten sind, und setzen Sie es sofort im Vorfeld ein. Finden Sie heraus und analysieren Sie, wie Ihr Inhalt nach dem Verhalten Ihrer Besucher abgeschnitten hat, und sehen Sie, was verbessert werden muss.
Es ist wichtig zu erwähnen, dass SEMrush derzeit die größte Keyword-Basis auf dem Markt hat, und wenn Sie höhere SEO-Rankings erreichen wollen, ist dies etwas, das mit Sicherheit Ihre Aufmerksamkeit verdient.
Die wichtigsten Funktionen von SEMrush:
Organische Forschung

Werbeforschung

Stichwort Forschung

Verkehrsanalyse

Anzeigen zur Produktauflistung

Marktforscher

Rückverweise

SEO-Schreibassistent

Schaubilder

Social Media-Tracker

Plakat für soziale Medien

Inhaltsanalysator

PPC-Schlüsselwort-Tool
Preisgestaltung: SEMrush bietet drei Pläne und einen Enterprise-Plan auch für kundenspezifische Lösungen an. Sowohl PRO als auch GURU Plan können Sie kostenlos ausprobieren und sehen, ob es für Ihr Unternehmen funktioniert.
Auf dem Bild unten sehen Sie, welcher Plan speziell für wen bestimmt ist.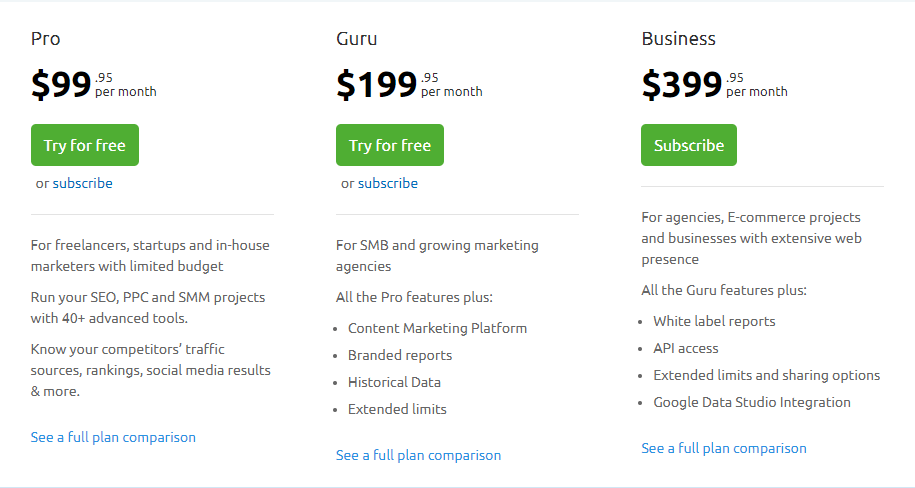 Ahrefs ist ein großartiges Instrument für die Backlink-Prospektion, die einer der wichtigsten Faktoren für SEO ist.
Und das Beste ist, dass Sie dieses Instrument nutzen können, egal ob Sie bereits ein Experte oder nur ein Anfänger sind.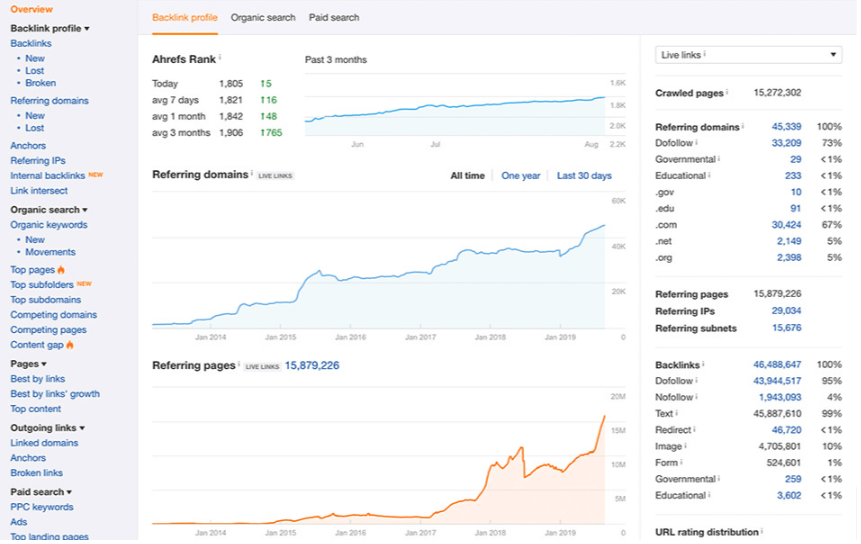 Wenn Sie das Backlink-Profil z. B. Ihrer Konkurrenten sehen möchten, brauchen Sie nur die URL einzugeben, und schon können Sie die Links und die Qualität des Backlink-Profils selbst sehen. Ahrefs hat einen wirklich schnellen Backlink-Crawler.
Wenn Sie die Backlink-Recherche benutzen, erhalten Sie die Listen und Einsichten von:
Rückverweise

Verweisende Domains

Gebrochene Backlinks

Anker

Verweisende IPs

Interne Rückverweise
Wie Sie sehen, können Sie mit Hilfe von Ahrefs mit viel weniger Zeitaufwand eine leistungsfähige Backlink-Strategie erstellen. Alles wird organisiert und in Form eines übersichtlichen Berichts dargestellt.
Mit diesem Tool werden Sie auch feststellen, welche Schlüsselwörter Ihr Wettbewerb verwendet.
Wenn Sie sich dafür entscheiden, Ahrefs für Ihr Unternehmen zu nutzen, können Sie Zugang zum Ahrefs Insider auf Facebook erhalten, einer geschlossenen Gruppe mit mehr als 10.000 Marketern.
Ihr Support-Team steht Ihnen für die Beantwortung Ihrer Fragen und die Lösung eventueller Probleme zur Verfügung.
Wichtigste Merkmale von Ahrefs:
Organische Verkehrsforschung

Rückverweis-Tracker

Bezahlte Verkehrsforschung

Stichwort-Explorer

Erweiterte SEO-Metriken

Analyse der Website

SERP-Optionen

Rang-Tracker

Inhalts-Explorer
Preisgestaltung: Ahrefs bietet vier verschiedene bezahlte Tarife zur Auswahl an. Für die ersten beiden können Sie eine 7-tägige Probezeit zum Preis von $7 ausprobieren.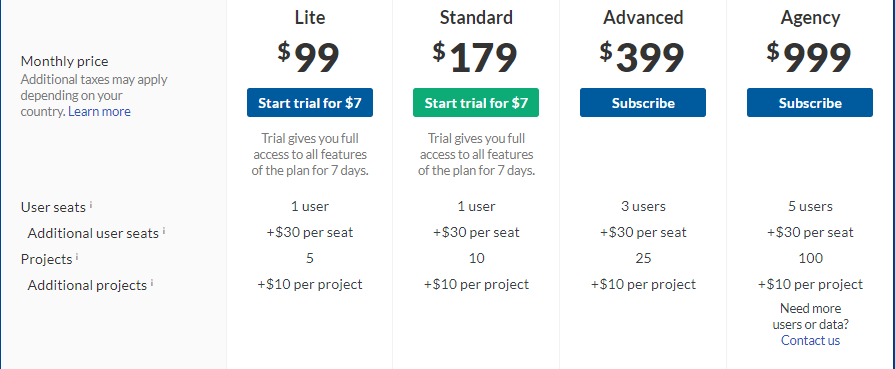 Moz is another marketing and SEO tool, and it is great when it comes to on-site SEO. You probably already know how important it is to optimize every element on your website for everything to work flawlessly.
Vor-Ort- oder On-Page-SEO ist ebenfalls entscheidend für eine benutzerfreundliche Erfahrung.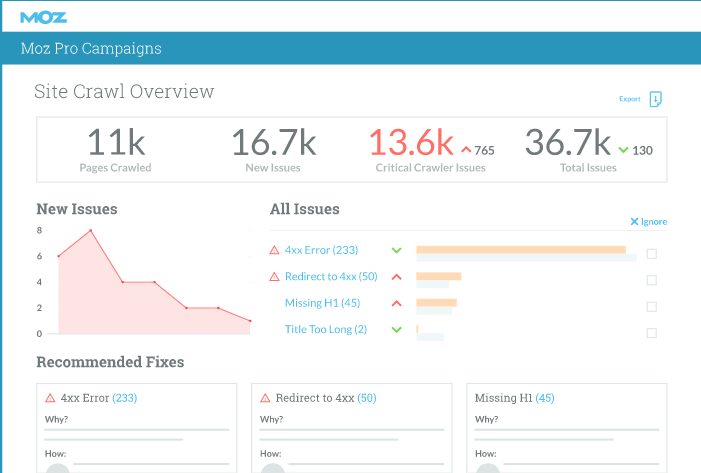 Moz has a clear and organized dashboard. It detects different issues, such as broken redirects and missing title tags. You will also be able to see how these issues affect your SEO.
After detecting specific issues, this tool sorts them by importance, so you know which one you should fix first.
No matter how big your website is, Moz can crawl it fast, thus saving you a lot of time.
Es durchsucht Ihre Website wöchentlich und meldet Ihnen alles, damit Sie es so schnell wie möglich lösen können.
You can use Moz for your website or if you manage the websites of your clients.
Die wichtigsten Merkmale von Moz:
Website-Crawler

Stichwort Forschung

Backlinks-Abfragen

Einseitige Grader-Berichte

Geplante Berichte
Pricing: Moz offers four different paid plans to choose which one suits your needs best.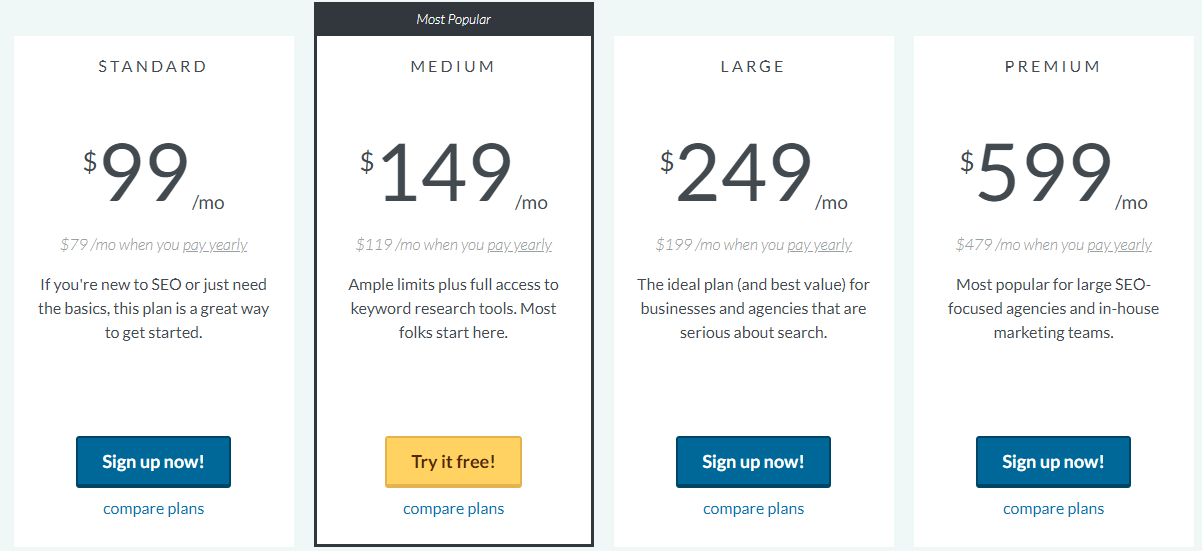 Poptin ist ein CRO-Tool, das für Conversion Rates Optimization steht.
Dieses Werkzeug beinhaltet:
Eingebettete Website-Formulare

Automatische E-Mails
Mit ansprechenden und effektiven Pop-ups und Formularen können Sie mehr Leads generieren, die später in echte Käufer umgewandelt werden können.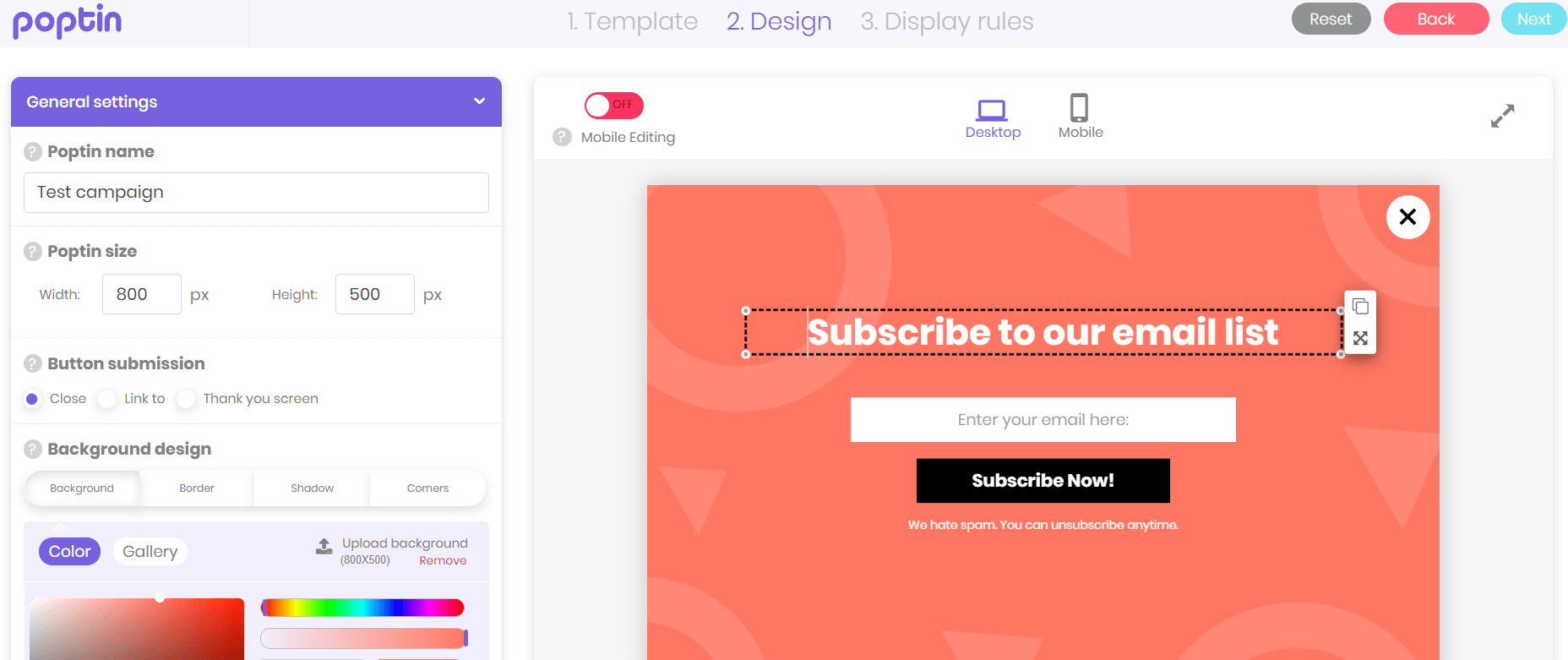 No matter which one you choose (or if you choose both), you will get access to a simple editor with tons of options for customization.

You can change background and text colors, add or remove different fields, change the size, add images, and more.
You have to pay attention to the fact that people access the Internet through mobile and desktop devices both, so it is essential to mention that every form and pop-up window you make through Poptin will be optimized for mobile and desktop.
The primary purpose of these forms is that you can add a CTA (click-to-action) button and encourage visitors to take action.
By using pop-up windows, you can show them some excellent and irresistible offers so that they would leave their contact without hesitation.
You can offer them webinars, courses, e-books, or access to your weekly newsletter to stay in contact with your future buyers.
When you start communicating with them through email campaigns, you are building brand awareness and gaining their trust. Valuable content keeps them interested and builds your credibility regarding your target audience.
Of course, you can use these windows to offer them a discount or free shipping or remind them to pay attention to some current sales, also.
You don't need designer or developer experience to use and make pop-ups and other forms for your website.
You can create your first pop-up in just a couple of minutes. This marketing tool has an easy-to-use drag-and-drop editor.
And, if you want to make different types of pop-ups, you can choose between slide-in pop-ups, countdown boxes, screen overlays, and more formats.
You can rapidly increase your conversion rates using effective windows that engage with your visitors.
Die wichtigsten Poptin-Merkmale:
Drag und Drop-Editor

Hoher Grad der Anpassung

Erweiterte Targeting-Optionen

Erweiterte Auslöseoptionen

Intelligente Ausstiegstechnologie

A/B-Prüfung

Analytik

Integrationen
Preisgestaltung: Poptin bietet einen kostenlosen Plan und drei kostenpflichtige Pläne an. Basierend auf den verschiedenen Merkmalen, die sie beinhalten, können Sie die beste Lösung für Sie und Ihr Unternehmen wählen.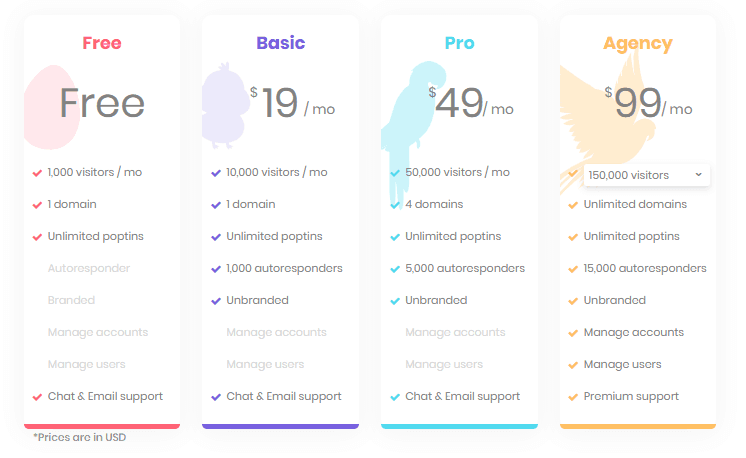 JetOctopus is a visual SEO toolkit about making technical SEO for large websites easy and data-driven. Whether you're new to SEO or a seasoned specialist, JetOctopus is intuitive enough to help you track and improve your enterprise website's SEO health (crawling, indexation, logs analysis, etc.).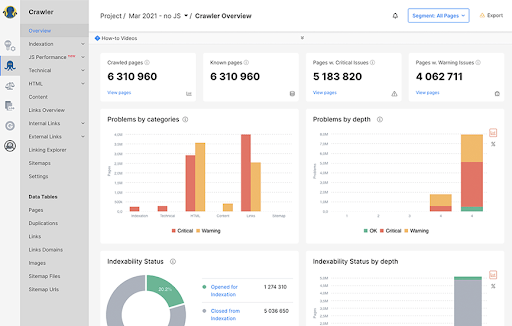 It gives you a big picture of your website's SEO issues — duplicate content, 404 errors, keyword cannibalization, wasted crawl budget, etc. — with actionable visuals so you can prioritize and tackle the best optimization opportunities first.
You can create segments, compare crawls, monitor live logs, identify fake bots, optimize your crawl budget, improve your site's indexation, and so much more with the JetOctopus toolkit.
Most important JetOctopus features:
Crawler (with speeds at up to 250 pages per second)

Log Analyzer

GSC Keywords

Content analysis

Google Search Console integration
Pricing: The Crawler tool starts at $30 per month to crawl 100K pages monthly, while the Log Analyzer tool starts at $60 monthly to log up to 100K pages monthly. The GSC Keywords tool starts at $60 per month, too.
You can buy each SEO module individually or opt for the All-Inclusive bundle (at $120 per month) which includes all these tools plus training calls, onboarding, and support.
So JetOctopus is one of the fastest and most affordable site crawlers and logs analyzer toolkits that you can try with their 7-day free trial.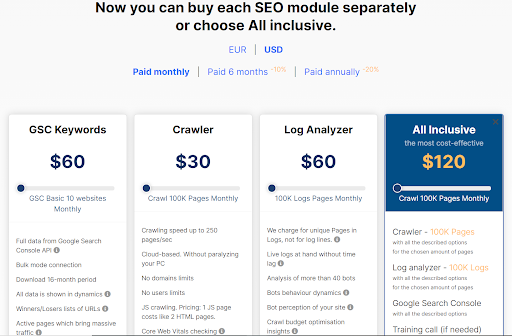 Das Fazit
Marketing and SEO are very challenging parts of running any type of business. But when you become aware of how useful they can be, you know there is no substitution for them.
No matter if you decide to run them on your own or hire teams that would be responsible for marketing and SEO, it is always important to find the easiest but equally effective ways to use their full potential.
Fortunately, as you can see, unique tools like SEO in Glasgow are more available than ever anywhere you are, and they have proven to be very powerful when it comes to dealing with everyday problems, but also time-efficient.
Moreover, as an alternative,  check out Style Factory's in-depth review of Growthbar, which has a bit of a different approach to SEO.
With the right SEO tools, you can build great backlinking strategies, reveal your competitors' techniques, find out every error on your own website or your clients' websites, and improve conversion rates rapidly.
Können Sie sich überhaupt vorstellen, was Sie mit ansprechenden Pop-up-Fenstern und Website-Formularen machen können?
People need incentives to make a decision, and if you use Poptin, you can show them the privileges that you offer and encourage them to take action right away.
Don't allow yourself to miss out on something so important. Try using these tools, and watch how your conversion rates rise!
P.S. If you're looking for link tracking for digital marketing, you can always try Rebrandly URL Shortener to see its effectiveness.