Browsing the internet may sometimes feel impersonal.
Trying to give the website a personal approach to curb this isolation can have rewarding benefits.
You'll experience much healthier conversions.
A live chat on a website can crank up personal touch a notch higher.
What Makes a Great Live Chat App?
Live chat apps should be fast, convenient, and efficient. It allows website owners to provide excellent customer service by resolving clients' problems instantly. Moreover, you'll be able to have more conversions since the WordPress chat plugin allows you to respond to sales inquiries on time. 
It will remove buyer friction and offer a reassuring human presence until your customers can chunk out their wallets.
Additionally, free chat on website is geared to offer everyone in the picture something really easy to use. It should allow easy integration with your website, depending on your needs.
Best Live Chats for Sales and Customer Support Teams
Live chats have changed the game in customer support service by improving customer experience, growing customer retention, and driving sales. It is a new way of supporting and engaging customers.
Here's a list of the best chat for websites plugins:
This is the best messaging live chat for your website at low cost and effort. It brings the best of social media to your website. Whether it's on WhatsApp, Facebook, or Viber, Chaty helps you to be easily available to your customers.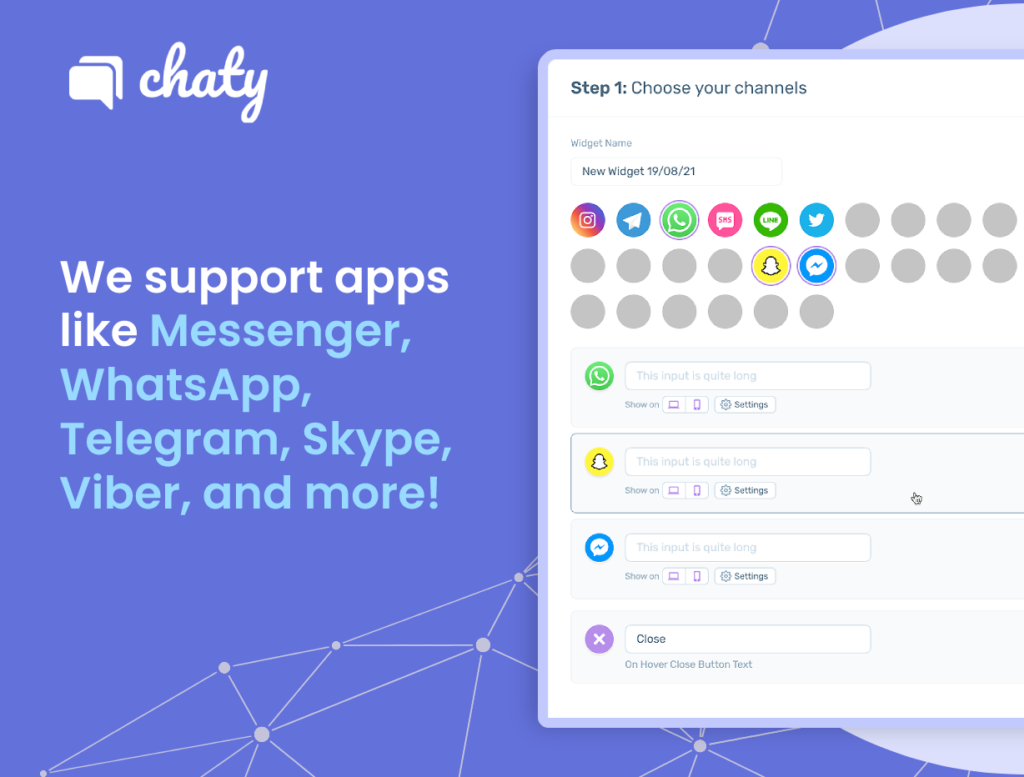 Moreover, this WhatsApp WordPress plugin allows conversion to flow easily. There's no restriction as to whom customers wish to talk to. Chaty allows you to choose an unlimited number of customer channels with just a click of a job.
It also comes with many targeting and triggering features to fine-tune the behavior you want to expect from a live chat. Chaty can allow you to show specific dates or trigger the software on exit intent.
Additionally, Chaty does not just support you; it also helps you to build quality relationships with your customers.
The platform provides direct chats for Facebook messenger, WeChat, Telegram, WhatsApp, Email, Phone, Skype, Instagram, and many more. You'll have a chance to engage your customers on their preferred platform. It has a basic and a premium option.
The chart works out of the box. It incorporates the best coding convention. You'll not have to worry about compatibility since the software is compatible with all websites once you load a single JavaScript file.
Furthermore, you'll be able to track open channels, traffic sources, clicks, and page sources with Chaty's Google Analytics integration – Making data-driven decisions much simpler.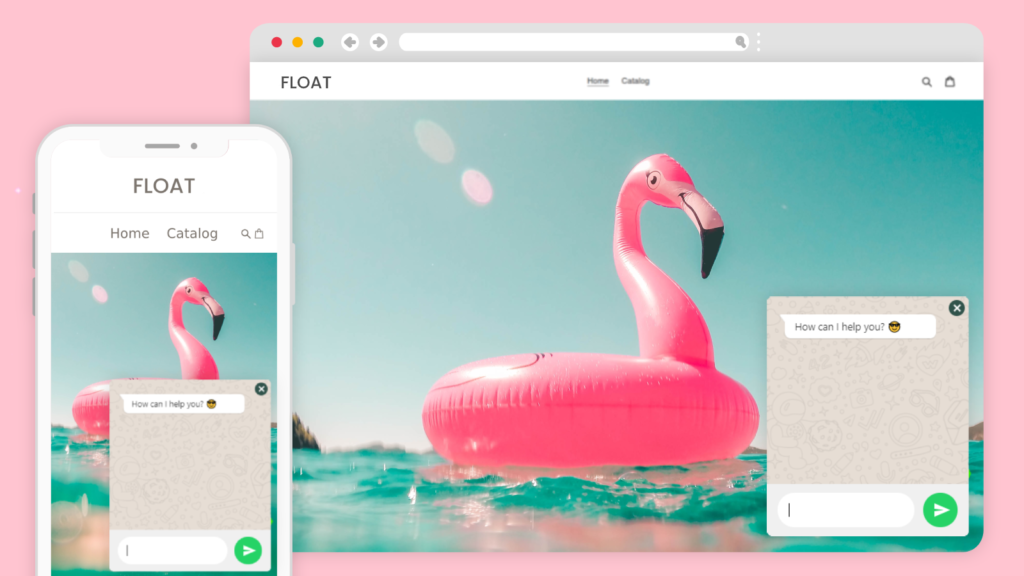 Pricing: Chaty has a yearly subscription of $39, which is the basic option. You can upgrade to other licenses that have different price lists and packages. It also has a 30-day money-back guarantee if you don't like what's in store.
Merkmale 
Seamless integration with any website 
Limitless customization for each element 
20+ social apps and custom channels 
The installation process is quick via JavaScript 
Pros
Frictionless communication 
Supports custom channels 
Great and customizable UI
Customizable preset WhatsApp messages 
It has many triggers and targeting features 
Tracking metrics through Google analytics
Works out of the box 
Cons
2. LiveChat
This is a messenger WordPress plugin for websites with many unique features for its LiveChat service. It can easily integrate most customer relationship management, just like Zendesk.
The free chatting plugin is suitable for e-commerce stores looking for a CRM solution apart from live chat capabilities.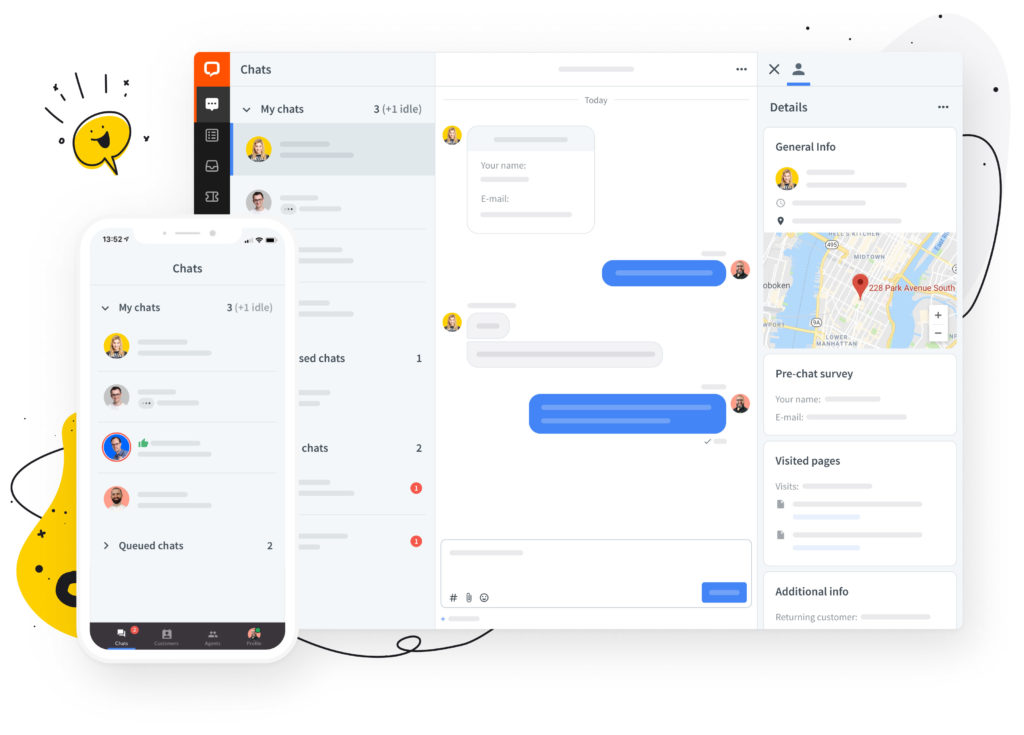 Pricing: LiveChat has a 14-day free trial and a $16 monthly subscription.
Merkmale
Real-time view of customer's cart 
Send product cards in the live chat widget 
Customer information packaged with customer insight
It has 170+ integrations
Offers data security, analytics, and multiple channel capabilities 
Pros
The LiveChat window loads fast and is easy to use
User-friendly software interface 
Cons 
LiveChat is not regarded as a Shopify chat plugin since it acts as a CRM. 
3. LiveChat by Formilla
It has both free and premium options for the Shopify chat plugin. Formilla LiveChat allows you to chat with your visitors live, answering their queries in real-time.
If you want to connect with customers while browsing your site, LiveChat by Formilla is the best live chat app to go for.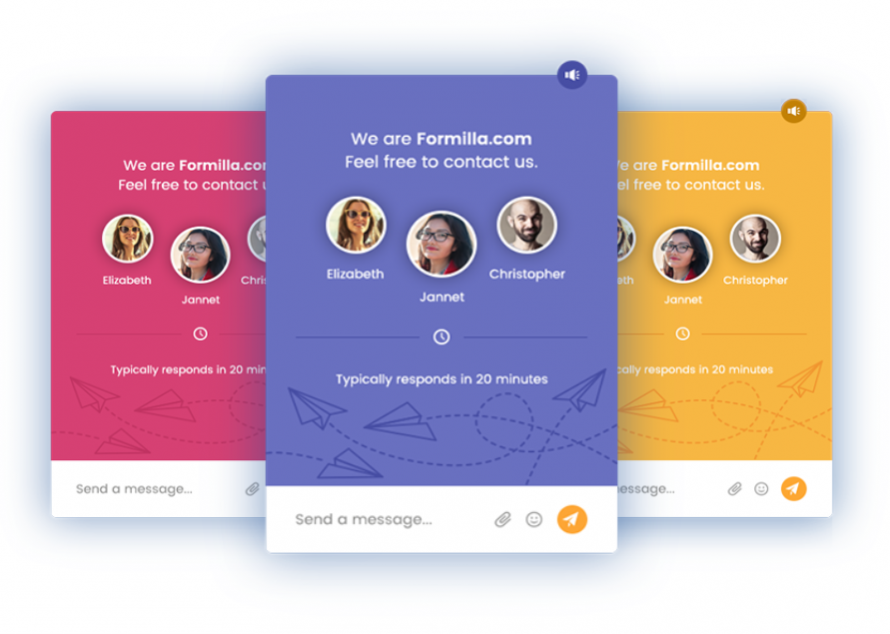 Pricing: Formilla LiveChat has a free 15-day trial and a monthly subscription of $17.49.
Merkmale 
Identify the number of website visitors and starts a conversation with them
It has a helper bot that responds to questions automatically 
Customize text for live chat button, offline email form, and chat form
Ensures proactive chats to trigger live chats with visitors automatically
Pros 
Simple and easy to use
Connects with customers quickly 
Cons
Many features are only available on the premium option
No rules and automation
4. JivoChat
This business messenger allows the team to talk to customers in all spaces like chat, email, phone, and social media. The platform has CRM that allows you to follow up and convert leads to sales. It, however, does not have automation features.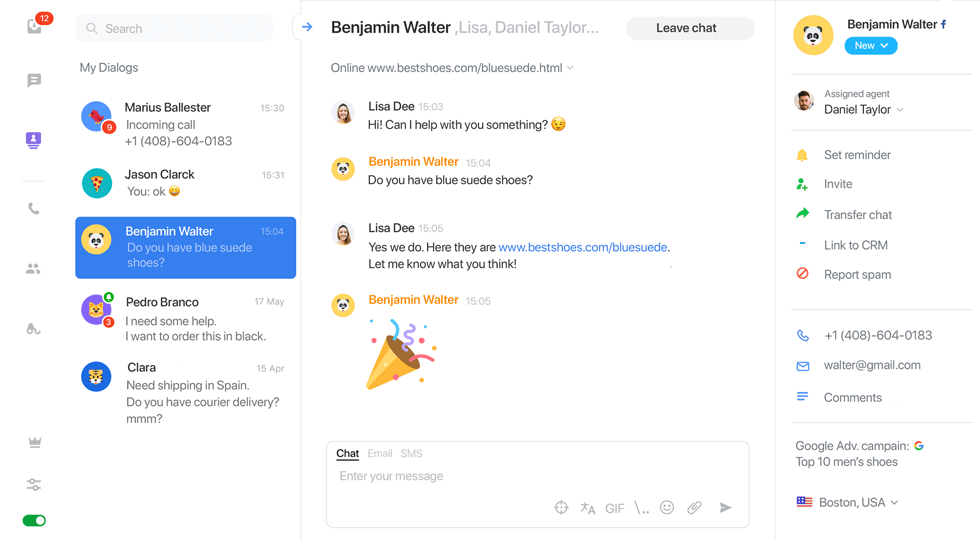 Pricing: JivoChat has a monthly subscription of $8 per agent. It also has a 14-day free trial.
Merkmale 
Follow up with visitors and chat with them in real-time 
See visitors' typed messages before they hit send 
Transfer and allow agents to join in a live chat with customers 
Support canned responses
Pros
The free version is forever supported 
Affordable prices
Cons
5. Task.To LiveChat
Task.To LiveChat is the agent-centric route chat application for E-commerce stores. It is absolutely free and gives various unique features like no limit to the number of chat volumes, agents, and sites to which you can add widgets.
Pricing: Absolutely free
Merkmale 
Fire transfers 
JavaScript API
Desktop notifications
Agent messaging, screen sharing 
Video and voice 
Unlimited history 
Pros
Free live chat
Easy setup 
Available on macOS, web browser, Android, and iOS
Cons
Many features that make it not user friendly 
Must pay a fee to remove the 'Powered by Tawk.To Branding' watermark.
Customer support is not always supportive 
6. PureChat
This is another live chat for an E-commerce shop. It solely focuses on live chat alone, so if you wish to have additional services like CRM across channels, this may not be a suitable option. PureChat supports two plans, namely Growth and Pro.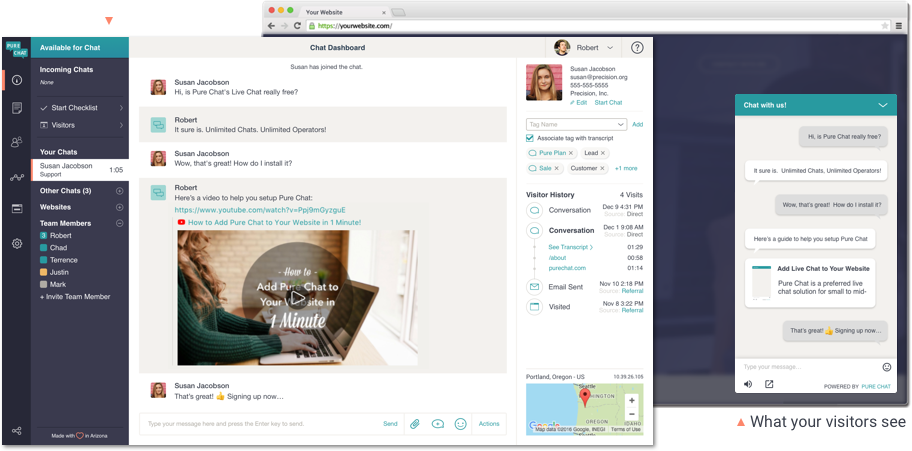 The Pro plans offer you 1000 SMS notifications, 10 agents, and unlimited websites, plus the option of removing Pure Chat branding.
Pricing: PureChat has a monthly subscription of $49 and a 30-day free trial.
Merkmale 
Superior widget customization 
Unlimited chats
Security roles 
Chat notifications 
File transfers 
Pros
Features are all the same in Growth and Pro plan
Extensive integration
You can customize the chat widget according to your liking. 
Cons
Technical issues can occur when installing the app.
7. Tidio Live Chat 
Tidio live chat is suitable for E-commerce shops and will merge automation, live chats, plus bots to give you a comprehensive live chat app experience. It's just right for people looking for tons of automation for customer support and marketing.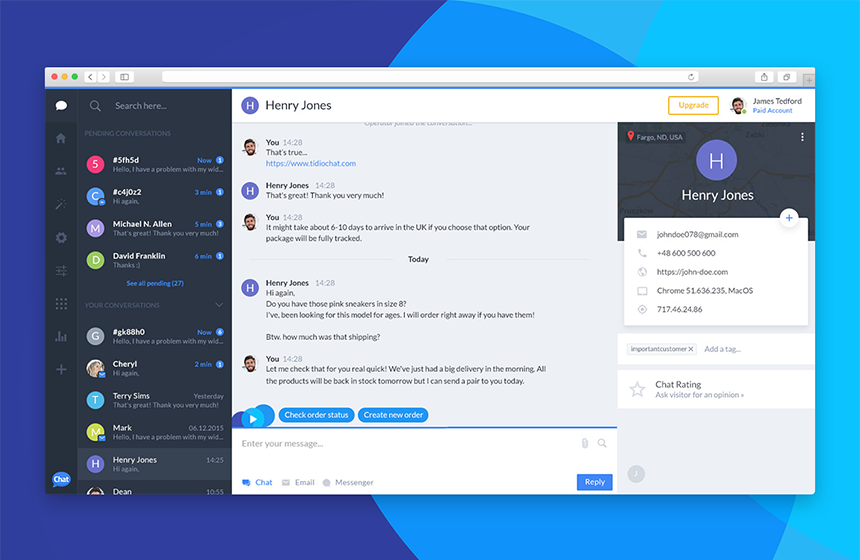 Pricing: Tidio live chat has a monthly subscription of $39 and a free plan.
Merkmale 
24/7 customer support with chatbots
Has Abandoned Cart Bot that reduces Cart Abandonment rate
You can design the live chat widget the way you want it
Customizing live chat to fit your brand
You can monitor results and automate chats with AI.
Pros
Clean user interface 
Multiple bots and automation templates 
Supports various languages 
Widget customization options 
Cons
Pricing is a bit on the high end for Shopify merchants.
8. SmartsUpp
SmartsUpp is an excellent chat plugin for website that offers omnichannel support to boost conversion and drive sales. It has cool, unique features like built-in video recording features.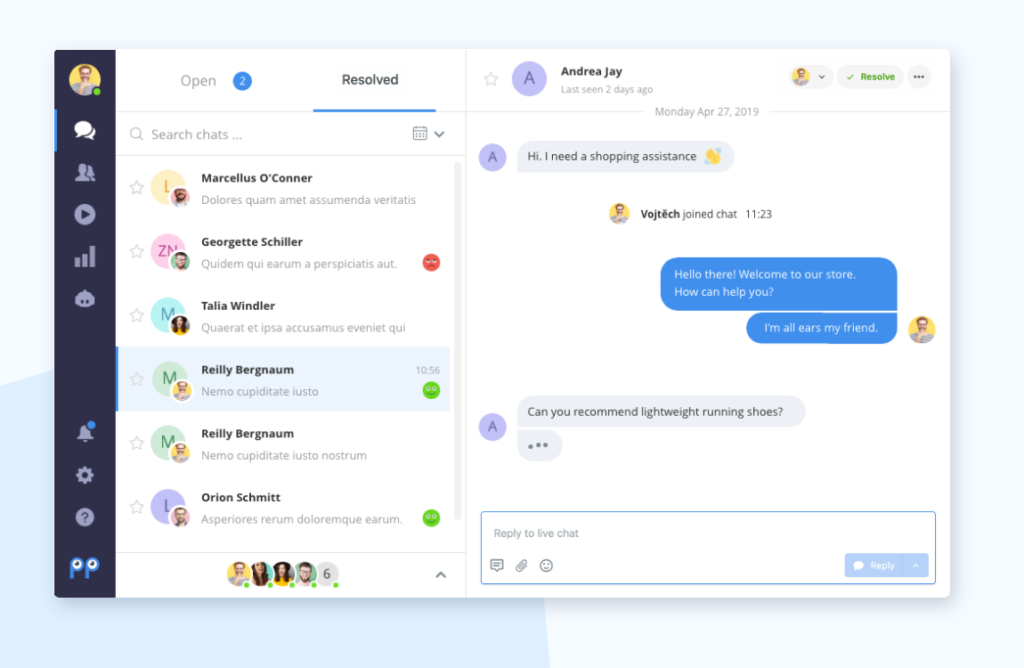 Pricing: 
Free plan- three agents
Standard plan – $15 for three agents a month
Pro plan- $29 per month 
Merkmale 
Automated messages you can personalize and send visitors 
Excellent integration 
Built-in video recording feature to track visitor actions on the website 
Chatbots to engage customers 
Pros
Affordable plans
User-friendly interface 
Cons
9. Crisp Live Chat
The free live chat is a one-stop-shop solution for all your customer support needs. It has a chat button below which is a shared box that allows you to access all messages from all platforms.
Crisp live chat is suitable for your business. You can retarget leads and convert them into customers.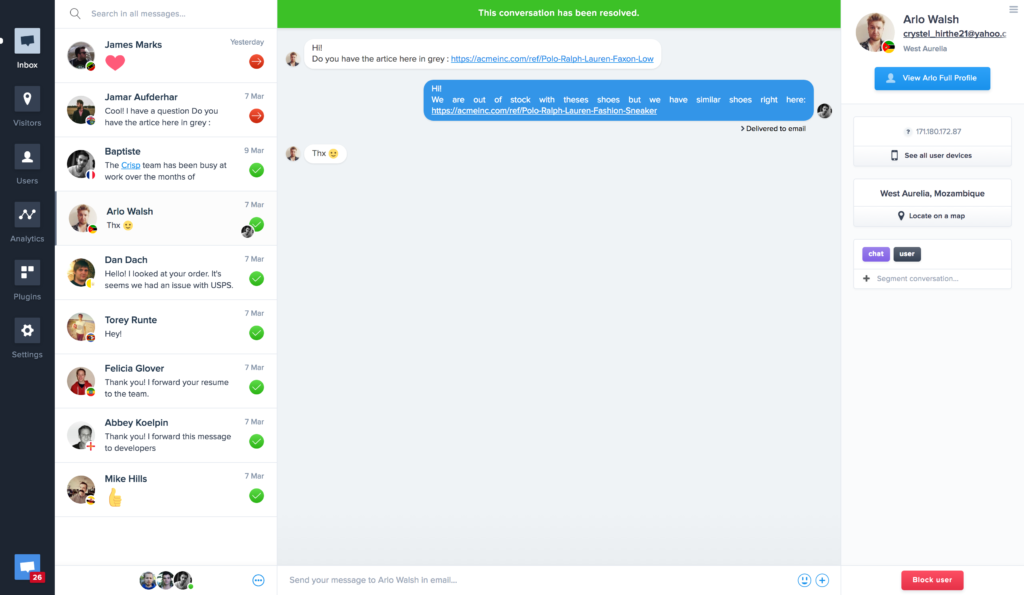 Pricing: Crisp Live Chat has different plans you can enjoy today:
Free plan- it includes two seats
Pro plan- $25 per month for one website; it includes four seats
Unlimited plan- $95 per month for one website, has unlimited seats
Merkmale 
Gives users a superior experience with GIF, audio, and video 
Has live chat tools for customer engagement 
Incoming messages can be routed to the respective personnel to secure the deal.
Has chatbot to automatically reply to customer questions 
Integrations with third-party apps like Poptin to create Crisp pop ups
Pros
It can integrate with your CRM to experience the best automation.
Cons
Many nice features are only available on the unlimited plan.
10. 3CX Live Chat
This is another WhatsApp plugin for website to go for. It is absolutely free, how cool is that? 3CX live chat has a number of chat button features that you are sure to enjoy.
A good example is that your agents can use a mobile app to answer customers' questions on the go. You can customize your platform to meet and match your website brand. 

Pricing: it's absolutely free
Merkmale 
Customizable tools to help personalize your messages to visitors 
Has chat button options
Chatbots that auto-reply questions from visitors
Allows your agents to share files with customers 
Pros
It's absolutely free
Customizable features that allow you to personalize your messages 
Automated chatbot for superior customer service experience 
Cons
Many features make its interface hard to explore 
11. HubSpot Live Chat 
It is a marketing platform that offers live functionality and a chatbot builder. You can customize the design to fit your website brand.
Moreover, you can also create an automated chatbot with no code, plus it gives you a chance to integrate customer data in the HubSpot live chat seamlessly.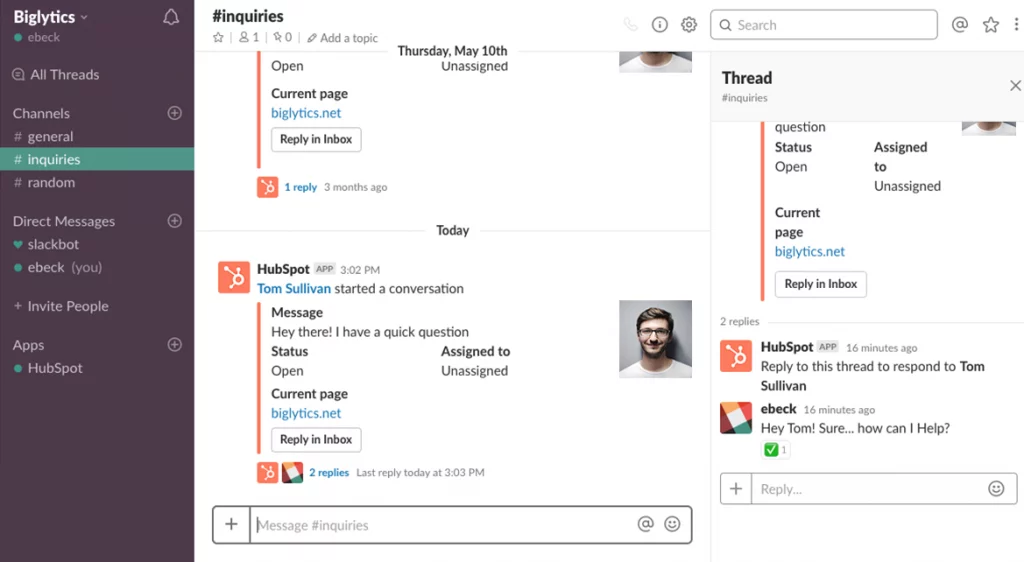 Pricing: HubSpot gives Chatbot builder as part of its sales plan. You can start with a free chatbot plan. If you want to access more automation tools, you must pay for the upgraded version. The upgraded version goes for $45 per month.
Merkmale 
Personalization features to customize the website chat experience. 
Has email marketing automation 
Sales CRM
Landing pages and many more powerful features 
Pros
It offers multi-channel communication with customers through live chat, email automation, and an email ticketing system. 
Suitable for small businesses and large businesses alike
Cons 
Its plan price can quickly increase. 
Pro Tip:
When looking for a suitable messenger plugin for WordPress, it's important to consider the following tips to ensure you find the best live chat that will meet your needs:
The messenger plugin for website you go for will depend on your business's size, industry, and particular needs. If you wish to get a live chat for customer support purposes, you can go for a live chat that consists of co-browsing and screen sharing options as you can easily resolve customer issues.
If you're looking to get software for sales needs, opt for live chat software that includes lead qualifications and CRM integrations to help visitors move along the sales process. An excellent live chat has the following attributes:
Automated responses for answering questions 
A chat widget that visitors can minimize 
Berichterstattung und Analytik 
Knowledge base integrations 
Final Thoughts!
Chaty is the best software app to go for because it checks all the boxes of the best live chat. Whether you need the software for customer support or sale purposes, Chaty helps you engage with visitors in real-time. Moreover, the platform will also answer questions and resolve customer issues. 
The ability to engage with customers instantly will help increase customer satisfaction and help your business scale up while maintaining a high level of service.
If you're looking for the best WordPress chat plugin for your website, look no further than Chaty. Reach out to Chaty now for more information and queries. Sign up here!