There are numerous ways to get a higher number of sales, but the point is to find those most effective ones.
Pop ups are a great way to achieve this because you can use them for direct sales as well as to collect emails for your mailing campaign.
They offer different opportunities and make your website user-friendly.
To create these effective windows, you can use innovative tools that will help you to make amazing high-converting windows for less time and money than you would need to hire a whole team of designers and developers.
One of these tools is Popup Builder, but in this article, you will find three more tools that are its alternatives.
You will see the advantages, disadvantages, and pricing methods for each alternative to Popup Builder mentioned below.

Popup Builder: Overview
Popup Builder is a tool for creating pop ups that can help you grow your conversion rates.
It is a responsive WordPress tool with many different features.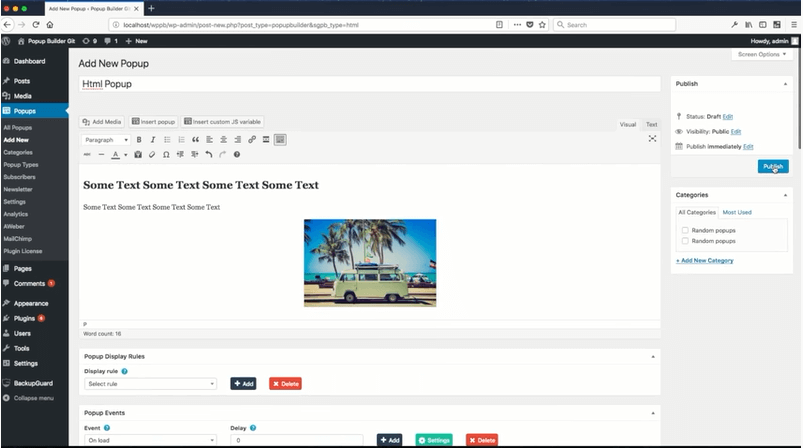 You can choose between several themes, and also customize your pop ups, add animation effects, and more.
Popup Builder has a plugin that allows you to include any type of content into your pop up window.
Angebotene Funktionen:
Anpassungsoptionen

Different types of pop ups

Scheduling pop ups

Animation effects

Integrations and 3rd party supported plugins
Pros and cons of Popup Builder
In order to get a better analysis, here are the good and not-so-good sides of using Popup Builder.
Was sind die Vorteile?
You can set up a repetitive pop-up that will appear after a certain amount of time.
If you don't want your pop up to be shown on mobile devices, you can simply turn it off.
Popup Builder includes an autoresponder, so you can send e-mails to your new subscribers as soon as they leave their contacts.
It is compatible with WPML, Visual Composer, and Divi.
Was sind die Nachteile?
When using Popup Builder, there can be certain plugins which may affect the process of making a pop up. Each feature is paid for individually.
You may have to wait a little longer to get the answer from customer support.
Popup Builder's ratings
This is how Popup Builder has shown its capabilities based on the following criteria:
Leichte Bedienbarkeit: 4
Anpassungsgrad: 4
Visuelle Attraktivität: 4
Merkmale: 4
Integrationen: 5
Kundenbetreuung: 4
Preisgestaltung: 4
Insgesamt: 4,1/5
Pop Up Builder Alternatives
Poptin is a tool that combines important marketing items:
Einbinden von Pop-ups

Eingebettete Formulare

Automatic e-mails

Poptin offers a comprehensive builder packed with amazing features to achieve the highest potential of these lead capture elements.
With Poptin's builder, you can create beautiful designs, customize readymade templates, and even personalize your triggers and targeting rules for a more efficient strategy.
In order to make beautiful pop ups, you will use a simple drag and drop editor with various customization options.
On the left side, there are customization options for choosing colors, background design, sizes, button submission, and more.
There's also a part where you can add extra elements to make your design more effective.
Such elements include the following: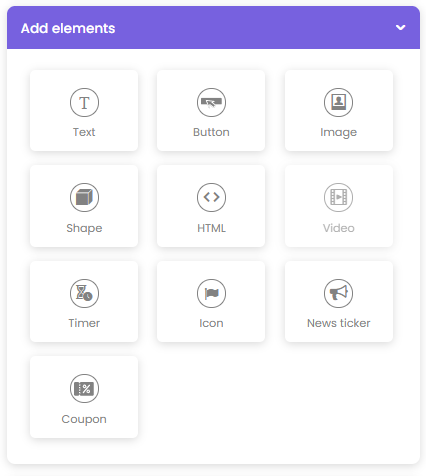 As you can see, there's a countdown timer that allows you to effectively elicit a sense of urgency to customers. Adding a timer is one of the surefire ways to convert faster.
Another one is the presence of a coupon code. Integrating a coupon code to your design makes it a lot easier for customers to copy-paste and apply your offering.
Other elements are icons, images, and videos that would make your pop up design more visual and attention-grabbing.
Two icons allow you to see a preview of your pop up on both desktop and mobile devices.
You can choose between many pop up windows:
Leuchtkästen

Schwimmende Stäbe

Vollbild-Overlays

Einschiebbare Pop-ups

Große Seitenleisten

Countdown-Pop-ups

Soziale Widgets

Obere und untere Balken
Each of them can be designed according to your needs and shown to the specific target audience whenever you choose.
Angebotene Funktionen:
Drag & Drop-Editor

High level of customization options

Erweiterte Auslöseoptionen

Erweiterte Targeting-Optionen

In-depth statistics

Different types of popups

A/B-Prüfung

Kunden-Support

Wissensbasis

Integrationen
Vorteile von Poptin
You don't need to be a designer or developer to use the maximum potential of Poptin. Creating and designing is simple and it only takes a couple of minutes.
Poptin offers more than 50 native integrations and is constantly adding new ones.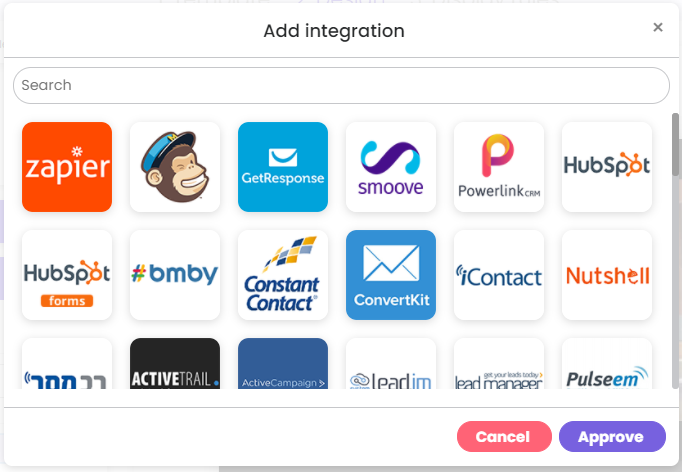 You can see the full list of integrations and platforms for Poptin here.
Besides advanced targeting options, it includes cookie targeting, Javascript targeting, and title tag targeting.
Another advantage of Poptin that its users always say is its fast and reliable customer support.
When you encounter a problem, all you have to do is to click the chat button on the bottom right corner of the interface. This way, you'll have the ability to chat with a real person, not AI chatbots.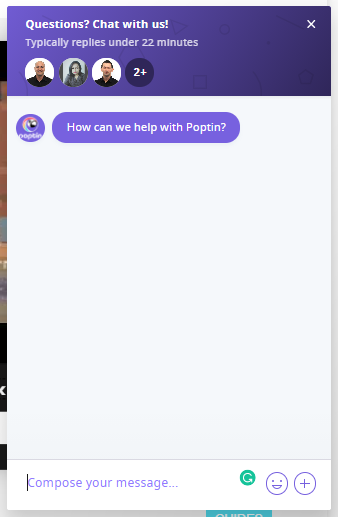 Nachteile von Poptin
Poptin is constantly working on new updates, so it can happen to freeze. When you refresh the page, this problem will be gone.
Poptin's Preisgestaltung
Poptin has a free package and Basic, Pro, and Agency package. If you subscribe to the annual subscription, you can save 20%.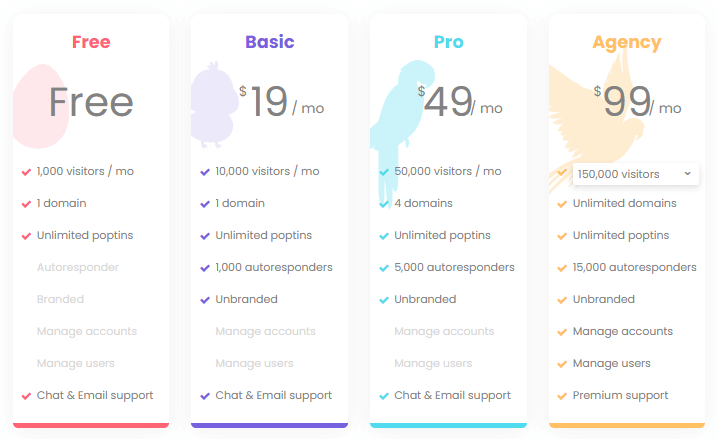 Why is the Poptin an amazing alternative to PopUp Builder?
Poptin offers amazing features to make you pop ups engaging and interesting for your visitors.
If you have a dilemma which pop up to choose, you can do A/B testing and find out which one has the best performance.
Besides native integrations, Poptin has more than 1500 integrations via Zapier and MailChimp.
To reach out to customer support you can use the phone, e-mail, or chat. All the paid plans include priority customer support.
Poptin's ratings 
Based on certain criteria, here are the ratings:
Leichte Bedienbarkeit: 4
Anpassungsgrad: 5
Visuelle Attraktivität: 5
Merkmale: 5
Integrationen: 5
Kundenbetreuung: 5
Preisgestaltung: 5
Insgesamt: 4,9/5
Sumo
If you're running a small or mid-sized eCommerce business, Sumo is a great option for you.
Sumo can help you to get more e-mail addresses and run your e-mail campaign more effectively.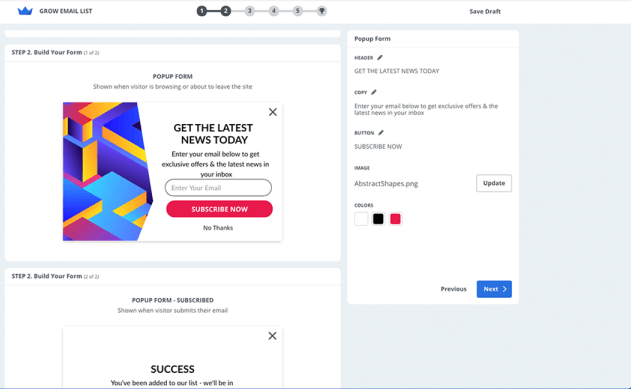 On the right side, there are different options for customizing your popup windows. You can simultaneously create different forms as you can see in the example above.
Edit headers, copy, choose button, color, and elements with just a couple of clicks.
Angebotene Funktionen:
Herausgeber

Anpassungsoptionen

Zielorientierte Optionen

Analytik

Integrationen
Advantages of Sumo
Sumo is easy to use and the editor itself is pretty simple to understand, too.
This alternative to Popup Builder has some of the most important integrations such as one with the MailChimp, Klaviyo, and more.
It has plugins for WordPress, Google Tag Manager, and Shopify.
For eCommerce businesses, there are templates that are specially intended for this kind of business purpose.
Disadvantages of Sumo
There can be some errors from time to time while working with Sumo.
Analytics is generally a very important part of pop-up tools, but Sumo's analytics is not as in-depth as it should be.
Sumo's pricing
Sumo has a really simple pricing method as you can see in the table below:

Why is Sumo an interesting alternative to PopUp Builder?
Sumo helps you to create effective e-mail forms in order to get more subscribers that can later become your customers.
To set up Sumo you need only a minute, and it is definitely a time-saver tool.
There are many useful eCommerce features for reducing cart abandonment, increasing average order value, discount codes, and more.
A paid plan includes advanced e-mail integrations.

Sumo's ratings 
Here are Sumo's ratings:
Leichte Bedienbarkeit: 5
Anpassungsgrad: 5
Visuelle Attraktivität: 5
Merkmale: 5
Integrationen: 4
Kundenbetreuung: 4
Preisgestaltung: 4
Insgesamt: 4,6/5
OptinMonster
OptinMonster is definitely one of the most popular pop-up tools in the market.
It has a simple drag and drop builder that doesn't require coding skills.
You can use some of the already existing templates or create your pop-up from beginning to the end.
Angebotene Funktionen:
Drag&Drop-Builder

Vorlagen

Anpassungsoptionen

A/B-Prüfung

Auslösende Optionen

Gezielte Optionen

Einblicke

Integrationen
Advantages of OptinMonster
OptinMonster is intended to help you get more subscribers and sales for your business.
It collects information about your visitors and allows you to personalize your offers.
OptinMonster has more than 75 pre-built templates that you can customize.
There is also an advanced traffic redirection, so you can send people to the pages that may be relevant to them and obtain more customers.
Disadvantages of OptinMonster
There should be more customization options that could enable you to customize a pop up exactly as you imagined it.
Preise von OptinMonster
You can try out OptinMonster condition-free for 14 days with a money-back guarantee. It offers four different packages to choose from based on your specific needs.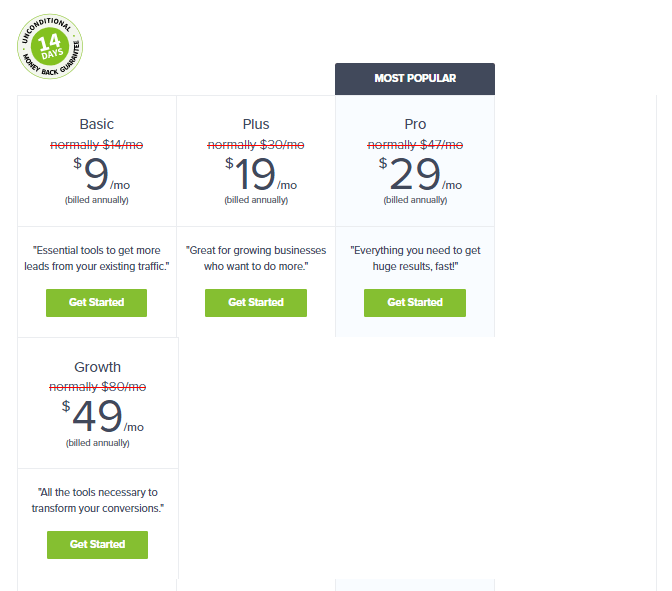 Why is OptinMonster another great alternative to PopUp Builder?
OptinMonster is a reliable tool whit many important features.
The option for personalization offers a great way to easily connect with your visitors and is a great part of customer care.
When it comes to integrations, OptinMonster integrates with Shopify, Drip, MailChimp, HubSpot, and many other important platforms and services.
OptinMonster's Bewertungen
Let's see the OptinMonster's criteria chart:

Leichte Bedienbarkeit: 5
Anpassungsgrad: 4
Visuelle Attraktivität: 5
Merkmale: 5
Integrationen: 5
Kundenbetreuung: 4
Preisgestaltung: 5
Insgesamt: 4,7/5
Das Fazit
If you carefully set up your targeting and triggering options, your pop ups can be extremely effective and powerful when it comes to getting more sales.
Whether you want your pop-up to be in accordance with your website's visual identity or to be completely different, you should grab every opportunity to make the design visually appealing. You have to amaze your visitors!
The easiest way to achieve this is by using Poptin pop-up tool because of its powerful features and options.
Poptin also includes smart exit-intent technology that can prevent your visitors from leaving your website.
Use all possibilities in your advance and success will not be lacking!