Email marketing solutions have been around for a while. Companies know that they help them create amazing automated emails that get clicked and opened.
With so many options, you may be thinking about TotalSend. Before you do, consider these TotalSend alternatives. They may be better or may have the features you need where TotalSend doesn't.
1. CampaignMonitor
When focused on TotalSend alternatives, Campaign Monitor might be something worth considering. Though it has a dated appearance, it keeps everything simple and has so much to offer, making it an excellent email marketing solution.

Merkmale
You can find hundreds of templates, but there's also the drag-and-drop editor. This means you can put email campaigns together in mere minutes. 
With the automation available, you can create a personalized journey for your customers. Send emails when the audience wants them to drive revenue or keep everyone engaged.
Vorteile:
Easy to use the navigation

Transactional emails available

Guidance for autoresponders
Kontra:
Kein Landing-Page-Builder

Only basic segmentation available
Preise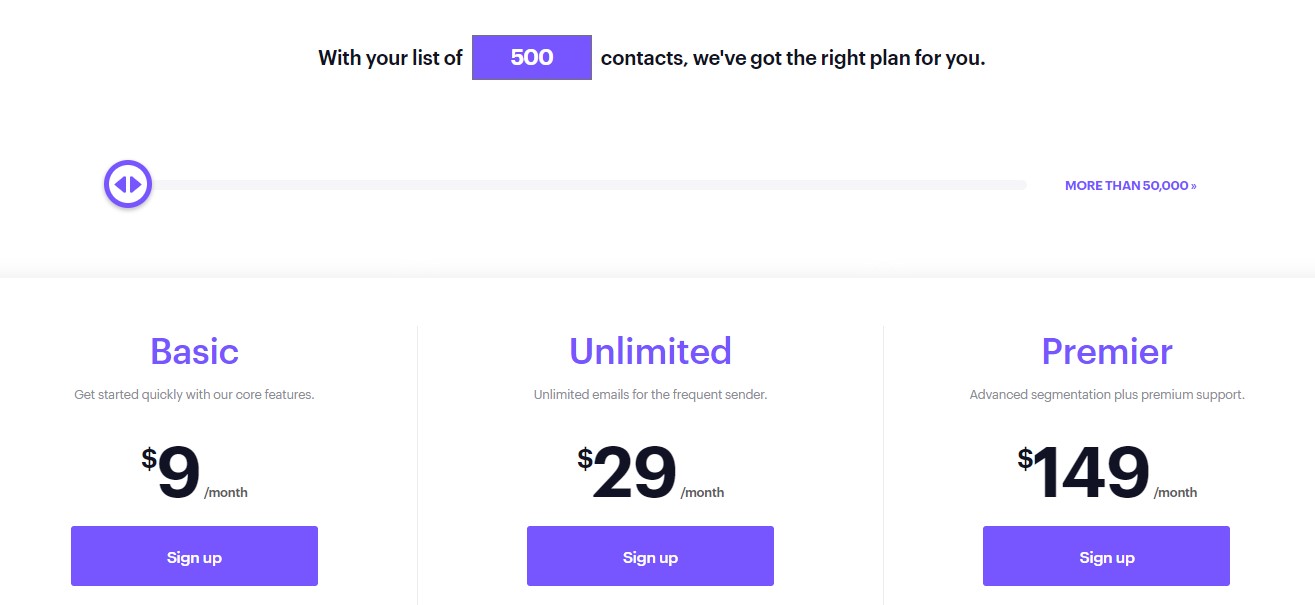 The prices start at 500 contacts, with Basic at $9 a month, Unlimited at $29 a month, and Premier at $149 a month.
Basic only allows you to send 2,500 emails a month and have email support. Plus, you get the core marketing features, some analytics, and marketing automation.
With the Unlimited plan, you send as many emails as you want and can use the countdown timer, spam testing, and time-zone sending features.
Premier gives you access to all of the features. These can include pre-built segments, link tracking, send-time optimization, and much more.
Für wen ist das?
Campaign Monitor is ideal for all types of marketers, even those who are new. It has many features, so you can create more complex campaigns or keep them simple.
2. Sendlane
Sendlane is one of the newer email marketing tools out there. Those who are interested in TotalSend alternatives may want to consider it if they're looking for tons of features and have a large budget. Still, when compared to TotalSend, Sendlane is about the same price, and you get more.

Merkmale
You're going to appreciate the ability to manage tags and lists here. This means you can track customers on their journey and determine where they are in the buying process.

There is a helpful visual email editor, and you have many templates and pre-built options to get you started. Plus, the advanced segmentation allows you to create tons of lists and keep everything organized.
Vorteile:
Fortgeschrittene Automatisierung

Email and landing page editors

Modernes, intuitives Design
Kontra:
Hohe Kosten

Wenige Integrationen
Preise
The Growth package is $99 a month for 5,000 contacts and comes with tons of features. These include analytics, email templates, automation, and segmentation.
With Pro, you pay $249 a month for 10,000 contacts and get the same features as with Growth. However, you also get migration services, multi-user access, onboarding support, and SMS automation.
There's also a one-time payment of $497, which gets you the New Customer Education Plan. If you're a beginner to email marketing, this is the right choice because you get the Growth Plan for six months and an online course!
Für wen ist das?
Sendlane is primarily designed for e-commerce stores and digital marketers. It features an excellent Shopify integration and many ways to personalize emails.
3. Sender
Sender has been trusted by many businesses worldwide for nearly 10 years! This tool was also recently recognized as one of the TOP 3 best performing email marketing tools. Sender is very easy to use so that everyone can create stunning campaigns with excellent performance and high deliverability regardless of IT level and knowledge!
Merkmale
Sender offers many different features to help the clients design emails, no one could deny. With a drag & drop filter as well as a templates gallery, everyone can become a master of email marketing.
Other than that, Sender offers a custom HTML editor to easily transfer your templates from any other programs and send highly deliverable emails, which can be accessible with no trouble on any browser or device!
Pros
High Email Deliverability

Email Automations

Smart Integrations

Dedicated 24/7 Support

Advanced Analytics
Cons
There could be more integrations.
Preise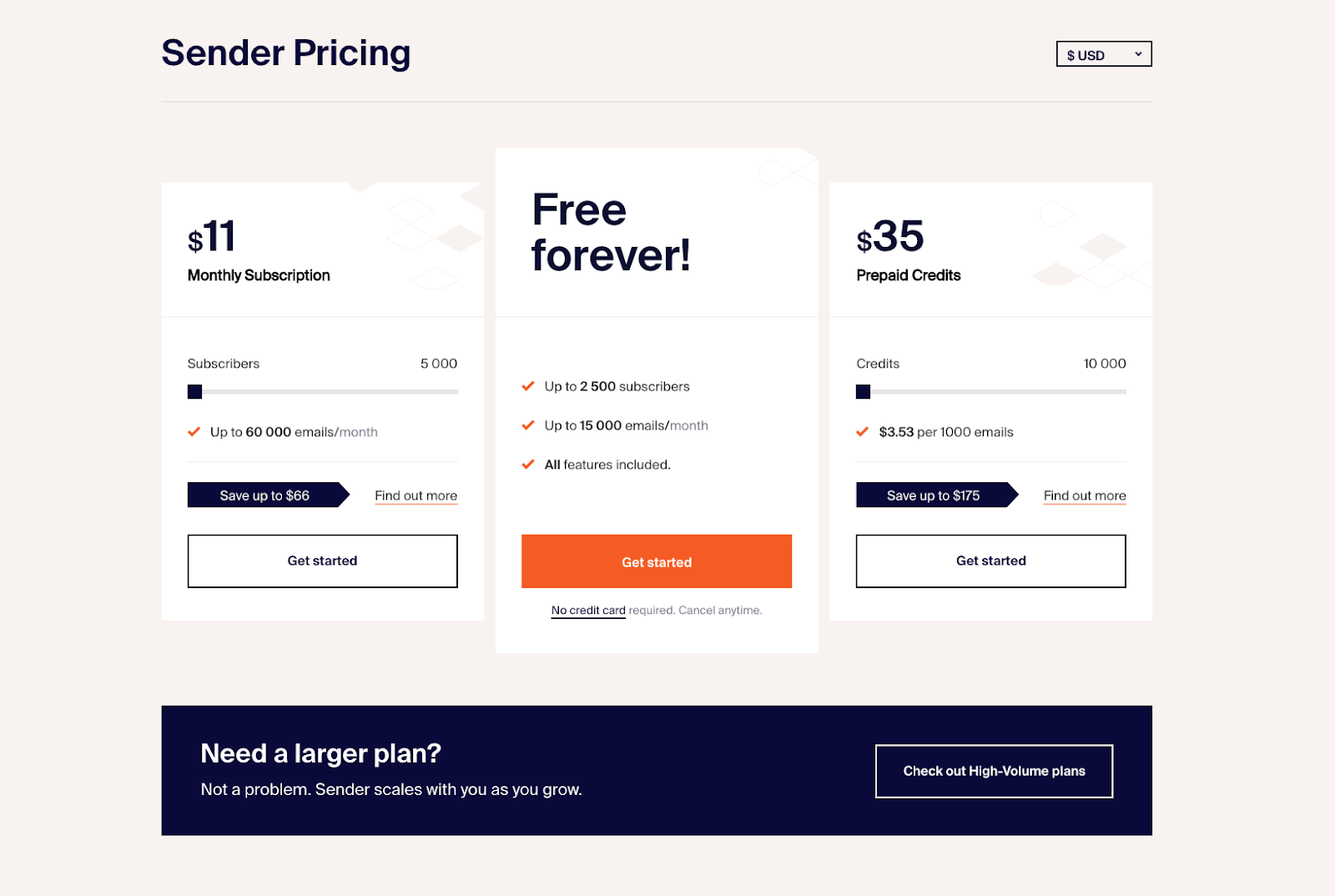 Sender is very competitive when it comes to pricing. There is even a Free Forever plan which allows you to use all the features available. With this plan, you can have up to 2 500 subscribers and send up to 15 000 emails per month.
If you are looking for more emails and subscribers, the paid option starts from as low as $11 per month for 5 000 subscribers and up to 60 000 emails. If the business is large, Sender allows you to have a maximum of 200 000 subscribers and send 2 400 000 emails a month for the price of $469.
Another option Sender provides is prepaid credits. They start from $35 for 10 000 emails (you will pay $3.53 per 1000 emails sent). However, the more prepaid credits you get, the lower the price for 1000 emails is. Also, the credits never expire!
Für wen ist das?
Whether the business is big or small, Sender is capable of serving them all! With the ease of use, this tool is highly suitable for newbies with limited knowledge about email marketing. Besides, Sender has an excellent help center, where tips, tricks, and tutorials are available. Moreover, Sender's blog is highly beneficial as it gives further guidance and information on email marketing and helps businesses improve their email marketing game.
4. ActiveCampaign
ActiveCampaign is ideal for those who are tech-savvy. If you've been using email marketing tools already, you may find this one to have everything you need. However, beginners may have to take a few weeks to get things started.
Merkmale
Most TotalSend alternatives only focus on email marketing, but ActiveCampaign is omnichannel. It can help your website (personalization) and even allows you to create social media posts.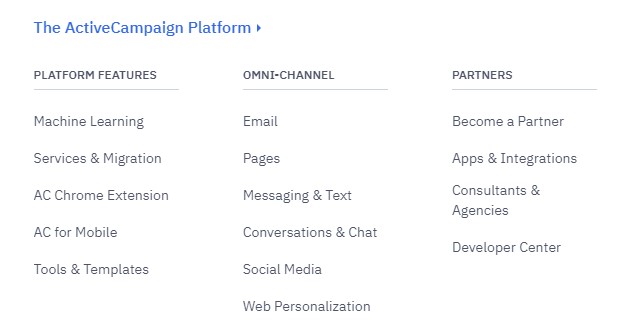 You can also use it for chats and other conversations that you may have with employees and customers. If that weren't enough, you can use it for instant messaging and SMS, which means you're connecting with potential clients in various ways. 
Vorteile:
Sticky button help

Erweiterte Segmentierung

Can be personalized extensively
Kontra:
Must go in the task order

More time to get started
Preise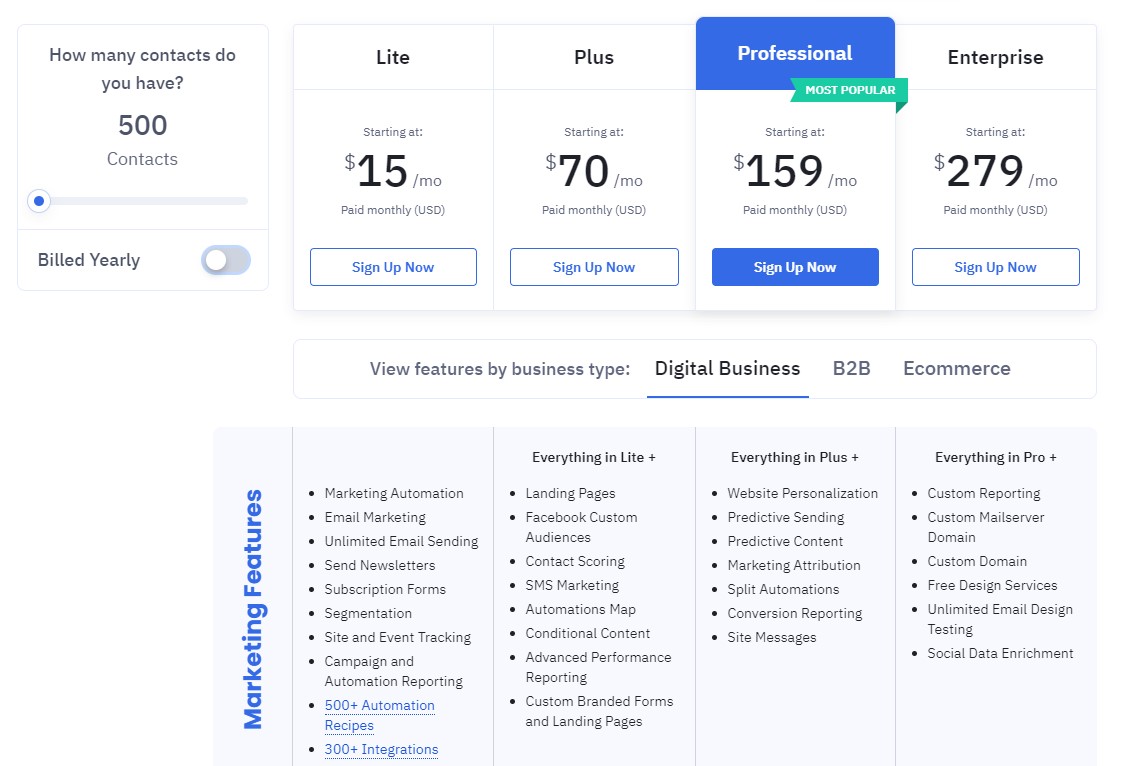 The pricing structure is easy to follow for ActiveCampaign, and it all starts with 500 contacts. With Lite, you pay $15 a month to get automation, subscription forms, newsletters, segmentation, and much more.
Plus is next at $70 a month, which includes the Lite features. You also get contact scoring, landing pages, automation maps, and SMS marketing, among others.
Professional is $159 and gives you the Plus and Lite features. However, you also get split automations, predictive content/sending, website personalization, and conversion reports.
Enterprise is the final plan at $270 a month. It gives you every feature, such as a custom mail server domain, reporting, free design services, and others.
Für wen ist das?
ActiveCampaign is ideal for experienced marketers, and it works for all budgets. You can create more complex campaigns, and it works for B2C and B2B marketers.
5. Sendloop
Sendloop is one of the newer email marketing tools out there, but it's easy to use, and the pricing structure is impressive. This customizable platform offers automation and segmentation, which is ideal for digital marketing purposes.

Merkmale
When you want an email marketing tool that does what it promises, you need Sendloop. Whether you're creating shows and events, run a corporation, or have an e-commerce store, you can benefit from this option.

You can quickly import contacts to Sendloop from other locations. Plus, you can send and create emails easily. The drag-and-drop feature helps you personalize the many email templates effortlessly.
There is also a full-featured API, reporting, and the ability to have multiple users.
Vorteile:
Easy to target your audience

Hohe Zustellbarkeitsraten

Simple to use interface
Kontra:
Needs improvements to reports and automation

Keeps adding new features without notifying customers
Preise
Where so many TotalSend alternatives fail is in the pricing structure, but Sendloop is different. You get every feature it offers, but you pay based on how often you send emails.
Those who send bi-weekly, weekly or daily pay $9 a month. Occasional senders only pay $10 for every 1,000 emails sent. 
Für wen ist das?
Sendloop can be used by any marketer, but it focuses on helping SMBs, e-commerce stores, and digital marketers. With the flexible and customizable automation software, anyone can use it for digital advertisements and email marketing campaigns.
6. SendBlaster
SendBlaster is one of the unique TotalSend alternatives that had to be mentioned. It is software that you download to your computer. Therefore, you've got everything you need right there and don't necessarily need an internet connection to create emails.

Merkmale
There are plenty of features to like about SendBlaster. The layout editor helps you create new messages from scratch. Choose the headers, footers, structure, colors, and so much more.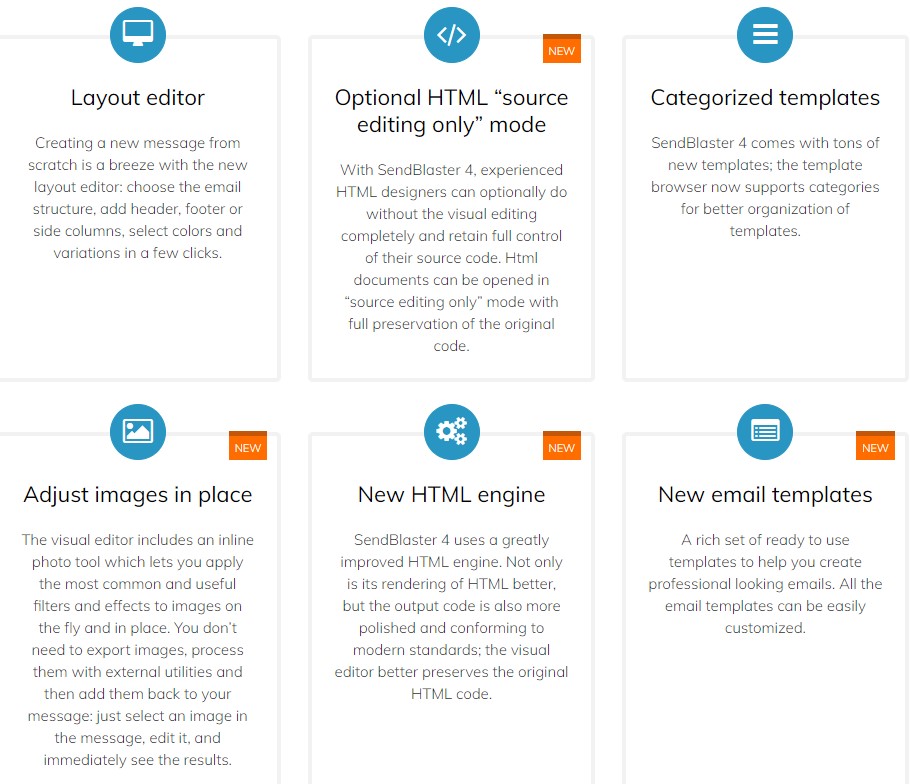 However, you don't have to do it all by yourself because there are various templates included with the license. Look them up by category to find what you need effortlessly.
It's also possible to adjust the images you put in the email right in the editor. This saves time and helps you get a preview of what the customer sees.
Vorteile:
Tons of features

Easy to download

Have everything on your computer
Kontra:
Must download the software

Upgrades not included in the cost of the license
Preise
Because SendBlaster is an email marketing software that must be downloaded, the price is $129 for the software itself. You can save money if you buy multiple licenses at once. For example, pay $209 for two or $271 for three.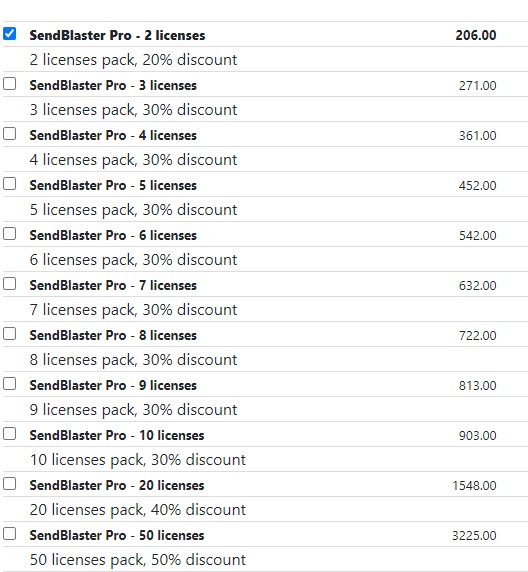 Für wen ist das?
Ultimately, SendBlaster is for any marketer who wants to have a local copy of the software. It allows you more control over everything, but you do need the extra space and must buy separate licenses for each computer.
7. Vertical Response
Vertical Response is one of the newest email marketing tools out there. It's straightforward and easy to use, but it does have limited features. Still, it's got enough to make it worthwhile for marketers on a time crunch.
Merkmale
The email editor is quite easy to use, and you can create a professional email from templates. It's also possible to add your branding and make changes to meet your needs.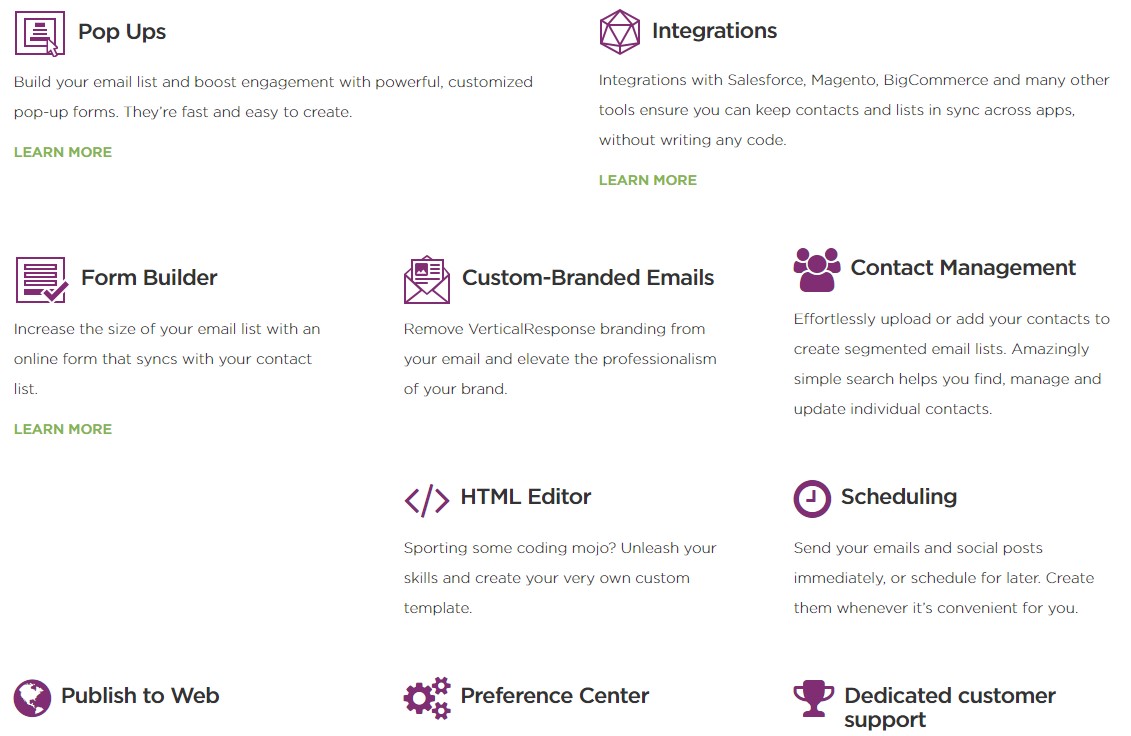 You're going to appreciate the follow-up emails, which automatically send when you specify. Plus, you can save time with the automated series and autoresponders. This helps you deliver your message when customers need it most.
Vorteile:
Email preview

Simple user interface

Guided onboarding help
Kontra:
Only basic segmentation options

Hard to manage the contacts
Preise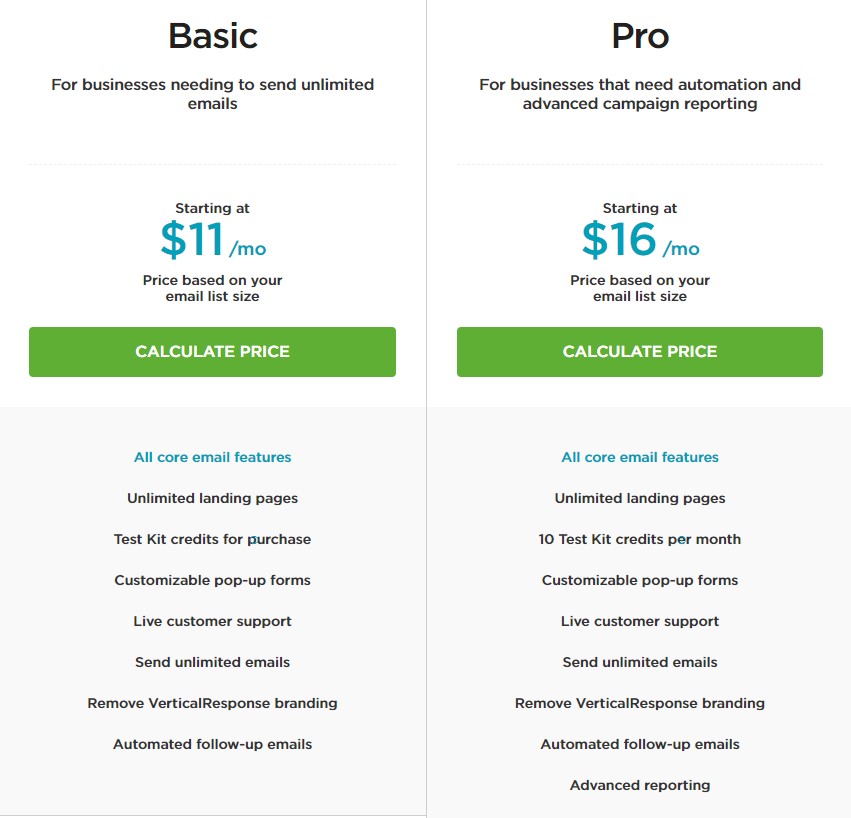 With Vertical Response, you can choose the Basic plan that starts at $11 a month or the Pro plan at $16 a month. Both of them are based on the size of your email list.
Basic gives you all the core features, and you have unlimited landing pages, live support, customizable popup forms, automated follow-up emails, and more.
Pro offers those same features, but you also have advanced reporting, A/B testing, and reviews on delivery rates. 
Für wen ist das?
Vertical Response is suitable for freelancers and small businesses that don't want to spend tons of time creating their campaigns. It's helpful to those who are inexperienced and want to get going fast.
8. iContact
iContact claims that it's an affordable email marketing tool. Though it's not the cheapest on the market, it does have reasonable prices. There are some good features that work well for most companies and entrepreneurs, and it's easy to use.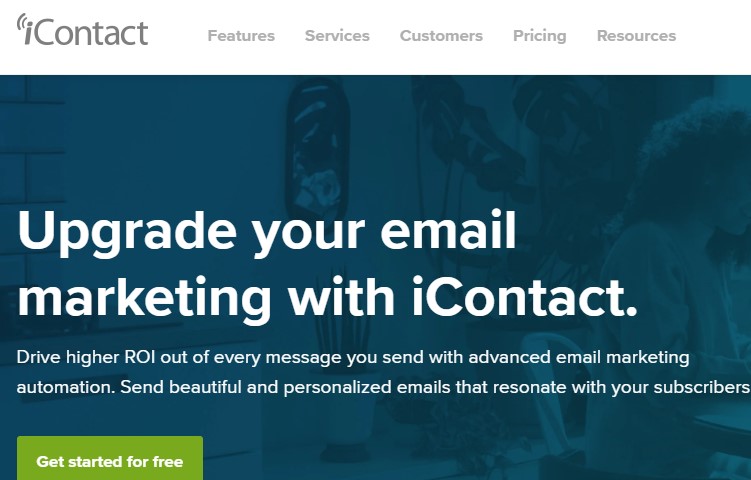 Merkmale
When you choose iContact, expect to enjoy the drag-and-drop editor, which makes creating email much easier. You also have various templates and images available.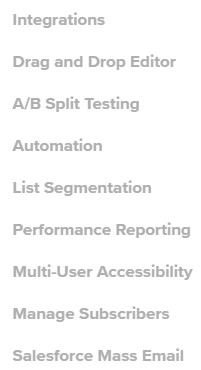 There are a few automation, and it's possible to segment lists, though this feature isn't well-developed. Still, you've got many integrations and multi-user options available.
Vorteile:
Easy navigational tools

Helpful support

Personalized interface
Kontra:
Few segmentation options

Slow to load pages
Preise
There are two sets of plans, including Base and Pro. Base plans give you customizable templates, an image library, welcome automation, and great customer service. Expect to pay $15 a month for 1,500 subscribers, $25 a month for 2,500, and $45 a month for 5,000 subscribers.
With the Pro plan, you get the same features as the Base plan, but you also get win-back automations, event promotion automations, and landing page creation. You're going to pay $30 a month for 1,500 subscribers, $50 a month for 2,500, and $90 a month for 5,000 subscribers.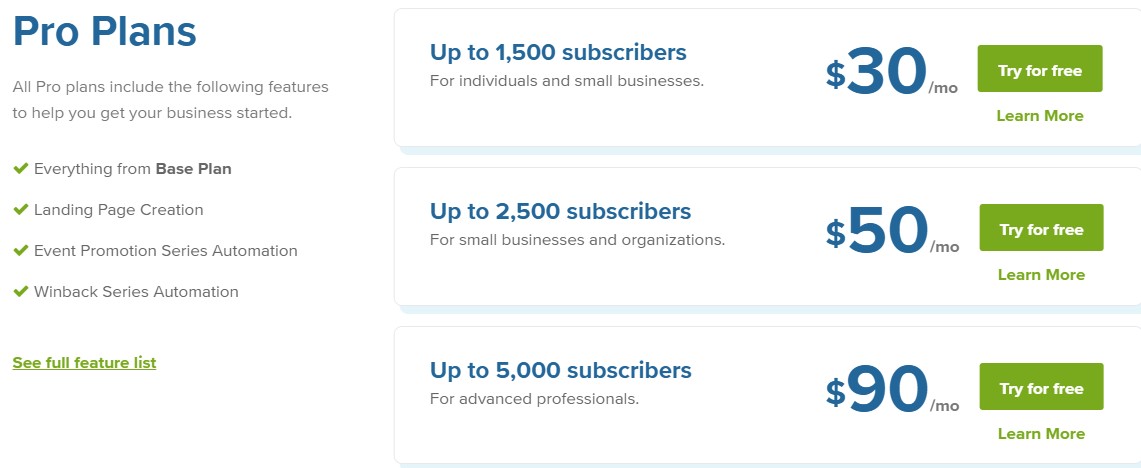 Für wen ist das?
Primarily, iContact is suitable for beginners and SMBs that don't have a high budget for emails. You don't need to take out time to learn the system, and it has an intuitive interface.
9. Drip
Drip is an amazing CRM designed for e-commerce stores. As part of the TotalSend alternatives listed here, it does more, but it also costs less. Ultimately, you can use it to maximize sales and boost value for the customer.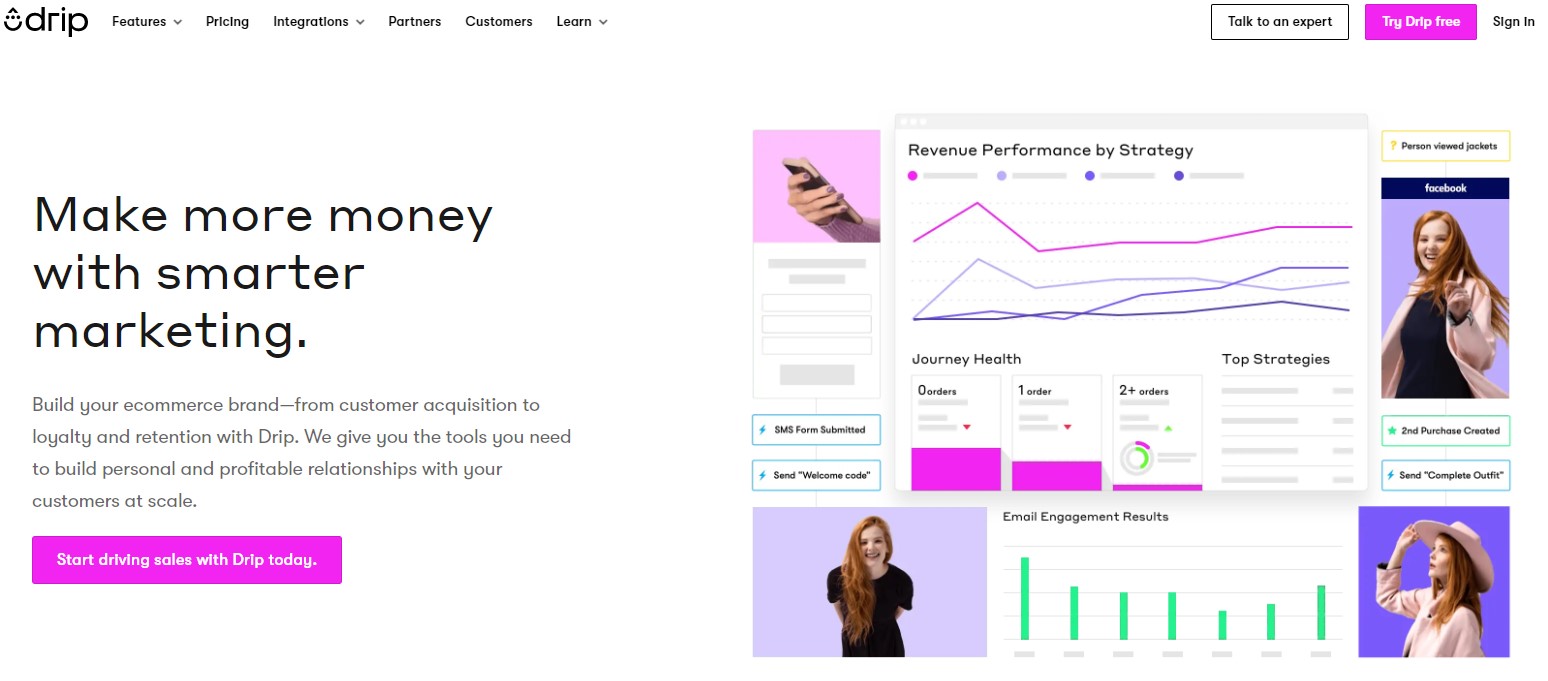 Merkmale
Primarily, Drip offers tons of integrations, which is why it's so popular with e-commerce brands. However, you also get email analytics to help you see how well your campaigns are going.
Segmentations and automations are also essential. They help you create lists, sort contacts and send messages at the appropriate time. 
Plus, you also get tracking for events and behaviors. There are customizable forms and a powerful API to enjoy, too.
Vorteile:
CRM included

Strong automations

Easy-to-use
Kontra:
More expensive

Needs better templates
Preise
Prices are based on how many contacts you have. With only 500 people in the account, you pay $19 a month. At this price, you get all the core features and a few perks after the trial period.
Für wen ist das?
Drip is designed primarily for e-commerce store owners. However, the higher price can be a deterrent to those who have low budgets right now.
Schlussfolgerung
Now that you've read about these TotalSend alternatives, it's time to make your choice. You may still find it a bit challenging to pick one, but remember, you can use the free trial and change your mind.
Email marketing is still an effective way to reach potential customers and loyal fans. It's just a matter of finding the right solution to make things easier.