You launched your website a few weeks ago. But your sales and revenues remain stagnant. That's disappointing.
Maybe, your site has quality content. Perhaps, its loading speed is convenient. Or it is easy to navigate.
Then, why are your traffic and client conversion not what you have expected?
Incorporating a website popup into your platform can come to your rescue.
Studies show that the highest-performing popups have around 9.28% of conversion rate. That's good. If you always encounter trouble acquiring high-paying customers, website pop-ups can be a lifesaver.
More than the client conversion rate, any form of pop-up can help tailor your marketing campaign according to your target market. You can craft and provide an advertising campaign that resonates with the requirements and objectives of your prospective customers.
When done right, a pop-up allows small, midsize, and well-established businesses to gain subscribers, know customers well, improve a long-term relationship, and boost return on investment in the long run.
In this case, a good popup builder is all that you need. Digioh is one of them. However, if you're looking for other Digioh alternatives to supercharge your conversion efforts, then this article is the right one for you.
Digioh: Overview 
Digioh is the sought-after platform for creating popups and website contact forms for many.
Since its launch and availability in the industry, Digioh has helped businesses of all sizes and niches to turn their visitors into potential clients.
Increasing web traffic is challenging. But converting visitors into customers is even more complicated. Digioh can make the process seamless. Also, there is no prior coding knowledge required. It is user-friendly and ideal for those who are less tech-savvy.
Digioh is recognized as the leading option for businesses for a reason. Apart from pop-ups, it is designed for creating surveys, landing pages, and quizzes.
What's more, Digioh features over 400 integrations to ensure your pages and forms work with the marketing stack.
However, no matter how good the platform, it is always best to check other alternatives which might, in your case, give you a better conversion experience and results.
Let's check the following Digioh alternatives we have hand-picked for you!
Top Digioh Alternatives 
Are you searching for an incredible Digioh alternative without a good result? Do not look further than Poptin. From creative to effective pop-up, Poptin can do them all, making it the perfect partner for every business owner, digital agency, SaaS company, and bloggers alike.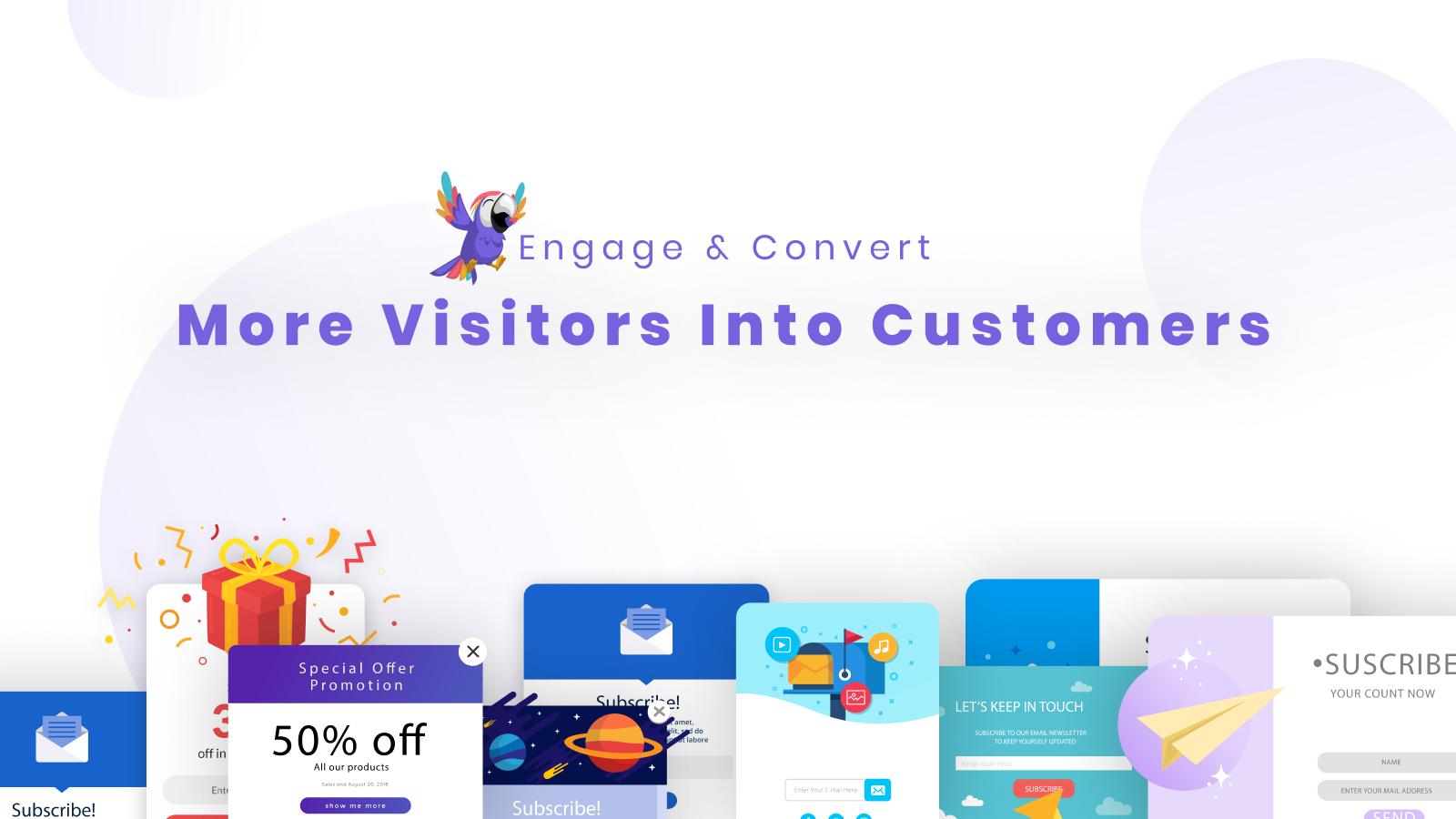 Features
User-Friendly Dashboard and Interface. You have a hectic schedule as a business owner. So, you do not deserve a pop-up platform that is stressful to use. Poptin will never be a disappointment. Its interface and dashboard are easy to navigate with its drag and drop, no coding popup builder.
A Pop-up Builder with Multiple Templates to Choose From. Limited templates can be a headache. Poptin, on the other hand, is different as it is home to numerous fully responsive templates, including Bars, Lightboxes, Mobile-only, Social, Slide-in, Fullscreen Overlays, Countdown popups, Email Forms, Widgets, and more.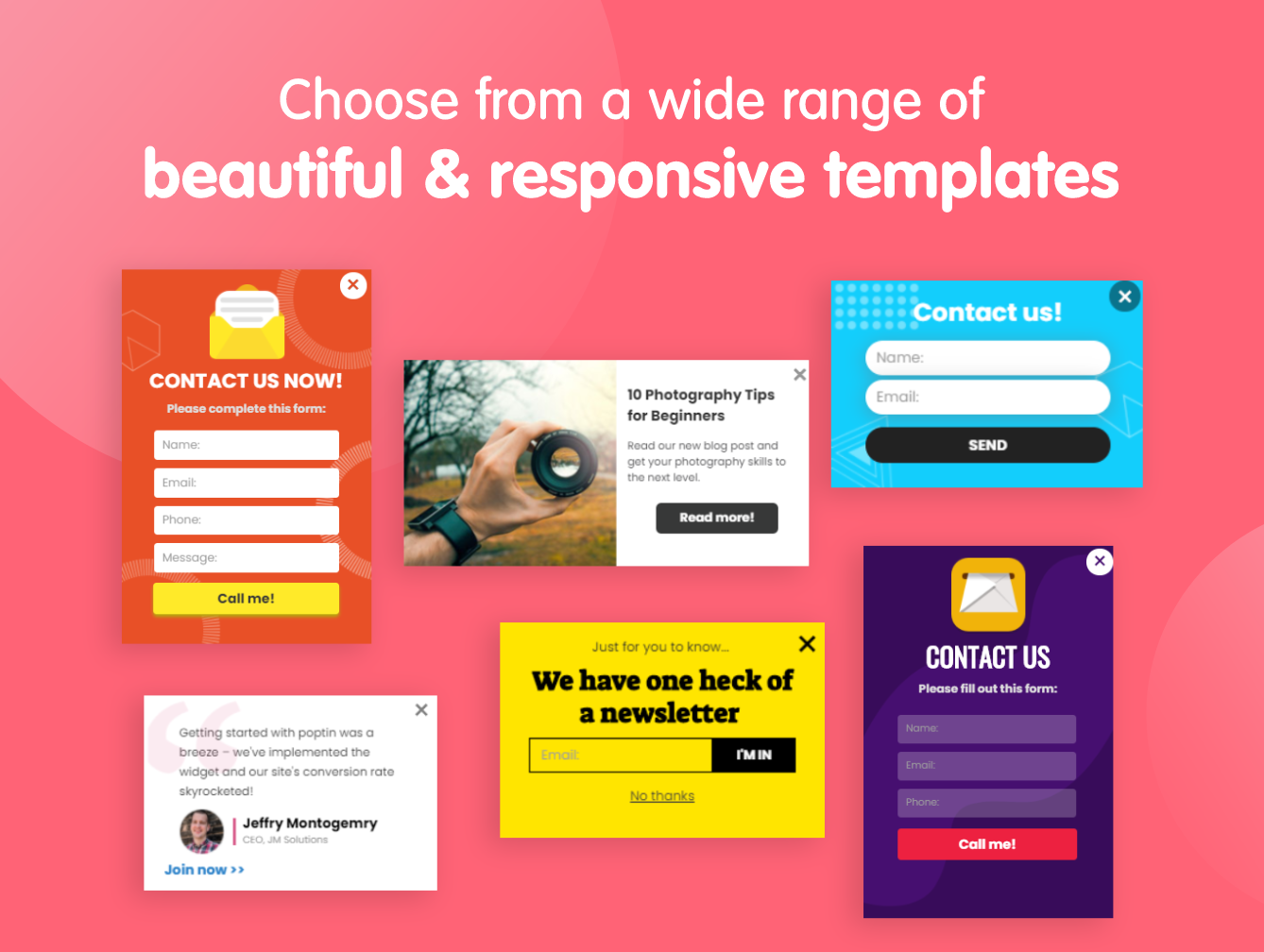 Easy and Convenient Setup. Another thing that makes Poptin popular is its stress-free installation. Whether you use Weebly, WordPress, Webflow, Wix, Magento, or Shopify, you can install the popup established with Poptin more easily than ever. Check out their Help Guide here.
Several Native Integrations. Poptin can compete with the rest with its variety of integrations for CRM, email marketing, and marketing automation tools. Some popular integrations are MailChimp, Hubspot, ActiveCampaign, Campaign Monitor, Sendinblue, Constant Contact, Salesforce, and etc. See the full list here.
Responsive Customer Support. Poptin also prides itself on quick and welcoming customer service. It has live chat support available on the application's dashboard and official website. There is also no long waiting time. It has a team of representatives trained to accommodate everyone's queries in real-time.
Pros
Popups are easy to customize and build. Comes with a variety of templates. 
Conducting A/B testing and tracking analytics is not as technical as you think. 
A perfect platform for building embedded forms, aside from popups. 
Available at a rate you can highly afford. There are also advanced features available on the FREE plan.
Cons
Analytics may be tricky, but it's just a matter of time before you become an expert in that field.
Pricing
Poptin has four pricing packages, including Free, Basic, Pro, and Agency.
The Free plan allows you to create unlimited poptins, features 1000 visitors per month for 1 domain, and comes with an exit-intent trigger.
The Basic plan costs around $19 per month, featuring 10,000 visitors, one domain, and 1,000 autoresponders.
The Pro package, on the contrary, offers 50,000 visitors per month, four domains, and 5,000 autoresponders, available at $49 only.
Cost at $99 per month, the Agency plan can ensure 150,000 visitors, 15,000 autoresponders, and unlimited domains.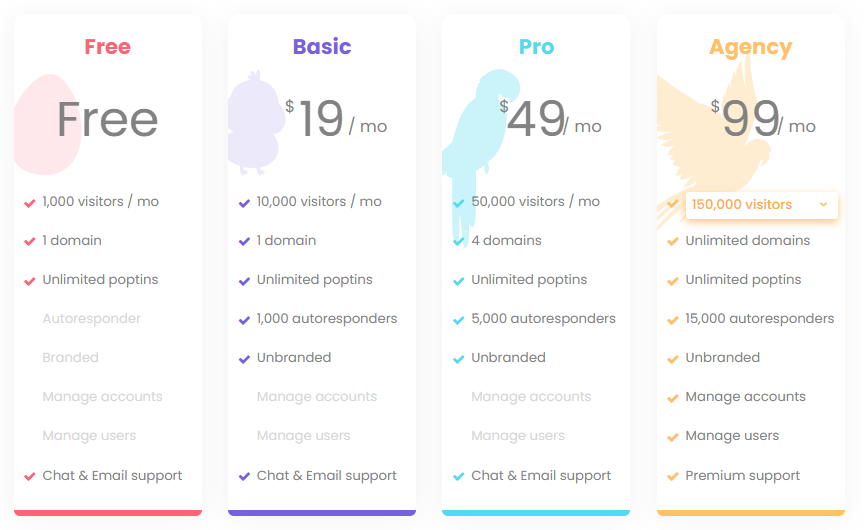 For those who are on a tight budget, Poptin comes with a free trial. But when your business is expanding and thriving, it is better to upgrade to a premium package for better results.
So, what are you waiting for? If you have been using Digioh and are quite frustrated with it, Poptin can level up your experience and turn your dreams into a reality.
From integrations, templates, cost-effective pricing plans to customer support, it has everything you need. Take advantage of its free version to know why people are switching to the platform.
Want to check it first hand? Sign up with Poptin for free!
Personizely
For our second spot, we have Personizely. Like Poptin, Personizely is a conversion marketing tool used to drive attention and increase customer conversion.
It helps businesses gather their target market's contact information, increasing average order value and sales at the same time.
Features
Drag and Drop Builder. Say goodbye to any inconvenience in creating a compelling popup. Also, there's a vast range of templates to pick from.
An Excellent tool for Personalizing your Website. There are countless websites available all over the internet. But only a few succeed. Be one of them with Personizely.
Considered a Multipurpose Tool. Why would you invest in a pop-up builder with limited features if there are multipurpose platforms like Personizely? It is budget-friendly to take advantage of a feature-packed pop-up builder.
It Comes with an Excellent Targeting Feature. That means you can segment your web visitors. Then, you can improve your modification rates.
Pros
Popups are compatible with smartphones, laptops, computers, and other devices your target market is using. 
Simple to use drag and drop interface. 
Powerful and effective customization elements. 
Cons
It does not include A/B testing. 
Pricing
Personizely provides a simple pricing plan. A monthly package only costs around $29. If you avail of the annual billing, your monthly fee will only be approximately $23. Then, you will have unlimited access to its features, like widgets, forms, custom HTML, and more.
If you have tried Digioh and are unsatisfied with its services, Personizely is expert recommended for a reason. Visit its website for further details.
Wishpond
Many website owners are afraid and hesitant with a popup builder because they think it is difficult to use. But not every available tool is like that.
Wishpond, for example, is one of the easiest platforms you cannot afford to ignore. Like the other tools in this list, it is built to create popups especially for Shopify-powered stores with just a click of a button.
Features
It Supports Many Types of Popups. If you plan to create an exit intent, coupon, or newsletter signup, you have come to the right place. It can also help you design an opt-in bar, slide-in, welcome mat, and social buttons.
A/B Testing. Once you launch your popup, your job does not stop there. Conducting A/B testing will be your next task, and Wishpond got you covered. It will assist you in determining which popups are effective.
It Offers a Countdown Timer. Studies found that creating a sense of urgency in websites can guarantee at least 14% click-to-open rates. How to develop a sense of urgency, though? Wishpond's countdown timer will be of great help.
Pros
It is packed with more than 50 templates. 
Every template is compatible with mobile devices. 
It offers an accurate and real-time report on popup conversions and views. 
Accurately show your popup campaigns to the right people at the right time with smart triggers and targeting rules
Cons
The drag and drop interface is not as comfortable as you expect. 
Sometimes, the templates are hard to customize. 
Pricing
Are you on a budget and still want a quality website popup? Wishpond got your back. It is free and won't cause you a big fortune.
Custom animations? Form fields? Frequency targeting? Your satisfaction is Wishpond's ultimate priority!
Proof Factor 
Probably, you have searched online for a pop-up builder. Maybe, you have encountered Proof Factor. Do not be surprised as it is one of the trustworthy platforms today.
Of course, you are holding back if Proof Factor is a good choice or not. It is all right.
Features
Made to Increase Sales. Experts say more than 97% of website visitors never make a purchase. Proof Factor can encourage potential leads to buy.
If you have tried different techniques to improve your sales and ended up failing, Proof Factor is the answer you have been looking for.
It Can Level Up Your Popups. Popups give small, midsize, and large organizations a competitive advantage over the rest. Unfortunately, some are unable to maximize the benefit of popups.
If you are in the same situation, Proof Factor is ready to serve you.
It Has Been a Part of Many Success Stories. For many years of serving the industry, Proof Factor now has a large customer base. It is projected to double in the coming years.
Pros
Loved by over 58,000 businesses in the US and other parts of the globe. 
Engaging and thought-provoking popups. 
Lead generation and conversion are made easy. 
Cons
People find its collection of templates limited. 
Pricing
Proof Factor proudly offers three different pricing plans. These are the Small Business, High Traffic Site, and Enterprise Traffic.
The Small Business plan costs $29 per month. The High Traffic Site is $79. The Enterprise Traffic package is $179.
It also prides itself on a free plan you should give a try.
As a business owner, you want the best for your website. When incorporating a popup into your site, you want one that is engaging. Leave the job to Proof Factor!
OptinMonster
Launched in 2013, OptinMonster transformed into a powerful WordPress plugin and lead generation tool today.
OptinMonster has served around various websites ranging from startups, midsize organizations, and Fortune 500 Companies. That includes Capterra, TripAdvisor, Pinterest, American Express, and ClickBank.
Features
It Delivers the Most Campaign Types. These include coupon wheel optins, lightbox popup, content locker, fullscreen welcome mat, inline form, slide-in scroll box, sidebar form, floating bar, and countdown timer.
Easy to Personalize Campaigns. Who says you need to hire a team of developers to have customizable campaigns? Before, it was necessary. Things are different with OptinMonster. Every campaign is less stressful to customize according to your target audience.
Accurate Targeting Settings. You have a stunning campaign. But that is not enough if you do not show the campaign in front of the right people. OptinMonster lets you target and segments your market.
Pros
It has the most opt-in form types, including inline, popup, floating bar, and fullscreen, to name a few.
There are tons of templates to pick from. 
It is available with a drag and drop feature. 
The trigger options are conversion-optimized. 
It is fun to customize popups that convert. 
Cons
The drag and drop editor does not have many styling options. 
It currently operates on SaaS-style billing. 
Pricing
OptinMaster has Basic, Plus, and Pro plans.
The Basic package starts at around $14 per month, and it is suitable for solo bloggers.
The Plus plan costs $29, while the Pro package is $49 per month. Yes, these two pricing tiers are costly. But you can expect various features along the way.
Bottom Line
It is easy for customers to look for another company when they are disappointed with one.
That could pose a challenge for every business, however.
Who wants to lose a prospective lead to competitors? No business owner likes that.
If you only receive great traffic without conversion, it is about time to invest in a website pop-up with any of the platforms given above.
If you are still confused, we highly recommend Poptin. It's definitely a user-friendly tool that's packed with advanced features you can utilize even for free. Be part of its growing customer base today.