Email marketing is considered one of the chief drivers of traffic to your blogs or websites. It is also the main scheme to communicate with your clients. To know more about email marketing, you need to know first what an email list is.  
To connect with your targeted customers through your collected email lists, it is best to work on email list building. This process is an act of acquiring more individuals to subscribe to your emails.
Why email list building is essential
If you are new to this marketing scheme, here are the top reasons why you need to grow your email list:
Email is purposeful — In order for the customers to get updates from you, they have to accomplish a form to sign-up for your email list. Then, they need to confirm their email address. If the users follow this process, they are interested in any product or services you offer.  
Email is targeted — Once your target customers show interest in your offered products or services, it is easy for you to deliver relevant offers to get excellent results. This process is called segmentation.  
Email is personal — Every email allows you to land into the inbox of any user. There is no limitation in sending emails to your customers. Therefore, it appears to be personal and direct.
You own your email list — If you are using social media to market your business, you simply create an account, but you don't own Twitter, Facebook, or Google. Your SEO efforts and social media campaigns can waste when these online platforms suddenly change their roles or policies. Unlike social media platforms, you own your email list. It means that your email list will never change and is not controlled by the decisions of other companies.
Email is one-on-one — Users read email in their inbox privately. The message is certainly not a public newsfeed or timeline. If they have some questions, they can ask you directly and privately. This helps in building connections and trust.
Immense email users — Experts claimed that there are a huge number of email users every day. Each internet user has one or more email accounts. In fact, all businesses have their own email accounts. It means that advertising seems so easy if you are building your own email list.
With the countless benefits of building an email list, you are probably taking its maximum usage. Now, to achieve this, you need to know about email popups.  
Email pop ups to grow your email list
As an online businessman, you may know how incredibly effective and efficient email pop ups are, especially when it comes to email list building.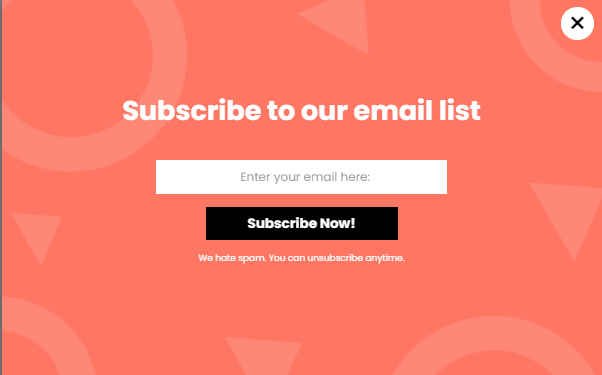 Email pop ups help you collect new email leads, gather visitor feedbacks, more newsletter subscribers, make guests take the needed action, build your email campaigns, and a lot more. 
There are three major reasons why you need to create email pop-ups, and here they are:
Pop ups give your email signup forms a greater online visibility

Popups come with a lot of segmentation and targeting options.  

Pop up offers a lot of flexibility, especially in designs and formats.
There are just a few benefits of using email popups. If you are longing to target a huge number of customers per day, you have to consider this marketing scheme. Now, one of the most well-known companies that offer a comprehensive tool is the so-called Ecomail.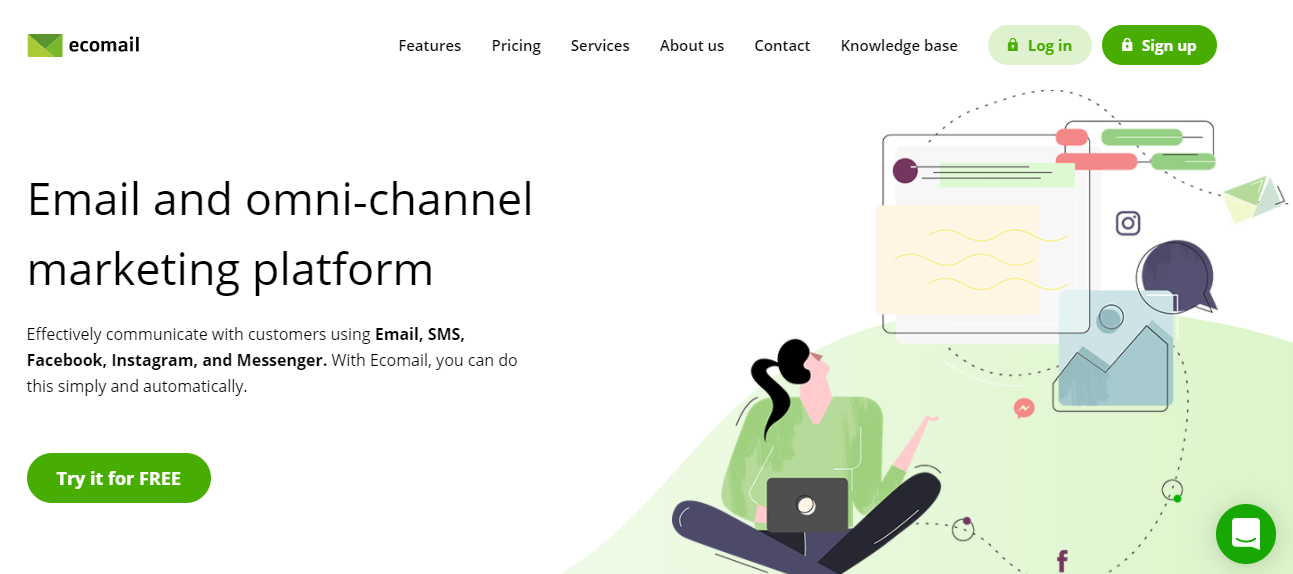 Ecomail has been effective in communicating with clients with the use of various channels at once.  It has amazing and unique features that truly fit your needs, and these include the following:
Easy-to-use advertising editor

Facebook integration with custom audiences

State-of-the-art email builder for stunning and unique email templates

A/B testing for sender name, subject, and content

Discount coupons

Transaction emails

Flexible drag and drop automation builder.
Other best features of Ecomail are the friendly pricing and support, RSS data feeds for customized content, and RSS product feeds for simple product injections to your business emails.
With your knowledge about Ecomail, your next move is to create Ecomail pop-ups using the most in-demand lead capture platform. Among the different choices, you shouldn't miss considering Poptin.  
Creating Ecomail Pop ups with Poptin
Creating Ecomail popups and forms can be done in a simple and stress-free process. You can do this through the use of Poptin, the best free lead capture platform for digital agencies, online marketers, eCommerce websites, bloggers, portals, and many more.  
Here are the top amazing features of Poptin you need to know:
Pop Ups — Poptin offers free screen overlays, lightbox pop ups, social popups, top and bottom bars, mobile pop-ups, slide-ins, countdown pop-ups, video pop ups, and survey popups. All of these are perfect to easily share your offered products and services with our target customers.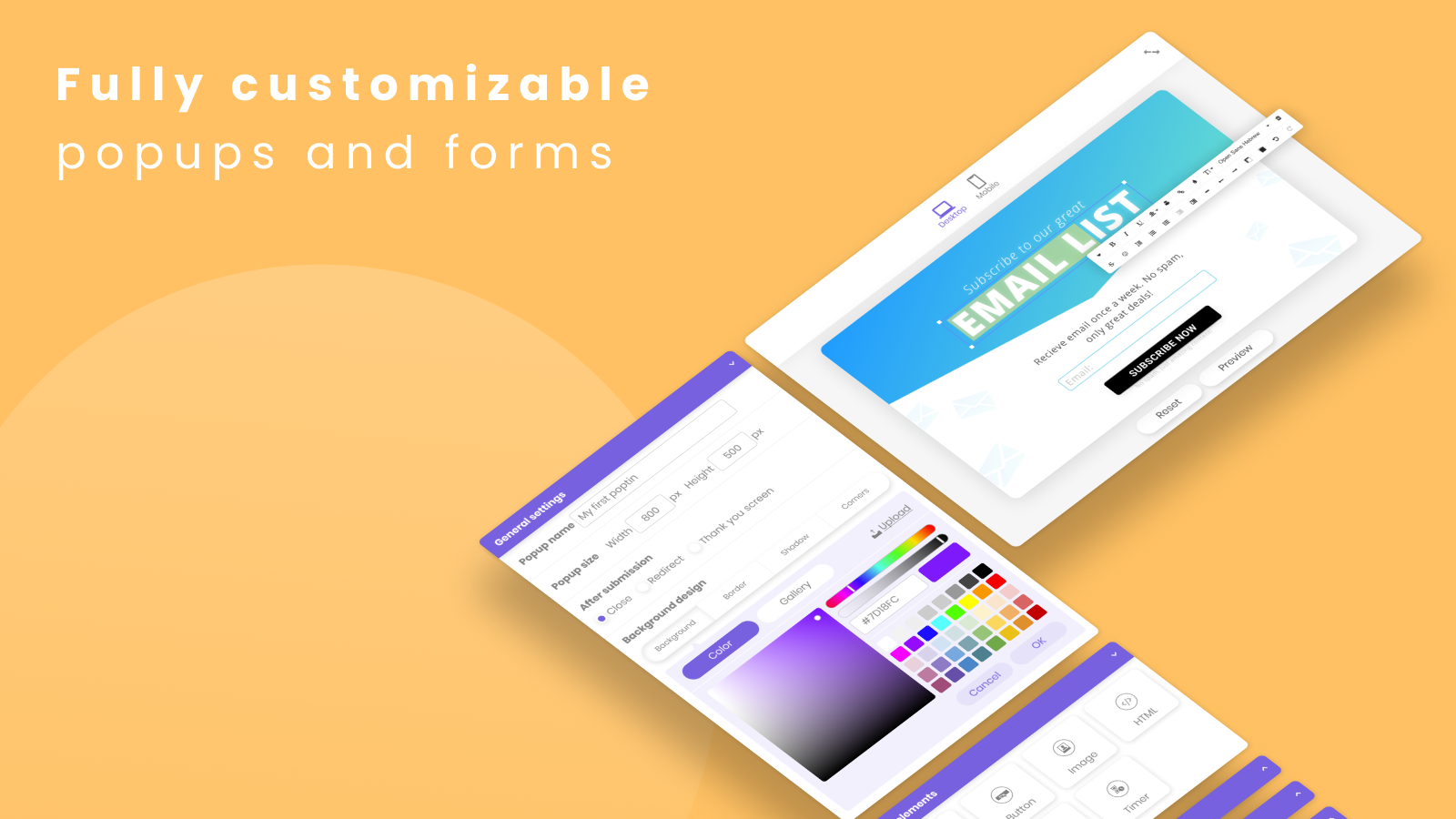 Embedded Forms — Another best feature of Poptin is its different forms. It comes with contact forms, Yes/No forms, email forms, call-to-action forms, and advance forms. All of these can help visitors connect with you, especially when they opt to know more about your business.
Seamless Email Marketing — Poptin also offers list segmentation, conversion codes, and smart tags to fully advertise your business.
Triggers — Poptin also offers different types of triggers such as exit-intent trigger, time delay, page scroll, inactive trigger, on-click trigger, autopilot trigger, page count, and click count trigger to grab the attention of your target customers and entice them to visit your website.
Poptin is widely used by most online businessmen as it has countless integrations, templates, targeting rules and built-in analytics. These built-in analytics help you monitor real-time and insights performance results. Poptin also sends an automatic email once your target visitors sign up.
For more Poptin features, click here.
How to integrate your Poptin pop ups with Ecomail
To integrate Ecomail to Poptin, you need to log in first to your Poptin account and then click the pencil icon to integrate with Ecomail.
Afterward, click Edit Design > Email and Integrations > Add Integration.

You need to find Ecomail in the Integration list and then click it.  
To manage your account, you need to go to your list and copy the List ID from your website URL bar. Then, paste it to your copied API Key and List ID in your Poptin integration.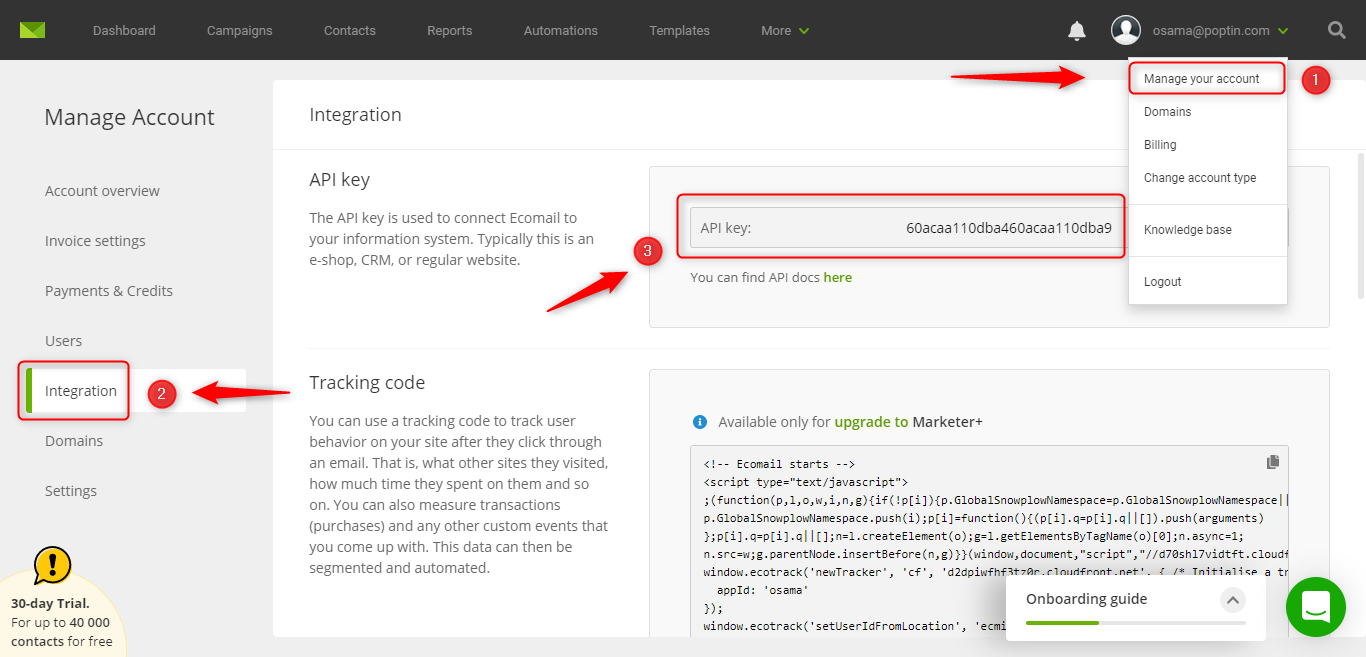 Once it is successfully done, simply click Approve Button. You can now then start sending leads instantly to Ecomail.  
For the complete guide, click here.
Poptin entices target customers and converts them into subscribers, leads, and sales. Its system converts more visitors into possible leads. It also helps in enticing them to subscribe to a newsletter and boosts their engagement.  With the help of Poptin, you can use exit intent technology to recover target guests that are about to leave your website.
Can't wait to use Poptin and generate more email signups?
Then, create your account now for free and see how it works!