While creating popups is easy, keeping our ideas flowing is quite draining. As a result, we sometimes lose our creative juices. That's why we rely on popup ideas we can find online to help us with our subsequent campaigns.
To power up your creativity and get you back in the groove, we listed 20 popup ideas for you, how you can create them, and what you can achieve with them.
Let's dive in!
1. Encourage shoppers to continue with their purchase with exit popups
Customers leaving your site without buying anything is inevitable, but you can do something to stop them and lead them to continue with their purchases.
Poptin's exit-intent technology enables you to track your visitor's mouse movements and trigger an exit popup once the cursor attempts to leave the site's frame. This effectively reduces cart abandonment and converts visitors into leads, subscribers, or sales.
Whether you're an eCommerce store, a SaaS website, a blogger, or any other industry, this exit-intent popup powers up your conversion efforts as you decrease your bounce rate and improve customer engagement.
How to do this:
Once you're done with your popup design, head to the Display Rules, where you can see all the available triggers and targeting options. Turn on the Exit Intent Trigger. Don't forget to click Next or Publish Changes once done.

2. Show related product recommendations and let shoppers add them to their cart in one click
I can't remember how many times I added more items to my online shopping cart because of those product recommendations that pop up. They're doing an excellent job in boosting conversions and increasing sales.
With Poptin, you can show the products and entice your shoppers to add them to their cart with just a click of a button. In addition, you have options to redirect them to the cart page or let them stay on the current page once they have clicked Add to Cart.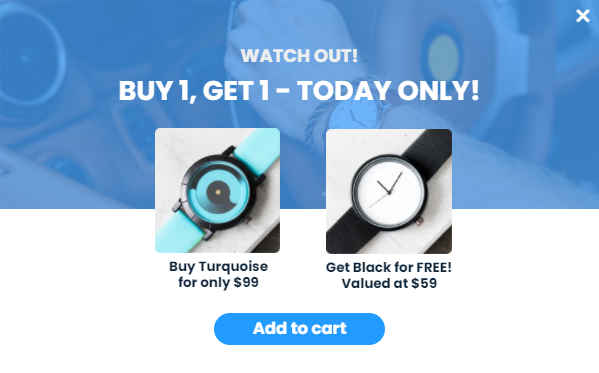 Plus, it somehow improves the browsing experience as you get to show customers the items they might not have seen yet when they're shopping, which might also interest them.
How to do this:
The sample popup is one of Poptin's customizable and responsive templates. You can use it for your design and customize it with your products. Next, follow the steps: How to add an item to your Shopify store's cart via Poptin.
3. Surprise first-time visitors with discount coupons
There's a golden rule in marketing that you shouldn't mess up with first-time visitors. Every new traffic is an open doorway to generating more sales and reaching more potential customers within their circle of influence. If you give them an unsatisfactory browsing experience, you won't see them in forever.
Once they land on your website or landing page, ensure you have something to offer them, like house guests being served welcome drinks.
Of course, discount coupons are the most popular ones. So pop them enticing offers like coupon pop ups for their first purchase, free shipping, or some value-packed freebies.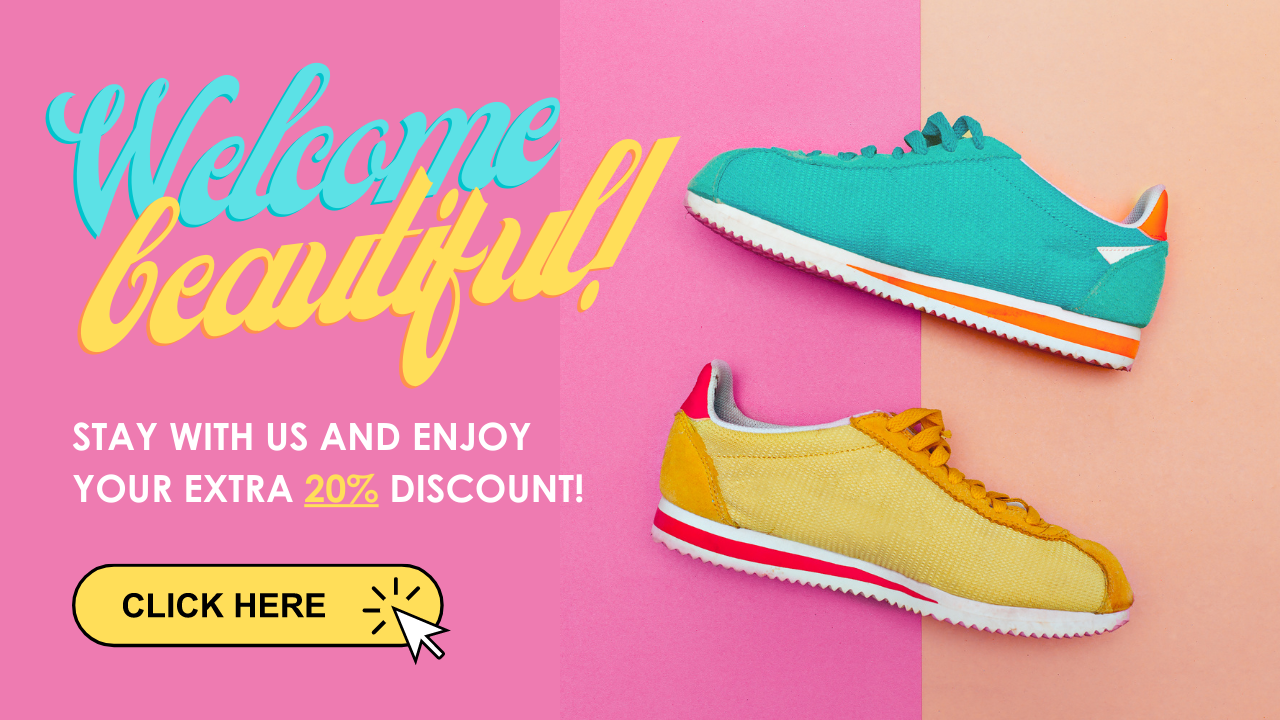 Be clear on your CTA that it's only applicable for their first visit; they would lose it if they don't purchase anything. This way, you'd have more chances of driving more sales conversions.
How to do this:
Create your eCommerce pop up and add your coupon code that visitors can just easily copy. Then, head on to the Poptin Display Rules page. Go to Display Frequency and choose New. This way, your popup will show to new visitors only that haven't converted yet in the past.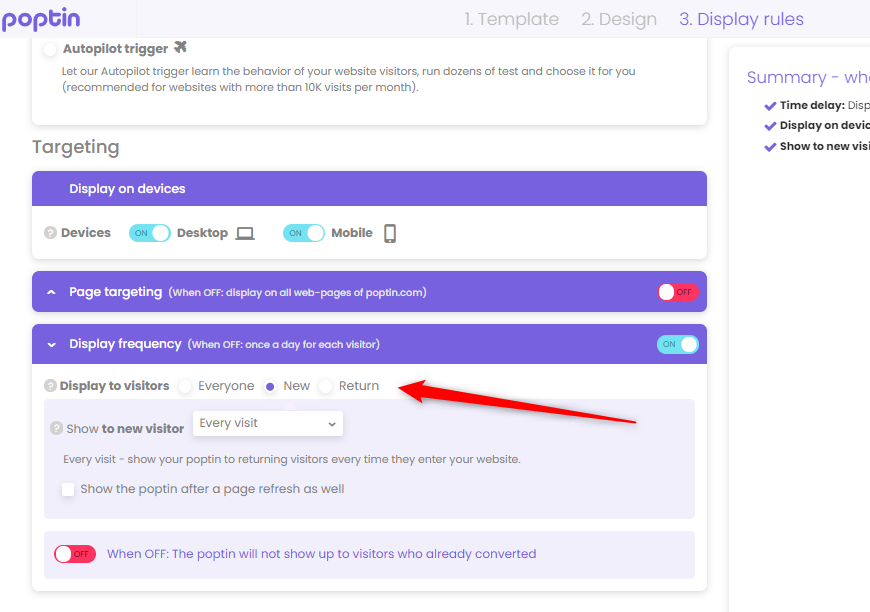 4. Recommend high-value products or services along with a special offer
I know most potential users would choose a much less expensive item if you have tiered pricing. Show them a special offer so they'd be more likely to avail of a higher value product. Though your content and CTA significantly affect your popup's effectiveness, you can always get inspiration from the example below.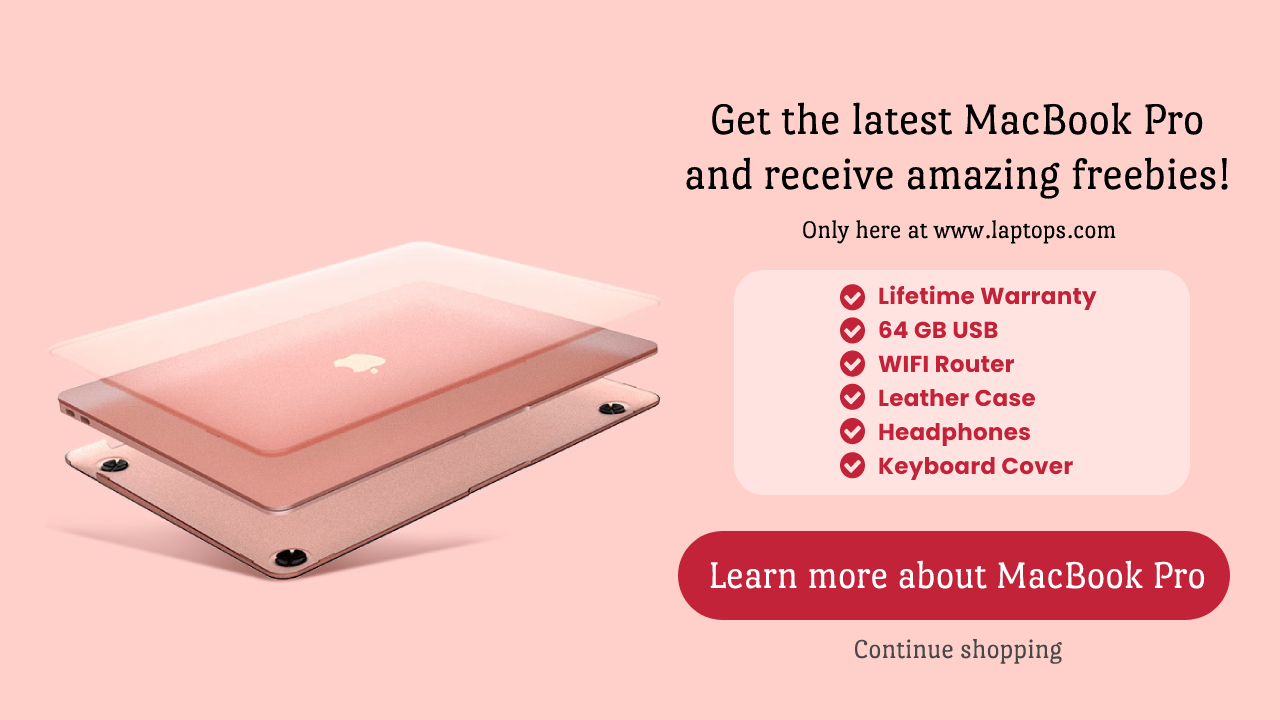 On your Home or Sales page, display an exclusive offer for your in-demand products so you can drive more traffic and sales instead of letting potential visitors go to other websites to check for a better deal.
5. Promote your seasonal campaigns using bars
Bars are obvious because they appear on top or bottom of the browsing window. You can even customize the entry and exit effect to project an element of surprise to your visitors.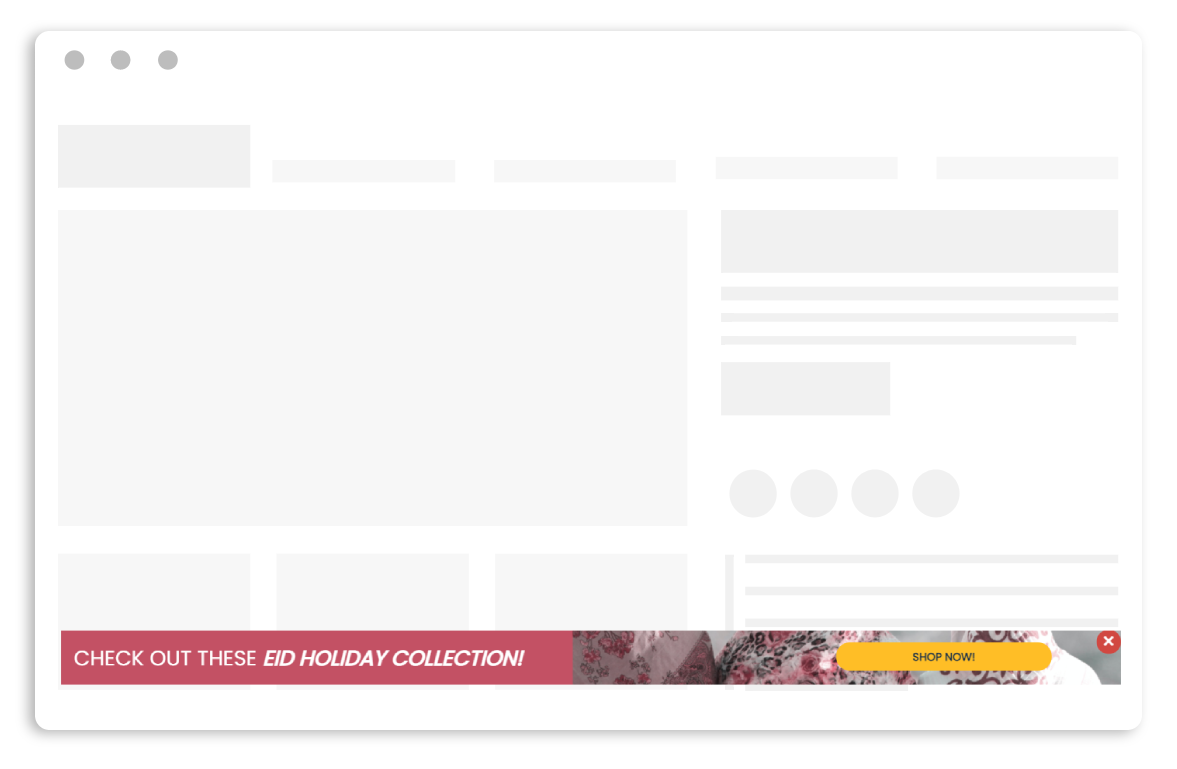 6. Drive participants to your Livestream selling with time-limited contact forms
Countdown popups provide a sense of urgency, hence, speeding up conversions. Add a seat count, and you're good to go. The psychology behind this is that we value something more if we know it's limited rather than abundant. And we often decide faster when we're kind of in a rush. So the combination of time and slot limitations is excellent for boosting conversions.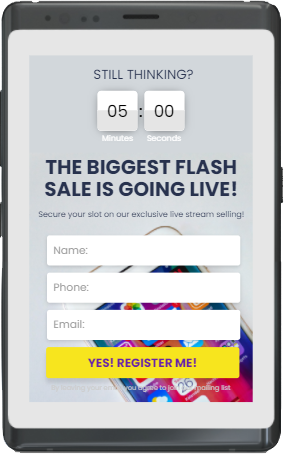 Not only that it's easy to fill out, but Poptin forms can be integrated with your email or CRM software for a seamless lead generation process. Please don't put too many fields, though, as they might turn off your potential clients.
Some marketers add in the eCommerce pop-up the time the visitor will take to finish filling out the form. For instance, in the heading, you can ask visitors to spare just one minute of their time so they would know that it's easy and fast.
How to do this:
On your Poptin dashboard, search for the elements and click Countdown Timer. You're free to customize the timer according to your preference.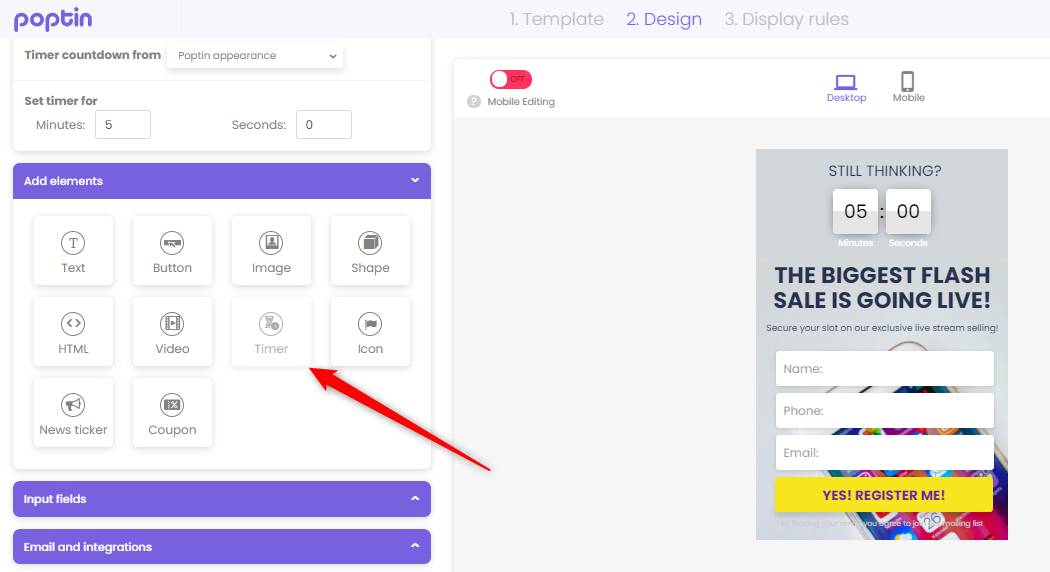 7. Let blog readers unlock content by providing their email addresses
Providing valuable content that's accessible to everyone is a good thing. But you can integrate this into your email list-building efforts to hit two birds with one stone. Let your readers read through your article and entice them. The only way to continue reading is by providing their email address. This is a win-win situation for both of you.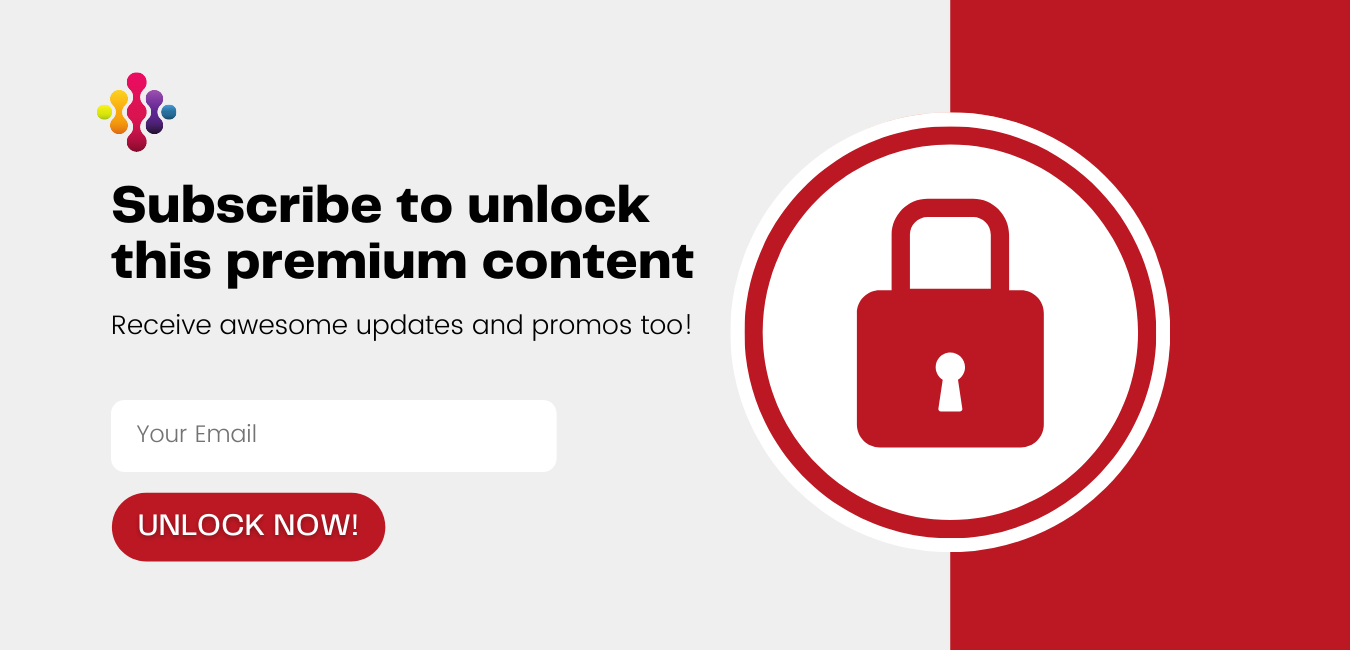 How to do this:
On your Poptin advanced settings, turn on the Content Gate. You can then show the content of your page only after the visitor converts.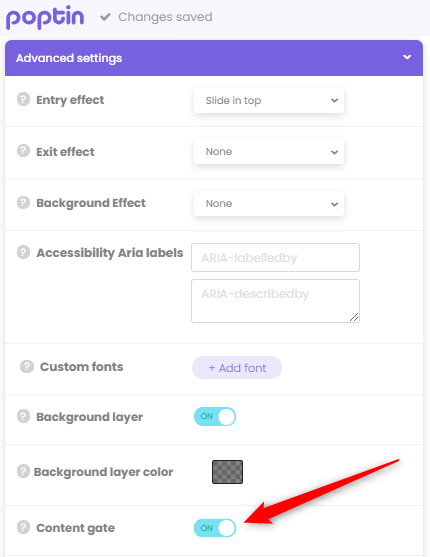 8. Encourage visitors to subscribe to your newsletter with an exclusive offer
Plain eCommerce pop ups with nothing but CTAs could be boring. Remember, it's hard to lead visitors to take action if it's only one-sided. Think of the best offer, add it to your eCommerce pop up in exchange for an email address, and you'd be surprised how effective it is. The most common requests are discounts, coupon codes, free shipping, e-books, and more.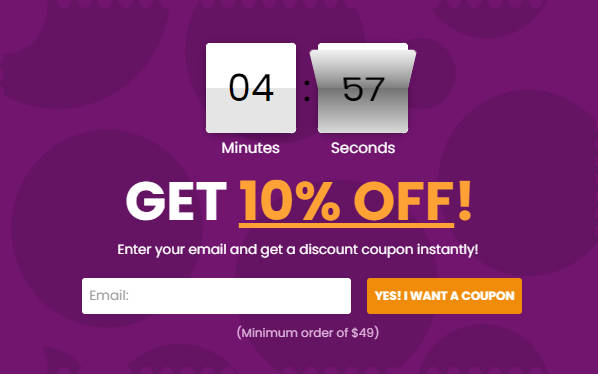 9. Drive customers to purchase by providing a coupon code for their current order
Most online shops often have a promo code field on the checkout page. You might be surprised that it's one of the reasons why online shoppers leave your page. They will Google it! And they might lead them to other sites looking for it, which makes your sales funnel a little bit off track.
To avoid this scenario, you can surprise them with an exclusive coupon code that will appear when they reach the checkout page and stay there for a few seconds. The checkout page is critical, and if you think a shopper is quite hesitant, a coupon code could be the best strategy to lead them to purchase.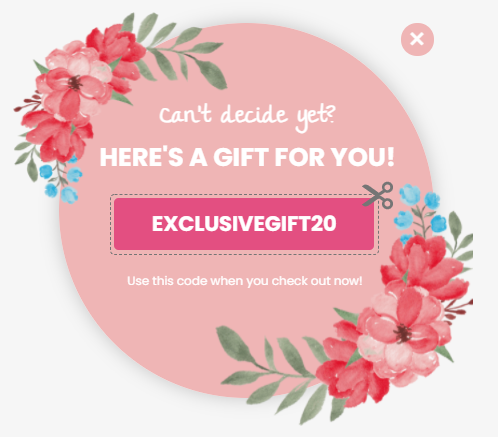 Other website owners also give coupon codes for the second purchase, which is also effective in keeping visitors returning.
How to do this:
On your Poptin dashboard, look for the additional elements and click Coupon. Edit it accordingly and place it on your eCommerce popup. I used one of Poptin's templates for this popup and customized it.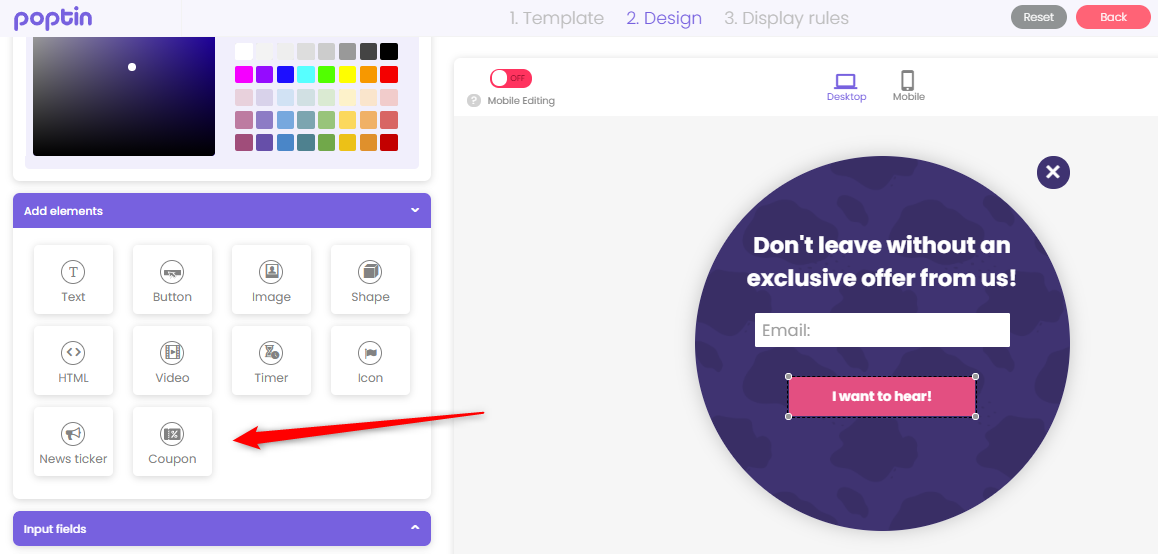 10. Boost the shopping experience with special offers you show at a specific time of day
Based on a study, the popular days of the week people shop online are Mondays and Thursdays, and the peak time occurs between 8 to 9 in the evening. So what happens to the other time of the week/day?
You can boost your traffic by promoting and giving significant value to customers who shop during non-peak hours. You can give them exclusive offers and discounted items, at the least.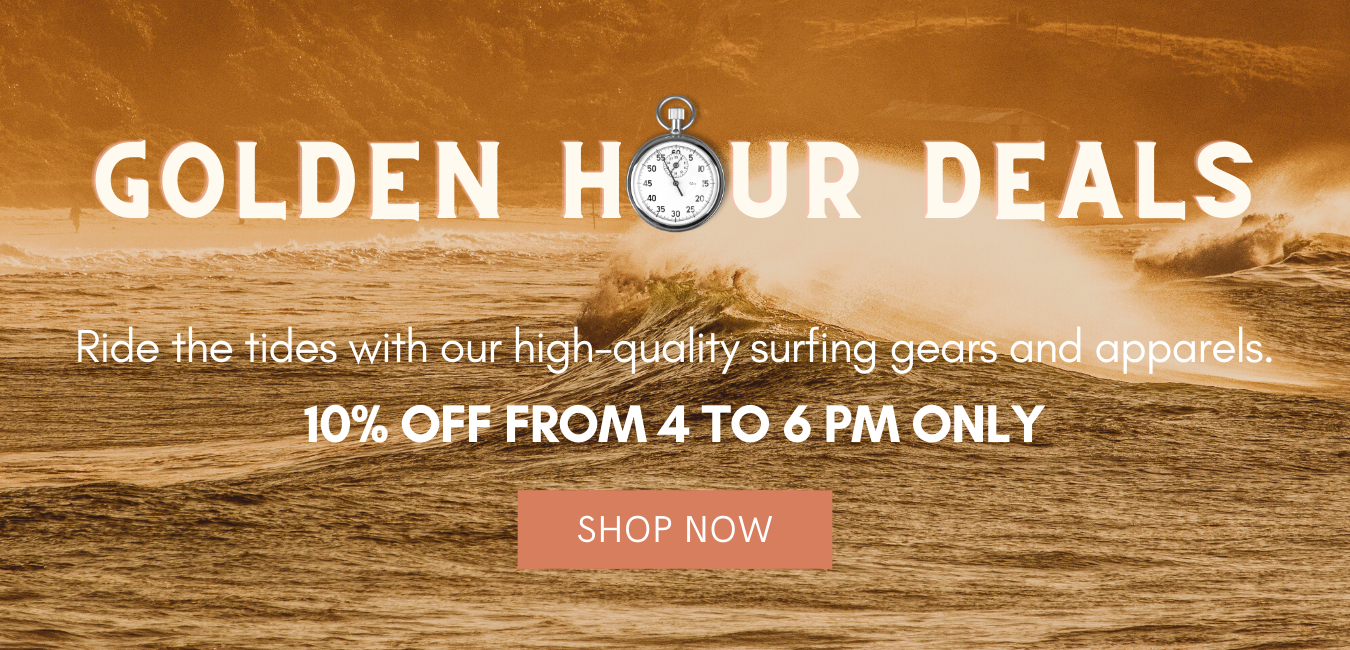 To boost its effectiveness, supplement this strategy with other platforms such as email and social media so you can promote your offers ahead of time.
How to do this:
On the Poptin display rules, turn on the Days and Hours targeting and specify when you want your popups to appear.

11. Create a unique daily promo for all visitors
Concerning the previous item, unique daily promos could be a great way to keep visitors returning to your page. For instance, you can offer free shipping on Mondays, new content on Wednesdays, 40% discounts on Fridays, and so on.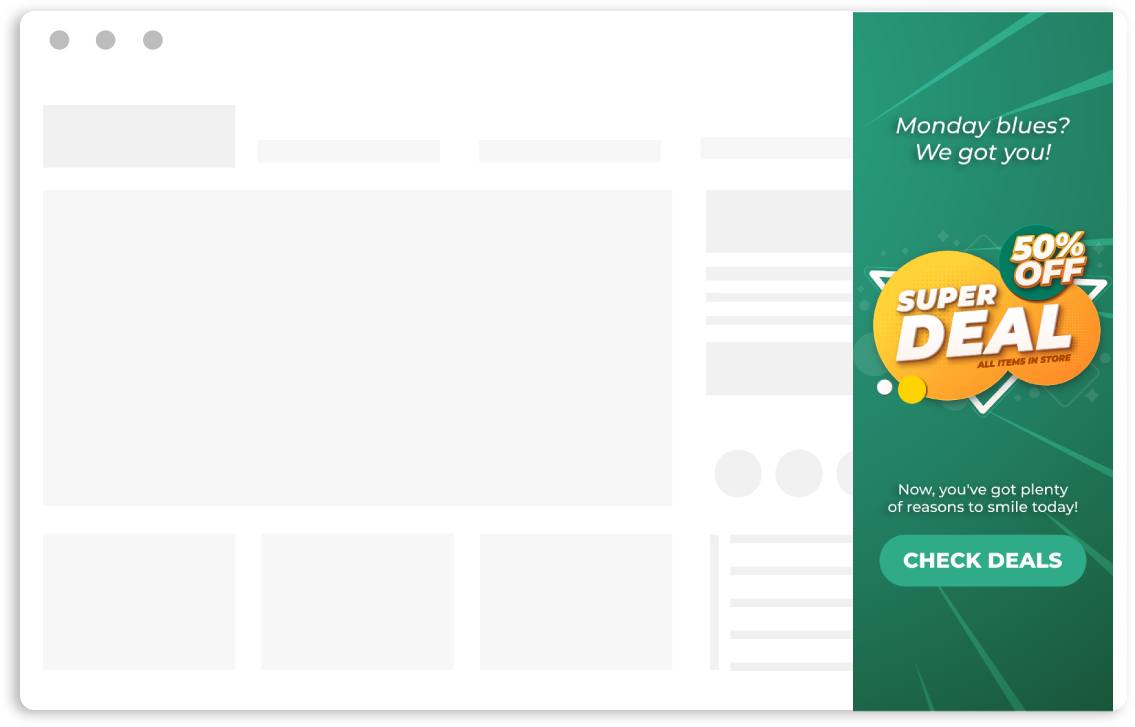 12. Show value-packed pop up for mobile users
Fifty percent of online consumers shop using their mobile devices. That's a huge chunk of the population. If you don't nurture your engagement with mobile users, you will miss out on your chance of converting more visitors into customers.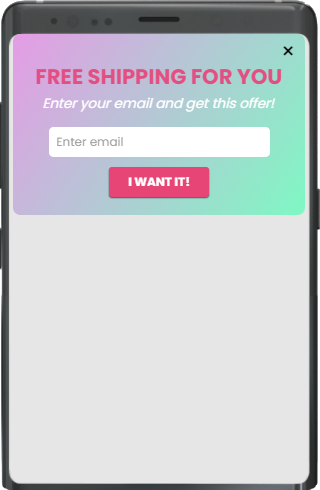 Make sure your eCommerce pop ups are mobile-responsive. And you may also create pop ups that are exclusive to mobile users too. For example, some travel websites promote mobile discounts to encourage more visitors to download their mobile apps and shop from there.
13. Target visitors from a specific country and surprise them with relevant offers (Black Friday sale, Diwali discounts, Eid promos, and more)
Make the most of every holiday celebration around the world! These holidays often drive the most sales for eCommerce. Black Friday Sale 2020 alone recorded $9 billion in sales, 21.6% higher than the previous year. You can create many unique popup deals on Black Friday, and much more on other huge holidays like Christmas, New Year, Eids, Diwali, and many more!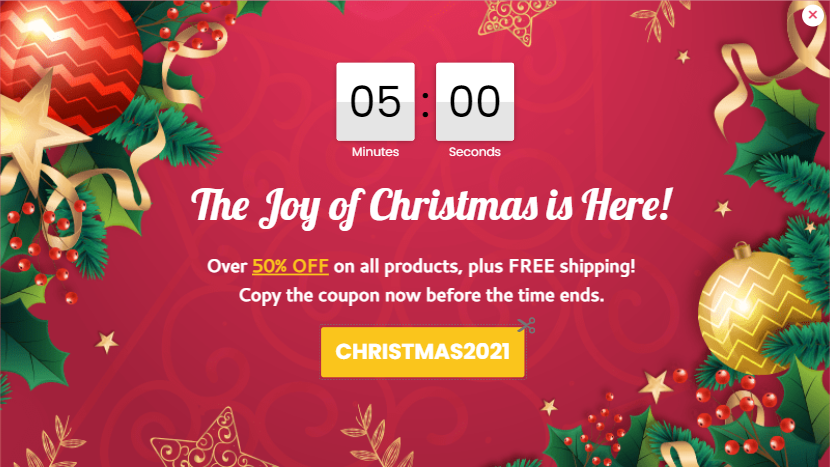 How to do this:
If the celebration only happens in a specific country or continent, like Diwali in India, you can use Country targeting under the Display Rules.
Select the countries where your target customer is located, and you're good to go. The example above is a Christmas popup. The thematic background is available on the Poptin builder.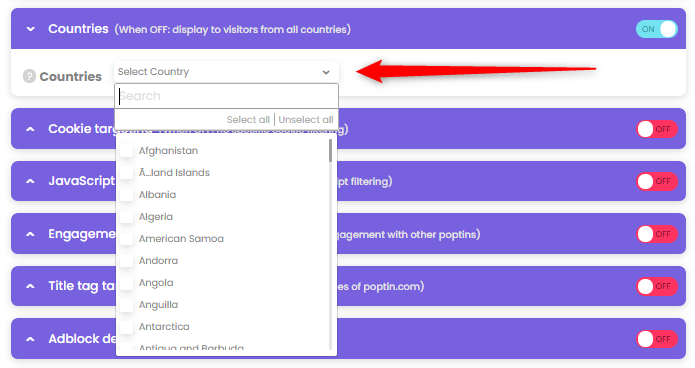 14. Collect direct feedback with easy-to-answer questions on survey pop ups
To get instant feedback from visitors the easy way, make survey pop ups! You can also consider yes/no forms, making it easier for customers.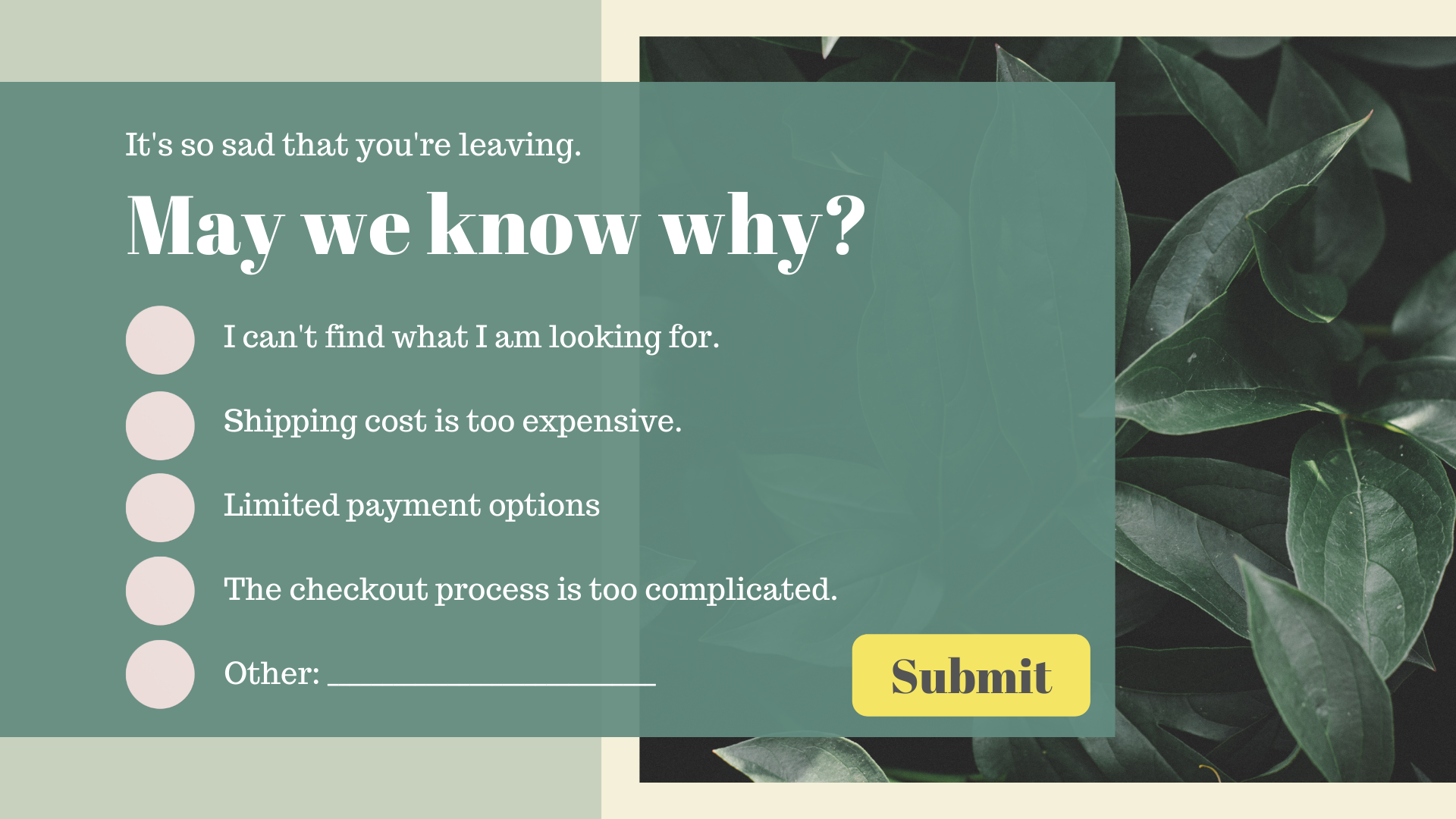 15. Make it easy for visitors to share your content on social media
Social popups and widgets are a great way to seamlessly transfer your website content to other channels, such as social media. You can generate more page likes and followers through social popups, which is essential in growing your brand reach across all platforms.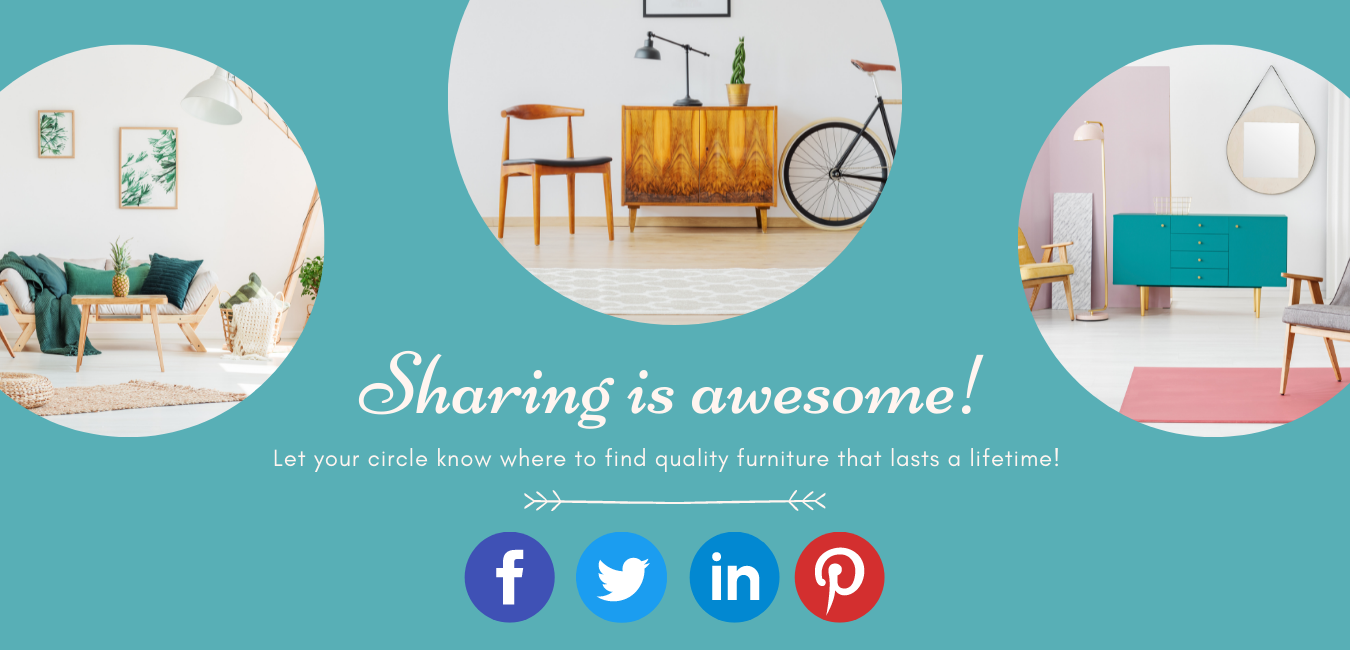 16. Let shoppers save discount codes for later use by asking for their email address
Some online visitors love to shop but don't buy right away. Give them an exclusive premium using discount popups so you'd be reasonably assured that they will purchase later.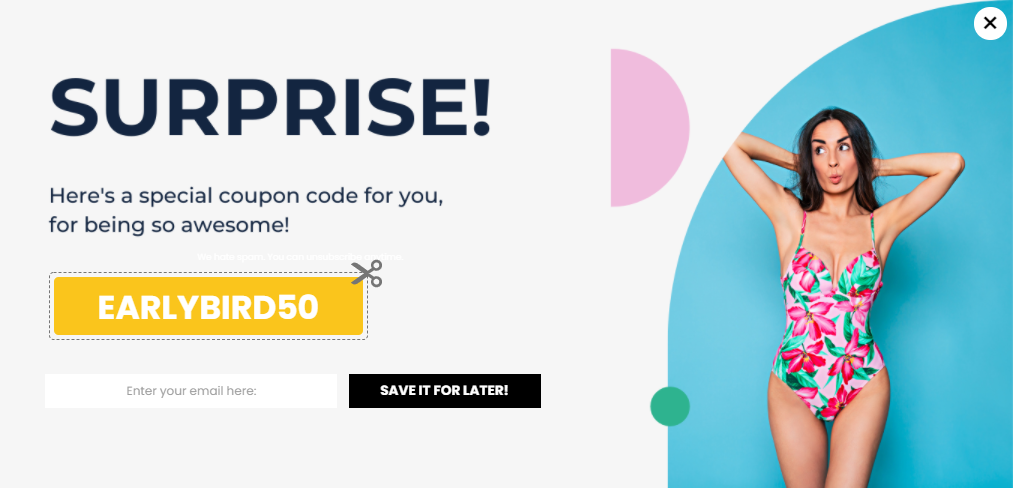 You can add two buttons: one is letting them use the discount today if they check out, and the second is asking for their email address and using the code by the time they order.
This way, you can boost your email signup and sales simultaneously. 
17. Make sure shoppers know you ship to their location by utilizing country targeting
Remember country targeting? Create popups that inform visitors whether or not you ship to their location and probably give them other options on how you can reach them. Then, perhaps, endorse them to your customer support team.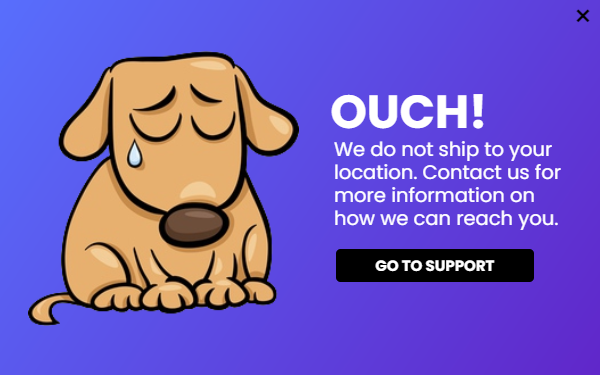 This strategy spares them from the hassle of shopping on your site for hours and then informing them later on that they cannot push through. However, it's disappointing, and you might lose potential customers in the long run. On the other hand, telling visitors that you ship to their location would probably excite them!
How to do this:
Use country targeting on the Display Rules tab. Then, match it with the time delay trigger to see the popup seconds after visiting your page.
18. Display Yes/No popups if you strictly cater to a particular age group only
If your product or service is limited to a specific age group, you can use Yes/No pop ups or forms to restrict your audience from getting into your website.
Mostly, sellers of alcohol, cigarettes, and other adult products use this opt-in. This way, you can smoothly segment your visitors and target the right potential customers without breaking the law.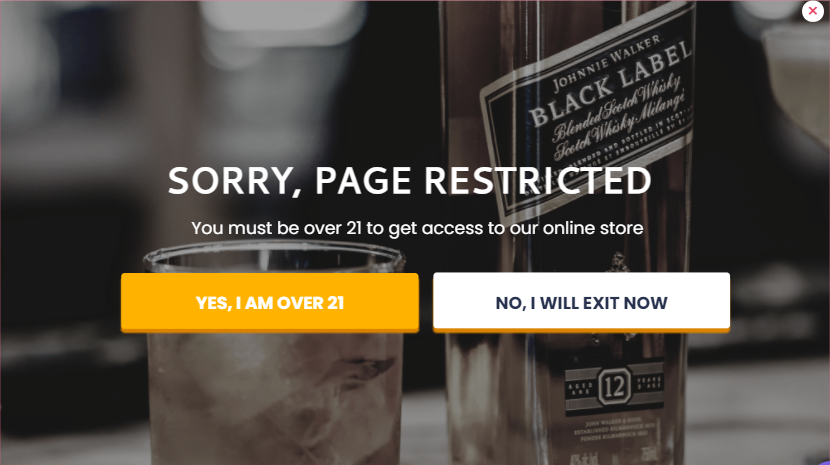 19. Create a special raffle draw to drive new email newsletter subscribers
Promote some interactive marketing efforts on your website that can also be a source of link-building opportunities. Show your popup campaign with all the details of the raffle draw, the price, and how easy they can register, such as asking them to subscribe to your newsletter.

You may be surprised at how it can improve your conversion rate. Just be sure to pair it with email autoresponders and raffle draw updates to keep them engaged.
20. Seamlessly lead your visitors to your Deals landing page
If you have special promotions, it's better to direct your visitors to that specific page. They might be visiting your site because they're looking for it anyway.
Just show a popup that would take them to your deals landing page in just one click. Doing so creates a seamless funnel that leads to sales and a better customer shopping experience.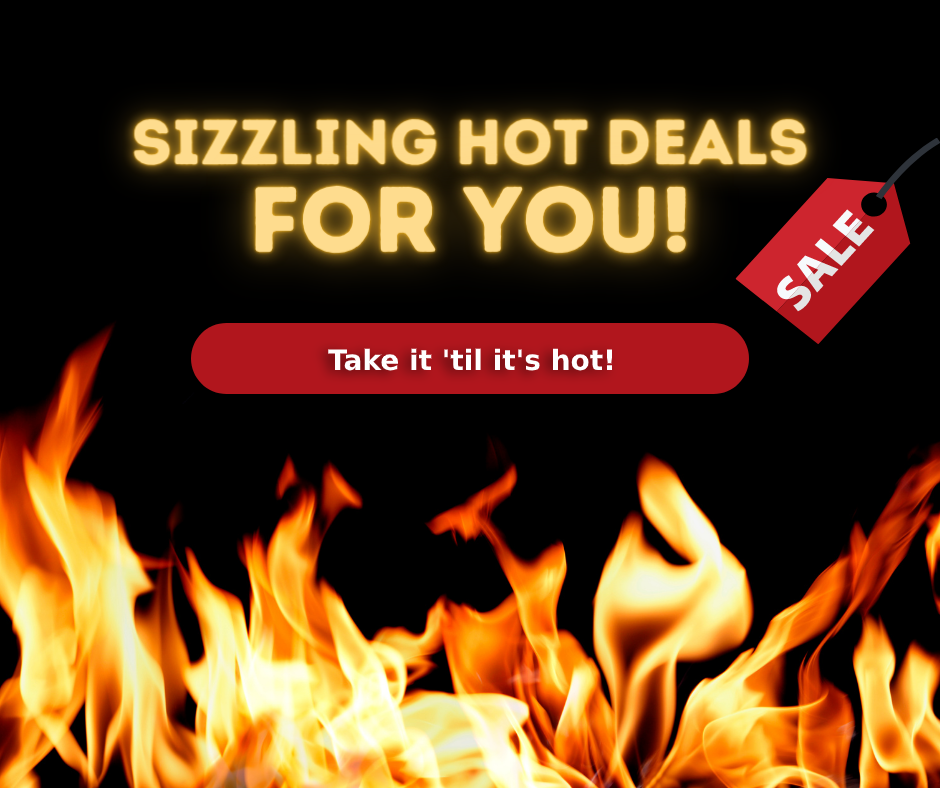 Wrap Up!
Popups are easy to create and implement and won't break your bank. You can do many more ideas with popups, and they're almost endless!
Keep your creative juices flowing; don't be afraid to move outside the box. If you think your pop-up campaign is not doing enough, try A/B testing. 
We hope you get inspiration from the ideas we discussed to jumpstart your conversion journey and be surprised by the results.
Want to create your eCommerce pop ups today? Sign up with Poptin for FREE!