The consumption of digital media has only seen an increase in the past few years. Statistics suggest that by 2022, people will consume digital media for up to eight hours every day. Email and social media offer certain pros and cons as marketing mediums.
While emails may have a higher ROI when compared to social media, you can have two-way communication with your audience through social media.
These channels are powerful on their own, but what happens when you integrate two powerful marketing mediums?
In this article, we'll see what email and social media marketing offer and how you can integrate these mediums to create a diverse marketing strategy.
Let's start with the basics – the definition.
What is Email Marketing?
Email marketing is a direct and digital marketing channel that can be utilized to communicate, educate, garner leads or sales and build dedicated communities. It's no surprise that approximately 87% of B2B marketing professionals prefer this distribution channel.
When mixed with personalization and target segmentation, this channel can land you directly into a potential lead's inbox.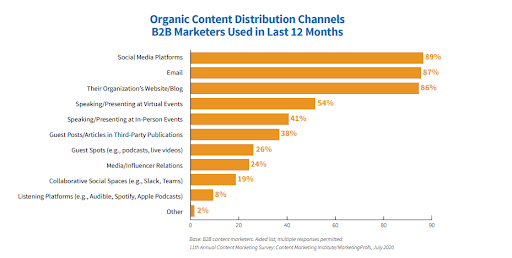 Businesses can send out welcome emails to new subscribers, promotional emails to offer incentives or re-engagement emails to inactive subscribers. You can automate abandoned cart or transactional emails through email marketing tools.
That's not all! Email marketing lets you build credibility by sending emails with user-generated content or reviews.
How Email Marketing Benefits You
Own your email contact lists: This is the only marketing channel that allows you to own or control your contact list. With social media or paid ads, the media platform or ad companies usually have their own algorithms. You can lose social media subscribers never to regain them, but subscribed email contacts are always at your disposal.
Encourage audience feedback: One of the easiest ways to gain credible audience feedback is through sending email surveys to your loyal subscribers. Collecting feedback gives you insights into what your audience prefers and what needs work.
Target leads with personalized content: It's important to reach the right lead at the right time. Emails allow you to segment your contact list and send them personalized content. Even if you opt for automated email tools, you still get the option to personalize the emails based on your audience's preference.
What is Social Media Marketing?
The use of social platforms to acquire leads, promote your services or engage with an audience can be termed social media marketing. A popular channel among B2C professionals, social media can help you reach a wider and diverse audience. You can humanize your brand and create a buzz through social networks.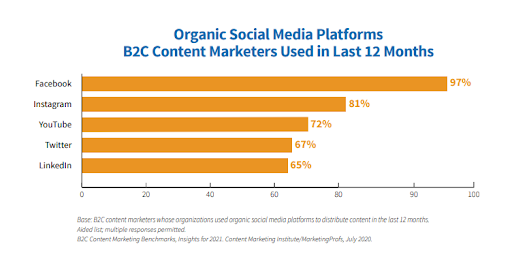 Social media includes networking platforms, audio or visual media sharing sites, discussion forums, and business platforms. Some popular social networks for marketers include Facebook, Instagram, LinkedIn, Youtube, Pinterest, and Twitter.
How Social Media Marketing Benefits You
Increased audience engagement: Social media networks not only allow you to find new leads but also let you have a two-way conversation with your audience. Be it through post comments or live Q&As, brands can share user-generated posts, give shout-outs, and encourage audience engagement.
Get real-time insights: Most social media platforms, such as Facebook or Instagram, offer in-built analytics tools that make it feasible for you to get audience insights. You can find the best posting time or the content type that gains more traction. You can also opt for this-party tools to get in-depth performance analytics.
Provide quick customer service: Social media has become a great place to resolve customer grievances. By addressing the audience's concern with a timely response, brands can regain the customer's loyalty. Expert tip – try to have a dedicated social team or personnel to respond to online comments within 24 hours.
Why Should You Blend Email and Social Media Marketing tactics?
Email and social media work great as stand-alone channels. While you can stick with an either-or approach, you can increase your audience reach by utilizing these two channels at the same time. Here are some benefits of integrating email and social media marketing:
Increase in email subscriber contacts: You can utilize your social media contacts to increase your email list by inviting them to sign up for your emails. You can share Twitter posts with signup links, add signup buttons on your Facebook page, or include signup links in your Instagram bio.
Diversifying platforms to find new leads: If you join a new social platform, you can share the news with your email contacts and invite them to follow you. You can also keep your active social media contacts informed through multiple social or marketing platforms.
Increase in audience reach: To add to the previous benefit, presence on multiple platforms leads to an increased customer reach. When you share diverse content through different channels, you find new audiences that could have the potential to be turned into loyal customers.
Boost ROI and brand loyalty: These two channels offer strong marketing ROI, with emails leading the score, followed by social media. Sharing audience reviews or ratings from your store can help boost brand loyalty. In fact, 94% of people can potentially invest in a brand after finding positive online reviews.
Improves email marketing metrics: By utilizing social media insight tools, you can find areas to improve your marketing plan. Through this data, you can implement new strategies and send hyper-personalized email content, resulting in better email click-through and conversion rates.
Now that you've figured what you can gain through this marketing mix let's find out how to blend these channels for your campaign.
Strategies to Merge Email and Social Media Marketing
There are various methods to integrate these channels and make the most of your marketing efforts. Based on your marketing goals, you can try one or multiple of the following strategies:
1. Share social profile buttons through your newsletters or emails
Include clickable social media buttons or links in your emails so that your readers can find you on social platforms. Sure, you can share snapshots of your social profile feed every once in a while. However, including social media buttons in email footers is great for visibility and doesn't take away from the email content.
Take Talenthouse, for example; notice how the social media buttons are placed strategically so that the viewers can spot them with ease.
2. Invite people to sign up for newsletters through social profiles
Invite your social media subscribers to opt for your emails or newsletters. Social media audiences can be easy to find, but it's hard to retain them. Unlike email contacts that can be owned, social media followers can be lost through a simple algorithm glitch or deletion.
Decider uses a simple CTA link through their Twitter account to invite followers to sign up for their 'All Things Netflix' newsletter.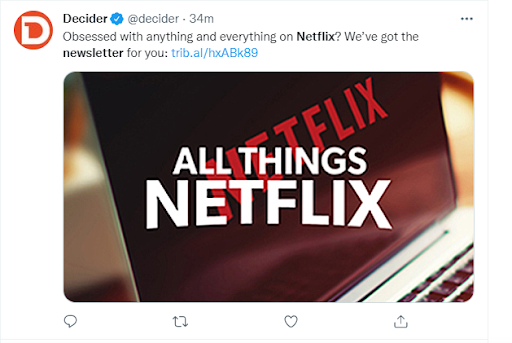 3. Create a social VIP community for email subscribers
Brands create private communities on social media to boost online engagement. You can start a private Facebook group or community and only provide access to your email contacts. This exclusive space can be utilized to share VIP discounts, special content and gain direct audience feedback.
4. Start giveaways or offer incentives on social media for email sign-ups
Offering rewards or freebies in exchange for email sign-ups is a stellar persuasion tactic. You can encourage your social media followers to subscribe to your email content by starting referral competitions or giveaways.
Publishing legend Mills & Boon offers varied prizes or discounts for its Twitter audience who sign up for its newsletter.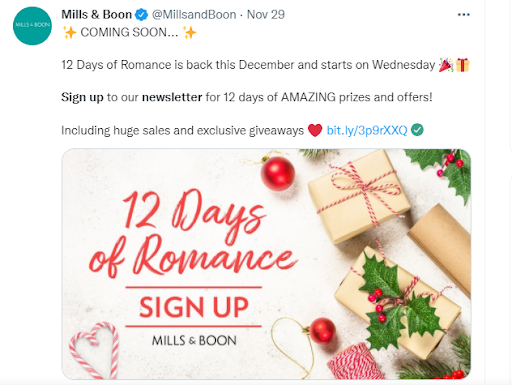 5. Share social media UGC on your emails
Make your social media viewers feel appreciated by tagging their content and sharing it through emails. You can show your appreciation while simultaneously motivating other users to share their content as well. Create custom hashtags and include them in your social media bio to make the UGC easy to share and find.
Fabletics shares its audience's Instagram pictures and account handles along with their comments to build more credibility.

6. Utilize social media ads to get potential email leads
A fantastic way to get potential leads or retarget email contacts is through placing strategic social media advertisements. You can promote your newsletter through Twitter Cards or Instagram and Facebook Ads.
In fact, Facebook allows you to create a lookalike audience mirroring your email contacts. This allows Facebook to target ads to those leads who share demography or interests like your email audience.
7. Tease your email content on social media
Sharing sneak peeks of the future email content on social media builds anticipation. If you can catch your social media audience's attention through the teasers, you can easily persuade them to join your email list.
For instance, NMC Recordings tags the contributing artist accounts and teases the newsletter art. By tagging the artist accounts, they also become visible to a wider online audience.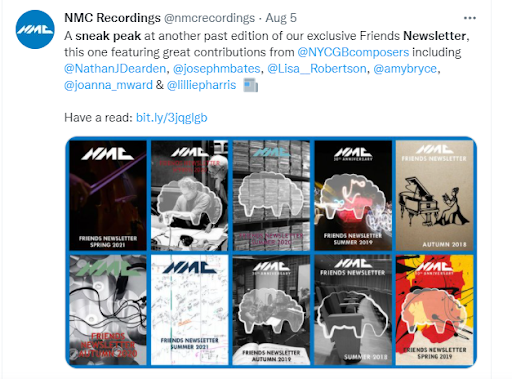 8. Boast about your email list on social profiles
When you reach an email contact milestone, celebrate it with your social media audience. Similar to UGC, this can also serve as social proof to showcase that your newsletters offer worthwhile content.
Kasta initially shared their excitement over reaching 100k email contacts on their Twitter account. Notice how they retweeted the same post with an update on the increased email subscribers. Expert tip: You can utilize these milestone posts to invite readers by including your email signup link.
That's not all! You can also create exclusive social media or email campaigns and utilize one platform to boost the other platform's performance. Brands also collaborate with relevant influencers to enhance their online marketing efforts through these channels.
Wrapping Up
Keep in mind that both these platforms offer different audiences. That's why it's essential to map out your marketing goals before deciding upon the distribution channels. While social media can help you reach a diverse and global audience, email can help you retain the audience and build a loyal community.
Combining email with social media can enhance your marketing campaign. With the help of online marketing tools, you can automate emails and posts or get real-time analytics. Be open to experimenting with different integration strategies, and soon you'll find the one that works best for you.