Growing the email list is one of the most important tasks that every e-commerce store owner must fulfilll if he has the ambition to become as successful as he possibly can.
It is important to reach a large number of people and get their personal data so that you can stay in touch with them and lead them towards becoming your loyal customers.
A smart and easy way to do that is to use popular pop ups because they can attract the attention of your visitors, maintain it by including a certain incentive, and even eventually make them change their minds to make a purchase.
Using effective email popup campaigns can help you gather:
More newsletter subscribers

High-qualified email leads

Valuable feedback
Although there are numerous ideas, tips, and tools that can help you create and use the most effective email popup campaigns for your online store, we have selected a few of the best ones for you that you can easily adopt.
So, keep reading and take a look at these phenomenal ideas right now!
1. Use a simple exit-intent pop up with a highly effective lead magnet to offer your visitors value
Visitors like to feel appreciated, and you can show your visitors that you value them by offering them a certain incentive in the form of a lead magnet.
Lead magnets can be varied, from eBooks to guides, reports, toolkits, and similar, and the most efficient way to present them to your visitors is to offer them through pop up windows.
Pop ups are generally very useful and can be used for a variety of purposes, and the combination of a simple pop up window with an extremely attractive lead magnet has proven to be a very successful strategy in the business.
Timing is also an important factor when it comes to the efficiency of pop ups because visitors appreciate even more the offers presented to them at the right time.
One of the most commonly used triggers is the exit-intent trigger that sets windows to appear exactly when a visitor intends to leave your website.
One of the tools that can make it easier for you to not only trigger but also create the most amazing pop ups for your store is called Poptin.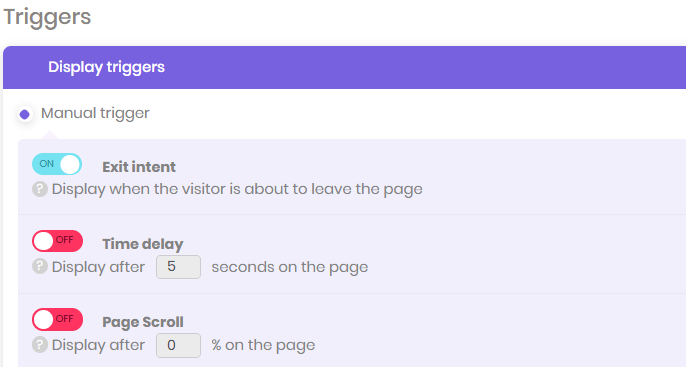 In addition to pop ups, Poptin offers you the ability to:
Build embedded forms for your website

Send automatic emails
When it comes to triggers, it offers advanced triggering options such as after X seconds, after scrolling %, after X clicks, exit-intent, and more.
You can set them very easily, as we can see from the settings below:
The point of the exit-intent trigger is to stop your visitors at the moment when their cursor reaches near the close button and remind them of what they can get if they decide to stay on your website a little longer.
By offering them something for free, you can quickly get your visitors' attention.
For example, Hatchbaby's pop up offers the guide and the product news, and the only thing you have to do before you get all of this for free is sign up, that is, leave your email address.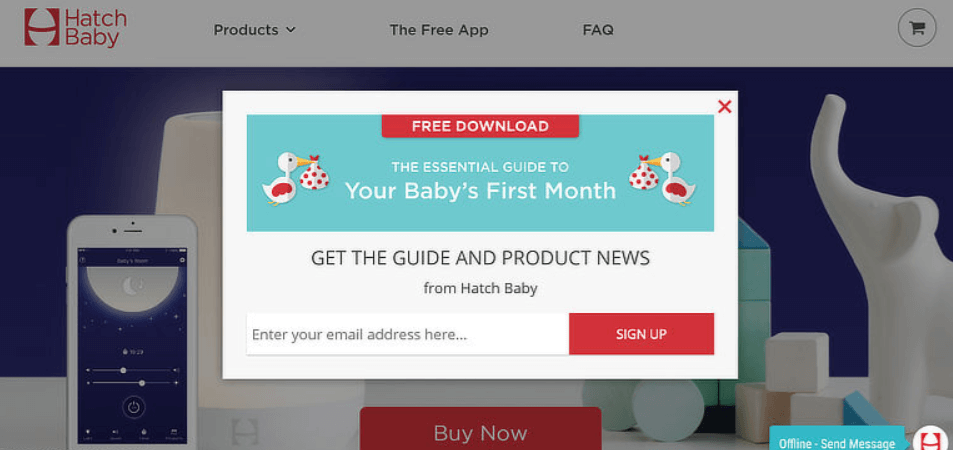 Source: Hatchbaby
This pop up is simple but effective, it offers attractive and relevant lead magnets, and it appears exactly when your visitor least expects to stop him from leaving and missing out on an amazing opportunity.
This is your one last chance to retain your potential customers, so you should give it a try.
2. Use a lightbox popup with an interesting design and beautiful imagery to leave your visitors breathless
Your visitors are visual beings which means that how your pop up looks aesthetically is especially important if you want to attract them.
Using a lightbox pop-up is an ideal strategy to put focus on your offer because when this type of pop-up appears, the rest of your webpage fades automatically.
This system directs your visitors' attention to the offer and provides a better chance of conversion.
Gingiber uses this type of pop-up as a way to gather more subscribers, and they also offer an exclusive coupon code as we can see below: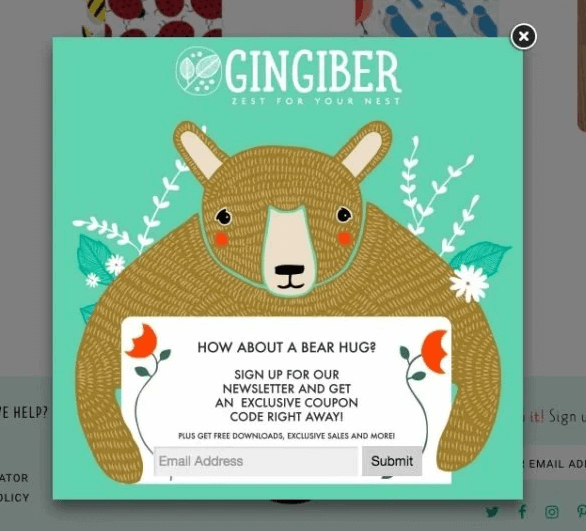 Source: Gingiber
Gingiber's pop-up also has such a cute and memorable design, which is essential if you want to attract as many visitors as possible and make them your subscribers.
You need to include something unique, special, or even funny into your overall design to make it more likable and not easy to forget.
Your design almost has to have a personality, something that belongs only to you as a brand.
A great visual appeal is imperative when creating a pop-up becausе it is the first thing your visitors notice when they enter your website, it catches their attention even before an awesome offer does.
So, in addition to your highly visible lightbox pop up, try your best and work on your design but also experiment a little and try using interesting and relevant images to spice it up.
Your pop-up's design should include:
Bold and easy-to-read offer

A minimum number of form fields

Relevant and beautiful imagery
Your offer should be clear and simple and preferably put in the center because it is extremely important for your visitors to quickly understand everything that is written.
Form fields should be kept to a minimum as there is no need to overcomplicate things – a single form field is all you need to collect your visitors' addresses with a 'Submit' CTA button next to it.
Make your pop-up pleasing to their eyes, and you are one step closer to getting more subscribers than ever.
3. Optimize your email pop-up campaigns for mobile devices to reach a larger number of subscribers and give them a great user-experience
When you're creating email campaigns for your e-commerce business, neglecting user experience is the biggest mistake you can make.
Today, people are spending 90% of their time on mobile phones, and that is why you need to create email campaigns that will be equally effective and responsive on both desktop and mobile devices.
By optimizing your email popup campaigns and making them work perfectly on mobile devices, you get to provide a large number of your visitors and potential customers with the user experience they deserve.
The biggest mistakes that can happen when creating pop-up campaigns are:
Non-responsiveness

Low-quality design

Slow loading
No one wants to waste their time and patience on a slow loading page with low-quality forms because people want to perform certain tasks quickly while not being annoyed.
Beyondyoga has a pop-up that is completely mobile-friendly and they also offer their visitors the chance to subscribe and receive a welcome gift: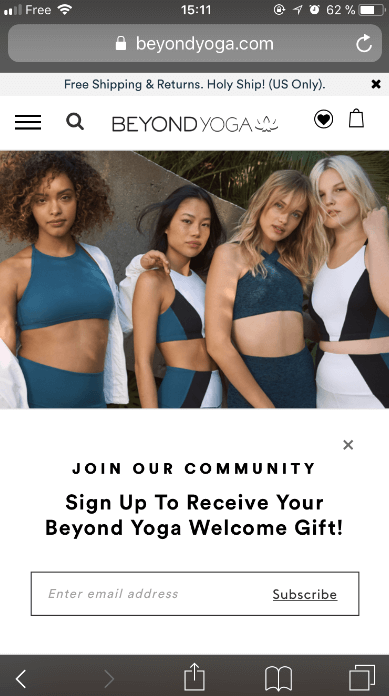 Source: Beyondyoga
When creating a pop-up that is optimized for mobile phones, you need to pay attention to the smallness of the screen and the limited space and provide your visitors with the full treatment.
They need to be able to see and read everything well and without any difficulties.
With mobile-optimized pop-ups, you get the opportunity to cover a large part of the audience, which is certainly extremely important for the business to reach its peak.
4. Personalize your email pop-ups as much as you can to make your visitors feel special and as if you made the offer just for them
As we've already said, people like to feel appreciated but they also like to feel like they are special and so their offers need to be special, too.
In other words, the offer you surprise them with should seem like it was specially created for them personally.
That is why you need to use every opportunity to gather as much info as you can about what your potential customers like and do and segment your audience, but what can be a problem is if you just started gathering email addresses.
This is where certain tools such as Poptin can help enormously.
In addition to advanced triggering options, this tool offers advanced targeting options that allow you to target your audience by:
Search engines

Social networks 

Countries

Specific website pages
You can choose whether you want to target both your desktop and mobile users, and you can see all the options very easily by clicking on a Show advanced display rules button: 
Source: Poptin
There you can choose your targeting options and find out enough about your visitors to be able to customize your pop-ups.
Your visitors will appreciate the gesture and be more inclined to accept a certain offer and proceed towards taking the next action.
Your email pop-ups need to be as friendly and personal as possible because that is what will make the difference and help create that special bond between you as a brand and your potential customers.
One of the examples of how you can use pop-ups for those who, for example, found your website through Pinterest looks like this: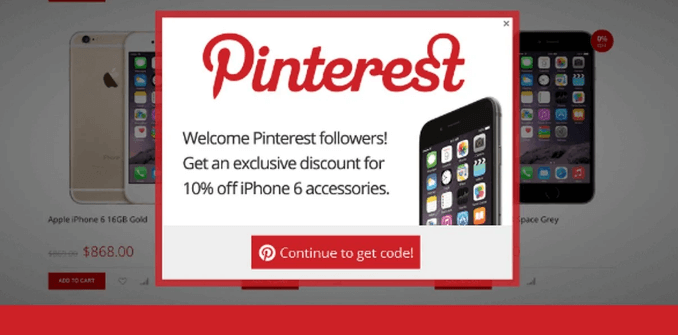 Personalization plays an important role in showing your visitors that you know them, that is, that you know what they want or need, which is crucial if you aim to attract as many of them as you can.
Having an e-commerce store includes becoming more personal with your customers, so if you plan on using all the benefits of email pop-ups, use the right tools and set your targeting options carefully.
The Bottom Line
There are many tips and ideas on how an e-commerce store owner should handle email pop-up campaigns and what is the best way to present your offers to your visitors, but the few of them that we have presented to you just now is game-changing, for sure.
Growing an email list is important for any e-commerce business, and with the right triggers, design elements, and an attractive offer, your email pop-ups will prove very useful for it.
If you need a tool that will make it easier for you to set advanced triggering and targeting options for your pop-ups, try Poptin.
Poptin can also help you create beautiful pop-ups for your website to engage your visitors quickly and easily.
Take a look at these ideas and create the most effective email pop-ups ever!