Although there is no single formula for success, companies that grow and reach the top often implement strategies that those that remain in their initial stages do not.
Without enough sales, what would the future of a business look like? It's difficult to imagine because surviving in that scenario is almost impossible.
In other words, you need to increase your sales to move up the market ladder. Do you know how to do it? There's something that can help you streamline the process and get better results: the best CRM software.
Read on to find out which are the best CRM tools and why you should rely on them!
What is a CRM Software? Definition and Benefits
CRM stands for "customer relationship management software." It is a term used to describe a multi-feature platform that allows businesses to track and examine customer interactions.
The best CRM tools help business owners store all customer data in one place. In addition, these systems often develop, manage, and maintain relationships and communications with customers to boost the company's sales.
Some features CRM software solutions have to help brands and companies connect with their audiences are automated workflow, third-party integration, customer service, lead management, and social media monitoring.
In addition, the best CRM software often collects real-time data, offers customer analytics, predicts future sales, and tracks emails.
With the right CRM solution, you can increase your sales by almost 30%! If that's not enough, you can also enjoy these benefits:
Simplified and time-effective lead generation
Effective lead nurturing
More accurate sales forecasting
Management of sales operations in one place, including prospecting leads and controlling results
Shorter sales cycles
Correlation of resources spent with deals closed to estimate on-target earnings.
Higher revenue and improved profitability
Cross-team cooperation, connecting sales representatives with other departments to share valuable data
Now that you understand a CRM software solution, you should look at the top 10 CRM tools!
The 10 Best CRM Software Solutions to Boost Sales and Lead Generation
1. Salesflare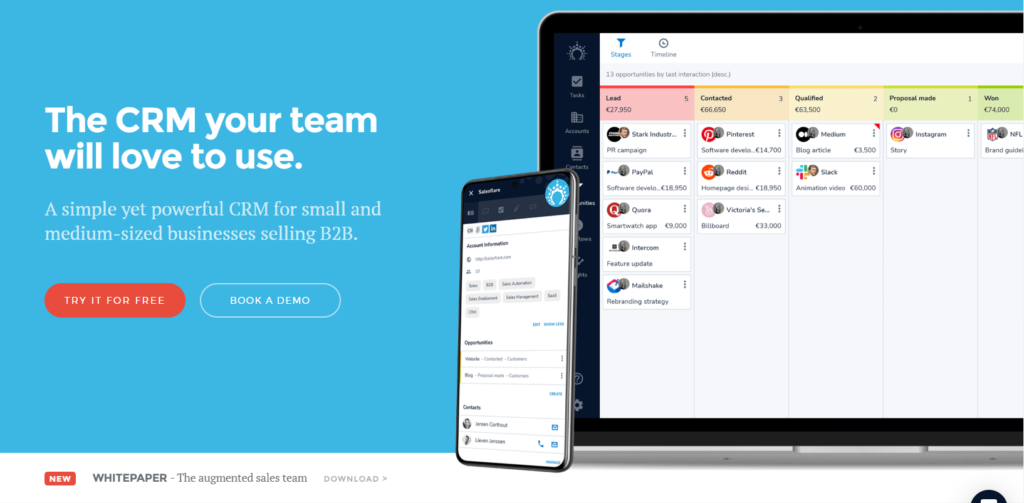 If you are looking for a simple yet powerful CRM software solution for small and medium-sized B2B businesses, this one is for you!
This intelligent CRM platform enables companies to sell more with less work through optimized lead generation features, such as email sequence automation, customer interaction tracking, and more!
Características
Tools to input data for businesses
Automatic assistance to follow up with prospects and customers
All opportunities in one smart overview
Email, link, and website tracking
Shared accounts for cross-team collaboration
Integrations with 3000+ apps to boost productivity
Pros and Cons
Salesflare allows businesses to boost their sales while saving time and energy. In addition, the platform is automated and intuitive.
Whether you need to increase your sales levels, reach more prospects, or boost your creativity, you only need to plug Salesflare in with your systems and tools!
In addition, this CRM software solution also shows the interactions of all staff members with customers to address them as a single team. However, its notification system could be better.
Precios
Salesflare is available in three packages with different prices. These are Growth ($35 per user per month), Pro ($55), and Enterprise ($99). You can get a discount on payment if billed annually.
2. HubSpot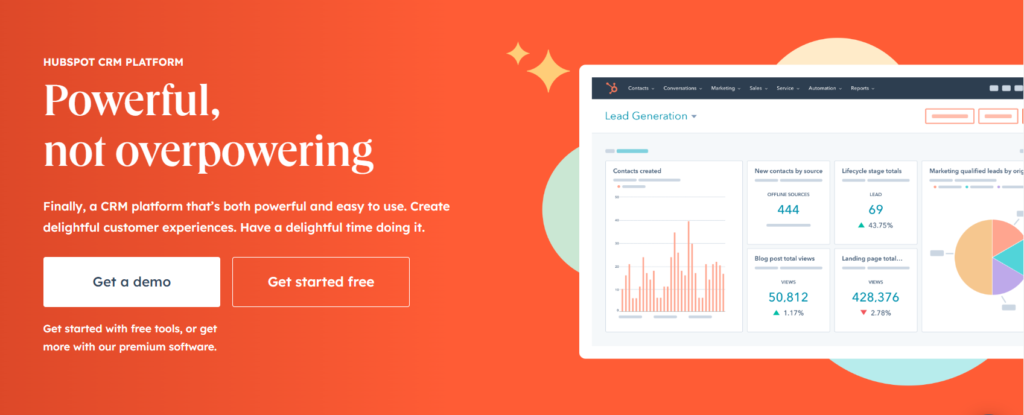 Created as a business-focused CRM platform, HubSpot offers an enterprise software solution with multiple tools to handle marketing, sales, customer service, and content management tasks.
This all-in-one marketing software has all the tools you need to offer a better experience to your customers and grow your business. Check out its highlights below!
Características
Reporting dashboard
Deal-tracking
Company insights
Pipeline management
Email-tracking
Prospect tracking
Meeting scheduler
Sale quotes
Document sharing
Task management
Email templates
Pros and Cons
In addition to having multiple features, HubSpot is available for free! In other words, you can have your sales operations in a clear dashboard at no cost.
Furthermore, this tool gives you real-time reports on your sales activity and valuable data to improve your team's performance in the field.
Hubspot has other features for those who want to connect with prospects or build sales training programs. However, it has limited customization options and can be expensive once you need more advanced tools.
Precios
While this CRM software solution is available in a free version, you can purchase one of its paid packages, including Starter ($45 per month), Professional ($800), and Enterprise ($3,600).
3. Pipedrive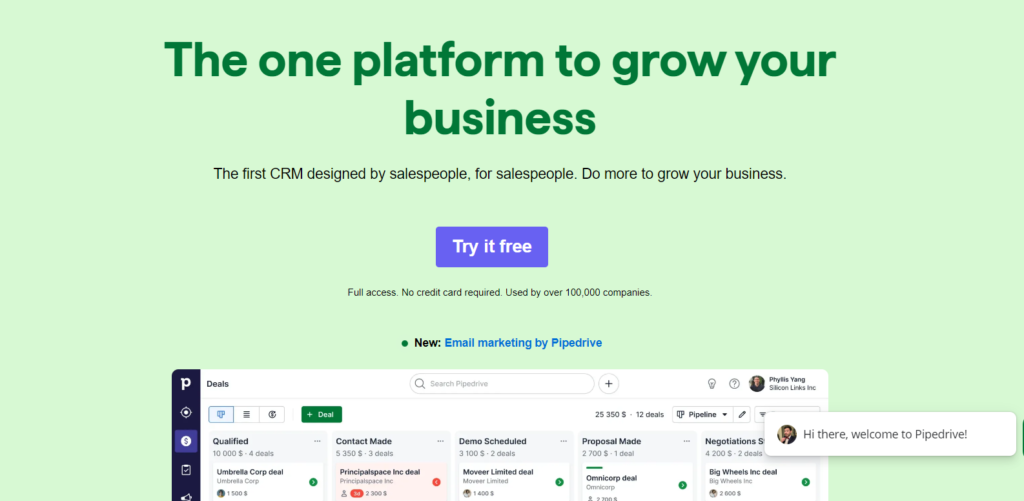 Pipedrive is one of the best CRM tools for small companies! This web-based sales and management solution helps all-size businesses plan their sales activities while monitoring deals.
In addition, Pipedrive streamlines the process of turning a potential deal into a successful sale, helping companies smash their growth goals.
Características
Visual sales pipeline with deals dragged and dropped in one place
Customizable pipeline to match sales cycle
Team collaboration on deals and activities
Updates on operations and wins
Activity reminders
Segment leads to creating targeted lists
Contact history of each deal and contact
Web form for lead generation
Reporting and dashboards
Revenue forecasting
Pros and Cons
Pipedrive has a user-friendly and easy-to-use interface with multiple tools that help you meet your team and sales goals. Also, you can integrate this software solution with your favorite apps in just minutes.
Unfortunately, Pipedrive does not have inbound email-sending features, which can be a big issue for businesses that rely on email communications with sales prospects.
Precios
Pipedrive is available in four paid plans, ranging from $9.90 to $59.90. You can also try its 14-day trial version.
4. Salesforce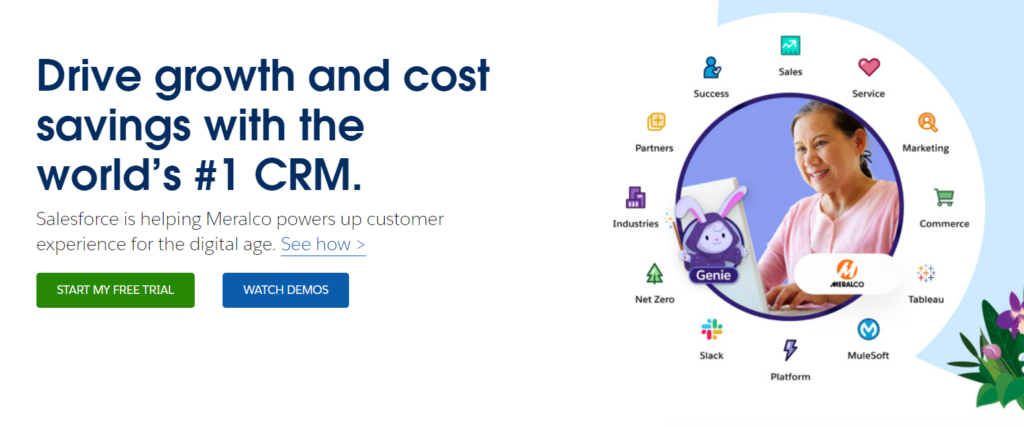 Considered one of the best and most popular CRM software solutions, Salesforce is a platform where you can store customer and prospect contact information and record service issues.
This integrated tool can also manage marketing campaigns and help you stay connected with customers! In other words, it has something to offer all your departments.
Características
Contact management
Quote management
Trailhead: Online coaching tutorials
Lead management
Marketing campaigns and activities tracking
CRM analytics
Dynamic dashboards
Custom reports
Mobile apps
Email integration through Salesforce lightning
Sales forecasting
File sync and share
Partner and channel management
Sales collaboration
Pros and Cons
In addition to all the features listed above, this CRM software solution has a Salesforce tool that allows business operators to import data and set up their sales activities.
Plus, Salesforce tunes business-customer communications tracks contacts and deals in one place to save time and is compatible with your favorite apps.
However, the platform's disadvantage is that it has data storage limits, and its customizable options can be expensive.
Precios
You can use Salesforce's 14-day free trial or try their paid plans for as little as $25 per month if billed annually.
5. Zoho CRM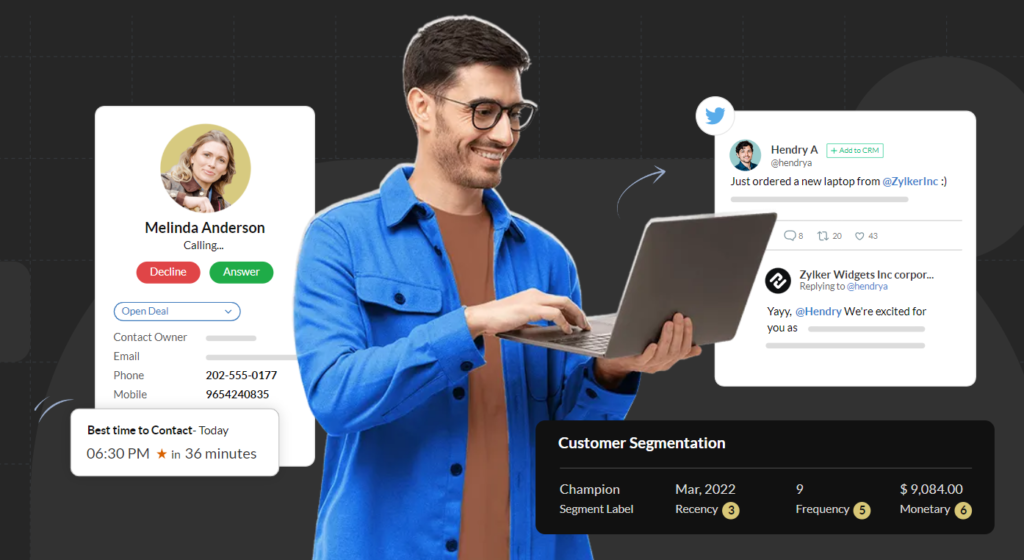 Another platform that has a lot to offer to your business is Zoho. This top-rated CRM software solution features many automation and customization options for companies that want to increase their sales.
Furthermore, Zoho Sales CRM has a user-friendly interface. You can take care of all your business tasks saving precious time there!
Características
Lead and contact management
Deal management
Workflow automation
Customization options with Canvas
Sales process builder
Processing rules
Process review
Email handling
Calls and reminder scheduler
Customer portals
Multiple integrations to capture leads from social media platforms
Real-time reporting
Analytical components
Google workspace and office 365
Quotes and finance
Accurate forecasting
customer segmentation
Google ads integration
Gamification
Team collaboration
Pros and Cons
Zoho CRM offers many features to all-size companies and brands that want to boost their business. As its main advantage, it has social media management tools to extract leads from almost anywhere!
Additionally, this CRM software offers other valuable features for business owners, including customer support, product reporting, automation, and analytics.
Sadly, Zoho is not a good fit if your business relies on one-on-one engagement with sales prospects.
Precios
Zoho CRM is available through a free trial for up to three users and on paid plans with unlocked features. Prices start at around $19 a month.
6. ZendeskCRM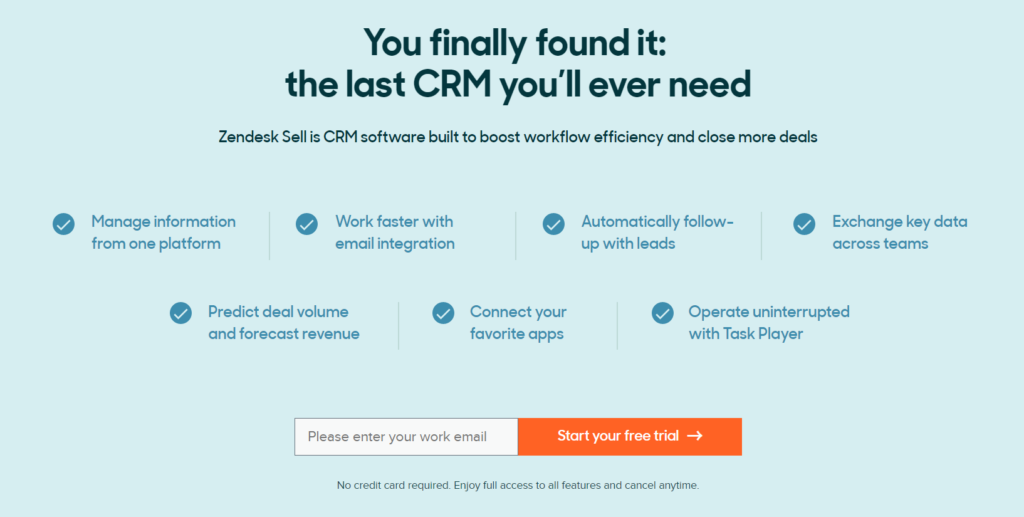 Do you want to grow your revenue and maximize your team's productivity? If so, Zendesk is the CRM tool for you!
Although this platform is simple, it offers customizable options for big enterprises and small companies. In addition, it has multiple first-class features to understand customers and make decisions that drive sales.
Características
Email integration
Sales engagement tools
Task player
Call and text options
Lead segmentation and filters
Smart lists and templates
Email and task sequence automation
Power dialer
Bulk outreach
Sales triggers
Complete customer view
Leads, contacts, and account information gathered in one place
Integration with Zendesk Sell and Support
Mobile apps
API access
Accurate forecasting
Analítica
Pipeline analysis
Performance metrics and activity reporting
Pros and Cons
Zendesk was designed as a sales suite that includes all the tools you need to offer better customer support and analyze how your business is performing in terms of leads and revenue.
Furthermore, it's a reliable platform with a database of 20 million companies and at least 395 million contacts.
However, despite Zendesk developers saying it works for all-size businesses, this software solution may be too much for small companies.
Precios
You can use Zendesk on its 14-day trial or purchase its plans at $19 per user.
7. Keap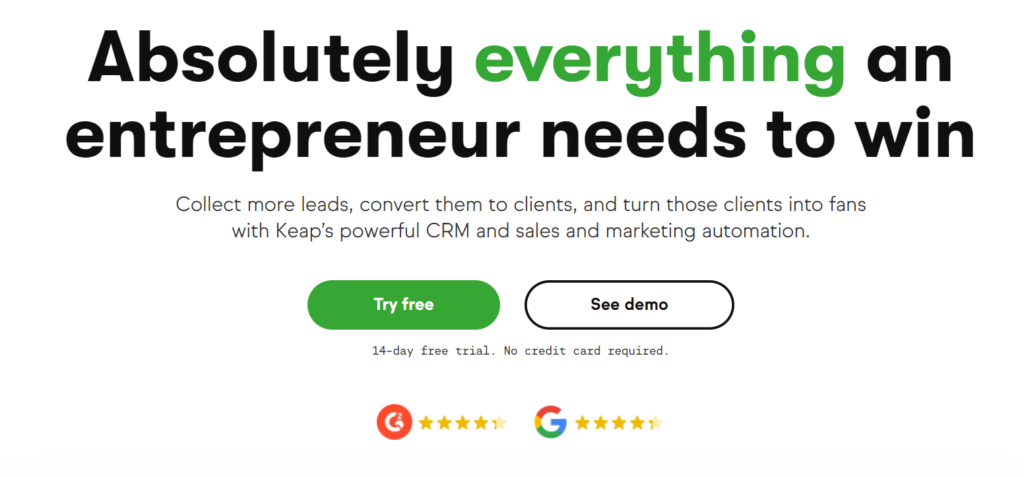 If you prioritize automation, Keap is one of the best CRM tools you can find. This platform offers a wide range of features and functionalities for all businesses.
Additionally, its marketing automation options can optimize your sales pipeline to help you earn more revenue.
Características
Sales pipeline analysis
CRM, sales, and marketing automation
Marketing por correo electrónico
Payment and financial tools
Custom forms creation
Calls and emails
Customized sales and marketing solutions
Pros and Cons
Keap is the ideal CRM platform for those who want to set up automatic processes to increase their sales and revenue while saving time. Furthermore, it is fully customizable and can be integrated with several apps. 
However, it's one of the most expensive CRM solutions you can find on the market.
Precios
You can use Keap's 14-day free trial or purchase one of its three paid packages. Prices range from $40 to $100 a month.
8. Nimble CRM

Developed to build a better client-customer relationship, this CRM platform provides tools to monitor, create, and maintain solid bonds with customers.
If you want to generate more leads or make your current customers develop more loyalty to your brand, this CRM software solution has everything you need.
Características
Contact management
Social listening and engagement
Reminder scheduler
Pipeline tracking and reporting
Email signature capture
Smart mobile apps
Group messages
Custom fields
Pros and Cons
In addition to all the tools listed above, Nimble CRM offers an excellent plugin for Google Chrome that makes all tasks easier to organize and execute.
Also, its smart app is handy for those who save data and other collected information.
However, NimbleCRM does not have a good email editor, and its deal management system is weak!
Precios
It is available for only $25 at a discount if billed annually.
9. Oracle CRM

Another renowned CRM tool that you should consider is Oracle. It is one of the most popular CRM software solutions in today's market because it provides multiple marketing, sales, commercial, service, and social media solutions.
Características
Integrations with social media platforms
Business intelligent data application support
E-billing and self-service
Integration with Siebel CRM and CRM gadgets
Partner relationship management
Pros and Cons
Oracle CRM helps you track sales, leads, and opportunities to grow your business. Furthermore, it provides accurate forecasts and increases productivity.
Unfortunately, its interface is weak, and its app is slow. Also, you may need time to learn how to use its most essential features.
Precios
Oracle CRM is available in paid packages with prices starting at $75.
10. Freshsales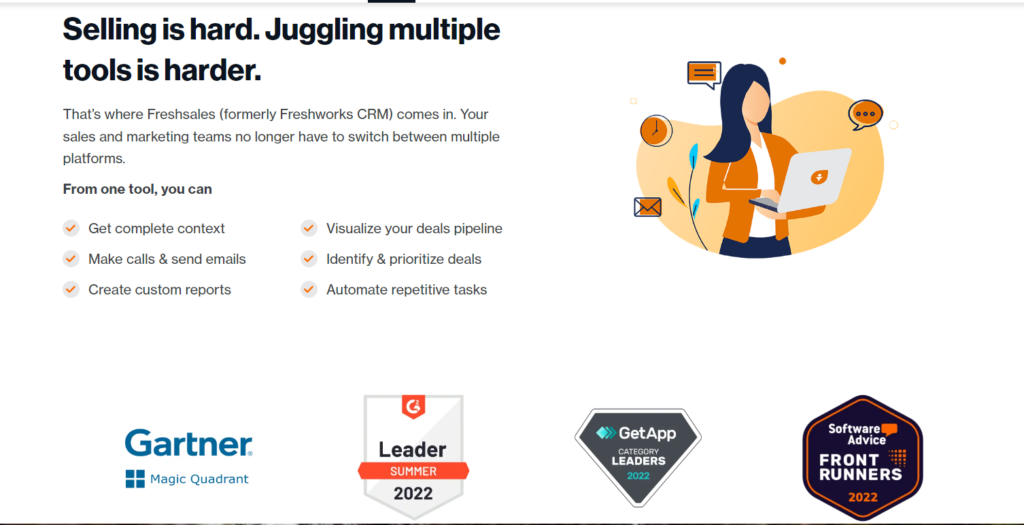 If you are looking for a fully-featured CRM platform, Freshsales is for you. It has all the tools you need to simplify sales operations.
Furthermore, this CRM platform helps you track a customer's entire lifecycle, benefiting your business in every possible way!
Características
Event tracking
Custom report creation
Automated and personalized emails
Dashboard analysis
Mobile apps
Built-in phone features
Chat and email features
Pros and Cons
If you want to nurture your leads, this is one of the CRM software solutions you should consider. It has tools to grow your business, close deals, manage pipelines, and more! However, it lacks marketing-oriented features and analytics.
Pensamientos finales
Finding the best CRM software solution can be a difficult job considering the ocean of options out there! However, those you saw here are the most recommended ones!
Remember to check all the details explained above before making a decision.