No todos tenemos Photoshop o la necesidad de complicados programas de software de diseño con una curva de aprendizaje empinada. La mayoría de las veces sólo queremos arreglar una foto o diseñar un anuncio para Facebook o un banner para las redes sociales. He reunido aquí 21 herramientas útiles y gratuitas que son adecuadas para usuarios que no son diseñadores profesionales.
These are great to start designing on a lower budget before you can afford the typical professional programs that most high-level designers use.
Alternativas a los programas de software de Adobe:
Nombre: Pixlr Photo Editor
Price: Free
Platform:  Online
Link:  pixlr.com/editor/
Description:  An effective, online alternative to the classic Photoshop. It has a user interface that is very similar to somewhat older versions of Photoshop. In terms of tools and options it is more limited but on the other hand you can still find here the basic Photoshop options such as working with layers, using masks, as well as various filters and editing options for photos.
One of my favorite features in Pixlr is the program's responsiveness – it always works fast. Although I have the advanced and powerful 'Photoshop CC' installed, I find myself many times preferring to quickly open a new chrome tab, pick Pixlr from Favorites and start retouching one or two photos… It's just much more convenient than waiting for Photoshop to go up, load the photo, and then start working on it. In short, in my opinion this is a must-have software in every browser!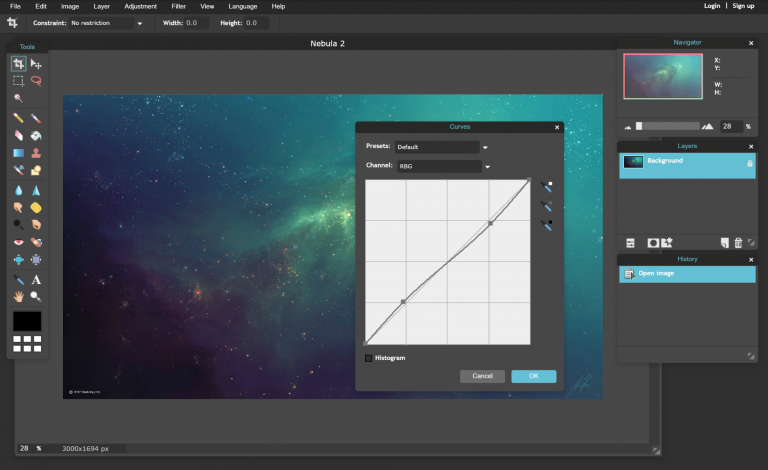 Nombre: Gimp
Price:  Free
Platform:  PC, MAC, Linux
Link:  www.gimp.org
Description:  One of the more recognized programs on our list, Gimp is considered the unofficial alternative to Photoshop. The program is packed with features and capabilities just like Photoshop and in fact everything you can do with Photoshop, you can pretty much do with Gimp. The only limitation is your own imagination
Another plus, thanks to the relative popularity Gimp has gained, is that you can become a pro in this software through countless guides available online.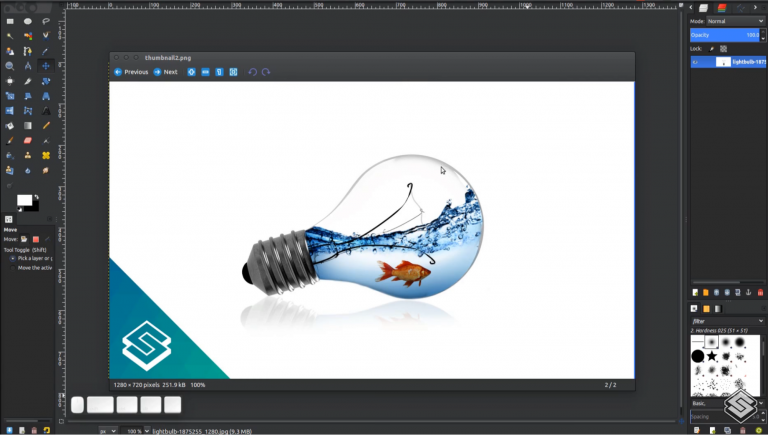 Name: Mojomox
Price:  Free & Subscription
Platform:  Online
Link:  mojomox.com
Description: Do you need a modern logo and graphics that are already customized to your brand? Mojomox includes a logo maker with modern fonts and professional marketing templates that are already in your colors and fonts.
Mojomox is a modern DIY branding and graphic design platform for startups and marketers.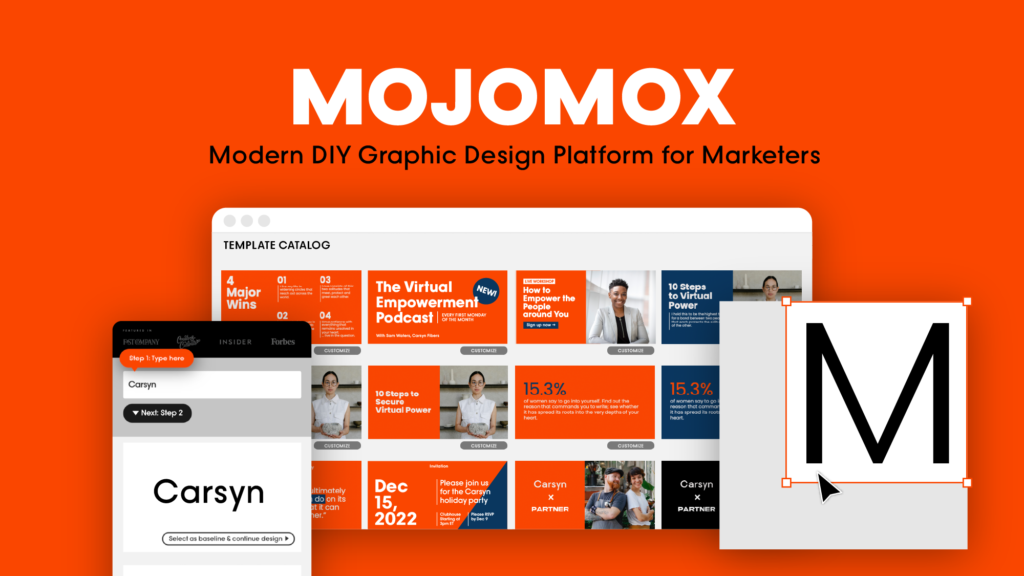 Modern Logo Maker: Mojomox includes a wordmark logo maker with unique and modern fonts. Type out your company name, test different fonts, adjust weight and tracking. Then, use a color palette preset or pick your own. See your logos, fonts, and colors in real-time example applications such as on a phone, on a business card, or on a website.
Automatic Brand Kit Creator: With every logo you create, Mojomox automatically generates a brand kit based on the colors and fonts you selected. You can have multiple brand kits and each one can be customized.
On-Brand Marketing Templates: Mojomox has a template catalog for professional-looking marketing assets that are on-brand. Once you've set your brand colors and fonts, you see all templates already converted into your custom templates.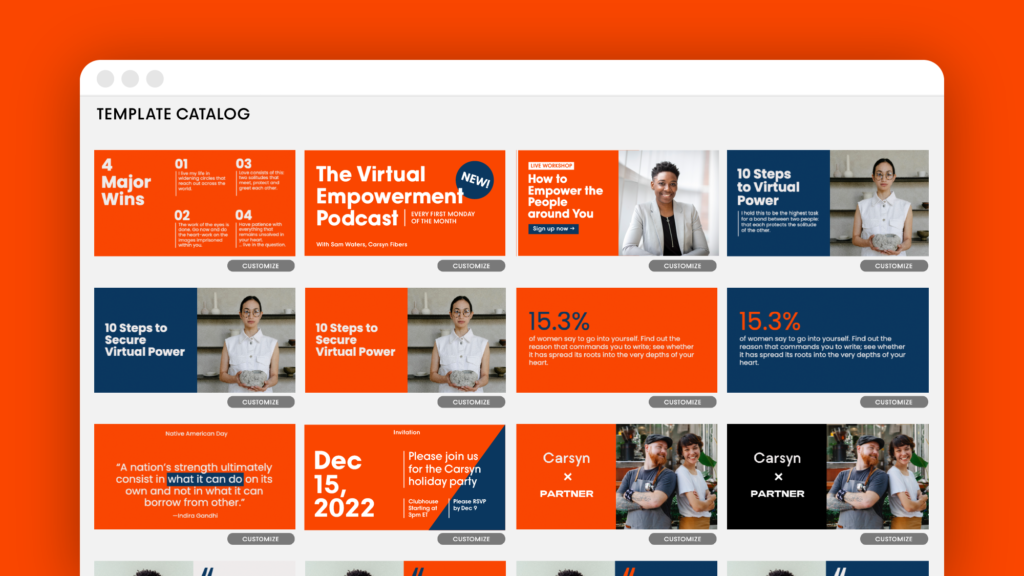 Easy-To-Use Graphic Design Tool: The Mojomox online graphic design tool is based on professional software but simplified for non-designers.
Unique Fonts to Embed: Use the unique Mojomox fonts on your website for brand consistency. They're as easy to embed as Google web fonts and load fast.
Name: Placeit
If you're looking for a platform where you can create all your branding designs, Placeit is a great tool! With more than 50K templates and a growing library of designs made by professionals each day, you can create eye-catching images. Make everything from logos and videos to your social campaign with branded images in minutes.
Create a logo in seconds with hundreds of new logo templates every day according to your industry.  Access all mockups and design templates with its mockup generator and video creator.  Easily create your brand's marketing assets and then just download your creation.
Key features:
Unlimited downloads. Keep creating, you get to have the unlimited downloads you need for your brand.
Fonts and audio selection. You can also customize the playback speed and quantity of slides to make a short or long video.
New templates every day. Designers are always in the loop for trends and they create beautiful assets every day.
Easy-to-use. You can create tons of designs, arts, videos, demos, Instagram stories, and social media marketing assets with no technical skills.
Professional graphics. All graphics are made by a professional team, so you can rely on them being eye-catching templates for your campaigns.
Pros of Placeit:
Wide range of graphic libraries, +85,000 exclusive design, music and photo assets.
You can choose between tons of video formats for your marketing arsenal.
Constant updates of the graphics and the tools
Free tools available for everyone
High-resolution graphics
Pricing:
Basic: Free
Unlimited: starting from $7.47 per user/month
Name: PhotoADKing
Price:  Free
Platform:  Online
Link:  www.photoadking.com
Description: PhotoADKing is a cloud-based graphic design tool that helps users to design banners, presentations, social media graphics, and other marketing materials like flyers, brochures, logos & business-card by using templates. It has a large library of various templates, images, icons, shapes & fonts. The platform combines an online 3D Editor With a stock library of 3D shapes and 3D fonts. PhotoADKing is on agenda to make the process of graphic design easier for students, marketers, and businesses.
Nombre: Crello
Price:  Free
Platform:  Online
Link:  https://crello.com
Descripción: Crello es una herramienta de diseño muy simple e intuitiva que es comparativamente nueva en el mercado. Tiene más de 12.000 plantillas gratuitas y una vasta colección de fotos de archivo. Su característica más destacada es Diseños animados - diseños en vivo de 10 segundos, donde puedes agregar tu texto y logo y descargarlos en formato mp4. Crello también tiene una función gratuita de redimensionamiento (pagada en Canva) y un formato de diseño de presentación con un número ilimitado de páginas.
Algunos elementos de diseño y fotos cuestan $0.99. Además, hay un espacio de almacenamiento ilimitado para tus diseños y archivos subidos, lo cual es impresionante.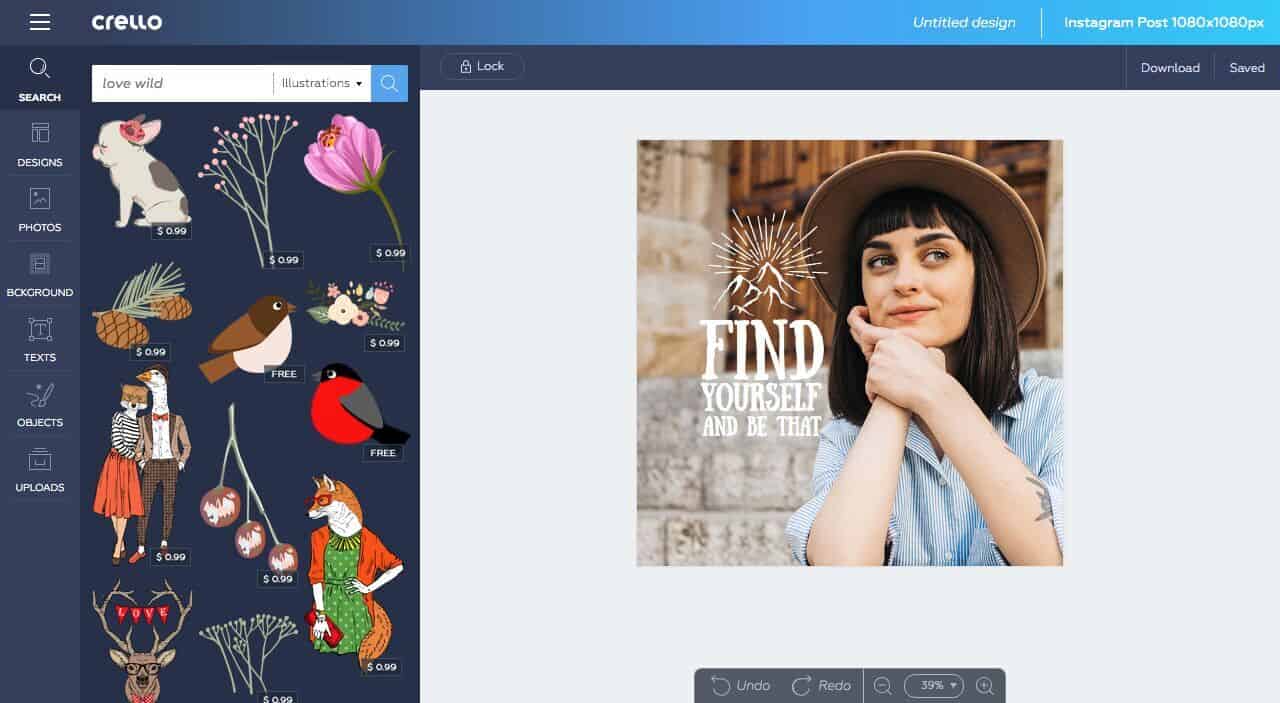 Name: Visme
Price: Free
Platform: Online
Link: visme.co
Descripción: Visme is an all-in-one cloud-based content design service that is popular among professional designers and people who don't have design skills at all.
By using pre-made templates and blocks that are already professionally pre-designed. Visme offers a huge library of assets like royalty-free images, a ton of graphics and icons, smart charts, as well as a variety of pre-made blocks.
Also, you can choose the template you like and add it to canvas customizing per your needs. Visme helps create engaging infographics, charts, graphs, presentations, and a bunch of other visuals in a blink of an eye.
What's more important, Visme has the option to preview, share, and download a created piece of visual content. Afterward, you will be able to track detailed analytics.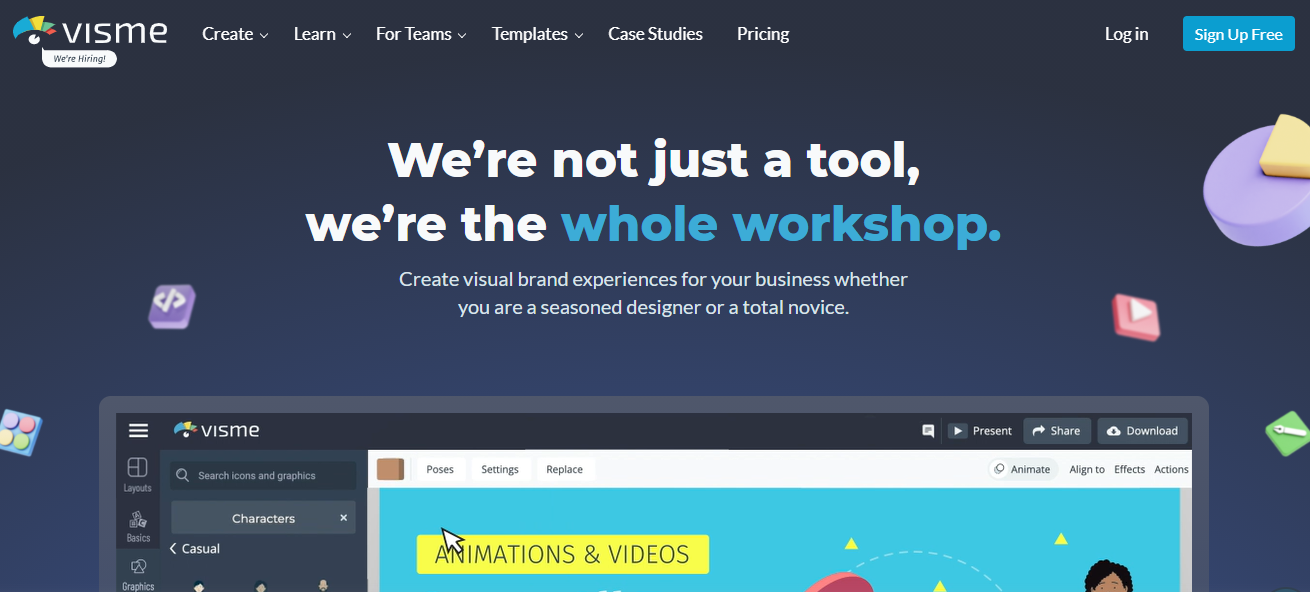 Nombre: Venngage
Price:  Free
Platform:  Online
Link:  Venngage.com
Descripción: Con Venngage, crear diseños atractivos que comuniquen su información visualmente es casi demasiado fácil. Puedes crear infografías que expliquen cómo funciona un proceso, trazar una línea de tiempo o hacer comparaciones entre 2 o más conjuntos de datos. No se requiere experiencia en diseño.
Venngage es rápido, fluido, viene con un editor de arrastrar y soltar para principiantes y un millar de plantillas, iconos e ilustraciones (¡están añadiendo más cada mes!)
Aunque se especializan en infografía, puedes usar su herramienta para hacer casi cualquier cosa, desde gráficos de medios sociales, libros blancos, ebooks e incluso personajes de usuario robustos.
Sus usuarios de negocios también tienen la posibilidad de subir sus propios logotipos, paletas de colores y fuentes y verlos aplicados automáticamente a plantillas prehechas con la herramienta Mi Kit de Marca.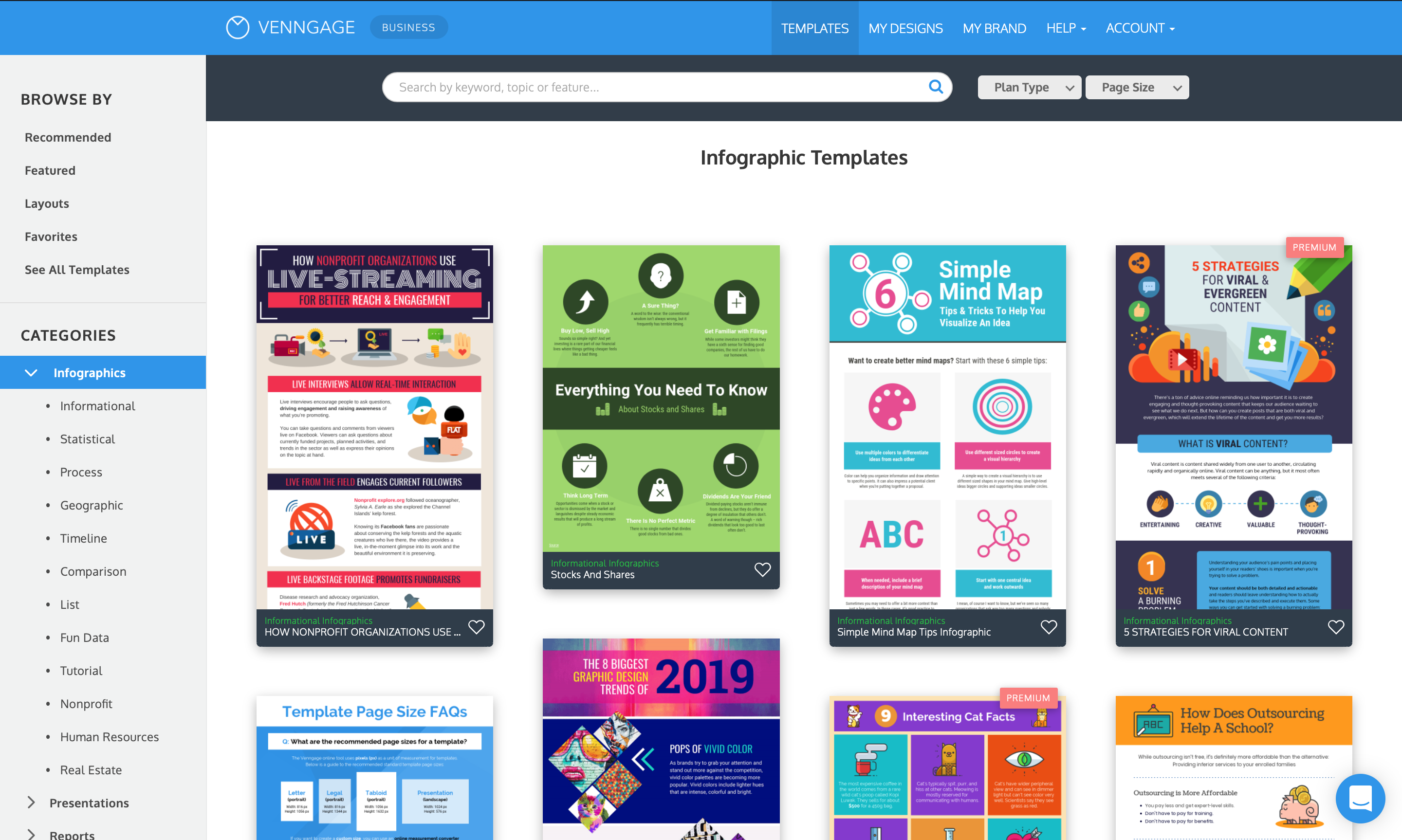 Nombre: Inkscape
Price:  Free
Platform:  PC, MAC, Linux
Link:  inkscape.org/en/
Descripción: Así como Gimp es considerado la alternativa natural y gratuita al Photoshop, Inkscape es considerado la alternativa al Adobe Illustrator. Este software es de código abierto y está disponible para todo el mundo de forma gratuita, al igual que Gimp. Inskape también te ofrece un sinfín de opciones para los gráficos vectoriales; todo lo que puedas hacer con Illustrator, también lo puedes hacer con Inskape. Cualquiera que busque una alternativa gratuita a Illustrator, Inkscape es la mejor que puede encontrar.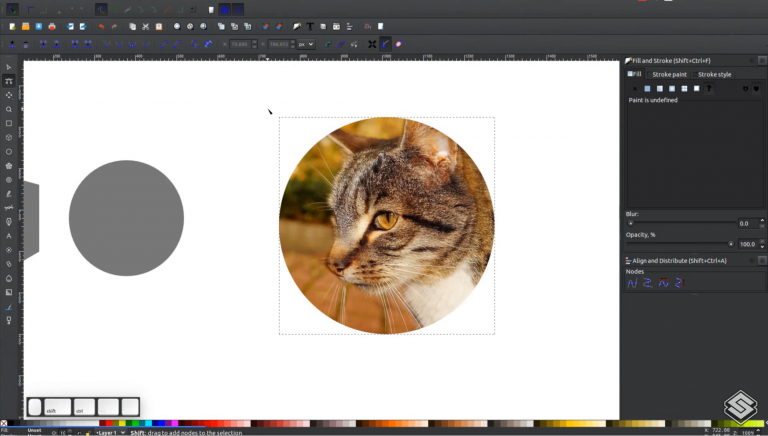 Nombre: Vectr
Price:  Free
Platform:  PC, MAC, Linux, Chromebook
Link:  vectr.com
Descripción: Vectr es un programa vectorial bastante simple; es minimalista en todo lo relacionado con varias opciones y herramientas, pero sobresale en la velocidad con la que puedes manejarlo y en proporcionarte una experiencia de trabajo agradable. Adecuado para dibujar ilustraciones, diseñar banners y personalizar interfaces sencillas.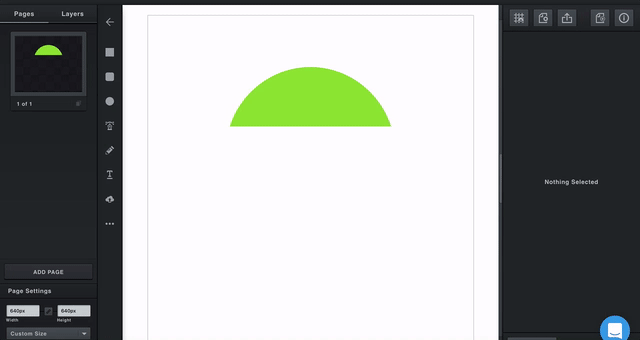 Nombre: PhotoFiltre
Price:  Free
Platform:  PC
Link:  www.photofiltre-studio.com
Descripción: Para aquellos de ustedes que sólo quieren hacer pequeñas modificaciones a sus fotos o crear elementos simples, PhotoFiltre es una excelente opción. La versión 6.5.3 es tan simple de operar como el programa Paint, e incluye entre otras cosas efectos en blanco y negro, gradiente, gamma, saturación, contraste, brillo, nitidez, desenfoque y más. Puedes acercar y alejar la imagen usando el teclado y puedes abrir fácilmente varias ventanas, probar el color o copiar partes de una imagen a otra. La versión 7 del software es más avanzada, y permite trabajar con fondos transparentes y capas separadas.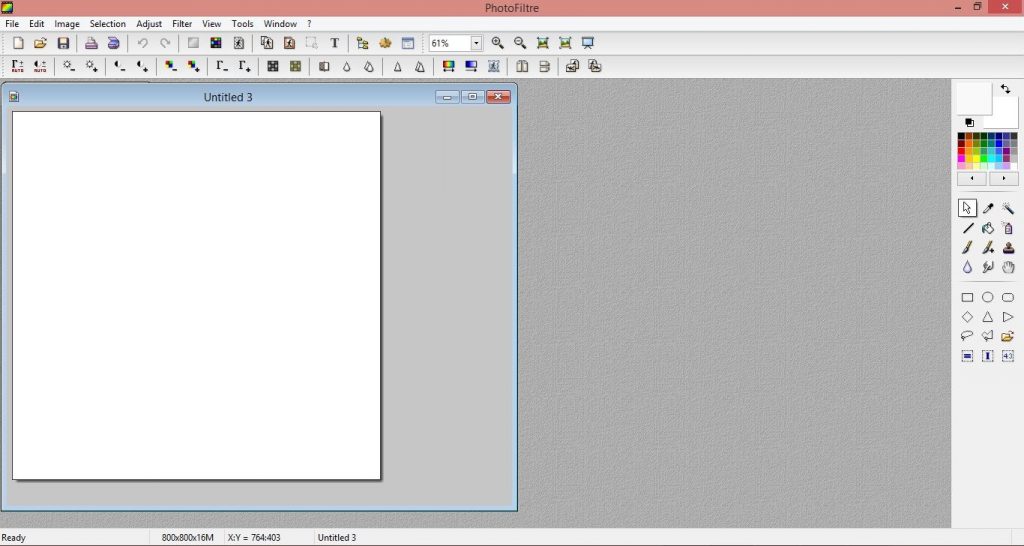 Nombre: paint.net
Price:  Free
Platform:  PC
Link:  www.getpaint.net/index.html
Description:  paint.net is a pretty good alternative to Photoshop, especially for those looking for good software to retouch and manipulate images. paint.net is installed locally on your computer, feels extremely responsive and can run quickly on older computers or on computers with weak specifications. Among the many options that the software offers you can find: working with layers, adjustments of brightness, saturation, contrast, a variety of effects and the possibility to perform Undo without limitation!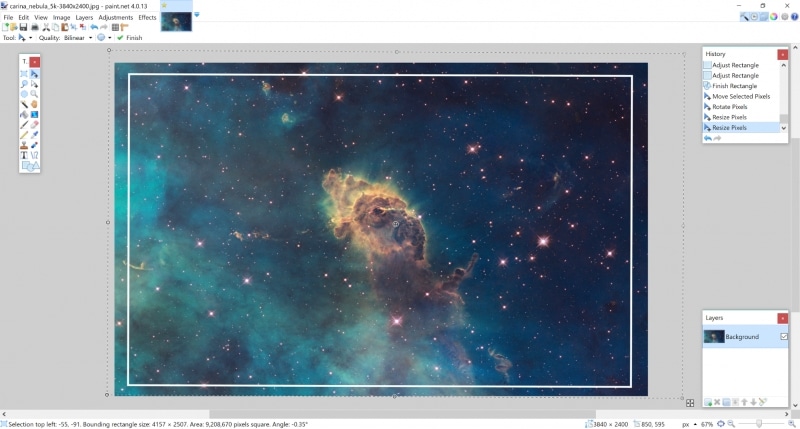 Nombre: Adobe CS2
Price:  Not Free
Platform:  Windows, mac os
Link:  adobe.ly/2bPh6iN
Diseñando imágenes:
Nombre: Canva
Price:  Free
Platform:  Online
Link:  www.canva.com
Description:  Canva is one of the most popular tools on our list, and this is primarily due to its easy, fast and fun user experience. Canva has a rich assortment of designs and an intuitive drag-and-drop interface that allows you to create banners, ads, flyers, invitations or any other design you wish to make.
What really makes Canva and the like special, is the fact that you don't have to be an exceptional designer in order to create something that looks very good visually.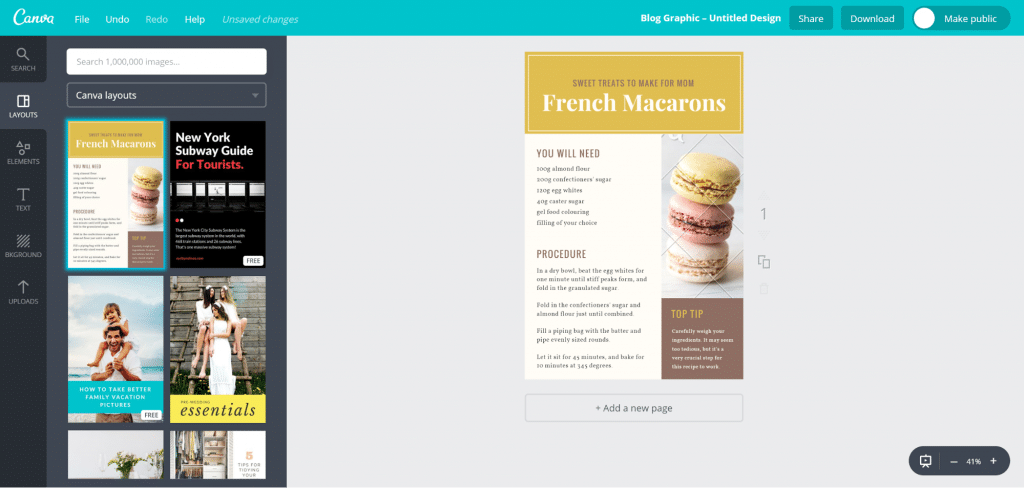 Name: Turbologo
Price:  Free
Platform:  Online
Link:  https://turbologo.com
Description: Turbologo is a smart logo maker that allows you to create your own logo in minutes. Easily design and customize logos for any occasion. Choose from our templates, add text or upload your own image and place it on the template of your choice, then download your finished work in vector format. It doesn't matter if you are a designer or not, with our app you will be able to create your own brand identity in minutes and use it for different purposes – from business cards and social media posts to the website and print publications.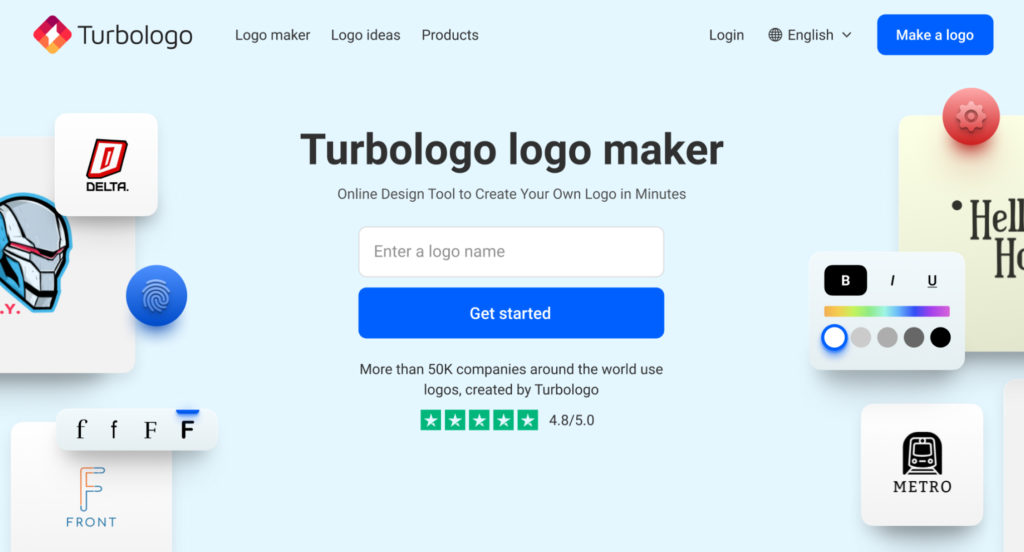 Nombre: easil
Price:  Free
Platform:  Online
Link:  about.easil.com
Descripción: easil también atrae al mismo tipo de público que Canva y ofrece una herramienta rica en elementos de diseño, imágenes y una variedad de fuentes. easil tiene una interfaz receptiva y una excelente experiencia de usuario, pero hay algo que hace a easil mucho más atractivo para el público israelí, y es la capacidad de subir fuentes hebreas! (La escritura está invertida, pero es útil aún así...)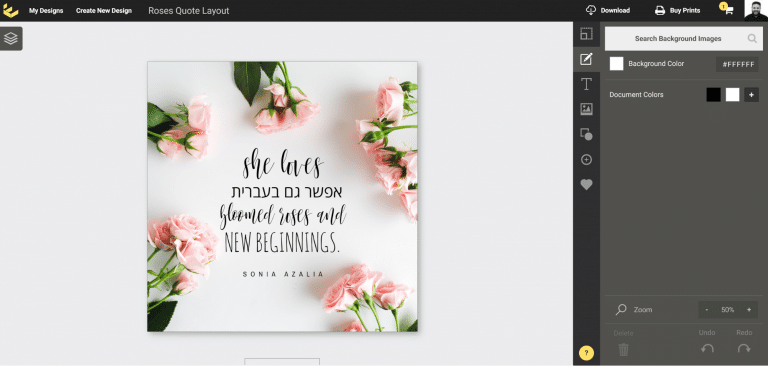 Nombre: Chispa de Adobe
Price:  Free
Platform:  Online, Mobile and Tablet
Link:  spark.adobe.com/
Descripción: ¿Crees que el gigante del software Adobe se quedaría de brazos cruzados mientras Canva se desgasta en su dominio sobre el mundo del diseño? ¡Claro que no! Les presento Adobe Spark, una herramienta gratuita de Adobe diseñada para atender las necesidades de los usuarios que podrían elegir dejar el Photoshop y pasar al Canva; el propósito de Spark es mantener a los usuarios dentro del "ecosistema" de Adobe. Spark puede ser descargado gratuitamente en dispositivos móviles y tabletas, y también está disponible como un servicio en línea para los usuarios de computadoras. Spark ofrece un trabajo rápido e intuitivo como el de Canva y, por supuesto, una sincronización completa con el servicio de nube de Adobe para los suscriptores.
Nombre: Asistente de diseño
El precio: Gratis
Plataforma: En línea
Enlace: www.designwizard.com
Descripción: Design Wizard es la herramienta perfecta para la creación de contenido visual efectivo. Los dueños de negocios, los organizadores de fiestas y los mercadólogos de medios sociales pueden beneficiarse de esta herramienta fácil de usar. Hay más de un millón de imágenes en la biblioteca y cientos de miles de plantillas. En la actualidad, Design Wizard también tiene excelentes integraciones con Hubspot, Marketo, Buffer e Intercom.
Entre las características destacadas de la herramienta se incluyen una paleta de colores personalizada, una biblioteca de fuentes gratuita y una función de cambio de tamaño. Más recientemente, el Asistente de Diseño ha añadido un vídeo a su biblioteca. Puedes elegir entre miles de secuencias de vídeo con calidad de televisión y editarlas a tu gusto.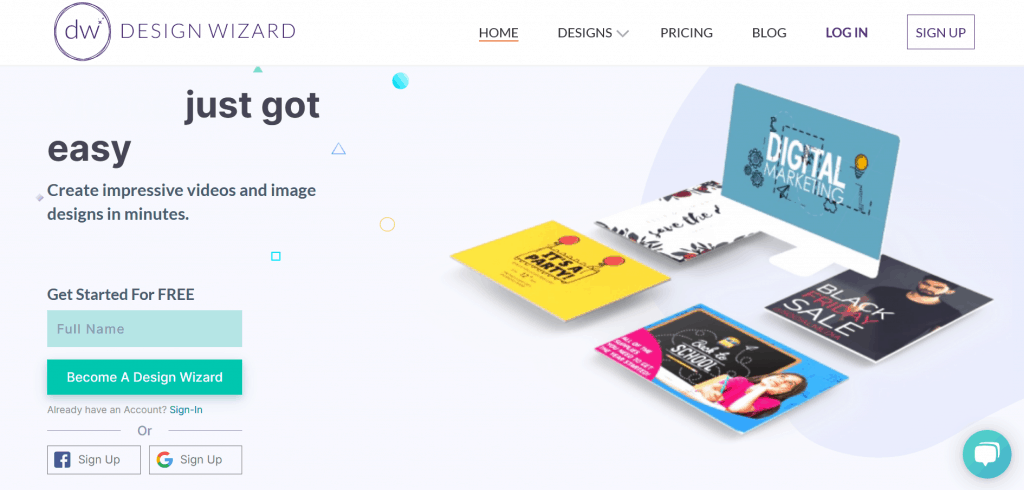 Nombre: Diseñador Web de Google
Price: Free
Platform:  Online
Link:  www.google.com/webdesigner/
Description: A very nice Google tool that many people are not aware of – Google Web Design. So, what is it about? This tool allows you to create an animation in HTML 5 without using any code! If the thought of using it for an ad campaign on social media immediately popped into your head, then you are right. Web Designer is great for creating animated banners and it gives you a variety of animation options for your banner.
https://www.google.com/webdesigner/videos/features/feature-2-1.webm
Compresión de imágenes:
Name: Compress JPEG
Price:  Free
Platform:  Online
Link:  compressjpeg.com
Description:  Speed is the name of the game! Google likes fast-loading websites and this is known to be an important part of its algorithm, but more importantly – the user loves it. Our user is more impatient than ever. Every second that our site has not yet surfaced and the user doesn't get what he wants, chances are he'll quit.
Many times, one of the most important factors in a site's loading time is image size, and one of the best, most highly recommended tools I've come across for the shrinking of images is the Compress JPEG website.
You can upload up to 20 images in one round; most times you'll get a pretty high rate of compression, sometimes even a 50% compression of the image! Of course, I wouldn't recommend this tool if it would hurt image quality, which is exactly the point, it doesn't. It maintains an almost identical level of quality as the original image before its compression.
Professional Tip!  Even if you have a 20Kb image, put it through Compress JPEG. For each small image you upload, you can save 15%-50% of its file size. It accumulates and eventually becomes significant in weight.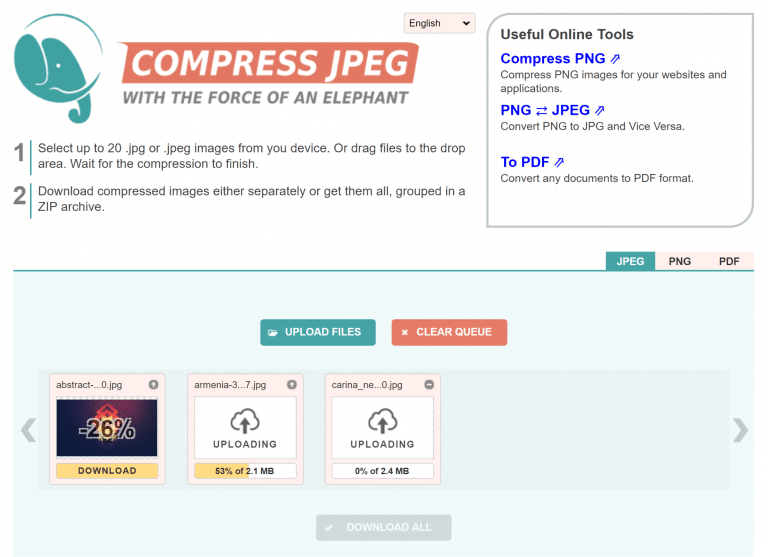 Nombre: TinyJPG
Price:  Free
Platform:  Online
Link:  tinyjpg.com
Description:  Like Compress JPEG, also this software gives you exceptional compression quality, but unlike the previous tool, with this one you are limited to uploading an image of up to 5 MB, and it is not possible to compress PDF files.
Professional Tip! Don't try to compress an image through Compress JPEG and then through TinyJPG; you will see a relatively significant reduction in image quality.
Personalizar las interfaces:
Nombre: Moqups
Price:  Free
Platform:  Online
Link:  moqups.com/
Description: An excellent tool for creating wireframes and prototyping, it is loaded with various UI elements and allows you to set up sophisticated interfaces. You can also add different interactions such as: a link to another page, go back or forward, turn off or turn on the display of an element and more.
The free version of the tool enables the use of up to 300 UI elements in each arrangment, which is sufficient for the design of a simple promotional website.
Nombre: Dibujo de Google
Price:  Free
Platform:  Online
Link:  drawings.google.com
Description: The tool in general is very similar to the classic Power Point, you can drag shapes, tables, images, texts and more onto your workspace. You can create simple single-page features with this tool, and it's efficient thanks to its speed and ease of use.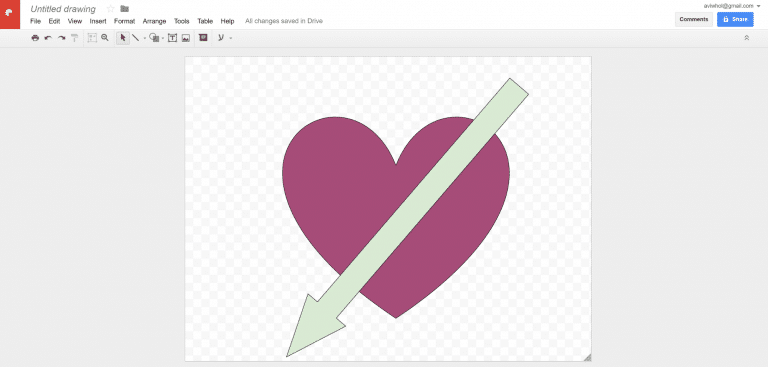 Nombre: Cacoo
Price:  Free
Platform:  Online
Link:  cacoo.com
Descripción: Cacoo es una herramienta multipropósito, es genial para cosas como: construir marcos de alambre, crear diagramas de flujo, mapas de pensamiento y más. Puedes compartir tus proyectos con tus compañeros de trabajo o clientes, obtener sus comentarios y trabajar en colaboración en el proyecto.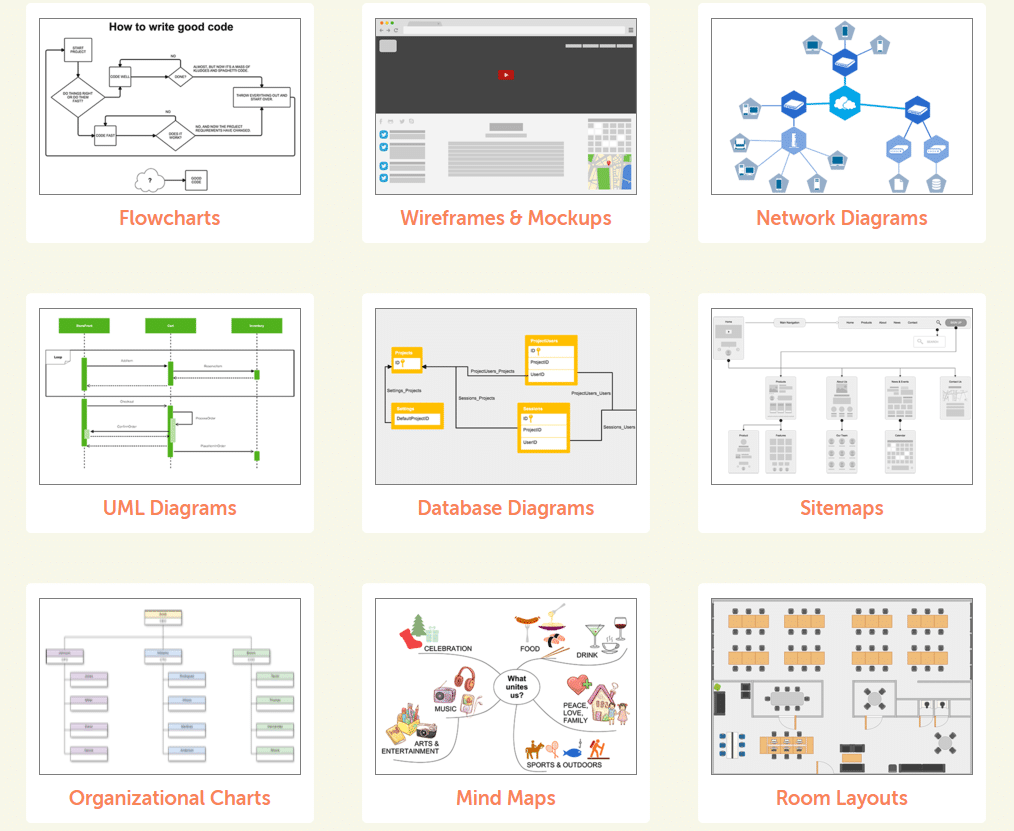 Nombre: Pictaculous
Price:  Free
Platform:  Online
Link:  www.pictaculous.com
Description: Not sure which color palette best suits your design? Simply upload the main image that will appear in the design to Pictaculous and it will give you the colors that best fit the design. In addition, it will show you color palettes from Adobe Color and CLOURlovers.
Professional Tip!  It takes Pictaculous a relatively long time to find the recommended palettes, so be patient – it pays off .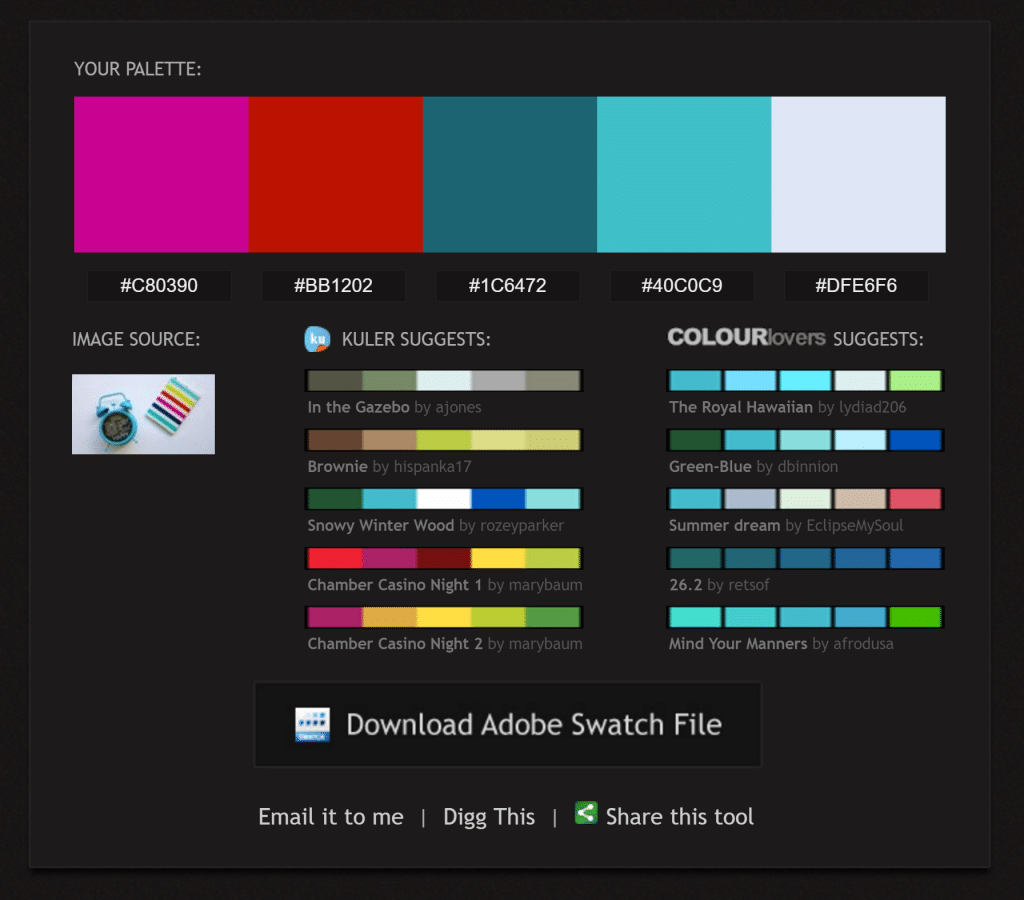 Nombre: ADOBE Color
Price:  Free
Platform:  Online
Link:  color.adobe.com
Description: Adobe's Color will allow you to upload a photo to the site and let it offer you most suitable palette for you. You can set up in Color the rules according to which it should pick the right palette for you: bright, colorful, dark and more… In addition, you can freely build color palettes according to a predetermined convention of complementary colors.
Professional Tip! For those who subscribe to Adobe cloud services (write 'Creative Cloud' in English) you can load the color palette to any Adobe software you choose.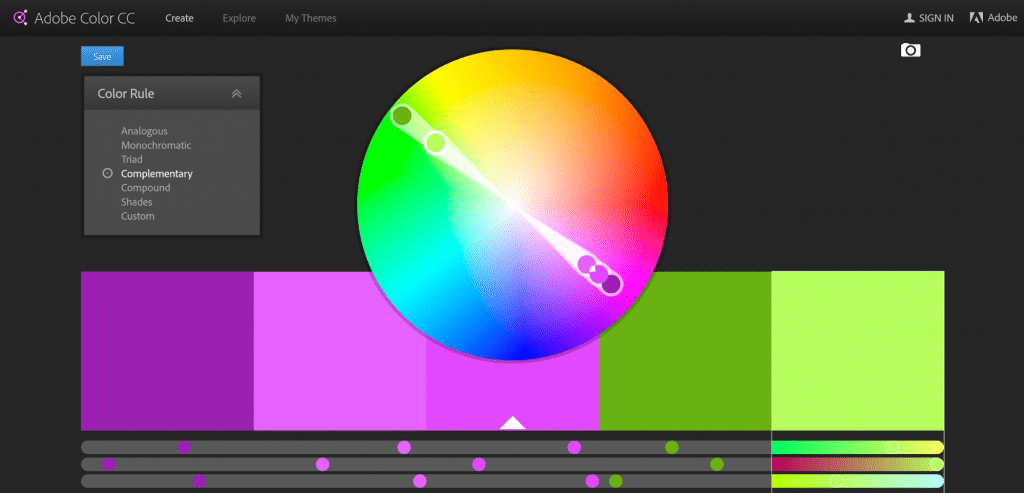 Nombre: FotoFuze
Price:  Free
Platform:  Online
Link:  fotofuze.com
Descripción: Una herramienta simple y fácil de usar que le permite establecer un fondo blanco uniforme para las imágenes que suba. Es excelente para cualquiera que tenga una tienda en línea o una tienda en eBay y quiera presentar sus productos sobre un fondo blanco.
Nombre: ColorizePhoto
Price:  Free
Platform:  Online
Link:  www.colorizephoto.com
Descripción: ¿Tiene fotos viejas en blanco y negro o marrón que desea colorear? Eso es exactamente lo que puede hacer con ColorizePhoto. Una herramienta muy simple y sensible, cargas la imagen que quieres colorear, y luego cargas otra imagen de la cual puedes probar los colores. Por ejemplo, si tienes una foto de una mujer con un vestido floral, debes cargar una foto a color de una mujer que esté más o menos en las mismas condiciones de iluminación que la mujer de tu foto original y que también lleve un vestido en la foto, de modo que puedas probar los colores de la nueva foto a la antigua.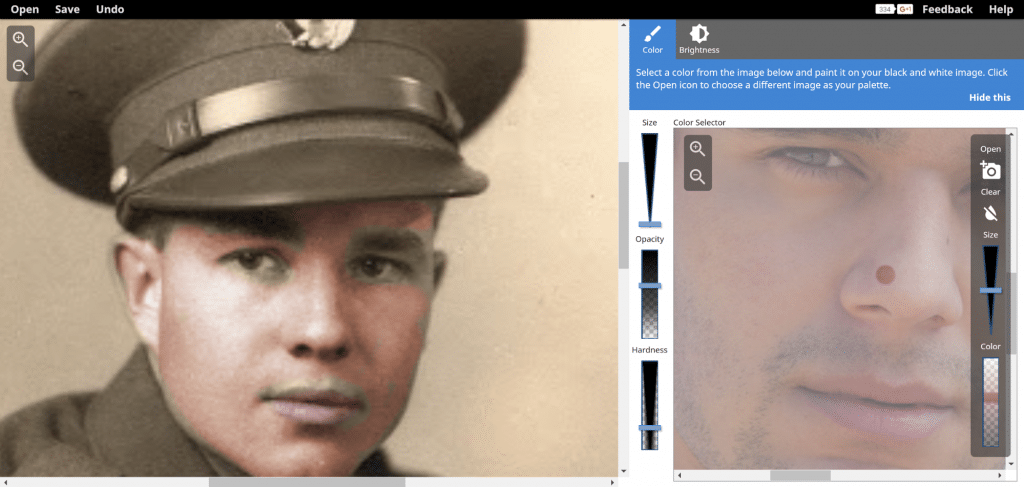 Nombre: Snipping Tool
Price:  Free
Platform:  Windows
Link:  Typing "Snipping Tool" in Windows Search
Description: For those who don't know this great tool, it was always right under your nose. The Snipping Tool, as its name suggests, allows you to snip parts of your screen and use the image as you please. This tool is a perfect solution for you if you used to take a shot of the whole screen in order to make some comments, now you'll be able to send an image of the specific area that causes the issues. In addition, after you have snipped a specific part, you can write with a pen to mark the problematic section.
Presentaciones:
Nombre: SlideHunter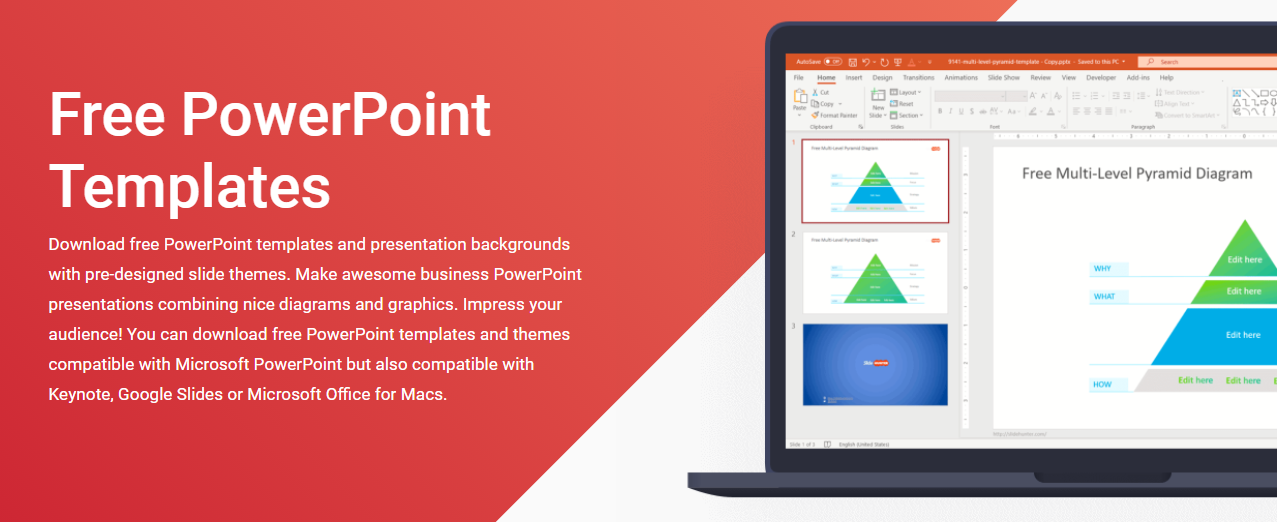 Price:  Free
Platform:  PC
Link:  slidehunter.com
Description: PowerPoint has been one of the go-to applications when creating presentations. But this tool is also great for creating various digital designs such as logos, infographics, and even videos. With some creativity and time, you can create stunning graphics using PowerPoint. To make things easier, you can use free PowerPoint templates with pre-made graphs and diagrams. These templates can be used for free and you can customize them according to your preference and needs.
Name: Ad2Cart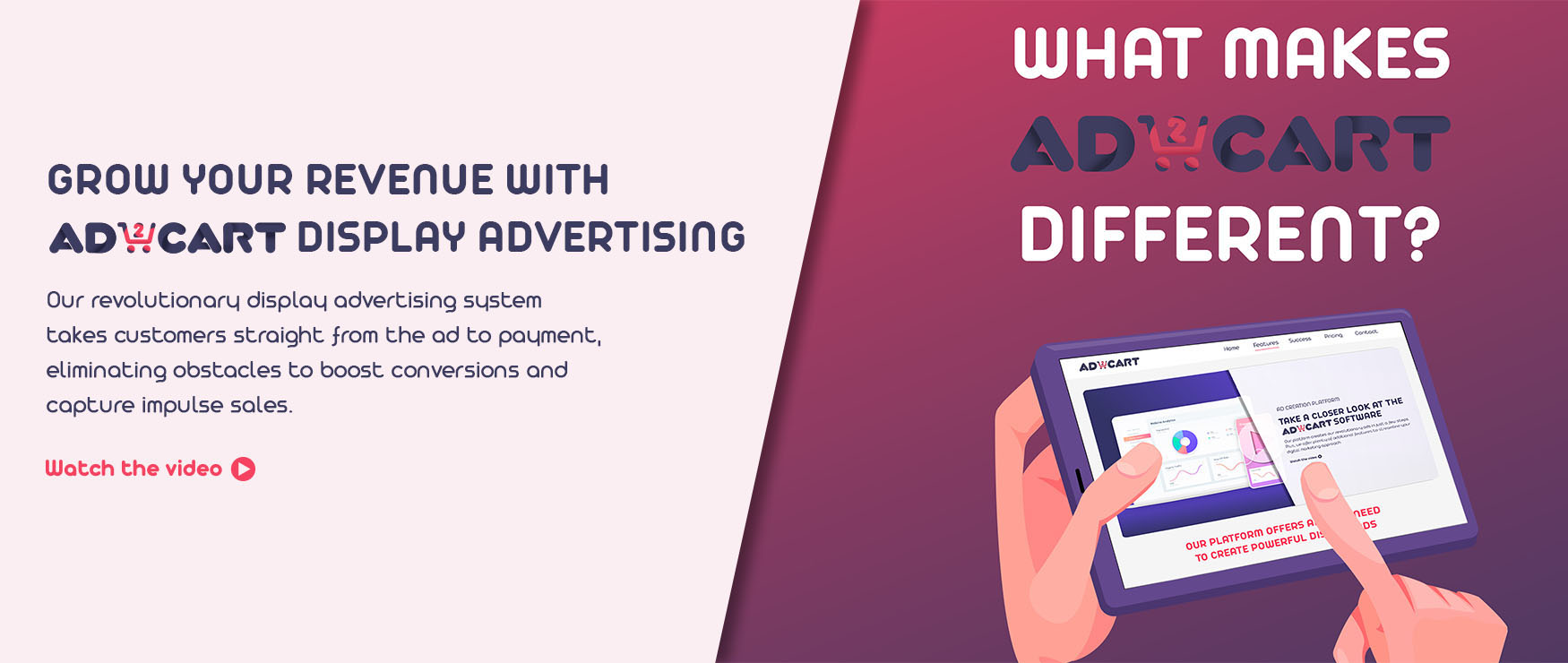 Price: 7% +ad spend (Starting)
URL: https://ad2cart.com/
Description: Create revolutionary display ads in just a few steps and publish them to the biggest display ad networks in the world. With Ad2Cart platform, you can jumpstart your display advertising initiatives in just minutes, giving your organization the edge with interactive advertisements spread across the Google Display Network and more than 80 other exchanges. (
Consejo: Si quieres algo un poco más original, también puedes considerar la posibilidad de contratar a un fre elance para que trabaje en tu diseño. 
fDo you know of additional free and simple to use tools? Please share with us in the comments below 🙂