5.No matter what kind of business you have, you definitely need good tools to make everything work smoothly and efficiently.
Sabemos que probablemente has leído un montón de información diferente sobre cómo el marketing y el SEO son de gran importancia y cómo deberían ser tus prioridades principales.
Y eso es cierto, seguro.
Pero, sólo obtendrás la verdadera perspectiva si empiezas a trabajar en mejorarlos constantemente.
Yes, we understand that consistency may seem challenging and may consume a lot of energy, but with the right tools, nothing will be such a huge obligation.
Se convertirán en ahorradores en tiempo real y le ayudarán a alcanzar los importantes objetivos que se ha fijado para su negocio.
Ahora, permítanos presentarle algunas herramientas concretas de marketing y SEO que puede empezar a utilizar de inmediato!
SEMrush es una solución de marketing y SEO que incluye más de 20 herramientas diferentes. Pueden ayudarte con:
SEO

Marketing de contenidos

Investigación competitiva

Publicidad

Los medios de comunicación social
Está destinado a los comerciantes y negocios que quieren conseguir que el tráfico de su sitio web y la venta en el siguiente nivel.
The SEO SEMrush toolkit includes a technical SEO audit that will help you to analyze your web presence and see what you should improve. It also includes position tracking, backlinks audit, and analytics. SEO toolkit can help you to see which tactics will provide you with better organic traffic.
Con un kit de herramientas de medios sociales, puede revelar las estrategias de sus mayores competidores. Usando el potenciador de publicaciones, puede hacer que su contenido en Facebook sea más visible. SEMrush te ahorrará tiempo y te permitirá programar tus publicaciones en hasta cinco canales diferentes de medios sociales.
Si es un creador de contenido, utilice el kit de herramientas de marketing de contenido para averiguar qué temas son los más interesantes para su público objetivo y utilícelo en su avance de inmediato. Averigüe y analice cómo ha funcionado su contenido a juzgar por el comportamiento de sus visitantes y vea qué necesita mejorar.
Es importante mencionar que SEMrush actualmente tiene la mayor base de palabras clave en el mercado, y si quieres obtener un mayor rango de SEO, esto es algo que merece tu atención, seguro.
Las características más importantes de SEMrush:
La investigación orgánica

Investigación de la publicidad

Investigación de palabras clave

Análisis de tráfico

Anuncios de la lista de productos

Explorador del mercado

Enlaces de retroceso

Asistente de escritura SEO

Gráficos

Rastreador de medios sociales

Afiche de medios sociales

Analizador de contenido

Herramienta de palabras clave PPC
El precio: SEMrush ofrece tres planes y un plan de empresa también para soluciones personalizadas. Tanto el plan PRO como el GURU puedes probarlo gratis y ver si funciona para tu negocio.
En la imagen de abajo, se puede ver qué plan está destinado especialmente a quién.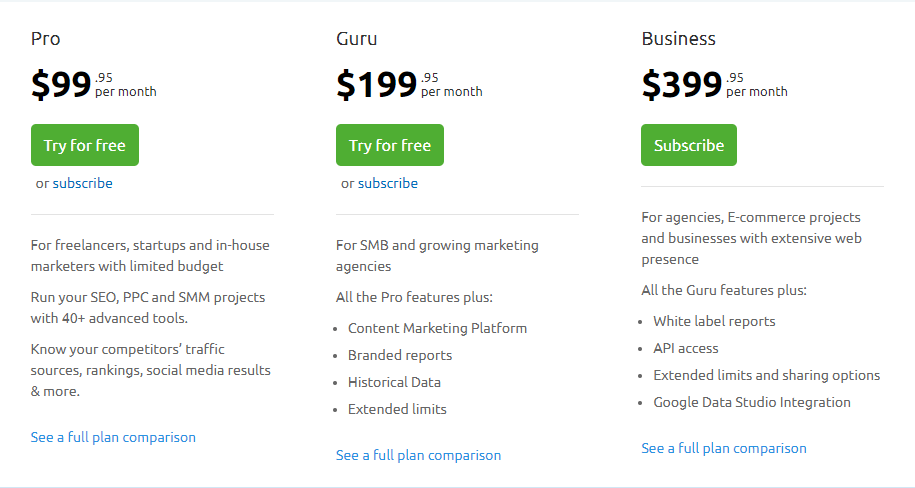 Ahrefs es una gran herramienta para la prospección del backlink, que es uno de los factores más importantes para el SEO.
Y lo mejor es que puedes usar esta herramienta tanto si ya eres un experto como si eres un principiante.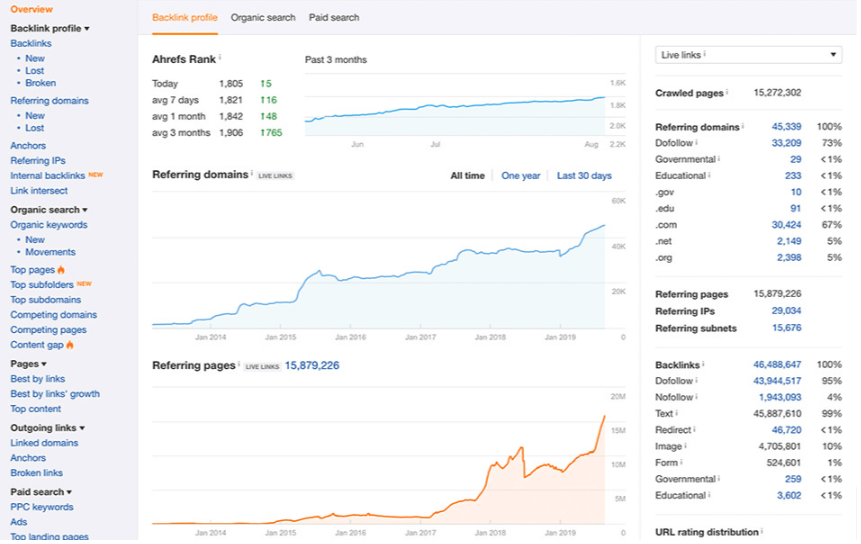 Si desea ver el perfil de retroceso de, por ejemplo, sus competidores, sólo tiene que escribir la URL y podrá ver los enlaces y la calidad del propio perfil de retroceso. Ahrefs tiene un rastreador de retroceso muy rápido.
Cuando se utiliza la investigación del vínculo de retroceso, se obtienen las listas y los conocimientos de:
Enlaces de retroceso

Refiriéndose a los dominios

Los vínculos de retroceso rotos...

Anclas

Refiriéndose a los PI

Los retrocesos internos
Como puedes ver, al usar los Ahrefs, puedes crear una poderosa estrategia de retroceso con mucho menos tiempo. Todo se organiza y se muestra en forma de un informe claro.
Con esta herramienta, también descubrirá qué palabras clave está usando su competencia.
Si eliges usar Ahrefs para tu negocio, puedes acceder a Ahrefs Insider en Facebook, que es un grupo cerrado con más de 10.000 vendedores.
Su equipo de apoyo está disponible para responder a sus preguntas y resolver cualquier posible problema.
Las características más importantes de Ahrefs:
La investigación del tráfico orgánico

Rastreador de retroceso

Investigación de tráfico pagado

Palabra clave explorador

Métricas avanzadas de SEO

Análisis del sitio web

Opciones de SERP

Rastreador de rango

Explorador de contenidos
El precio: Ahrefs ofrece cuatro planes de pago diferentes para elegir. Para los dos primeros, puedes probar un período de prueba de 7 días por el precio de 7 dólares.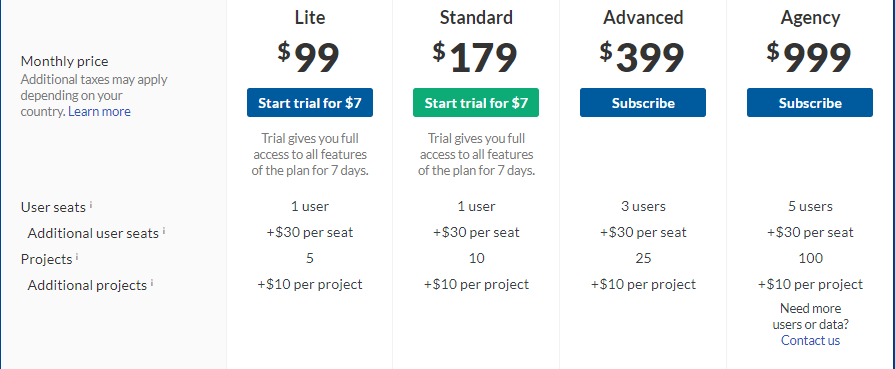 Moz is another marketing and SEO tool, and it is great when it comes to on-site SEO. You probably already know how important it is to optimize every element on your website for everything to work flawlessly.
El SEO en el sitio o en la página es crucial para una experiencia fácil de usar, también.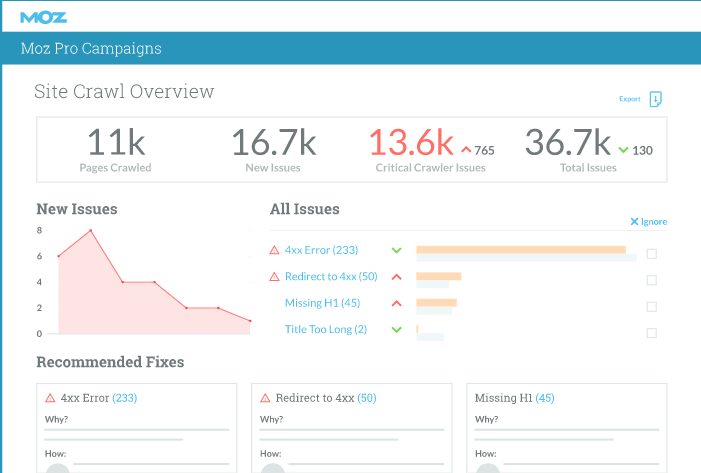 Moz has a clear and organized dashboard. It detects different issues, such as broken redirects and missing title tags. You will also be able to see how these issues affect your SEO.
After detecting specific issues, this tool sorts them by importance, so you know which one you should fix first.
No matter how big your website is, Moz can crawl it fast, thus saving you a lot of time.
Rastrea tu sitio web semanalmente y te informa de todo para que puedas resolverlo lo más rápido posible.
You can use Moz for your website or if you manage the websites of your clients.
Las características más importantes de Moz:
Rastreador de páginas web

Investigación de palabras clave

Consultas de retroceso

Los informes de los graduados en la página

Informes programados
Pricing: Moz offers four different paid plans to choose which one suits your needs best.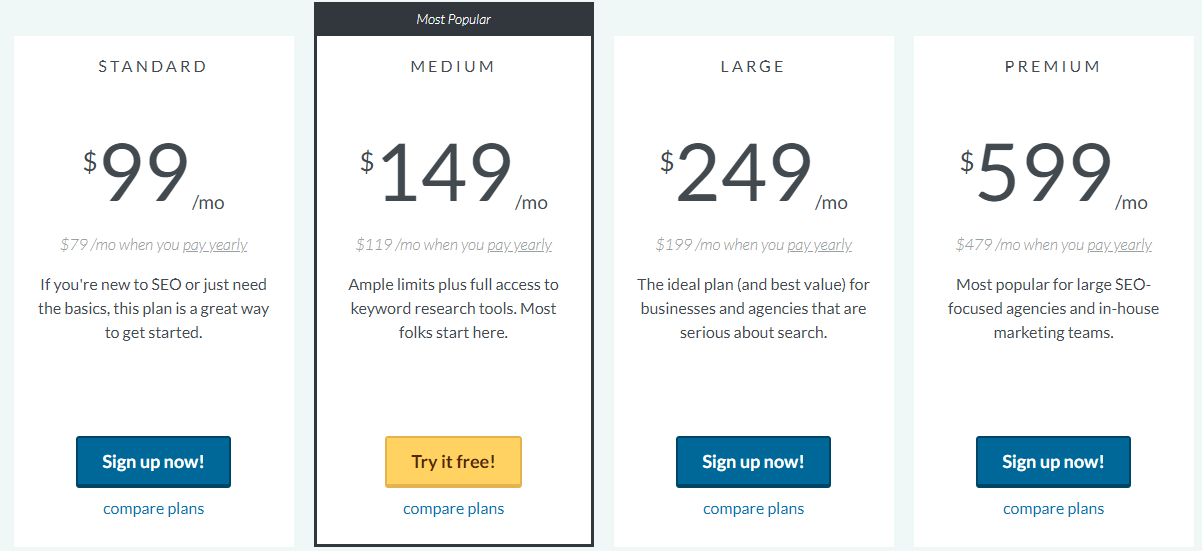 Poptin es una herramienta de CRO, que significa Optimización de Tasas de Conversión.
Esta herramienta incluye:
Formularios incrustados en el sitio web

Correos electrónicos automáticos
Con pop-ups y formularios atractivos y eficaces, se pueden generar más pistas que más tarde se pueden convertir en compradores reales.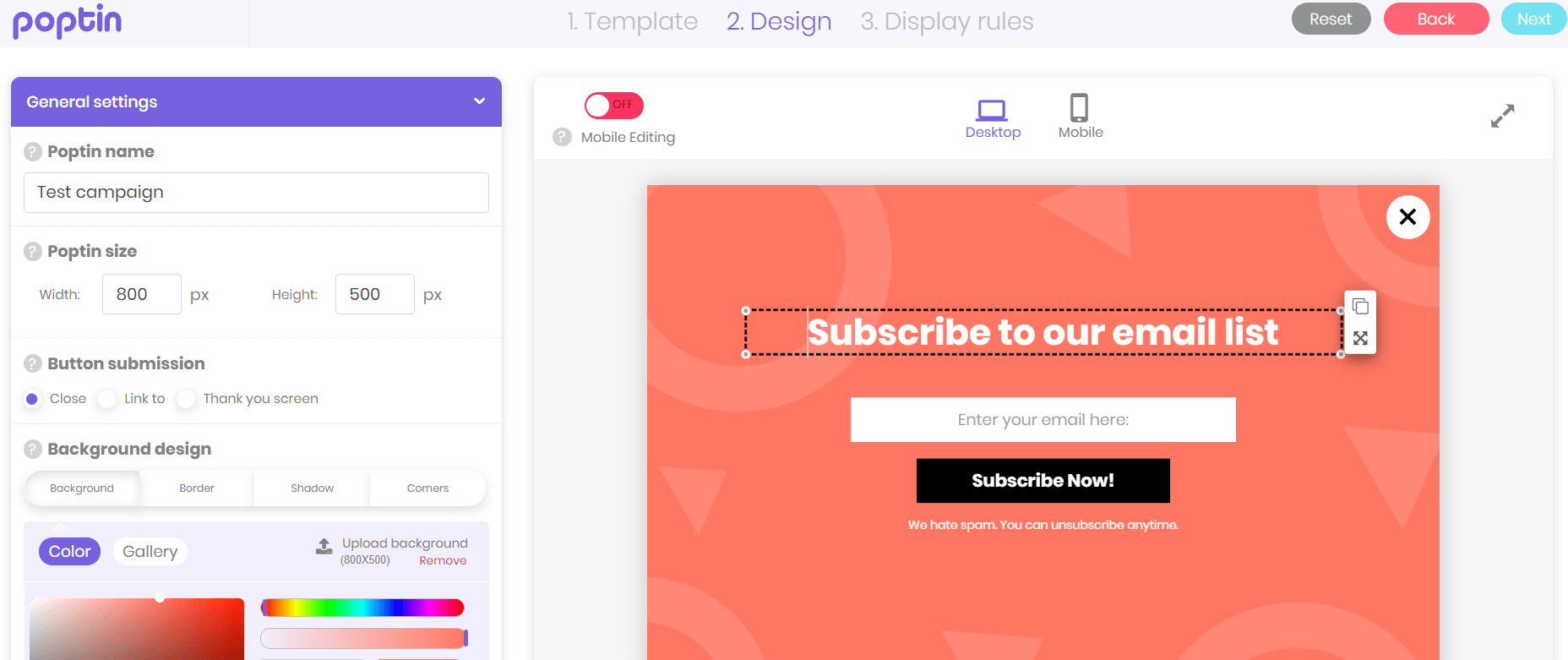 No matter which one you choose (or if you choose both), you will get access to a simple editor with tons of options for customization.

You can change background and text colors, add or remove different fields, change the size, add images, and more.
You have to pay attention to the fact that people access the Internet through mobile and desktop devices both, so it is essential to mention that every form and pop-up window you make through Poptin will be optimized for mobile and desktop.
The primary purpose of these forms is that you can add a CTA (click-to-action) button and encourage visitors to take action.
By using pop-up windows, you can show them some excellent and irresistible offers so that they would leave their contact without hesitation.
You can offer them webinars, courses, e-books, or access to your weekly newsletter to stay in contact with your future buyers.
When you start communicating with them through email campaigns, you are building brand awareness and gaining their trust. Valuable content keeps them interested and builds your credibility regarding your target audience.
Of course, you can use these windows to offer them a discount or free shipping or remind them to pay attention to some current sales, also.
You don't need designer or developer experience to use and make pop-ups and other forms for your website.
You can create your first pop-up in just a couple of minutes. This marketing tool has an easy-to-use drag-and-drop editor.
And, if you want to make different types of pop-ups, you can choose between slide-in pop-ups, countdown boxes, screen overlays, and more formats.
You can rapidly increase your conversion rates using effective windows that engage with your visitors.
Las características más importantes de Poptin:
Editor de arrastrar y soltar

Alto nivel de personalización

Opciones avanzadas de selección de objetivos

Opciones avanzadas de activación

La tecnología inteligente de salida-intención

Pruebas A/B

Analítica

Integraciones
El precio: Poptin ofrece un plan gratuito y tres planes de pago también. Basándose en las diferentes características que incluyen, puede elegir la mejor solución para usted y su negocio.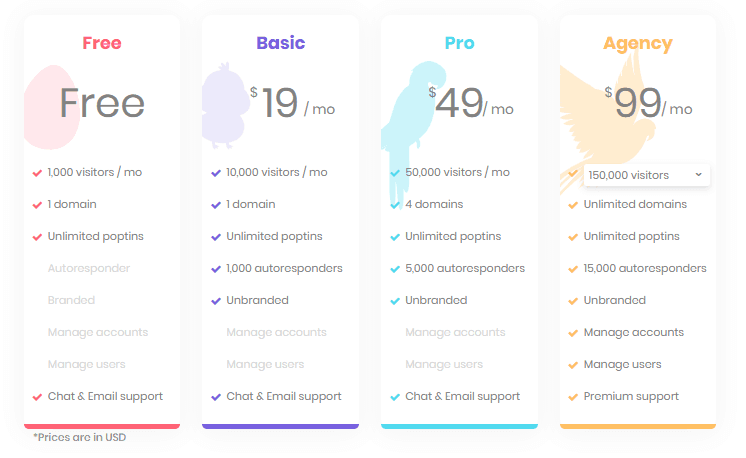 JetOctopus is a visual SEO toolkit about making technical SEO for large websites easy and data-driven. Whether you're new to SEO or a seasoned specialist, JetOctopus is intuitive enough to help you track and improve your enterprise website's SEO health (crawling, indexation, logs analysis, etc.).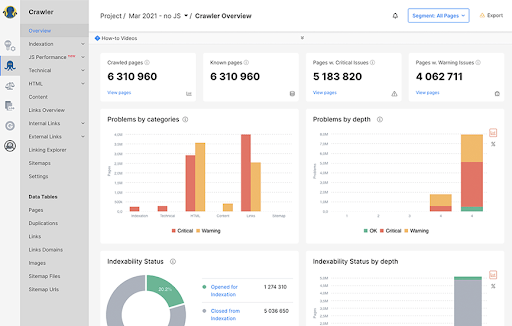 It gives you a big picture of your website's SEO issues — duplicate content, 404 errors, keyword cannibalization, wasted crawl budget, etc. — with actionable visuals so you can prioritize and tackle the best optimization opportunities first.
You can create segments, compare crawls, monitor live logs, identify fake bots, optimize your crawl budget, improve your site's indexation, and so much more with the JetOctopus toolkit.
Most important JetOctopus features:
Crawler (with speeds at up to 250 pages per second)

Log Analyzer

GSC Keywords

Content analysis

Google Search Console integration
Pricing: The Crawler tool starts at $30 per month to crawl 100K pages monthly, while the Log Analyzer tool starts at $60 monthly to log up to 100K pages monthly. The GSC Keywords tool starts at $60 per month, too.
You can buy each SEO module individually or opt for the All-Inclusive bundle (at $120 per month) which includes all these tools plus training calls, onboarding, and support.
So JetOctopus is one of the fastest and most affordable site crawlers and logs analyzer toolkits that you can try with their 7-day free trial.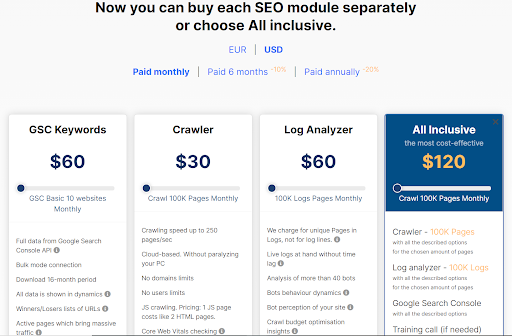 El resultado final
Marketing and SEO are very challenging parts of running any type of business. But when you become aware of how useful they can be, you know there is no substitution for them.
No matter if you decide to run them on your own or hire teams that would be responsible for marketing and SEO, it is always important to find the easiest but equally effective ways to use their full potential.
Fortunately, as you can see, unique tools like SEO in Glasgow are more available than ever anywhere you are, and they have proven to be very powerful when it comes to dealing with everyday problems, but also time-efficient.
Moreover, as an alternative,  check out Style Factory's in-depth review of Growthbar, which has a bit of a different approach to SEO.
With the right SEO tools, you can build great backlinking strategies, reveal your competitors' techniques, find out every error on your own website or your clients' websites, and improve conversion rates rapidly.
¿Te imaginas lo que puedes hacer con ventanas emergentes y formularios de sitios web?
People need incentives to make a decision, and if you use Poptin, you can show them the privileges that you offer and encourage them to take action right away.
Don't allow yourself to miss out on something so important. Try using these tools, and watch how your conversion rates rise!
P.S. If you're looking for link tracking for digital marketing, you can always try Rebrandly URL Shortener to see its effectiveness.