As a widely used cloud-based platform that offers smart solutions for all types of websites, Wix is the perfect place for business owners to integrate their pop-ups and manage their business websites without any coding skills.
Pop ups are a great tool for gathering more potential customers and reducing cart abandonment, so it's no wonder why more and more online marketers want to include them on their websites.
With the help of certain tools and tips, you can easily and quickly create beautiful Wix pop ups.
So the question is where to start?
Keep reading this article and learn not only how you can create and customize amazing Wix pop ups, but also how to do it in less than 5 minutes!
Let's begin.
1. Customize your pop ups quickly by using a drag and drop editor
There are certain tools on the market that allow you to easily and quickly create and customize perfect pop-up windows.
Drag and drop editors enable you to drag certain blocks and elements into a template and create pop-ups that will match your brand design completely.
The tool that has a phenomenal drag and drop editor to help you increase your conversion rates is Poptin.
Its customization options are numerous, and it is extremely easy to use and install without any coding skills.
You can add or remove fields, add CTA buttons, change fonts, colors, size, and more with just a couple of clicks:
All the options are pretty easy to understand, and the best thing about this tool is the fact that you don't need to hire a developer.
They have a responsive design suitable for both desktop and mobile devices, so your pop ups can look amazing wherever your visitors are.
With a single click, you can customize your pop-ups by adjusting the colors or changing the background, and make your business website look more professional.
Add or remove fields to collect information from your potential customers, add images or a video to make a pop up more interactive, a timer to create a sense of urgency, and more.
With Poptin's pop ups, you can:
Increase visitors' engagement

Obtener más suscriptores de correo electrónico

Improve conversion rates

Reduce cart abandonment rates
Conduct surveys and get valuable feedback from your visitors and present valuable offers to them to maintain their attention.
Online marketers have always been searching for a fast solution to get more sales, and this type of tool can offer you that and much more!
Customize your Wix pop ups and reach your business goals quickly.
You can even choose the right template but more about that in the next section.
2. Choose the right template for your pop-ups to engage visitors effectively
Although Wix editor offers a ready-to-use lightbox template for your pop ups, it is always smart to look for some additional options. 
According to the business goal, you need to adapt the form of your pop up and choose the right one that will satisfy your visitors the most.
Apart from its amazing customization options, Poptin also offers a great number of beautiful templates that you can choose from.
Some of these amazing pop-up templates are:
Lightbox

Cuenta atrás

Slide-in

Fullscreen overlays

Barras superiores e inferiores

Widgets sociales
It is also important for a template to be fully responsive so that it looks equally great on both mobile and desktop devices: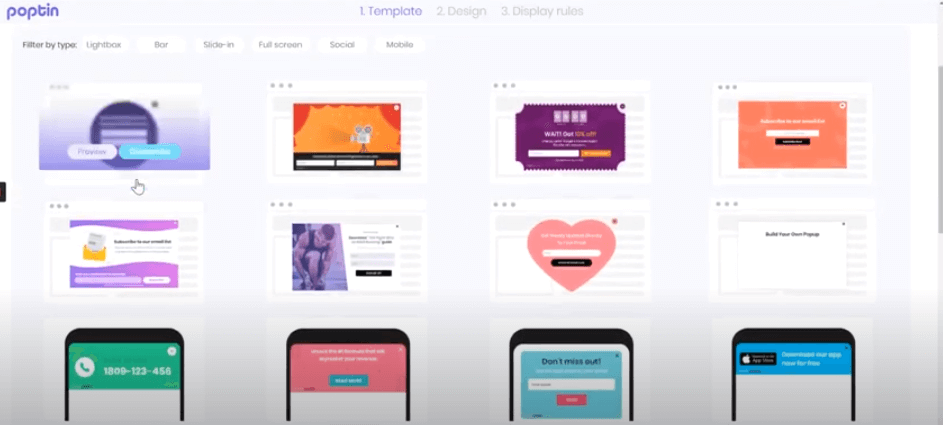 Source: Poptin
Surprising your audience with the right type of offer at the right place is essential for grabbing their attention right away.
The offers have to be visually appealing but also relevant to the rest of the copy to direct their interest towards the purchasing process.
If you opt for a lightbox pop-up for your Wix website, just select the chosen template and customize it further via drag and drop editor.
Lightbox pop ups are highly effective as they take over the whole browsing window which reduces the chances of the message being ignored or not seen.
Make visitors feel special with exclusive offers, promotions, or discount codes.
With the right design and a prominent CTA, quickly catch your visitor's eye.
Setting targeting and triggering options is the next step, so we'll talk about that below.
3. Set your display rules by selecting targeting and triggering options
In order to show the right offer to the right people at the right moment, carefully adjust your pop-up display rules.
Your pop ups have to be shown at the moment when the chances of converting are biggest and to do that, you need to use special features.
Poptin offers advanced triggering and targeting features that can easily be set and used to make your pop-ups appear to your visitors and grab their attention quickly.
You can trigger your pop ups to appear:
At the moment when your visitor intends to leave your website (exit-intent)

After a certain time delay

After a certain percentage of the page scroll

En
With just a click, choose the option you want, and you can even choose whether you want a pop-up to appear to the visitors who have already converted: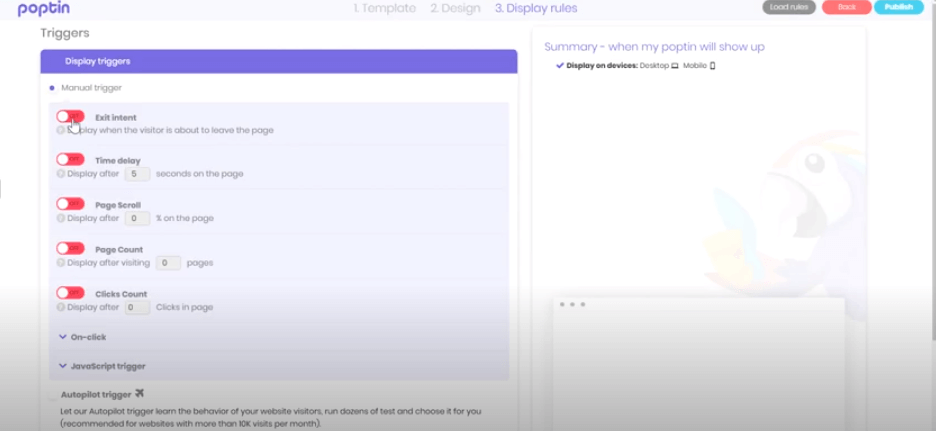 Source: Poptin
When it comes to targeting options, they are numerous and can be set easily according to your visitors' characteristics.
It's more effective to show the right message to the people who are most interested, and by segmenting your audience it can be easily done.
You can target your audience by:
Even control the frequency of display to each visitor or hide certain pop-ups to already converted ones.
Source: Poptin
Set the right options and do it all extremely easily and in a few seconds.
Before you integrate your pop-ups to the Wix platform, be sure to cover all the previously mentioned steps to get the best-performing version of a pop-up.
4. Use custom code to install your popups on your Wix website
Based on the pop-up tool that you are using, you can choose the way you want to install your pop-ups on your Wix website.
For example, if you use Poptin to create and customize your pop-ups, you can either install the Poptin app or do it through the Wix dashboard.
You can find all the necessary options in your Wix editor if you want to do it directly from the platform.
Click on Settings, and then you will see Advanced settings that cover management of tracking, privacy, and production tools:
The Custom Code option is right there on the top, so click on it to add custom code snippets to the body or head of your website.
When you change your User ID, install both code snippets in the following order:
And it's done.
A similar process occurs when using some other similar tools to create pop-ups.
If a tool you use supports certain integrations, then it's even easier to connect it with the Wix platform.
You don't need extensive coding knowledge, just follow every step and your pop-ups will be published successfully.
That doesn't seem so difficult, right?
To Sum up
Using pop-ups to get your online business on a higher level is a must, so try to find the right tools and practices to create the best possible pop-ups for your Wix website.
Customize your pop-ups to match your brand design visually, choose the right template, and set display rules to convert more visitors into customers.
If you need a tool that covers all these features, try Poptin.
This pop up builder has all the important characteristics to help you easily create perfect pop-ups for your e-commerce business.
Use a drag and drop editor to complete the look, and create fantastic offers to attract your visitors' attention quickly.
It also helps you speed up the creation process and it gets your pop ups into work faster.
Follow the copy-paste system for copying codes and install your pop ups on your Wix website in a few simple steps.
Take a look at these useful tips, and create Wix pop-ups faster than you have ever imagined!