Looking for Moosend alternatives?
Everyone wants to make it easier for themselves to create and send emails. It's an integral part of your business, so you don't want to ignore it or not do it well.
There are countless email service providers out there, and they're all designed to automate the marketing process. If you've been thinking of joining Moosend, consider what it does, why people look for Moosend alternatives and learn about the seven competitors that might be better.
What Does Moosend Provide?
Moosend is a robust marketing and email automation tool. It features a simple interface and offers many great benefits while staying affordable.
If your goal is to automate workflows and have a drag-and-drop editor, Moosend works well. Plus, it can gather user information through opt-in and signup forms while creating email lists and segmenting them.
Why People Look for Moosend Alternatives
Since it seems to have so much going for it, you may wonder why people switch from Moosend to another option.
One issue is that it doesn't have as many native integration options because it's so new. While there's an internal newsletter editor, you can't enhance them like you can with other tools.
Also, we found that the analytical aspect of Moosend isn't as great as it could be. For all those reasons, check out the seven Moosend alternatives and competitors to see if they might be better.
1. ActiveCampaign
ActiveCampaign offers essential automations that can help you define the customer experience and provide the right solutions. This one of Moosend alternatives can empower you to score and track leads and offers seamless and personalized engagement with your potential customers.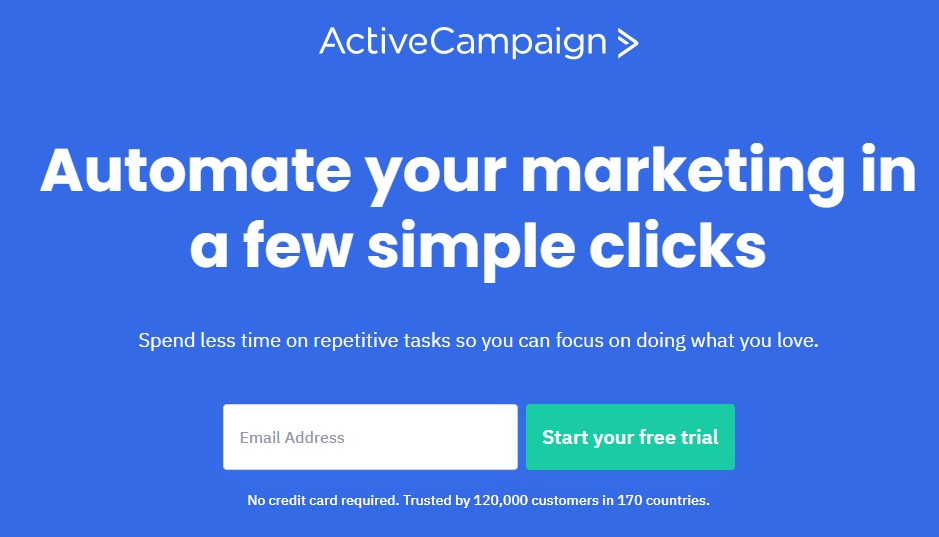 Features
We like that ActiveCampaign offers some differentiating and unique features that others don't provide. It's designed to span through all of your inbound and email marketing needs. You also get automation capabilities and sales/CRM tools.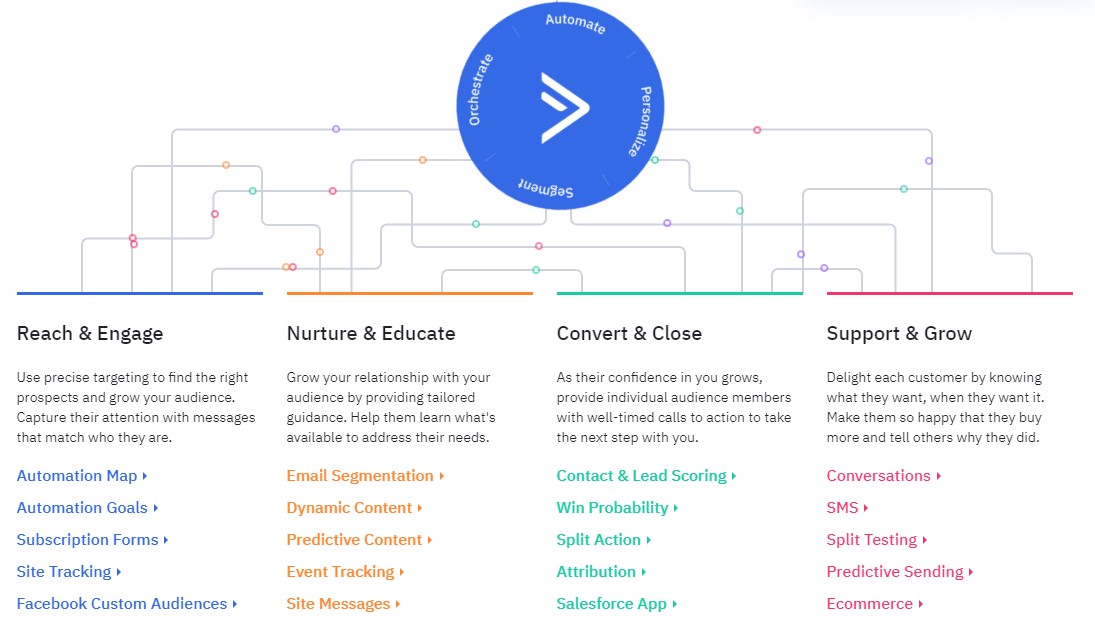 It focuses on being an omnichannel messaging tool that offers machine learning for predictive text and analytics on higher priced models.
Pros:
Free trial available
Scoring models
Attribution capabilities
Cons:
No native integrations
No landing page builder
Pricing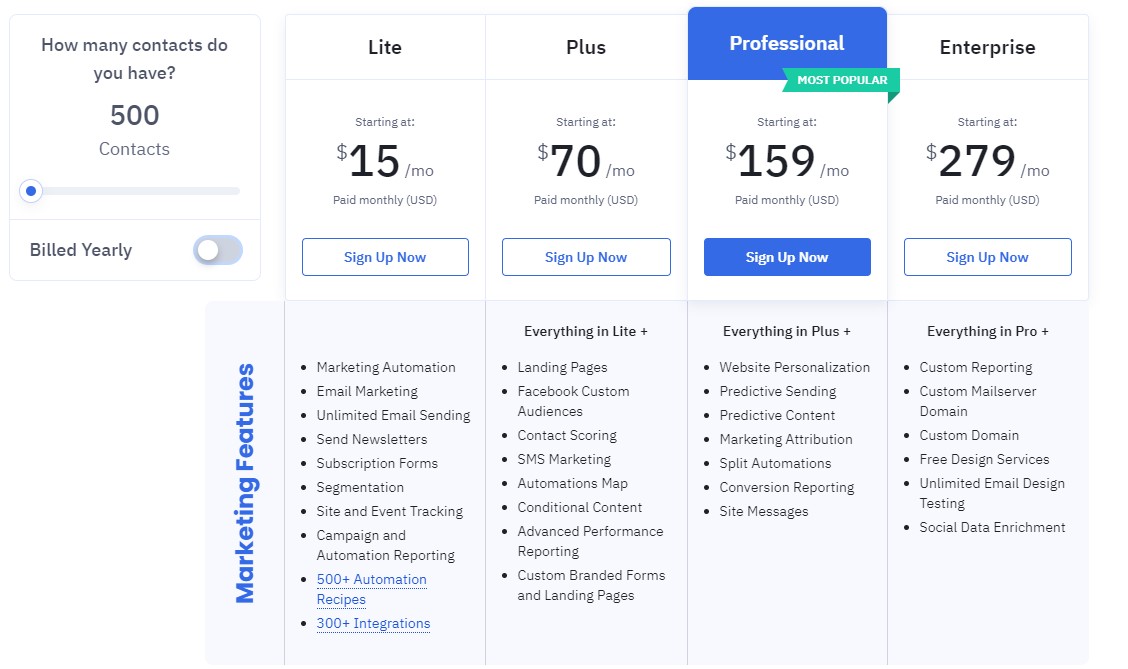 With ActiveCampaign, you have four plans available. The Lite version costs $15 per month for 500 contacts and gives you various automation recipes, reporting and tracking tools, segmentation, subscription forms, newsletters, and the ability to send unlimited emails.
Next is Plus, which costs $70 per month for 500 contacts. You get all the Lite features, as well as advanced reporting, SMS marketing, contact scoring, and so much more.
The Professional plan is $159 a month for 500 contacts and offers the Plus plan features. On top of that, you have access to conversion reports, split automation, predictive sending/content, and website personalization.
Lastly, there is an Enterprise solution, which is $279 per month for 500 contacts. You get all the features included on the site, such as social data enrichment, free design services, a custom domain, and customized reporting.
Who Is It For?
ActiveCampaign serves a variety of small businesses that want automation and email marketing. It helps new companies and teams, but it is also scalable to meet enterprise needs.
2. EmailOctopus
Those who use Amazon's SES (Simple Email Service) are sure to like integrating with EmailOctopus. It's innovative and helps you send fewer emails at the right time.
This is one of the most powerful Moosend alternatives as it doesn't sacrifice deliverability or scalability and features an easy-to-use interface.

Features
EmailOctopus provides some attention-grabbing features you're sure to like. Integrations are limited, but what you get can be exactly what you need. This helps you maximize sales on any platform because you can connect various apps.

Automations are easier with this ESP. You can send emails based on specific actions or instantly. This helps you target the audience and engage with them on a more personal level.
Pros:
Simple and easy to use
Various email marketing templates
Forever-free plan available
Cons:
Few automations
Very limited segmentations
Pricing
At EmailOctopus, the pricing structure is simplified. The forever-free plan is available for 2,500 subscribers, and you can send 10,000 emails each month. It stores reports for 30 days and includes the EmailOctopus branding on the emails you send.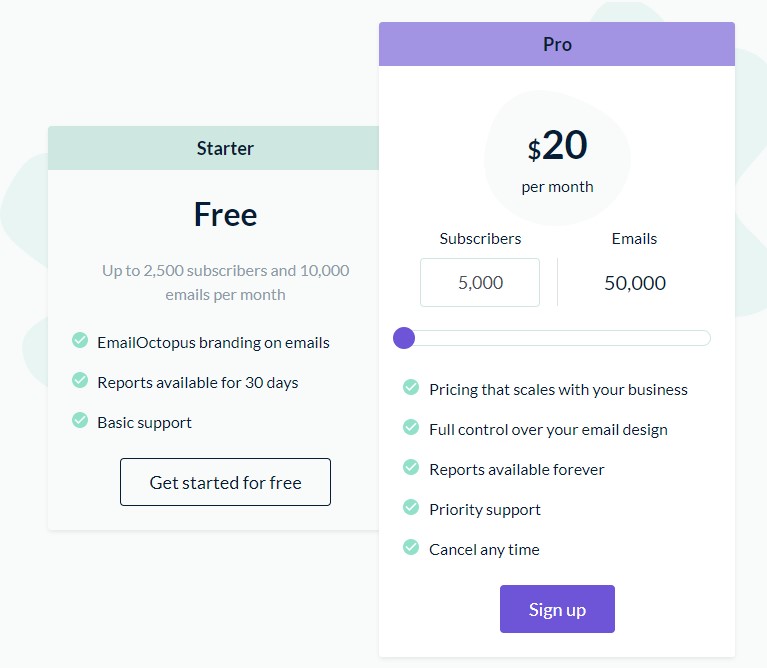 The Pro plan is only $20 per month for 5,000 subscribers and 50,000 emails. However, the pricing scales as your company grows. You get to keep the reports forever, so you can refer back to them. Plus, you have priority support and full control over the email's design.
Who Is It For?
EmailOctopus is primarily designed for those who use Amazon's SES. Though it works with other options, such as Zapier, some people may find it hard to use without being part of the Amazon network.
3. GetResponse
A top and powerful e-commerce solution comes from GetResponse. Like other Moosend alternatives, it offers advanced segmentation and many ways to personalize your emails.
Even with so much power behind it, almost any company can use it because it's easy to navigate and utilizes the funnel-based approach.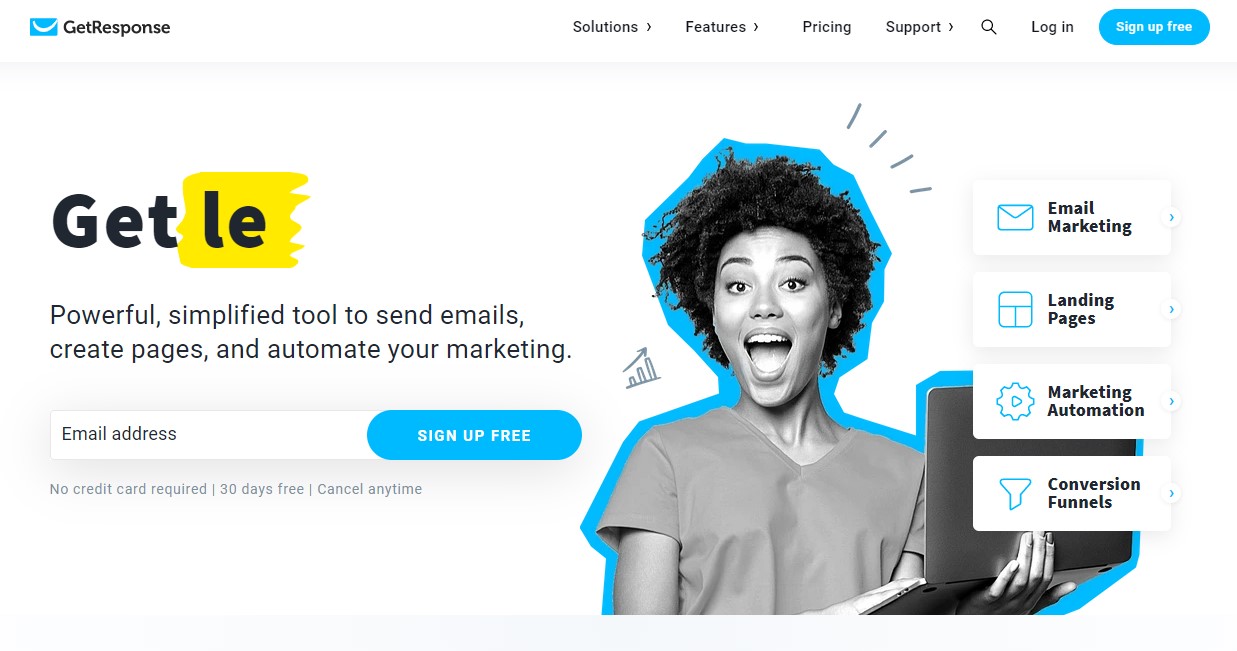 Features
With GetResponse, it's not just an ESP. It offers webinar marketing, social media marketing, CRM capabilities, e-commerce functionality, and lead generation options.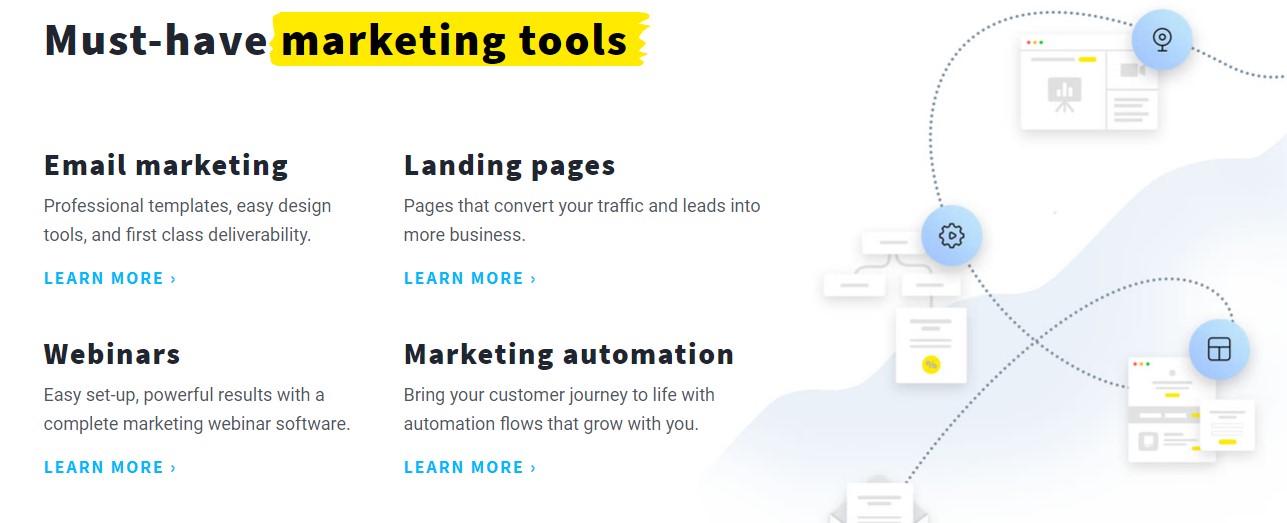 It's so easy to create emails. Plus, there are advanced A/B testing options. That way, you can figure out which emails your customers like best and send those. This leads to more engagement and more conversions.
Pros:
Free courses to help learn email marketing techniques
Can create marketing funnels
Sleek user interface
Cons:
Limited customization on templates
Overwhelming to navigate
Pricing
At GetResponse, there are four tiers available. Basic costs $15 a month for a list size of 1,000 people. With it, you get autoresponders, email marketing, one sales funnel, unlimited templates, and landing pages, and can sell e-products.
Next is the Plus version. It costs $49 a month for a list size of 1,000 people. You get all the perks of Basic, as well as five webinar funnels, three users, five sales funnels, webinars, and an automation builder with five workflows.
The Professional plan is $99 a month for 1,000 subscribers. With it, you get everything from Plus, as well as paid webinars, on-demand webinars, five users, and unlimited sales/webinar funnels.
Lastly, there is Max, which is personalized to meet your specific needs and comes with custom pricing. Every possible feature is included, such as email campaign consulting, SSO, dedicated support, and transactional emails.
Who Is It For?
GetResponse is suitable for many users. If you want to be walked through all the steps to create your campaign, this is the option to pick.
4. Constant Contact
Though Constant Contact started out as just an email marketing solution, it's become much more than that. Partly, this is because of its competitors and other Moosend alternatives, as they expanded to focus on advertising and other aspects.
While you don't need to use all the extra features, it does mean you might be paying for things you don't want.
Features
We think that the contact management and reporting features help Constant Contact stand apart from the crowd. There aren't weak areas with this all-in-one solution.
It's easy to create emails and segments. That way, you can target your audience. Though most of them are basic, we think that's all you need. The software also checks all the different elements, such as dates, copywriting problems, typos, and missing links.
Pros:
Community support
Advanced contact management
Intuitive user interface
Cons:
Basic landing page builder
Few segmentation options
Pricing
The Email plan is $20 per month, but this is based on how many contacts you have. With it, you get unlimited sends, customized templates, reporting and tracking, A/B testing, and e-commerce features.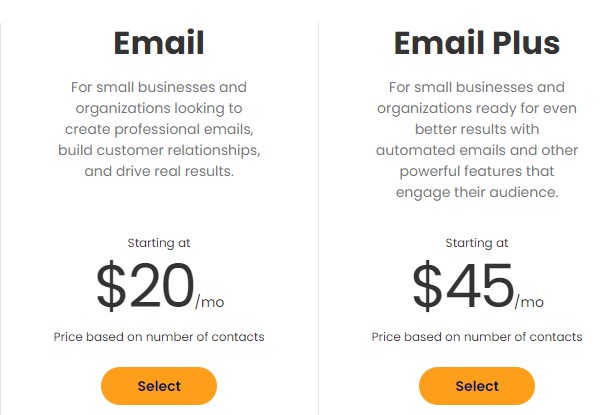 Next is the Email Plus plan, which is $45 a month and also based on the contacts you've got. You get all the Email plan options, as well as advanced e-commerce tools, customizable popups, and behavioral automations.
Who Is It For?
Constant Contact offers many advanced features, but they're easy to use and understand. Therefore, it works well for those with little experience and marketers who want to scale up their business.
5. Sendloop
Sendloop is a newer ESP in our lineup of Moosend alternatives, but it's easy to use, has plenty of features, and has a simple pricing plan. It's designed for all types of industries and marketers but focuses primarily on advertising and digital marketing.
Features
You're going to appreciate the many features Sendloop provides. There are many integrations and plugins to help with your automation needs.
We like the email builder because there are over 100 email templates. You can customize them to meet your needs. Plus, the fast-subscribe import option is something you don't see from other ESPs.
Pros:
Easy to use interface
Excellent integrations
Cost-effective packages
Cons:
Issues with reports
Few training options
Pricing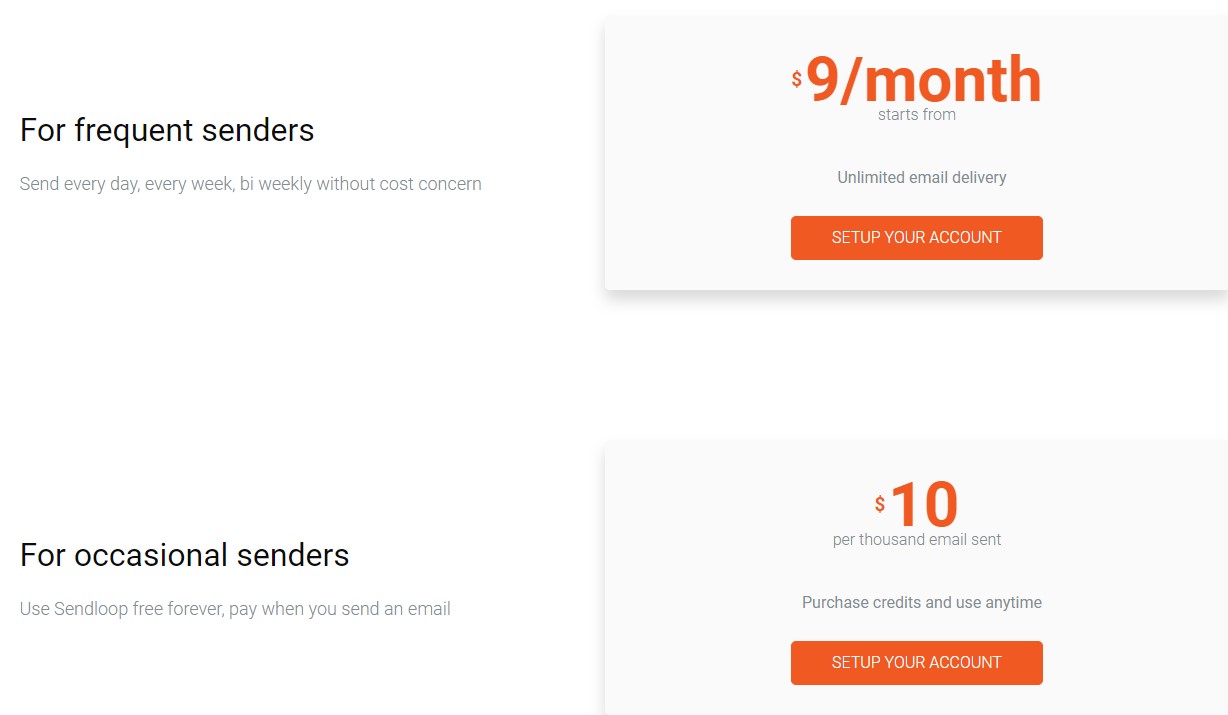 With Sendloop, you get easy-to-understand pricing options. Those who send frequent emails pay $9 a month for 500 subscribers, and the price goes up from there.
Occasional senders get charged $10 for every 1,000 emails they send. You can buy credits as often as necessary and use them when you require them.
Regardless of your choice, you get all the features available.
Who Is It For?
Sendloop claims that it is suitable for all types of business. This includes digital marketers, SMB owners, and e-commerce sites.
6. Omnisend
Omnisend is an automation platform that focuses primarily on e-commerce markets. With this omnichannel marketing option, you get emails, social media, SMS, and other channels and can send messages from a single platform.
Features
With Omnisend, you've got many features to help optimize and streamline your efforts, regardless of the channel you prefer. It offers built-in templates to personalize the emails. Plus, you get automation and segmentation options.

It doesn't stop there because you also get engaging and more powerful lead forms, a unique feature among other Moosend alternatives. This helps capture leads and convert them to sales.
Pros:
Easy to use
Helpful customer support
Drag-and-drop editor
Cons:
Less help for migration
Not as intuitive as other ESPs
Pricing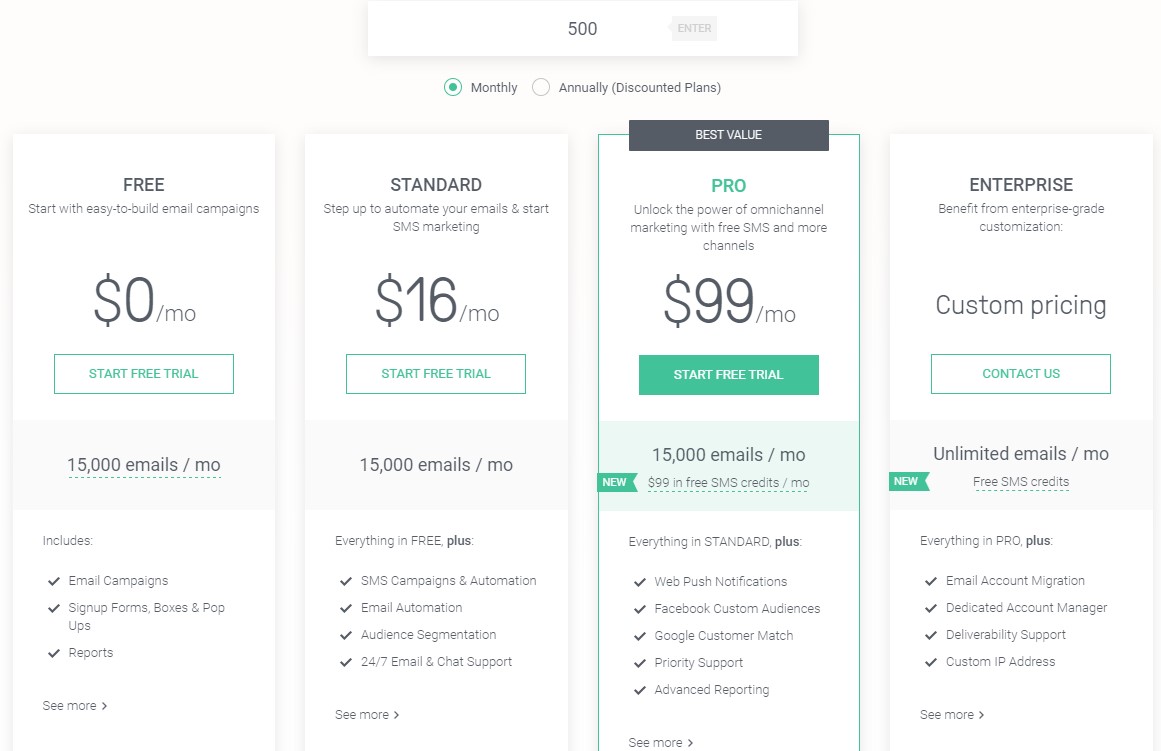 The forever-free plan allows you to have 500 contacts and send 15,000 emails a month. You get various reports, signup boxes/forms, popups, and email campaigns.
With the Standard plan, it costs $16 a month for 500 contacts. You're allowed to send 15,000 emails a month. Everything from the Free option is available, but you also get 24/7 support, audience segmentation, email automation, and SMS automation.
Next, you've got Pro, which is $99 a month for 500 contacts and 15,000 emails a month. It comes with everything from the other two plans and includes advanced reporting, Google Customer Match, and web push notifications, among others.
Enterprise is the last solution, and it comes with unlimited emails per month. You pay based on the contacts you have. Every feature available is included, such as a custom IP address, email migration from another ESP, and more.
Who Is It For?
Omnisend is primarily designed for e-commerce marketers. You've got many channels to send your messages from, making it easier to boost revenue and do less work.
7. MailerLite
MailerLite is quite new on the market. It's modernized and simple while providing plenty of features. We like that it's available in eight languages and comes with a mobile app.
Features
Considering it's one of the newest Moosend alternatives, you've still got countless features, including various email campaigns. It's possible to create segments, but there aren't many ways to manage them. In fact, you can't see their behaviors or how the list is growing, making it a challenge.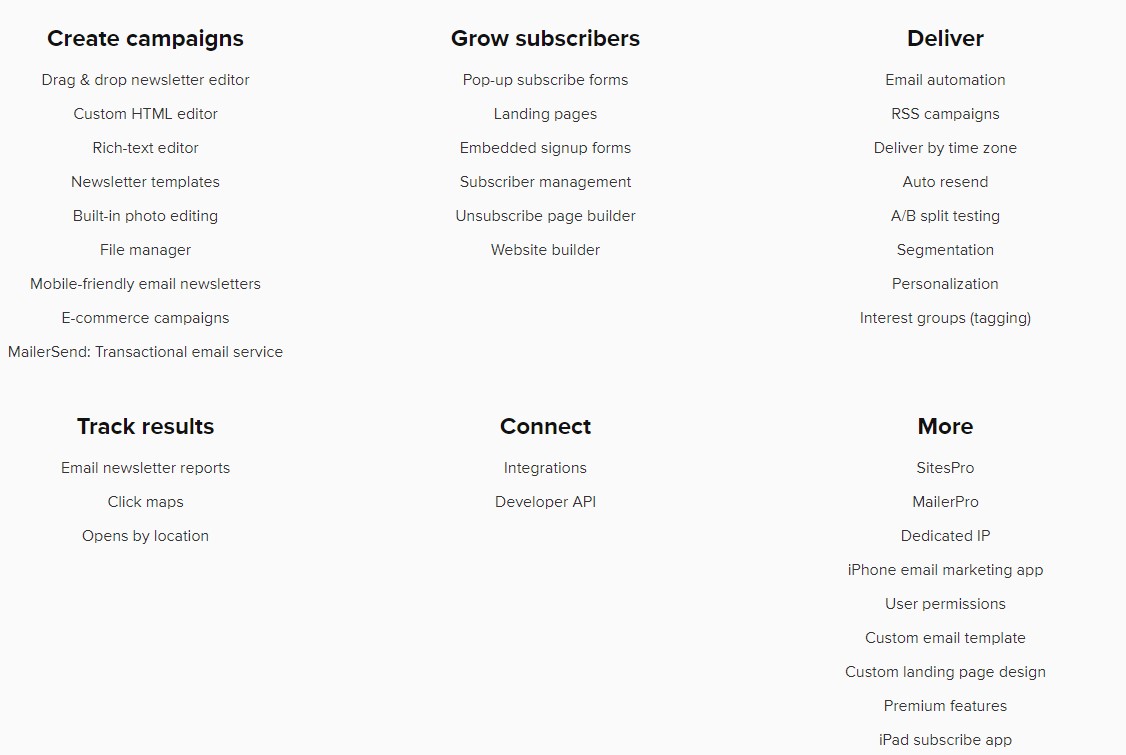 Still, there are plenty of form options, such as various popups, newsletters, and countless others. You've also got a landing page available to help draw in conversions.
Pros:
Granular segmentation available
Well-organized platform
One-sentence explainers for advanced features
Cons:
Dated interface
Few email templates
Pricing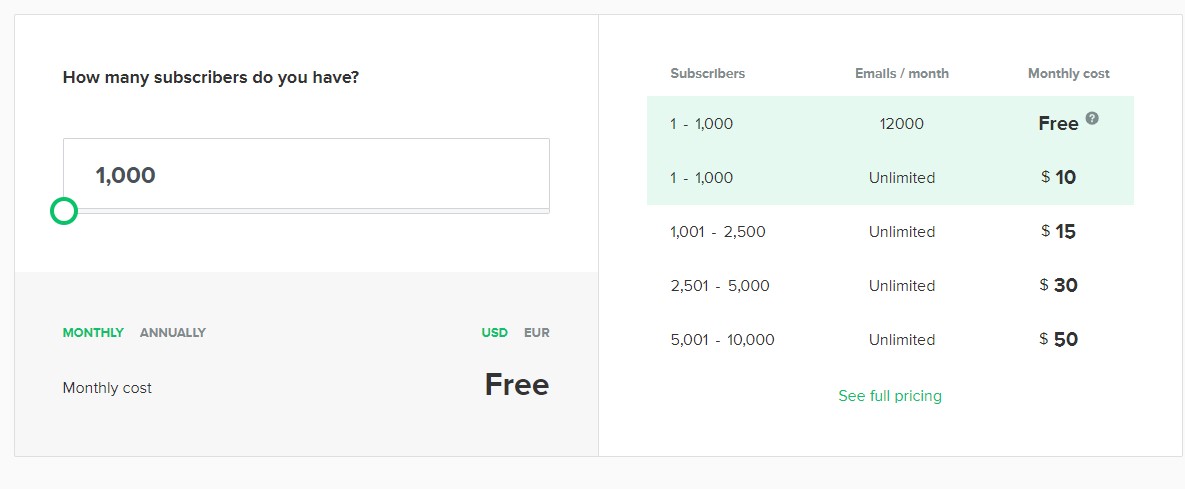 There is a forever-free plan with Mailerlite. You can send up to 12,000 emails per month and have 1,000 subscribers. If you need to send more emails to the same number of subscribers, the price is $10.
From there, the price goes up to $15 for 2,500 contacts, $30 for 5,000 contacts, and $50 for 10,000 contacts.
With all premium (paid) plans, you get all of the features available. The free plan doesn't allow for Live 24/7 support, custom HTML editors, and newsletter templates.
Who Is It For?
MailerLite offers a step-by-step, guided approach to email marketing. Therefore, it is ideal for those who have little or no experience but still need advanced features.
Conclusion
No one is saying Moosend isn't an excellent tool. It can help various digital marketers, but it doesn't work well for those who need advanced tracking and automation. Also, it doesn't offer many integrations, making it less-than-ideal for e-commerce sites.
We've talked about seven other Moosend alternatives on the market. Now, it's easier than ever to figure out which one is right for your business currently and in the future.
She is the Marketing Manager of Poptin. Her expertise as a content writer and marketer revolves around devising effective conversion strategies to grow businesses.
When not working, she indulges herself with nature; creating once-in-a-lifetime adventures and connecting with people of all sorts.
Comments
comments
Tags:
ActiveCampaign
,
email automation
,
email marketing
,
email marketing automation
,
emailoctopus
,
emails
,
getresponse
,
mailerlite
,
Marketing automation
,
moosend alternatives
,
omnisend
,
sendloop