Father's Day is just around the corner, and according to recent retail predictions, this will be a big one this 2021.
A survey conducted by the NRF shows that 75 percent of consumers are planning to commemorate this event with the best gift ideas like clothing, special outing, accessories, foods, and even greeting cards. The best gifts are different from the past years.
Most of the surveyed plan to buy Father's Day greeting cards followed by apparel, accessories, dinner, gift cards, and personal care items.
Keeping these things in mind, it is time for brand or business owners to begin considering sales and promotions for Father's Day.
Regarding seasonal promotions like Black Friday Sale, retailers online know that to set apart from the rest, drawing out new clients, entertaining the current ones, and showing appreciation to loyal clients, needs more hard work.
To make the best out of Father's Day and improve your sales, you need to integrate an online promotional technique like website pop ups.
Website popups can be used when consumers are about to leave the landing page. You can offer discount coupons, offer free delivery or inform leads about sale periods.
Potential clients who were about to leave your site can be drawn back in with the help of your Father's Day pop ups.
Keep on reading to know how this affordable but reliable marketing helps seasonal promotions like Father's Day a huge success for a business.
Father's day discount pop-ups drive more sales
Lead generation plays a very important role in making your retail business online a huge success. The more leads you have, the more sales your store will have.
If your clients or consumers want to know more about your deals at this Father's Day celebration, such interest must be captured.
You can do this without annoying your clients by using Father's pop ups. There are many kinds of Father's Day pop ups available that can be personalized to meet your retail store needs. Make sure to have a clear message in order to drive clients straight to check out.
Exit-intent pop-ups keep you from getting abandoned carts on Father's Day
An email address is the opportunity to talk to your clients with discounts, follow-ups, and other techniques in marketing. To ensure your web visitors make a purchase, provide an exit-intent pop ups. This will help in keeping you from getting abandoned carts on this special event.
Triggering exit-intent pop-ups with offers the moment elusive web visitors wish to leave your site will stop them and make them reconsider their decision.
Exit-intent pop up techniques:
Utilizing pop-ups with announcement deals, offers, or coupon codes on product services and pages might stop clients from leaving the website after simply viewing your products or items.

Lessens cart abandonment by providing last-minute deals to save shopping lists.

You are able to gather email addresses with these exit-intent pop-ups. Clients may be willing to give their email addresses to know more about your products and offers.

You are able to provide alerts with this pop-up because it's a good way of engaging consumers with your business or brand.
There are lots of benefits offered by exit-intent pop up, such as:
This is more reliable and dependable than time-based website pop-ups. The pop-ups which come out the time you open a web page or which happens after a couple of seconds before you could read anything from the landing page are called time-based pop-ups.
This kind of pop-up serves as an elevator pitch for a site because it assists in knowing what you're through a short description.
It assists a lot in getting lots of leads to an email list that may get converted to loyal clients in the coming years.
Exit-intent website pop-ups might do wonders in the growth or success of your business, most especially when it comes to seasonal promotion. Maximize the suitable marketing tool available and make Father's Day pop ups that complement your website.
Help customers decide faster with countdown pop-ups
This is considered one of the best Father's Day pop up design ideas for online store owners. With countdown pop-ups, you can draw out a sense of importance and fasten up conversions. You are able to easily place a countdown timer on your Father's Day pop up and even personalize its color and size according to your choice.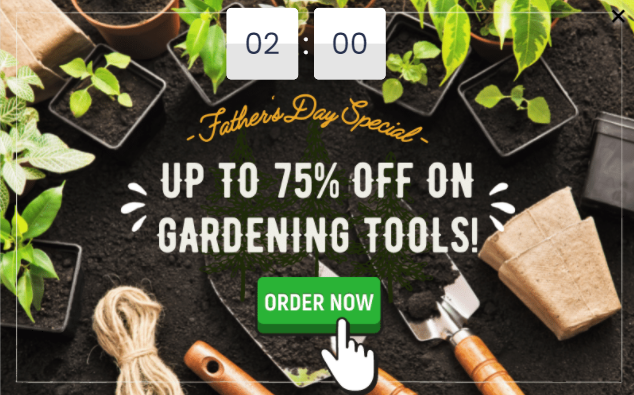 Countdown pop-ups are proven very reliable and efficient in setting consumers into action by providing the impression of insufficiency as well as setting a deadline. If you do it right, you are able to see the conversions improve with this countdown pop up.
As mentioned above, this pop-up makes it likely to arouse a sense of importance and need in your online store visitors while publicizing the end of promotions or opening of events. The configuration of many Father's Day pop up choices will make this more attractive and functional.
Make gamified pop-ups to unleash every Dad's fun side
Gamified trends have been around for many years and also gaining more attention as a perfect way of engaging with the targeted audience. Gamify is the basic use for putting in the game as well as principles and ideas to non-gaming activities.
Gamify can be described as the set of activities as well as the processes to address any issue by using features of the game element. This is mainly utilized to make fun of visitors and at the same time encourage and inspire them with loyalty and engagement.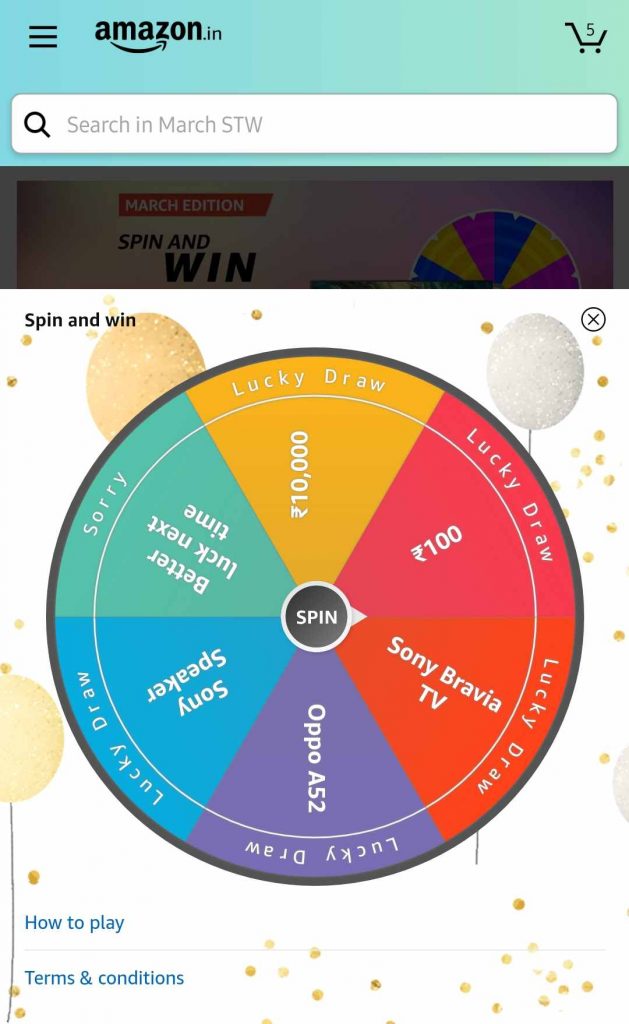 At this point, gamifieded pop-ups are utilized as a technique in marketing to provide a game-like experience to clients. Rather than the typical pop-ups which provide discount coupons, you are able to make gamified pop-ups with the assistance of online tools.
A gamified pop-up not just assists in developing an email list but also boosts the efficiency of your Father's Day pop up campaigns.
Also, you can increase conversion rates and coupon usage rates. You can also make an unforgettable website experience.
Some best examples of games which the successful online stores are using which you can also apply this Father's Day, are card games, wheel of coupons, digital badges, spin to win, a reel of coupons, and a lot more.
Offer coupon code pop-ups to make them feel special
This pop-up is considered a good of generating sales for your online store. This has been proven to improve revenue and get more clients. A coupon code pop-up is a window that appears on a website. Once it appears, web visitors are prompted with promotions or offers. You are able to customize the appearance of this pop-up and make it look at different intervals.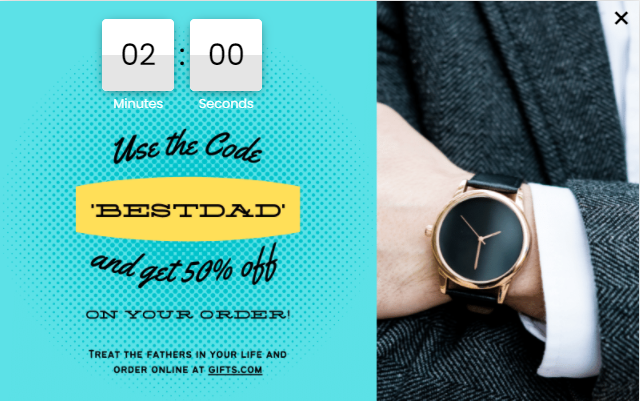 You can have this pop-up show up each time visitors arrive at your store online or simply leave it to appear for web visitors who have not seen one in the past. Also, you can utilize this to provide discounts and other offers in an attempt of keeping your clients coming back.
This type of pop-ups works by taking benefit of the fact that consumers are always searching for deals and discounts. Having this Father's Day pop up on your website, your visitors tend to click through and buy something.
Create discreet top or bottom bars to lead them to your Father's Day sales page
Creating top or bottom bars helps you engage with your web visitors in a subtle approach compared to traditional pop-ups. This bar comes out at the bottom or top of the web page and comes out upon arrivals of visitors, stays, and automatically leaves in a span of time.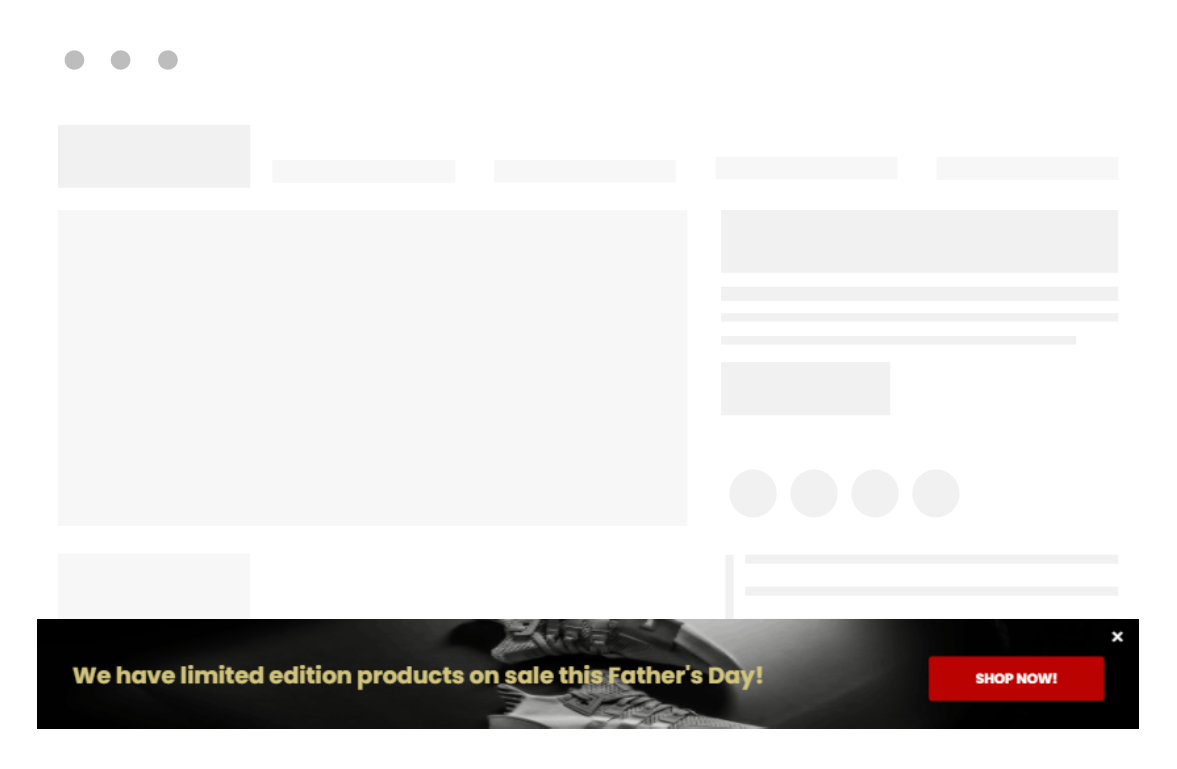 There are many benefits offered by these bards, particularly since they are user-friendly. Like the conventional pop-ups, you are able to utilize these bars to convert web visitors into loyal clients with exclusive content, promos, and engaging CTAs. This also provides an opportunity to go straight to the point.
Promote downloadable content via email pop-ups to grow your email list
Are you promoting downloadable content? If so, you can use email pop-ups in order to grow your email list. You can make an Email list building with the use of email pop-ups.
Key Takeaways
Father's Day pop ups play a vital role in the success of your business. Since these pop-ups instantly appear if you visit a site, they are great at getting the attention of consumers or web visitors. Usually, in order for the pop-ups to vanish, you need to click off or exit it out.
Consumers tend to take a few seconds to see and read the pop-up. If you are running a small business, it is the best time to make the most out of these pop-ups most especially in this coming Father's Day event.
If you want to create your Father's Day pop ups, sign up now with Poptin!
What's next?
Website pop-ups are proven to be a reliable and effective marketing technique for online businesses.
However, don't settle for one technique. If you want to considerable boost in your sales, there are other marketing ideas that you can implement, such as newsletter, homepage designs, social media, event countdown, etc. All these are proven to be easy to use, effective, and very reliable in increasing your profit.