Email marketing is necessary for all types of businesses. In 2003, the founder of FeedBlitz decided to create it to help with RSS to email and other needs. While it's a great tool, it has been growing nonstop. It focuses primarily on email marketing campaigns and newsletters. Plus, it automatically incorporates images from other sources.
Still, it's not ideal for some people. If you've used it before and found it to have issues, then the FeedBlitz alternatives shown below might be better suited to your needs. Now, you have the chance to read about them and compare them to make the right choice.
1. Constant Contact
Constant Contact offers a blend of usability and functionality that can't be beaten. You can get set up quickly, and it provides a tailored approach for everyone's different email marketing needs.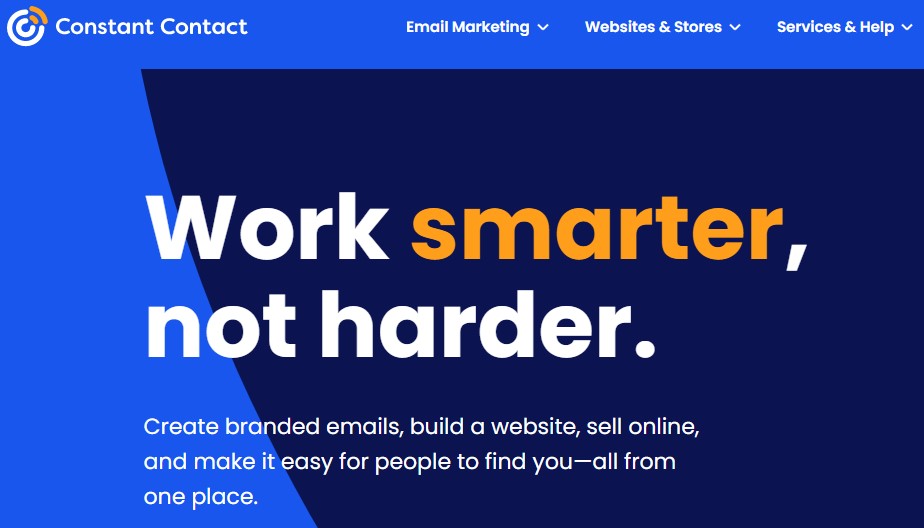 Features
It's easier to communicate with others through email marketing. You're going to find an email template builder, but there are also pre-designed templates for any purpose. That way, you can customize it or create your own.
Success is easier with this tool because you can use real-time reporting to track your progress. Robust analytics round it all out so that you know what's going on with each campaign.
There's also a great e-commerce platform that lets people shop directly by email. It doesn't matter what device they use, as it's all responsive.
Pros:
Advanced contact management

Intuitive interface

Community support available
Cons:
Basic landing page builder

No segmentation choices
Pricing
Everyone can appreciate simple pricing, and Constant Contact offers that. The Email plan is $20 a month based on your contacts. With it, you get customizable templates, email marketing with unlimited sends, e-commerce marketing, A/B testing, and more.
Email Plus is the other option, and it's $45 a month based on the contact list size. You receive everything from Email, but you also have access to popup forms, automated welcome/behavioral series, and so much more.
Who Is This For?
Those without email marketing expertise can use Constant Contact because of its advanced features and ease of use. However, it does have higher pricing than other FeedBlitz alternatives.
Good read: 4 Constant Contact Alternatives with the Lowest Rates
2. Mailjet
Mailjet is considered a midmarket solution, and it gives you plenty of functionality. While there aren't any standout features, it's still a great tool that works well for many entrepreneurs.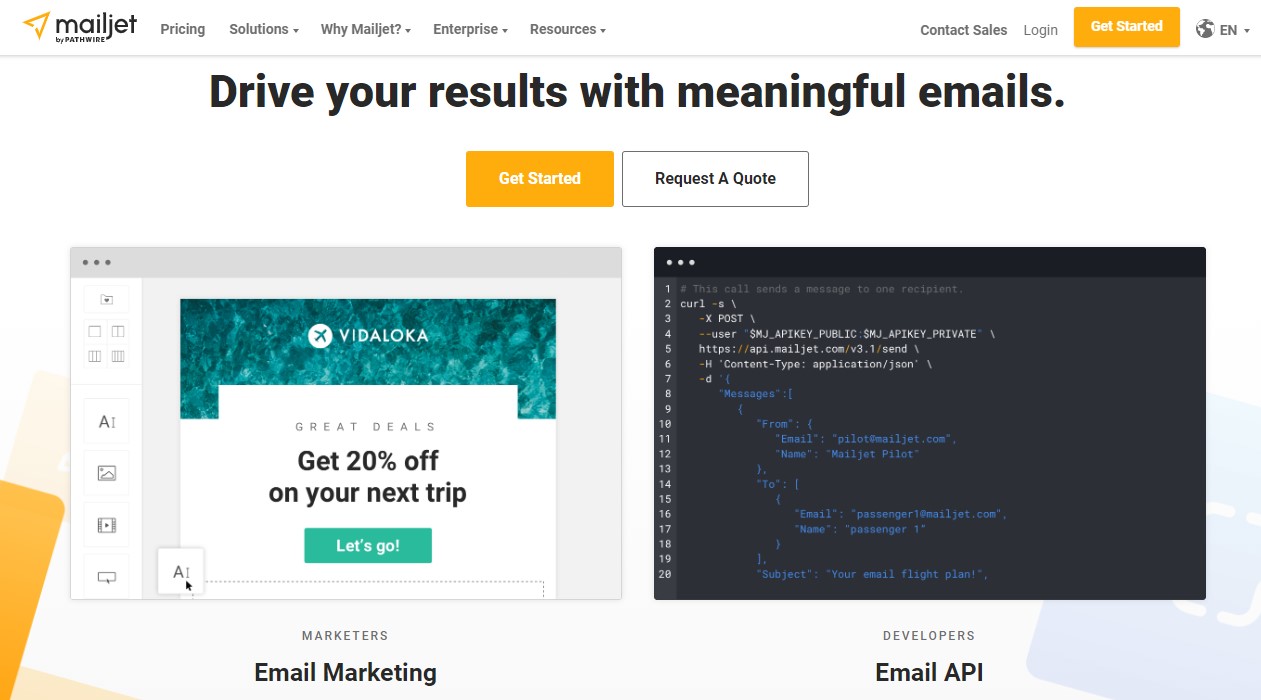 Features
Though the email editor makes it easy to create an email, there are some areas where Mailjet lacks. For example, automated email sequences are all but nonexistent. There are also few segmentation options.
Therefore, it can be harder to create a more targeted campaign to capture specific customers. However, we do like that multiple users can edit the email together, even if they're far away.
Pros:
Setup guide included

Transactional templates

Collaborative editing options
Cons:
No segmentation

Limited autoresponders
Pricing
With Mailjet, there is a forever-free plan. You can send 200 emails every day and 6,000 emails a month. With this, you get Webhooks, SMTP relay, APIs, unlimited contacts, and advanced statistics.
Basic is only $9.65 a month and removes the daily sending limit. You can send 30,000 emails a month and get access to the Free plan features. The Mailjet logo is removed, and online support is opened.
Premium comes next at $20.95 a month for 30,000 emails and no daily limit. You get the Basic plan's features, but segmentation, marketing automation, A/B testing, and dynamic sections are available, too.
Enterprise is a customized price based on your needs. Here, you get inbox preview, advanced permissions, and multiple users, deliverability services, and more.
Who Is This For?
Mailjet is one of those email marketing tools that doesn't have a specific niche in the industry. Small companies are sure to find it expensive, and large corporations aren't going to get the advanced functionality necessary.
Good read: Take Email Marketing to the Next Level with these Mailjet Alternatives
3. ActiveCampaign
As one of the top FeedBlitz alternatives listed here, ActiveCampaign offers tons of features, but it is a bit challenging to get set up. If you've used email marketing tools in the past, it might not be a big shift. Otherwise, you're going to have some trial and error to figure things out.
Features
The features of this email marketing solution are extensive. You can reach and engage with your customers using precision targeting methods. That means you can capture attention with messages matching the personality of the user. To do that, you have subscription forms, automation options, and an automation map.
It's also possible to educate and nurture your clients. Build on the relationships with your customers by giving them tailored guidance. This can be done through event tracking, site messages, predictive content, and more.
Pros:
Dynamic personalization

Advanced segmentation available

Sticky help button
Cons:
Must go in a fixed task order

Limited scheduling options
Pricing
ActiveCampaign offers the Lite version at $15 a month for 500 contacts. You get marketing automation, newsletter options, segmentation, and much more.
Plus bumps up to $70 a month for 500 contacts, but you also get landing pages, contact scoring, SMS, and custom branding.
Professional is the most popular at $159 a month for 500 contacts. With it, you get site messages, split automations, predictive content, and many others.
Enterprise is a custom price based on your needs. You can have a custom domain, custom reporting, unlimited testing of designs, and more.
Who Is This For?
In general, ActiveCampaign is suitable for experienced marketers and works well for B2C and B2B email marketing options.
Good read: Mailchimp vs. ActiveCampaign: What's Better For Business
4. Sendy
Sendy is a great email marketing tool that's hosted on your own servers and doesn't cost much. Since there's little overhead and you're using Amazon SES to send emails, it's reliable and a great alternative to cloud-based solutions.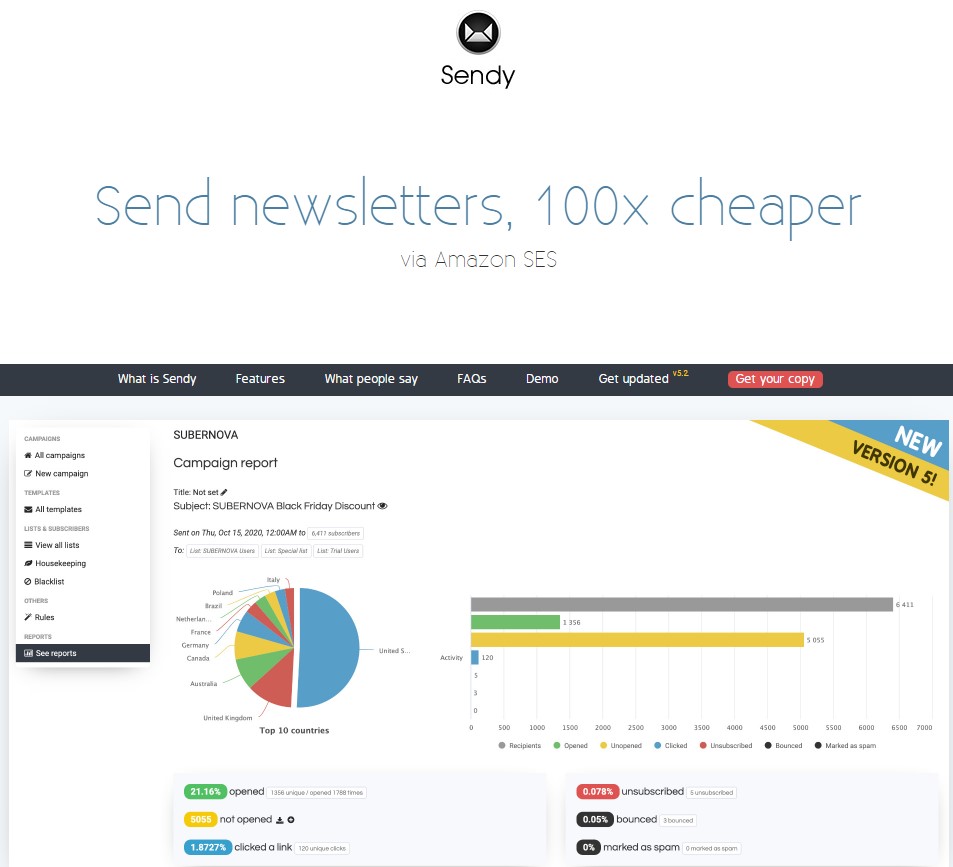 Features
The whole goal of Sendy is to give you more autonomy and control. You're never held hostage with autoresponders, contracts, or high prices. It uses Amazon SES to send out emails, and that service is also very reliable.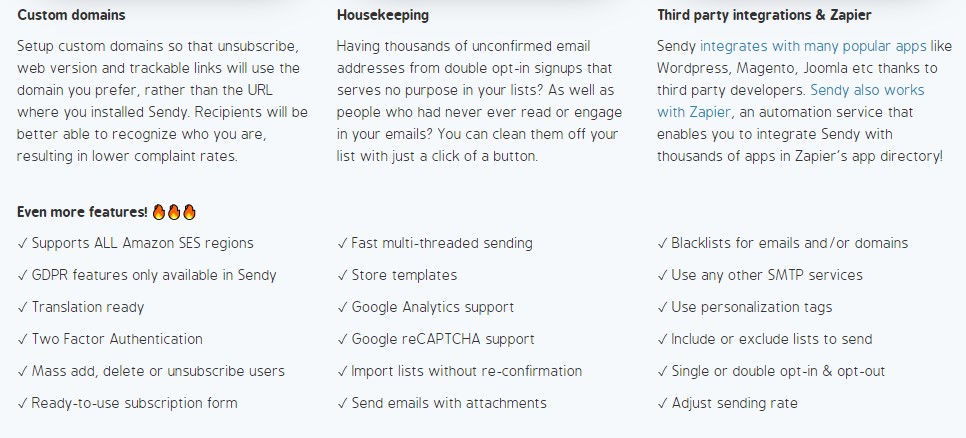 It's possible to send bulk emails for much lower rates. Plus, you can get it created and make it look perfect before sending it out. You're going to find the analytics are great, and there's plenty of detail about the performance of the mail.
Since you can create various lists with it, you can segment your heart's content. Also, it's easy to use and modern.
Pros:
One-stop shop for all domain needs

Save time and money

Great autoresponders and reports
Cons:
More work to set it up

Must have Amazon SES
Pricing
With Sendy, the pricing structure is different. This is downloaded software that goes onto your server and works with Amazon SES. Therefore, you only pay a one-time payment of $69 and get one license with free updates (for the most part).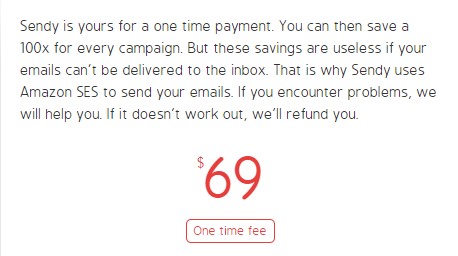 Who Is This For?
Those who prefer to host their own email marketing tool and use Amazon SES already are sure to enjoy Sendy.
5. Pinpointe
As we're talking about FeedBlitz alternatives here, it's hard not to include Pinpointe. It's a leading email marketing platform designed to help you create, automate, optimize, and measure email campaign results. Plus, it offers an easy-to-use interface.
Features
One good thing about Pinpointe is that you can choose how to build the campaigns. There are three options. The drag-and-drop editor allows you to create amazing designs and add content within minutes.
You've also got the WYSIWYG editor to build emails from scratch. There are plenty of templates to use, and they're customizable, too. However, if you've got the skills, you can load HTML code yourself.
There's a great automation feature that helps you trigger autoresponders and emails. Send electronic mail based on the prospect's behavior and never miss an opportunity again.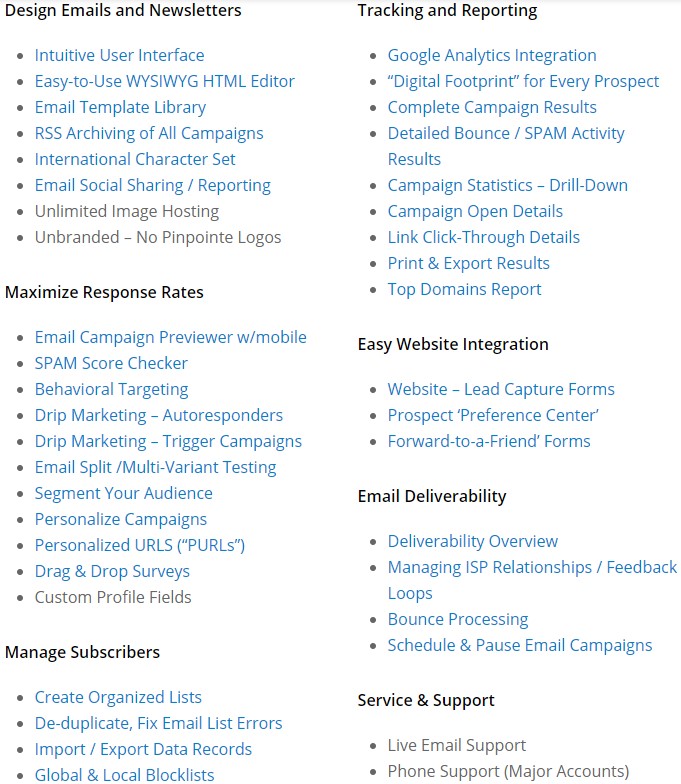 Pros:
Spam checker included

Testing features and an image library

Excellent bounce processing
Cons:
Pricey

Hard to get in contact with support when necessary
Pricing
The pricing structure for Pinpointe is based solely on how many contacts you've got. Therefore, you spend $74 a month for 10,000 contacts and 100,000 emails; $150 a month for 25,000 contacts and 250,000 emails, and so on.
Plus, it uses the email credit system. Just buy more credits if you need to send more emails in one month.

Who Is This For?
Though Pinpointe markets itself as suitable for all business marketers, the high price (even at entry-level) makes it hard for startups and SMBs to budget. Therefore, it's better suited for larger companies.
6. Zoho Mail
Zoho Mail is a great email marketing platform because it offers you the best features and a clean interface. Plus, you're going to get scalable solutions that don't cost that much.

Features
It's possible to get a customized domain email address for each employee. This means you can set groups up for different departments quickly.
You're going to appreciate the privacy guarantee. Any information within the email is secure and only accessible to you and your team. Everything's fully encrypted, and it offers GDPR compliance.
There's a large suite of apps to use, such as a contact list, calendar, notes, tasks, and others. This means you can keep track of everything from a centralized hub.
Pros:
Integrates with other inboxes

Privacy is guaranteed

Full support
Cons:
Can't import contacts from social media
Pricing
Zoho Mail only offers annual billing. The Mail Lite plan is $1 a month per user and gives you 5GB of space. You get hosting for various domains, routing, sharing, and many other perks.
Mail Premium is $4 a month per user and gives you 50GB of space. You get the same benefits from Mail Lite, but there's also white labeling, S-MIME, eDiscovery, and more.
Workplace starts at $3 a month per user and gives you all the perks. This includes secure emails, online file managers, training software, and more.
Who Is This For?
Since it is a cost-effective solution, Zoho Mail is often used by smaller businesses. However, it works well for large corporations, too.
7. Cakemail
Cakemail has been around since 2007, so it's established as an email marketing tool. Though it's simple and easy to use, you still get great features and benefits. Plus, it's affordable on all scales, so if you own a large company, it's still a viable option for you.
Features
You can easily simplify your email marketing tasks with Cakemail. It's easy to use and affordable. That way, you can engage with the clients, track their journey, and create email campaigns quickly.
There are various free templates available, but you can import those you've already made. Just make a few adjustments and send them out. You can also easily import and manage contacts, add content to your email, and much more.
Pros:
Many email templates

Maintain and update contact lists easily

Reports and analytics available
Cons:
Not easy to compare reports
Pricing
It's tough to find the prices for Cakemail from the website. They're hidden quite well. However, the plans are solely based on how many contacts you have, and you get all the features.
Therefore, you're going to pay:
$8 a month for 500 contacts

$12 a month for 1,000 contacts

$24 a month for 2,500 contacts

$39 a month for 5,000 contacts

$59 a month for 10,000 contacts

$119 a month for 25,000 contacts

Who Is This For?
Primarily, Cakemail is designed for small businesses. It claims that it can help SMBs change their communities for the better with the right tools.
Conclusion
With everyone needing the right email marketing tools, it's a good thing there are so many choices. However, this also makes it harder to get the best one for you.
Whether you've tried FeedBlitz before or you've looked into it and found it to be not for you, there are plenty of other FeedBlitz alternatives. We've talked about seven of the top options, and now you've got the information necessary. It should be much easier to decide which email marketing platform is right for you.
Try each of them out with the free trial and decide which one is best. You can also do your own research and make a choice. Either way, we hope this article has helped you figure out the FeedBlitz alternatives available and what might work for your needs.