Businesses everywhere want to use their websites to convert and get more email sign-ups. The efficient way to do that is through website forms.
You can create just about anything you want, but the most popular are email forms, contact forms, and order forms. However, you need the right form builder to do it all.
Most of them don't offer free forms, but some software options include it with the full package. That way, you get more leads!
What is Formidable?
Formidable is a WordPress forms plugin. It goes far beyond regular contact forms with its drag-and-drop form builder. That way, you can create quizzes, surveys, and order forms easily.
In a sense, this is a solution-focused form plugin for WordPress. With it, you can build whatever you need.
You're sure to appreciate the many features available:
Mobile-responsive forms
Optimized for speed and server performance
Pre-built templates
Drag-and-drop editor
Full entry management for surveys and website forms
GDPR-friendly
Smart surveys with reports
Accept payments from the forms
Boost sales and conversions
However, prices are a bit high, so you might want to compare it with these Formidable alternatives:
Top Formidable Alternatives
Poptin is an all-in-one solution for website conversions and leads. Many people already use its pop-up features. However, it also includes an autoresponder and drag and drop form builder.

You're sure to appreciate the intuitive inline builder for forms. You can easily create responsive forms embedded on your website. With that, it is easy to customize the templates, choose where to put them, and much more.
There are plenty of fields to help you build an advanced form. Collect feedback, gain more leads, and more:
Email fields
Checkboxes
Dropdown menus
Phone number field
Text field
Radio button
Date field
Check out some of these fantastic features:
Advanced targeting
Advanced analytics
Flexible options for after the form is submitted (autoresponder message, redirects, conversion to social media, thank-you messages, much more)
A/B testing
Integration with CRMs and Emailing systems
Create website forms quickly
Learn more Poptin features here.
Everyone enjoys the advanced targeting options. You can show the form to specific visitors and maximize the results of your work.
With Poptin, you can create any form type you want, including order forms. There's nothing you can't do!
Pricing
In a sense, you get free forms at your disposal because they are part of the pricing packages. Prices are:
Free – Free for 1,000 visitors
Basic – $19/mo. for 10,000 visitors
Pro – $49/mo. for 50,000 visitors
Agency – $99/mo. for 150,000 visitors
Pros:
Colorful interface
Easy to use
Automation functionality
Tell it what to do after someone submits a form
Cons:
Generic-appearing designs
Most people rave about Poptin. One person said it was easy to use and had all the necessary integrations.
Another person said that they were highly impressed with the metrics. It's easy to see how many visitors and submissions you get each month.
However, others complain about the pricing structure. One person said it should be unique visitors instead of unique views because they got one million visitors a month and only use Poptin for the blog.
ProntoForms
ProntoForms is an automated platform that helps you collect data about the company. You can then share those results with your back-office systems. However, this is an internal form builder and doesn't offer website forms.
Here are just some of the benefits of using ProntoForms:
Abbreviation detections
Appointment management
App management
Accounting integration
Archiving/retention
Audit trails
Collaborative development and tools
Change order management
Budget tracking
Ticket scanning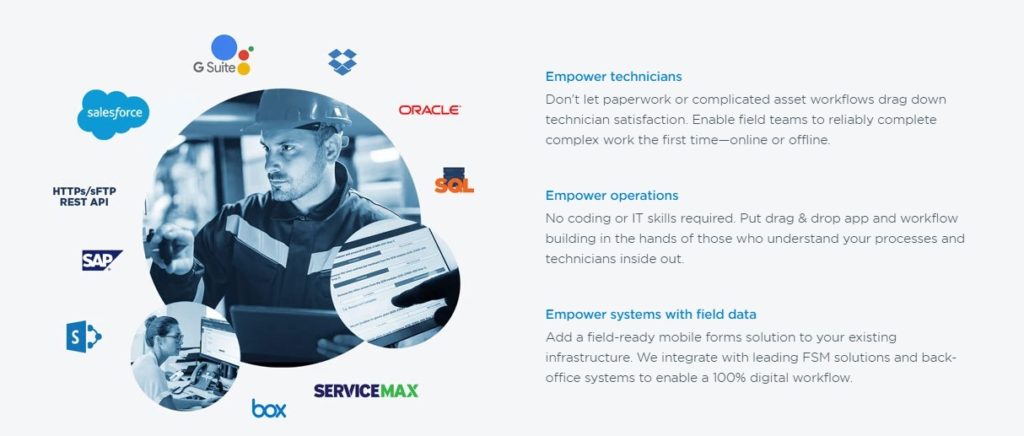 Pricing
This is a standalone service, and the pricing is as follows:
Essentials – $15/month/user
Advanced – $45/month/user
Enterprise – Custom prices
Pros:
Easily customizable to your needs
Flexible and technologically-advanced
Easy to create files
Cons:
Hard to change data frequently
Can take a while to learn to use
Most people say that they like the system. One person says that it's a powerful tool that helps them create eForms with intuitive controls.
However, others complain that there's no drag-and-drop editor. It takes a long time to move elements, and you can't select multiple items at once.
Kissflow
Kissflow is end-to-end workflow software. With it, you can deal with unstructured and structured workflows easily. Plus, anyone can create automated processes, build project boards, and more, though it is an internal forms system.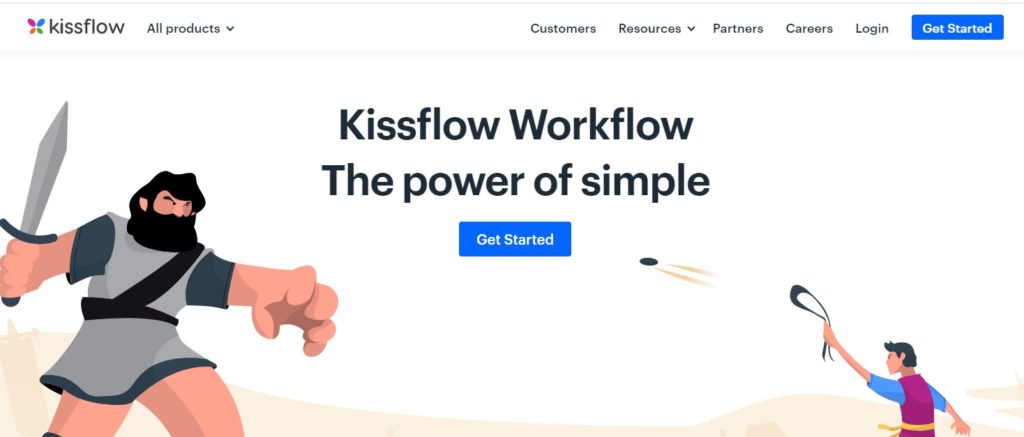 Consider these features:
Automated business apps
Advanced reporting
Progress monitoring
Set user permissions
Define workflows
Custom form builder (internal)
Pricing
With any of the pricing plans, you get a 14-day trial. After that, it costs:
Basic – $16/user/month
Advanced – $22/user/month
Fully Loaded – $30/user/month
You get more features as you progress to higher tier levels.
Pros:
Simple to use
Ideal for SME
Scalable
Cons:
Not suitable for website forms (external)
Needs more localization for regions
Not many integrations
One reviewer said that this is easy to use, design, and deploy without coding. Using Kissflow, the business digitized most of its processes.
However, most people complain that when the new version came out, it was too hard to migrate. They ultimately left because of this.
FormAssembly
FormAssembly is a great web form platform. If you plan to create any website forms, this could be the best one.
Here are a few of the features to consider:
Build a variety of forms (order forms, contact forms, email forms, etc.)
Easy to navigate
Great interface
Drag-and-drop functionality
Different data types
Dynamic pick-lists
Large template library
Smart features (save/resume, calculated fields, conditional logic, etc.)
Can provide PCI certification and HIPAA compliance
Pricing
The prices for FormAssembly are:
Professional – $99/month
Premier – $249/month
Enterprise Cloud – Custom
Compliance Cloud – Custom
Pros:
Integration with SalesForce
Intuitive interface
Mobile-responsive
Cons:
High prices compared to other Formidable alternatives
More informative error messages required
The reviews about FormAssembly are everywhere. One person said it's well-suited as a standalone form builder or to capture internet-based forms.
Others say that it is only suitable to use with SalesForce. While there are other integrations, they're all payment-based.
Growform
Growform is considered a multi-step form builder. With it, you can create beautiful and responsive forms to capture more leads.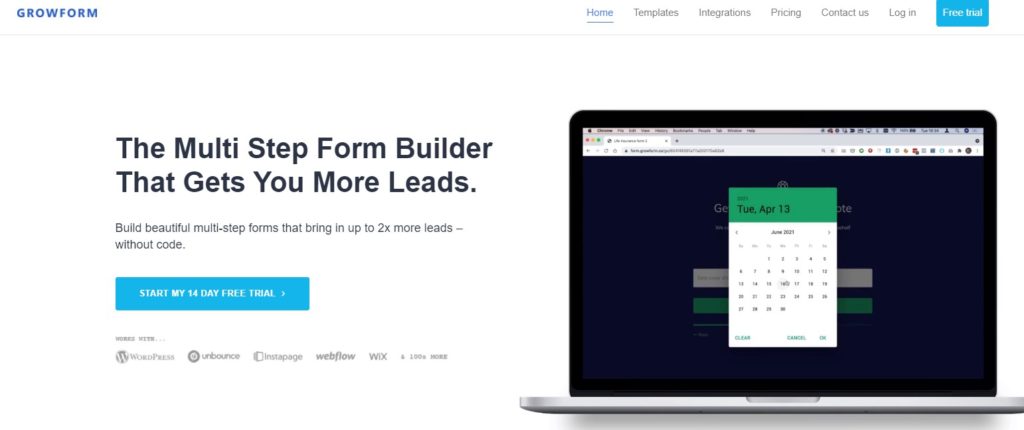 Check out the many features to see if it's suitable for you:
Drag and drop functionality
Task management
Payment processing
Electronic signatures
Access controls and permissions
Forms builder
Workflow management
Reporting and analytics
Offline forms
Collaboration tools
Mobile-friendly forms
Forms automation
No coding required
Easy to set up and use
Pricing
The pricing structure for Growform is:
Hobbyist Plan – $39.99/month
Agency Plan – $74.99/month
Pros:
Over 300 Zapier integrations
More than 10 templates
Simple editor
Cons:
Needs more direct integrations
High prices
Most of the positive reviews for Growform focus on the ability to customize the templates. You can build forms faster.
However, most of the negative reviews talk about the need for direct integrations. Zapier lets you connect any app, but there should be direct integrations for Slack or Hubspot.
Conclusion
Everyone needs website forms on their sites. Customers like to have options, so they can fill out a form when it suits them.
For example, contact forms can protect you from spam. It's also a professional courtesy extended to the visitor. They feel confident they can get in touch whenever the need arises.
Email forms are crucial for generating leads. It's so easy for someone to subscribe to your newsletter. That shows they're interested, which qualifies them. However, without that crucial piece of information, you can't directly message someone about your deals, promotions, or products.
Order forms are also important. Your staff has a lot of things to do. If they're taking calls for orders, you want to simplify the process. It's much easier to file the invoice and get the order sent out quickly. Plus, it reduces the risk of errors.
With Poptin, it's easy to create various forms for your website. In fact, you're not limited to emails, orders, and contact forms. You can build anything you want or need. It also lets you add pop-ups to your site.
That way, you can grab the visitor's attention at the best time possible. Its exit-intent technology is first-rate. This protects you from cart abandonment and also boosts lead generation and conversions.
Are you ready to take your website to the next level? With so many Formidable alternatives, you can quickly make website forms and pop-ups. However, Poptin has you covered, and it's easy to use and simplified.
Sign up for free to get started!