Online forms are one of the most effective tools for turning search leads into genuine customers and subscribers. They offer creative and appealing ways to interact with consumers and get the information you need to help converts clicks to sales.
One of the many companies helping to build these website forms is Formstack. This guide aims to show what alternatives are out there and what they have to offer.
Formstack Overview
Since 2006, Formstack has been finding new ways to capture data and use it advantageously. In the last 15 years, more than 25,000 businesses have turned to Formstack to rework their websites and form building. It remains one of the biggest companies of its kind to date.
The ethos behind Formstack is believing in a better path to practical data solutions rather than tedious repetitive tasks. Digitization and automation are revolutionizing modern marketing and daily work styles- all thanks to platforms such as Formstack.
There is no doubt that Formstack is one of the best, but it is not the most affordable. Although new visitors can sample a trial version for free, the packages can cost hundreds of dollars. Because of this, many people choose to look elsewhere.
Alternatives to Formstack
Formstack is one of the best-known companies providing online businesses with efficient ways to add in-line forms to their websites, but it is not the only option. Here are some of the best Formstack alternatives to use for your business today.
Poptin is a fan favorite and a definite frontrunner in the digital marketing industry. With its impressive range of features, user-friendly tools, competitive pricing, and excellent customization, it is no wonder many are calling it the best in the business.
Since its launch in 2017, Poptin has quickly risen to the height of the industry, perfecting the art of inline forms, pop-ups, and various other digital marketing ideas. Subscribers can access a multitude of features, including pop-up free forms, mobile-friendly displays and integrations, and much more.
Pop Ups and Forms with Poptin
Pop ups and forms are the specialties on this site. There is pretty much nothing you cannot do with pop up marketing through the Poptin platform. Some of the styles available include:
Lightbox pop-ups
Email forms
Floating bars
Slide-ins
Social media pop-ups and 'like' boxes
Welcome screens
From the first design to the final editing and testing, Poptin lets its users customize and control every element if they want to. Alternatively, those who want a bit more guidance can choose from expertly built templates that fit their brand.
Pop-up website forms are great ways to get attention and gather data, especially when placed through a site like Poptin.
Tracking Success with Poptin
One of the great features of this particular company is how easy it is to track and monitor the success of the forms and pop-ups in use.
Subscribers can track clicks, conversions, likes, and interest directly on the Poptin site via a flow chart. The tracking part of the site is easy to navigate, even for complete beginners. In fact, the whole site is perfect for newbies with zero previous codings or website building experience.
Being able to stay on top of all the necessary data is the best way to ensure that lead generations are optimized and conversion rates strong. There is plenty of proof to show that Poptin pop-ups work, but it is always best to keep track of it by yourself. By doing so, you can continue to tweak and develop your marketing forms to maximize your chances of success.
Poptin Key Features
Customize your pop-ups and forms every step of the way.
Never lose track of what is working and what is not.
Enjoy excellent integrations.
Make the most of one of the best customer service departments in the industry.
Poptin is a solid choice for any online business that wants to kick things up a notch. You need neither experience nor know-how to make Poptin work for you- only the passion and drive to see your business flourish. 
Get to know Poptin more by watching this quick video review by the CEO of Shapewear Wholesale:
Leadformly
Lead conversion is the name of the game with Leadformly. The site's form-building process is extremely efficient and user-friendly. Creating a lead capture form should not be difficult, and thanks to the pre-tested step-by-step templates at Leadformly, it has never been easier.
Leadformly Key Features
There are more than 50 form templates to choose between, all of which are expertly designed by people who know best.
The multiple-step building process ensures maximum attention to detail and potential for conversion.
It has an impressive list of integrations to help you take your website even further.
Results are proven and impressive, with many companies enjoying more than 200% increase in their uptakes and conversion rates.
You can test the Leadformly features via a free trial before deciding to subscribe. The company recently partnered with Wufoo (see below).
Zoho Forms
Founded way back in 1996, Zoho has been around since long before digital marketing really took off. The American company has an impressive range of features and is always evolving with the times. In our eyes, this is something that makes it a very appealing business to work alongside.
Compatible with desktop and mobile, the form creation app is flexible and effective.
Zoho Forms Key Features
It has excellent automation capabilities.
The design and customization process is easy and smooth, even for beginners.
Some of the plans are very well-priced.
Customer support is attentive and responsive across a variety of communication channels.
Zoho Forms keeps it simple yet effective, something we view as a definite bonus. The designs are strong and easy to mold to fit any brand or purpose.
Wufoo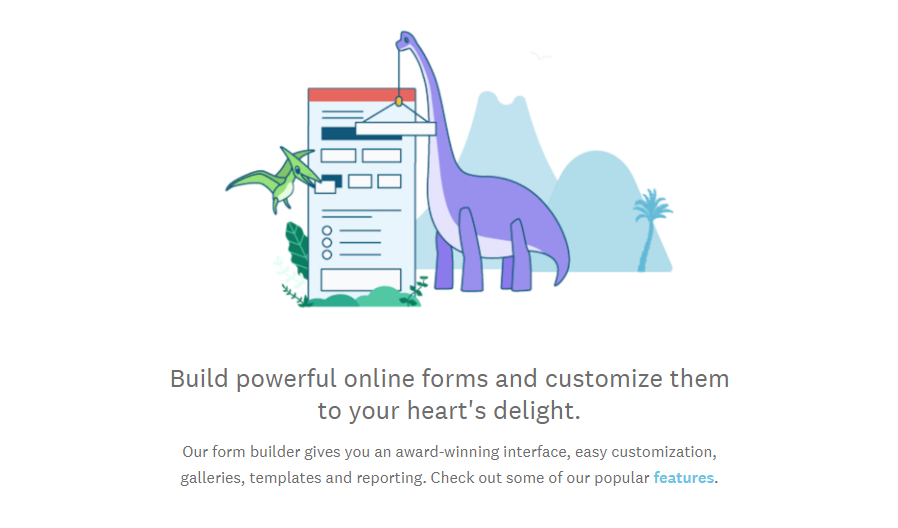 Wufoo is an advanced form-creating site that specializes in fully integrated contact forms, order forms, and payment sheets. It offers a range of tools that can help you shape your entire website and optimize a selling platform.
E-commerce companies love Wufoo for its order forms and sales forms, which are amongst the most flexible and effective in the industry. You can do everything from choosing a color theme for your site to setting up payment collections through the Wufoo program, so it really is a worthwhile option.
Wufoo Key Features
Wufoo offers excellent customer support and training options to help you develop knowledge of the tools.
It has more than 400 template designs to choose from for your website base.
The tracking displays are well laid out and simple to read.
Fully custom your website and brand marketing from start to finish all in one place.
In short, Wufoo is a serious contender as one of the best Formstack alternatives. The plans are varied and very well priced on the freemium business model.
Form Assembly
Anyone working with Salesforce has probably heard of Form Assembly, as it is one of the main integrations it works within the industry. It is essentially a fire on all form creation apps designed to drive up conversion rates and optimize data collection opportunities.
Furthermore, it is known for its high-level security features and dedication to compliance, making it a firm favorite amongst companies that handle potentially sensitive information or just a lot of data.
Form Assembly Key Features
Competitive pricing and a strong free version make it a popular choice for businesses on a budget.
The drag and drop editing process is a hit amongst users.
There is a great user community where ideas and tips are shared.
Since 2006, Form Assembly has been considered one of the most professional online form marketing platforms and is a solid choice as a Formstack alternative.
The Bottom Line
Sure, Formstack is a great platform with a lot to offer but is it not the be-all and end-all. There are plenty of great Formstack alternatives that each have their own benefits. Inline forms and popups are ultra-valuable tools for modern digital businesses and their marketing strategies.
Choosing what company to use for creating them should not be rushed or taken lightly. Weigh up all the options before settling on the platform for you.
Key Takeaways
There are plenty of options to choose from for your inline form building.
Website forms and pop-ups are known to increase engagement, lead conversion, and brand awareness, so they are an important part of a marketing campaign.
Price plans vary greatly from place to place and even within one brand. Always look loosely at what is included in the price and check that it meets your requirements.
Integrations are also essential, so find out what platforms are compatible.
Customization options can make a big difference, but so can the quality of the original template.
Having a customer service team on hand is always beneficial and good for peace of mind.
Sign Up to Poptin Now to Boost your Subscribers and Take your Brand to the Next Level!
Our top pick is Poptin all the way. It has the best feature selection, the most flexible and manageable editing tools, and top-grade data tracking capabilities.
Head to Poptin now to check out the packages and products that could take you and your business to new heights!