5.No matter what kind of business you have, you definitely need good tools to make everything work smoothly and efficiently.
Nous savons que vous avez probablement lu un tas d'informations différentes sur l'importance du marketing et du référencement et sur la façon dont ils devraient être vos principales priorités.
Et c'est vrai, c'est sûr.
Mais, vous n'obtiendrez la vraie perspective que si vous commencez à travailler à leur amélioration constante.
Yes, we understand that consistency may seem challenging and may consume a lot of energy, but with the right tools, nothing will be such a huge obligation.
Ils deviendront des épargnants en temps réel et vous aideront à atteindre les objectifs importants que vous vous êtes fixés pour votre entreprise.
Maintenant, laissez-nous vous présenter quelques outils concrets de marketing et de référencement que vous pouvez commencer à utiliser dès maintenant !
SEMrush est une solution de marketing et de référencement qui comprend plus de 20 outils différents. Ils peuvent vous aider :
SEO

Marketing de contenu

Recherche compétitive

Publicité

Les médias sociaux
Il est destiné aux spécialistes du marketing et aux entreprises qui veulent faire passer le trafic et les ventes sur leur site web à un niveau supérieur.
The SEO SEMrush toolkit includes a technical SEO audit that will help you to analyze your web presence and see what you should improve. It also includes position tracking, backlinks audit, and analytics. SEO toolkit can help you to see which tactics will provide you with better organic traffic.
Grâce à une boîte à outils de médias sociaux, vous pouvez révéler les stratégies de vos plus grands concurrents. En utilisant le post booster, vous pouvez rendre votre contenu sur Facebook plus visible. SEMrush vous fera gagner du temps et vous permettra de programmer vos publications sur un maximum de cinq canaux de médias sociaux différents.
Si vous êtes un créateur de contenu, utilisez la boîte à outils de marketing de contenu pour découvrir quels sont les sujets les plus intéressants pour votre public cible et utilisez-la immédiatement pour votre avance. Découvrez et analysez les performances de votre contenu en fonction du comportement de vos visiteurs et voyez ce qui doit être amélioré.
Il est important de mentionner que SEMrush possède actuellement la plus grande base de mots-clés sur le marché, et si vous voulez obtenir un meilleur classement SEO, c'est quelque chose qui mérite certainement votre attention.
Principales caractéristiques de SEMrush :
Recherche biologique

Recherche en matière de publicité

Recherche par mots-clés

Analyse du trafic

Annonces de produits

Explorateur de marché

Liens

Assistant de rédaction SEO

Graphiques

Suivi des médias sociaux

Affiche sur les médias sociaux

Analyseur de contenu

Outil de mots-clés du CPP
La tarification : SEMrush propose trois plans et un plan Entreprise ainsi que des solutions sur mesure. Vous pouvez essayer gratuitement les plans PRO et GURU et voir s'ils conviennent à votre entreprise.
Sur l'image ci-dessous, vous pouvez voir quel plan est destiné à qui.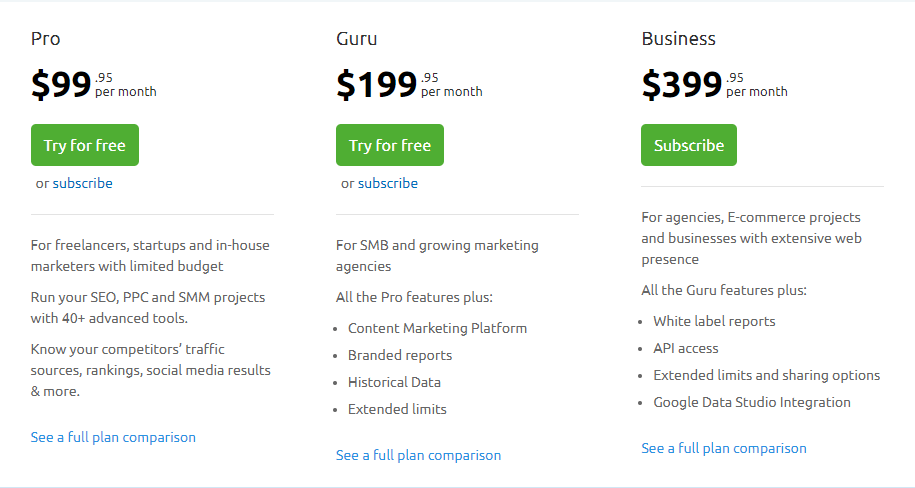 Ahrefs est un excellent outil pour la prospection en backlink, qui est l'un des facteurs les plus importants pour le référencement.
Et le mieux, c'est que vous pouvez utiliser cet outil que vous soyez déjà un expert ou un simple débutant.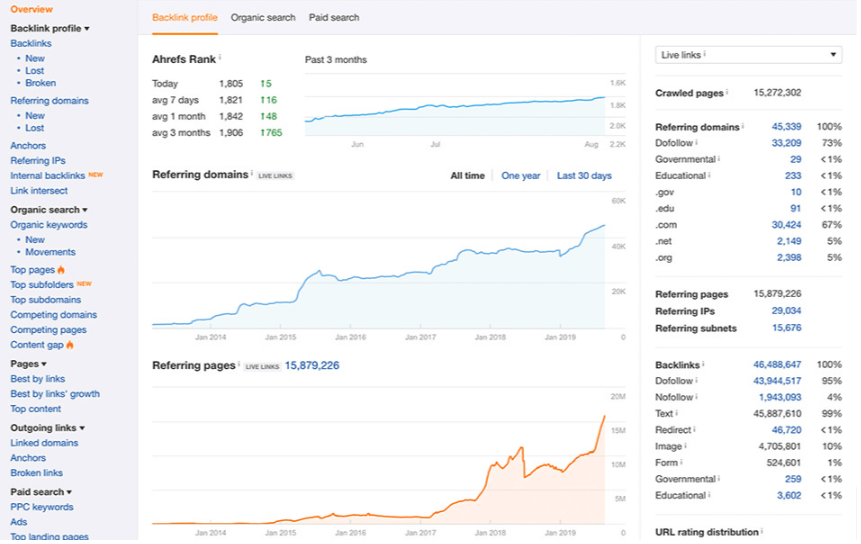 Si vous voulez voir le profil des liens retour de vos concurrents, par exemple, il vous suffit de taper l'URL et vous pourrez voir les liens et la qualité du profil des liens retour lui-même. Ahrefs dispose d'un crawler de backlink très rapide.
Lorsque vous utiliserez la recherche sur les liens de retour, vous obtiendrez les listes et les aperçus de
Liens

Référencement de domaines

Liens brisés

Ancres

Renvoi des PA

Liens internes
Comme vous pouvez le voir, en utilisant les Ahrefs, vous pouvez créer une stratégie de backlink puissante avec beaucoup moins de temps. Tout est organisé et présenté sous la forme d'un rapport clair.
Grâce à cet outil, vous découvrirez également les mots clés utilisés par vos concurrents.
Si vous choisissez d'utiliser Ahrefs pour votre entreprise, vous pouvez avoir accès à Ahrefs Insider sur Facebook, qui est un groupe fermé de plus de 10 000 spécialistes du marketing.
Leur équipe de soutien est disponible pour répondre à vos questions et pour résoudre tout problème éventuel.
Les caractéristiques les plus importantes de Ahrefs :
Recherche organique sur le trafic

Suivi des liens

Recherche sur le trafic payant

Explorateur de mots-clés

Métriques avancées de l'OSE

Analyse des sites web

Options du SERP

Suivi du classement

Explorateur de contenu
La tarification : Ahrefs propose quatre formules payantes différentes. Pour les deux premiers, vous pouvez essayer une période d'essai de 7 jours pour le prix de 7 $.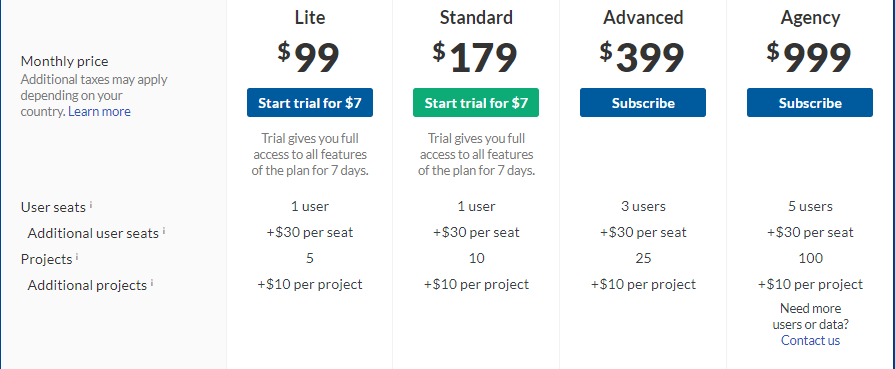 Moz is another marketing and SEO tool, and it is great when it comes to on-site SEO. You probably already know how important it is to optimize every element on your website for everything to work flawlessly.
Le référencement sur site ou sur la page est également crucial pour une expérience conviviale.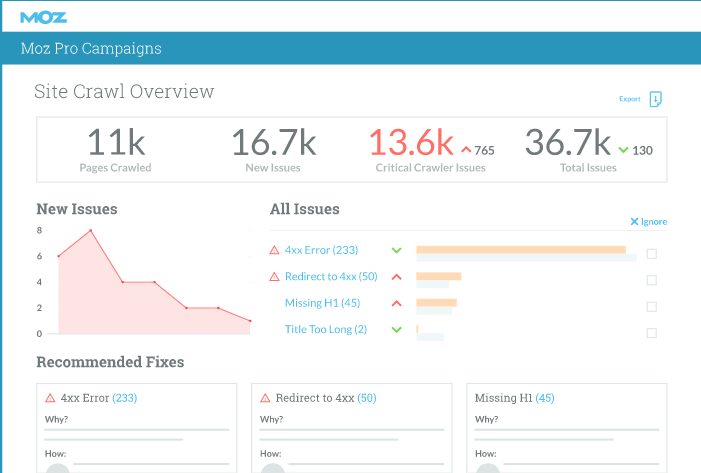 Moz has a clear and organized dashboard. It detects different issues, such as broken redirects and missing title tags. You will also be able to see how these issues affect your SEO.
After detecting specific issues, this tool sorts them by importance, so you know which one you should fix first.
No matter how big your website is, Moz can crawl it fast, thus saving you a lot of time.
Il parcourt votre site web chaque semaine et vous informe de tout pour que vous puissiez le résoudre le plus rapidement possible.
You can use Moz for your website or if you manage the websites of your clients.
Principales fonctionnalités de Moz :
Chenille de site web

Recherche par mots-clés

Requêtes de liens retour

Rapports de niveleurs de page

Rapports prévus
Pricing: Moz offers four different paid plans to choose which one suits your needs best.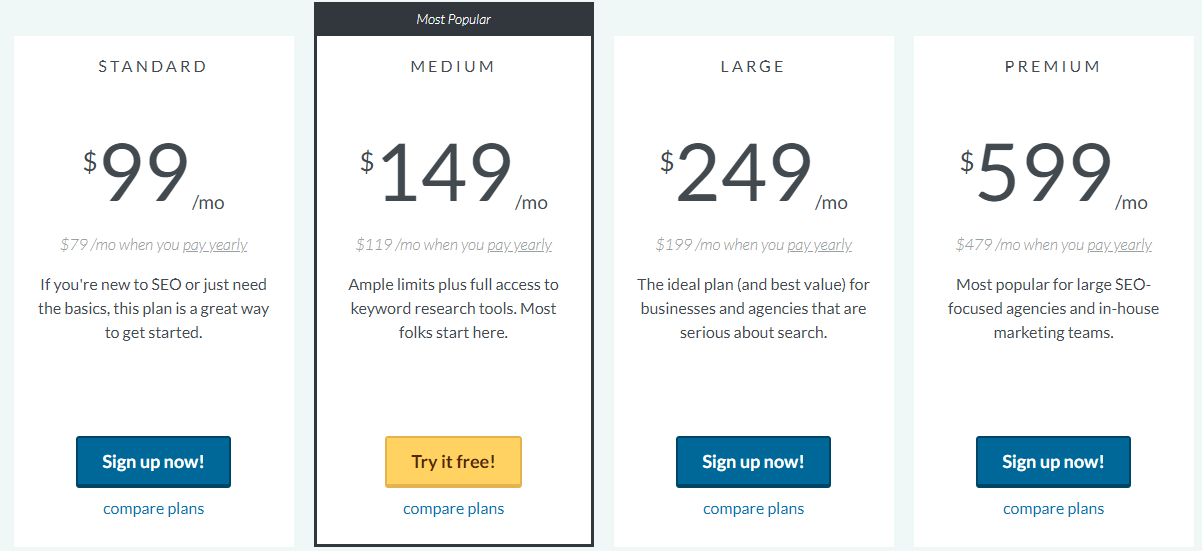 Poptin est un outil de CRO, qui signifie Conversion Rates Optimization (optimisation des taux de conversion).
Cet outil comprend :
Formulaires intégrés au site web

Courriers électroniques automatiques
Grâce à des fenêtres contextuelles et des formulaires attrayants et efficaces, vous pouvez générer davantage de pistes qui peuvent ensuite être converties en véritables acheteurs.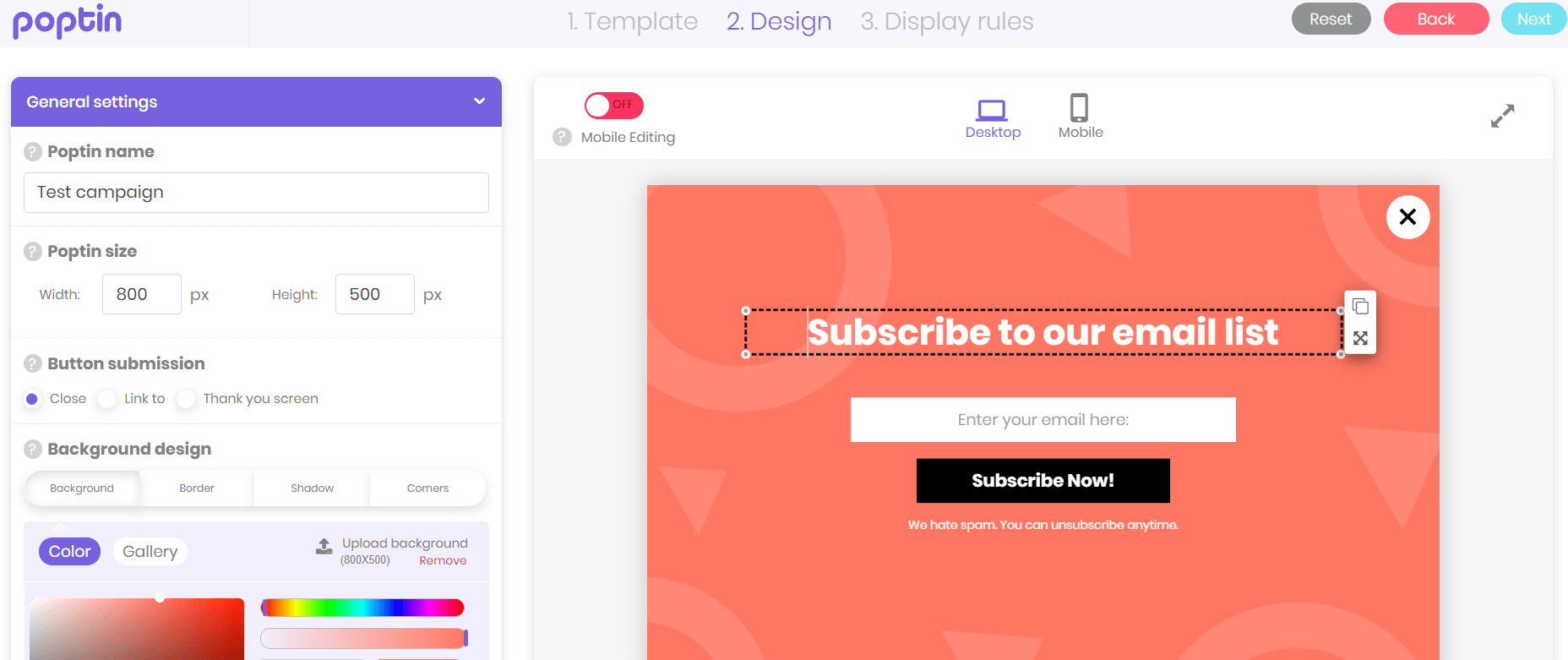 No matter which one you choose (or if you choose both), you will get access to a simple editor with tons of options for customization.

You can change background and text colors, add or remove different fields, change the size, add images, and more.
You have to pay attention to the fact that people access the Internet through mobile and desktop devices both, so it is essential to mention that every form and pop-up window you make through Poptin will be optimized for mobile and desktop.
The primary purpose of these forms is that you can add a CTA (click-to-action) button and encourage visitors to take action.
By using pop-up windows, you can show them some excellent and irresistible offers so that they would leave their contact without hesitation.
You can offer them webinars, courses, e-books, or access to your weekly newsletter to stay in contact with your future buyers.
When you start communicating with them through email campaigns, you are building brand awareness and gaining their trust. Valuable content keeps them interested and builds your credibility regarding your target audience.
Of course, you can use these windows to offer them a discount or free shipping or remind them to pay attention to some current sales, also.
You don't need designer or developer experience to use and make pop-ups and other forms for your website.
You can create your first pop-up in just a couple of minutes. This marketing tool has an easy-to-use drag-and-drop editor.
And, if you want to make different types of pop-ups, you can choose between slide-in pop-ups, countdown boxes, screen overlays, and more formats.
You can rapidly increase your conversion rates using effective windows that engage with your visitors.
Principales caractéristiques de Poptin :
Editeur par glisser-déposer

Un niveau élevé de personnalisation

Options de ciblage avancées

Options de déclenchement avancées

Technologie intelligente de sortie de crise

Test A/B

Analytique

Intégrations
La tarification : Poptin propose un plan gratuit et trois plans payants également. En fonction des différentes caractéristiques qu'ils comportent, vous pouvez choisir la meilleure solution pour vous et votre entreprise.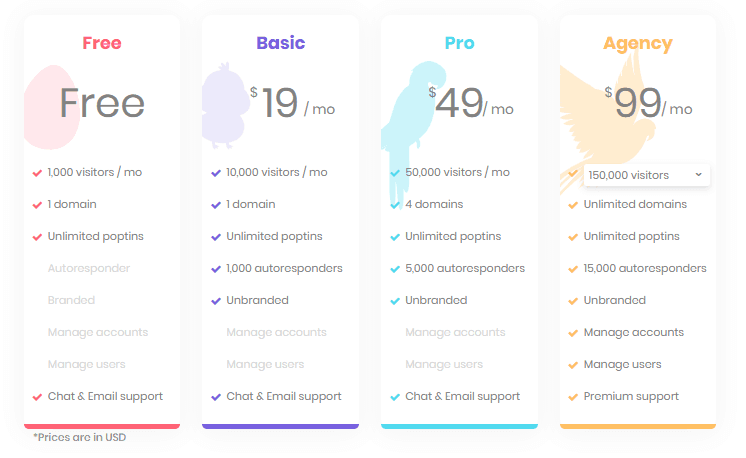 JetOctopus is a visual SEO toolkit about making technical SEO for large websites easy and data-driven. Whether you're new to SEO or a seasoned specialist, JetOctopus is intuitive enough to help you track and improve your enterprise website's SEO health (crawling, indexation, logs analysis, etc.).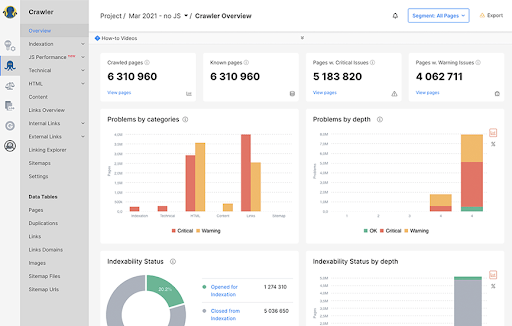 It gives you a big picture of your website's SEO issues — duplicate content, 404 errors, keyword cannibalization, wasted crawl budget, etc. — with actionable visuals so you can prioritize and tackle the best optimization opportunities first.
You can create segments, compare crawls, monitor live logs, identify fake bots, optimize your crawl budget, improve your site's indexation, and so much more with the JetOctopus toolkit.
Most important JetOctopus features:
Crawler (with speeds at up to 250 pages per second)

Log Analyzer

GSC Keywords

Content analysis

Google Search Console integration
Pricing: The Crawler tool starts at $30 per month to crawl 100K pages monthly, while the Log Analyzer tool starts at $60 monthly to log up to 100K pages monthly. The GSC Keywords tool starts at $60 per month, too.
You can buy each SEO module individually or opt for the All-Inclusive bundle (at $120 per month) which includes all these tools plus training calls, onboarding, and support.
So JetOctopus is one of the fastest and most affordable site crawlers and logs analyzer toolkits that you can try with their 7-day free trial.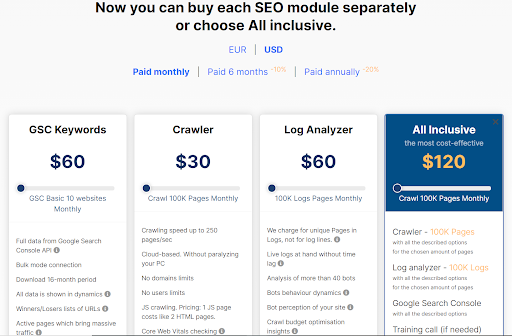 Le résultat final
Marketing and SEO are very challenging parts of running any type of business. But when you become aware of how useful they can be, you know there is no substitution for them.
No matter if you decide to run them on your own or hire teams that would be responsible for marketing and SEO, it is always important to find the easiest but equally effective ways to use their full potential.
Fortunately, as you can see, unique tools like SEO in Glasgow are more available than ever anywhere you are, and they have proven to be very powerful when it comes to dealing with everyday problems, but also time-efficient.
Moreover, as an alternative,  check out Style Factory's in-depth review of Growthbar, which has a bit of a different approach to SEO.
With the right SEO tools, you can build great backlinking strategies, reveal your competitors' techniques, find out every error on your own website or your clients' websites, and improve conversion rates rapidly.
Pouvez-vous même imaginer ce que vous pouvez faire avec des fenêtres pop-up et des formulaires de site web attrayants ?
People need incentives to make a decision, and if you use Poptin, you can show them the privileges that you offer and encourage them to take action right away.
Don't allow yourself to miss out on something so important. Try using these tools, and watch how your conversion rates rise!
P.S. If you're looking for link tracking for digital marketing, you can always try Rebrandly URL Shortener to see its effectiveness.