With all the popular customer engagement tools available, email marketing remains one of the most effective. It's mostly automated, saving tons of time and money for businesses of any size.
Lorsqu'on parle de plateformes de CRM, il est inévitable de rater Salesforce. Il a été salué comme l'un des leaders dans ce domaine, comme en témoigne la longue liste de récompenses qui figurent sous son nom. 

Suppose you're already a member of its almost 2.3 million community of users or considering using Salesforce for your business. In that case, this article will help you grow your email list with this simple weapon – pop ups!
Pourquoi les pop-ups sont-ils efficaces ?
Pop-ups may have a reputation for being an interruption, but believe it or not, it's still considered effective tools in converting visitors into leads, subscribers, and sales.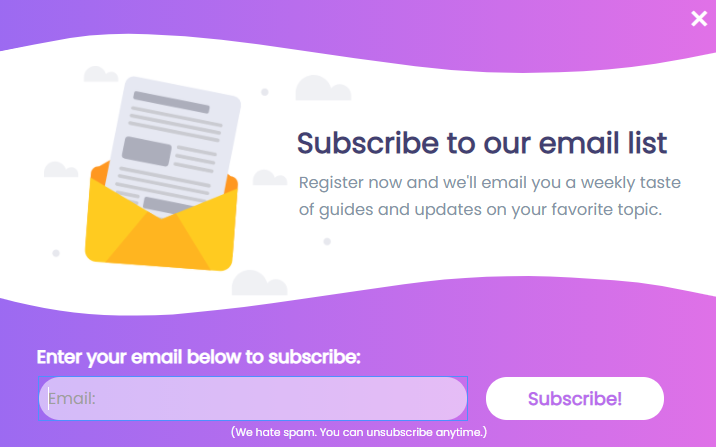 Voici quelques faits sur les pop-up :
Despite the negativities, visitors still engage with pop-ups, all the more when they're done right. Pop ups make coupons, free shipping vouchers, downloadable ebooks, discounts, and many other offerings accessible to them.
Si vous n'êtes pas encore fan des pop-ups, c'est peut-être le bon moment d'utiliser ce canal facile et abordable pour les conversions. 
Comment les pop-ups peuvent-ils stimuler les pistes par e-mail ?
Poptin has all the features for a successful lead capture strategy. Other than its wide array of customization options and engaging offerings, this allows you to integrate your pop ups and forms into your favorite CRM or email platform like Salesforce in just a few clicks.
Ainsi, chaque fois qu'un visiteur s'inscrit par le biais d'une fenêtre contextuelle, ses coordonnées sont directement transmises à votre base de données de courrier électronique Salesforce. C'est transparent, rapide et efficace.
Ainsi, la prochaine fois que vous lancerez une campagne de courrier électronique, ce nouveau visiteur sera également averti. Vous pouvez ainsi accroître l'intérêt et favoriser l'interaction avec votre marque.
Plus, you can't brush off the fact that satisfied customers are more likely to go back to your site and purchase again when they see something relevant to your newsletters. It's a win-win situation for everyone.
That's why instead of waiting for your visitors to see your website contact forms, why not use pop ups connected to Salesforce to surprise them, which can speed up your chances of conversions.
Créez maintenant vos pop-ups Salesforce !
Comment créer des pop-up Salesforce avec Poptin ?
First of all, these are the essential things to note:
Vous n'avez pas besoin de connaissances préalables en matière de codage pour créer des popups.

Cela ne prend que 5 minutes ou moins.

Si vous n'avez pas encore de compte Poptin, vous pouvez

inscrivez-vous gratuitement

.
Poptin uses the principle of a drag-and-drop system. This makes the designing process all the more convenient for users.
Voici les types de pop-ups (tous sensibles aux téléphones portables) que vous pouvez créer :
Lightboxes

Popups du compte à rebours

Superposition plein écran

Fenêtres coulissantes

Barres supérieure et inférieure
Dans le générateur de pop-up, vous pouvez voir de nombreuses options de personnalisation que vous pouvez utiliser.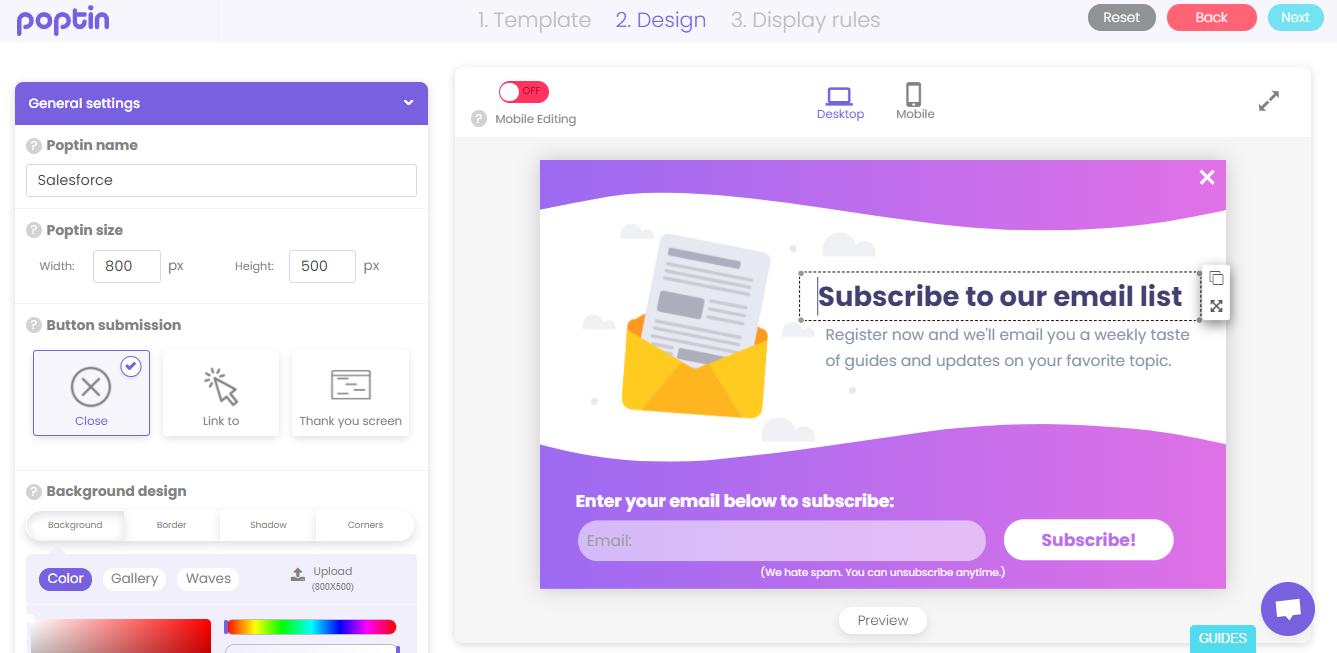 Vous pouvez facilement ajouter ou supprimer différents éléments et modifier les couleurs, les tailles, les polices, etc.
You can also add and customize particular elements like coupon codes, countdown timers, media files, and icons.
Once you're delighted with your design, you can move forward with the display rules. In this section, you can target the right customers (based on targeting rules) at the right time (based on user behavior) for more efficient lead capture.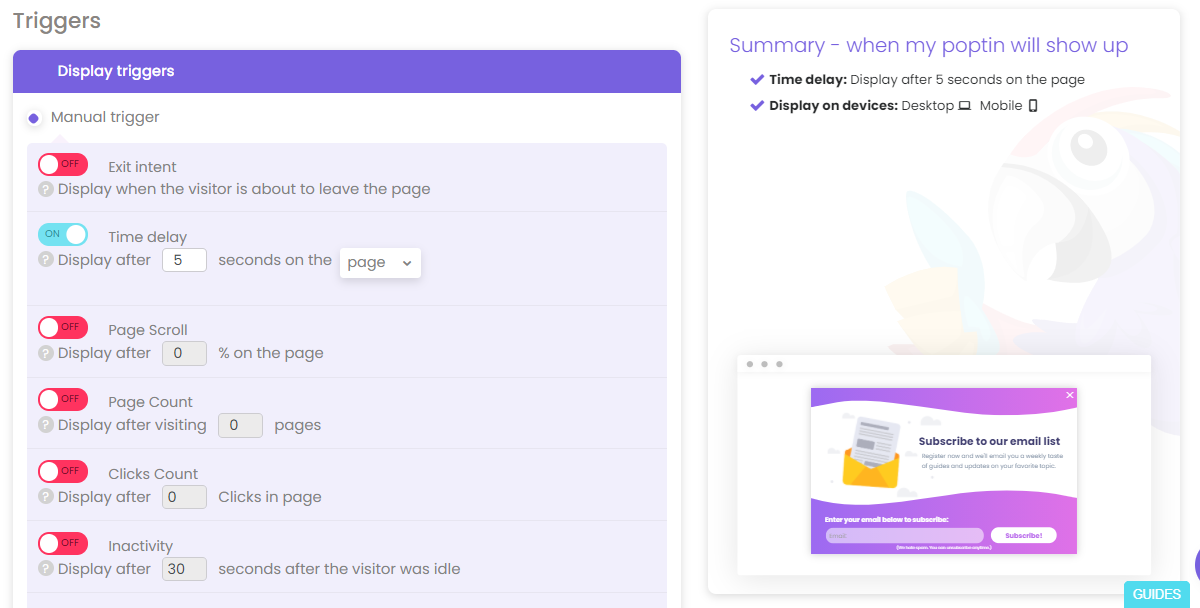 Options de déclenchement - déclenchement de l'intention de sortie, affichage après le temps passé sur le site web, déclenchement du défilement, affichage après X pages visitées, affichage après X clics, déclenchement de l'inactivité
Targeting rules – URL targeting (page-level on-site targeting), device targeting, geo-location (by country, including US states), OS & Browsers, IP block lists, days and hours, new vs. returning visitors (based on cookies), traffic source (Facebook, Google, Google Ads [Adwords] Youtube, Reddit, Ads, Twitter, Pinterest and any site you want), on-click popup display
Pour améliorer encore l'efficacité de vos popups et mieux comprendre quel type de pop-up conviendrait le mieux à votre public, essayez les tests A/B. 
This way, you can reach the fullest potential of your pop ups and achieve better results faster.
See full list of Poptin features here.
Comment intégrer les pop-ups à Salesforce ?
Salesforce ne cesse d'apporter des innovations révolutionnaires à sa communauté d'utilisateurs. Elle dispose de la première intelligence artificielle intégrée directement dans votre CRM, qui peut également être accessible via des appareils mobiles. 
Moreover, it also has a Lightning Platform that allows businesses to drive revenue and decrease costs faster. That's why you can forge a path to success with Salesforce when it comes to email marketing.
As Salesforce sends automated emails on your brand's behalf, you grow customer engagement. But the process starts when a visitor subscribes to your mailing list via Poptin's popup.
C'est là que vous avez besoin de la puissance des pop-ups pour créer une intégration transparente du marketing par courriel.
Voici comment.
Login to your Poptin account. On the design page, scroll down to the customization options on the left. Click

email and integrations. Then click "Add integration."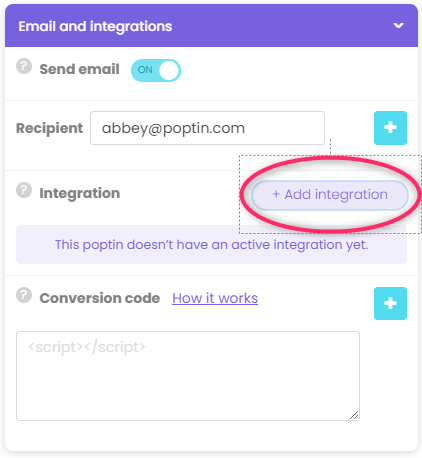 Une liste des intégrations de Poptin apparaîtra. Choisissez

Salesforce

.
Once you click

"Authenticate"

, it will autofill all the fields (except company email). This is because some Poptin integrations like Salesforce have

OAuth 2.0

, so the client doesn't have to hunt for tokens and other info. 
Une fois que tout est rempli, cliquez sur "Approuver"

.
Et c'est fini !
That's pretty easy. Everything will indeed become more manageable when you do it all the time.
Now that you have implemented a pop up connected to your Salesforce account, you've automated a huge chunk of work that could be tedious when done manually. 
What's left for you is how to engage more with visitors using high-quality content and offerings.
Enveloppe !
Email marketing doesn't look easy, especially for beginners, but with the right tools, you can save time, energy, and money in the long run. You'll also experience lesser mistakes and more conversions for your business.
However, although the tools discussed help devise an excellent customer journey, note that the success of your business is also a collective effort. Do your best to give the best content, reliable customer service, and many other factors that can nurture brand-customer relationships.
To jumpstart your endeavor to skyrocket your Salesforce email list, sign up now with Poptin and experience a more robust email list in no time!