Marketing is an ongoing battle – just because you've got your customers to visit your site it doesn't mean your work is done. At every stage of the buying process you need to sell the value of your brand and products to your users.
Exit intent marketing is your last chance to convince your users to purchase your good before they leave your site, maybe never to return…
Alors, lisez la suite et découvrez comment vous pouvez être créatif dans votre marketing d'intention de sortie et augmenter vos profits.
Lectures recommandées : Qu'est-ce que la technologie de sortie ? et comment elle peut faire croître votre entreprise
Qu'est-ce que le marketing d'intention de sortie ?
Exit intent is when a visitor intends to leave a mobile or website. By tracking their mouse movements, exit marketing technology establishes when your users want to leave your site.
Exit intent marketing uses this technology to catch users who want to leave your site, then sell them the value of your brand before they go.
Why exit intent is essential to your online business
In 2022, the global cart abandonment rate was 71.23%. That means you are losing almost 3/4 of your customers interested in buying from your online business, let alone those who came with a casual interest.
Not every industry has the same cart abandonment rate, but the figures are high across the board.
See for yourself below:
Which of those industries is your business in?
Whatever your online business sells, you can be sure that you're failing to convince over half of your site visitors to buy from you.
Thankfully, exit intent marketing is here to help you fight back and to win over those non-buying visitors.
Ce que le marketing d'intention de sortie peut apporter à votre entreprise
Now that you know why exit intent marketing is so valuable to your business, it's time to learn about its many different features and how you can start using them to win over 75% of your visitors who leave your site without buying from it you.
L'une des meilleures entreprises dans le domaine du marketing des intentions de sortie est Poptin. L'utilisation de leur logiciel vous donne accès à toute une série de fonctionnalités pour vous empêcher de perdre des affaires, notamment
Augmenter le nombre de vos abonnés au courrier électronique : vous pouvez améliorer énormément votre taux d'abonnement.
Obtenez plus de ventes et de prospects : vendez la valeur de votre marque en proposant des offres pertinentes à vos clients potentiels.
Réduisez le nombre d'abandons de votre panier d'achat : arrêtez les visiteurs lorsqu'ils envisagent de quitter votre site en leur proposant une offre qu'ils ne peuvent pas refuser
Ramp up your visitor engagements: by conducting surveys, you can take feedback from your customers/visitors and use it to market the products they want to buy
Of course, this is just the tip of the iceberg as far as exit intent marketing goes, and you can get creative with how you reel in your visitors.
How your business can get creative with exit intent marketing
There are so many ways you can get creative with your exit intent marketing, and you can apply this across all of the channels your business uses.
Mobile
You can target your visitors on their mobiles by creating an advertisement that asks them to call you business or they miss out on a temporary discount offer. Mobile popups are a great way to make the most of any localized requests and reach busy customers as they go about their day. You want to use bold colors and direct language to get them to pause their scrolling.
Vous trouverez ci-dessous un exemple que j'ai conçu en quelques minutes. Et si vous êtes encore plus créatif que moi, vous pourrez en concevoir un autre encore plus créatif...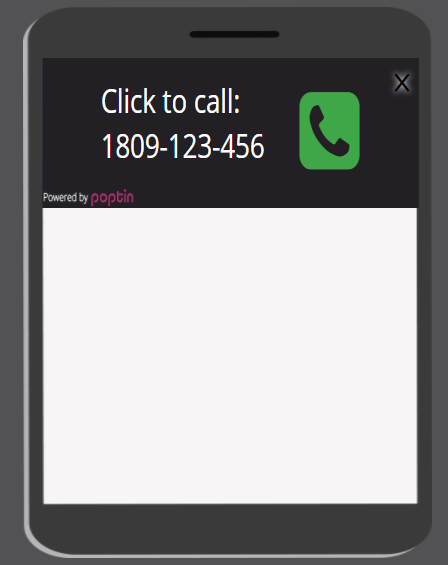 Votre boutique en ligne
Use your considerable creative powers to design a pop-up for your online store that will fire out at your visitors just as they're thinking about departing without making a purchase.
My skills may not match yours, but the popup software to create this exit intent marketing meant I could have it ready in seconds…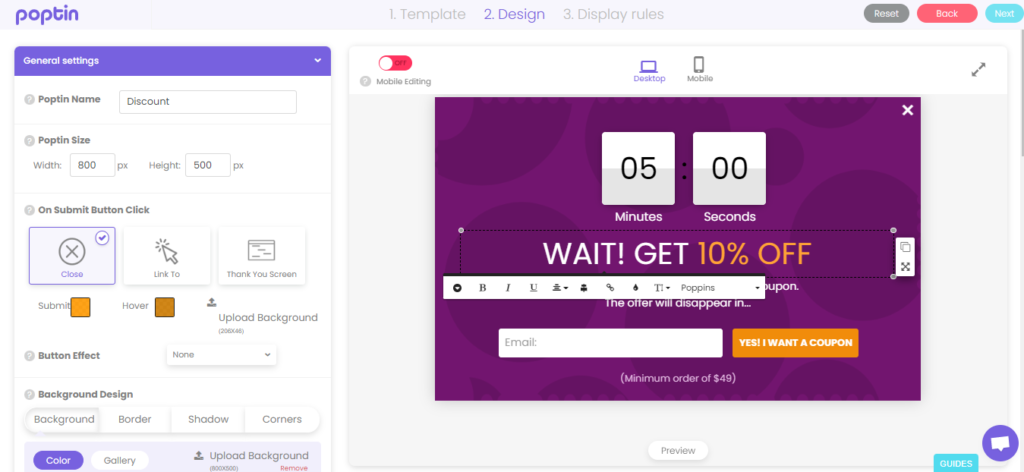 Think about how you can use emotive language, seasonal events, and even gamification to mix up the style and language of your pop up designs. In a competitive niche like eCommerce, you must deeply design ads that appeal to your target customer. Humor might help you cut through the noise and help endear your customers to you.
These are just a few ways to start getting creative with your exit intent marketing and designing adverts to slash your abandonment rate.
To get started, I suggest you watch the brilliant video below, and you'll be good to go in seconds…
But remember, exit intent marketing isn't the only thing you need to retain customers.
Of course, exit intent isn't the only feature of your business that needs excel for you to retain your customers.
There is a vast range of details you need to get right, such as UI/UX design that sings.
If your visitors are abandoning your site, it might be because you've given them a poor experience while searching through it. The value of UI/UX is enormous, as these figures prove:
Une assurance-chômage bien conçue peut augmenter votre taux de conversion de 200 %.
Great UX can ramp up your conversion rate by 400%
Témoignages de clients
C'est un fait : les visiteurs de votre site accordent plus d'importance aux opinions de vos anciens clients qu'aux vôtres. Comment puis-je savoir si c'est un fait ? Parce que vos clients le disent:
88% of your customers trust reviews from their peers as much as they value the views of their friends, family, and relatives
85% of your customers read ten reviews from their peers before they'll consider buying your products
Social proof is crucial to the success of your business, and you must make it part of your online store to retain your customers. Using a store builder that lets you add marketing features like exit intent marketing tools is a must-have for your business.
Why is it so important?
Because if you create a site that can't support the features your customers want from you, then they'll take their business to a business that can.
If you need more proof of that, check out the video below, which explains the value of customer testimonials…
So much of your business is lost to site visitors who leave before buying your products. That means you simply cannot overlook exit intent marketing if you want to maximize your profits.
So, take away the advice from this article and get creative with your exit intent marketing, and your revenue will go up, up, and up.