EKM is a highly popular CMS platform in the UK.
People can create online stores with it, but they still need a way to convert site visitors into leads, customers, and subscribers of the brand.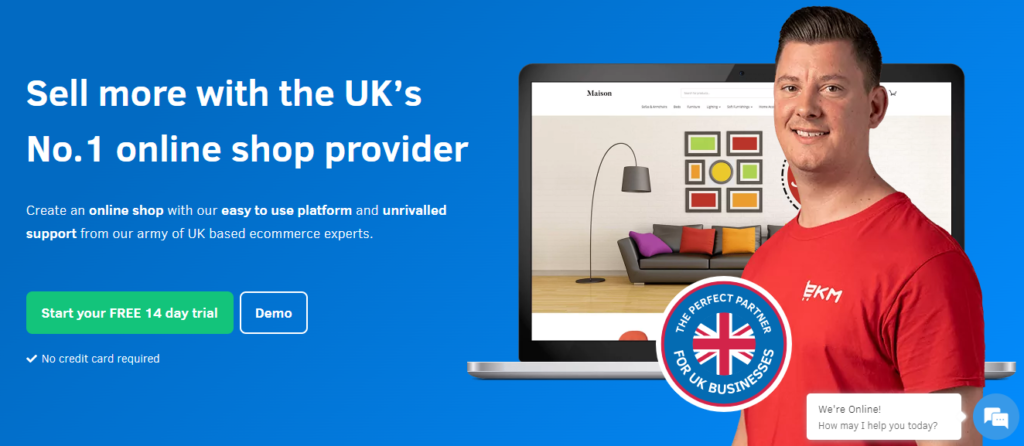 This is a challenge many entrepreneurs face, so it's best to consider website pop-ups to make life a little easier.
Poptin is one such tool that helps people create popups on EKM. It recently launched an app on the EKM platform, so users can now enjoy the advantages of building pop ups and contact forms that convert visitors to customers in those online stores.
What are Pop Ups?
A pop-up is generally a small window on a website, but it can cover the entire space. Some people also use email popups to capture attention, draw focus, and generate a buzz. Marketers often use them to advertise specific things or generate more leads.
The popup is controversial, and many feel that they're outdated or bad for business. They worry about interrupting the user's experience or annoying those who visit the website.
However, they make a point and are quick and simple messages that are often functional additions to any online store's site.
How Popups Can Help Your EKM Store Grow
Pop ups naturally increase conversion rates. You probably don't want to hear this, but prospects abandon their carts and websites, never to return all the time. There are plenty of reasons for that:
They're not interested in the offer
They're not the right fit (or don't realize it)
They're rushed
They're distracted
Regardless, re-engaging with your abandoning visitors dramatically improves conversion rates, and that's where pop ups do the best work.
They offer you a second chance to convert the audience. When you're focusing your visitor's attention on a single valuable, relevant, and timely offer, you have a better chance of a conversion.
In a sense, a popup counteracts the idea of choice. Customers in your online store are overloaded with options. They see multiple links, buttons, and messages calling for attention.
In a sense, they flee when they can't decide. Though humans get empowered by choice, too much of it results in paralysis. You can alleviate anxiety by eliminating some options.
That's part of why landing pages are effective for converting. Attention is focused on one goal.
EKM popups can take on the role of a salesperson, tapping the prospect on the shoulder and being helpful. They narrow things down to one offer and simplify everything else.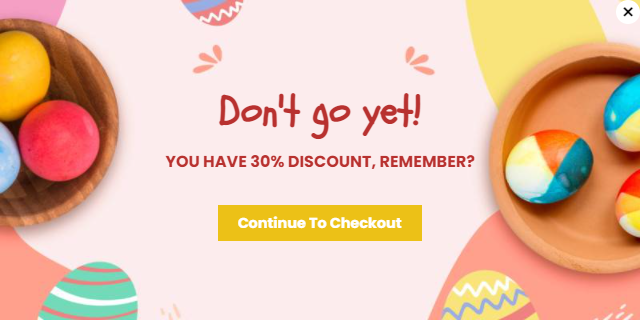 Pattern interruption is another way pop ups reengage the prospects. This technique is used by salespeople everywhere.
Overall, you say or do something unexpected that disrupts the person from their routine.
When you interrupt patterns, you create a moment for chance.
Pop ups are driven by that logic. They show visitors offers that sweeten the deal and convince them to think again about their predictable path that leads to the "back" button.
In a sense, you're using the pop up to grab the visitor's attention and focus it on something else. Though it's a similar thing to what they were doing, they're now intrigued to stay on task.
Pop ups also reinforce and repeat your message subtly. Effective frequency indicates the number of times someone has to be shown a statement before taking action.
There are different theories about what that is, but you know it's more than once.
A popup leverages that by giving you another chance to serve up your message and reinforce it. If it's designed like your online store's page, you're nudging the prospect toward becoming a paying customer. This also works for contact forms and email forms!
Creating Your EKM Popups with Poptin
Poptin has just been added to the EKM app store. Therefore, you can use it to create pop ups that engage visitors, encourage them to use email forms, reduce cart abandonment, and capture leads.
It's easy to create every type of pop-up, such as email popups, contact forms, welcome pop-ups, discount pop-ups, and all the rest. You even get an autoresponder to send emails at the right time.
Overall, Poptin has many features, including:
Display rules – Visitors are probably tired of seeing the same advertisements all the time. Show different pop-ups based on traffic sources, previous interactions, days/hours, pages, locations, etc.
Generate exit-intent popups – Smart triggers help you show a pop-up when it fits the user's intent. Exit-intent triggers grab the person's attention before they click off your site.
A/B testing – Create two different pop-ups and test them to determine which one captures attention better.
Drag-and-drop editor – Move things around easily and make changes effortlessly.
See all features here.
Here are the steps needed to create EKM popups:
Log into the EKM account and tap "design."
Scroll to "more actions" and select "inject custom code."
Log into the Poptin account and tap "installation code" at the top of the dashboard. Copy that code.
Go back to the EKM account to paste the installation code into the "HTML head code" area, clicking "save" afterward.
If you want to see the pop-up in the checkout flow, use these steps:
Visit "features" and search the "Google Tools" to install it.
Paste your Installation code from Poptin into the "Google Analytics tracking code" area, clicking "save" afterward.
Examples of eCommerce Pop Ups Use Cases
It's important to know how real eCommerce companies use pop-ups and do so effectively. Here are a few examples to consider:
Flash Deals
These are short-span promotions, and many eCommerce brands use them to reduce stock. The discounts are often higher to attract people, but they often have lower quantities and time limits.
It's generally better to use calming images, mute colors, and describe a specific action required. Some people use small bars with a countdown clock to show how much time is left, how much of a discount the user gets, and whatever code is necessary to open that special.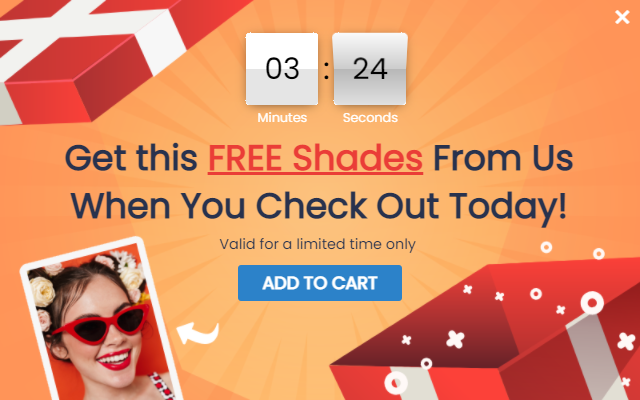 You can also publicize the information at the top of a page to showcase limited deals on your best products.
Urgency Pop Ups
The internet is all about leisure; people can search for things whenever they want and aren't rushed. However, companies must create urgency to get them to buy immediately instead of waiting for weeks.
A pop-up can offer a limited-time option or countdown clock to help with conversions.
Generally, countdown clocks work well here, but exit-intent popups also fare well. When someone adds something to their cart and decides to leave the page, you can remind them (through a pop-up) that they don't have much time left for that deal.
Lead Magnet Popups
Generally, lead magnet popups focus on free resources companies utilize to get more customers. They typically provide free content or other benefits in return for an email address. However, use them carefully because the information you send should be valuable and not accessible to everyone.
Often, eCommerce companies use email popups and email forms to request opt-ins. The user could get helpful content related to the brand by giving their email address.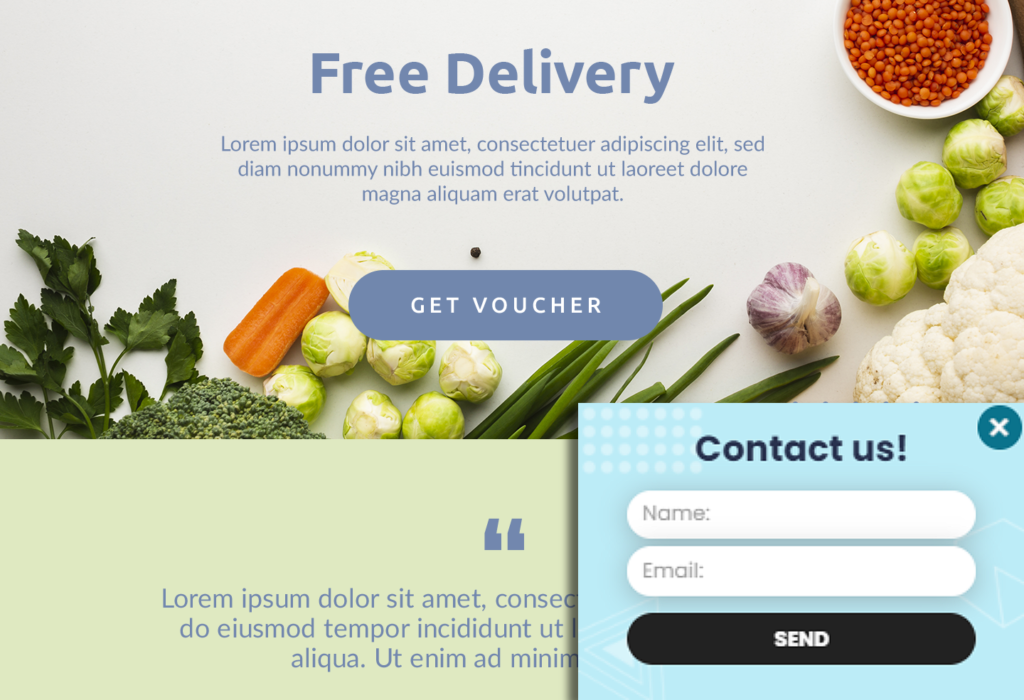 Other brands provide a discount in return for the email opt-ins. Subscribe to the newsletter to receive a percentage off the order.
This can also be used for current customers who haven't signed up yet. They have bought something, but you have no email address on file. Tempt them with an extra percentage off their next order.
Cart Abandonment Popups
Cart abandonment rates are about 69.57 percent right now, which is a nightmare for every eCommerce website owner and marketer. Companies often use exit-intent popups to help with this problem. Sometimes, they create urgency and can also be lead magnets.
Some brands use countdown clocks indicating how long the special deal is available. This could include a percentage off or free shipping. Regardless, customers feel the urgency of completing their order or missing out on the special.
You could also list how many others are viewing the item the person added to the cart. That tells them that they aren't the only ones who liked it.
Freebies and Discounts
The most effective way to attract customers to your eCommerce store is through discounts or freebies. If people feel they're getting something cheaper, they're more likely to buy it. Some companies give away merchandise through BOGO (buy one get one) offers.
Generally, the most common discount is a percentage off the person's entire order. You can include stipulations, such as a minimum amount spent or something similar.
It's also possible to get people to come back for more orders, depending on what you sell. Target the person's first purchase and encourage them to return. If you sell swimsuits, get the customer to come again before the next season by sending promotions for sunscreen, accessories, and more.
Conclusion
A popup shows on the screen when the user does something. This small window draws attention and keeps them on the website longer, reducing bounce rates. EKM store owners can build profitable eCommerce sites by utilizing them effectively.
There are countless ways to use your EKM popups, and Poptin makes it easier. Plus, it lets you build contact forms and email forms that create a buzz.
If you want to reduce cart abandonment and bring in more leads, website popups are the way to go. Try Poptin for free today and see how it helps you interact with your customers!