Business owners are constantly looking for new tactics to attract more leads that would eventually become their customers.
Lead generation is a challenging task, and we understand that completely.
A huge number of brands in the digital world are competing for the attention of customers. Businesses need to find something powerful to keep them from exiting their website, once and for all.
Pop-ups are the perfect way to amaze visitors and offer them some value.
No matter if you grab their attention by offering discounts, subscriptions, free guides, or similar, you will need catchy windows with perfect timing to pop up.
You don't need to make them all by yourself.
In the nowadays market there are plenty of tools for this purpose, and Gleam is one of them.
In continuation, we will offer you an overview of Gleam and present to you some of the best Gleam alternatives available on the market.
Let's begin!

Gleam: Overview
Gleam has four apps about competitions, rewards, galleries, and captures.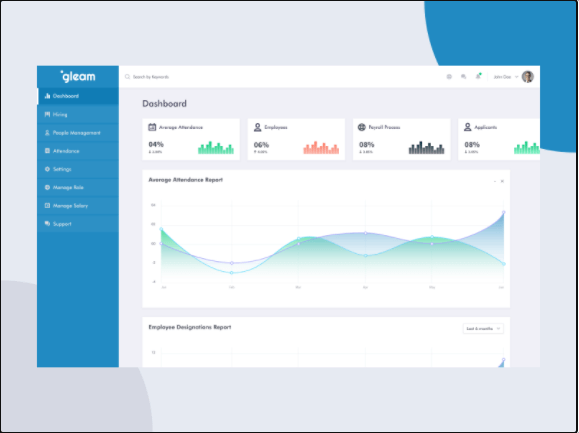 Source: Dribbble
With Gleam, you can create competitions that your visitors will find really engaging. You can also use it for coupons, contests, and more.
Gleam offers templates for e-commerce, brands, sweepstakes, and more.
Offered features:
Dashboard

Templates

Geolocation settings

Triggering options

On-exit rule

Integrations
What are the advantages of using Gleam?
Gleam has behavioral rules that help you to set your capture form to appear only when visitors seem satisfied.
The purpose of this is not to annoy those who haven't had a chance to become your hot leads, rather to increase the interest of those who already got engaged with your website content.
By using geolocation, you can exclude or include certain countries and target only those that you want to.
What are the disadvantages of using Gleam?
When you decide to use the capture app, Gleam is one of the more expensive pop-up tools in that field.
It should have more features in order to get the most of its pop-ups.
And here are the Gleam alternatives!
Poptin is more than good enough to be included in the Gleam alternatives.
It has a wide array of advanced features that are all useful in supercharging your lead capture initiatives. With this comes a seamless email marketing process too as Poptin has a long list of native integrations.
Poptin is intended to build:
Pop-ups

Embedded forms

Automatic e-mails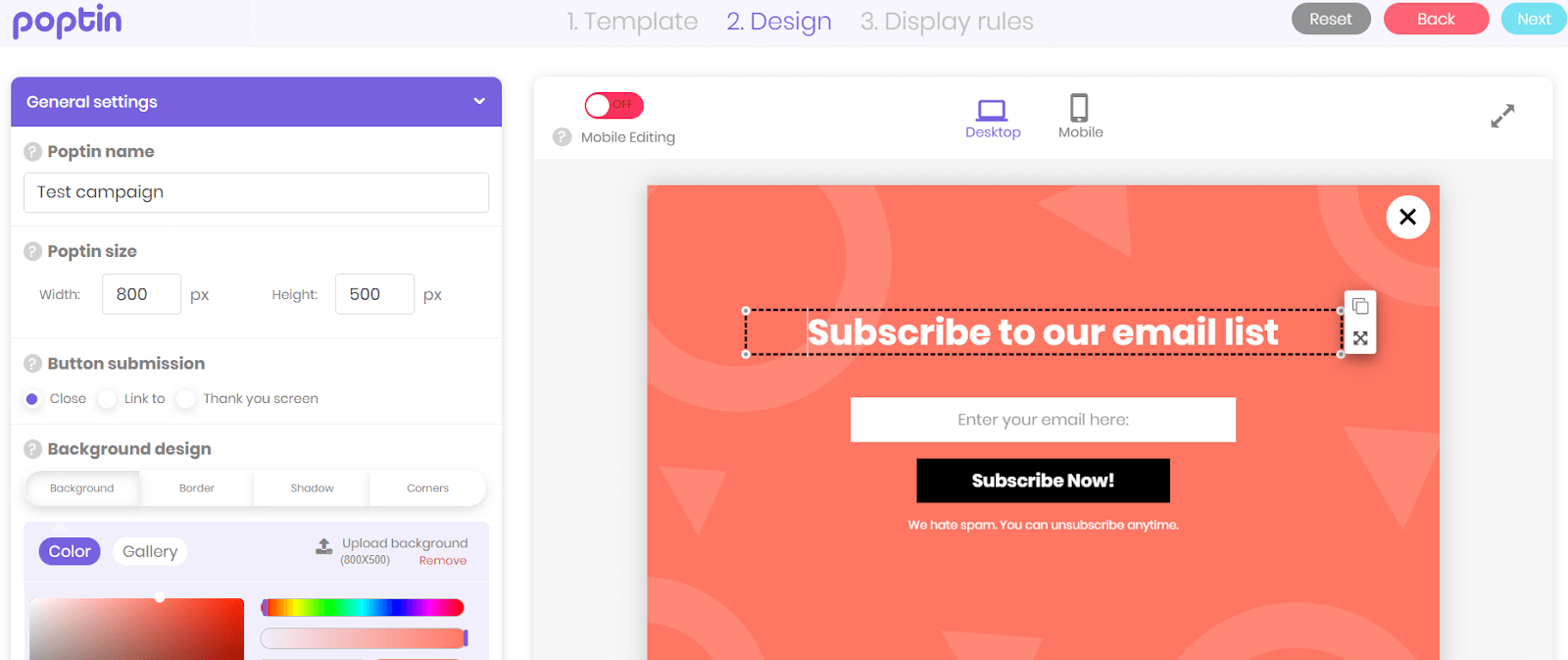 A simple drag and drop editor helps you to create interesting pop-up windows.
You have the freedom to choose and edit different colors, fields, background designs, sizes, and buttons easily. Plus, it has an autosave feature, so you don't have to worry when your power went off.
Poptin offers different pop-up forms for your website:
Lightboxes. One of the most popular ways to display popups. This blurs the foreground of your screen that makes the pop up much more attention-grabbing.
Countdown pop-ups. This features a countdown timer that helps to create a sense of urgency, allowing you to convert faster.
Full-screen overlays. Covers the screen with your pop up content. This makes no way for possible interruptions.
Slide-in popups. An enticing content slides discreetly from the side of the interface. This is a much subtle way to engage with your visitors without disturbing the browsing experience.
Social widgets. Allow visitors to share your content on social media.
Top and bottom bars. Appear either at the top or bottom of the screen.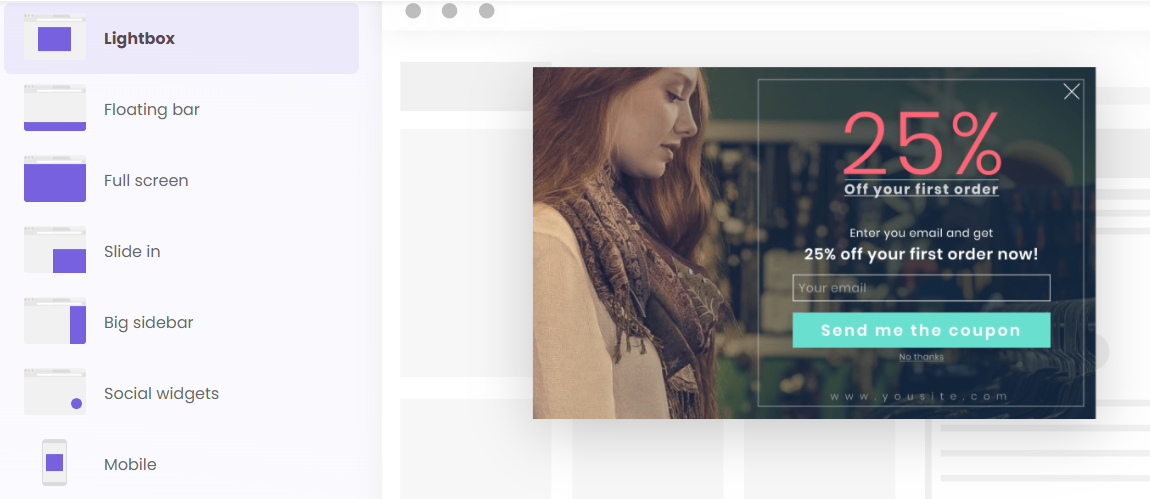 The best thing about this tool is that you don't need to have previous coding or designing skills to make effective windows.
Thanks to different features, you need just a couple of minutes to create your first pop-up.
Offered features:
Various templates

Drag & drop editor

Advanced triggers

Many targeting options

A/B testing

Integrations

Analytics and comparisons

Integrations

3rd party conversion codes
Advantages of Poptin
Thanks to the powerful A/B testing, you can compare different pop-ups, analyze their performances, and choose ones with the best results.

Poptin has a template library, so you don't need to make forms from scratch. Choose the one you like and customize it according to your needs.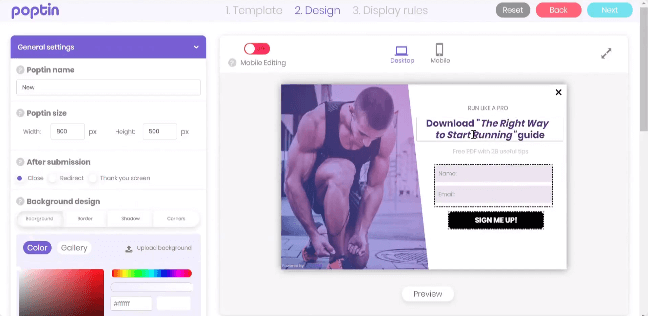 Poptin also has several native integrations, including those huge CRM platforms such as MailChimp, Zoho CRM, ActiveCampaign, ConvertKit, Hubspot, and more.
Disadvantages of Poptin
Analytics is a very important part if you want to maximize the power of your pop-ups, but if you haven't dealt with it before, you may need to contact customer support for help.
You shouldn't worry, though, as Poptin has very fast and reliable customer service. In just a click, you can chat with a real customer support representative, and not via chatbot.
Poptin's pricing
You can choose between the free plan and some of the paid plans.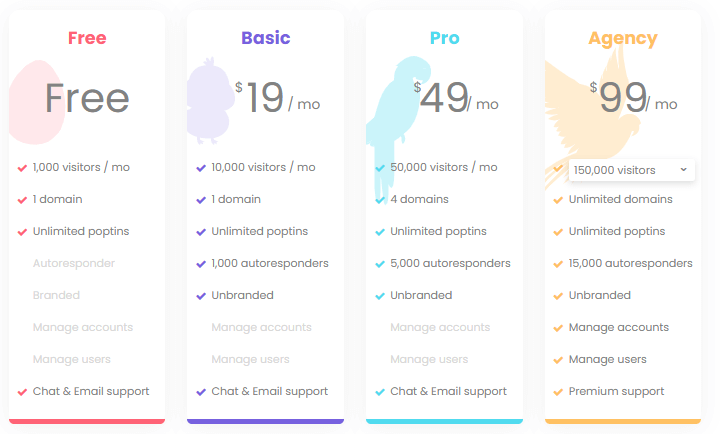 Why is Poptin the best Gleam alternative?
Poptin offers you a tone of customization options so you can change windows as much as you like and create visually appealing forms with ease.
Smart exit-intent technology prevents your visitors from exiting the website before they get familiar with your best offers.
Poptin's contact support is available as live contact support, phone, and email support.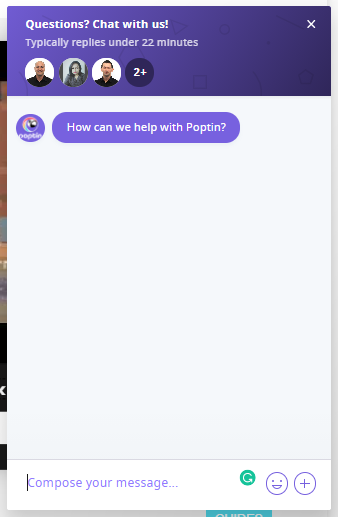 As the user base grows, so is the user community that's helping each other.
When you sign up with Poptin, you get instant access to this exclusive community from different industries.
You also have access to Poptin's knowledge base so you won't get
Poptin's ratings as the Gleam alternative
Here are the Poptin's ratings!
Ease of use: 4
Customization level: 5
Visual appeal: 5
Features: 5
Integrations: 5
Customer support: 5
Pricing: 5
Total: 4.9/5
Hello Bar
Hello Bar is another Gleam alternative and it offers various types of pop-ups such as:
Modals

Sliders

Alert Bells

Page Takeovers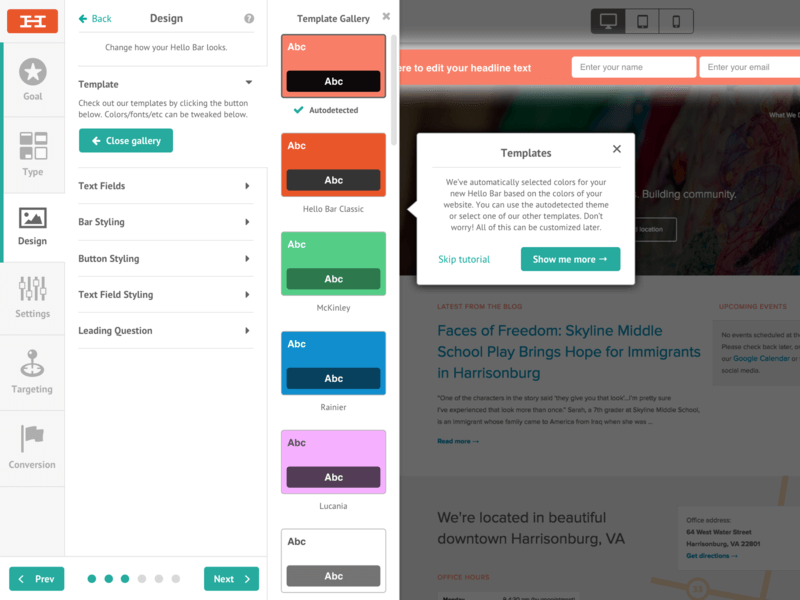 Source:Dribbble
Offered features:
Dashboard

Converting headlines

Customization

A/B testing

Smart targeting

GDPR & Google SEO compliance
Advantages of Hello Bar
Copies are an important part of every pop-up. Hello Bar offers help from copywriters to write powerful headlines for your engaging forms.
It also includes guides that can help you understand the whole app a lot better.
By using smart targeting you know that pop-ups will be shown to those you recognize as your business target group.
Disadvantages of Hello Bar
Customer support is not always available to answer your questions or clarify misunderstandings. You will get your answers eventually, but probably have to wait for some time first.

Hello Bar's pricing
Hello Bar offers a free plan, or you can upgrade to some of the paid plans with more important features.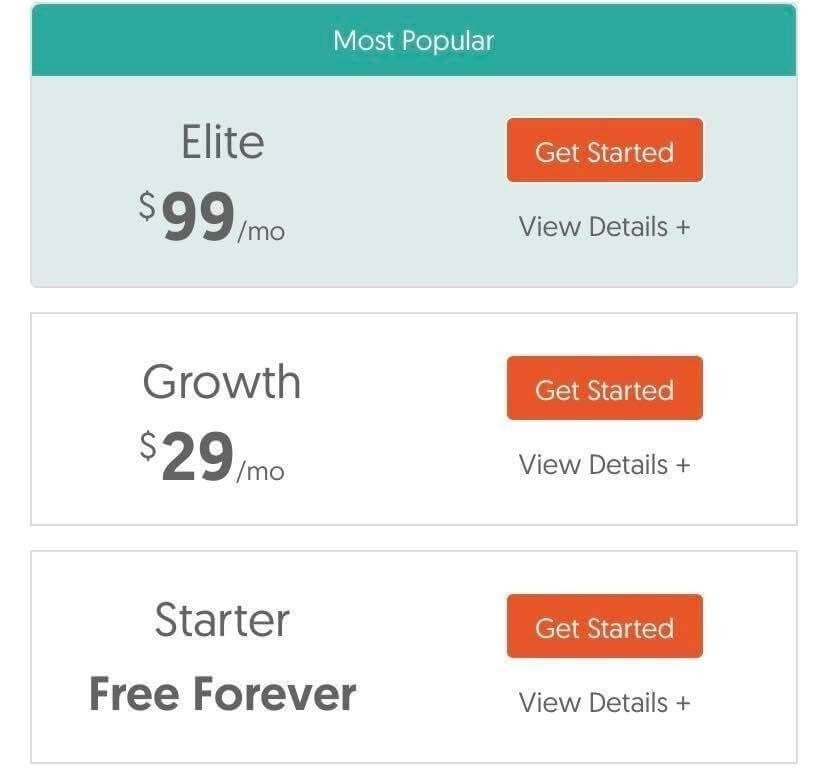 Why is Hello Bar a good Gleam alternative?
Knowing that Neil Patel stands behind this app already makes you feel assured that it can offer a lot to your business.
Same as Poptin, Hello Bar includes A/B testing for comparing your pop-ups and finding out the best practices.
This tool is also compliant with GDPR and Google SEO.

Hello Bar's ratings as the Gleam alternative
Below, we can see the ratings of Hello Bar:
Ease of use: 5
Customization level: 5
Visual appeal: 4
Features: 4
Integrations: 5
Customer support: 4
Pricing: 4
Total: 4.4/5
MailOptin
MailOptin is a WordPress plugin for creating amazing pop-ups.
It includes an automatic reminder of new content for your subscribers.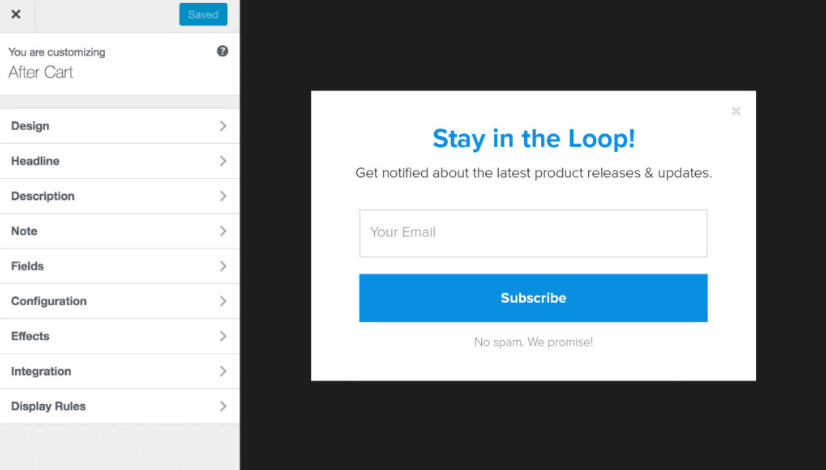 A simple and clear dashboard has different customization options on the left side. You can choose designs, headlines, effects, and more.
Offered features:
Drag & drop editor

Customization

Built-in analytics

A/B testing

Autoresponder

Targeted campaigns

Exit-intent technology

Integrations
Advantages of MailOptin
Some of the great MailOptin features are:
Automated e-mails

New post notifications

Scheduling e-mails options
Thanks to them, it will be much easier for you to run your e-mail campaigns.
Customer support is reliable and ready to help with any of your questions.

Disadvantages of MailOptin
MailOptin has a lack of customization options which are actually of great importance if you want to make effective pop-ups.
It also has packages that can be too expensive for someone who has limited financial resources or is just starting a business.
MailOptin's pricing
You can choose between three different paid plans. MailOptin also has a Pro lifetime plan for $999.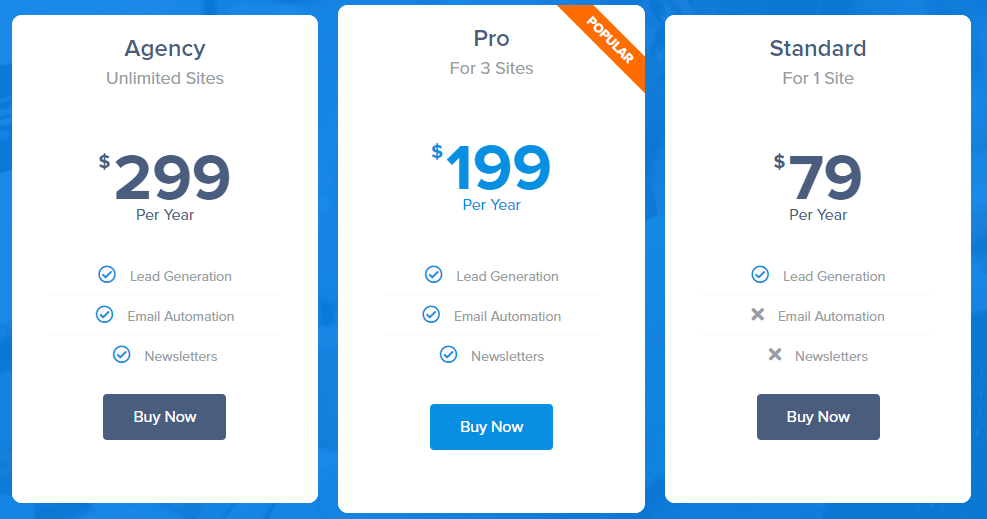 Why is MailOptin another interesting Gleam alternative?
MailOptin is a great solution if you need a platform for successful e-mail marketing campaigns. It includes all the most important features for it.
It is also very easy to use and has a responsive customer support team.
Some of the integrations that MailOptin offers are MailChimp, HubSpot, ActiveCampaign, and more.

MailOptin's ratings as the Gleam alternative
Now let's see MailOptin reviews:

Ease of use: 5
Customization level: 4
Visual appeal: 5
Features: 5
Integrations: 5
Customer support: 5
Pricing: 3
Total: 4.6/5

The bottom line
Running a business website requires a lot of time.
Creating strategies, monitoring competition, improving services and products, analyzing results, and similar, are all complex tasks.
Fortunately, there are Gleam alternatives that can be of great help and that can save you a lot of time.
Pop-ups are simple but effective ways to attract leads, grow e-mail lists, increase sales, and more.
What's Next
Knowing that you don't need more than a couple of minutes to create and implement them surely brings some positive light on running a website.
Stop an endless search for a user-friendly tool, and give a chance to Poptin!
When you see what you can do with this tool, you will understand why you don't need a designer or a developer to create engaging pop-ups.
Begin right away!