Given the fierce competition, putting your CRM to work at its maximum potential gives a huge advantage.
CRM stands for Customer Relationship Management. Having reliable software to do this for you allows you to effectively manage interactions with past, present, and future clients in your database.
One popular option is Keap. It is an all-in-one CRM, sales, and marketing automation solution helping thousands of businesses thrive since 2001. With over two decades of experience in the industry, it has grown into a comprehensive tool that helps generate robust sales and perform advanced automation with Keap InfusionSoft.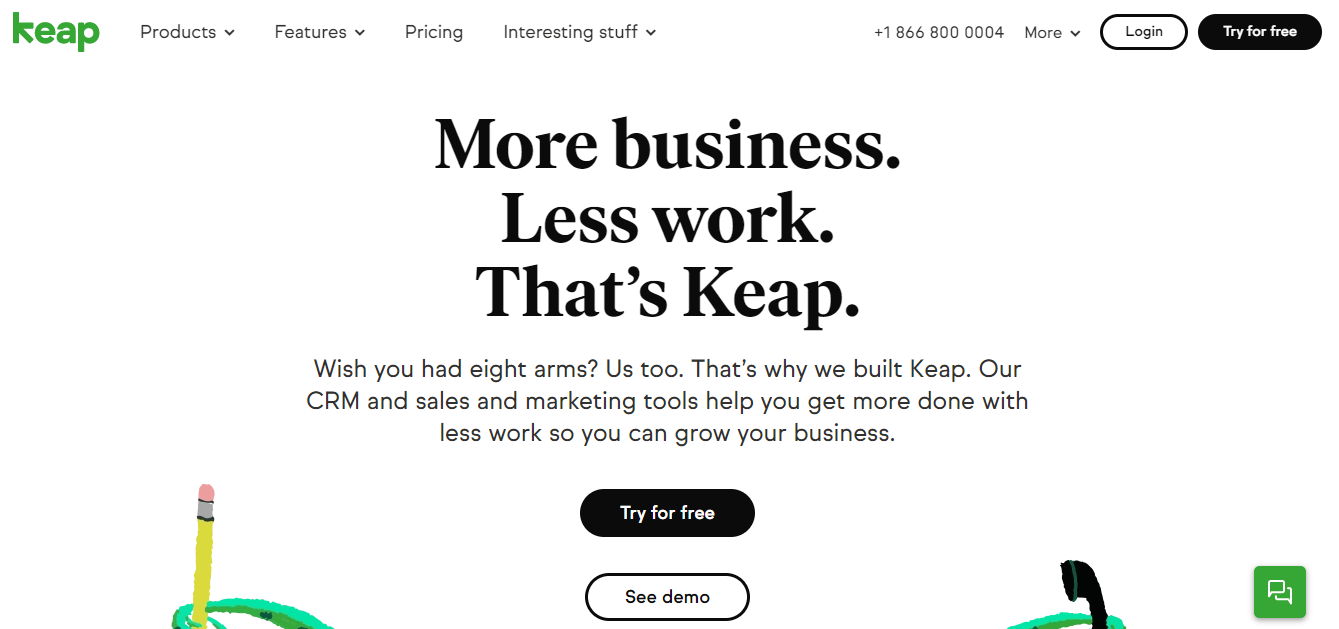 The Keap InfusionSoft dashboard is equipped with management tools where you can monitor and manage your contacts, companies, referral partners, and more. There's also built-in analytics where you can track your performance in realtime.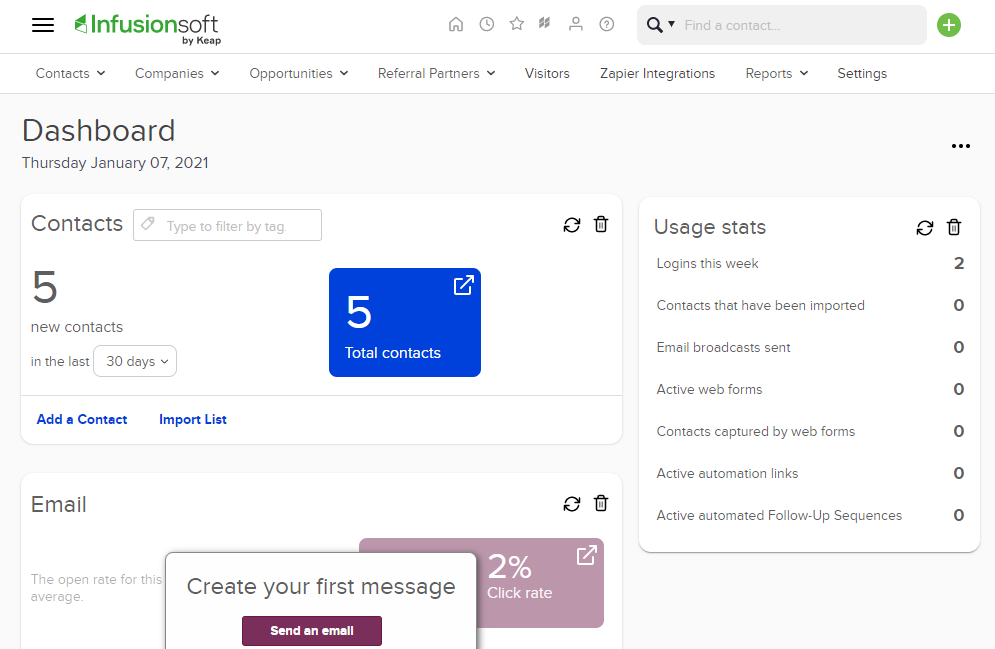 If you're using Keap, you're up for a great CRM adventure and outstanding results!
However, your campaigns won't be as effective and powerful as you want them to be when your lead database isn't that strong. You need to have more leads to increase brand awareness and sales. That's why your lead generation initiatives are equally important. 
Speaking of lead generation, it's impossible to miss how popups can save your day. 
Pop ups are graphic windows that automatically show up on the screen. They are often used to offer promotions, deals, content, and other enticing freebies in exchange for email addresses.
Why Pop Ups Are Effective
These pop-ups are highly effective in converting website visitors into Keap leads, email subscribers, and sales. They are most effective when you present them to visitors who are already familiar with your brand, but first-time visitors could still be attracted to irresistible offers.
Studies have shown that pop ups have a decent click-through rate, higher than any other kind of ads. Pop ups are also the secret hack how Green Banana, a local Israeli brand, boosted conversions by 400%. Not to mention that pop-ups have a 100% view rate.
Although there are quite a few negative reputations, I know you've seen how most websites that you visit never fail to utilize the power of pop-ups in their marketing strategy. When done right, pop-ups provide value to your brand and can even tremendously improve your customer engagement.
If you're wondering how to create Keap pop ups to strengthen your CRM lead database, then, you're on the right track! 
The Best Tool to Create Keap Popups: Poptin
Created by experienced digital experts and marketers, Poptin has grown to be one of the most user-friendly tools in the world of pop ups. It uses a drag and drop builder with a long list of premade templates. This makes it easier for you to come up with engaging designs for your Keap popups.
With Poptin, you can create different types of Keap pop ups according to your goals and preferences, such as overlays, bars, lightboxes, slide-ins, exit popups, mobile popups, and many more.
Key features of Poptin
40+ ready-made templates

Advanced targeting and triggering options

Device compatibility

Availability in many online platforms

A/B testing

Built-in analytics

Fast and reliable customer support

Knowledge base
Its targeting and triggering rules make it possible for your Keap pop ups to reach the right audience with the right message at the right time. All these can be set in just a few clicks in Poptin's popup builder.
Since it would be a challenge to convert visitors into leads without offering something in return, A/B testing can help you pinpoint the most effective content to put on your Keap popups. You can even test the effectiveness of your designs, aesthetics, behavioral triggers, and more.
Now that you know the tool that you can use, it's time to learn how to create your Keap popups.
How to Create Keap Pop Ups
Depending on your familiarity with the software, creating your very first Keap popups could take only a matter of minutes.
For first-timers, I highly recommended using any of the customizable premade templates. It greatly simplifies the process and saves you time. 
Setting up your Poptin account
Login to your Poptin account. If you haven't created one, you can always 

sign up with Poptin for FREE

.

In just a few easy steps, you'll reach the Poptin dashboard.
Creating your first Keap popup
3. In the pop ups tab, click the "New Popup" button.
4. This time, you can choose your Keap popup template depending on your goal. Since we're boosting our lead database, we will choose "Get more leads".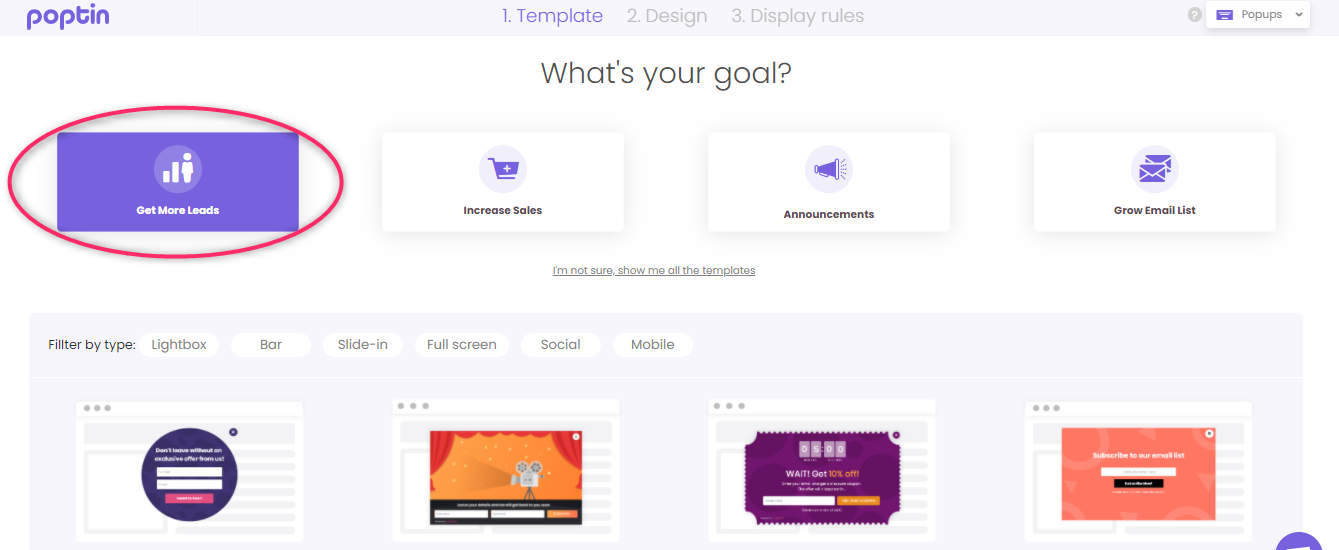 5. When you've chosen your pop up design, you will then be redirected to the popup builder where you can customize it. You can change the colors, fonts, size, fields, buttons, and more.
You can even add your own photos, videos, countdown timer to create a sense of urgency, coupon codes, among others.
Again, you can always create your Keap pop up from scratch if you want.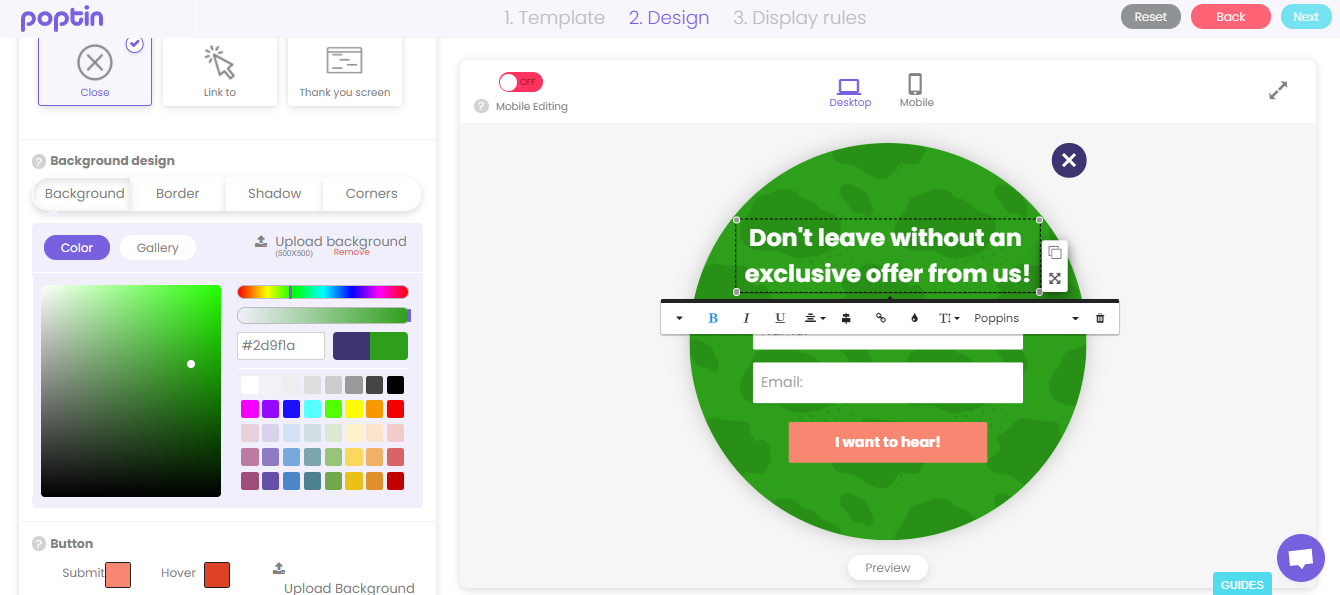 6. Add some essential elements to your Keap pop up when necessary.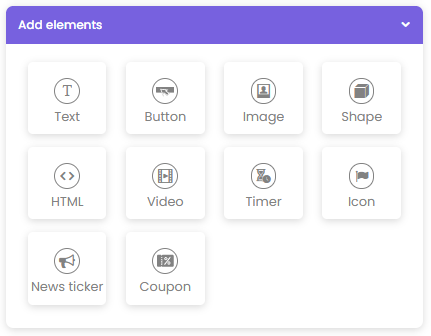 Once you're satisfied with the design, you can now scroll down to proceed with the integration process.
How to Integrate Keap Pop Ups with Poptin
Without leaving the popup builder, scroll down and click the 

"Email and integrations"

 tab. Then, click 

"Add integration"

.
2. A popup window of all the integrations will appear. Search for the "Keap" icon and click it.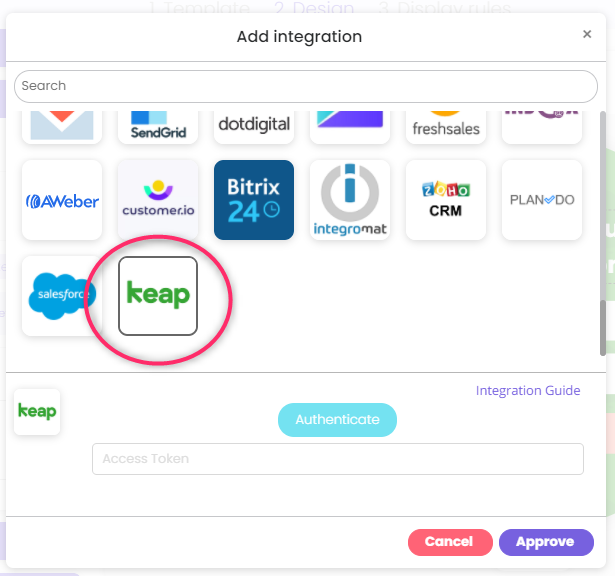 3. Once you click the "Authenticate" button, It will redirect you to your Keap account. And once you login, it will ask you to Allow the Poptin app.

4. The key will appear automatically and all you have to do is to click the "Approve" button. Note that the Keap integration makes use of Oauth, which allows users to integrate their Keap account without having to hunt around for API keys.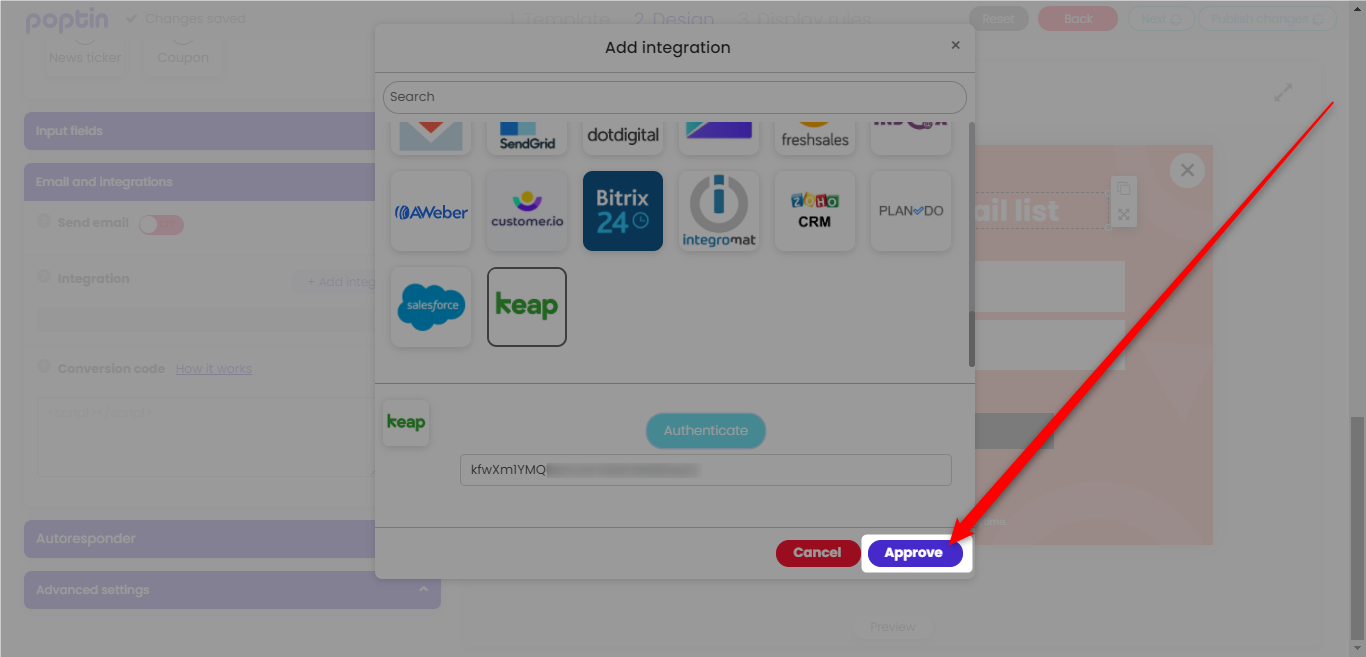 That's it! Easy, right? Your Keap popup is now connected to your CRM account.
Finalizing your Keap Pop Up
To achieve maximum results of your Keap pop ups, display rules should be set perfectly. 
The Poptin display rules include triggering options that allow you to show your pop up based on visitor behavior on screen, while the targeting rules lets you show your pop up to your desired set of audience.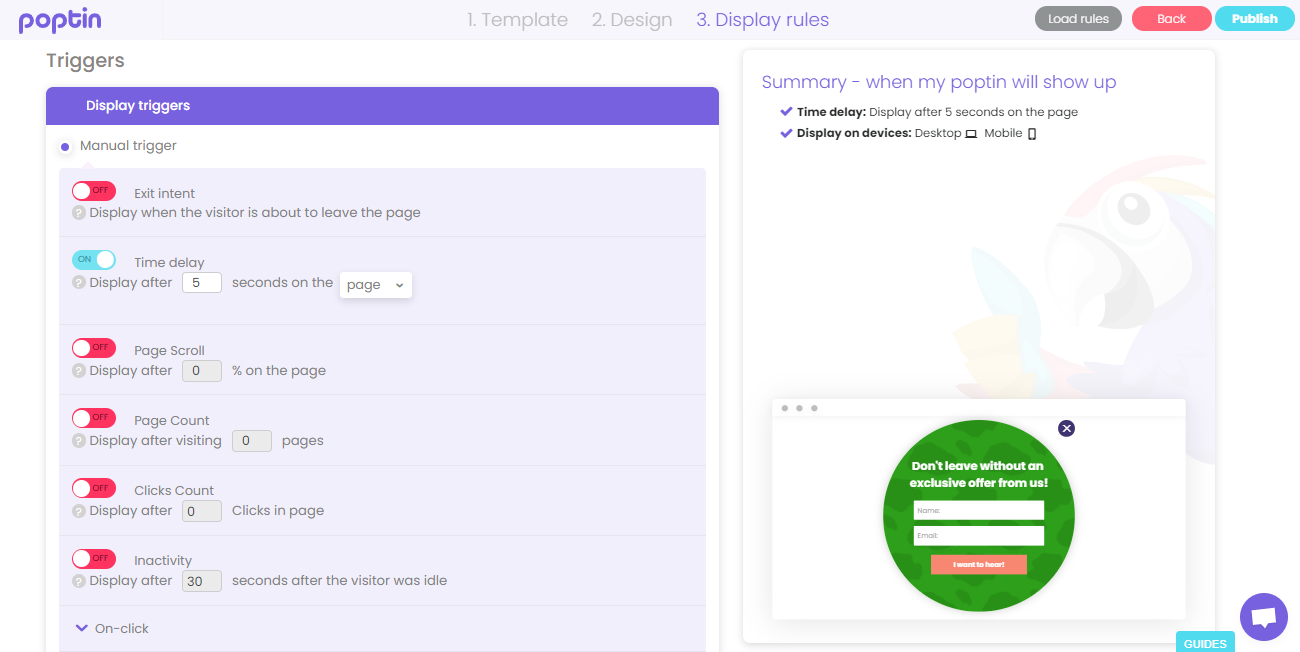 Triggering options – exit intent trigger, display after time spent on the website, scrolling trigger, display after X pages visited, display after X clicks, inactivity trigger
Targeting rules – URL targeting (page-level on-site targeting), device targeting, geo-location (by country, including US states), OS & Browsers, adblock detection, IP block lists, days and hours, new vs returning visitors (based on cookies), traffic source (Facebook, Google, Google Ads [Adwords] Youtube, Reddit, Ads, Twitter, Pinterest and any site you want), on-click popup display
Poptin also gives you the ability to segment your list to aid you in coming up with targeted campaigns for more effective conversions.
Once everything has been set up, don't forget to click "Publish" at the upper right corner of the screen.
For a more visual guide, check out this video tutorial on how to create your first pop up with Poptin.
Benefits of the Keap <> Poptin integration
Connecting pop ups with your CRM account will result in a more efficient marketing funnel. Every time a visitor responds to your pop up, his/her details will automatically go to your CRM lead database.
From that database, you can now create campaigns and strategize on how you can reach out with the goal to convert them into paying customers.
Here are some of the benefits you shouldn't miss:
Saves you time and energy.

 You don't have to collate all the Keap popups responses in a sheet and transfer them to your CRM. The integration will do the work for you 24/7.

Easy to implement.

 Once you're done with the Keap pop up design, it will take just a few seconds to implement the integration with Keap.

List segmentation. 

You can divide your leads into segments in case you'll need to create targeted campaigns in the future.

OAuth integration.

 In just a few clicks, you can already integrate your pop up with your CRM account. Unlike other integrations, this advancement would spare you from hunting for API keys which could take a little more time.

Poptin is FREE to use forever. 

You can sign up for free. If you want to experience more advanced features, Poptin's paid subscription plans start at only $19 per month.
To summarize
Growing your Keap's lead database won't happen overnight. But with the right tools like Poptin, the step by step process would be easier, affordable, and effective.
If you want to learn more about how to improve your business through popups, you can check these informative articles:
Ready to create Keap pop ups?
Sign up now with Poptin for FREE!